Essential guide to Florence for cruise passengers to Livorno in 2022: top things to do, on a tour and on your own, where to have lunch and shop, how to get to Florence on-your-own, shore excursions and online tours.
The medieval charm of Florence is undoubtedly the main reason why cruise ships dock at the Port of Livorno. In fact, most cruise lines promote their itineraries with Florence as a port of call - with Livorno in parenthesis (or vice-versa).
Contents
Overview
Although most cruise passengers are aware of the fact that Florence is not by the sea, many do not realize that this famous renaissance city is located inland, 56 miles (90 km) East of the Cruise Port in Livorno.
In fact, it takes between 1h 20 minutes and 2 hours to travel between the cruise ship port and the city center of Florence. This is why most cruise ships stay at the Port of Livorno for up to 12 hours.
Naturally, a shore excursion booked onboard, or with independent online tours, is the most popular way of explore Florence. But there are other ways to enjoy a day in Florence that can be both more affordable and more enjoyable.
Traveling by train is without a doubt the most affordable way. Hiring a Taxi the most convenient and expensive. Renting a Car can be a challenge if not familiar with Italian fast driving, high traffic and where to park in Florence.
Florence and Pisa in one Day
All cruise lines offer tours (or shorex as excursions are called when booked onboard a cruise ship) to both Florence and Pisa.
These shore excursions are very popular but cruise passengers should be aware that besides being long and tiring, you will not have much time in Pisa to see more than a couple of attractions.
Usually, on this combined excursions, tour buses stop within walking distance of Piazza dei Miracoli in Pisa so that cruise passengers can admire the huge square where the Leaning Tower, the Cathedral, the Baptistery and the Cemetery (aka Camposanto) are located. You will have time to walk around and even to shop for souvenirs.
Some tour guides may take you inside the Cathedral or the Baptistery but do not expect to visit all four highlights at leisure.
Certainly, you will not have enough time to walk up to the Leaning Tower, to visit museums and even less to explore other highlights of Pisa like the Piazza dei Cavalieri.
Things to do in Florence on a cruise to Livorno
Although the historical center of Florence is not particularly large, the sheer number of fabulous sites to visit can be overwhelming. At best, cruise passengers docking in Livorno will have up to 6 hours to explore the city and, consequently, never enough time to see it all.
Cruise excursions always try to cover some of the top highlights but whatever is visited will never be fully explored.
The good news is that when traveling to Florence on your own, and specially if you have been in the city before, you will have the opportunity to focus on a few sites, enjoy lunch (or a quick bite) and even enjoy some unusual shopping.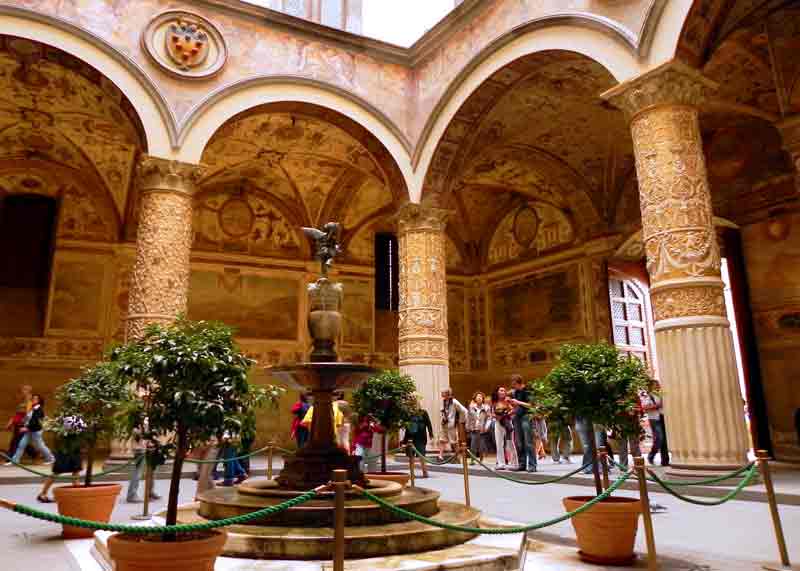 Palazzo Vecchio in Florence
Photo © IQCruising.com
Walking the streets of Florence is the best way to enjoy the city's ambiance in historical landmarks like the Piazza della Signoria, the Ponte Vecchio or the Piazza della Repubblica.
Palaces like the Palazzo Vecchio (Old Palace), the Galleria degli Uffizi, the Palazzo Pitti are highlights amongst numerous buildings of stunning beauty most of which are home to world-famous museums.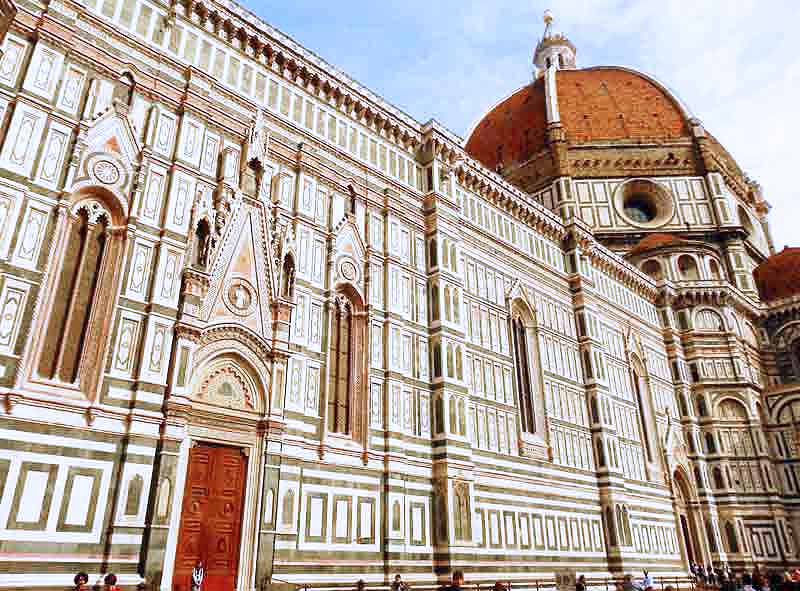 Cathedral of Santa Maria del Fiore (Florence)
Photo © IQCruising.com
What to see on a shore excursion
Here is a list of the top sites in Florence, which you will most probably visit on a guided shore excursion:
Cathedral, Bell Tower and Baptistery

Piazza della Signoria, Palazzo Vecchio and Loggia dei Lanzi

Galleria degli Uffizi

Ponte Vecchio

Galleria dell'Accademia

St Croce Church
Top sites to visit on your own
There so many museums in Florence that you should not attempt to visit more than one or two, and make sure to choose carefully what to see as you will not have enough time to see more than just part of a collection.
Likewise, there are so many religious sites, almost all them with something special to see, that it makes no sense to try to see it all. With so much to see in Florence, our advise is to focus on a couple of sites at best and not try to see it all.
The following are landmarks, religious sites and museums skipped by shore excursions and that you will only be able to visit if exploring Florence on your own:
Palazzo Pitti and Boboli Gardens

San Lorenzo, Medici Chapels, Laurentian Library

Santa Maria Novella church

Santo Spirito church

Orsanmichele

Great Synagogue

Bargello Museum

San Marco Museum

Duomo's Museum

San Miniato al Monte church

Davanzati's Palace Museum

Galileo's Museum

Horne Museum

Stefano Bardini's Museum

Stibbert Museum

Marino Marini Museum

Salvatore Ferragamo Museum
To learn more about the top highlights in Florence click here and read our review.
Dining, Lunch and Quick Bites
Restaurant La Bussola in Florence
Photo © IQCruising.com
Regardless of how the cruise traveler decides to explore Florence (on your own or on an excursion) lunch (or a quick bite) is a must. Florence is one those cities where gastronomic choice is abundant both in price and variety. This is a city where you will find the Enoteca Pinchorio (one of the best restaurants in Italy with 3 Michelin stars) but also unique and delicious street food, excellent cafes to have a panini, and everything in between. Discover where to have Lunch in Florence for Cruise Travelers to Livorno.
Shops, Shopping and Souvenirs
Inevitably, whilst meandering Florence the cruise traveler will be passing by shops selling souvenirs of all sorts. However, we find that the best memory you can take home is something that really belongs to Florence's traditions.
One of the best memories ypu cam take from Florencer would be an outstanding piece of design by any of the famous names born in Florence (Ferragamo, Cavalli or Gucci among others). You may find surprising to find that some items (specially accessories) may not be so outrageously expensive.
Leather Market in San Lorenzo (Florence)
Photo © IQCruising.com
Leather products are also part of the Florentine traditions but the best can only be found in specific locations. For those that enjoy buying jewelery (and more specifically Gold), the Ponte Vecchio is a must. Learn more about Shopping in Florence
How to Get to Florence On-Your-Own
Instead of touring Florence on an organized excursion, cruise visitors may prefer to explore the city without a guide and with the freedom to discover different sites.
It is quite easy to get to Florence from the cruise ship docked in Livorno as there are a few ways to do so. The Editor has used all of them repeatedly along the last two decades.
On Your Own by Rail
The Railway Station in Livorno is within easy access (but not within walking distance), trains cost around €10.00 (per person each way), run frequently - on any given day (including weekends) there are 7 trains between 8:00 AM and 11:00 AM - taking between between 1 hour 10 minutes and 1 hour 35 minutes.
All you need to know is how to get from the Port in Livorno to the Railway Station which is not that complicated. You can easily do it by Taxi or by Public Bus which takes longer but is really cheap. Find Out How to Travel from Livorno Cruise Port to Florence by Train
On Your Own with Car Rental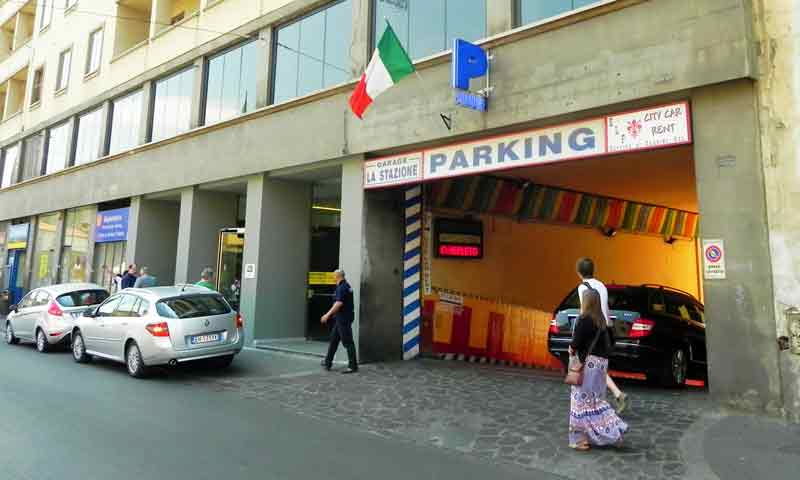 Car Parking in Florence
Photo © IQCruising.com
Cruise visitors that are traveling in a group of four (or even 5) may want to consider renting a car. Dividing car rental cost, fuel and parking will work out quite affordable. Car Rental is available right at the pier. Most car rentals offer automatic cars with GPS and Maps.
Driving to Florence is not particularly challenging but once in the city it is not exactly easy to navigate narrow street and parking unless you have driven in Italy before. Find Out All About Car Rental in Livorno.
From Livorno to Florence by Taxi
As already mentioned, traveling by taxi to Florence is the least affordable way. An 8 hour tour/transfer to Florence, with stopping time in Pisa and return to Livorno, on a van (up to 6 passengers) will cost around $540.00.
City Sightseeing Bus Livorno to Florence Transfer
In the last few years, the City Sightseeing Bus started to operate a Bus Transfer to Florence from Livorno. It departs from Via Cogorano, where the cruise port shuttle bus stops, at 9:45 AM arriving in Florence at 11:00 AM.
The arrival stop in Florence is ideally located next to Santa Maria Novella, which is within walking distance to major highlights of Florence.
With a cost of €35.00, the City Sightseeing Bus transfer gets fully booked very fast and it is strongly advisable to book online as soon as you can. The return to Livorno is at 3:45 pm, allowing the cruise traveler around 4 hours and 30 minutes to enjoy Florence. Visit the Official City Sightseeing Bus Web page.
From Livorno to Florence
Traveling Time
Distance: 56 miles (90km)
| By Car | By Train | By Bus | On Shorex |
| --- | --- | --- | --- |
| 1 h 20 minutes | 1 h 20 minutes | 1 h 50 minutes | 1 h 30 minutes |
Cruise Excursions and Online Tours
Many savvy cruisers will state that Shore Excursions booked with the Cruise Line are, at best, a waste of money. Other seasoned cruisers will not go on an excursion that is not organized by the cruise line. There are good arguments on both sides and, in the end, it all depends on how confident you feel to book with an online tour service like Viator or Shore Trips.
Shore Excursions
If you have never been in Florence before, all cruise lines offer basic tours of the highlights of Florence with 'Free-Time' for Lunch and shopping. Besides the combo with Pisa (already mentioned), you may choose from many other tours designed for the specific interests of the cruise traveler.
Florence on your own shore excursion
All cruise lines do offer an affordable shore excursion usualy titled "Florence on Your Own", or something similar. This is a bus transfer to Florence, but without a tour guide, so that you can explore the city at your leisure.
Independent and Local Tour Operators
IQCruising is not affiliated in any way with any of the following independent tour operators. We certainly do not endorse these organizations but believe the info (and links) on these paragraphs may be useful to make a well informed choice.
Viator offers 82 different tours out of Livorno. Shore Excursions Group has 32 Shore Excursions to Livorno's Top Destinations including Florence and Pisa. Cruising Excursions is a British company offering shared tours, private tours to suit your needs and port transfers (both shared and private).
Shore Trips has been around for a long time and has a very special selection of 18 shore excursions out of Livorno (8 to Florence). Shore Excursioneer offers 20 excursions including 5 tours and transfers to Florence.
Tours By Locals is an excellent service for those that want to do something specific in Florence. Private Shore Trips has 5 shore excursions to Florence including a transfer.
► Explore: Tuscany Destinations and Livorno
All Reviews and Guides to (Livorno cruise port destinations) - Pisa, Lucca, Siena, San Gimignano, Volterra, Cinque Terra and Livorno in Depth
Learn More ►