Cruise visitors tired of tourist crowds clogging the streets of Tuscanny known for their beauty and culture, will find that Lucca offers a wonderfully laidback alternative. Its long history, beautiful churches, quaint piazzas and fabulous restaurants, all encircled by tree-topped Renaissance walls make it a unique and fascinating place to visit for a full day or just for a few hours.
Lucca's Quaint Charm
One of the wealthiest and oldest cities in Tuscany, Lucca's streets are laid out in a Roman grid and lined with lovely old trees that provide welcome shade on a hot summer's day. The town is so flat that cars are almost unheard of and most people get from place to place on bicycles.
Even tourists can pretend to be a local for the day. Cruise vistors will find bikes for rent on squares close to the entrance gates of the city walls. The tourist information desk in Piazzale Verdi also has bikes for rent.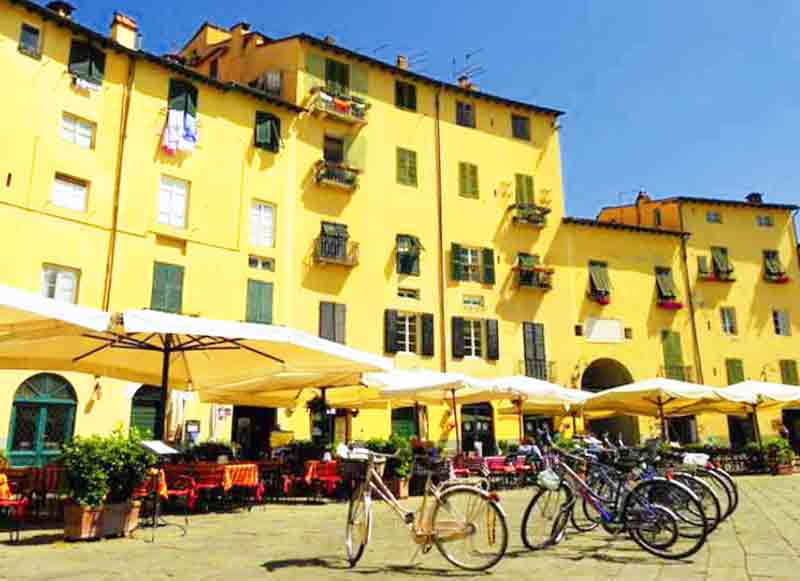 Piazza Anfiteatro
Photo © IQCruising.com
Exploring Lucca atop a bicycle is a truly romantic Tuscan adventure. Visit the Duomo and admire the wooden Christ supposedly carved by Nicodemus, then stop by San Frediano to discover what an "action-packed" fresco looks like.
Of course no bike ride or walk through Lucca would be complete without a stop at the Piazza Anfiteatro, which was built over an ancient roman amphitheater and still retains its shape.
Lucca may not be the type of destination that draws crowds the way that Florence or Siena does, but its quiet charm and old world beauty make it a Tuscan town not to be missed.
Walking and Sightseeing
Lucca is a very easy town to explore on your own either on a bicycle or just walking around. The historical center is completely flat with the obvious exception of the defensive walls that surround it and with cars are not allowed inside, making it a and pedestrian ONLY haven.
The cruise traveler will not find any sort of hop-on-hop-off buses but a few bicycle rentals may offer a guided visit. But considering that the city is so easy to explore on your own, the editor strongly suggests meandering at your own pace and leisure.
Main Attractions
Whatever you enjoy visiting when exploring a small town like Lucca, there a few sites that must not be missed. Even if you are not particularly interested in religious sites, the cruise traveler will certainly pass by the Cattedrale di San Martino (Cathedral), the Basilica of St. Frediano and the Church of Saint Michael in the Forum and all of them are worth a pick inside.
The Amphitheater Square, the Piazza Napoleone, the Via Fillungo and the most visited Towers (Torre Guinigi and Torre delle Ore) are landmarks to be added to your must-see list.
For those interested in active pursuits, the Passeggiata Della Mura (City Walls Walk) will be a delight. The Mansi Palace Painting Museum and the Pfanner Palace are two sites to revisit halcyon days.
If the cruise traveler is keen on discovering the best art in Lucca the Museo Nazionale Villa Guinigi (National Museum Guinigi) is a must to be added to the Museo Della Cattedrale (Cathedral's Museum). For a selection of HIGHLIGHTS - Explore Lucca To See and DO.
Puccini Satue
Photo © IQCruising.com
Finally, a tour of Lucca would not be complete without a visit to the house where Giacomo Puccini was born (undoubtedly the most illustrious son of the city). And, if you are an Opera Fan and in particular of Puccini verismo, the cruise traveler should also check the schedule of the famous Puccini Festival that takes place every year (between mid-July and mid-August) in Torre del Lago. Visit Puccini Festival Official Website
Shopping and Lunch
Shopping in Lucca is very much restricted to two streets - Via Fillungo and Via Santa Lucia - but the cruise traveler should also venture into hidden squares where boutiques can be found.
For lunch there are many obvious options, be it a quick bite on a cafe like the Caffetteria Turandot, the Enoteca Calasto, or on the Piazza Anfiteatro, or a more lavish lunch in excellent restaurants like the uber famous La Buca di Sant'Antonio.
Current Weather Lucca
Tourist Office
When traveling to Lucca by train from Livorno, the cruise traveler will find a Tourist Information Office outside the Railway Station - no more than 200 yards to the right.
However, the Editor has found this Office closed a few times at regular hours. The closest Tourist Office will be at the Palazzo Ducale on Piazza Napoleone ( the heart of the city). The Tourist Offices are open every day between 10:00 am and 1:00 pm and between 2:00 pm and 6:00 pm.
Website: www.luccatourist.it
Basics
Health Matters
Emergency Call
118
---
Pharmacies
Farmacia Melosi:
Via Roma, 14
Phone: (0583) 491463
---
Farmacia Passarello Maria Gabriella:
Via Santa Croce, 8
Phone: (0583) 491396
---
Farmacia Giannini Di Giannini Paola:
Via S. Frediano, 15
Phone: (0583) 496562
---
Hospital
Ospedale San Luca :
Via Guglielmo Lippi Francesconi
Phone: (0583) 055601
Open: 24 hours
---
Money Matters
ATM's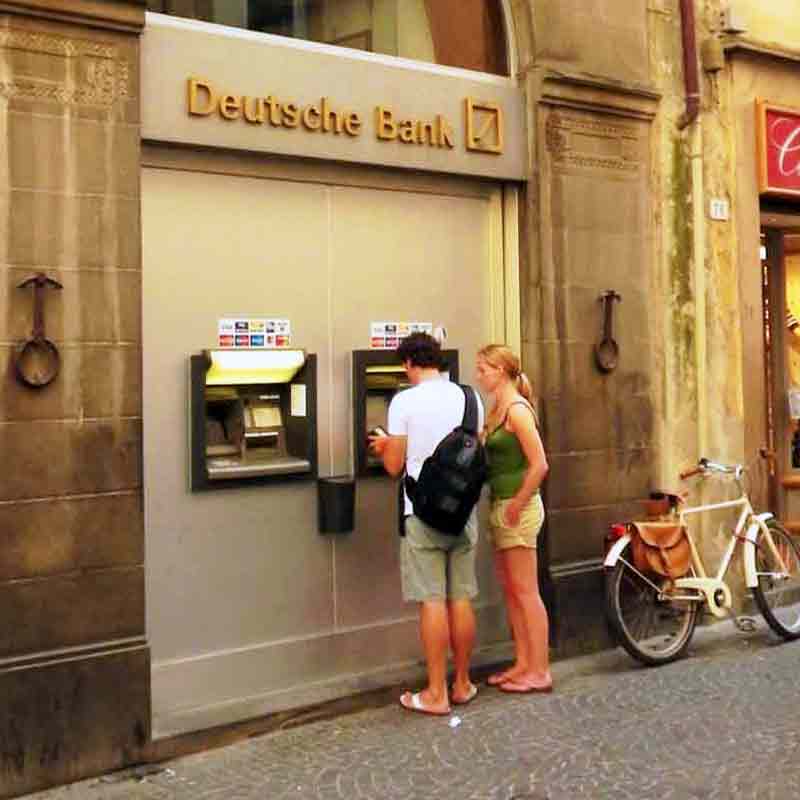 The cruise ship passenger will find ATM all over the city but naturally the largest number are close to te shopping areas around Via Fillungo and Via Santa Lucia.
Haggling
Unless you are in dealing with street vendors, which is ilegal in Italy and can get you in trouble, haggling will not take you far on normal shops.
Tipping
Tipping is not expected like in the USA, as service staff is paid a normal salary and have all sorts of benefits. However, a 'keep the change' kind of tip will be appreciated for good service.
Police Matters
State Police Station (Carabinieri):
Cortile Degli Svizzeri, 4
Phone: (0583) 4751
More Livorno Destinations
---
Newsletter
Get All Updates
Share Lucca (Livorno Port Destination) Review
---
---