Overview
Most visitors do not come to Pisa to shop, especially since there isn't one single shopping district close to any of the major highlights of the city. Dedicated shoppers that like to collect souvenirs and trinkets acquired on all sites visited will find the Piazza del Miracoli the place to do this kind of shopping as it lined by booths selling typical T-shirts and 'leaning towers' of all sizes and colors.
It should be noted that, just outside the 'Piazza del Miracoli', by the entrance gates, there are dozens of vendors offering 'branded' products that are either fakes or unlawfully acquired - BE AWARE: this type of street trade is illegal in Italy and can get the cruise traveler in trouble.
On a positive note, the best place to buy good quality souvenirs is the gift shop of the 'Museo dell'Opera del Duomo' and also on the 'Museo delle Sinopie'. You will also find a few nice shops - like Il Papiro - on the Piazza del Miracoli
Piazza delle Vettovaglie
If the cruise visitor plans to explore Pisa on its own, and in particular if traveling to the city by Train or Bus, a few streets and squares are worth exploring such as the Via Oberdan, the Piazza delle Vettovaglie or the Borgo Stretto.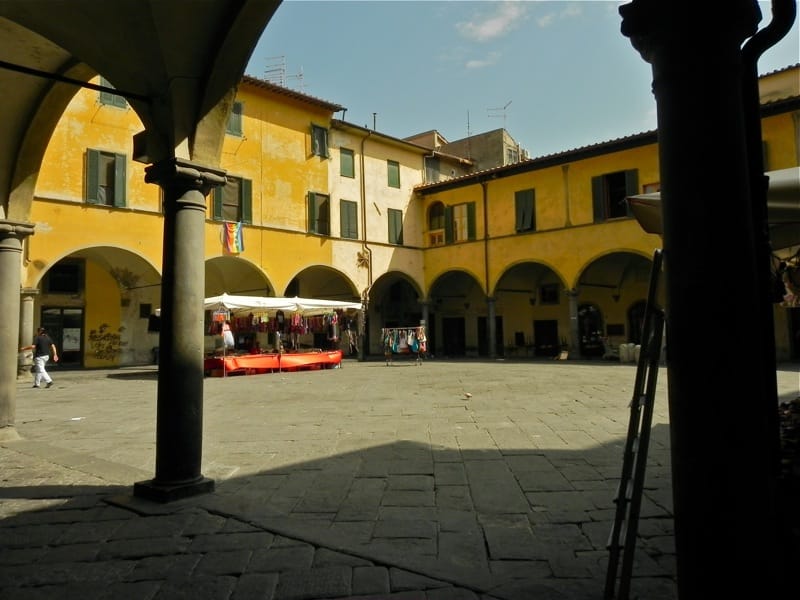 Piazza delle Vettovaglie, Pisa
Photo © IQCruising.com
In the heart of the city, this Piazza delle Vettovaglie is surrounded by a sixteenth-century portico. The site of a daily market featuring food, you will find prepared items as well as locally grown vegetables and other enticing items on sale. This is a chance to see and experience an authentic Italian food market.
Borgo Stretto
This street is known as the heart of shopping in Pisa. You can find specialty stores up and down both sides of the street. Pisa is known for its leather goods, terracotta, and wooden furniture. Most of the shops are happy to ship your goods back home so you don't have to worry about carrying your gifts with you while you continue to shop and sightsee.
Borgo Stretto, Pisa
Photo © IQCruising.com
Mercatos
The local markets are where you will find bargains on many local goods. Held in various squares all over the city, you can choose to go to the incredibly large or the small mercatos. The locals banter and bargain around you, making it a great place to practice your Italian! Via Buonarroti is held every Wednesday and Saturday, as is Via San Martino