Introduction to San Gimignano for cruise visitors to the Port of Livorno. How to get there on your own, Things To Do, Dining, Shopping, and Must-know.
By: Editor-in-Chief | Date: April 20, 2019
San Gimignano is one of the most popular and visited medieval towns in Tuscany but very few cruise travelers explore its stunning beauty and unusual highlights.
Most shore excursions to San Gimignano offered by cruise lines also include Siena and, inevitably, this does not allow much (or enough) time to discover its hidden secrets.
How to Get to San Gimignano from Livorno Cruise Port
The good news is that, unlike what you may read elsewhere, San Gimignano can easily be explored by car. It is easy to rent a car at the Livorno Cruise Port Car Rental in Livorno Port or, if you prefer to leave the driving and guiding to someone else, there are very good private local guides offering their services online. Naturally, the most affordable way to get to San Gimignano is by rail and bus. Learn How to Travel to San Gimignano from Livorno Cruise Port.
San Gimignano's Towers
San Gimignano is known as the "city of the beautiful towers." During Medieval times, the city's prominent families built somewhere between 70 and 76 towers to act as command centers in their power struggles with each other. After the plague swept through San Gimignano in 1348, 1464, and 1631, severely diminishing its population and destroyed its economy, the city was never restored.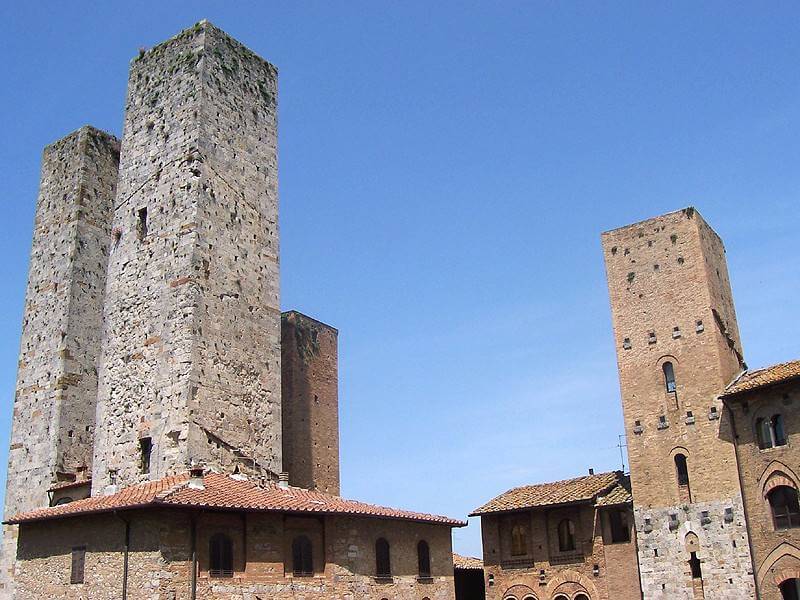 San Gimignano - Torri Dei Salvucci and Torre Chigi
Photo: Markus Mark Public Domain
Thus, when tourists happened upon San Gimignano in the 19th century, they were rewarded with a medieval town filled with picturesquely crumbling towers. Today San Gimignano is the most popular hill town in Tuscany – as evidenced by the masses of tour buses and wealth of souvenir shops that can be found there. To experience the magic of the town, which is a UNESCO World Heritage Site, we advise the cruise ship passenger to wander through the alleyways, stare up at the towers reaching towards the sky, enjoy piazzas and spectacular sights overlooking the Tuscan countryside.
Top Things To Do and See
As you will enter the city through the Porta San Giovanni, the cruise traveler will immediately start to experience the romantic medieval atmosphere of San Gimignano on Via San Giovanni (Saint John Street) lined with picturesque 13th and 14th-century buildings.
San Gimignano - Panorama
Photo: Tango7174 CC-By-SA
Must See Landmarks in San Gimignano
San Gimignano is not a large town and it is almost impossible to get lost. Almost all its major landmarks can be visited on a walk along its two main streets - Via San Giovanni and Via San Matteo - leading to beautiful squares like Piazza del Duomo (Cathedral Square) and Piazza della Cisterna (Cistern Square).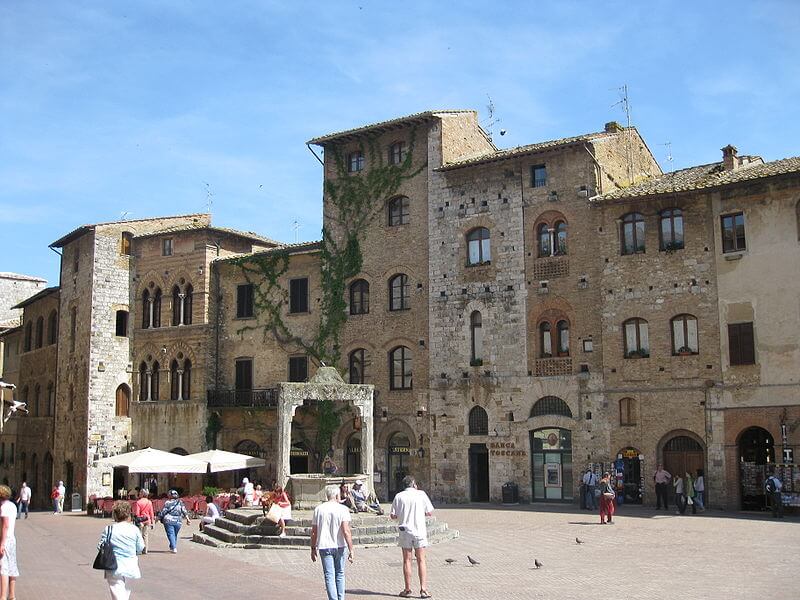 Piazza della Cisterna, San Gimignano
Photo by Deror Avi CC by SA 3.0
Along the way you will come across stunning sites like the Collegiata, the Palazzo Comunale, the Torre Grossa, the Salvucci Tower or the Palazzo del Podesta.
Discover the Top Landmarks in San Gimignano
Top Museums and Artworks in San Gimignano
For those on a shore excursion, it will be impossible to visit the museums of San Gimignano as you will not be spending enough time in town.
Museo Civico, San Gimignano
Photo: Public Domain
But if you are exploring San Gimignano on your own, there are a few museums that should not be missed such as the the Museo d'Arte Sacra (Museum of Sacred Art), the Museo Civico (Town Hall), and the Museo Archeologico/Spezieria di Santa Fina (Archaeological Museum). Other minor museums can be of interest: San Gimignano 1300, the Wine Museum, the Museum of Torture.
Discover the Top Museums in San Gimignano
Religious Sites in San Gimignano
Although some major religious artworks are on display on the Museum of Sacred Art, it is naturally inside the churches of Sam Gimignano that you will have opportunity to view the best art of San Gimignano.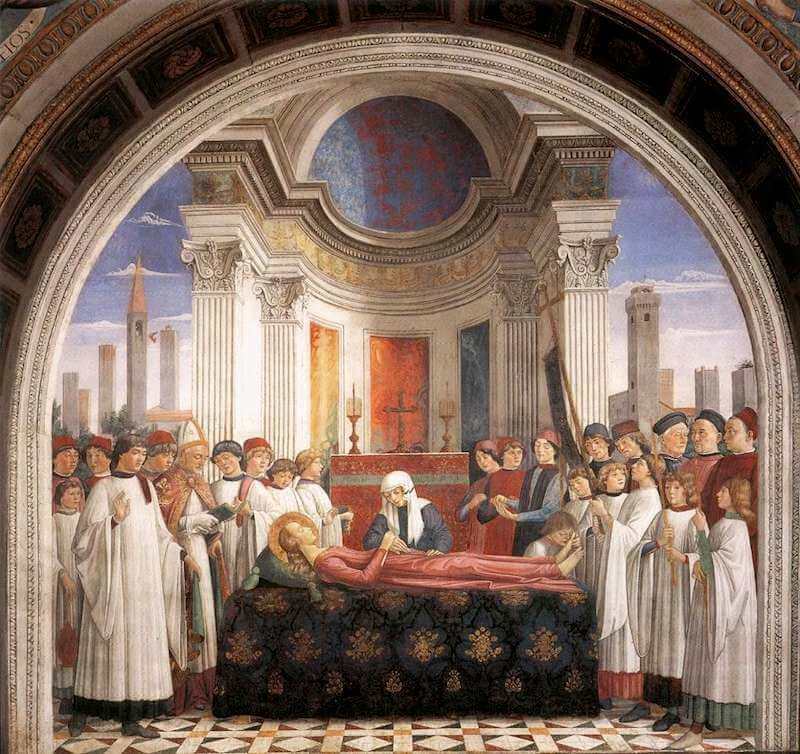 Obsequies of St Fina by Ghirlandaio, San Gimignano
Photo: Public Domain
The Collegiata Santa Maria Assunta, which once upon a time was the town's Cathedral (Duomo), is a must see, in particular, do not miss the Obsequies of St Fina, a magnificent fresco by Ghirlandaio. Although a bit off track, the Church of St Augustine also has major artworks not to be missed. Discover the Top Religious Sites in San Gimignano
Where to Have a Quick Bite or Lunch
Regardless of whether you visit Sam Gimignano on a shore excursion or on your own, you should taste famous typical local delicacies.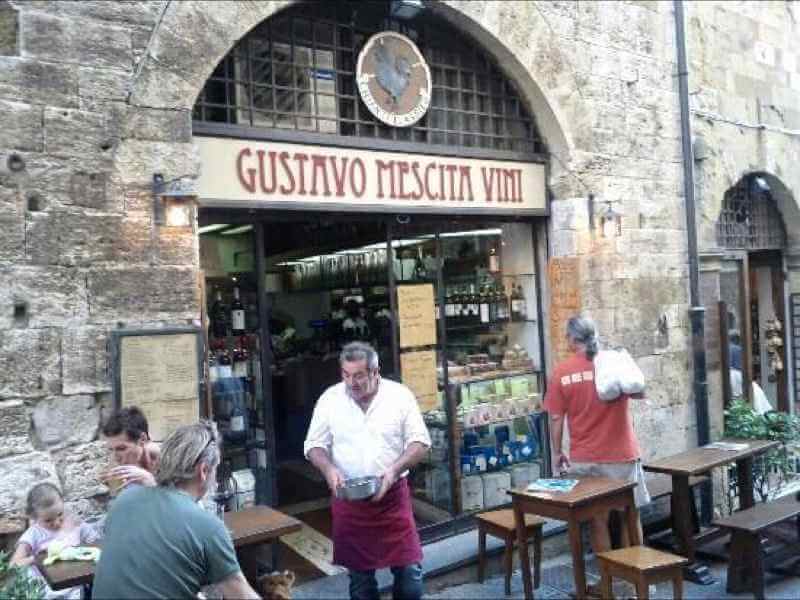 Enoteca Gustavo, San Gimignano
Photo courtesy of Enoteca Gustavo
Even if you only have time for a quick bite do not leave town without tasting a glass of wine at Enoteca Gustavo, a quaint place to sit back with a glass of San Gimignano's famous Vernaccia. But if you have time do enjoy lunch at one of the excellent restaurants like Bel Soggiorno, Dorando or Le Vecchie Mura, among many others. Find Out Where to Have a Quick Bite or Lunch in San Gimignano
Shopping in San Gimignano
Like everywhere in Italy, you may find some ubiquitous fashion brands in San Gimignano but the best buys are really the unique and local agricultural products of the region.
Vernaccia Wine
Photo Public Domain
The Vernaccia wine should be on the top of any shopping list. But do look out as well for Saffron, Olive Oil, Honey, Cheese and all sorts of Cured Meats and pasta. Learn more about Shopping in San Gimignano
Good to know
If planning to visit the museums of San Gimignano, the cruise visitor should buy the combined ticket (priced at € 7.50). This ticket is valid for all major sites including includes the Civic Museum, the Museum of Sacred Art and the Archaeological Museum.
Tourist Information
The editor strongly advises a visit to the Tourist Information Office on Piazza Duomo, 1 (right at the heart of town) - open every day between 10:00am and 1:00pm and between 3:00pm and 7:00pm. At the office the cruise traveler can find very good additional information including maps. We also suggest a visit to the official website of the San Gimignano Tourist Office before planning your tour.
Free Wi-Fi in San Gimignano
Since 2013, San Gimignano has joined the project "Free Italia Wi-Fi. This national Wi-Fi infrastructure offers free Wi-Fi connection in specific public areas of the city. As the project as evolved and has been gradually implemented, the best places to look for Wi-Fi connection are large squares like the Piazza Duomo or Piazza Cisterna.
Health matters, police and emergencies
There are two Police Stations within the walled in the city. Cruise visitors looking for a pharmacy will find a couple in the heart of the city and there is an hospital in Poggibonsi, relatively close to San Gimignano:
Farmacia Borsini Dr. Antonello
Address: Via San Matteo, 17 Phone: (0577) 940397
Farmacia Comunale di San Gimignano
Address:Piazza della Cisterna, 7 Phone: (0577) 990369
Ospedale Campostaggia
Address:Loc. Campostaggia - 53036 Poggibonsi Phone: (0577) 9941
State Police Station (Carabinieri):
Address: Piazzale MontemaggioPhone: (0577) 940313
Town Police Station:
Address: Via Santo Stefano Phone: (0577) 990346
► Explore: Livorno Port and Top Tuscany Destinations
All Reviews and Guides to Livorno Cruise Port Destinations - Florence, Pisa, Siena, Lucca, Volterra, Cinque Terra and Livorno in Depth
Learn More ►