San Gimignano's Towers
San Gimignano is known as the "city of the beautiful towers." During Medieval times, the city's prominent families built somewhere between 70 and 76 towers to act as command centers in their power struggles with each other. After the plague swept through San Gimignano in 1348, 1464, and 1631, severely diminishing its population and destroyed its economy, the city was never restored.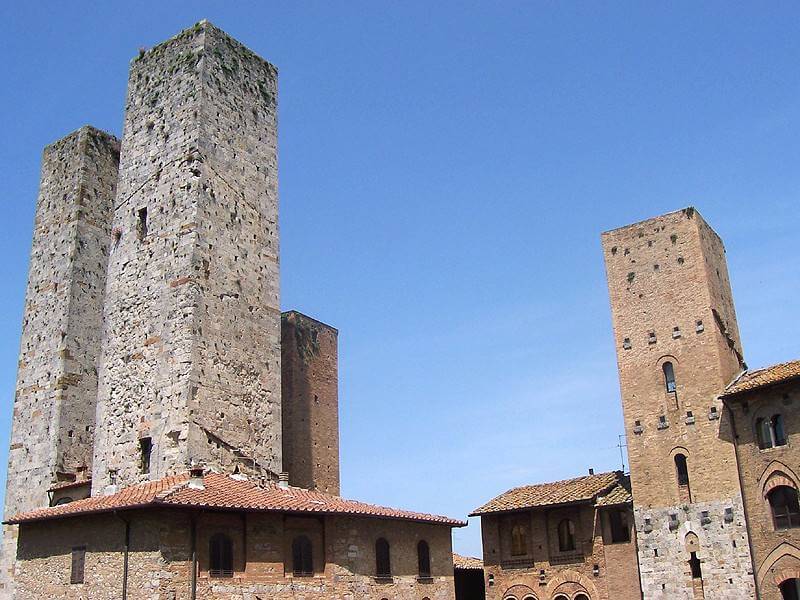 San Gimignano - Torri Dei Salvucci and Torre Chigi
Photo: Markus Mark Public Domain
Thus, when tourists happened upon San Gimignano in the 19th century, they were rewarded with a medieval town filled with picturesquely crumbling towers. Today San Gimignano is the most popular hill town in Tuscany – as evidenced by the masses of tour buses and wealth of souvenir shops that can be found there. To experience the magic of the town, which is a UNESCO World Heritage Site, the editor advises the cruise ship passenger to wander through the alleyways, stare up at the towers reaching towards the sky, enjoy piazzas and spectacular sights overlooking the Tuscan countryside.
See and Do
As you will enter the city through the Porta San Giovanni, the cruise traveler will immediately start to experience the romantic medieval atmosphere on Via San Giovanni (Saint John Street) lined with picturesque 13th and 14th-century buildings.
San Gimignano - Panorama
Photo: Tango7174 Cc-By-Sa
The Piazza del Duomo (Cathedral Square) is a must with main attractions such as the Collegiata, the Palazzo Comunale, and Torre Grossa. From here, Via San Matteo (Saint Mathew Street) will take you to Porta San Matteo where you will find the Palazzo del Podesta, the Pettini Tower, San Bartolo Church and the Salvucci Tower. The Piazza della Cisterna (Cistern Square) is a must and unmissable.
Tourist Information
The editor strongly advises a visit to the Tourist Information Office on Piazza Duomo, 1 (right at the heart of town) - open every day between 10:00am and 1:00pm and between 3:00pm and 7:00pm. At the office the cruise traveler can find very good aditional information including maps. We also sugegest a visit to the official website of the San Gimignano Tourist Office before planning your tour.
Free Wi-Fi in San Gimignano
Since 2013, San Gimignano has joined the project "Free Italia Wi-Fi. This national WiFi infrastructure offers free Wi-Fi connection in specific public areas of the city. As the project as evolved and has been gradually implemented, the best places to look for Wi-Fi connection are large squares like the Piazza Duomo or Piazza Cisterna.
Official Website:
www.sangimignano.com
Weather
Basics
Health Matters
Emergency Call
118
---
Pharmacies
Farmacia Borsini Dr. Antonello:
Via San Matteo, 17
Phone: (0577) 940397
---
Farmacia Comunale di San Gimignano
Piazza della Cisterna, 7
Phone: (0577) 990369
---
Hospital
Ospedale Campostaggia:
Loc. Campostaggia - 53036 Poggibonsi
Phone: (0577) 9941
---
Police Matters
State Police Station (Carabinieri):
Piazzale Montemaggio
Phone: (0577) 940313
---
Town Police Station:
Via Santo Stefano
Phone: (0577) 990346
---
Newsletter
Get All Updates