Cum Quibus - $$$$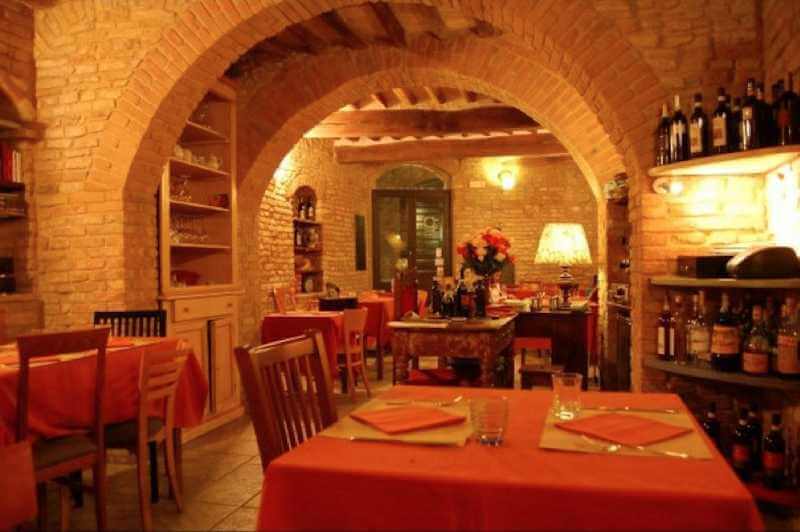 Average Price: above €60.00 per person. Notes: Considered one of the top 10 restaurants in Italy. Closed on Tuesday.
Where: Via S. Martino, 17
Phone: 0577 943199
Website: Official Website
---
Dulcisinfundo - $$$$
High quality, typical Tuscan cuisine, all prepared in house - including ice cream.
Where: Vicolo degl Innocenti
Phone: 0577- 941919
Website: Official Page
---
D!Vineria - $$
Relaxed, affordable, outside seating for a light fare with great wines. On small square behind the Collegiatta (Duomo)
Where: Piazza delle Erbe
Phone: 0577 943041
Website: Official Page
---
Perucà - $$
San Gimignano - Perucà
Photo: Management
Average price: €25.00. Notes: The restaurant is housed in the cellars of one of the oldest buildings in San Gimigano.
Where: Via Capassi, 16
Phone: NUMBER
Website: Official Page
Cured Meats
San Gimignano is famous for its cured meats and if the cruise traveler has a soft spot for these, here you have some only to be found in San Gimignano, which pairs perfectly with equally and exclusive wines and cheeses from the region.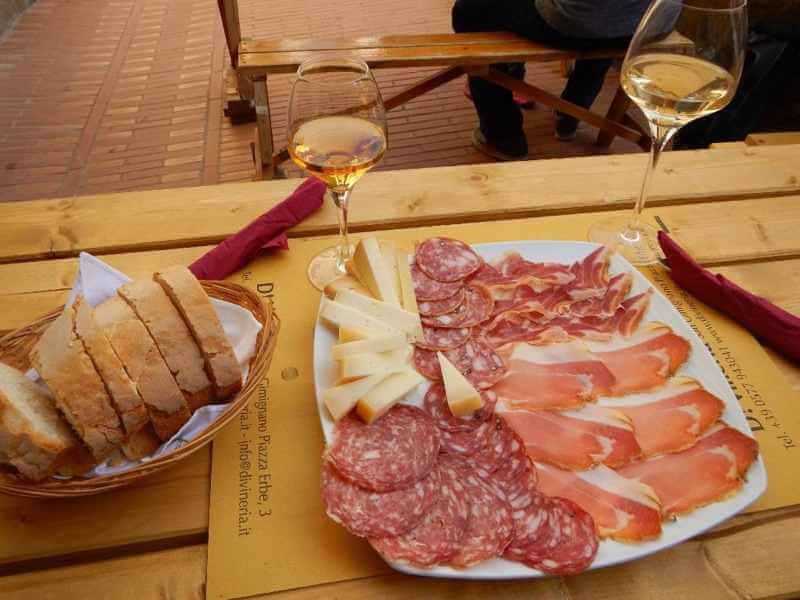 San Gimignano - D Vineria
Photo: Management
Prosciutto Toscano Dop - typicaly aromatic flavored and a must taste.
Spalla (shoulder ham).
Salame toscano (Tuscan Salami) - produced with the most valuable parts of the pig.
Finocchiona - similar to salami with smoother mixture.
Soprassata - produced with the less valuable parts of the pig but the most savoury ones.
Buristo - a type of salami where pork blood is cooked with the meat.
Salsiccioli - traditional sausages to be tasted grilled or with beans (fagioli all'uccelletto).
Cinta senese (white-belted breed pig) - unique to the region and documented in many medieval artworks. Almost extinct, the population started to increase ten years ago. The meat is particularly savoury, very good for roasting, excellent for cured meats: ham, salami, bacon, lard.
Wines
Vernaccia di San Gimignano DOCG: first mentioned in 1276, it is the most famous of all wines in the region. It has a golden, straw-yellow colour with fruity and flowery aromas in an elegant bouquet.
San Gimignano Rosso DOC: red produced with Sangiovese grapes, is ruby red, dense, powerful and with a great capacity for aging.
San Gimignano Rosato DOC: rosé produced with Sangiovese and Canaiolo grapes, has cherry color, floral aromas and ripe fruit.
Will the Cruise Traveler have time for lunch?
The short answer is YES. But it should be said that if you wish to visit as much as possible, maybe the cruise traveler should look into the small enotecas or al fresco light fares.