Overview and Basics
for Cruise Travelers to Nassau
- Top Things To See and Do, Where Cruise Ships Dock,
Landmarks, Shopping, Restaurants, Active Pursuits.
The Cruise Port in Nassau is not everyone's cup of tea, has been a preferred target of bad reviews and many cruise travelers do not even leave the ship when calling at the most visited port in The Bahamas.
If you browse the Internet or read many social-media commentators, it is guaranteed that all sorts of scaremongering will be found. It is true that Nassau can be a bit of a hassle. The cruise terminal has been under constant renovations for over a decade, the building gets crowded all day long, and at times is chaotic to move in and out of the terminal. Definitely, there are way too many locals offering taxi rides, tours, scooter rentals, jet-skiing, beach breaks, hair braiding ... you name it. Yes, it all can come across as pestering at best or harassment at worst.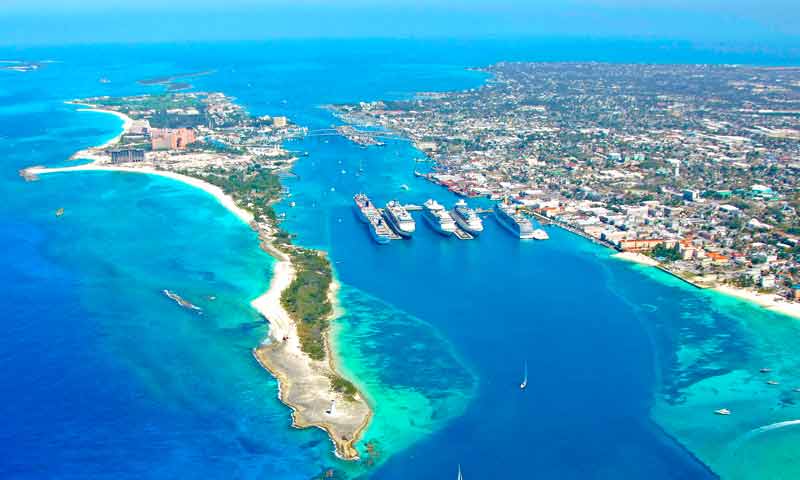 Nassau Cruise Port and Paradise Island
Photo: Public Domain
Crime and Safety
However, and this should be strongly underlined, the local population of Nassau is not the criminal association that some portrait. You should be aware that there many 'bloggers' making a living out of sensationalist crime reports stating that "burglaries, armed robberies, and sexual assault are common during daylight hours in tourist areas" - ridiculously stupid as this may sound, in these days when fake and factual news become blurred, it is up to the reader to decide what to believe.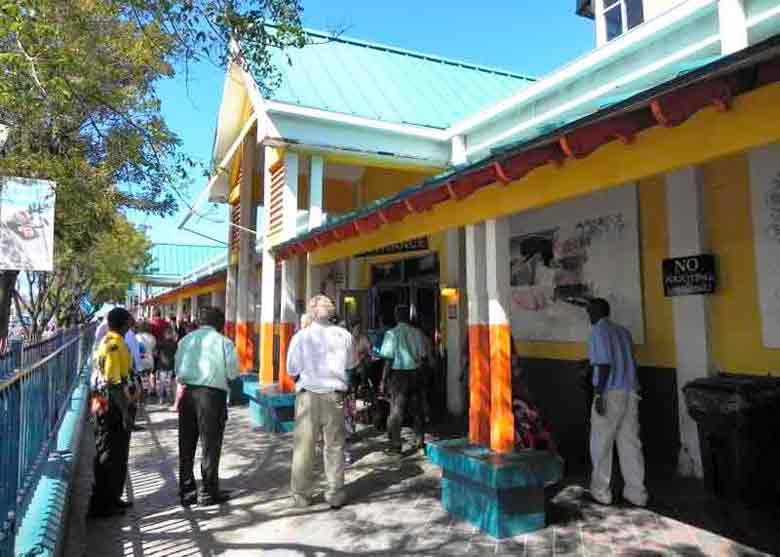 Festival Palace Terminal in Nassau
Photo © IQCruising.com
In fact, besides the initial sales pestering, once outside the Terminal, the cruise traveler will be pretty much left alone. Like in many Caribbean Islands (and in most touristic areas everywhere in the World) when passing by shops and restaurants you may be offered all sorts of bargains but if you cannot deal with this maybe you should choose Switzerland or Norway for your vacation. Unfortunately, it looks like most bad mouth commentators never left the Terminal Building and judge the island 'by the cover'.
There have been lots of reports and warnings about crime in Nassau however, considering that the port is visited by close to 3 million cruise passengers per year, crime-rates should be understood with an overall perspective. Nassau has close to 250.000 inhabitants and you should be aware of your surroundings - like in any city (in the US or elsewhere) basic safety in Nassau is really basic common sense. In one word, if you don't feel safe, go back to the cruise ship.
Things To Do and See
Junkanoo Beach in Nassau
Photo © IQCruising.com
Regardless of all the bad mouthing and press, the cruise traveler will find that the Cruise Port of Nassau has a lot to offer both in quality and diversity. If you are cruising on a budget, there are many affordable (an even free) things to do. Both Junkanoo Beach (within walking distance from the cruise port) and Cabbage Beach ($10 USD taxi ride) are free. In downtown Nassau (2-minutes walk away) there are very nice and interesting landmarks and museums to visit. For those that wish to enjoy more upscale beaches, there are excellent day-passes offering all-inclusive beach-breaks including the iconic Atlantis Resort.
► Explore: Beach Day-Pass
Find out the Top 10 Hotels, Resorts and Parks offering beach break day-passes: Atlantis, Bob Marley Resort, British Colonial Hilton, Clifton National Park, Melia, Sandals ...
Learn More ►
Pearl Island in Nassau
Photo: Public Domain
The cruise traveler that prefers secluded sites will discover close to the port stunning private islands (like Pearl Island, Blue Lagoon or Balmoral Island) which can be enjoyed on shore-excursions. Scuba diving, snorkeling, Semi-submarines and Glass-bottom boats invite visitors to explore the spectacular underwater world of the Bahamas. The Bay Street - the main street in downtown Nassau - is known as a shopping paradise. Nassau boasts restaurants for all pockets and tastes. And if luxury is your thing, there are a few treats not be missed: the Graycliff Hotel, in particular, offers memorable experiences. With so much to choose from, if you decide to stay onboard, you have no idea what you may be missing.
► Explore: Top Excursions (Shorex)
Tour Descriptions, Must Know and Prices (cruise line comparison) for the top shore excursions in Nassau including Atlantis, Private Islands, Scuba, Seaworld Explorer, Glass Bottom Boat and more ...
Learn More ►
What and Where
Nassau is the most visited port in The Bahamas and one of the most popular cruising destinations in the Caribbean itineraries. Located in the island of New Providence, off the coast of Florida, Nassau is 180 miles southeast of Miami enjoying a mild weather in the winter, which is ideal for water sports and activities.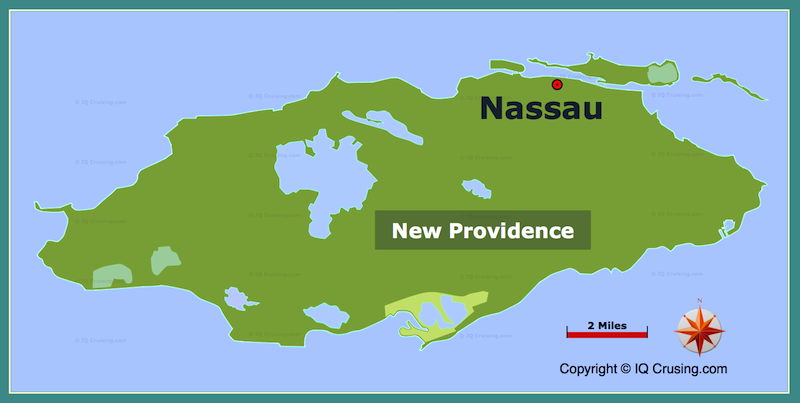 New Providence is a relatively small island - 80 square miles, a bit bigger than Washington D.C. (68 square miles). Although Nassau has a large population (close to 250.000 inhabitants) expanding south and east of the cruise port, the historical center is quite small and is where most landmarks and attractions are found. Right across Nassau, the Paradise Island (home of themed Atlantis Resort) is one of the main attractions of The Bahamas - 2-miles from the cruise port.
Where Cruise Ships Dock
The piers and cruise terminal are right by Nassau's historic downtown. As already mentioned, the terminal building is not the easiest to navigate and gets annoyingly overcrowded but the proximity to the city is priceless.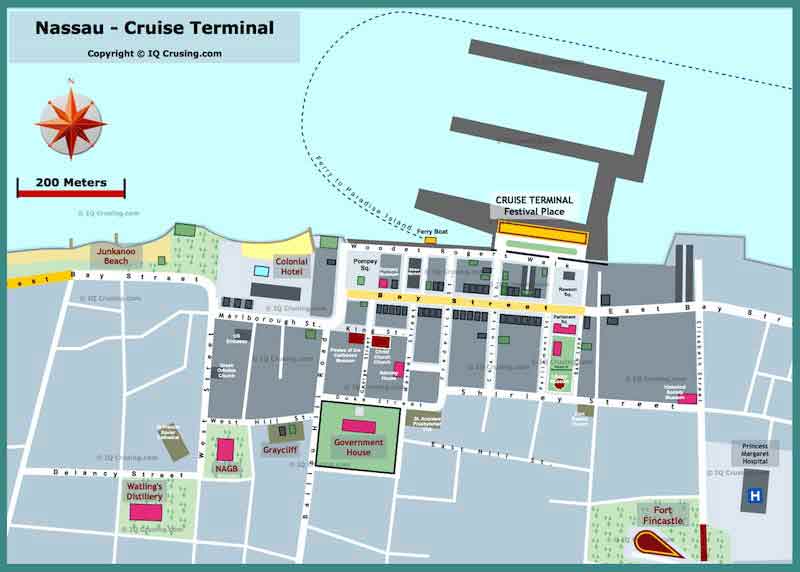 ► Explore: At The Pier and Terminal
Find out all you need to know about the piers and terminal, where is the Tourist Office, Post Office, ATM, Hints on How to get to Town, Taxis and more
Learn More ►
Highlights and Top Attractions
Blue Lagoon Island in Nassau
Photo © IQCruising.com
There are many highlights that the cruise traveler should consider visiting when calling for the day at the port of Nassau. The famous Atlantis Resort is a must see with lots to do but, in Paradise Island (where Atlantis is located), the public Cabbage Beach is another highlight to be explored. The private islands (already mentioned) are secluded sites which must absolutely be experienced.
The Straw Market as seen better days but the 4 museums of Nassau are all worth visiting - National Art Gallery of The Bahamas, Balcony House, Pompey Museum and Pirates of Nassau Museum. The Adastra Gardens, Zoo and Conservation Centre is a delight for cruisers traveling with young ones, the John Watling's Distillery is a major landmark where rum tasting is offered on a tour, and the Arawak Cay (aka Fish Fry) is the place to taste typical Bahamian flavors.
► Explore: Top Highlights in Nassau
Must Do and See in Nassau - Atlantis Resort | Blue Lagoon Island | Cabbage Beach | Junkanoo Beach | Arawak Cay | ...
Learn More ►
Landmarks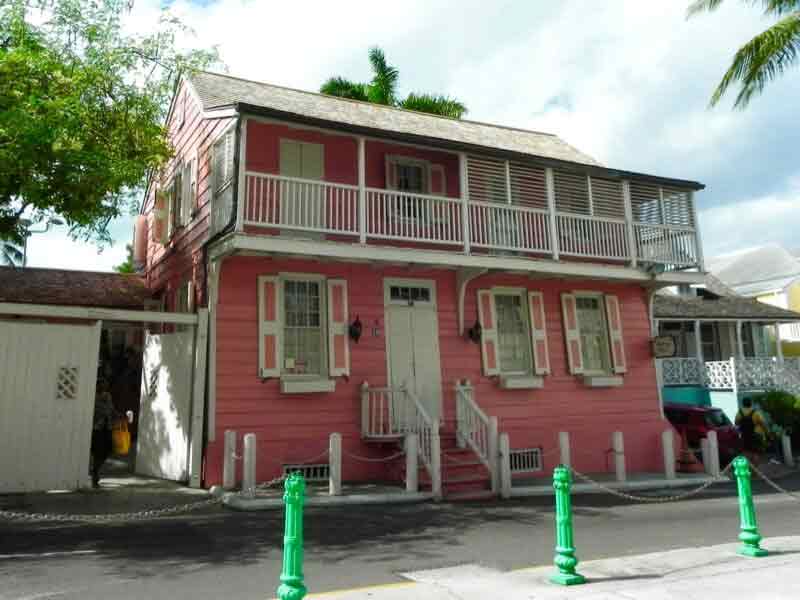 Balcony House in Nassau
Photo © IQCruising.com
On Bay Street (or relatively close by) there are some interesting landmarks that the cruise traveler should consider visiting - sites such as the Parliament Square, the Garden of Remembrance, the Public Library and Museum, the Christ Church Cathedral or the Government House. The Fort Fincastle and the Queen's Staircase are two highlights amongst the major historical landmarks of Nassau but, although within walking distance, require some guidance, as does a tour of the imposing Fort Charlotte. Within walking distance of the cruise terminal and Bay Street, there are a few streets and squares such as Charlotte Street, King Street or Rawson Square, to also keep in mind when exploring more than shopping or the beaches.
► Explore: Nassau Landmarks
Discover the Historical Landmarks of Nassau ...
Learn More ►
Active Pursuits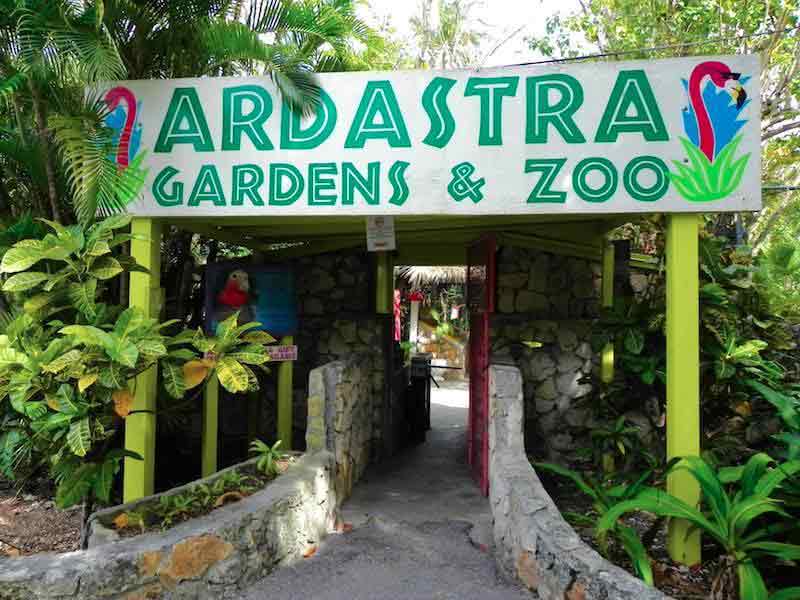 Adastra Gardens in Nassau
Photo © IQCruising.com
For those interested in more active pleasures the Atlantis Resort offers great adventures and exciting fun in its Aquaventure Water Park. The cruise passenger will also find the delights of diving, snorkeling or dolphin encounters in the Blue Lagoon Island, the Balmoral Island or at Stuarts' Cove, and challenging golf at the Ocean Club Course. Sightseeing can be enjoyed on a Horse Drawn Carriage, a Segway tour, a self-driving boat ride, on a semi-submarine or on a glass bottom boat.
► Explore: The best Activities in Nassau
Do in Nassau - Adastra Gardens | British Colonial Hotel | Graycliff Hotel | Segway ...
Learn More ►
Shopping and Restaurants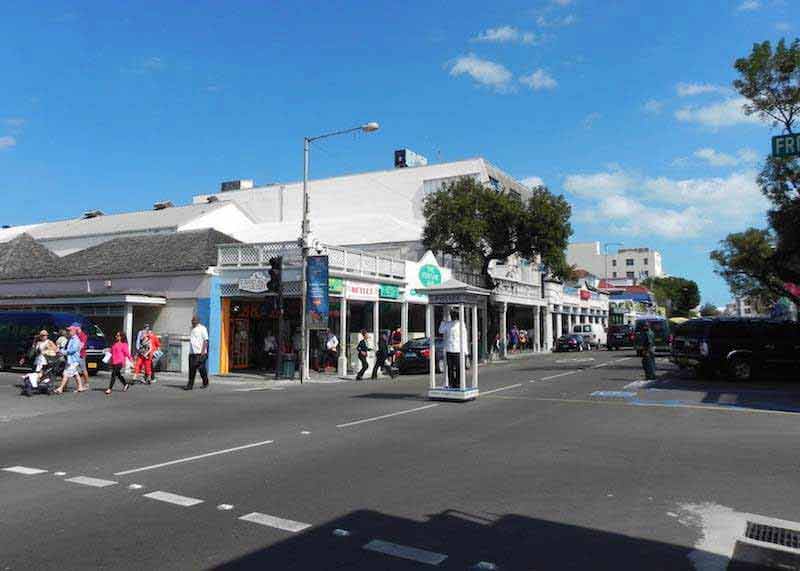 Bay Street - Nassau
Photo © IQCruising.com
Well known by savvy cruisers as one of the best shopping paradises in the Caribbean cruise itineraries, you will have onboard your ship at least one 'shopping lecturer' promoting and marketing selected shops in Nassau. The onboard guide will offer all sorts of bargains, coupons and shopping deals but it is advisable to also look at many other shops that are not promoted by the cruise line. In fact, there more shops in Nassau than the ones recommended where the cruise traveler can get great deals. With few exceptions, all major stores are located on Bay Street.
► Explore: The best Shops in Nassau
Discover The Best Shops and what to shop for in Nassau, Bay Street and Beyond ...
Learn More ►
Restaurants
Considering that Bay Street - the main street of Nassau where most shops are located - is so close to the cruise terminal many a cruise traveler returns to the ship for lunch after a shopping spree without exploring much farther.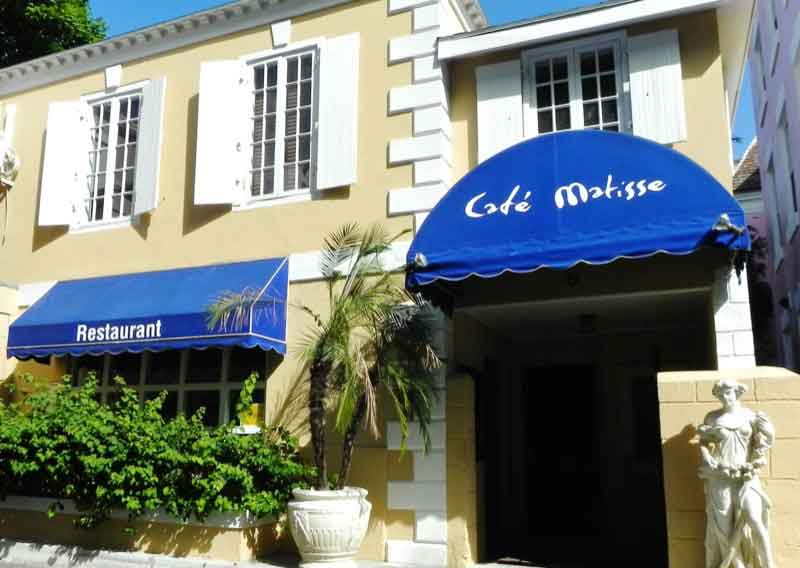 Cafe Matisse in Nassau
Photo © IQCruising.com
However, either because you may want to continue shopping or because you may want to taste local flavors, close to Bay Street there are some very nice places to enjoy the delicacies and delights of both Bahamian and international cuisine. And, of course, there are also well-known places to just hang out, enjoy live entertainment and a drink or two - places like Fat Tuesday, Hard Rock Cafe, Señor Frogs or Sharkeez. Truly Bahamian flavors like conch salad or fried fish are particularly delicious when tasted on Arawak Cay - aka Fish Fry, a bit over 2 miles west of Downtown.
► Explore: Nassau Restaurants
Discover the best restaurants in Nassau and the best places to enjoy live entertainment while enjoying a quick bite...
Learn More ►
Nassau Basics
| | |
| --- | --- |
| Language | English is the official language. |
| Currency: | The Bahamian Dollar is the official currency but the the US$ dollar is widely accepted and you will not need to exchange money. |
| ATM's: | ATM's dispense US Dollars. You will find ATM's in the Terminal building and on Bay Street. |
| Phones: | Country Code: 1 | Area Code: 242. Many US phones may work but is advisable to check with your provider to avoid roaming charges. |
| Entry Requirements: | Passport is NOT required for U.S. citizens with valid photo ID such as a driver's license. Non-U. S. visitors (Canadian included) are required a valid passport with an expiry date that is NOT less than 3 months. |
| Electricity: | Standard American 120 V current. |
| Driving: | Not advisable - driving is on the left and parking scarce. |
| Car Rental: | Budget and Avis can be found at the Airport, 5 miles west of Nassau |
| Emergencies: | Ministry of Tourism: 302-2000 |
| Drinking: | Legal drinking age is 18 years. |
| Smoking: | Smoking is prohibited in restaurants and public buildings. Bars may allow smoking outdoors. |