Everything you must-know about Costa Maya cruise port: the terminal; things to do, shore excursions; Mahahual beach, Mayan ruins, and more ...
Many passengers on a cruise to Puerto Costa Maya (in Mexico) choose to stay at the cruise port terminal without realizing that there is much more to do and many attractions to enjoy nearby.
Full disclosure: considering that cruise ships couldn't visit Costa Maya since March 2020, this updated review is based on:
Reports by crew members and cruise passengers who were in Costa Maya on the handful of ships which called at this popular port in the summer of 2021.
The shore excursions offered by cruise lines planning to visit Costa Maya in 2021/2
Objective reports by local tour operators in the last month
Countless previous experiences
Consequently, if you are planning to cruise to Costa Maya in 2022, it is advisable to double check the information on this review that may be of interest to fully enjoy Costa Maya. All links on this review to cruise lines, local tour operators and servicees have been double-checked and are upated.
Contents
Overview
Because the Costa Maya area is so sparsely populated, the local port authorities developed along the last decade an excellent cruise terminal with all services and amenities for passengers, lots of entertainment, bars, restaurants, pools, and great shopping.
But the Costa Maya cruise port is also the gateway to the lovely beaches of Mahahual and spectacular Mayan ruins like Chacchoben, Kohunlich, Dzibanche, and Kinichná.
Mayá, the Lost Mayan Kingdom Theme Waterpark, is within walking distance of the cruise terminal in Costa Maya, and the Maya Chan Beach (an all-inclusive private beach resort) is a 20-minute drive south. These attractions are between 2 miles (3.2 km) and 100 miles (160 km) from the cruise port terminal.
Costa Maya is a major cruise port of call in the Western Caribbean itineraries during the Fall-Winter season, with as many as 1.5 million passengers and over 500 cruise ships visits in 2019.
The cruise port in Costa Maya has a very appealing character. The port area is neat and well maintained. On the whole, Costa Maya is very safe. The local population is very friendly but not pushy and speaks English reasonably well. For those cruising with families, there are lots of things to do. Cruise passengers with disabilities or with walking difficulties will find it easy to wander around in Costa Maya on their own.
How to explore Costa Maya on a cruise
Cruise passengers wishing to discover famous Mayan Ruins like Chacchoben should look into booking shore excursions, be it with your cruise ship or with local tour operators. For those who want to enjoy an all-inclusive beach, it is advisable to book a day pass.
But you can easily travel on your own (by taxi, golf cars, or an affordable shuttle bus) to the Mahahual Village, where there is a long beach with lots of activities, bars, and restaurants. Keep reading to learn more about Mahahual. Within walking distance, there is a run-down but intriguing Mayan Museum and, of course, all the attractions in the Cruise Terminal. There are three possible ways to discover and enjoy a day at the cruise port of Costa Maya:
Book a Shore Excursion

On your own by shuttle, taxi or golf car

On foot around the cruise terminal
Where is Costa Maya cruise port
Bathed by the Caribbean Sea, Puerto Costa Maya is on the East coast of the Yucatan peninsula near the south border of the Mexican State of Quintana Roo with Belize. The cruise terminal is close by the village of Nuevo Mahahual (with a tinny population of 920) Cozumel cruise port is 128 miles (206 km) to the north, and Belize City cruise port is 77 miles (144 km) to the south.
Other popular cruise ports in the Western Caribbean itineraries are also within a night sail away from Costa Maya, such as Roatán, 182 miles (293 km), Harvest Caye, 158 miles (255 km), and Grand Cayman 420 miles (675 km).
Where do cruise ships dock in Costa Maya?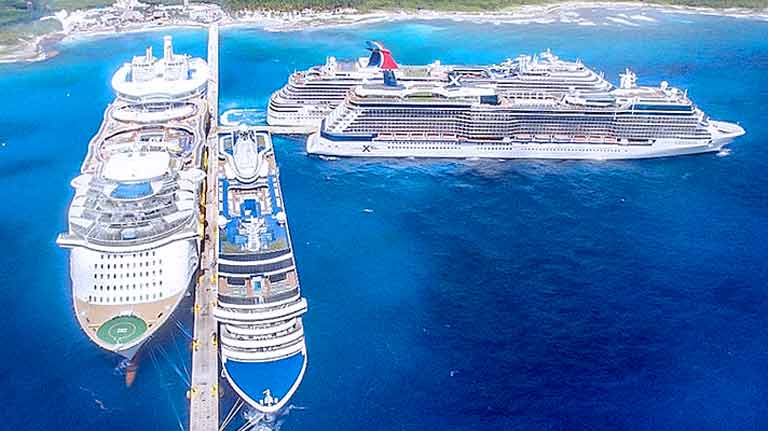 Ships dock on a medium-size cruise purposely built port with T-shaped piers and quays for up to four cruise ships to moor. Whatever you decide to do, all cruise travelers will have to pass by the terminal building unless you stay onboard.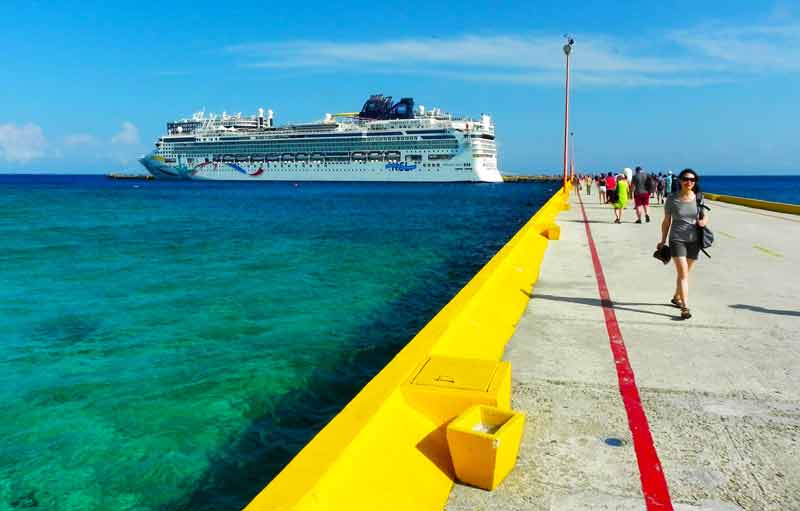 Pier - Costa Maya
Photo © IQCruising.com
The entrance to the terminal with its massive Mayan replica door at the end of a perpendicular pier to the coast is impossible to miss. At a 90 degree angle to this pier is what used to be the primary docking pier.
Free trolley at the pier
The perpendicular pier to the coast is rather long. However, there is a free trolley for those with walking difficulties or not willing to walk, which is particularly convenient if cruising with young children.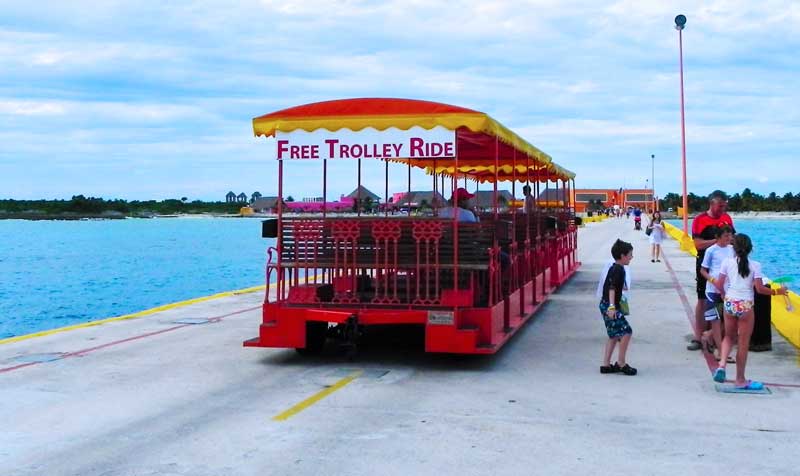 Pier Trolley - Costa Maya
Photo © IQCruising.com
The pier trolley travels on a continuous loop. But you should be prepared for a bit of a wait if four mega-ships are in port, which only seldom happens. The pier trolley must not be confused with the shuttle , which runs between the cruise terminal and Mahahual.
What's in the cruise terminal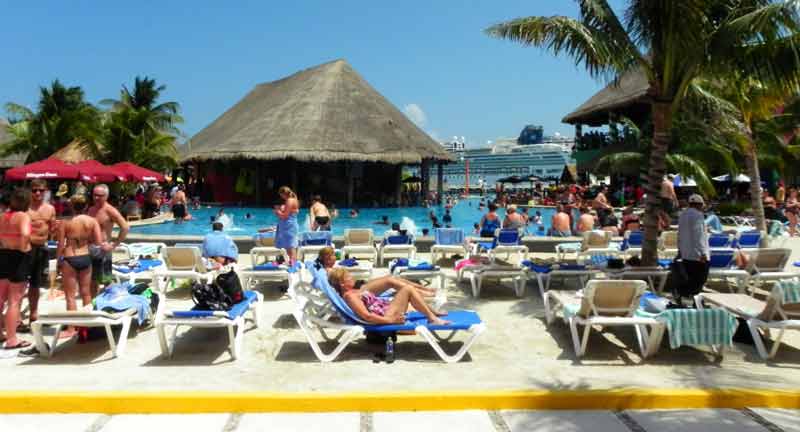 Services and amenities
As you get close to the entrance to the Terminal, you will see the Tour Dispatch area and a late minute tour desk to book an excursion if you haven't booked one already.
Cruise passengers will also find in the terminal many activities, diverse entertainment, and shopping (more about all these below). And the following services and amenities:
ATM (US dollars only)
Restrooms
First aid and pharmacy
Information kiosks
Shuttle bus to Mahahual
Taxis
Golf cars
Shopping and attractions at the cruise terminal
Once inside the terminal, shops are the first thing you will come across. On the left-hand side, craft markets sell all sorts of souvenirs. On your right, the typical duty-free shops you would expect in any Caribbean cruise port, such as the ubiquitous Diamonds International and its sister Tanzanite International.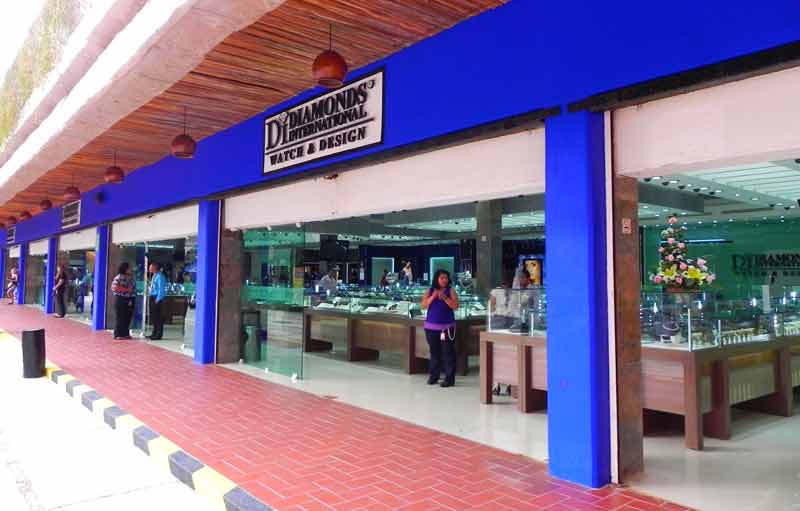 Diamonds International Shop - Costa Maya
Photo © IQCruising.com
But there are also well-known Mexican stores selling Tequila or Boots like Veari and Rogers Boots. Cruise tip: cigars and tequila are the best buy (quality/price) in Costa Maya.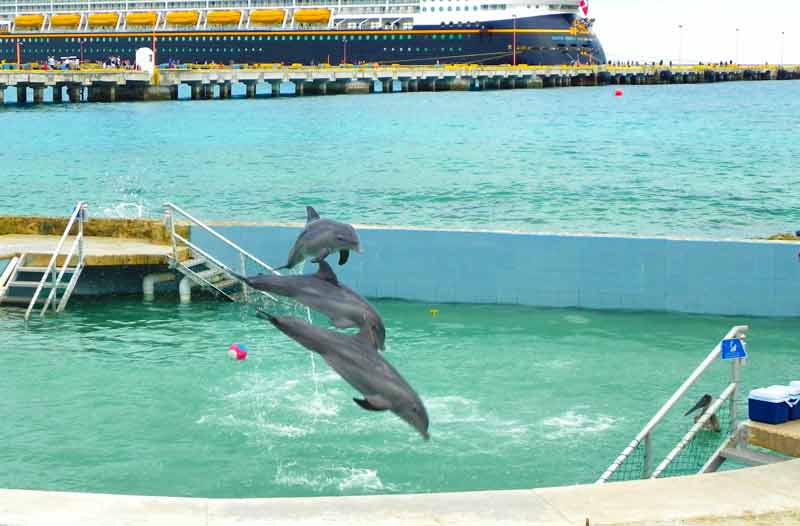 Dolphin Discovery - Costa Maya
Photo © IQCruising.com
The Dolphin Discovery, with pools where shows and swimming with the aquatic mammals are the main features, is among the top attractions in the Costa Maya cruise terminal.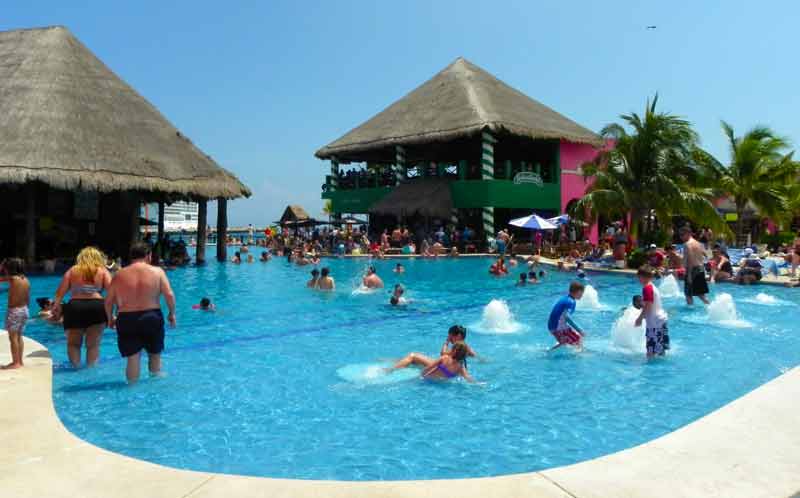 Terminal Swimming Pool - Costa Maya
Photo © IQCruising.com
The already mentioned large saltwater swimming pool bordered by pool bars is a major highlight of the cruise terminal. But there are also many other attractions such as:
Callejón del Sapo:

traditional market, bars and restaurants

Aviarius:

hanging bridges trail with exotic birds

Kakaw:

chocolate factory and tasting

La Consentida:

tequila museum and tasting

Papantla's:

traditional artistic flying show

Mayan Healing:

pre-hispanic rituals and spa

El Faro (restaurant):

grilled food with sea views

Flavors of Mexico (restaurant):

traditional mexican dishes

Cantina Latina (restaurant):

mexican cuisine in a party atmosphere

Cafe Mexico:

mexican coffee products

La Fruteria:

natural juices and fruits
Local Transportation, tours, taxis, buses and golf cars
The terminal has two exits into a large parking area - this is where shore excursions tour buses do park. But it is also where you will find other local transportation.
A local tourist booth offers different packages for Mahahual's beach clubs, including umbrellas, lounge chairs, showers, all sorts of water sports, and, obviously, bars (some serving light fares as well).
If none of these packages appeal, or if you just want to spend a couple of hours at the beach in Mahahual, it is pretty easy to get on the shuttle, take a taxi or a golf car to look around Mahahual before deciding where to lay your towel and what to do.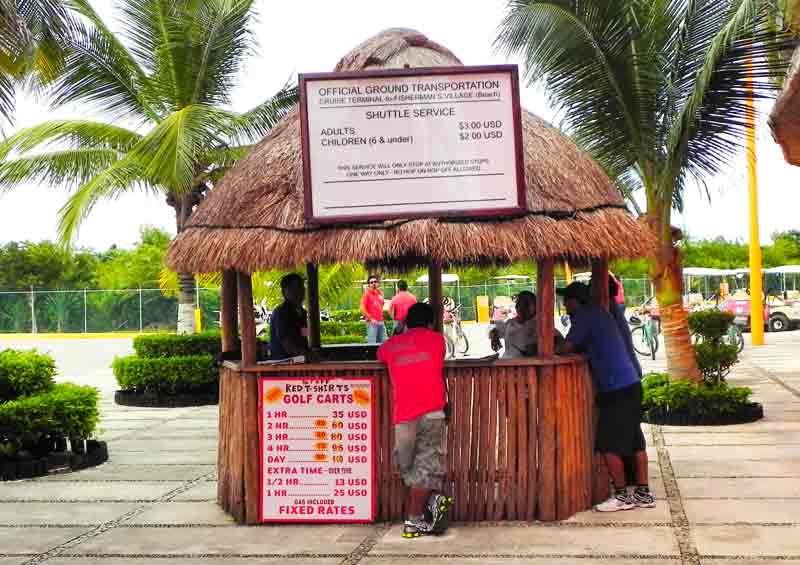 Shuttle Kiosk - Costa Maya
Photo © IQCruising.com
In this large parking area, you will also find a shuttle bus to Mahahual ($3.00 per person each way), taxis (around the same price per person), and Golf Cars (starting at $30 per hour) if you wish to explore the area on your own. Although the golf cars may not be available in the parking area of the cruise terminal, check this link - Mayahual Golf Carts -to double-check availability and eventually book an alternative golf car rental.
What's outside the cruise terminal
There is only one exit out of the gated cruise terminal's parking area. The gates open into a street with a central pedestrian corridor lined by buildings, which not long ago had a bustling activity.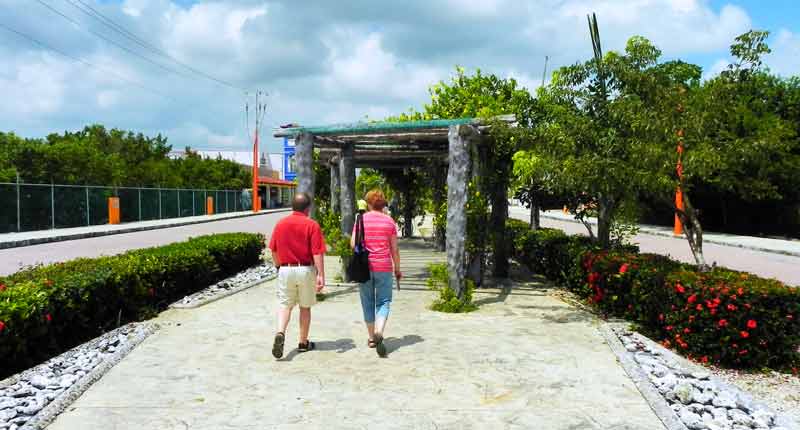 Road Outside Terminal - Costa Maya
Photo © IQCruising.com
Unfortunately, in 2007 and 2012, two hurricanes devastated Costa Maya, and these buildings are still waiting for restoration. Cruise passengers booked with online tour operators will meet their guides along this street outside the gated area of the cruise terminal.
The Mayan Museum is also on this street (on the right-hand side). This small free museum has a rather shabby entrance, but the interior displays interesting jade exhibits and historical boards for those wishing to learn more about this pre-Columbian civilization..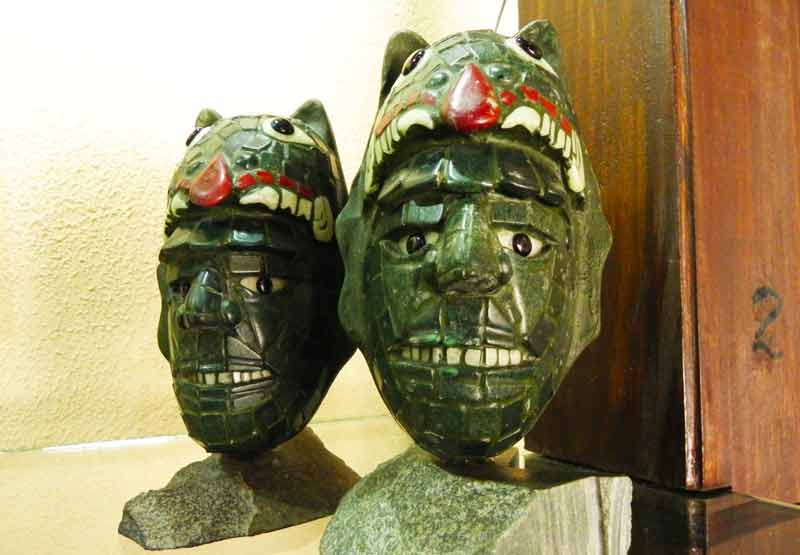 Jade Sculptures at the Museum
Photo © IQCruising.com
Right after the museum, there is a taxi stop and a Mayan pyramid replica that many cruise visitors like to climb for a photo memory. Some cruisers and staff say that the taxi stand rates are better at this stop than at the terminal but the Editor hasn't found this to be 100% accurate.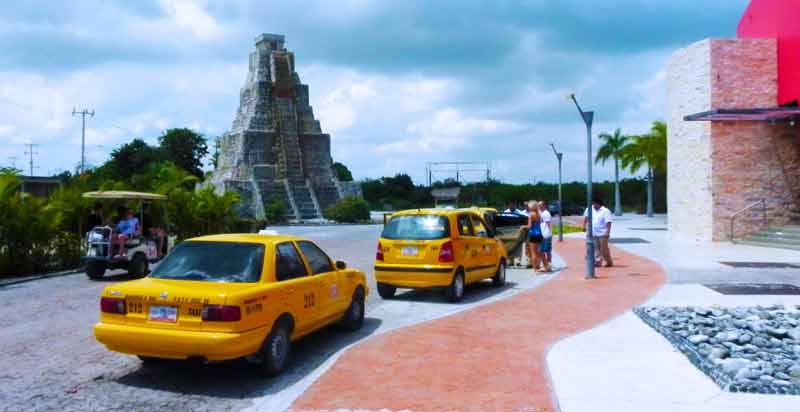 Taxis Outside the Terminal - Costa Maya
Photo © IQCruising.com
Things to do in Costa Maya cruise port
Besides the wonderful Terminal, Puerto Costa Maya (as it is known by locals and cruise lines like Royal Caribbean and Celebrity) is one of the ports in the West Caribbean itineraries that offers a great variety of experiences.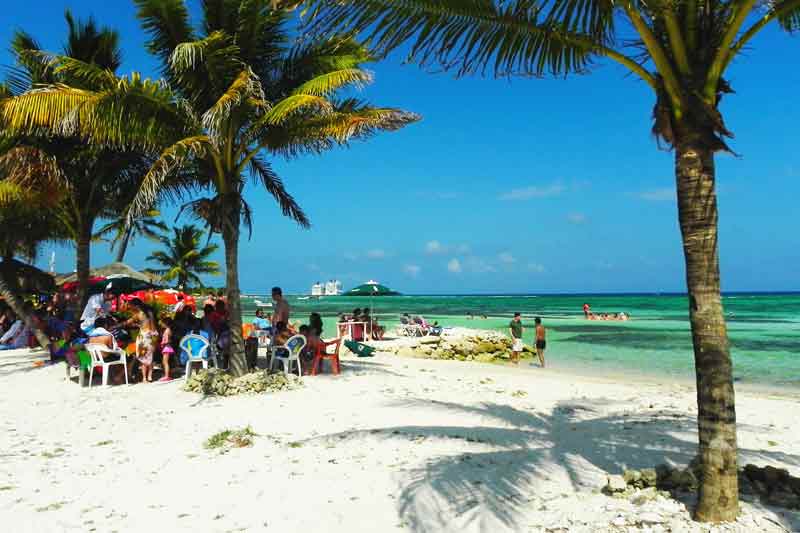 Mahahual Beach is very close to Costa May cruise port
Photo © IQCruising.com
For those looking to enjoy a relaxing day basking in the sun, there are pristine beaches; and if more into active pursuits, snorkeling, scuba, catamaran sailing, fishing or jet skiing are available.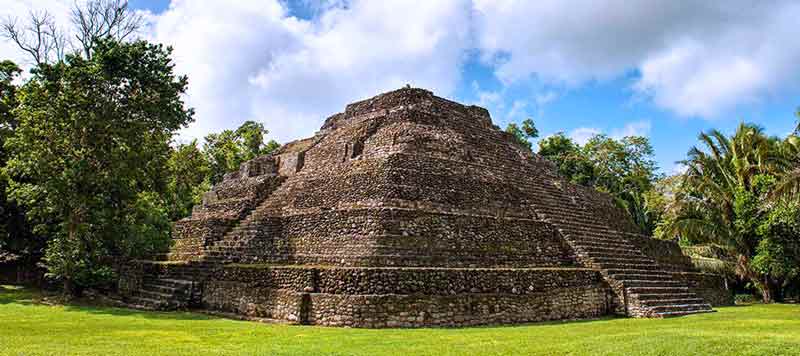 Chacchoben Temple, a top attraction in Costa Maya
Photo credit: Chacchoben Ruins
A couple of spectacular Mayan ruins are highlights close by - in particular Chacchoben. If cruising with children cruise passengers can enjoy zip line courses and water slides at the Mayá, Lost Mayan Kingdom Theme Water Park, close by.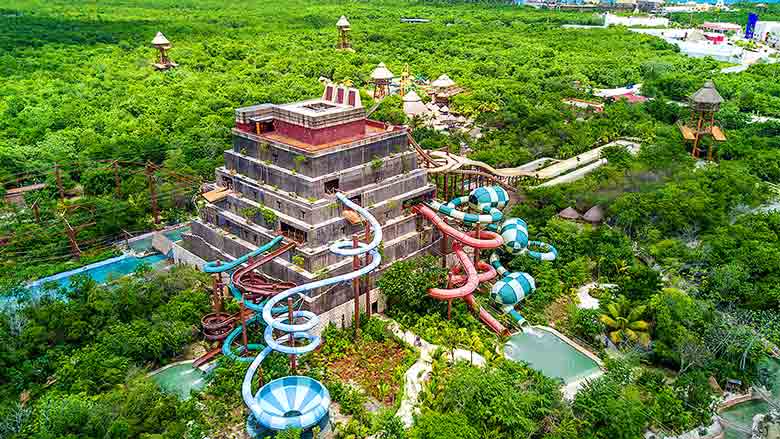 Since the cruise industry suspended operations, Costa Maya cruise port is on a stand still waiting for better days and many businesses have shut down. However, most attractions didn't just vanish and there is a lot to look forward in the near future. Here are the top things to do on a cruise to Costa Maya:
Stay and relax at the cruise terminal.

Enjoy the party atmosphere around the saltwater swimming pools with swim-up bars, go on a shopping spree, or bargain hunting for tequila, vanilla, and local spices.

Swim with dolphins. In the cruise terminal, the "Dolphin Discovery" dolphinarium offers two interactive programs - the Dolphin Swim Adventure and the Dolphin Encounter. Activity time: 45 minutes to 1 hour. Prices: bewteen US$69 and US$109.
Explore Mahahual beach: one of the nicest and most affordables places to enjoy a relaxing day on your own, the beach in Mahahual is dotted by beach clubs, bars, restaurants and all sorts of water-sports. Distance from port: around 2.3 mile (3.8 km). Visiting time: as long as you feel like. Keep reading this review to learn more about Mahahual. How to get there: shuttle, taxi, golf cars
Discover the Chacchoben Mayan ruins. built in the eighth century AD, Chacchoben was a vast Mayan settlement with a Great Plaza, four grand temples, the Gran Basamento (used for religious ceremonies), the Temple of the Vessels and pyramids among other archaeological wonders. Distance from port: around 43 miles (69 km). Visiting time: around 4 hours.
Bacalar Fort and Seven Colors Lagoon. Top attractions:boat ride to Isla del Los Pajaros and Pirate Channel (Canal de Piratas), Spanish Fort (Fuerte San Felipe Bacalar), Cenote Esmeralda, Cenote Cocalitos, and Black Cenote. How to explore: On a shore excursion, between $80 and $120 per adult including meal); on your own by taxi, around $40 . Distance from port: around 56 miles (1 hour by car). Visiting time: up to 6 hours including travel.
Relax with a beach day-pass:

there are numerous resorts and beach clubs south of the cruise port to enjoy; some can only be booked through your cruise line or online excursion services, but there are other that can be booked directly. Keep reading to find out more about all beach day-pass available in Costa Maya cruise port.

Mayá, Lost Mayan Kingdom: the theme adventure water park offers great thrilling attractions such as the twisty zip coaster, along with 12 other zip lines, adrenaline-packed water slides, tubing, swiming pool, restaurants and bars.Distance from port: around 0.5 mile (800 meters). Getting there: on foot, small shuttle buses (trollies) from the cruise terminal. Check maya-park.com the theme park official website for more information.
Taste local flavors: the cruise terminal has great places to taste local flavors but if you want to have a more genuine experience, it is in Mahahual that you will find the best restaurants, bars and beach grills to savor typical mexican delicacies.
Kohunlich, Dzibanche and Kinichná Mayan Ruins:

frequent cruisers that have been in Costa Maya repeatedly and visited Chacchoben, should look into booking an excursion to one of the three other Mayan ruins close to Costa Maya cruise port.

Enjoy watersports and sightseeing:

Cruisers who enjoy water activities will have the opportyunity to enjoy diverse watersports such as snorkeling, diving, kayaking, river tubing, rafting, fly fishing or stand-up paddle boarding. If you enjoy sightseeing, there are many ways of doing it:glass bottom boat, catamaran sail, segway adventure, scenic cycling ride, off road ATV adventure, 4X4 scenic safari, dune buggy beach drive.
Beaches and beach club day passes
The pristine beaches south of the port are natural top attractions for cruise passengers wondering what to do in Costa Maya. Cruise lines, local tour operators and online excursion services offer all types of beach break pakages and many shore excursions combos with the main highlights of Costa Maya.
The beach clubs offered by cruise lines are exclusive and you do not have access to these unless booked throught your cruise ship. Here are the ones used by the major cruise lines:
Beach Escape Club
La Bamba Beach Club
Uchbenkah or Uchben Kah Eco Park
Uvero Beach Club
Reputable online shore excursion services and local operators also offer beach day passes but to different clubs. Here are the ones you can book with online services:
Barefoot Beach Club
Big Mama Beach Club
Blue Kay Resort
Ibiza Sunset Beach Resort
Los Arrecifes
Maramao Beach Club of Hotel El Fuerte
Nohoch Kay
Finally, cruise visitors that prefer to explore ports independently or on their own can book day-passes directly with the following resorts and clubs (links ordered alphabetically):
Adventure, thrilling and fun activities
Besides the top things to do already mentioned, cruise travelers who enjoy adventurous fun will have the opportunity to enjoy diverse activities in a variety of shore excursions, such as::
Snorkeling

Diving

Kayaking

Stand-up Paddle Board

River Tubing

Fly-Fishing at the Bacalar Flats

Scenic Rafting Experience

Off-Road ATV adventure

4X4 scenic safari

Dune Buggy Beach Drive
Sightseeing and cultural excursions
Last but not least, cruise passengers who prefer sightseeing and more contemplative pursuits also have a lot to choose from with shore excursions, such as::
Glass Bottom Boat

Catamaran Sail

Segway adventure

Scenic cycling ride

Salsa Cooking and salsa dancing
Mahahual Beach and Village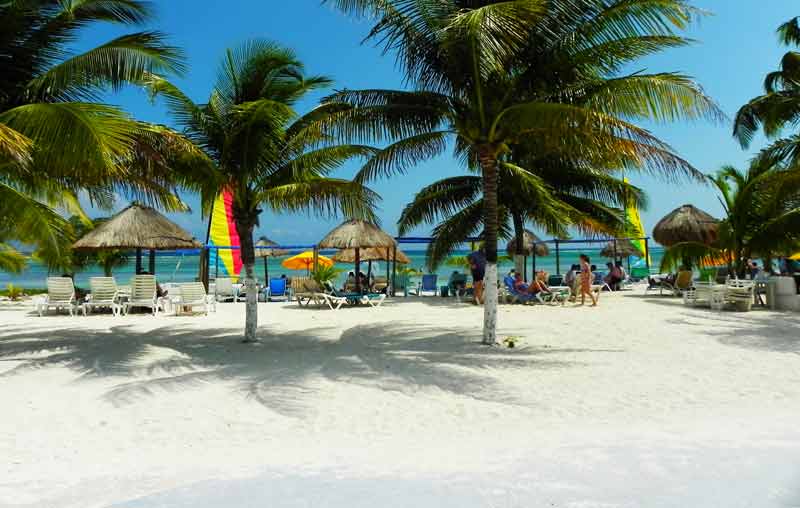 Mahahual Beach - Costa Maya
Photo © IQCruising.com
If planning to go to Mahahual, it is good to know that the northern area is the nicest but the most crowded. By contrast, at the southern tip of the beach, the ocean is very shallow and not as inviting. Cruise tip: regardless of how you plan to get to Mahahual, head to the middle section of the beach.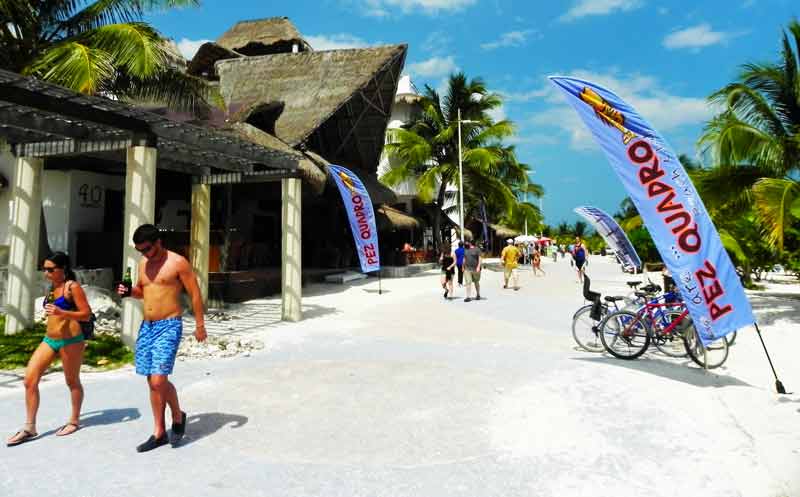 Malecón Mahahual - Costa Maya
Photo © IQCruising.com
Parallel to the Ocean and bordering the sand, there is a main pedestrian 'road' - the Malecón Mahahual. This is lined on the land side by bars, restaurants, souvenir shops, a couple of hotels, water sports shops (fishing, scuba diving, snorkeling, catamaran, jet skiing and so on); and one of the Editor's favorite bookshop in the Caribbean where no-shoes and no-shirts are welcomed.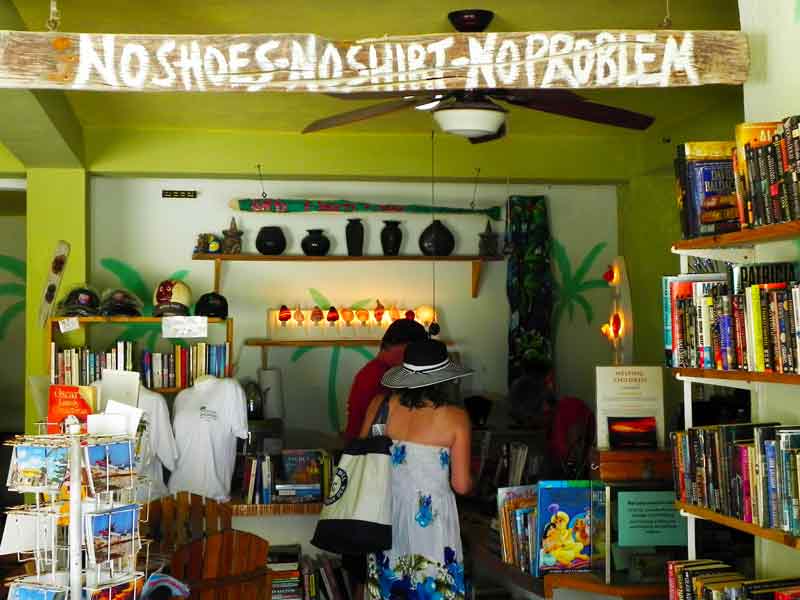 Bookshop in Mahahual
Photo © IQCruising.com
On the beachside of the Malecón, the cruise passenger will find one beach club after another with chairs, umbrellas, bars, and water sports. Some also offer massages. At the northern tip of the beach, there is a Señor Frogs.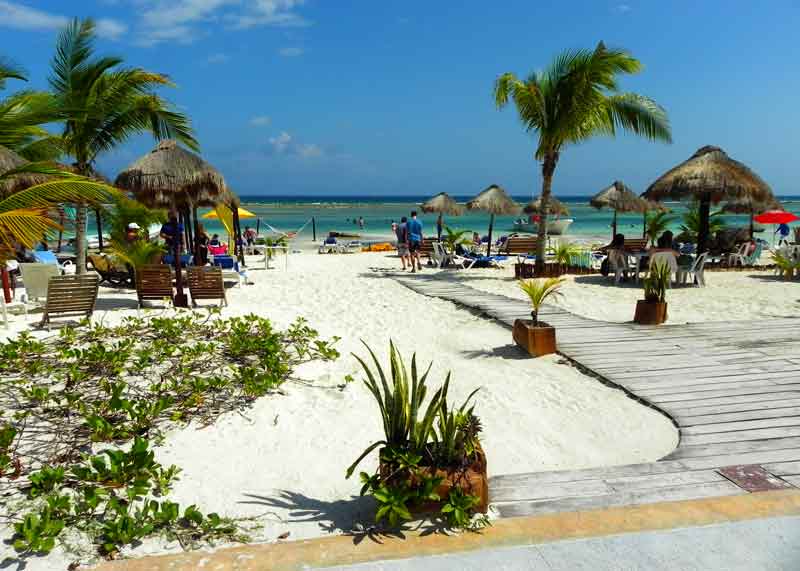 Mahahual Beach - Costa Maya
Photo © IQCruising.com
You should have in mind that Mahahual is a very, very laid back sort of beach and that no one is in a rush to offer any service in this small village. Cruise tip: join the flow (or lack of) and look at leisure for whatever you feel like doing with no pressure.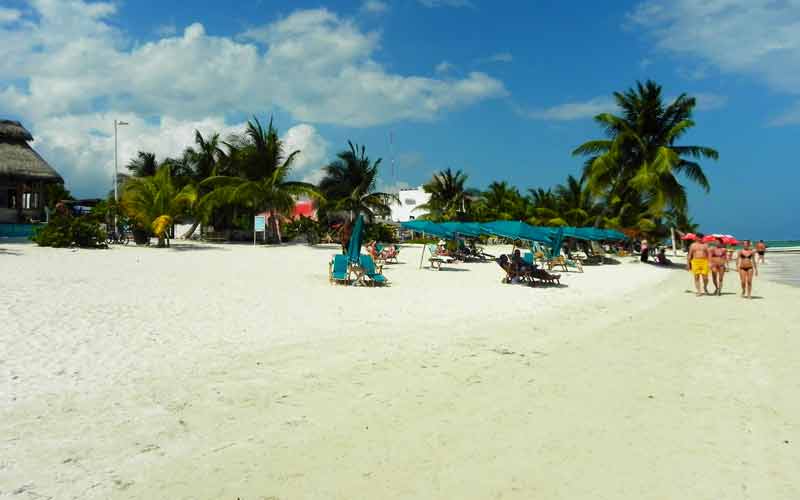 Mahahual Beach - Costa Maya
Photo © IQCruising.com
Costa Maya shore excursions and tours
As much as there are lots of nice and easy things to do on your own when calling at the port of Costa Maya, all cruise lines and independent local tour operators offer excellent cruise excursions, which cruise passengers should consider.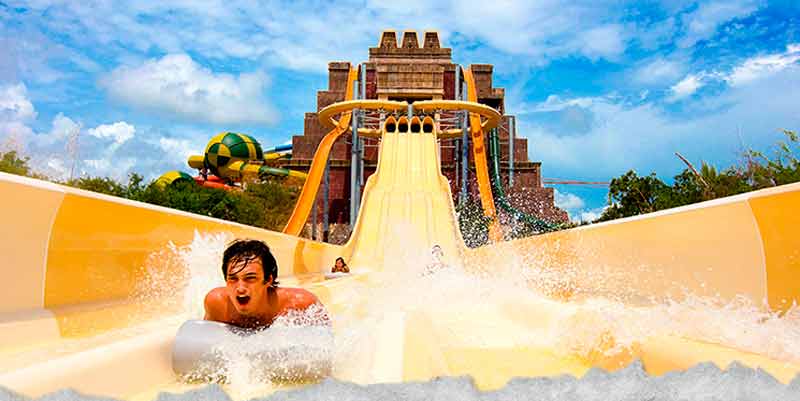 Water-slide - Costa Maya
Photo courtesy of Mayan Lost Kingdom
Typical tours like the ones exploring the Mayan Ruins of Chacchoben or Kohunlich are a must - the first can also be combined with beach time. A Beach Break is also combinable with a Catamaran Sail, Snorkel, Dune Buggy, Paddle-board or a Segway Tour. Scuba is available for both beginners and certified divers. At the Mayá the Lost Mayan Kingdom you can enjoy the excitement of a two zip-line course, the fun of water-slides or relaxing by a pool.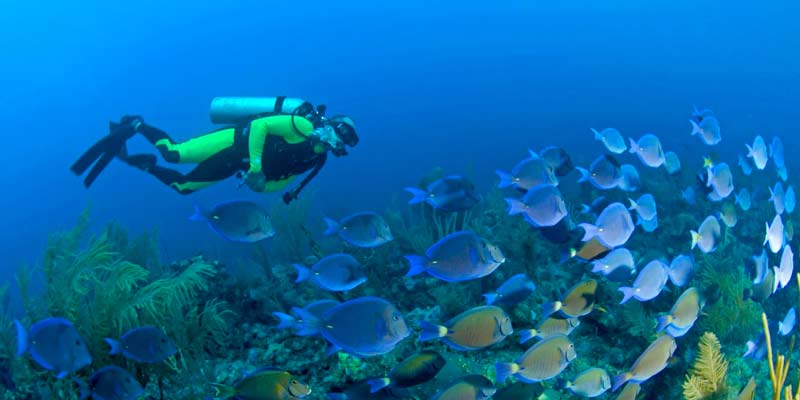 Scuba Diving - Costa Maya
Photo by management
Obviously, all cruise lines offer many and diverse shore excursions in Costa Maya. Celebrity Cruises offers as many 48 shore excursions and Royal Caribbean has 43 cruise excursions. Carnival lists 32 shore excursions. Norwegian Cruise Line (NCL) has available 26 shore excursions. Oceania Cruises organizes 19 shore excursions, Holland America offers 19 cruise excursions, and Princess has 19 excursions available.
Besides the cruise excursions organized by cruise liens, there are also shore excursions and tours offered by the following reputable private online services:
Local tour operators
There are many local tour operators not affiliated with the top online services. Although the following have received excellent reviews, none are in any way affiliated, endorsed, or approved by IQCruising:
Tourist info and language
Tourist Info
There isn't an official Tourist Information kiosk in the cruise terminal. However, the cruise port authority kiosks provide excellent information for those wishing to explore Costa Maya independently.
Language
Spanish is the official language. However, as in any major tourist cruise port, English is widely spoken.
Safety, US travel advisory and basics
For comprehensive and updated information about traveling to Mexico see the U.S. Department of State website page evolving advisory.
Covid-19 advise for cruises to Costa Maya (Mexico)
For updated coronavirus (Covid-19) information and travel advice to Mexico and Costa Maya visit the website of the U.S. Embassy in Mexico. For more Traveler's Health advice to Mexico see the CDC Website.
Costa Maya Basic Info at a Glance
| | |
| --- | --- |
| Entry Requirements: | Although a valid passport is preferred, cruise lines will handle all the procedures before docking and you will not need to take any sort of ID with you besides your ship card. |
| ATM's: | At the Terminal - US Dollars only |
| Phones: | Country Code: 52 (Mexico). Costa Maya area code: 983. To call US or Canada just need to dial 001 prior to the number. To call other countries dial 00 + country code + area code + local number |
| Post Office: | In Mahahual |
| Electricity: | Standard American 120 V current. Most places have a 3 prong outlet but in older venues you may find 2 pin ones. |
| Driving: | On the right - Golf Cars available at the Terminal - taxi, shuttle area. |
| Major Rental Car: | Easy Car Rental at Mahahual - can be booked online and car delivered to Terminal. |
| Phone Emergencies: | General - 911 | Medical Emergencies: 911 |
| Emergencies: | US Consular Agency: 872-4574 (Cozumel) - Embassy in Mexico City |
| Health Issues: | Pharmacy at the Terminal |