Essential guide for cruises to Cozumel: where ships dock and cruise terminals. Things to do on shore excursions and on your own. Beaches, all-inclusive, day-passes, shopping, restaurants and Playa del Carmen.
Stunning crystal clear waters, sugar powder sanded beaches and a couple of interesting archaeological sites are the top attractions of Cozumel cruise port. Tasting genuine Mexican cuisine is a must when calling on a cruise. And for shopaholics the port in Cozumel is heaven on earth.
Review contents
Where is Cozumel
Around 11 miles off the coast of the Yucatan peninsula and right across Playa del Carmen, Cozumel is the largest island in Mexico and the most popular cruise ship port in the Caribbean. In fact, with over 3 million cruise ship passengers docking in Cozumel every year, it is one of the most visited ports in the World. On the height of the season (between November and April) as many as 8 cruise ships dock almost every day in 3 very well developed and equipped terminals.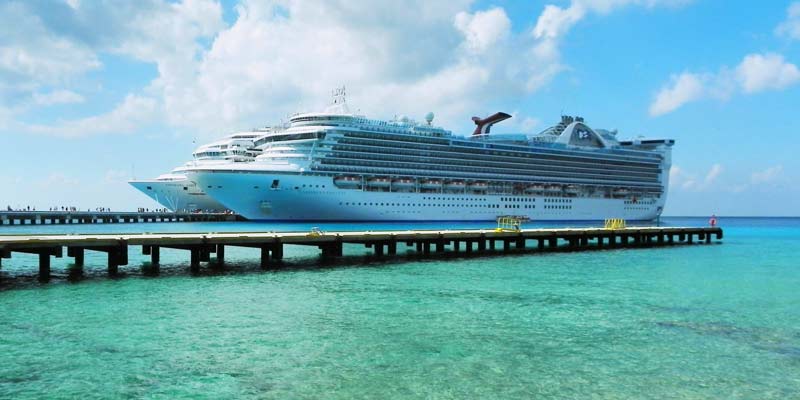 Puerta Maya - Cozumel
Photo © IQCruising.com
Where cruise ships dock in Cozumel
Cruise ships dock in Cozumel in one of 3 piers-terminals. The Punta Langosta Pier is located at the southern end of San Miguel, the major town on the Island, at walking distance to the best shops, restaurants, and a few landmarks like the Benito Juarez Park or the Cozumel Island Museum.
Around 3 miles south of San Miguel, are the other two cruise terminals - the International Cruise Terminal aka as TMM and Puerta Maya cruise terminal - just a few hundred years apart.
Main Street - Cozumel
Photo © IQCruising.com
Regardless of the Terminal where your cruise ship will dock, the cruise traveler should know that all of them have excellent amenities, offer all services you may need (from Car Rental and Taxis to ATM's and Information Desks) including endless duty-free shopping and well-known bars-grill-restaurants such as Señor Frogs, Starbucks or Pancho's Backyard.
Map of Cozumel with the 3 cruise terminals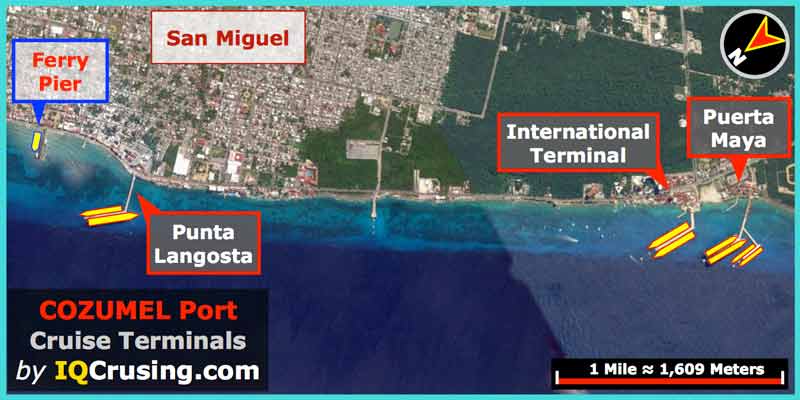 ► Explore: The Three Cruise Terminals In Cozumel
Discover the terminals of Puerta Maya, International Pier aka TMM and Punta Langosta, what's at each terminal and close by ...
Learn More ►
Top things to do in Cozumel port
There are good reasons why Cozumel is such a popular cruise port. To start with, the tropical weather is just fabulous and very reliable with 80°F (27° C) average annual temperature. But its main attraction is the unmatched clarity of the ocean waters that surround the island.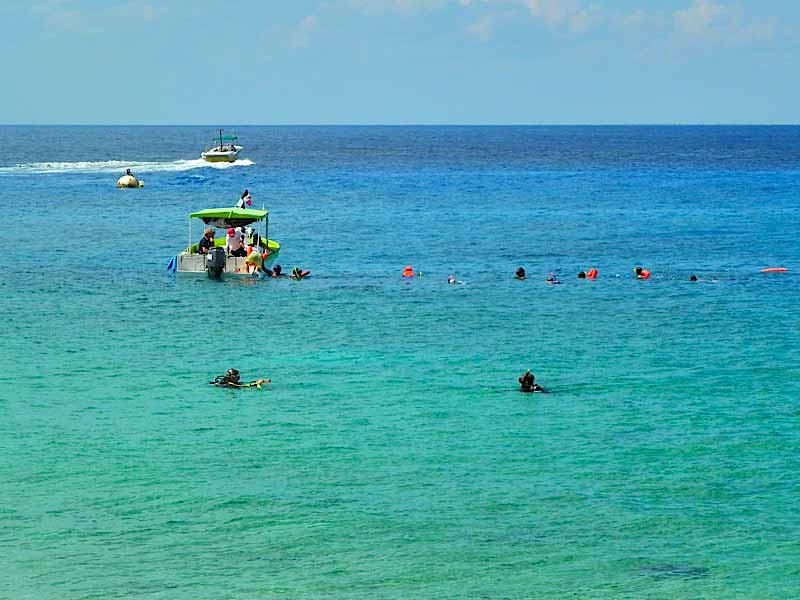 Diving Site - Cozumel
Photo © IQCruising.com
Since Jean-Jacques Cousteau 'discovered' Cozumel's spectacular scuba sites, when he first landed here in 1961, all sorts of water-sports and scuba, in particular, are offered by a plethora of local small business. For those that are not attracted by the wonders of ocean depths, snorkeling, fishing or just sea splashing in stunning beaches are minutes away from the cruise port. Naturally, most of these beaches have bars, restaurants, and activities that range from the most simple paddle boards to para-sailing or jet skiing.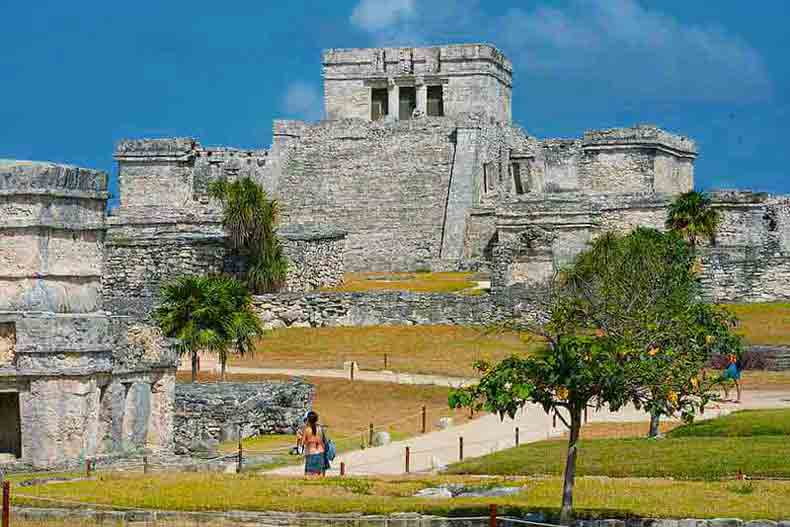 Tulum Mayan Site - Cozumel
Photo Photo: Sverzel CC-BY-SA
Tulum, a major Mayan historical site, is inland but close enough to explore when cruising (1.5-hour on a ship excursion or 2 hours on your own) and a must see for those interested in archeology. Tulum is around 30-minute drive from Playa del Carmen and you will need to get on a ferry to this beautiful town inland (another 45 minutes) - count with at least 6 hours if you wish to do it on your own.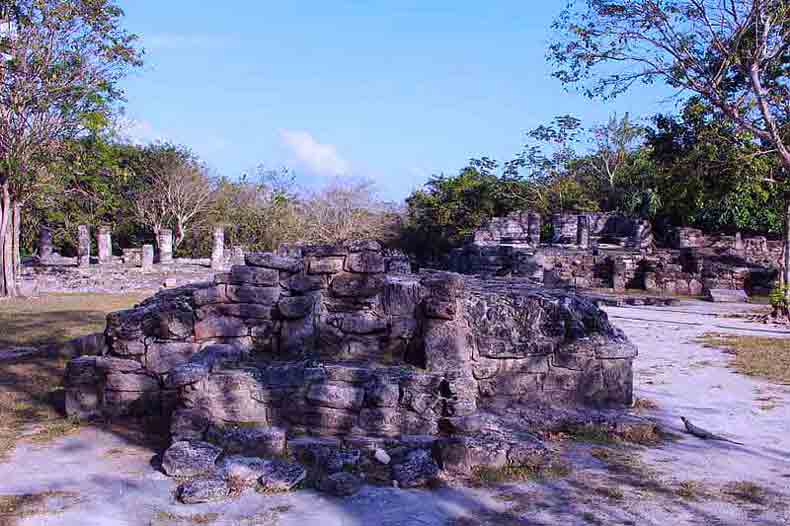 San Gervasio Mayan Ruins - Cozumel
Photo Puchku cc-by-sa
In the island itself, a half-hour from the pier, San Gervasio is a much smaller Mayan ruin site where Ix Chel, the goddess of the moon, childbirth, and fertility was worshiped in pre-Columbian times.
Very few cruise lines offer tours to Chichén Itzá - one of the most spectacular Mayan archaeological sites - for the simple reason that a tour from Cozumel and back will take at least 10 hours. If Chichén Itzá is on your bucket list, make sure you look for a cruise line that offers this tour.
Cruise and shore excursions
All cruise lines (and private operators) offer shore excursions and tours in Cozumel. Celebrity Cruises and Royal Caribbean offer as many 85 shore excursions. Carnival lists 58 shore excursions. Oceania Cruises organizes 25 shore excursions, Norwegian Cruise Line (NCL) offers 42 excursions and Princess has 48 excursions available.
There are also excursions offered by the following reputable private online services and local tour operators:
Explore on your own
Besides the archaeological tours and shore excursions, many activities, which can also be enjoyed on your own. However, be aware that some activities like the Dolphin Discovery, which do not allow walk-in cruise passengers and if you try to book online the website will redirect to your cruise line. But many other activities can easily be enjoyed on your own.
Atlantis submarine
The Atlantis Submarine is a great experience for those that are not scuba divers and do not enjoy or can snorkel but want to discover the wonderful underwater world of Cozumel with its rich marine life. It also offers a combo with a drive around the island on a Buggy, Buffet Lunch and Drinks.
Good to know: Book in Advance | Tour Time - 2 hours | Prices: $105 (adult) | $65 (Child). Getting There - North of Puerta Maya Pier and TMM (walking distance; 5 miles south of Punta Langosta. Check the Atlantis Website.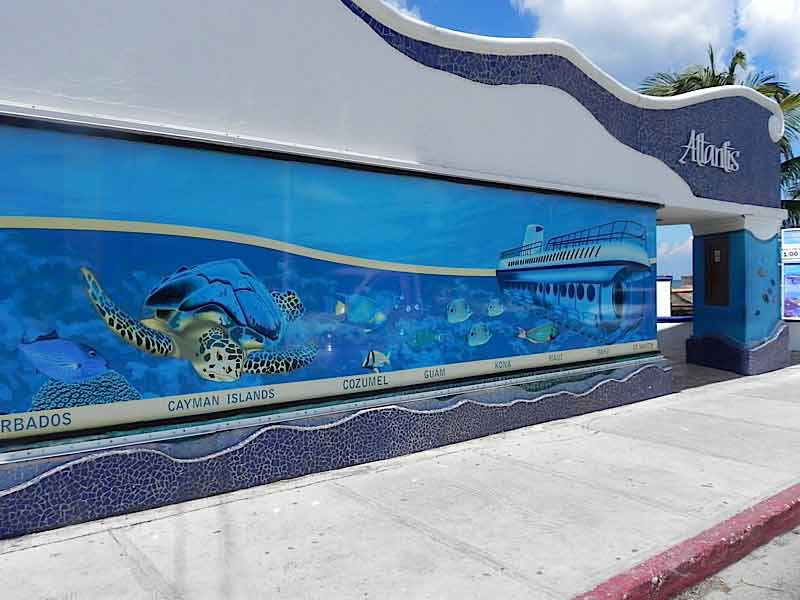 Atlantis Submarine, Cozumel
Photo © IQCruising.com
Beaches and days-passes
There are a number of day-passes to beaches and resorts offering all inclusive packages but also different combos such as day-pass + buffet + transfers + open bar. Prices vary between $30 and $70 per person. Playa Mia ($30), Mr. Sancho's ($55), Iberostar Cozumel ($67), El Cid La Ceiba Beach ($65.00) El Cozumeleno ($69.00), Melia Vacation Club Cozumel ($70.00), Occidental Grand Resort Cozumel ($70.00) and Grand Park Royal ($40) are some of the most popular.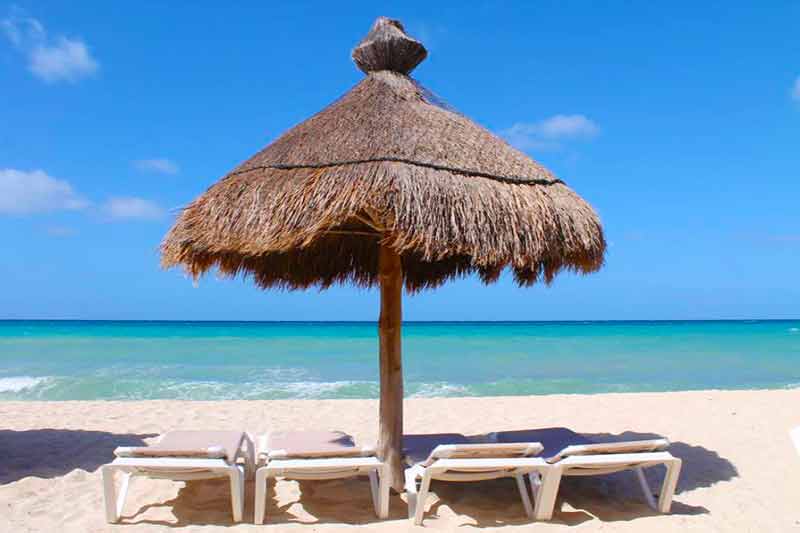 Nachi Cocom Beach Club
Photo Courtesy of Nachi Cocom
Obviously, there are also many more beaches that are free such as Palancar Beach, San Martin, Playa Bonita, Punta Morena or San Francisco, where the cruise traveler will find beach grills and bars to enjoy a quick bite or drinks. However, the quality and huge choice of Day-Passes is a delight for those looking for a serviced beach, resort or park.
► Explore: All The Beach Day-Passes in Cozumel
Discover the different packages and prices of all the Beach Clubs, Parks and Resorts offering day-passes in Cozumel ...
Learn More ►
Travel around on your own
Renting a scooter, an ATV or a Jeep is easy, a great way to travel around and discover the island on your own, in particular, if the cruise travel wishes to combine sites that are not offered by tour operators or the cruise ship shorex. Just be aware that roads on the east side of the island may be a bit rough and riding a scooter requires extra attention.
Snorkel and scuba diving
All cruise lines offer scuba diving and snorkel as part of their shore excursions. But a dive can be also organized with many of the small PADI certified diving clubs close to any of the cruise piers. It is advisable to book online in advance.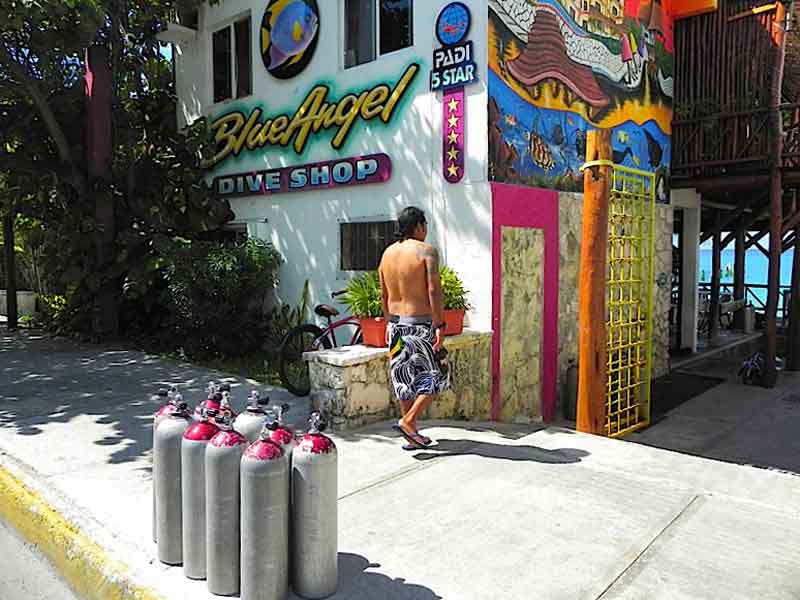 Blue Angel Diving - Cozumel
Photo © IQCruising.com
Discover San Miguel
If your cruise ship docks in Punta Langosta, the town of San Miguel is right across the street from the pier. When docking at the International Pier aka TMM or Puerta Maya, the cruise traveler will have to get a taxi to San Miguel ($8 per person each way up to 4 passengers). In town, there are a few interesting landmarks. The main promenade along the ocean is known as Av. Rafael E. Melgar and is lined with shops all the way to the Forum shopping mall (over 1 mile from Punta Langosta).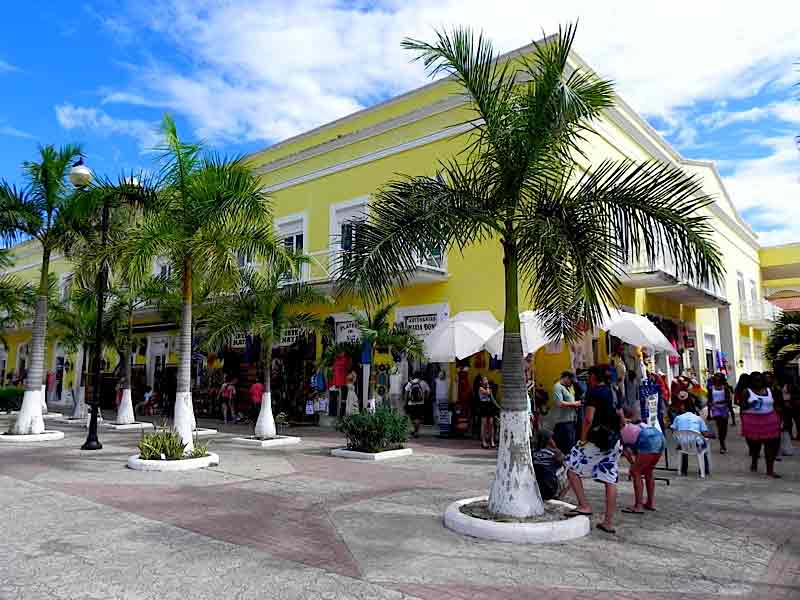 San Miguel Main Square - Cozumel
Photo © IQCruising.com
Half away along this promenade, the Benito Juarez Park is a large square with a few nice restaurants, a mall with souvenirs and crafts (Plaza del Sol), the Synagogue and close by the small church of San Miguel. The Cozumel Island Museum ($4 per person and children under 8 enter free) is just a couple of blocks north of the square. Besides the exhibits, the museum's restaurant is nice and has a great view.
Shops and best shopping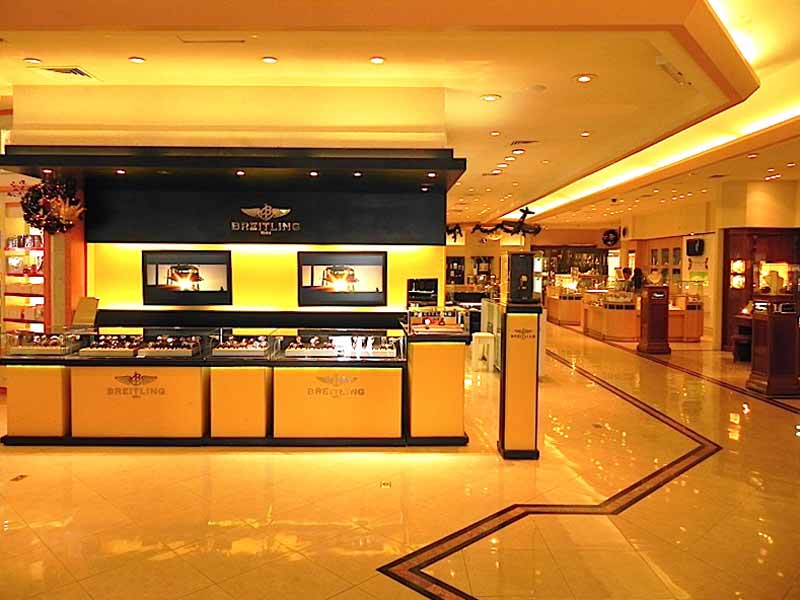 San Miguel Shopping - Cozumel
Photo © IQCruising.com
As Cozumel became a popular cruise destination, many other attractions (besides its natural beauty) have developed. The number and quality of shops expanded like in many other islands in the Caribbean and San Miguel is now a shopping paradise. Every single duty-free shop you will find in the Caribbean has at least one store in San Miguel (Diamonds International, Del Sol, Cariloha and so on) but the cruise traveler will also find many others like Pana or Cinco Soles that only exist in Cozumel. If you are a cigar aficionado, Cozumel has some of the best and most affordable cigars in the Caribbean.
Local cuisine, quick bites and restaurants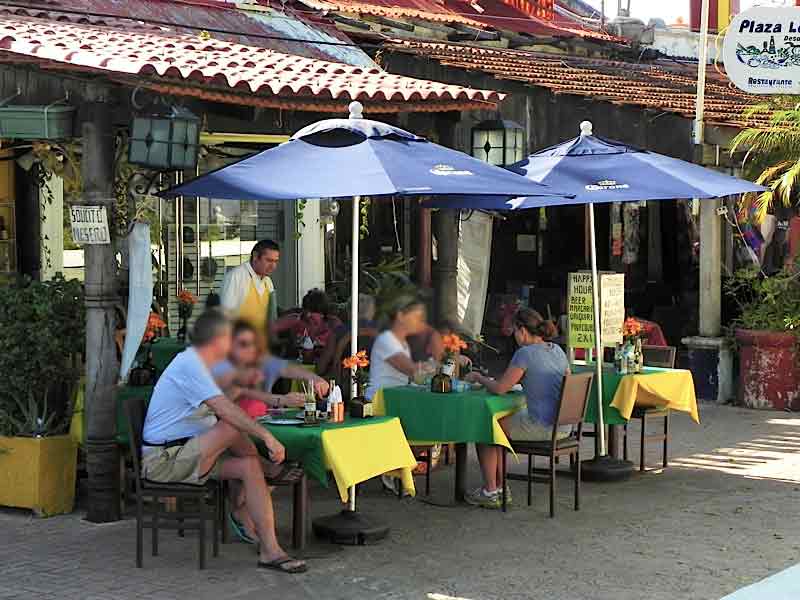 San Miguel Al Fresco Restaurant - Cozumel
Photo © IQCruising.com
Flavors:
Whatever your plans for a day in Cozumel, do not miss the opportunity to taste real Mexican cuisine or even from other culinary traditions. A good number of restaurants offer different international cuisines for all types of budgets, including Italian and even kosher. Guacamole, tacos, fajitas can be found pretty much all over town and some of the settings are just as delicious as the food.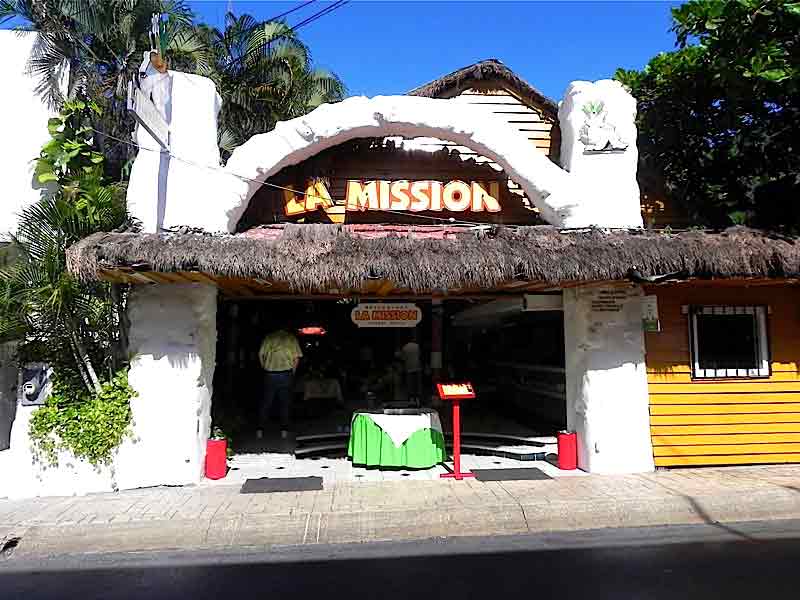 La Mission Restaurant - Cozumel
Photo © IQCruising.com
La Mission is one the Editor's favorites when in the mood for a Mexican treat with a popular flair. The rooms are vast, the service is slow, the music can be a bit too loud but the cuisine is genuine and the ambiance unbeatable.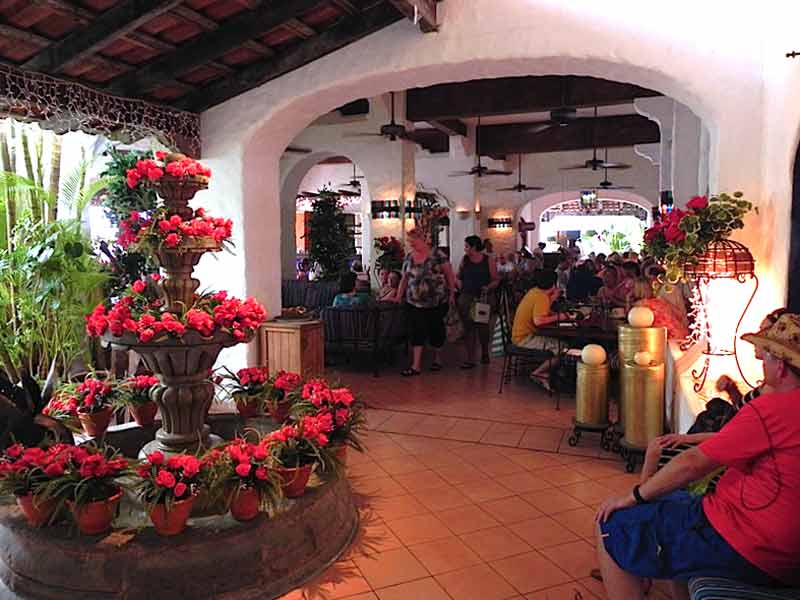 Panchos Backyard is a more upscale type of restaurant - it also has another venue at Puerta Maya's Pier/Terminal. The cuisine is fabulous and the service tends to be good if the restaurant is not to full. More expensive than many other restaurants in Cozumel, it is worth every cent. Panchos Backyard Website
Playa del Carmen on your own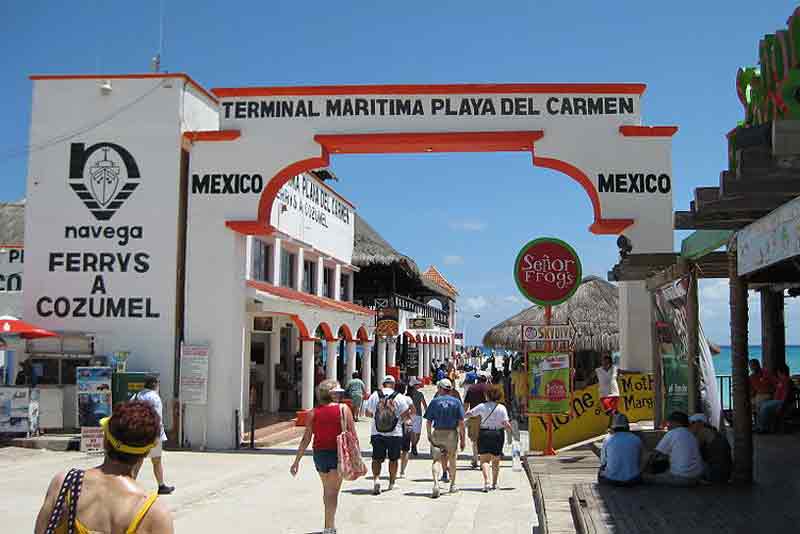 Photo by TampAGS CC by SA
For the savvy cruiser that has visited Cozumel before and explored the main attractions, Playa del Carmen is a great alternative and easy to get to on a ferry (departures every hour, costing around US $10 each way). The ferry terminal is at walking distance from the Punta Langosta Terminal and a short taxi ride from the other 2 terminals (around $8 each way). Ferries run every hour and the crossing takes around 45 minutes. The Ferry Terminal is right by the Main Square in San Miguel. The terminal in Playa del Carmen is very centrally located and within walking to all main attractions. Check here for Ferry Schedules.
Cozumel Basics Info
| | |
| --- | --- |
| Language | Spanish is the official language. However, as in any major tourist cruise port, English is widely spoken. |
| Entry Requirements: | Although a valid passport is preferred, cruise lines will handle all the procedures before docking and you will not need to take any sort of ID with you besides your ship card. |
| Currency: | The Mexican Peso is the official currency. But in most places the US$ is widely accepted. Like in the US, the peso uses the $ sign and it can be sometimes confusing when seeing prices in Mexican pesos. When in doubt, makes sure you look for MX, Mex$ or MXN. To make it, even more, confusing, many businesses display prices in US dollars. The Peso is divided into 100 centavos (cents). There are 5 different coins: 50 centavos, $1, $2, $5 and $10 pesos; and 6 larger bills: $20, $50, $100, $200, $500 and $1000 pesos. |
| ATM's: | There are ATM machines pretty much everywhere. Some ATM's offer the option of cashing pesos or US$. Although the cruise ship passenger doesn't really need to use Mexican Pesos. If you prefer to use ATM's in Banks, you will find branches of major banks such HSBC, Citibank and Santander in or close to Plaza del Sol. |
| Phones: | Country Code: 52 (Mexico). Cozumel area code: 897. To call US or Canada just need to dial 001 prior to the number. To call other countries dial 00 + country code + area code + local number |
| Post: | The post office in Cozumel is located very close to the Punta Langosta terminal, right at the main street and Calle 7 South. |
| Electricity: | Standard American 120 V current. Most places have a 3 prong outlet but in older venues you may find 2 pin ones. |
| Driving: | Driving is on the right, easy and safe. There is only one road that goes all the way to the south end and back north on the east coast. At the end, this road crosses the island back to San Miguel. As much as renting a scooter is appealing and cheap (and the editor as done it many times), be aware of the dangers and many accidents with tourists. If you choose to rent a scooter make sure that you wear a helmet and your body is fully covered - asphalt and skin are a very bad mix. |
| Major Rental Car: | Near Punta Langosta: Avis and Alamo | Near International Pier: Avis, Alamo, Dollar and Thrifty| Near Puerta Maya: Avis, Alamo, Dollar and Thrifty |
| Phone Emergencies: | General - 911 | Medical Emergencies: 911 |
| Emergencies: | US Consular Agency: 872-4574 (Cozumel) - Embassy in Mexico City |
| Health Issues: | There a few hospitals and clinics in Cozumel with English-speaking doctors. The cruise ship passenger will be surprised with the number of Pharmacies (farmacias) selling prescription medications (over the counter) that usually you will not be able to buy in the US or Canada such as Viagra and Cialis. |
More Cozumel reviews
► Explore: Top Reviews - Caribbean Ports
Discover the Most Popular Caribbean Port Reviews - Grand Turk, Barbados, Miami, St. Kitts, St. Lucia, Ocho Rios, Montego Bay, Falmouth, Curaçao, Aruba, Key West, St Thomas and more ...
Learn More ►