Essential guide to Curaçao cruise port in Willemstad: where ships dock, the two cruise terminals, the main attractions in Willemstad, and shore excursions.
Curaçao and its cruise port in Willemstad - the capital - is an island with a rare charm, stunning colonial architecture, impeccably clean and kept, and very comfortable to explore on your own as safety is something you don't need to be concerned with.
The local population is friendly (but not pushy) inviting the cruise passenger to discover the many natural wonders and rich cultural past of this Dutch Island.
Where do cruise ships dock in Curaçao
Willemstad is one of the main highlights of Curaçao. Within walking distance from where cruise ships dock, the city's unique colonial architecture has a number of attractions to explore on foot and on your own.

Willemstad's Waterfront
Photo © IQCruising.com
In town there are landmarks like the floating Queen Emma Bridge and the Fort Amsterdam; religious sites like the Mikvé Israel-Emanuel Synagogue or Saint Ana Catholic Church; and museums such as Kura Hulanda and the Maritime Museum. Like most Caribbean islands it is also a shopping paradise and with great places to savor local cuisine.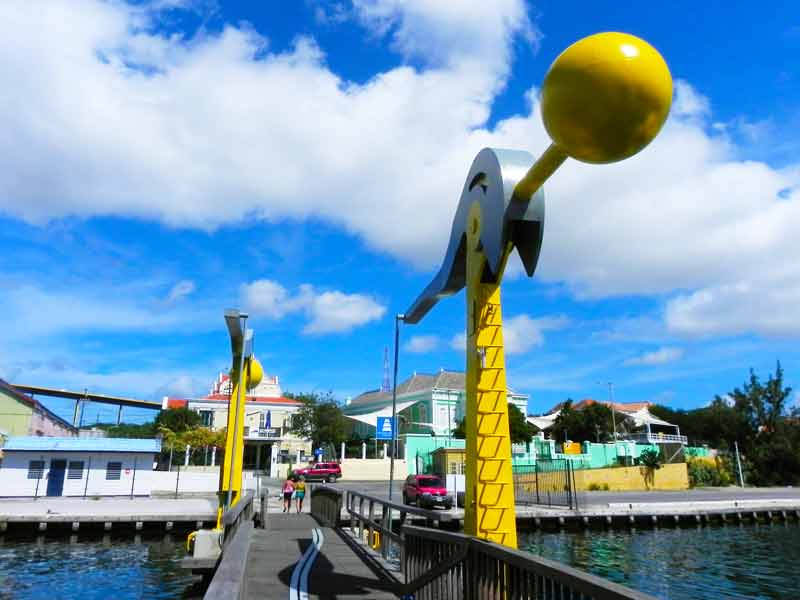 Queen Wilhelmina Bridge in Curaçao
Photo © IQCruising.com
With so much to explore in the capital of Curaçao, the cruise visitor who doesn't venture beyond Willemstad will be missing a lot. The pristine beaches and coral reefs with spectacular water visibility are an invitation to enjoy a relaxed day sun basking or in more active pursuits - snorkeling, scuba diving, sailing or fishing - in beaches like the famous Blue Bay.
Other attractions out of Willemstad should also be considered - like the Aquarium or the Hato Caves. It is also easy to combine any of these attractions with some time in the sun as both Kontiki and Mambo Beaches are close to the cruise piers.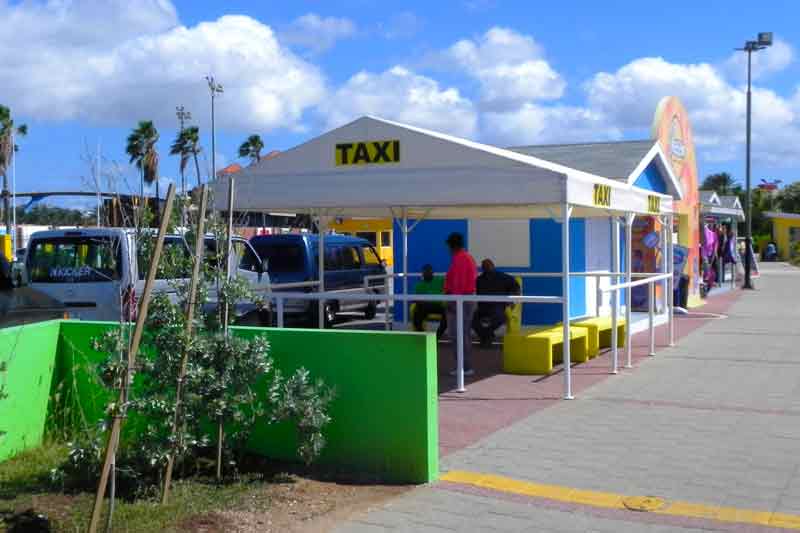 Taxi Stand - Mega Pier
Photo © IQCruising.com
As mentioned, Willemstad is within walking distance of both cruise terminals, but if the cruise passenger wishes to explore other attractions (besides the excursions offered onboard, with independent tour operators online or at the pier) there are taxis (around $40.00 per hour for up to 4 people) and car rentals (Punda Services - Budget Rent at Renaissance Resort). The Public Buses are limited - and not as good as services in Aruba (another Dutch island close by) - but there are Electrical wheelchairs for rent next to the Mega Pier.
Where cruise ships dock in Curaçao (Willemstad)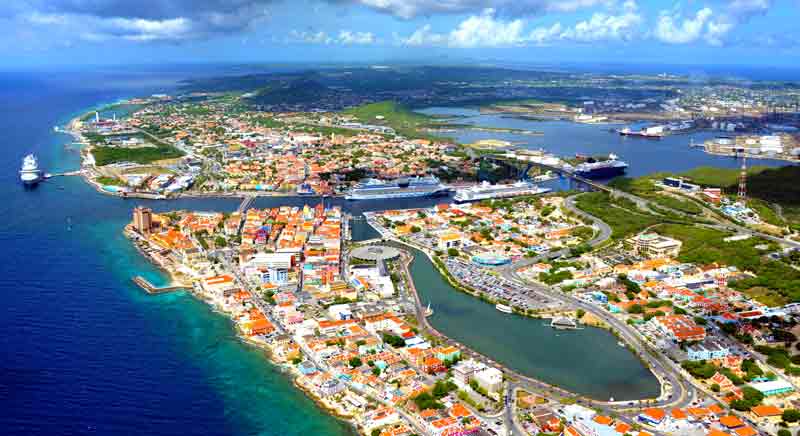 Willemstad and its two piers
Photo by Curaçao Ports Authority
Cruise Ships dock at one of two terminals (Mega Pier Cruise-Terminal and Mathey Wharf) relatively close to each other, both at walking distance to the main attractions of Willemstad and with all major amenities and services.
The Mega Pier cruise terminal
If only one cruise ship is in port, the Mega Pier is where she will dock regardless of the size or the length of the stay - the Mega Pier is the one on the left in the picture above.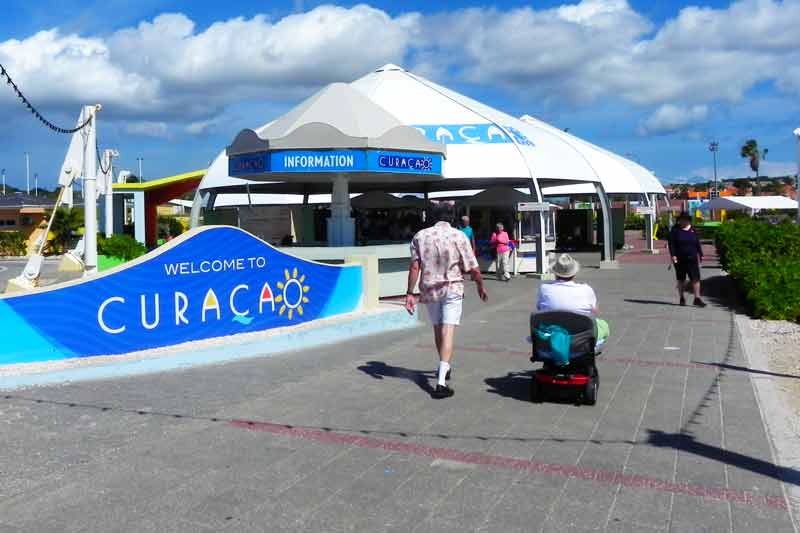 Tourist Information at Mega Pier
Photo © IQCruising.com
cruise visitors will find most services and amenities are in the open air terminal next to the Mega Pier - information booth, restrooms, a taxi stand, an independent-tour-operator stand, a couple of places with refreshments and, naturally and inevitably, souvenirs shops. Complimentary Wi-Fi is available at the terminal but one other service available at the Mega Pier Terminal must be highlighted - a Wheelchair and ECV Rental, ideal for those with mobility difficulties.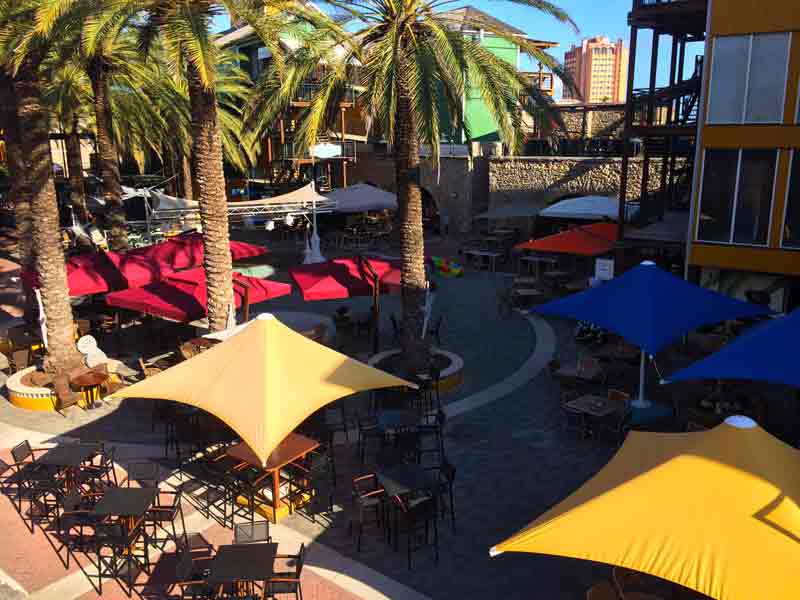 Rif Fort Mall in Curaçao
Photo © IQCruising.com
The Mega Pier Terminal is a bit farther away from the landmarks of Willemstad but the walk is both pleasant and appealing as you pass along the way through the Renaissance Resort with two famous and connecting malls. On the first one, you will find high-end shops like Adolfo Dominguez, Tiffany & Co, Breitling, Paul & Shark, Hilfiger, Nautica, Mango or Guess and a Starbucks (Free Wi-Fi). The second Mall occupies the area of the 19th century waterfront Rif Fort - along with shops there are services like the Atlantis Adventures (Tours including a Trolley Train), the Budget Car Rental, an ATM, a few cafés, bars, ice cream shops and a couple of good restaurants.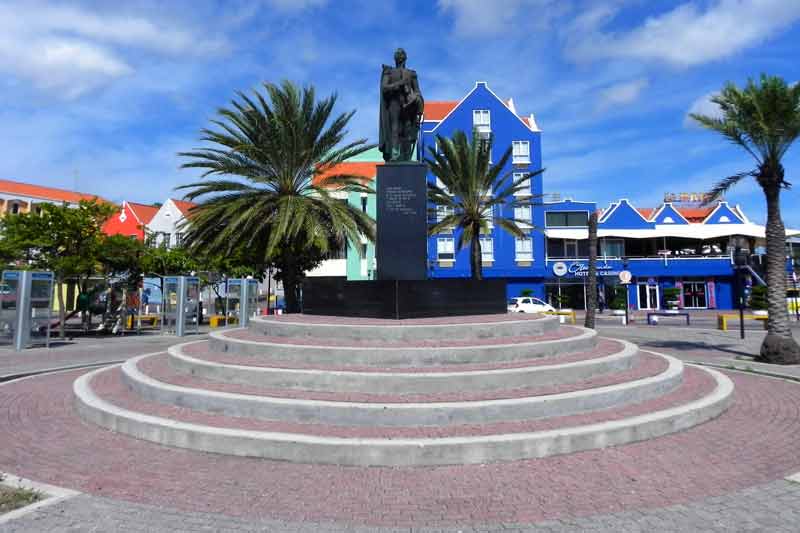 Brion Square, Willemstad, in Curaçao
Photo © IQCruising.com
Once outside the Rif Fort area, the cruise passenger will be at around 600 feet (200 meters) from Brion Square and the floating Queen Emma Bridge - a major landmark of Willemstad.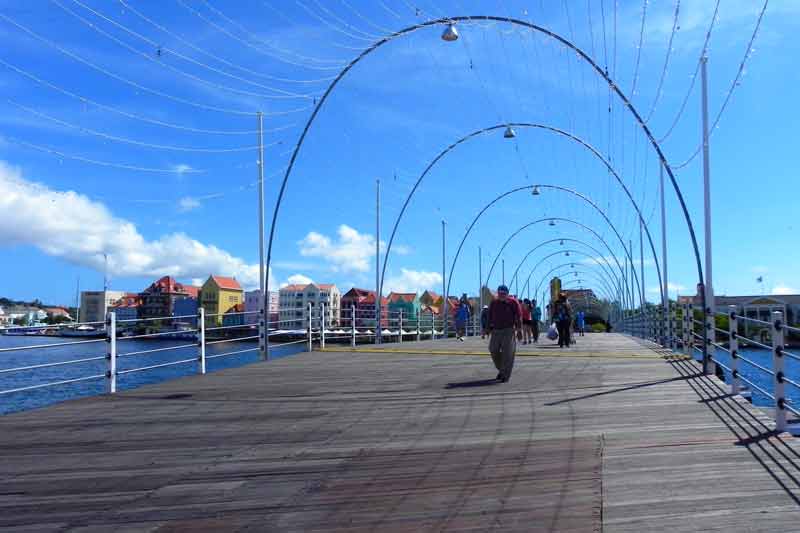 Queen Emma Bridge
Photo © IQCruising.com
The Mathey Wharf dock
The Mathey Wharf is the other possible docking pier. With capacity for as many as 4 ships, this terminal occupies the old wharves of Otrabanda and Punda next to Queen Juliana Bridge across the St. Anna Bay.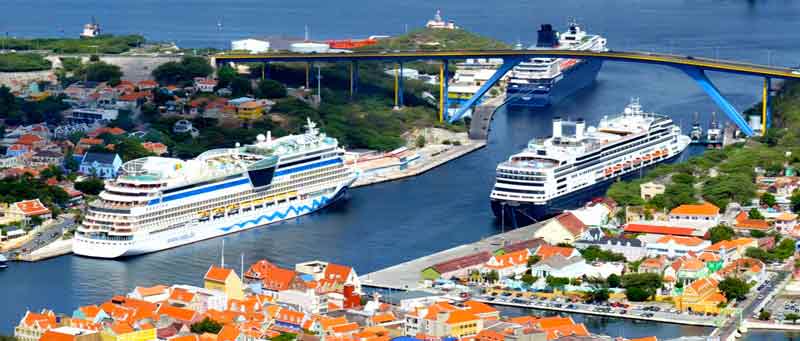 Ships at Mathey Wharf
Photo Curaçao Ports Authority
At the Mathey Wharf the cruise visitor will also find an Information Booth, Restrooms, a Taxi stand, a stand for independent tour operators, and souvenirs shops. Once outside, a left turn will take you pass the wonderful building of the Gouverneur De Rouville Restaurant to Brion Square and the floating Queen Emma Bridge pedestrian cross to Punda - a historical neighborhood of Willemstad where major landmarks are found.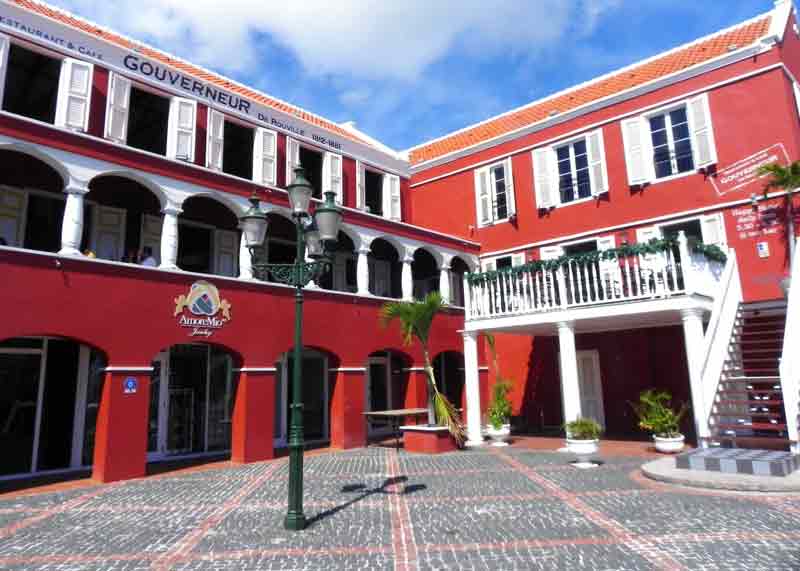 Gouverneur De Rouville Restaurant in Curaçao
Photo © IQCruising.com
Main Attractions in Willemstad
It is impossible to resist the multiple photo opportunities when crossing Queen Emma Bridge with its great sights of the waterfront with its colorful Dutch colonial buildings, the Queen Juliana Bridge, the Fort Amsterdam and endless ocean views.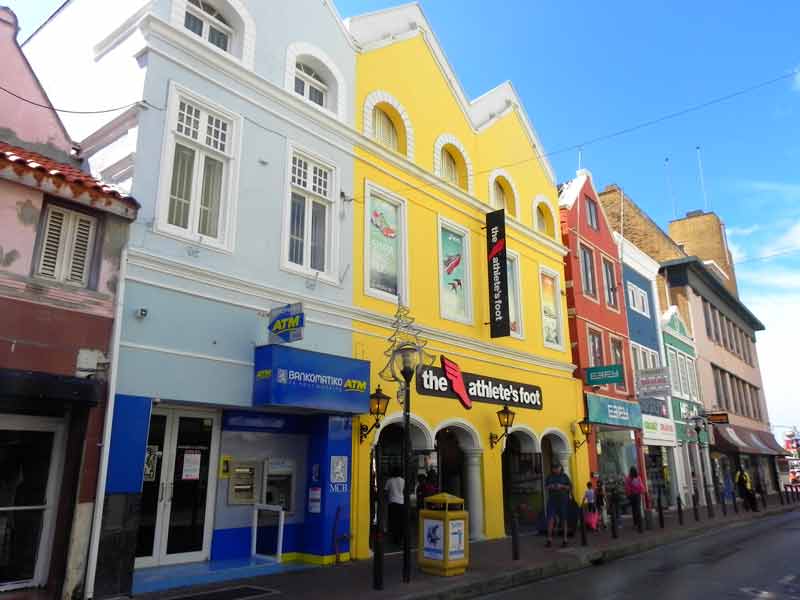 Shopping Street in Willemstad
Photo © IQCruising.com
Once in Punda the Editor recommends a visit to the old Fort and in particular to the Fort Church Museum (open in the morning only until 1:30 pm - entrance US$5.00). This is also the place to hop on the Trolley Train if you wish to sightsee (seating) the major landmarks of Willemstad (slightly over 1 hour, US$25.00).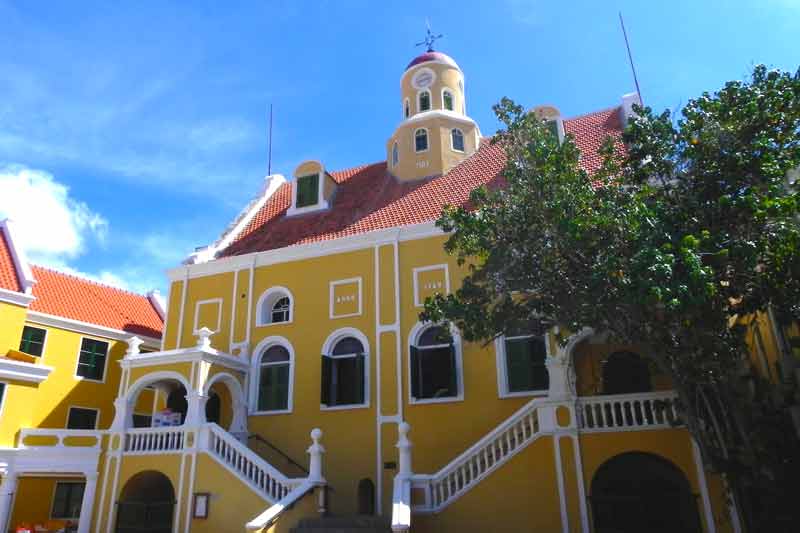 Fort Church Museum in Curaçao
Photo © IQCruising.com
The main street next to the fort is Breedestraat with many of the duty-free shops Willemstad is known for - Penha, Diamonds International, Effy or Cariloha. Walking along Breedestraat, you will see narrow streets leading into a busy area with more shops - you will feel tempted to explore this area and if bargain-duty-free hunting is your plan that's the place to go. But a little farther east a very nice tree lined open area - Koningin Wilhelminapark (Queen Wilhelmina Park) - is a good place to enjoy a rest on a shaded café.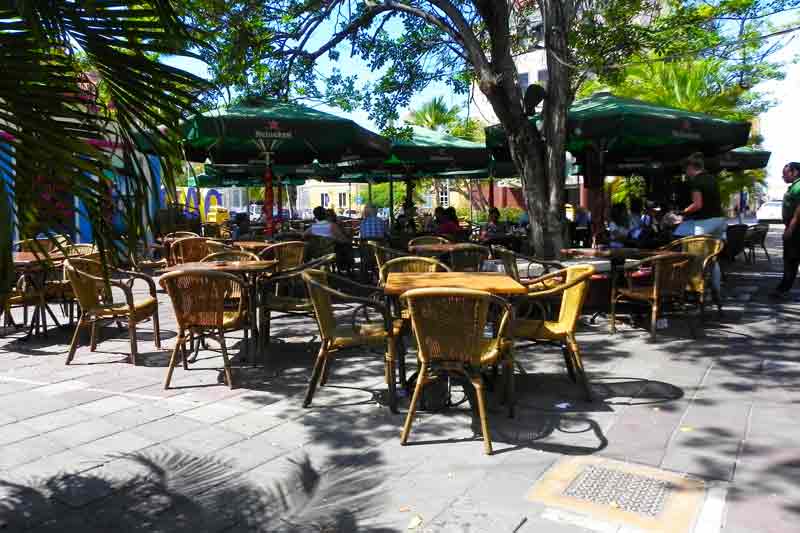 Plein Café Wilhelmina
Photo © IQCruising.com
Walking inland from Koningin Wilhelminapark, along Columbusstraat (Columbus Street), will take you to the Mikvé Israel-Emanuel Synagogue - a unique Jewish Cultural Historical Museum. A bit farther, by the waterfront, the Floating Market is on the northern edge of this area - around 300 meters (900 feet) from the Koningin Wilhelminapark - and a sight not to be missed. From the Floating Market, you can view a typical Dutch bridge - Queen Wilhelmina Bridge - and you should cross it to visit the Curacao Maritime Museum and have a close look at the beautiful Villa Maria next door.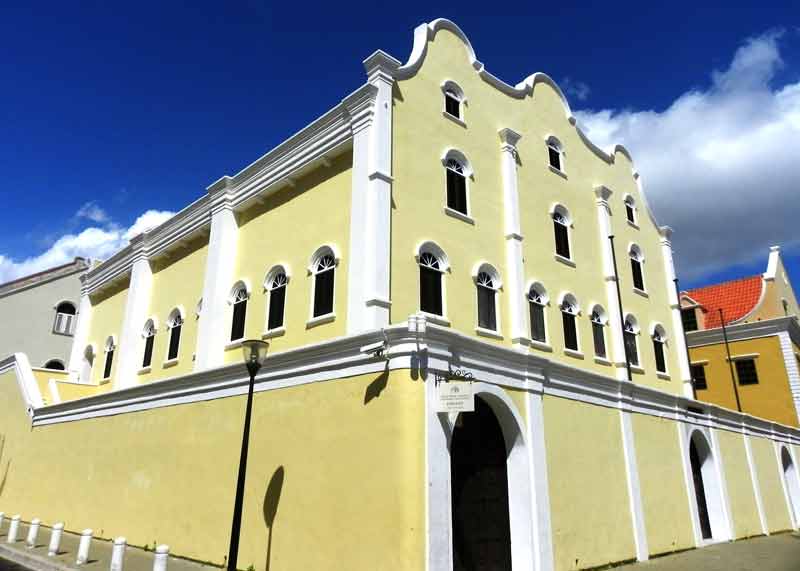 Mikvé Israel Emanuel Synagogue in Curaçao
Photo © IQCruising.com
The area between the Floating Market and Koningin Wilhelminapark is an irregular grid of narrow streets and small squares lined with shops, cafés, and restaurants that are a delight to explore. It is bordered on the West side by a scenic waterfront with a series of places to enjoy lunch, a quick bite or just a drink - Iguana Café is a famous spot, and one of the Editor's favorite, to enjoy a rest and catch up with emails as it offers Free Wi-Fi.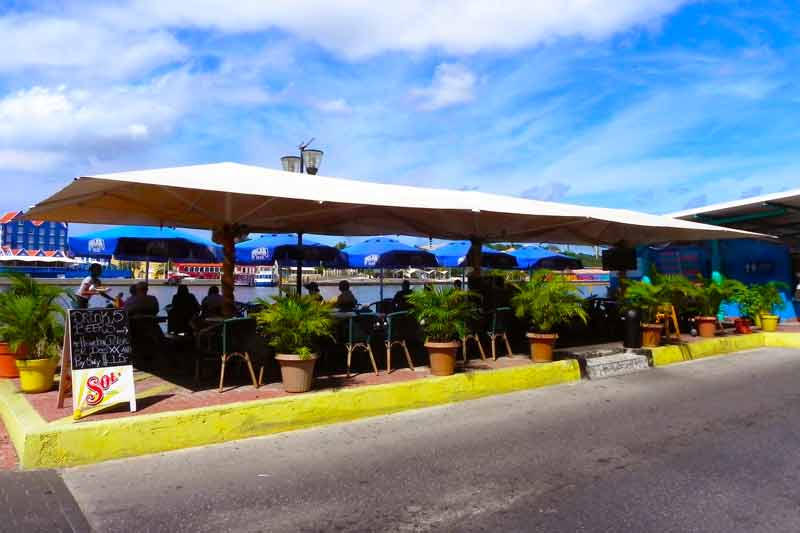 Iguana Café in Curaçao
Photo © IQCruising.com
Shore excursions and tours in Curaçao
Obviously, all cruise lines offer many and diverse shore excursions in Curaçao cruise port. Celebrity Cruises and Royal Caribbean offer as many 26 shore excursions. Carnival lists 33 shore excursions. Oceania Cruises organizes 7 shore excursions, and Princess has 24 excursions available.
There are also excursions offered by the following reputable private online services and local tour operators: