Essential guide to Grand Cayman (George Town) cruise port: tender boats and terminals, shore excursions or on your own by bus, and what's withing walking distance.
George Town is the capital city of Grand Cayman and the port which all cruise ships visit. For those that have never been in this very popular cruise port, the cruise traveler should know that this is what is called a tender port.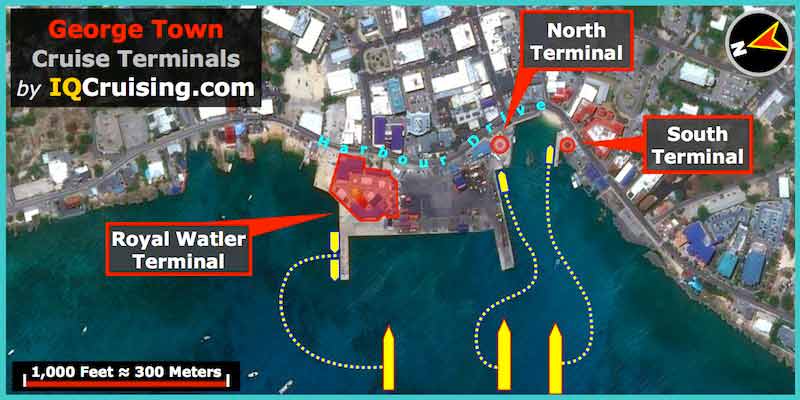 Anchoring, tender boats and terminals
All cruise ships will anchor in the large bay right in front of George Town and double decked local boats will take passengers to one of the 3 piers-terminals right by the city. Regardless of the Pier/Terminal used, as you walk out the exit gates, the cruise traveler will be on the main road - Harbor Drive.
The main docking spot for the tenders is the Royal Watler Cruise Terminal on the northern part of George Town. This a rather large open area with a good number of shops (mainly souvenirs), taxis, tourist info, tour booths and a couple of bars - the Green Parrot is a famous hang out for those returning to the ship and waiting for tender boats.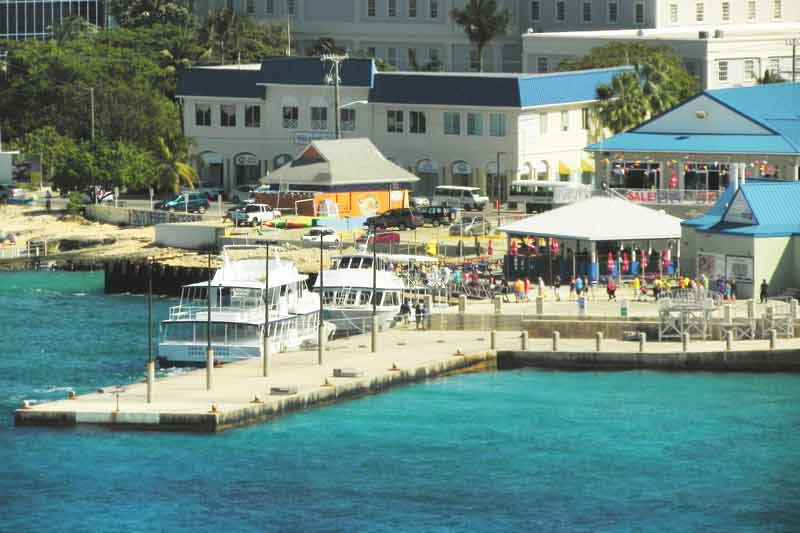 Royal Watler Terminal
Photo © IQCruising.com
But it can also happen that you will be tendering to any of the other two piers when there are more than a couple of ships in port, which happens very often. If tendering to either North or South Terminals, the cruise traveler will literally walk off the tender right into Harbor Drive as the terminal buildings are small and do not have much more than waiting areas with passenger controlling gates.
All these piers are within walking distance to the main attractions of George Town - Margaritaville, the Museum, all major Shops, and Restaurants.
To explore Grand Cayman on your own, there are taxis right outside any of the Terminals and a Bus Station within walking distance with services to all main destinations, attractions and most highlights. This is arguably the best way to travel around, deserving an additional word about the public bus service in Grand Cayman.
Public Bus
The public bus is naturally the most affordable way to explore Grand Cayman. Although many a cruise traveler may feel uneasy with public buses in the Caribbean, you shouldn't be as these are very safe, very well kept and a great way to travel around in Grand Cayman.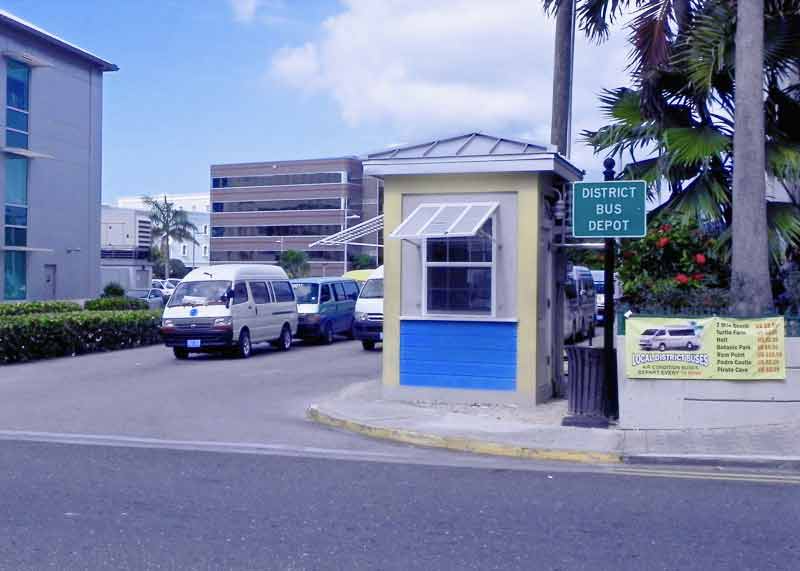 Central Bus Station in George Town
Photo © IQCruising.com
The Central Bus Station in George Town is known as District Bus Depot and is located by Heroes Square, the main landmark in the town, between the Public Library and the CIBC bank. The Public Bus Depot is no more than 1,000 feet (300 meters) from any of the Terminals, as you can see on the map below.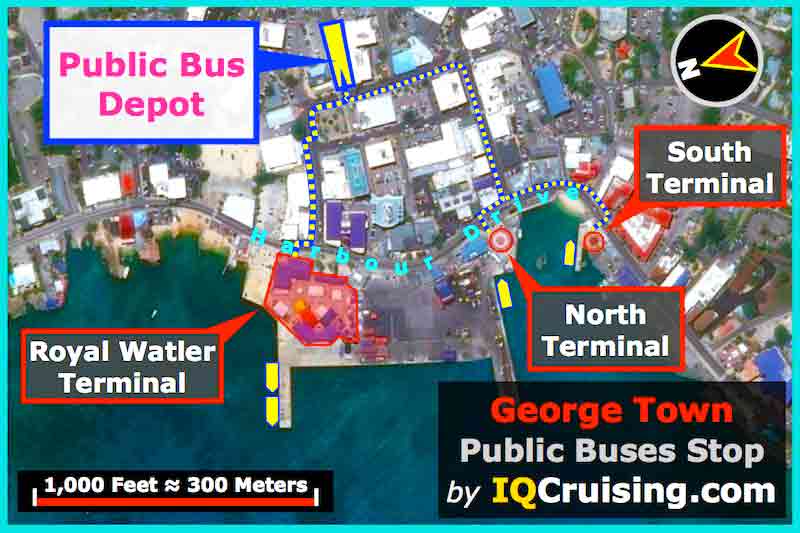 Buses are small vans but with air condition, clean, inexpensive and everyone is very friendly - in fact, you will find that many visitors to Grand Cayman use the Public Bus services. Buses to the Seven Mile Beach depart every 10 to 15 minutes and cost US$ 2.50 per person each way. Most top attractions are served by these public buses costing US$ 2.50 to Turtle Farm, Hell, Pedro Castle or Pirate Cave; to the Botanical Gardens ticket is $5.00 and $10.00 to Rum Point.
Shore Excursions or On Your Own
Like on any cruise port, your ship has a number of excursions aka 'Shorex' available to enjoy a day in Grand Cayman. Some are really a great and convenient way to make the best of your time in port.
However, many of the attractions offered on these tours/excursions can easily be explored on your own. This can be a good way to do it in Grand Cayman not only because the island is small, very safe and hospitable to cruise passengers but also because it is so easy to travel around - be it by bus, taxi or car rental.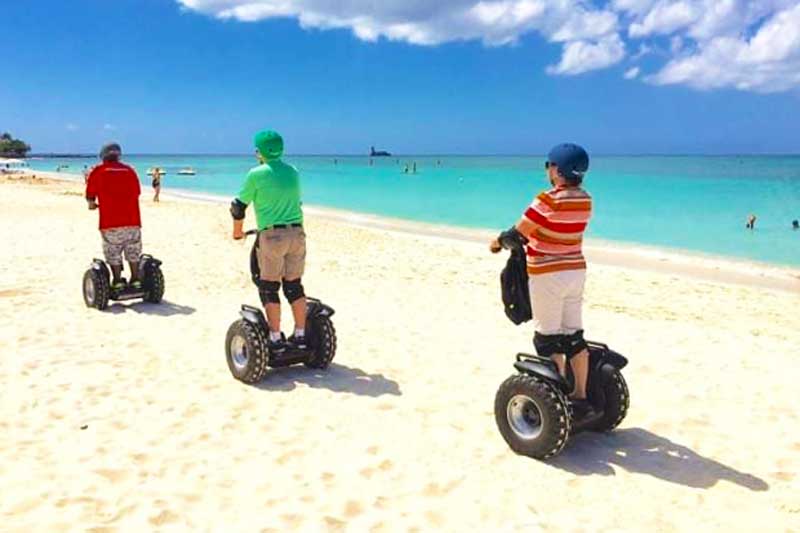 Segway Tour
Photo by Management
In fact, it became so easy for cruise passengers to just walk in or book excursions online that some tour operators do not allow cruise passengers to book tours. Segway, for example, doesn't allow Carnival Cruises, Royal Caribbean and Celebrity Cruise passengers to book directly online and refers clients to the onboard Shore Excursions Manager. Which begs interesting questions: how on earth will Segway know that you are on a cruise if you don't tell them? What jurisdiction applies if you are 'caught'? Is it a crime? Says who?
Exploring George Town
George Town is such a small place that the cruise visitor will be able to see it all at leisure. The city expands to the East but most attractions are close to the Harbor Drive and the two blocks inland. In the northern part of Harbor Drive, where the Royal Watler Cruise Terminal is located, you will find a few shops and right in front of the exit gate a street - Front Street - that will take you (around 100 yards/meters) right to Heroes Square.
Heroes Square
Photo © IQCruising.com
On this square, with a modern fountain at its center near the already mentioned and convenient Bus Terminal, the visitor will find a few landmarks: the Town Hall, the Library, and the Court House. Along the Front Street, there are a few typical shops found everywhere in the Caribbean like Effy, Tanzanite International, Tortuga Rum Cake and Duty-Free Liquors or Milano Diamonds. But if shopping is your thing, the best shops are on or closer to Harbor Drive.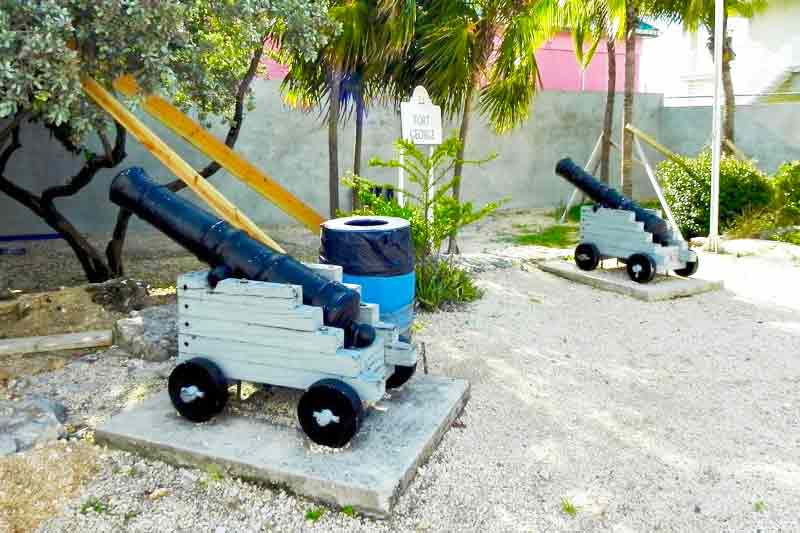 Fort George
Photo © IQCruising.com
Walking South of the Royal Watler Cruise Terminal (right turn at the exit gate) the cruise traveler will find the ruins of the Fort George and right in front the first of numerous duty-free shopping buildings - Flagship with an array of stores. Don't be surprised to find that the Fort George ruins are comprised of a couple of small remains (cannons) and that you may even pass by without realizing that 'those' are the remains of the landmark most travel guides talk about - feel free to join the Editor in wondering if such travel journalists have ever really been in the places described.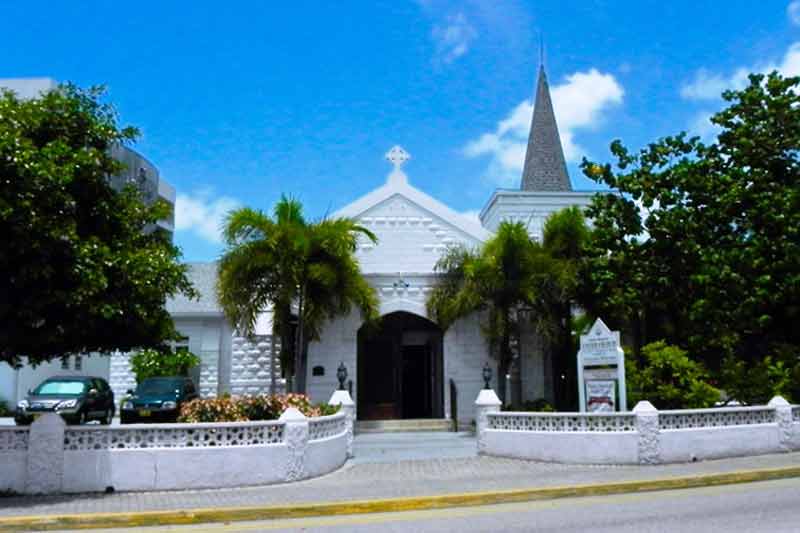 Elmslie Church
Photo © IQCruising.com
One block farther and you will see the Elmslie Memorial United Church on your left - a typical Caribbean small, quaint church, with a roof in the form of a ship's hull turned upside down. The active Presbyterian church is very well maintained and worth a pick inside.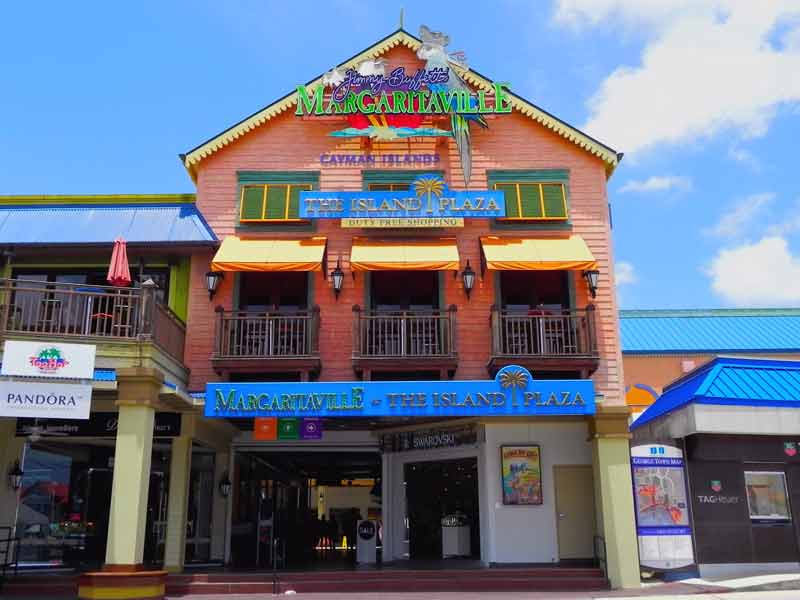 Elmslie Church
Photo © IQCruising.com
Right after, the bright colors of Margaritaville stand out in the Island Plaza Mall. Margaritaville in George Town is a bit smaller than most in the Caribbean but the ambiance is pretty much the same. By contrast, the Island Plaza shopping mall is slightly different than others in the Caribbean as most shops are locally owned and, therefore, you will find different brands and merchandise - Blackbeard's Liquors and Churchill's Cigars are a couple of the Editor's favorites - but also boutiques with typical brands like Pandora, Tag Heuer, or Breitling. At the end of the block, Cardinal Avenue is a continuation of the best shops in George Town - Cartier Boutique, Magnum Jewelers, Kirk, La Perfumerie, Time Zone, among others.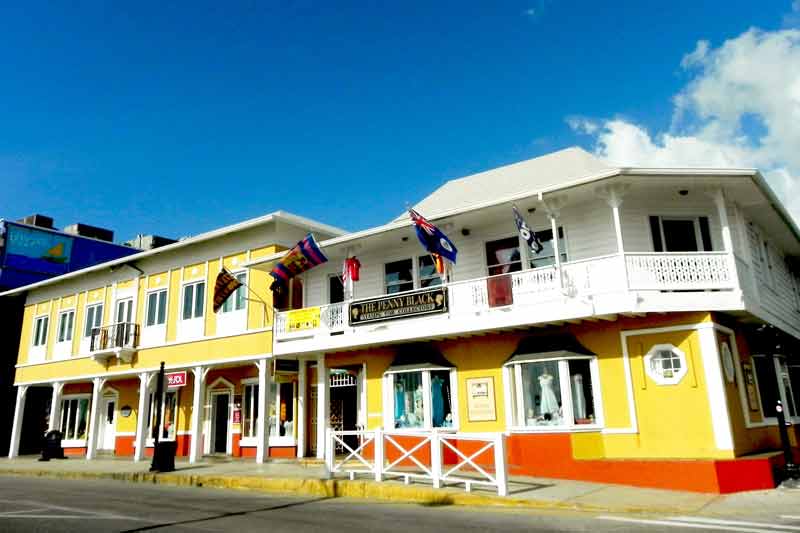 Duty Free Shops
Photo © IQCruising.com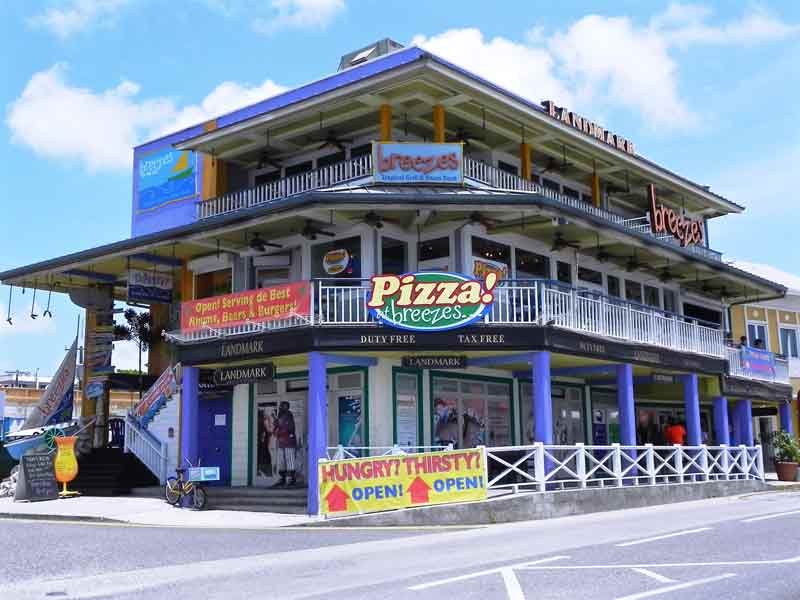 Landmark Building
Photo © IQCruising.com
The next block is dominated by three colonial buildings with the ground floors displaying a string of duty-free shops - Shipwreck Coins Antiques is the one of a kind to have a look at, as is La Casa del Habano if looking for good Cuban cigars. The upper floors of the first building are occupied by Breezes, a Tropical Grill also serving pizza that is popular with crew members.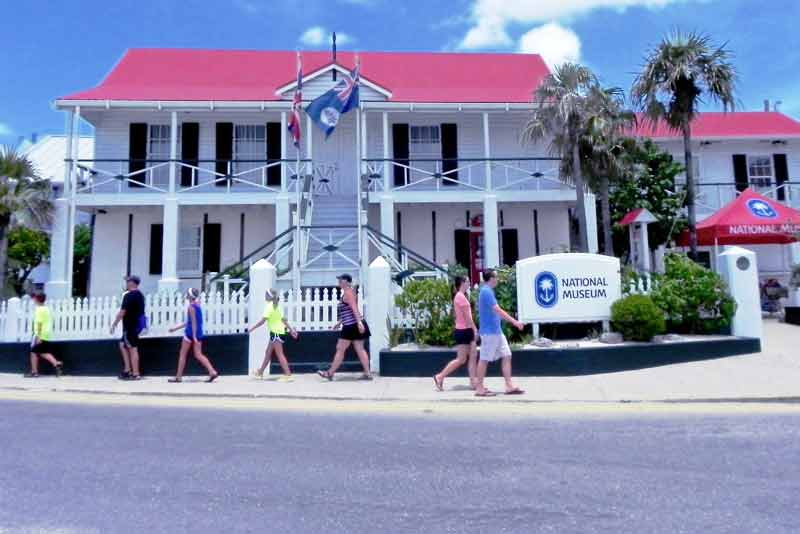 National Museum
Photo © IQCruising.com
But it is on the next block that the visitor will find the most interesting (but lesser talked about) attraction in George Town - the Cayman Islands National Museum. This small museum is really worth a visit. Housed in a beautiful white colonial house, the museum showcases diverse exhibits of the Cayman Islands history and present reality. The exhibition is small but very well organized and displayed.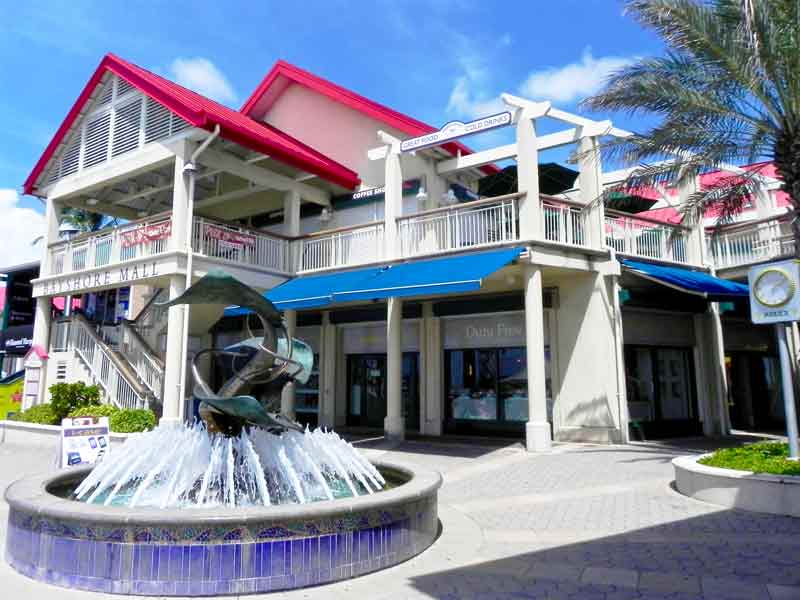 Bayshore Mall
Photo © IQCruising.com
On the opposite side of Harbor Drive, by the sea, you will not miss the South Terminal and right across the massive Bayshore Mall. This is the top attraction for those on a shopping spree. Owned and operated by locals, the name Kirk Freeport may not mean much to most passengers cruising the Caribbean who are used to the typical ubiquitous brands promoted onboard all cruise ships.
However, this is a refreshing change with a more diverse selection of brands, good prices and, above all, without the 'buying-pressure' found elsewhere. Besides the Kirk Freeport shops, the cruise traveler will also find on the Bayshore Mall other boutiques (like Swatch), a luxury Spa (Tips n Toes) and a few places to have a quick bite: Cayman Creperie (French crepes), Häagen-Dazs (ice cream), Lucky Slice (best pizza in town) and Stax (Indian Goan with a Caribbean touch).
South of George Town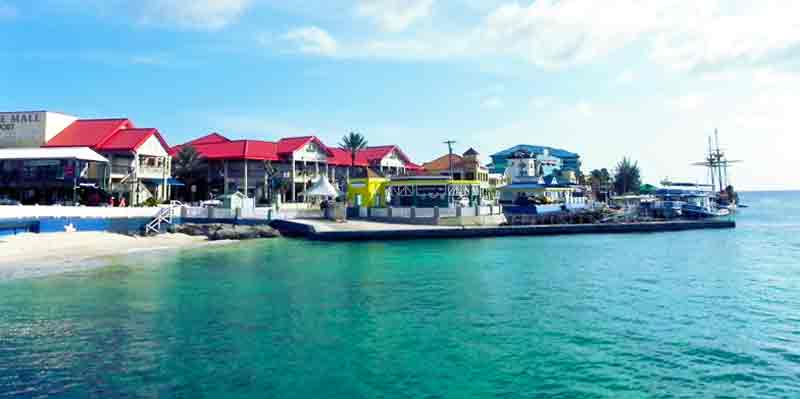 South Terminal
Photo © IQCruising.com
Many cruise visitors tend not to explore much farther south of the Bayshore Mall but right in front (next to the South Terminal) you will see the Atlantis Submarines Cayman (and glass bottom Boat) which will redirect you to booking trough your cruise line and on the next corner the inevitable Hard Rock Cafe. A typical and famous Cayman souvenir shop - TooHot - and the famous artist Guy Harvey's gallery are next to each other and right after Hard Rock.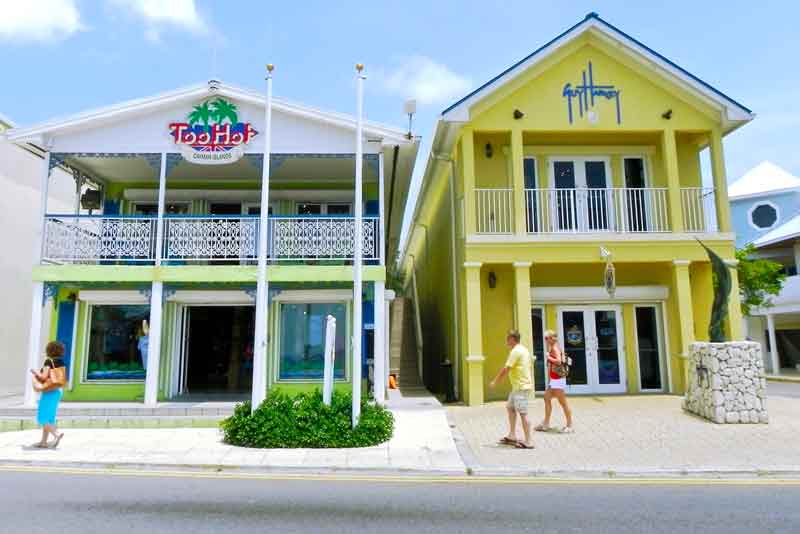 Guy Harvey Gallery
Photo © IQCruising.com
Both are worth a visit and in particular the Harvey's Gallery as this is probably one of the largest and best collections of the artist's work you will see in the Caribbean. On the next block, Guy Harvey also gives the name to an excellent restaurant with wonderful views - entrance on side street (Merrendale Dr). On the same block, the cruise traveler will not miss the Harley Davidson shop, the Blue Iguana Souvenir Outlet and the Church of God Full Gospel Hall.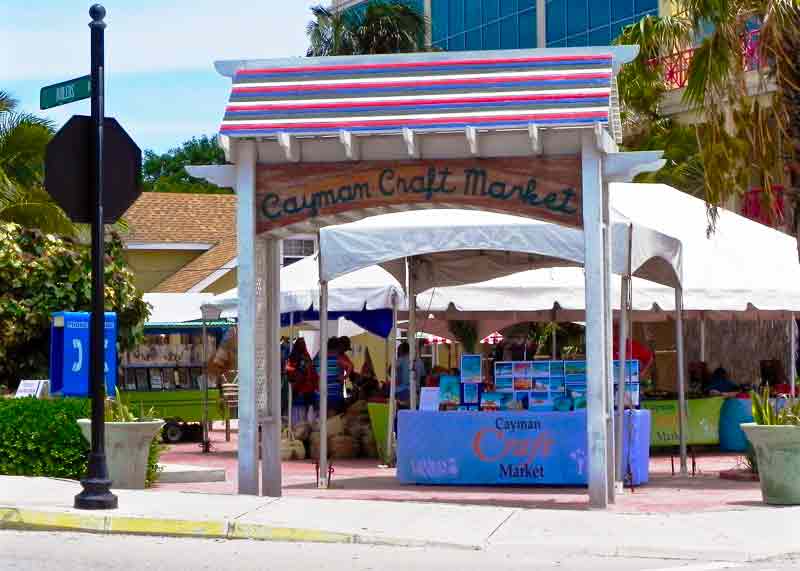 Craft Market
Photo © IQCruising.com
The Cayman Craft Market is the next attraction (where you may find a local hand-made souvenir) and, hidden inside on a large office building, there is an off the beaten track cafe/bar, South West Collective, know by savvy cruisers for excellent coffee, quick bites, and free Wi-Fi. On the ocean side, with a spectacular location and view, Paradise is both a restaurant (cuisine doesn't match the quality of the location) and shore diving and snorkeling spot. Around 120 yards/meters south of Paradise, you will find Eden Rock Diving Center - one of the best dives in Cayman - and 300 yards/meters farther, another diving center (Don Foster's Dive).
If lunch in a spectacular setting with historical charm is on your must do in Grand Cayman, then the Grand Old House - 2 miles (2.8km) south of George Town - is the right place to go. This former plantation house established in 1908 has been transformed into a wonderful restaurant with colonial style indoor rooms and a panoramic waterfront terrace serving local and international flavors and a famous wine list.
North of George Town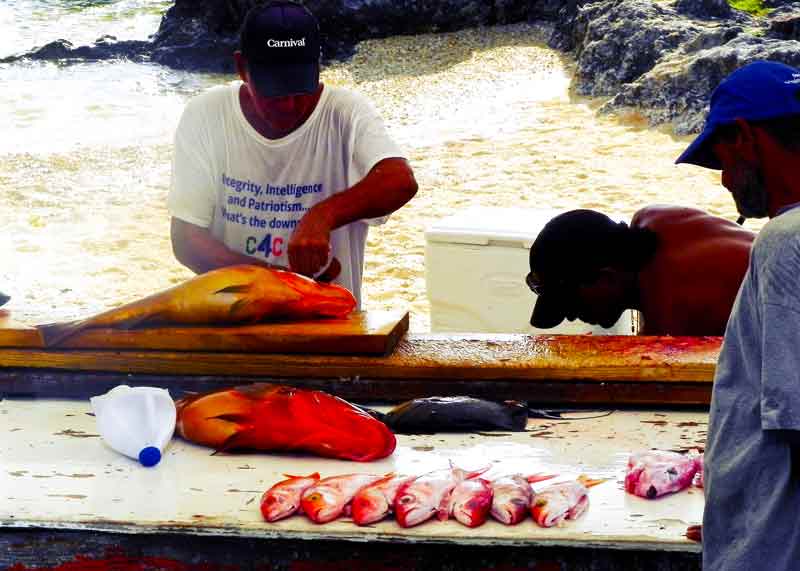 Fish Market
Photo © IQCruising.com
North of the Royal Watler Cruise Terminal, Harbor Drive changes the name to North Church Street. At walking distance, there a few nice places to enjoy. The first you will come across is a very talked about fish market. If you read about this in many a review, you may expect a large sort of venue but, in fact, the Fish Market is no more than a couple of tented stalls on a small sandy cove with fishermen cleaning fish - a nice site but not the huge highlight as some like to emphasize. Immediately after, you will not miss the Cayman Cabana restaurant sign - a great place to have lunch or just a drink on the open deck with wonderful ocean views. But the main attraction is really the Sea Trek Experience on the lower deck of the restaurant - here you can safely and comfortably explore the underwater world with a helmet diving system.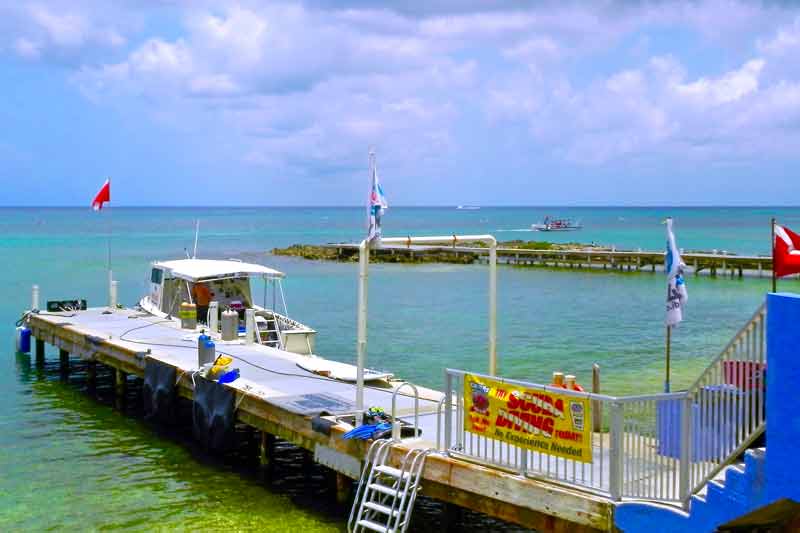 Scuba Diving
Photo © IQCruising.com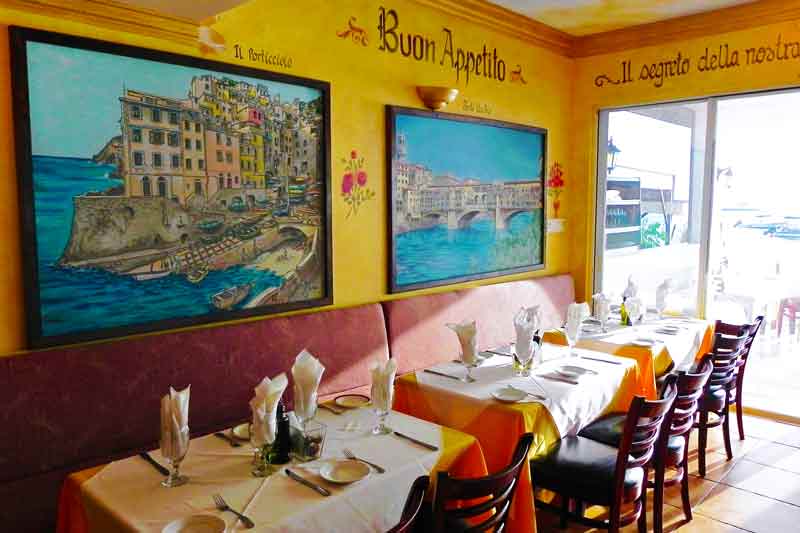 Restaurant Casanova
Photo © IQCruising.com
Next to Sea Trek (and Cayman Cabana restaurant) there is another restaurant which is very popular among cruise passengers - Casanova, a good Italian as the name implies - and next to this another diving experience at the Divers Down, which offers an array of tours and a dive to the Wreck of Kittiwake, a US Navy submarine rescue vessel sunk as an artificial reef and one of the most request dive sites on Grand Cayman.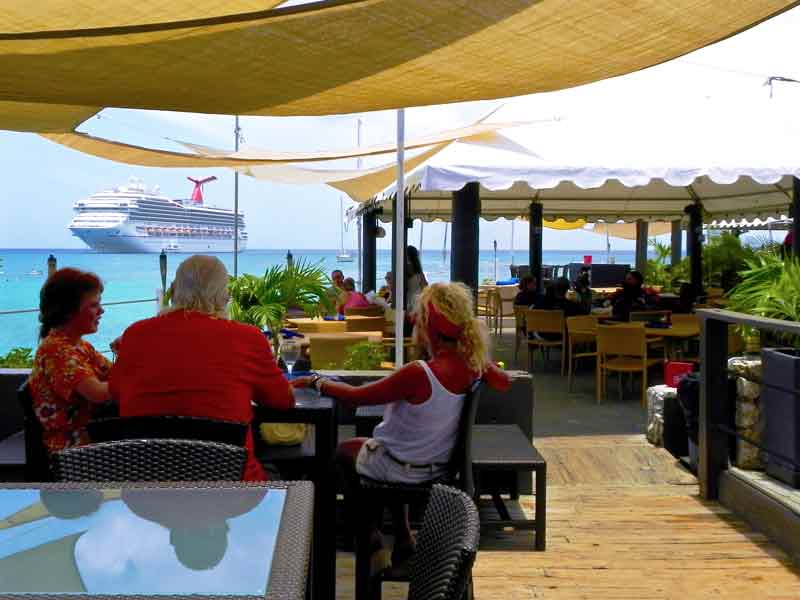 Restaurant Rackam's
Photo © IQCruising.com
Rackam's Bar and Grill is just a few meters away and is one of the Editor's favorite stops in George Town. No more than 300 meters/yards north of the Royal Watler Cruise Terminal, Rackam's has wonderful views, great service, typical Caribbean food and free Wi-Fi - naturally, both savvy cruisers and experienced crew members are regular patrons. Nautilus is next to Rackam's and offers underwater tours on a semi-submarine with a spacious air-conditioned observatory but also sailing Catamaran excursions (3 hours) for to the world famous Stingray City.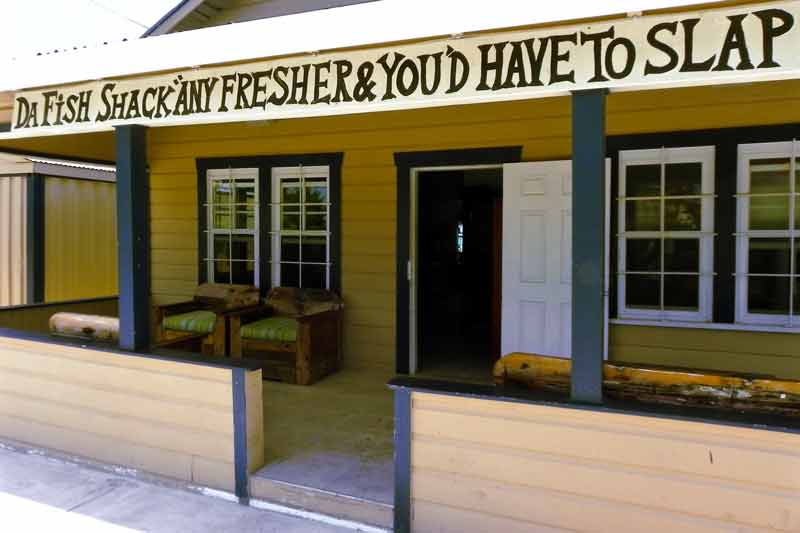 Restaurant Da Fish Rack
Photo © IQCruising.com
On the next 100 meters (yards) you will find three other popular restaurants with great views and food - Da Fish Shack, Le Vele Restaurant and the Lobster Pot (which also has a diving center on the ground floor). In between, there are a few services and shops that might be of interest for cruise passengers - Cayman Auto Rentals (and scooters), the Cayman Helicopter Tour store and Liquor 4 Less (duty-free store - does a Budweiser 6 pack for $9.99 sound appealing?).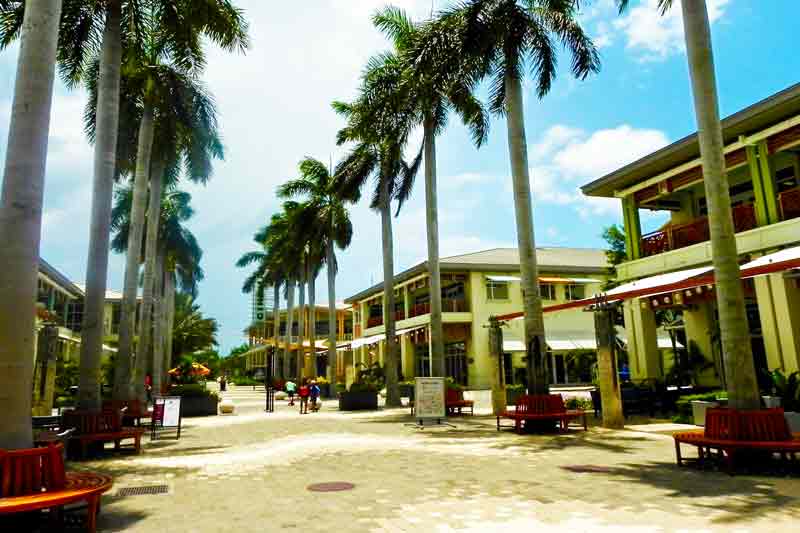 Caymana Bay
Photo © IQCruising.com
Farther north and too much of a stretch to walk - short of 1 mile (1.3km) - you should know that for some time now the Wharf Restaurant is only open for dinner and, next to it, the small and secluded (public) Pageant Beach is nice but not comparable with any other the world famous beaches in Grand Cayman.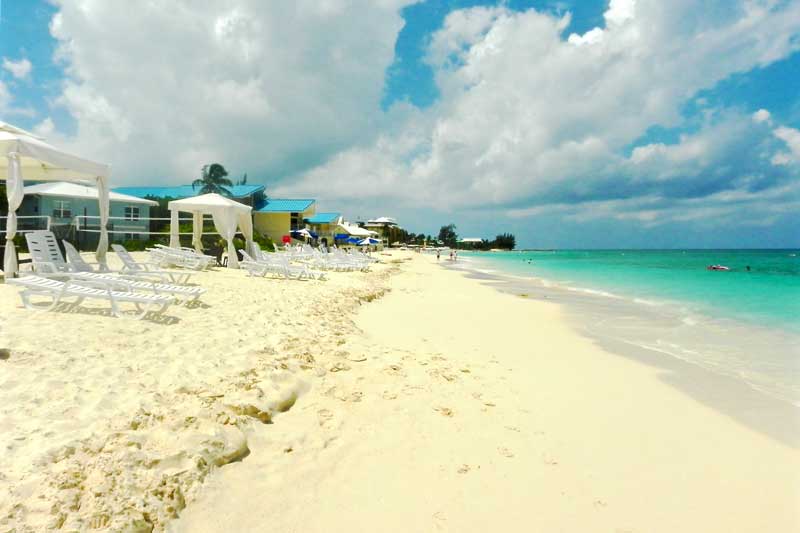 Royal Palms Beach
Photo © IQCruising.com
Not too far from George Town, the cruise traveler will find two of the Editor's favorites in Grand Cayman: the Royal Palms Beach Club right on a beautiful spot of the Seven Mile Beach and across the road - Camana Bay an unexpected oasis with great restaurants, shops and very close to the wonderful National Gallery of the Cayman Islands. Both Royal Palms and Camana Bay are at too far to walk from George Town - around to 2 miles (2.9 km) - and it is way more convenient to get on a bus ($2.50 each way per person).
► Explore: Top Reviews - Caribbean Ports
Discover all Caribbean Port Reviews - Cozumel, St. Martin, Aruba, Antigua, Nassau and St Thomas in Depth
Learn More ►