Basic guide to Falmouth cruise port in Jamaica: must-know, where is the port, what's at the cruise terminal, how to get around, and what's within walking distance. Local flavors, quick bites, and dining.
Unlike what you may read in many blogs and reviews, the cruise port in Falmouth is the safest and more hospitable to explore on your own in all of Jamaica. And with the best location to explore the island.
Cruise passengers that have never been to a far from an affluent Caribbean island may feel intimidated and not comfortable walking around by themselves. But, as you can see in the photo below, no one will bother you.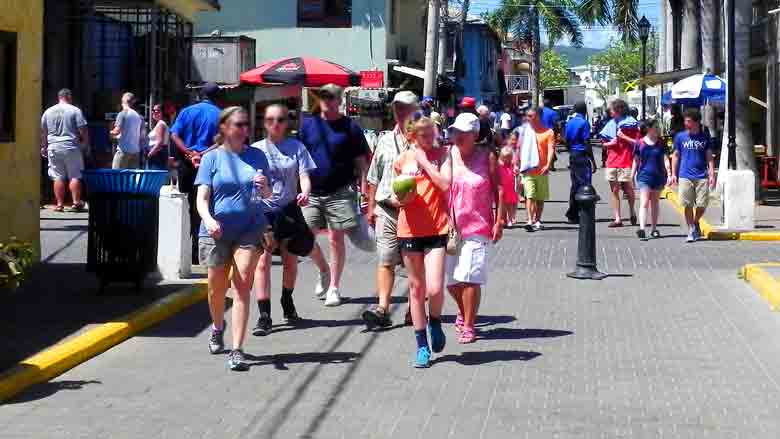 Falmouth Cruise Port Must-Know
For decades, Jamaica - and its cruise ports in particular - has been having a very bad reputation for aggressive, pushing and even harassing local population trying to sell any and everything - tours, taxi rides to the beach, guide walking along you, take you to taste jerk chicken or red strip beer and, of course, offering all types of drugs (specially ganja as marijuana is called in Jamaica).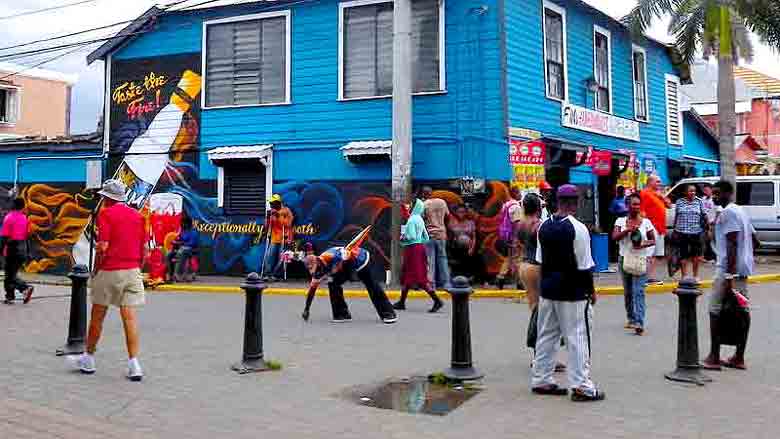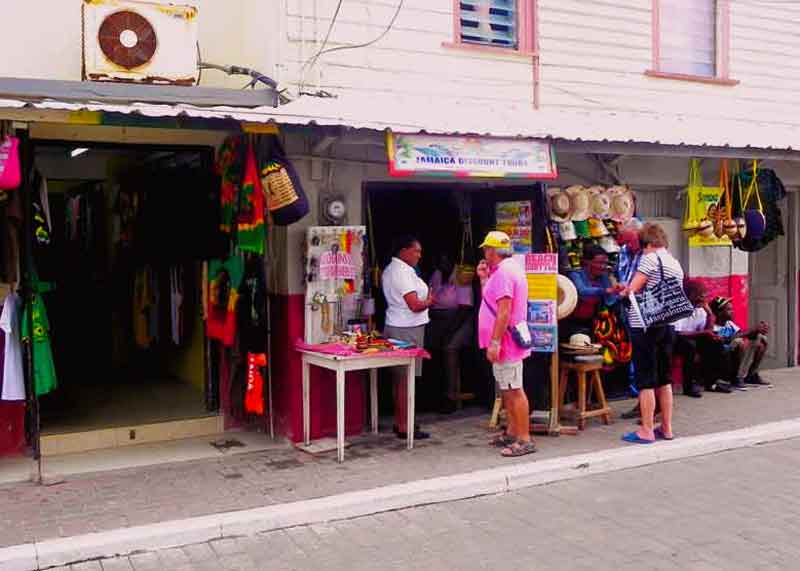 Old Town, Falmouth Port
Photo © IQCruising.com
It is true that a handful of Jamaicans hanging around the port areas in Ocho Rios and Montego Bay, display this type of aggressive, pushy attitude and that, sometimes, individual characters can become a difficult plaster to get rid of. It is known that such attitude has spoiled many cruisers' unique day in Jamaica and deterred many from exploring the port on their own. However, and surprisingly for many, this is NOT a reality when docking at Falmouth Cruise Port.
Many savvy cruisers that have been in other Jamaican ports always find it surprising how 'normal' the local population is in Falmouth and believe that the population has been 'instructed' to leave cruise travelers alone. The Editor - who lived in Jamaica in the 1990's - still finds surprising how civil and hospitable the local population is in Falmouth by comparison with the other Jamaican ports. And how enjoyable it is to be able to walk around the historical town.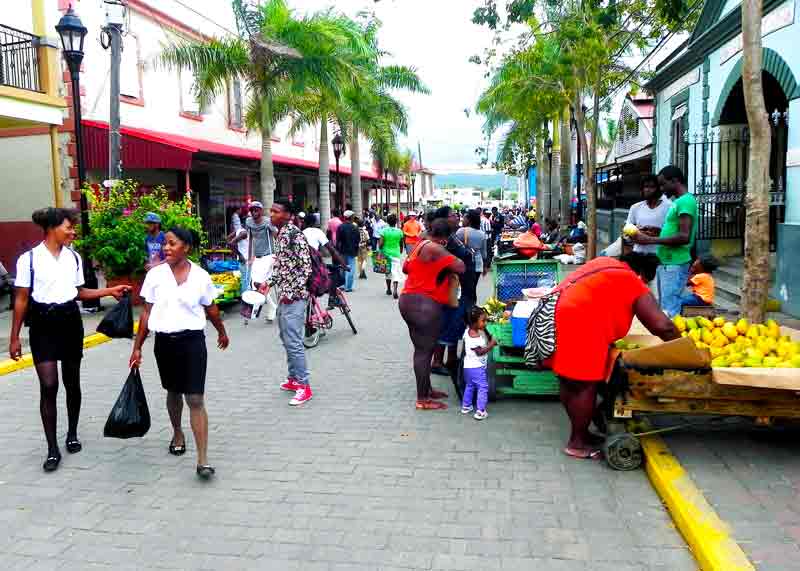 Street, Falmouth Old Town
Photo © IQCruising.com
This said, cruise travelers should understand, when visiting Falmouth, that Jamaica is not Grand Cayman or St. Martin, where you have great public transportation, it is easy to explore on your own and go pretty much anywhere hassle-free with friends or family. To explore Jamaica beyond the Falmouth Terminal and the Historical Town is not as easy. Unless you have been in Jamaica before and are familiar with local culture, it is advisable to explore the main attractions either on a tour (booked onboard or online) or with a certified taxi driver that you can get at the terminal.
The port and what's at the cruise terminal
When docking in Falmouth, the port area/terminal is one of the main attractions for the day and many a cruiser doesn't venture much farther or exit the port gates to explore the Old Town, which is easy to do on your own and, above all, safer than other Jamaican ports.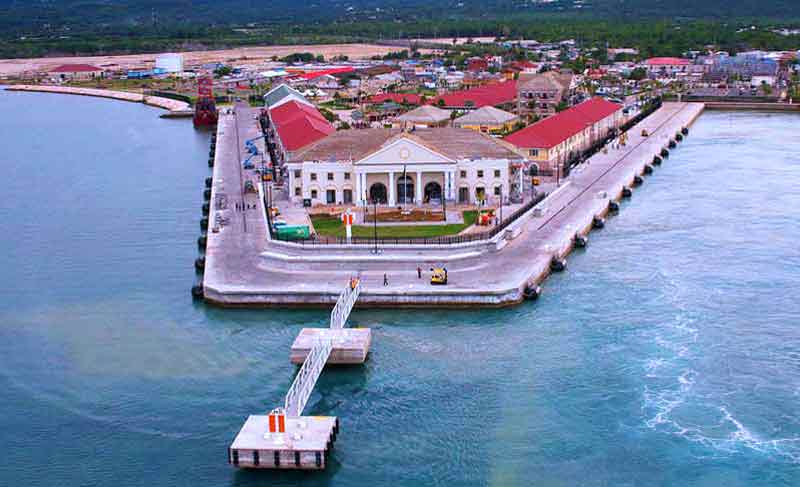 Harbor View, Falmouth
Photo by Derek Hatfield CC-BY-SA
After a major redevelopment in 2011, the old docking area was officially renamed Historic Falmouth Cruise Port and is now a large retail shopping complex. The port has a triangular shape with two piers at an angle, the exit for both at one end and the exit to the town at the southern side. The area between the piers has a very nice ambiance with large squares, shaded arcades, shops (and more shops), a few places to enjoy a quick bite and Jimmy Buffett's Margaritaville with its typical bar, restaurant, pool, and shop. All these are housed in brick buildings designed in the style of British Georgian architecture that recreate the Colonial ambiance found in the Town just outside the gates.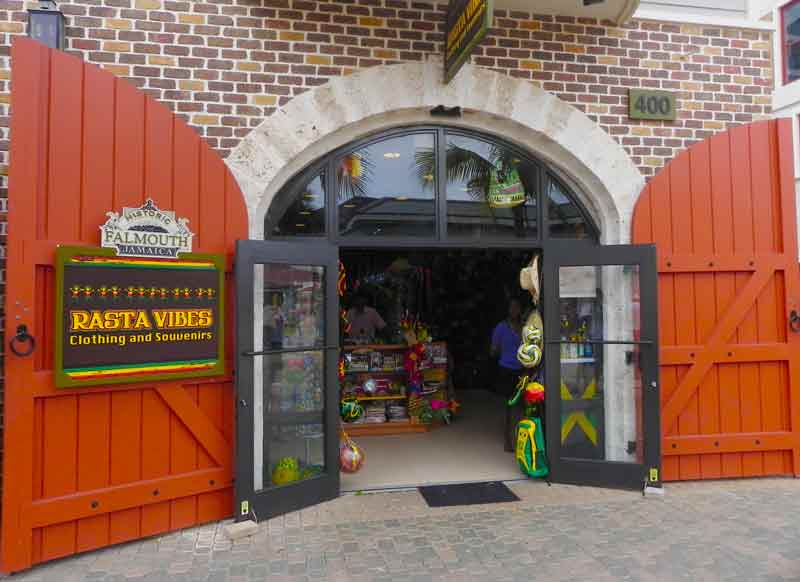 Shop, Cruise Terminal
Photo © IQCruising.com
A large part of this area of the Terminal is occupied by the shops that can be found in most Caribbean ports - the typical international brands, fine jewelry, designer boutiques, duty free shops, and gift shops like Diamonds International and Tanzanite, Breitling, Colombian Emeralds, Cariloha, Pirana Joe or Del Sol. The cruise traveler will also find a few local shops, kiosks and stalls with exclusively Jamaican souvenirs. You may find a few crafts in these shops but if you like genuine, handcrafted works, the best will be found at the Crafts Market (close by Margaritaville) or in Town.
How to get around in Falmouth
One of the best characteristics of the Historic Falmouth Cruise Port is the convenience and offer of a good number of services to help the traveler to explore the Town and all top attractions close by and as far as Ocho Rios or Negril.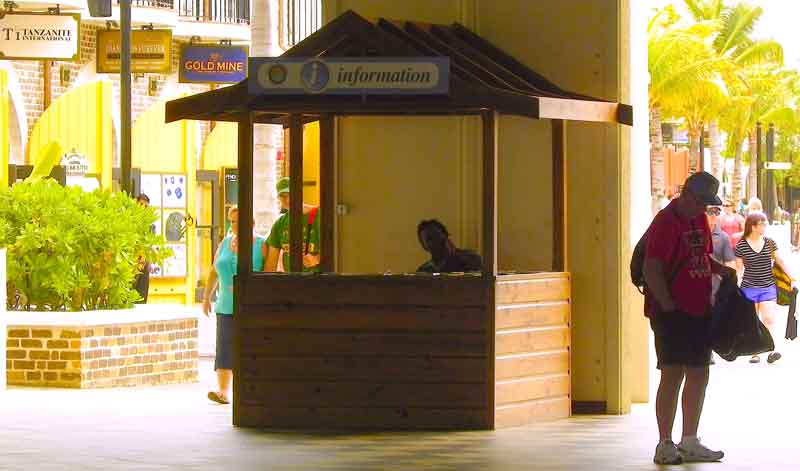 Information Desk, Cruise Terminal
Photo © IQCruising.com
Just before you exit the main terminal building for both piers, there is an Information Desk with an official representative to provide all info you may need and also with maps and brochures - this is the place to get the self-guided Walking Tour Map, clearly highlighting the path and major landmarks. Naturally, there is a large lot for tour buses and vans next to a meeting point for all booked on shore excursions. This meeting point is on the left side, opposite Margaritaville, and is where tours are dispatched by onboard staff and tour operators.
For those that prefer to explore on your own, there are some good alternatives. Close to the Shorex Meeting point, you will find a Taxi Stand, with Fixed Rates, and also a Bus Service to Montego Bay with stops next to the Craft Market, the Beach, the Hip Strip and Rose Hall (shops). The bus fare is per person - $20 Round Trip. The Taxi Fares are per car (1 to 4 pax) with an extra for each additional passenger. Don't think about haggling prices with these authorized/certified taxi drivers as the Fares are Fixed and clearly displayed.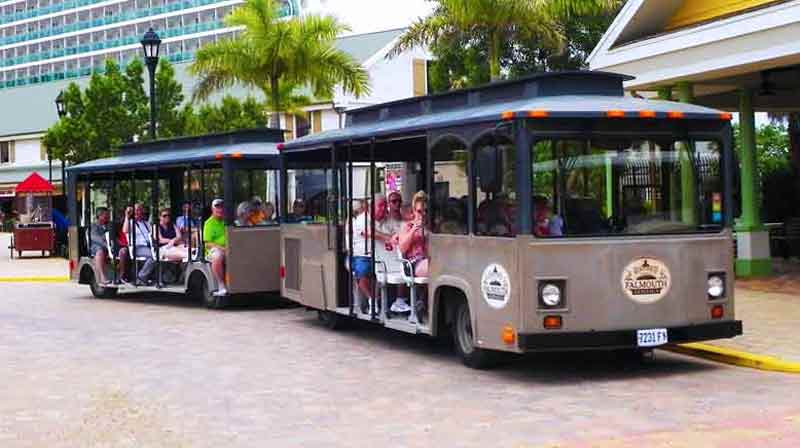 Trolley Tour, Cruise Terminal
Photo © IQCruising.com
It is also in this area that you can buy your ticket and get on the Trolley Tour of Falmouth - a great way to discover the Old Town's Landmarks. This 1-hour guided tour ($25 per person) allows the visitor to literally see and learn about Falmouth's rich historical heritage with a stop to visit the St. Peter's Anglican Church.
If you prefer a less modern transportation, there is also a Horse Drawn Buggy Tour. Two other interesting guided tours are likewise available: the Falmouth Food Tour and a visit to the Jewish Cemetery.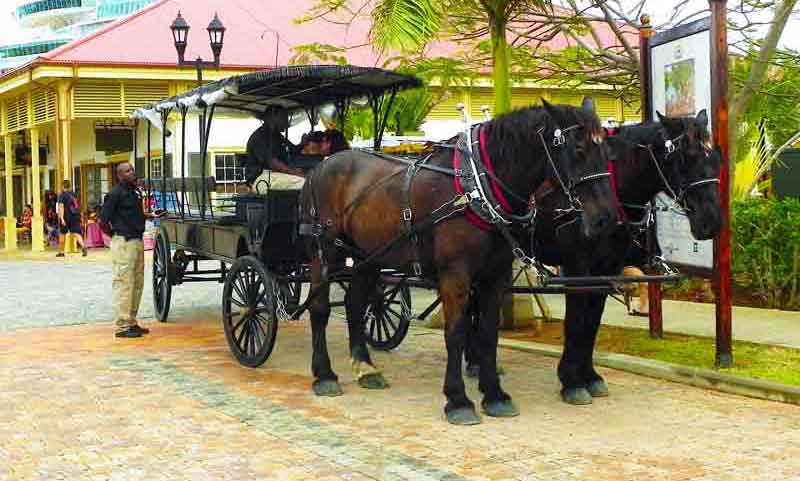 Horse Drawn Tour, Cruise Terminal
Photo © IQCruising.com
Local flavors and dining
Although most cruise travelers prefer to have food and drinks onboard - after all it is paid for - Jamaica's cuisine is well known for its unique flavors and at the Terminal there are a few places where you can taste some exclusive specialties of the Island.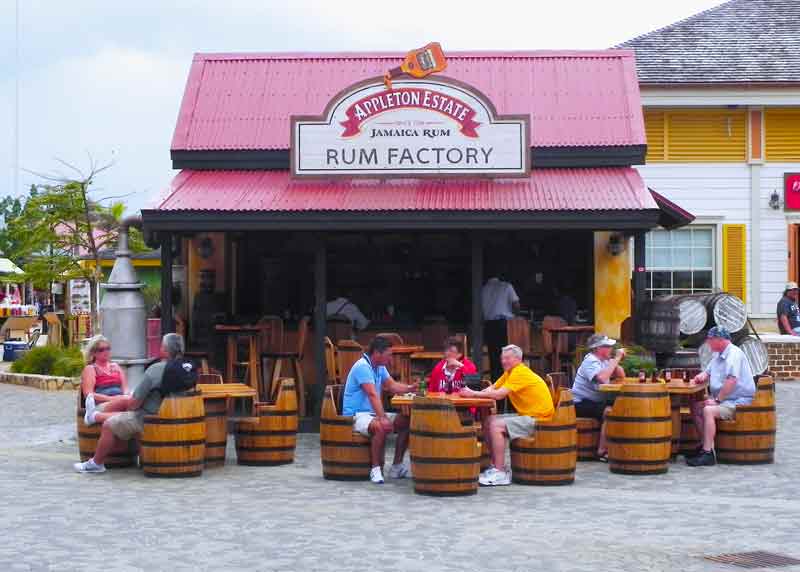 Appleton Rum Bar, Cruise Terminal
Photo © IQCruising.com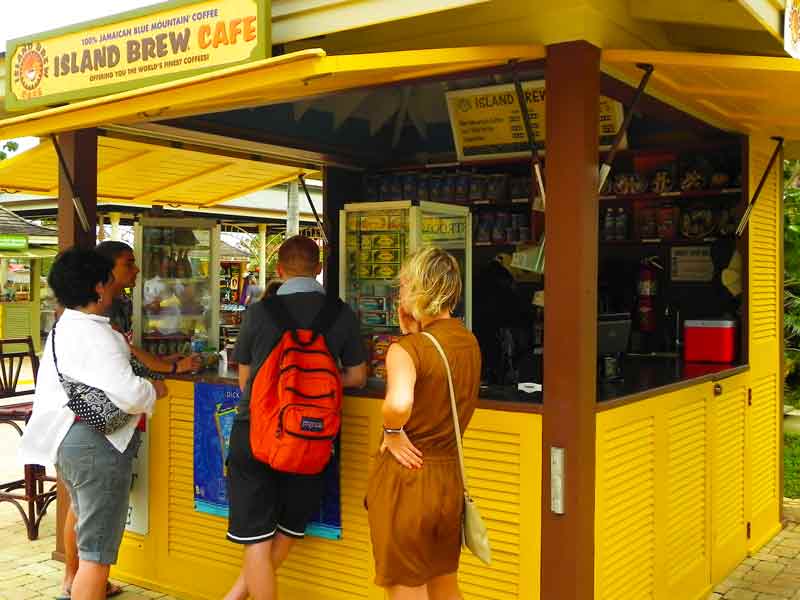 Island Brew Cafe, Cruise Terminal
Photo © IQCruising.com
If you never tasted a genuine Jamaica Pattie this is an opportunity not to be missed - these are available at a couple of kiosks and also at Nathan's Famous and Tastee Patties. Naturally, Margaritaville also serves Jamaican food and so do a few other nice spots like Quiznos. A real Jamaican flavor tasting has to include the Editor's top choices - rum and coffee. Both have wonderful spots to be enjoyed on your return to the ships or if you prefer to stay inside the gated area. The Appleton Rum Estate has a very nice seating area where patrons can enjoy a handful of different flavors of Rum from the most famous Jamaican distillery.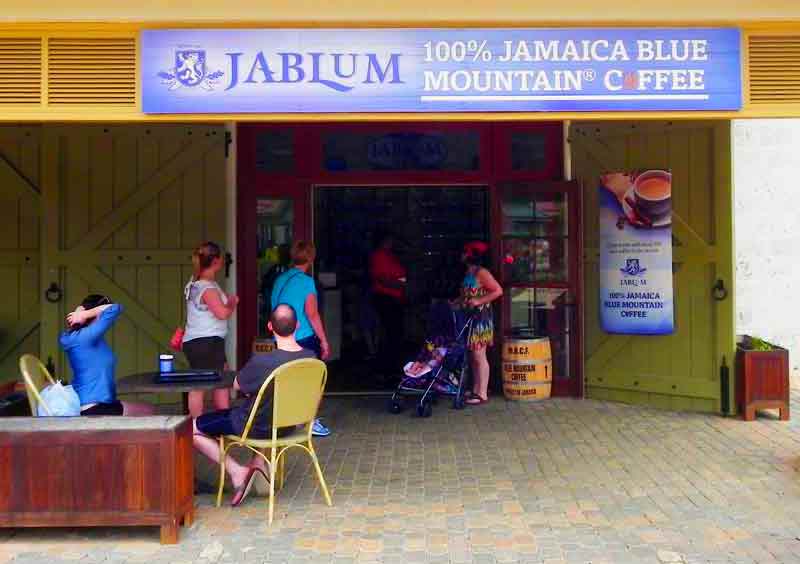 Jablue Cafe, Cruise Terminal
Photo © IQCruising.com
Not far from this, Blue Mountain coffee is served in a shaded area under the arcades - Jablue is one of the best brands of this unique coffee and, besides enjoying a cup, you can buy in the shop Blue Mountain coffee considered by many as the Beluga of all coffees. If you just want to quick taste of Blue Mountain Coffee, the Island Brew Cafe is a good place to go. There are a few other places close by where genuine Jamaican food can be savored - like Nazz Club and Restaurant in Town or, just a few miles away, the Restaurant at Glistening Waters - but for Rum and Coffee the Terminal has great offers.
Walking to Falmouth Town from the Terminal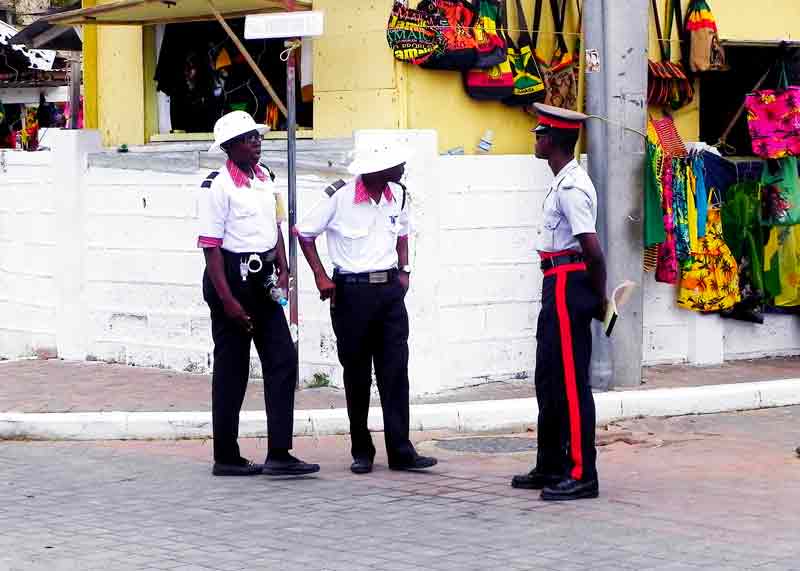 Policemen, Old Town
Photo © IQCruising.com
If planning to explore Falmouth on your own, do not miss on the way to the exiting gates the panels with some interesting historical facts - it was here that the Editor discovered that Usain Bolt was born in Falmouth or that the infamous Welsh pirate Henry Morgan become a gentrified Governor of Jamaica. Once outside the port gates, with security reminding that you need to have your ship card to re-enter, the cruise traveler will be on Seaboard Street and it will not be usual to see local police in their dapper uniforms. Right away, you will also come across vendors offering souvenirs, crafts and colorful clothing for adults and children. The street right in front of the exit gate (Falmouth St.) will take you straight to the heart of the Historical Town - in less than a 5-minute walk you will be on Water Square.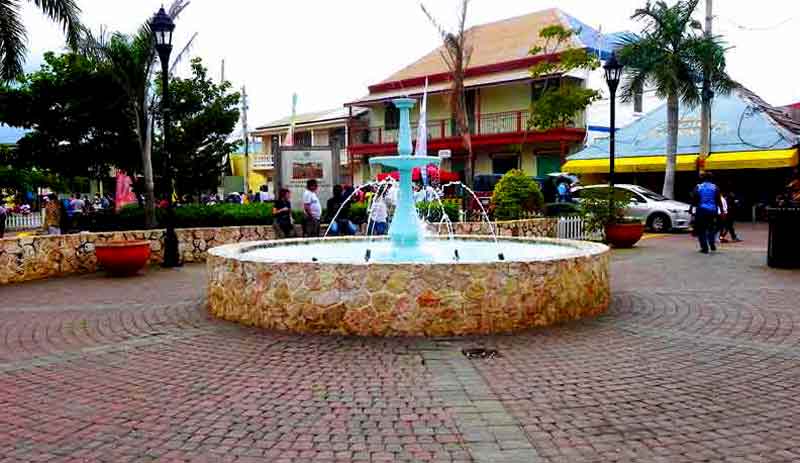 Water Square, Old Town
Photo © IQCruising.com
► Explore: Top Reviews - Caribbean Ports
Discover all Caribbean Port Reviews - Cozumel, St. Martin, Grand Cayman, Aruba, Antigua, Nassau and St. Thomas in Depth
Learn More ►