Ocho Rios Port for Cruise Travelers
- Docking, Terminal, Taxis, Within Walking Distance, Main Street, Top Things To Do and See.
Ocho Rios is the Editor's favorite Cruise Port in Jamaica. Full disclosure: once upon a time the Editor lived in this cruise port town and had the opportunity to discover all highlights, attractions and many hidden gems of Jamaica; and, as any other local, learned to call it 'Ochee' and walk around without being constantly harassed by pushy taxi drivers and vendors.
Where Cruise Ships Dock in Ocho Rios
Turtle Bay Pier - Ocho Rios
Photo © IQCruising.com
There are two piers for cruise ships to dock in Ocho Rios. The main pier aka Turtle Bay Pier has enough space for two mid-sized ships to moor although, in reality, most of the time is used only by one mega-ship. The Turtle Bay Pier is used exclusively by cruise ships and is the nearest to downtown. The other possible docking spot is officially named Reynold's Pier but is frequently referred to as James Bond Pier. This pier is also within walking distance to downtown - around 1/2 mile (800 meters) - and used by both cargo and cruise ships.
If docked at the James Bond Pier, the exit gates open right on the main road just 10-minute walk away from the start of the Main Street in Ocho Rios. Once you step down the gangway, you will realize that there isn't much at the pier besides a parking area for tour buses. However, once outside the exit gates the cruise traveler will encounter vendors with all sorts of souvenirs and taxis in abundance - more about taxis below.
Walking Pier - Ocho Rios
Photo © IQCruising.com
If docking at the Turtle Bay Pier, which has a T shape, the cruise traveler will walk less than 300 feet (100 meters) from the gangway to a terminal-secured area. The exit gates open into a wide street (Turtle Beach Road) lined on the left side by a couple of condominiums/hotels and on the right by a few shops and bars. This road is around 300 feet long (100 meters) and ends on the Main Street of Ocho Rios.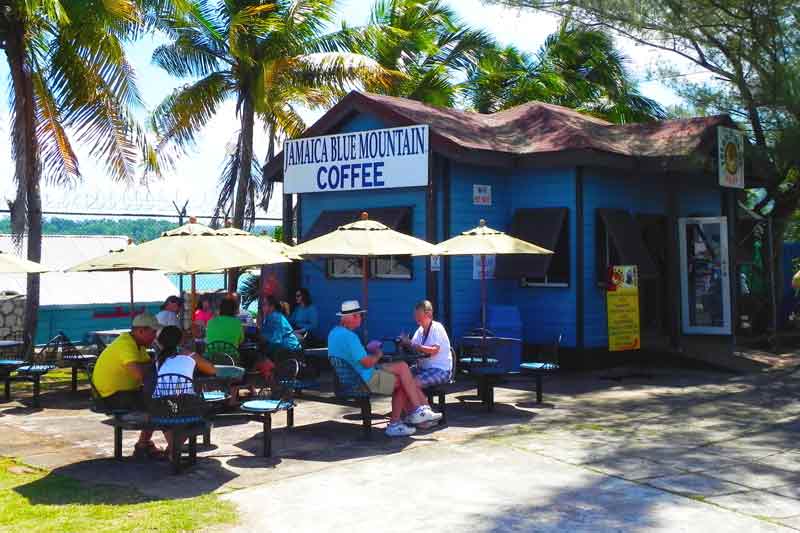 Blue Mountain Cafe by the Terminal
Photo © IQCruising.com
Still inside the secured area of the Turtle Bay Terminal there are a few services and amenities, including an Information Kiosk, a shaded waiting area and a small but excellent coffee house with outside seating serving Blue Mountain Coffee and offering free Wi-Fi. On the right side there is a tour dispatch area and once outside the gates a taxi stand with officially rated fares.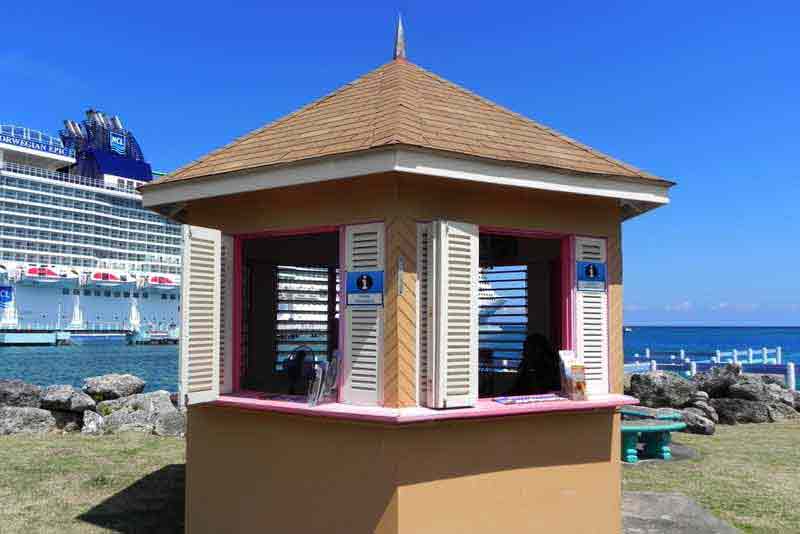 Tourist Information at the Terminal
Photo © IQCruising.com
Getting Around by Taxi
Jamaican Taxis Must Know:
If you are planning to go to anywhere in Jamaica by taxi, the offically certified taxis aka Freelance Taxi that you will find by the pier have fixed fares - clearly displayed on boards - so do not waste your time haggling.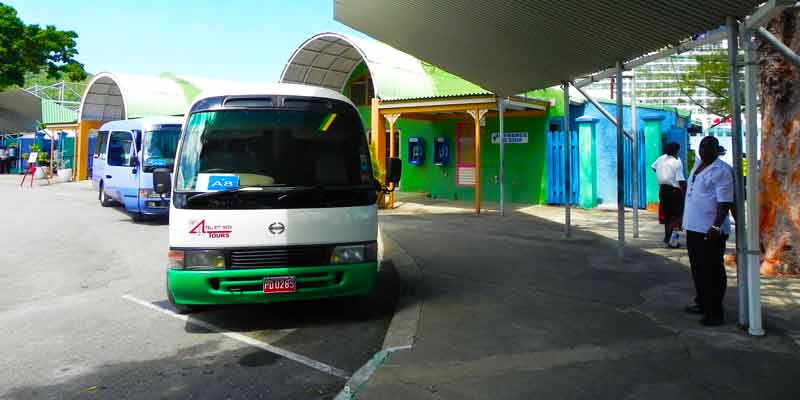 Taxi Stand at the Terminal
Photo © IQCruising.com
With few exceptions displayed prices are for round trip, per 4 person group and aditional person which can be a bit confusing if you don't read the small print. For example, a Round Trip to Dunn's River Falls is rated for $40.00 and $10.00 per person. If you are a couple the price will be $40.00 but if you are with a group of 5 the price will be the same $40.00 plus $10.00 for the additional person.
Taxi Price List - Ocho Rios
Photo © IQCruising.com
Obviously, these are not the prices that locals pay for a taxi. In fact, Jamaican's use public buses and unmarked taxis. You really have to be a local (or a long time resident) to figure out how to use the latter and the regular public buses are not that easy to navigate on a day tour of Ocho Rios. Therefore, unless you have previous and sound experience of how to use these local transportation services, the Editor would not recommend either.
This said, you may find in downtown Ocho Rios better pricing for taxis and it is absolutely guaranteed that if you walk around the town there will be constant offers of taxi services to take you wherever you may want to go. As much as these taxi drivers sound like a pain in the back to get rid off, all you need to do is keep walking, acknowledge the offer with a 'thank-you-but-no-thanks' and that is that. Taxi drivers are by their cars and they will not follow you. But if you choose to use their services, it is advisable to check the officially rated fares first (by the pier) and be prepared to haggle as you may end up with a much better deal.
Within Walking Distance of the Cruise Terminal
Ocho Rios has lots of attractions (Dunn's River Falls is around the corner and a Top Highlight in the Caribbean) and naturally most cruise travelers will not want to miss at least one of them. However, if not interested in active pursuits, the town itself has a few sites to enjoy. It is also good to know that unless planning a full day excursion, the cruise traveler may have enough time to explore the town on your own before or after a tour.
Ocho Rios Bay Beach
Photo © IQCruising.com
Close to both Cruise Port Piers, there some very nice attractions that can be easily explored on foot, in particular the Bay Beach. However, you should be prepared to deal with locals that can become a bit annoying if you don't get rid of them straight away. Unlike taxi drivers, some will follow you offering all sorts or merchandise (marijuana or ganja as it is known locally know will be on the top of the list but also prostitution, or even an innocent walking tour). Editor's Tip: Do not engage in any sort of conversation, just keep walking without any eye contact and you will be left alone and, above all, do not make any refusal comment back. If you buy ganja be prepared for the experience of your lifetime in a Jamaican prison.
When docking at the Turtle Bay Pier, outside the terminal, right after the taxi stand, you will see on the left an open gate to the Fisherman's Point Hotel with its bar-restaurant (Bottles & Chimne) and shops.
Bay Beach Sign
Photo © IQCruising.com
Walking Path to the Bay Beach
Photo © IQCruising.com
Alongside this main gate, there is another gate with a sign indicating the way to Ocho Rios Bay Beach & Watersport Activities. This path to the beach, behind the Fisherman's Point Hotel and along the bay is absolutely safe - it will take you in just over 5-minutes to Ocho Rios main beach once known as Turtle Beach. The entrance fee is $3.00 (adult) and $1.00 (children aged between 2 and 11) including changing rooms, showers, and bathroom. There are also umbrellas and beach chairs available to rent.
Island Village Entrance
Photo © IQCruising.com
As mentioned before, the street right in front of the Turtle Bay Terminal ends by the Main Street of Ocho Rios. Just before reaching this intersection, the cruise traveler will find the entrance to the Island Village on the right: a wonderfully manicured shopping and entertainment center developed almost exclusively for tourists.
Margaritaville - Ocho Rios
Photo © IQCruising.com
The Island Village has very nice boardwalks, natural spring lagoons lined with flowers and trees, a few shops, bars, cafes, and restaurants. This is where Margaritaville (a top attraction in Ocho Rios) is located with its quaint, small bay beach overlooking the docked cruise ships.
The Main Street in Ocho Rios
Harbour Shops - Ocho Rios
Photo © IQCruising.com
Ocho Rios' Main Street is, as the name suggests, where the cruise traveler will find the main landmarks and attractions of the town, most are within walking distance - in the first 1/2 mile or so. Across from Island Village, slightly to the left (East), the Harbour Shops are impossible to miss with stores like Harley-Davidson, Cariloha, Pirana Joe, House of Diamonds, Gem Palace; and the always, inevitably, present Tanzanite International. This is one of 3 plazas with Duty-Free shopping in Ocho Rios.
Reggae Alley - Main Street
Photo © IQCruising.com
Right after the Harbour Shops, the colorful Reggae Alley is a good place to enjoy lunch, a quick bite, a Red Stripe (Jamaica's own beer) or a cocktail before returning to the ship and take advantage of FREE Wi-Fi.
Taj Mahal - Ocho Rios
Photo © IQCruising.com
The Taj Mahal shopping plaza is next door and one of the most sought after sites by shopaholics. Besides the typical duty-free and souvenir shops, the cruise traveler will also find an ATM, an Exchange Office, Mama Marley's (a very good bar & grill) and the Café Express (Bistro & Bar serving Blue Mountain Coffee). Right across the street from the Taj Mahal's gate, there is a Tourist Information Kiosk with officially rated taxis.
Insider's Hint: when docking at the James Bond Pier, the Island Village and the Harbour Shops are at the start of the Main Street - less than 1/2 mile (800 meters) from the exit gates.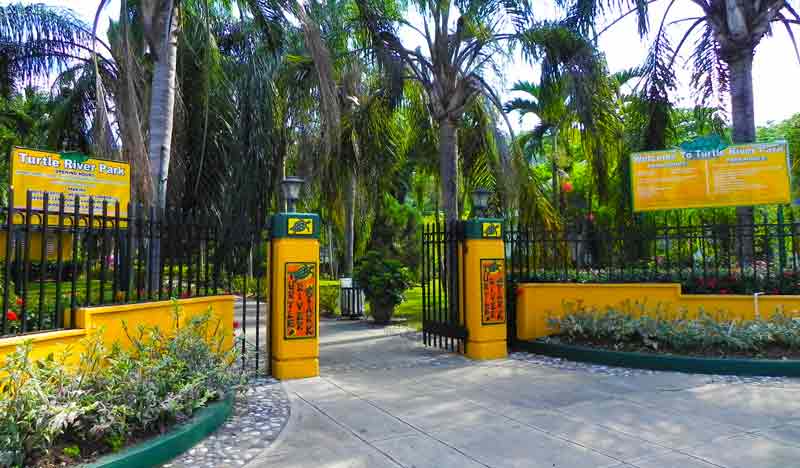 Turtle River Park
Photo © IQCruising.com
After the Taj Mahl plaza, there is an entrance to the Turtle River Park, an immaculately kept public garden, and John Crow's Tavern - another good spot to enjoy a coffee, a quick bite and check the internet (Free Wi-Fi). It has a very nice outdoor seating area and ideal for people watching.
John Crow's Tavern, Main Street
Photo © IQCruising.com
Across the street, there is a large car park next to a shopping plaza but this one only has local shops and is not duty-free. However, it is good to know that at the end of the parking there is an entrance to the Ocho Rios Bay Beach, the best access if docked at the James Bond Pier.
Ocho Rios Bay Beach
Photo © IQCruising.com
Craft Market
Photo © IQCruising.com
The 'Olde' Craft Market and the Post Office are the next landmarks on the Main Street and on the opposite side a larger Crafts Market. For those that like to collect crafted souvenirs the two markets are the places to go, in particular, the larger one if looking for wood carvings.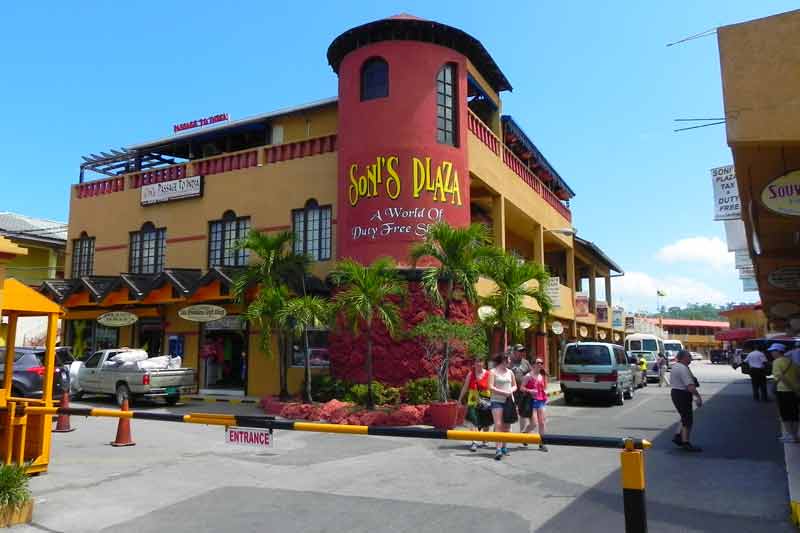 Soni's Plaza
Photo © IQCruising.com
Opposite the Craft Market, Soni's Plaza is the third and last Duty-Free shopping mall in Ocho Rios' Main Street. Like in the previous plazas, Watches and Jewelry is the main merchandise on offer but there is also a good shop selling Cuban Cigars (a Best buy in Jamaica). Soni's Plaza also has two restaurants worth mentioning: Mamma Marley's (the same chain as the one on Taj Mahal Plaza) and Passage to India, an excellent Indian restaurant with genuine cuisine and reasonably priced.
Main Street - Ocho Rios
Photo © IQCruising.com
Next to Soni's Plaza, around 1/2 mile from the start of the Main Street, the Mongoose is a typical Jamaican restaurant with traditional food and the last spot of interest on the Main Street. Most visitors do not venture farther East, but if you do you will find the active buzz of local life with lots of small business, shops, grocery and food stores, a fresh market but not much of interest for tourists to see or do.
Hibiscus Lodge - Ocho Rios
Photo © IQCruising.com
In fact, you will have to walk another 1/2 mile to reach the Hibiscus Lodge and the Our Lady of Fatima Catholic Church next to it. The latter has an interesting architecture and the Hibiscus Lodge has a scenic restaurant and pleasant bar with memorable views of the Caribbean. Mahogany Beach is close by but the walk down to the shore (almost 1/2 mile) is a stretch and the return strenuous; besides, this beach is usually crowded with many a catamaran excursion anchoring at the bay.
Our Lady of Fatima Catholic Church - Ocho Rios
Photo © IQCruising.com
Ocho Rios - Top Things To Do
All cruise lines offer excellent shore excursions (aka Shorex) and tours in Ocho Rios. Some can only be booked with your cruise ship or with independent tour operators such as Viator or Shoretrips. Nevertheless, many can be easily organized independently with Local Tout Guides, or on your own with a taxi at the pier. Check the Useful Links below.
1. Dunn's River Falls. Undoubtedly one of the must do activities/attractions in the Caribbean. The scenic waterfalls are a spectacle in itself and to climb them a thrill not to be missed..
2. Dolphin Cove. One of the best places in the Caribbean to experience the thrill of swimming with dolphins and enjoy a great show.
3. Mystic Mountain. Activities such as riding a state-of-the-art chairlift 700 feet above the rainforest, a Canopy Zip Line, a Bobsled ride and a Waterslide are the top thrills at this park.
4. Margaritaville. Just 300 feet away from the Turtle Bay Pier - and less than 1/2 away from the James Bond Pier, Margaritaville is an easy, fun and close by spot to enjoy a day at the beach.
5. Beach Day Pass. Like in most Caribbean Cruise Ports, there are a number of hotels that offer Beach Day Passes close to Ocho Rios such as the Jewel Dunn's River (US$86.99), Club Hotel Riu (US$92.99), Jewel Runaway Bay (US$92.99), Jewel Paradise Cove Resort (US$96.99) or the Bamboo Blu Beach ($17.99)
6. Rafting White River. This rafting experience is not on a romantic bamboo raft (like in the famous Martha Brae) but an active paddling trough twists and turns of rushing rapids with a midway stop where you can swing on a rope and swim a placid river pool.
7. River Tubing. An aquatic adventure on the White River's rapids and ponds but on a tube outfitted with a bottom.
8. Blue Hole. The Blue Hole as become a top attraction in the last couple of years. The clear blue water of this Natural Wonder is a delight to dive in and swim.
9. Plantation Visit. An opportunity to discover the present reality and history of a working plantation like the Appleton Rum Estate or the Sun Valley and, taste some of the exotic flavors of Jamaica.
10. Horseback Beach Ride. A Horseback Ride is a memorable experience as you will be guided through a tropical rain forest to a beach and then enjoy the thrill of galloping in the Caribbean waters.
Related Port Reviews
► Explore: Top Reviews - Caribbean Ports
Discover all Caribbean Port Reviews - Key West, Miami, Curaçao, Aruba, Nassau, St. Thomas, St. Kitts, Antigua, St. Martin ...
Learn More ►