Essential guide for cruises to Ocho Rios (Jamaica) port: where ships dock, the two piers and cruise terminals, how to get around by taxi, and top things to do.
Ocho Rios is our favorite cruise port in Jamaica. Full disclosure: once-upon-a-time the Editor lived in this cruise port town and had the opportunity to discover all highlights, attractions, and many hidden gems of Jamaica; like a local, learned to call it Ochee and walk around without being constantly harassed by pushy taxi drivers and vendors.
Where cruise ships dock in Ocho Rios
There are two piers where cruise ships dock in Ocho Rios. Both are within walking distance of the city and relatively close to top attractions such as Dunn's River Falls, Dolphin Cove, Mystic Mountain, or the Blue Hole.
Turtle Bay Pier - Ocho Rios
Photo © IQCruising.com
Turtle Bay Pier and cruise terminal
The primary pier, known as Turtle Bay Pier, has enough space for two mid-sized cruise ships to moor. However, this pier is used (most of the time) by only one mega-ship. The Turtle Bay Pier is used exclusively by cruise ships and is the nearest to downtown.
If docking at the Turtle Bay Pier, which has a T shape, the cruise traveler will walk less than 300 feet (100 meters) from the gangway to a terminal-secured area.
Walking the Turtle Bay Pier - Ocho Rios
Photo © IQCruising.com
The exit gates open into a wide street (Turtle Beach Road) lined on the left side by a couple of condominiums/hotels and on the right by a few shops and bars. This road is around 300 feet long (100 meters) and ends on the Main Street of Ocho Rios.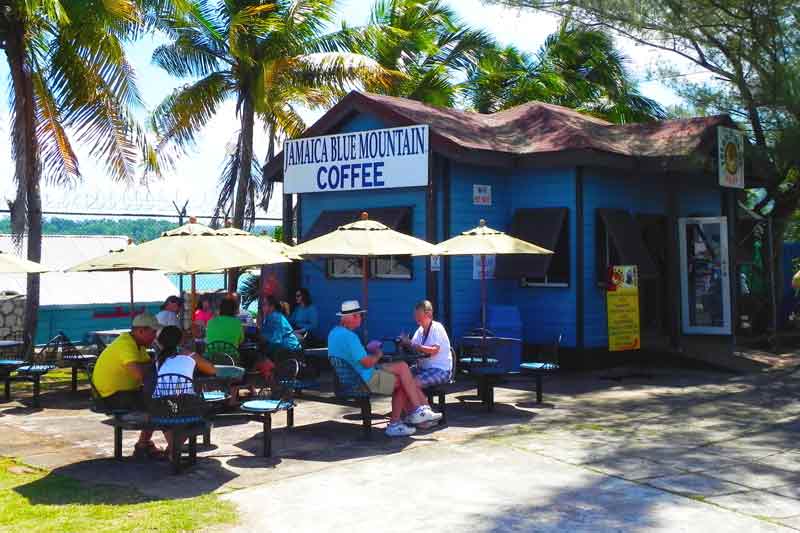 Blue Mountain Cafe by the Terminal
Photo © IQCruising.com
Inside the secured area of the Turtle Bay Terminal, there are a few services and amenities, including an Information Kiosk, a shaded waiting area and a small but excellent coffee house with outside seating serving Blue Mountain Coffee and offering free Wi-Fi. On the right side, there is a tour dispatch area and once outside the gates a taxi stand with officially rated fares.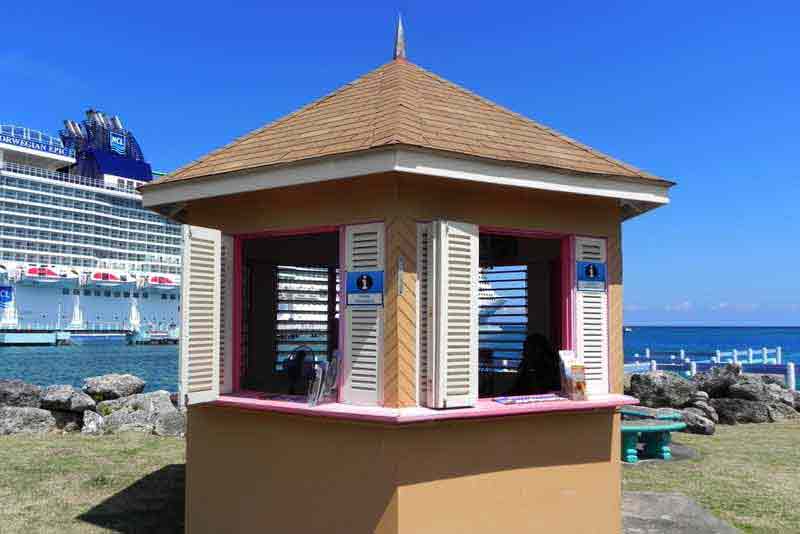 Tourist Information at the Terminal
Photo © IQCruising.com
► Explore: Withing Walking Distance from the Terminals.
In Town Port Guide and Review: all you Must Know, See and Do including Beach, Margaritaville, Shopping, Restaurants and more ...
Learn More ►
Reynold's Pier aka James Bond Pier
The other possible docking spot in Ocho Rios is officially named Reynold's Pier but is frequently referred to as James Bond Pier. This pier is also within walking distance to downtown - around 1/2 mile (800 meters) - and used by both cargo and cruise ships.
Once you step out of the gangway, you will realize that there isn't much at the Reynold's Pier where tour buses, taxis, and a tourist information kiosk share a small area. However, once outside the exit gates the cruise traveler will encounter vendors with all sorts of souvenirs, taxis in abundance and independent local tour guides and operators.
The exit gates open right into a main road just 10-minute walk away from the start of the Main Street in Ocho Rios. Turn left if you want to explore Ocho Rios Town attractions.
Getting around by Taxi
Jamaican Taxis must-know:
If you are planning to go to anywhere in Jamaica by taxi, the officially certified taxis aka Freelance Taxi that you will find by the pier have fixed fares - clearly displayed on boards - so do not waste your time haggling.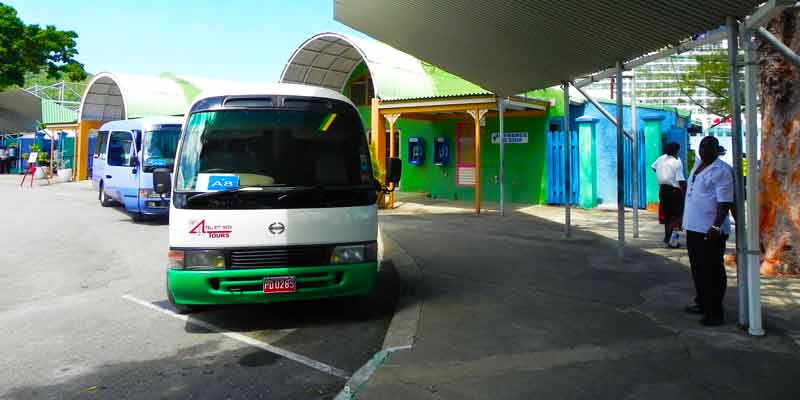 Taxi Stand at the Terminal
Photo © IQCruising.com
With few exceptions, prices displayed are for a round-trip, for a group of four passengers. There is also the fare for an additional person. This pricing can be a bit confusing if you don't read the small print.
For example, the price shown for a Round Trip to Dunn's River Falls is $40.00 and $10.00 per person (this the additional). The price for two passengers will be $40.00. However, if you are in a group of five, the price will be the same $40.00 plus $10.00 for the additional person.
Taxi Price List - Ocho Rios
Photo © IQCruising.com
Obviously, these are not the prices that locals pay for a taxi. In fact, Jamaicans use public buses and unmarked taxis. You really have to be a local (or a long time resident) to figure out how to use the latter and the regular public buses are not that easy to navigate on a day tour of Ocho Rios. Therefore, unless you have previous and sound experience of how to use these local transportation services, the Editor would not recommend either.
This said, you may find in downtown Ocho Rios better pricing for taxis and it is absolutely guaranteed that if you walk around the town there will be constant offers of taxi services to take you wherever you may want to go. As much as these taxi drivers sound like a pain in the back to get rid off, all you need to do is keep walking, acknowledge the offer with a 'thank-you-but-no-thanks' and that is that.
Taxi drivers are usually standing by their cars, and they will not follow you. But if you choose to use their services, it is advisable to check the officially rated fares first (by the pier) and be prepared to haggle as you may end up with a much better deal.
Top Things To Do in Ocho Rios
All cruise lines offer excellent shore excursions (aka Shorex) and tours in Ocho Rios. Some of these can only be booked with your cruise ship or with independent tour operators such as Viator or Shoretrips. Nevertheless, many can be easily organized independently with Local Tour Guides, or on your own with a taxi at the pier.
1. Dunn's River Falls. Undoubtedly one of the must-do activities/attractions in the Caribbean. The scenic waterfalls are a spectacle in itself and to climb them a thrill not to be missed.
2. Dolphin Cove. One of the best places in the Caribbean to experience the thrill of swimming with dolphins and enjoy a great show.
3. Mystic Mountain. Activities such as riding a state-of-the-art chairlift 700 feet above the rainforest, a Canopy Zip Line, a Bobsled ride and a Waterslide are the top thrills at this park.
4. Margaritaville. Just 300 feet away from the Turtle Bay Pier - and less than 1/2 away from the James Bond Pier, Margaritaville is an easy, fun and close by spot to enjoy a day at the beach.
5. Beach Day Pass. Like in most Caribbean Cruise Ports, there are a number of hotels that offer Beach Day Passes close to Ocho Rios such as the Jewel Dunn's River (US$86.99), Club Hotel Riu (US$92.99), Jewel Runaway Bay (US$92.99), Jewel Paradise Cove Resort (US$96.99) or the Bamboo Blu Beach ($17.99)
6. Rafting White River. This rafting experience is not on a romantic bamboo raft (like in the famous Martha Brae) but an active paddling trough twists and turns of rushing rapids with a midway stop where you can swing on a rope and swim a placid river pool.
7. River Tubing. An aquatic adventure on the White River's rapids and ponds but on a tube outfitted with a bottom.
8. Blue Hole. The Blue Hole has become a top attraction in the last couple of years. The clear blue water of this Natural Wonder is a delight to dive in and swim.
9. Plantation Visit. An opportunity to discover the present reality and history of a working plantation like the Appleton Rum Estate or the Sun Valley and, taste some of the exotic flavors of Jamaica.
10. Horseback Beach Ride. A Horseback Ride is a memorable experience as you will be guided through a tropical rain forest to a beach and then enjoy the thrill of galloping in the Caribbean waters.
11. Ocho Rios Town. Last but not least, Ocho Rios town has a charm of its own and is both easy and nice to explore on your own. The Island Village complex, Margaritaville, Ocho Rios Bay Beach, and the Main Street with its Shopping, Restaurants and Landmarks are all within walking distance.
► Explore: Withing Walking Distance from the Terminals.
In Town Port Guide and Review: all you Must Know, See and Do including Beach, Margaritaville, Shopping, Restaurants and more ...
Learn More ►
Other Port Guides You May Like
► Explore: Top Reviews - Caribbean Ports
Discover all Caribbean Port Reviews - Key West, Miami, Curaçao, Aruba, Nassau, St. Thomas, St. Kitts, Antigua, St. Martin ...
Learn More ►