Guide for cruise passengers to St Kitts and the cruise terminal of Port Zante, in Basseterre: where cruise ships dock, things to do with shore excursions, on-your-own, with local guides, and by taxi.
St Kitts is a small island where cruise travelers will find a great diversity of attractions to enjoy. The spectacular view from Timothy Hill is a sight to behold. Sightseeing on a Scenic Railway, the only and last operational railway in the Caribbean, is a must-do. And the beaches are fabulous.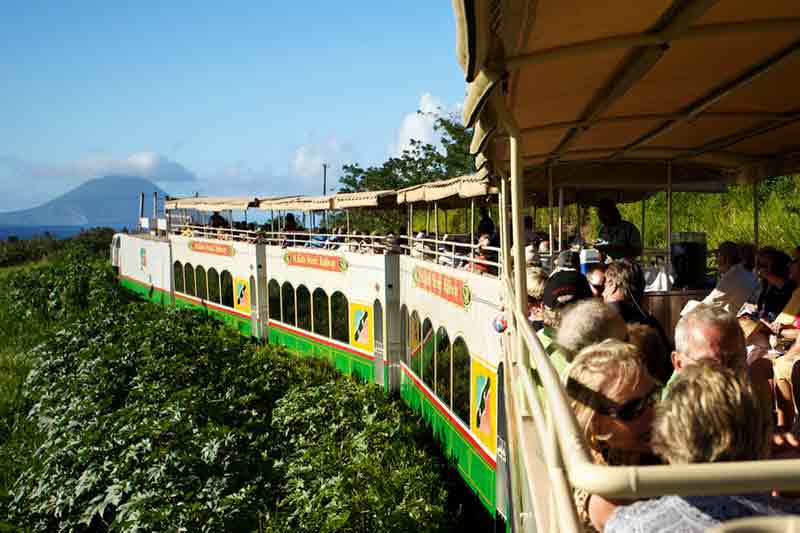 Scenic Railway in St Kitts
Photo: Public Domain
Besides the Brimstone Fortress, a UNESCO Site, there are many cultural attractions and landmarks to visit. The beaches and beach clubs of St Kitts are famous spots for cruise travelers to enjoy exciting watersports or a relaxing sunny day splashing in the Caribbean Sea. The exuberant rainforest can be explored on foot or enjoyed on a thrilling Zip Line.
Overview
Officialy named "Federation of Saint Christopher and Nevis", St Kitts is one of the two islands that form a dual-island nation in the West Indies, which is the smallest sovereign state in the Western Hemisphere. St Kitts is the largest island and Nevis is located around 2 miles (3 km) southeast.
When to cruise to St Kitts
Like most islands in the eastern Caribbean, St Kitts is a major cruise port of call in the Fall, Winter, and Spring. Although the monthly mean temperature does not vary much - between 75 °F (24 °C) and 80 °F (27 °C) - the hurricane season (June 1 through November 30) may spoil your cruise vacation and only a handful of cruise ships visit St Kitts between June and September.
Where is St Kitts and its cruise port
The cruise port in St Kitts is situated in Basseterre, the capital of the nation, on the south shore of the island. Saint Kitts and Nevis are located in the Leeward Islands chain of the Lesser Antilles, between the Atlantic Ocean and the Caribbean Sea, around 50 miles (72 km) south of St Maarten and 60 miles (96 km) west of Antigua, two other major cruise ports in the Eastern Caribbean itineraries. St Thomas (USVI) lies approximately 145 miles (240 km) northeast of St Kitts.
Where cruise ships dock in St Kitts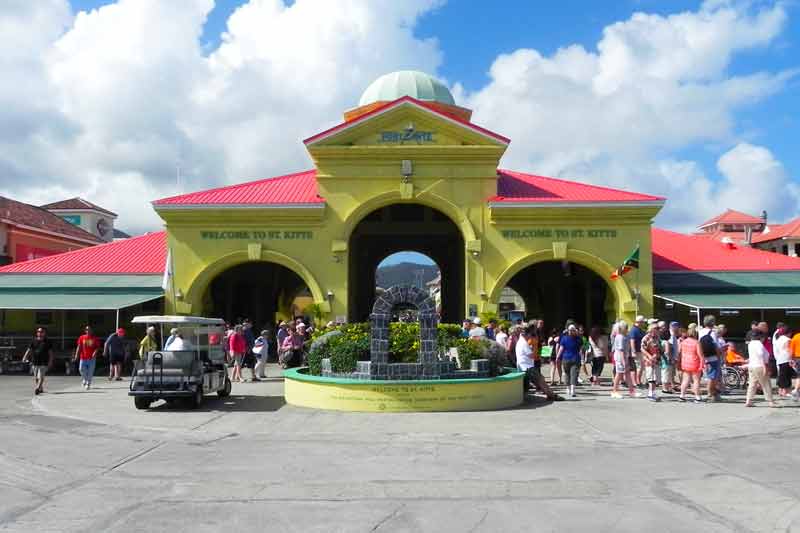 Port Zante Arrivals Hall in St Kitts
Photo © IQCruising.com
Most cruise ships dock in St Kitts in what is known as Port Zante with its fabulous Terminal, which is located within walking distance of the Historical Old Town of Basseterre. However, it may happen that cruise ships will have to anchor or dock at the Cargo Port, which is located 1.5 miles (just over 2 km) east of Basseterre.
► Explore: St Kitts Cruise Port
Where Cruise Ships Dock, Anchoring, the Terminal in Port Zante, Top Services and Amenities, including Shops and Restaurants.
Learn More ►
Cruise ships calling at St Kitts
Close to 600 cruise ships with around 1,5 million passengers called at Port Zante in St Kitts during the 2018-2019 season.
All major cruise lines visit Saint Kitts' Port Zante, including mega-ships like RCI-Royal Caribbean's Symphony of the Seas, Allure of the Seas, Adventure of the Seas and Freedom of the Seas; Carnivals' Sunshine, Fascination, Breeze and Magic; and Norwegian's Epic, Gem, and Dawn.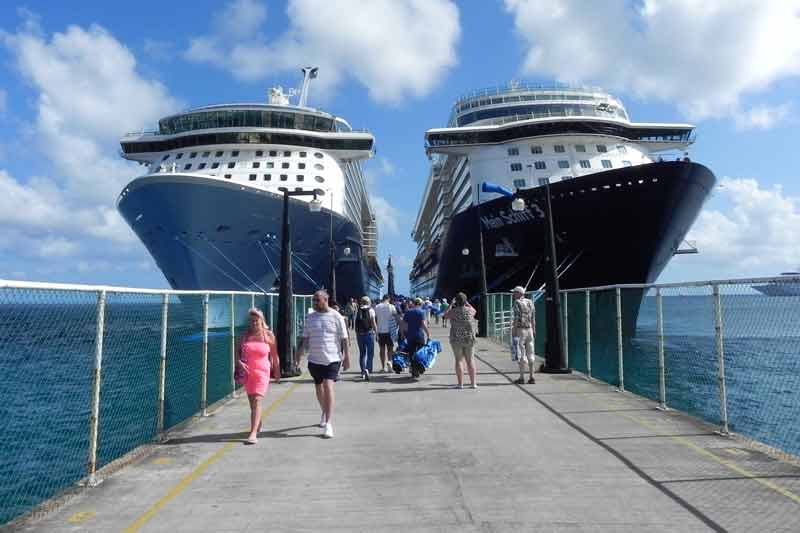 Cruise Ships Docked in Port Zante
Photo © IQCruising.com
Luxury cruise lines like Crystal, Regent, Silversea, Seadream and Seabourn visit St Kitts regularly as do vessels of upper premium cruise lines such as Cunard, Oceania, Viking, and Azamara. Princess, Holland America, and Celebrity offer cruises visiting Port Zante but usually only in the high season. Major European cruise lines like Marella Cruises, AIDA, P&O, and MSC also visit St Kitts.
Things to do and see in St Kitts cruise port
Cruise ships usually arrive early in the morning and depart before sunset. Learn more about St Kitts Port Zante Terminal Services and Amenities. Although cruise travelers will not have the opportunity to enjoy the famous nightlife of St Kitts, you will have more than enough time to explore most of the island's top highlights and attractions.
Cruise Ships Docked in Port Zante
Photo © IQCruising.com
One of the wonderful aspects of cruising to St Kitts is the fact that the island's attractions are very easy to explore on your own, in particular, the Historical Old Town of Basseterre. Discover the Top Things To See and Do in St Kitts.
Definitely, this a cruise port where staying onboard is not an option, even if only to walk around the Terminal of Port Zante to enjoy a stroll, browse shops, hang out on one of the many bars, lounges and grills, or to explore on foot the landmarks of the Historical Old Town.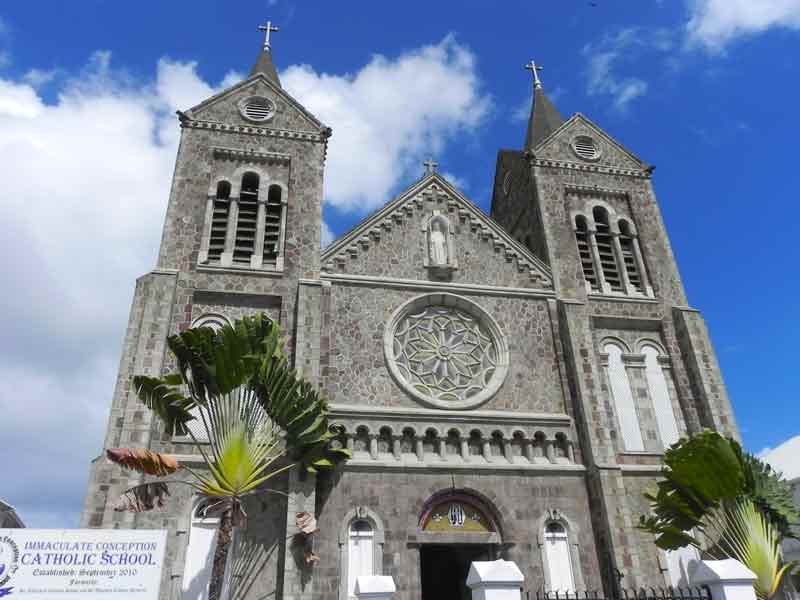 Co-Cathedral Catholic Church in Basseterre
Photo © IQCruising.com
For those cruise travelers that have been multiple times in St Kitts, there are a few off-the-beaten-track attractions that may be of interest such as the Amazing Grace Experience, the Historical Landmark in Bloody Point or climbing the Mount Liamuiga. Explore Saint Kitts Off Track.
Shore excursions and on your own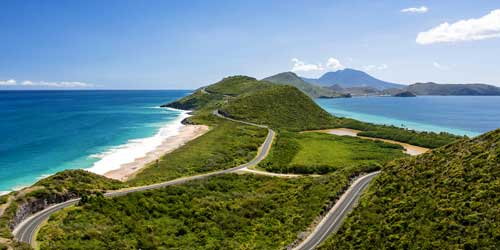 Timothy Hill
Photo Courtesy of St Kitts Torism Aithority
Most excursions offered onboard - aka shorex - have tours to the most famous highlights of St. Kitts. In the descriptions of these excursions you will surely find places like the Brimstone Hill Fortress National Park, the Historic Romney Manor, the Clay Villa Plantation, the Amazing Grace Experience or the Timothy Hill. Top and very popular tours include the Scenic Railway ride, and famous spots like Friars Bay or Frigate Bay to spend some time on the beach and/or enjoy all types of watersports.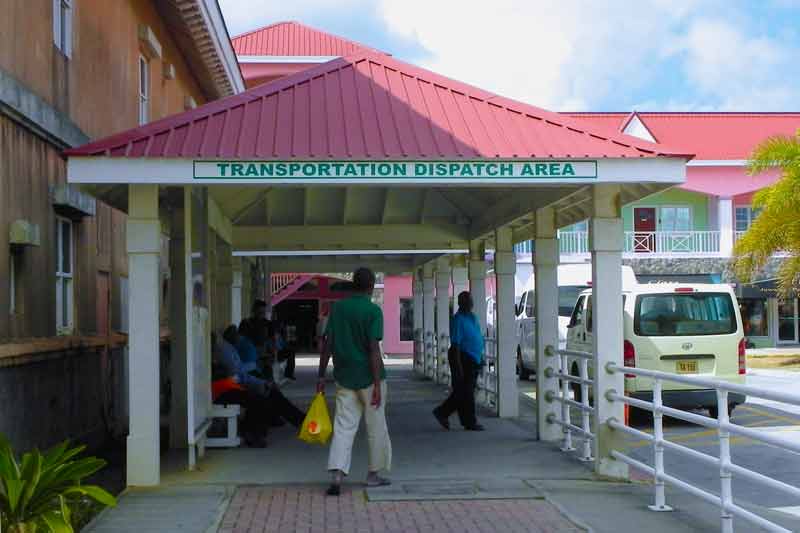 Taxi Dispatch in Port Zante
Photo © IQCruising.com
Getting around by taxi
Many a cruise traveler feels more comfortable to book the onboard excursions and there are many to chose from. But you can also explore most of these attractions on your own with a taxi driver - official rates are regulated but it is always advisable to double-check before entering a taxi. Going to one of the beaches, where bars and watersports can easily be found, couldn't be easier than with a taxi - just get one at the Taxi Terminal.
Local tour guides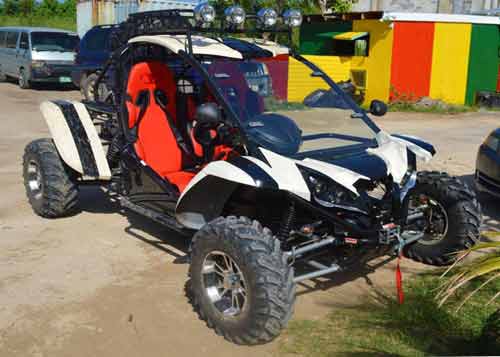 Dune Buggy Beach Tour
Photo Courtesy of Liz Pereira
As in many Caribbean Islands, there are excellent independent tour operators and local guides in St Kitts that provide outstanding service with matchless pricing. Considering how easy it is to book tours online with these local guides, it is advisable to do some basic research before paying for a shorex with your cruise line. Among many other advantages, it should be underlined that most local guides offer specifically tailored tours and, above all, with much smaller groups.