Essential guide for cruisers to St Lucia (Castries port): where ships dock and terminals. The top things to do, the beaches and day-passes, what's within walking distance, shopping, and basics.
The primeval Pitons are one of the most famous natural marvels of the tiny island-nation of Saint Lucia. The scenic landmark is a must-see. But the cruise traveler will only have a glimpse of this natural wonder if booked on a shore excursion.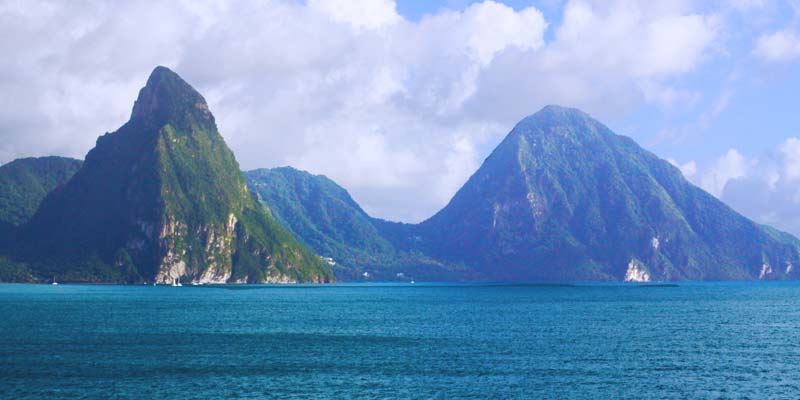 The Pitons in Saint Lucia
Photo © IQCruising.com
The good news is that there are so many other scenic sites, landmarks, attractions, and activities to experience in St Lucia that cruise travelers visiting the island will always find something exciting to do and see.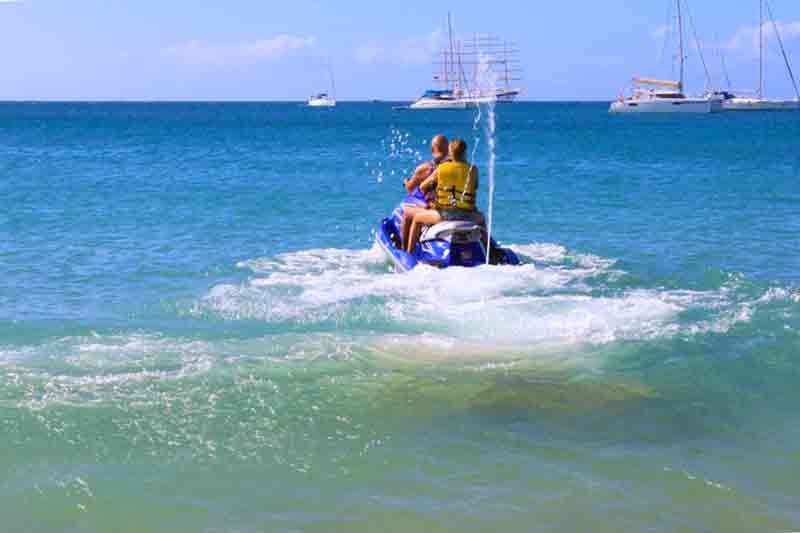 Jet-skiing in Saint Lucia
Photo by Ana Reljin
The beaches are stunning and relatively close to the cruise port in Castries. Natural attractions such as the Sulfur Springs (a dormant volcano), the Diamond Falls, or the National Rain Forest are sights to behold. Horseback riding, sailing, scuba diving, snorkeling, or jet skiing are just a few of the many thrilling activities you can experience on a cruise to St Lucia.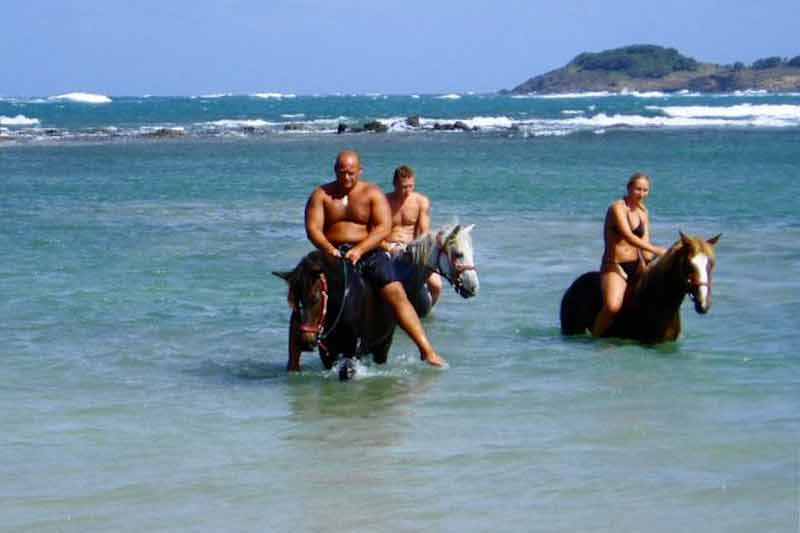 Horseback Riding in Saint Lucia
Photo by Marcela Janečková
Where cruise ships dock in St Lucia
There are two main piers (and Terminals) in St Lucia's main cruise port, which is located on a very nice bay next to Castries - the main city and capital of the island. The Pointe Seraphine Cruise Port Terminal is on the northern side of the bay and La Place Carenage Cruise Port Terminal is right downtown Castries.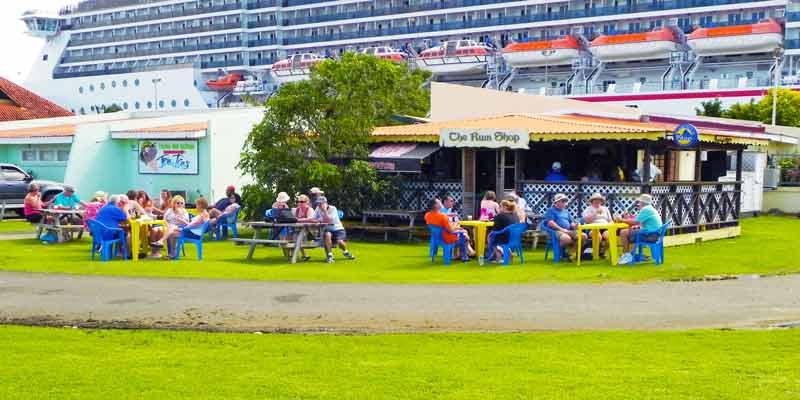 Pointe Seraphine Terminal
Photo © IQCruising.com
Pointe Seraphine is around a 1 mile north of Castries. A leisurely walk along the waterfront to the center of Castries will not take more than 20-minutes. Although the bay is wide enough to accommodate large ships, mega cruise ships like Queen Mary II may have to anchor outside the bay. Anchoring ships will transport passengers on their own tender boats to La Place Carenage Cruise Terminal.
► Explore: The Docks and Cruise Port Terminals in Castries (St Lucia)
Find out where cruise ships dock and anchor, where is the tender pier, services and amenities at the terminals of La Place Carenage and Pointe Seraphine and more ...
Learn More ►
Top things to do and see in St Lucia
Cruise travelers that enjoy mother nature's travails should not miss a visit to the famed Pitons although a tour and trekking of this emblematic wonder of St Lucia may take up to 6 hours.
Parks and Gardens
Less time consuming, a visit to the Diamond Botanical Gardens and Falls is a must. This six-acre retreat is an invitation to walk through lush tropical vegetation, bird watching or bathing in the mineral waters of the spa. The main attraction of the Diamond Gardens is the 17 meters high waterfall. Diamond Botanical Gardens Website
The Sulfur Springs Park, where you will have the unreal opportunity to visit a dormant volcano, is another must do and see in St Lucia. Besides the boiling springs, do not miss the waterfalls and hot water bathing pools – Black Water Pool and Pool of Love. Sulfur Springs Park Website
What's in downtown Castries and close by
Cruise travelers interested in exploring historical landmarks will find a few sites in Castries worth a visit. The Cathedral Basilica of the Immaculate Conception, usually referred to as "The Cathedral" is 200 ft long (61 m) by 100 ft wide (30 m) and said to be the largest church in the Caribbean.
A visit to the interior of the cathedral should not be missed. The Cathedral is located on another major landmark of Castries - the Walcott Square. This square is, in fact, a quaint garden with wonderful trees, a bandstand and a bust of Derek Walcott, the St Lucian poet, play-writer and Nobel Prize winner after whom the square was renamed in 1993. Ironically, the square is named after a man that was not at all happy with the touristic development of St Lucia island.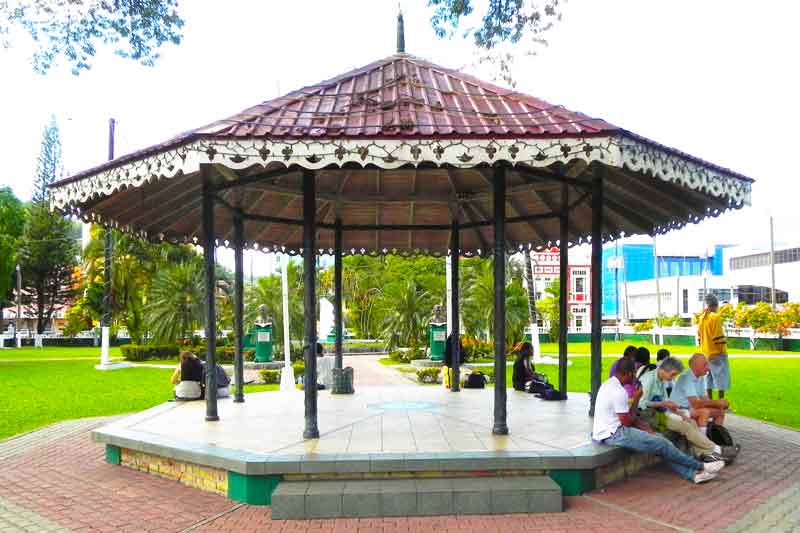 Walcott Square, Castries
Photo © IQCruising.com
Don't expect to see or discover much more in Castries close to the Cruise Terminals but do not miss a walking exploration of the town as it can be enjoyed before or after spending some time on a tour or on one of the many beaches close by.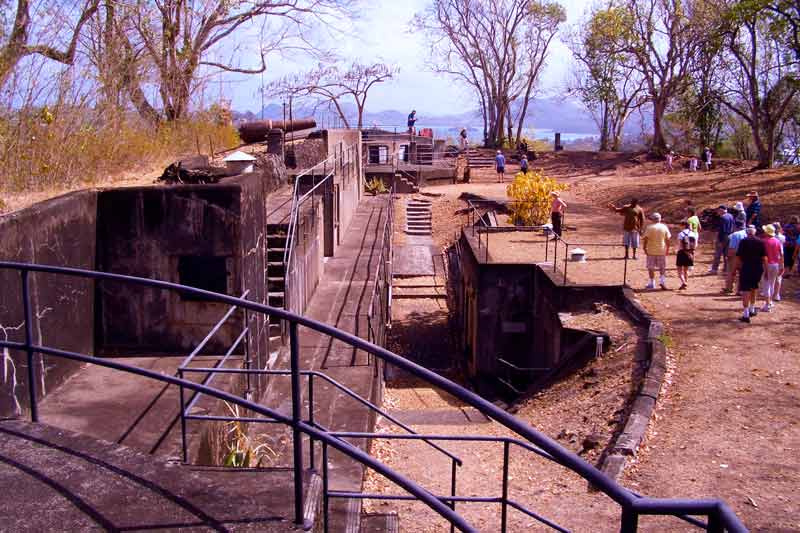 La Toc Battery, Castries
Photo © IQCruising.com
Other landmarks such as the La Toc Battery, the St Marks Colonial House or Governors House are relatively close by but not really within walking distance - if these are in your plans you should hire a taxi or book a tour of the highlights of Castries.
Beaches and day-passes
Besides the already mentioned landmarks in Castries (within walking distance) both terminals are close to other attractions, in particular, for those looking forward to spending some time basking in the sun. Good to know: all beaches in St. Lucia are open to the public. However, be aware that nude and topless sunbathing is illegal.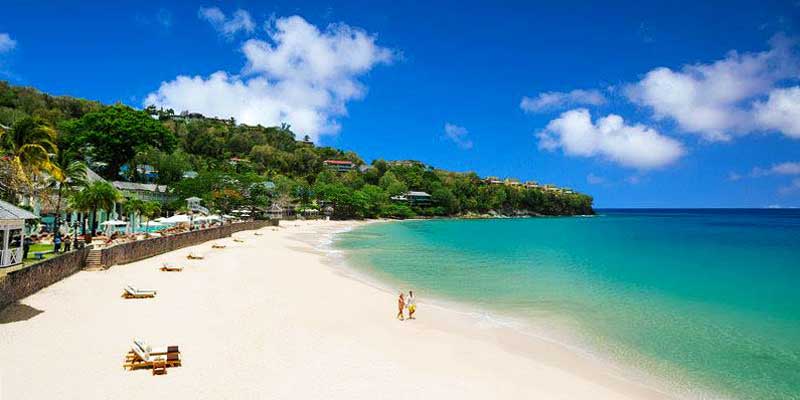 La Toc Beach
Photo © IQCruising.com
Vigie Beach is the closest to Castries (just under 2 miles north). Although the Editor has walked there from Pointe Seraphine it is a stretch in the sun and a taxi shouldn't cost more than US$10 each way (per trip up to four people). The same fare (US$10.00) is also how much a taxi should charge to go take you to La Toc Beach, the other beach close by (3 miles south). Along the northern west coast, there are a few other wonderful beaches such as Choc Beach (20-minute taxi ride), Reduit Beach (on Rodney Bay) and Pigeon Island Beach (between US$20.00 and US$30.00 each way by taxi).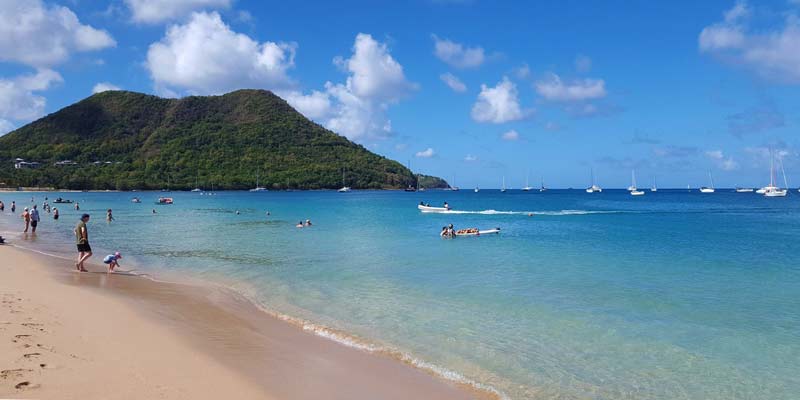 Reduit Beach, St. Lucia
Photo © IQCruising.com
Undoubtedly, Reduit Beach is the most popular - the scenery, sand, water clarity and many activities offered are major attractions for the cruise traveler. And also the proximity to the Rodney Bay Marina (with a few nice restaurants), the Splash Island Water Park which is great for families and the Bay Bay Gardens Resort offering a beach day pass.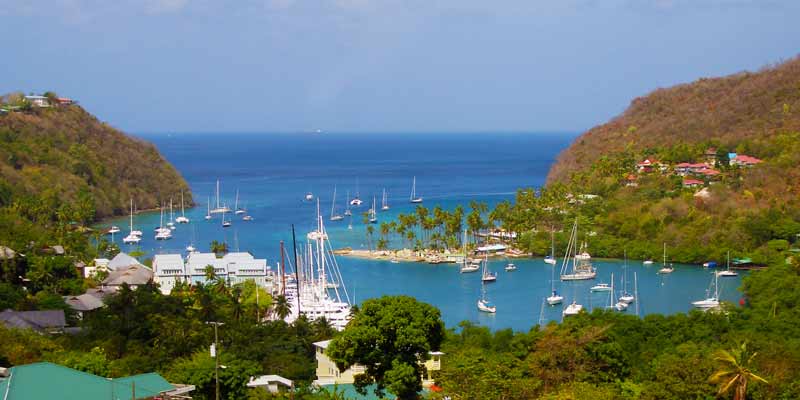 Marigot Bay
Photo © IQCruising.com
Marigot Bay (just under 10 miles south) is another very popular beach destination in St. Lucia. The scenery is spectacular but cruise travelers should be aware that the beach is small and can get crowded easily. Therefore you should look into booking a day pass at the Marigot Beach Club. A few miles south, on the off the beaten track Anse Cochon Bay, the Ti Kaye Resort & Spa offers a memorable luxury Day Pass.
Shopping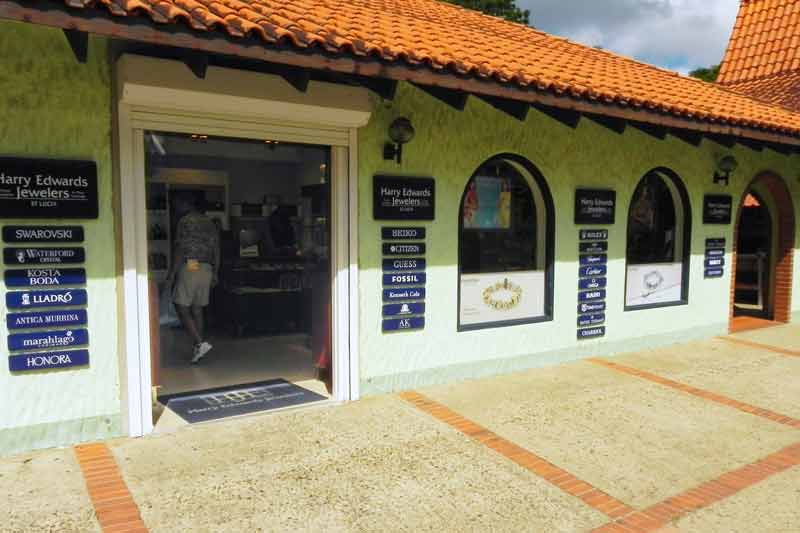 Harry Edwards Shop
Photo © IQCruising.com
Many savvy cruisers argue that the Pointe Seraphine Terminal has better shops than the La Place Carenage Terminal. And, in fact, the cruise traveler will find more stores at the former but also greater diversity in this terminal. For sure you will find the typical duty-free shops selling Perfumes, Jewelry and Watches ubiquitous all over the Caribbean Islands - the likes of Colombian Emeralds, Diamonds and Tanzanite International - but also Harry Edwards that is exclusively Saint Lucian.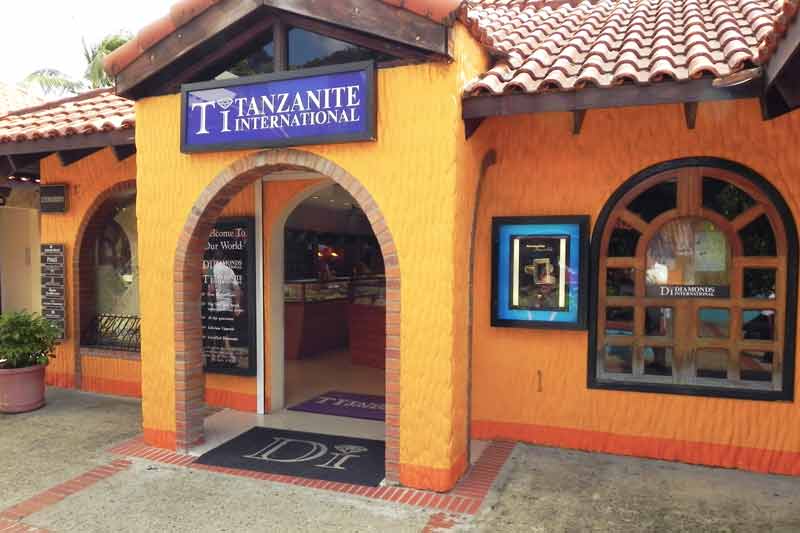 Tanzanite International Shop
Photo © IQCruising.com
An art gallery must be mentioned for selling watercolors and prints by Llewelyn Xavier - the most famous Artist in St. Lucia. There are also better and more souvenir shops at the Point Seraphine Terminal, and even a few crafts are available but the Market in Castries is still the best place to go if looking for handmade local souvenirs. If docked at La Place Carenage, and considering that this terminal also has quite a few good stores, you really have to be a serious shopaholic to walk all the way to Pointe Seraphine or cross the bay by water taxi.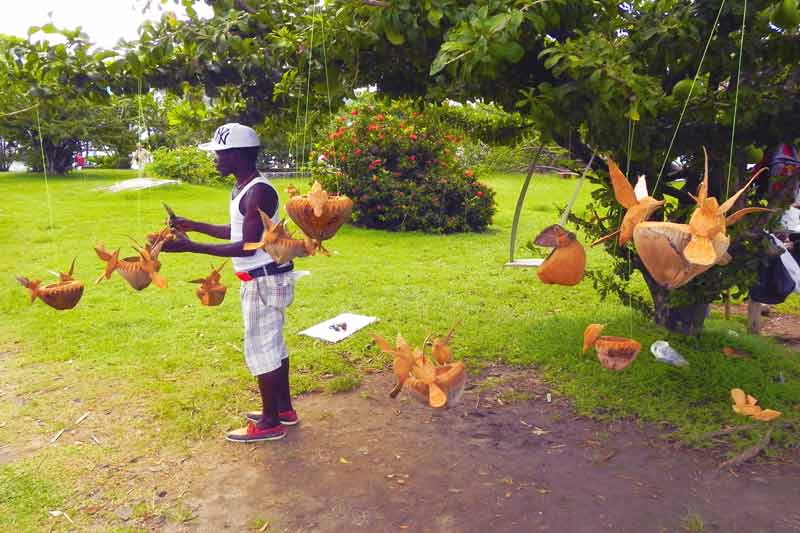 Street Vendor in Castries
Photo © IQCruising.com
In one word: the best shopping in St. Lucia is found in both Terminals and in the Crafts Market in Castries. Tobacco, spirits, and liquors are some of the best buys in St. Lucia. Among the most famous local produced items, silk-screened fabrics and clothing are a must, in particular, the batik prints handmade by Bagshaws studio and Caribelle Batik.
Saint Lucia Basic Information
| | |
| --- | --- |
| Language | English is the official language. However, the French-based Saint Lucian Creole (Kwéyòl) - or Patois ("Patwa") - is spoken by the over 90% of the local population. |
| Currency: | The Eastern Caribbean Dollar (EC$) is the official currency and legal tender. However, US Dollars are widely accepted. Be aware that you may be given change in EC$. |
| Phones: | Country Code: 758. To call the United States or Canada dial 1 plus the number. For all other international calls, first dial 011 followed by the country code i.e. 44 (for the UK), 61 (Australia). Many US phones may work but is advisable to check with your provider to avoid roaming charges. |
| Post Office: | Monigiraud Street - Castries. |
| Electricity: | Most electrical outlets in St. Lucia use three rectangular prongs like in the UK with 220 Volts 50 Hz current. However, you may find at the terminal typical US 110 volt 2 prong outlets |
| Rent-a-Car: | All Major Car Rentals are available in St. Lucia such as Avis, Hertz, Thrifty, Budget, Alamo or National. However, when booking online, the cruise traveler should check the availability at each of Cruise Ship Terminals or in Castries. |
| Driving: | Driving is on the left. |
| Emergencies: | Dial 911 |
| Drinking: | Legal drinking age is 18 years. |
| Smoking: | Smoking is prohibited in restaurants and public buildings. Bars may allow smoking outdoors. |
| ATM's: | There are a few ATM's in Castries |
More Cruise Port Reviews
► Explore: Top Reviews - Caribbean Ports
Discover the Most Popular Caribbean Port Reviews - Nassau, Cozumel, Grand Cayman, Key West, Miami, Grand Turk, Ocho Rios, Montego Bay, Curaçao Aruba and more ...
Learn More ►