Basic info for cruises to St Maarten, Philipsburgh cruise port: where ships dock and the cruise terminal - services, amenities, shopping, tourist info, how to get to Philipsburgh by the water taxi or on foot.
Sint Maarten (Saint Martin in French) was one of the Caribbean Islands more seriously hit by hurricane Irma in 2017. However, the recovery was fast, and St Martin was back on all main itineraries cruising the Eastern Caribbean until the Covid-19 pandemic.
Soon, St Marteen will be again a popular cruise port. Cruise passengers wondering if and when to visit St Marteen should know that all services were fully operational until one year ago. Yes, there are still signs of the devastating passage of hurricane Irma. These scars may last for a long time, but the island has been open for business and welcoming cruise visitors with its renowned hospitality as soon as possible.
Although the Editor has not been in Philipsburg since Irma, we are in touch with residents on the island. Numerous cruise visitors have confirmed that the Terminal is impeccable, the water taxi is fully functional, and most services on the island are operating as usual.
Where Cruise Ship Dock - Piers and Terminals

Port View Saint Martin
Photo © IQCruising.com
Saint Martin or Sint Maarten (in Dutch) is one of the Editor's favorite island in the Eastern Caribbean cruise itineraries for two main reasons - its natural beauty (clean beaches and paradisaic climate) and the fact that it is very easy and safe to explore on your own.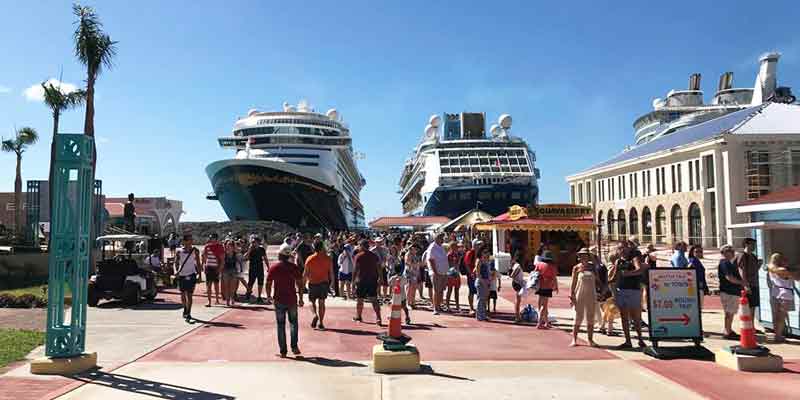 Pier View Saint Martin
Photo © IQCruising.com
The Island is divided into two areas – the northern side belonging to France and the southern part (more or less one-third of the territory) controlled by Holland as part of the Netherlands Antilles.
A. Wathey Pier and Terminal
Cruise ships dock at the A. Wathey Pier with six docking spots for large ships. The piers are fairly close to the exiting gates where your ID will be checked when returning to the ship. Cruise passengers with walking difficulties will find transportation (trolleys) between the gangway an the exit gates.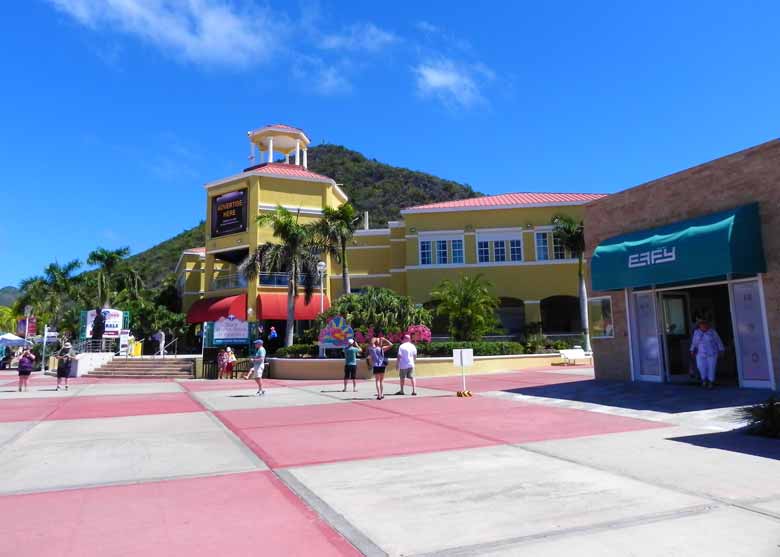 Main Terminal Building in Saint Martin before Hurricane Irma
Photo © IQCruising.com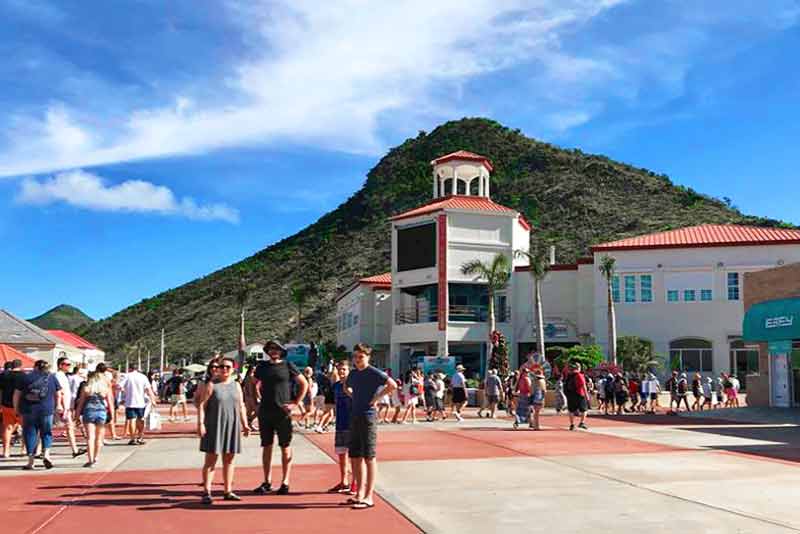 Once outside the exit gate control, there is large open air Terminal where the cruise traveler will find a number of buildings with all major services and amenities - Tourism Information, Excursions and Tours, Wi-Fi spots (not free), ATM, Taxis, Restrooms (suitable for disabled), Water Taxi (more about this below), a good number of stalls with souvenirs, a couple of shops with Duty Free Alcohol, Tobacco (both cigarettes and cigars), chocolates, snacks and beverages.
Terminal Duty-Free Shopping and Local Flavors
St Maarten is known to be a "Shopper's Paradise" with excelent dutty-free prices. Tobacco and alcohol, electronics and specially photo cameras are the best-buys but also jewelery and watches. Cruise passengers interested in shopping, should not miss the shops in Philipsburg. However, you will also find a number of good shops in the cruise terminal such as Little Switzerland, Diamonds International, Boolchands, Ballerina's Jewelers or Effy. Last but not least, the cruise traveler will find a few nice shaded places to enjoy local drinks and flavors.
Walking to Philipsburg
The A. Wathey Pier is close enough to Philipsburg if you like to walk (both safe and easy) - at a leisurely pace, it will take less than 15 minutes to reach the eastern (and nicer) side of Philipsburg. Along the way, there are a couple of places to stop if you feel like a refreshment – Chesterfield's waterfront restaurant and bar is IQCruising Editor's favorite – and also a small shop to buy Dutch delicacies and souvenirs (the cheese selection is impressive).
Water Taxi to Philipsburg
Water Taxi to Philipsburg
Photo © IQCruising.com
Most cruisers prefer to take a very convenient Water Taxi that will take you to the Captain Hodge Pier right in the middle of the Great Bay (and Beach) of Philipsburg and across the Wathey Square. There is another stop farther west right at the pier in front of the ‪Walter Plantz Square.
Because the Beach in Philipsburg is not as wide as once was (before Irma), it can get a bit crowded. The taxi stop by ‪Walter Plantz Square is now recommended as you will have more options to enjoy a day on the beach.
The water taxi runs almost continuously, is a large boat and is reasonably priced - offering a single fare ($5.00) or a day pass ($7.00) that allows as many trips as you want. Because the difference in price is minimal, most cruisers end up using the Water Taxi for both ways.
Along the years, the Editor has found that the Water Taxi can be in such demand when cruise ships dock in the morning that waiting in line can take quite some time. Insider's tip: walking to town can be a better choice, only using the water taxi to return to the Pier at the end of the day.
Tourist Information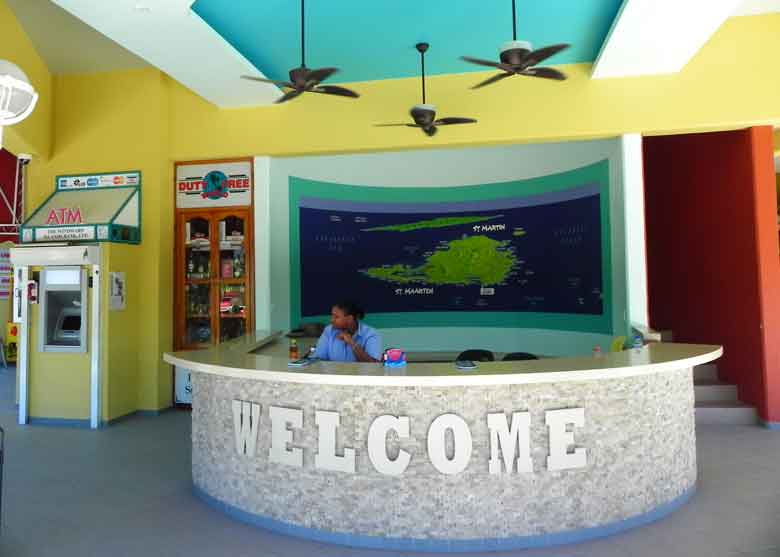 Port View Saint Martin
Photo © IQCruising.com
Specially now, as some sites, beaches and attractions in St. Martin are still recovering form the devastation of Irma, its advisable to double check what is working 100% and what may not be fully functional as yet. The Tourist Information Desk at the Terminal (main building on the right) is the right place to get this type of updated info.
Hurricane Irma devastation in St Maarten
After the devastation of Hurricane Irma, both cruise ports in Philipsburg and Marigot were off limits for quite sometime for obvious reasons that can be seen on the photos below.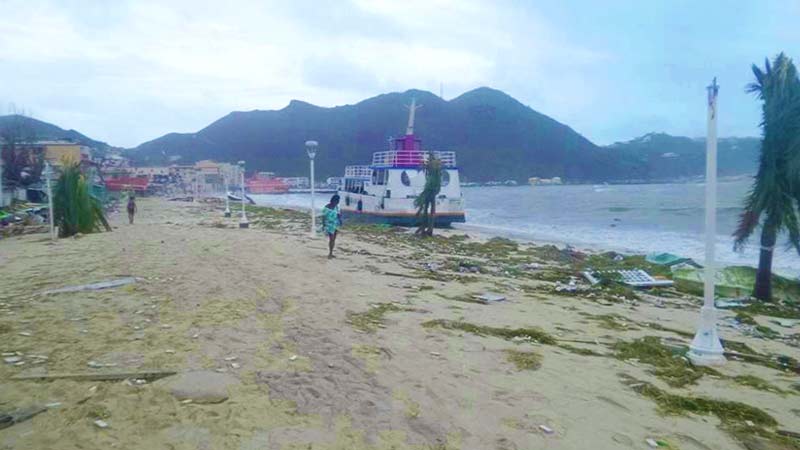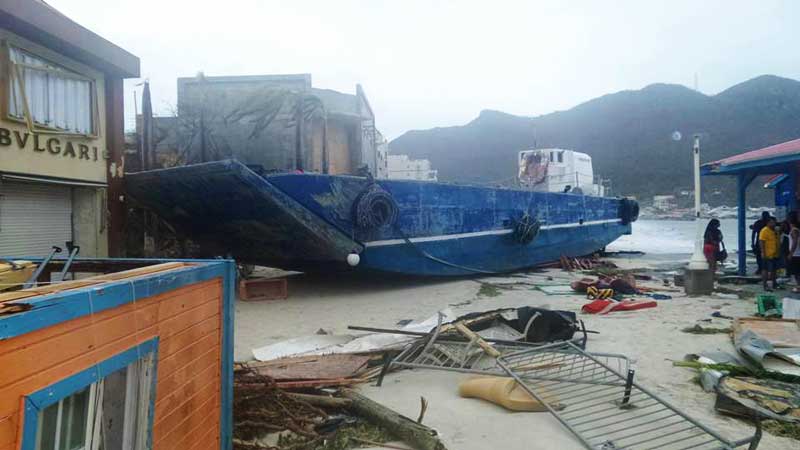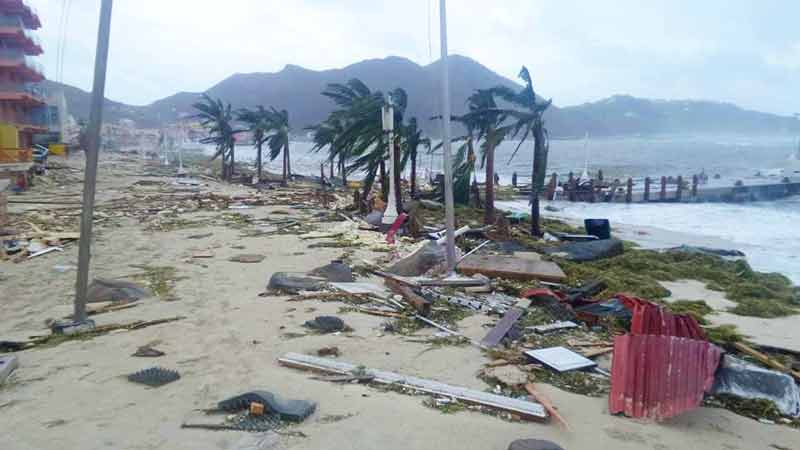 How St Maarten recovered from Irma
On Monday, December 4, 2017, Viking Sea was the first cruise ship to call at the island of St Maarten since the passing of hurricane Irma earlier in September that same year. This was a key date for the cruise tourism.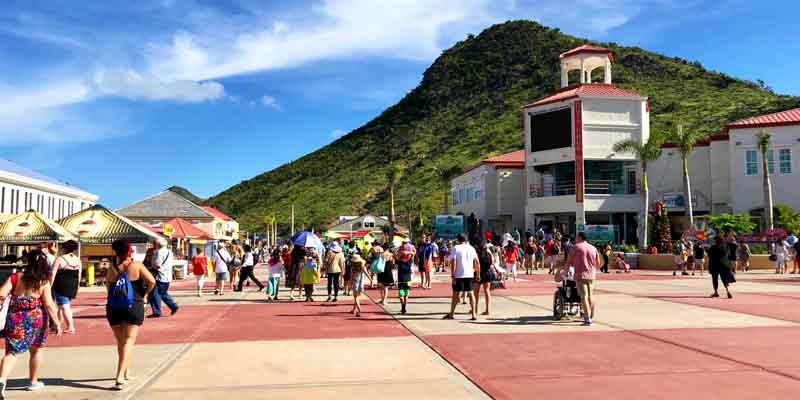 Terminal
Photo Courtesy of Port St Maarten
Even more encouraging news arrived a couple of weeks later when five cruise ships visited St Martin on Christmas and Boxing Day - Marella (former Thomson) and Independence of the Seas (on December 25), Grandeur of the Seas, Azamara Quest and Jewel of the Seas (on December 25).
Ships Docked
Photo Courtesy of Port St Maarten
The new year started with the return of Disney Cruises, Marella Celebration and Royal Caribbean's massive Harmony of the Seas on January 2. The Koningsdam - Holland America Line (HAL) - docked on January 6, and the luxurious Silver Wind (Silversea Cruises) called for an overnight on January 11.
Harmony of The Seas
Photo Courtesy of Port St Maarten
For a cruise port that used to have as many as 6 cruise ships docked on weekdays before hurricane Irma, it may sound like a slow recovery. But whilst the Silver Wind was still in port, another 3 ships docked in St Maarten - Regal Princess, Eurodam and Anthem of the Seas. This was the first four ship day for St. Maarten's 2018 season. Many more are coming and cruise life is getting back to normal.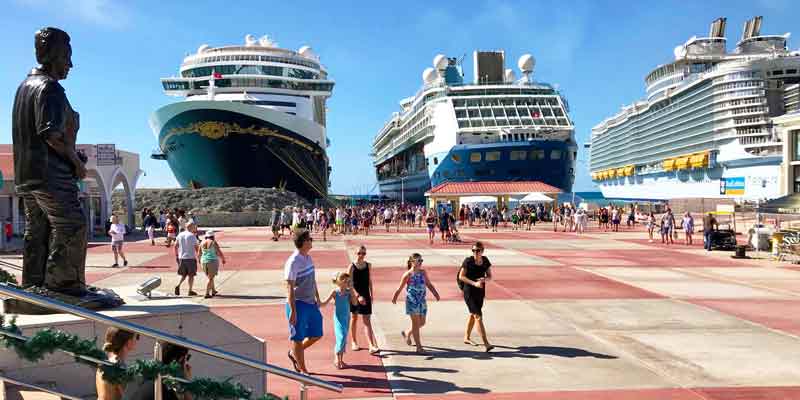 Terminal
Photo Courtesy of Port St Maarten
Now, any day can be (as they say at Port St. Maarten) a '12K kind of day'. Just watch the video below filmed on January 11, 2017.
More Cruise Port Reviews
► Explore: Top Reviews - Caribbean Ports
Discover the Most Popular Caribbean Port Reviews - St Thomas, St Kitts, Barbados, Nassau, Cozumel, Grand Cayman, Miami and more ...
Learn More ►