Kontokali
Adjacent to Gouvia Marina, Kontokali is only a short distance from Corfu Town and has everything a tourist could want: shops, bars, restaurants, hotels and a beautiful beach that is perfect for swimming.
Where: 5 km north of Corfu Town
Benitses
Benitses was the favorite beach of the Kaiser Willhelm II, and his stone bridge is located close by. Here you can visit the Roman baths, stroll tiled pathways in the village, and enjoy the pebbled beach.
Where: 12 km south of Corfu Town
Dassia Beach
The water here is warm and calm, making it popular with families traveling with children. It has many tourist amenities and is easily accessible by bus or car from Corfu Town.
Where: 13 km north of Corfu Town
Ipsos
Situated on the main road to the northeast, Ipsos is known for its nightlife and caters to a young crowd. It is a short distance from both Corfu Town and the airport.
Where: 14 km north of Corfu Town
Glyfada Beach
Glyfada is one of the most popular beaches in Corfu, located west of the town. Dramatic rock formations in the sea, a large sandy beach, and surrounding cliffs covered in olive and pine trees characterize this resort.
Where: 16 km west of Corfu Town
Myrtiotisa Beach
Myriotissa is an unspoiled beach that writer Lawrence Durrell called the "loveliest beach in the world." This is a popular beach despite its remote location. To get there you must descend a bumpy road, park your car, and still endure a long walk to the beach.
Where: 17 km west of Corfu Town
Barbati Beach
Barbati is characterized by a mile of beach with fine pebbles and incredible views, not to mention crystal clear water. This resort also tends to be less crowded.
Where: 18 km north of Corfu Town
Agios Gordios
Agios Gordios is a quaint coastal village best known for Calypso Corfu Diving Center, which was opened by spear fisher Andreas Dukakis. The scenery is spectacular, defined by cliffs, olive groves and 1.5 km of sandy beach.
Where: 19 km south west of Corfu Town
Messonghi
Messonghi is an old fishing village and one of Corfu's first beach resorts. It boasts a long pebbled beach and a variety of tourist attractions. South of Messonghi are several villages known for their fresh fish restaurants.
Where: 20km south of Corfu Town
Nissaki Beach
Nissaki Beach is picturesque with dramatic rock formations, soft sand, and calm, clear waters. Located close to the beach are some inviting taverns serving fresh seafood.
Where: 22 km north of Corfu Town
Paleokastritsa Beach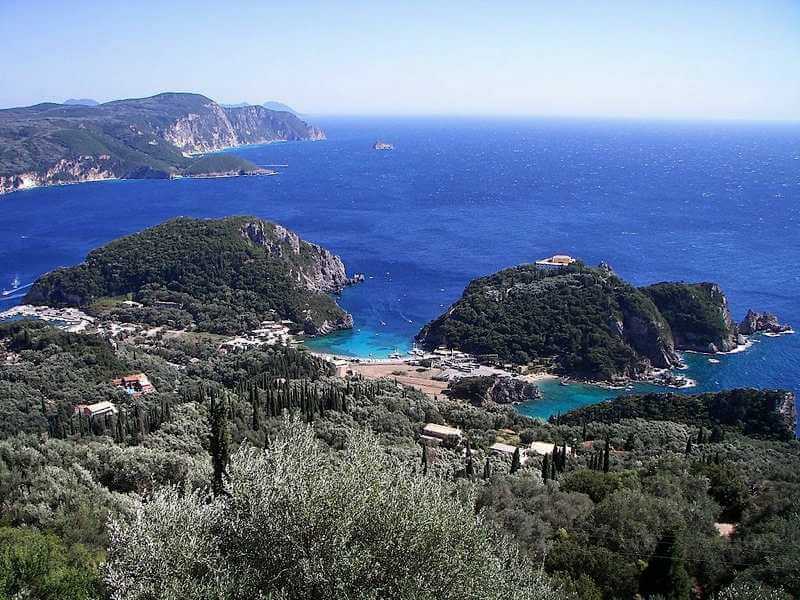 Corfu - Bay Of Palaiokastritsa
Photo by Tasoskessaris CC-By-SA
Though the primary beach in Paleokastritsa is rather small, the village is what makes it a favorite beach resort in Corfu. Pebbled beaches surrounded by olive groves, beautiful bays and a harbor, and some popular tavernas create a wonderful vacation destination.
Where: 23 km north west of Corfu Town
Issos Beach
Issos is a picturesque beach located on the southwest side of Corfu. A varied landscape of hills, wetlands (Korission Lake), forest, and the sea make it a unique destination. The strong tides here make conditions right for windsurfing.
Where: 32 km south of Corfu Town
Avlaki
If a quiet beach is what you are looking for, Avlaki is a good choice. There are only a few hotels and tavernas here, and the resort doesn't see much tourist activity, even in July and August.
Where: 35 km, north of Corfu Town
Sidari Canal d'Amour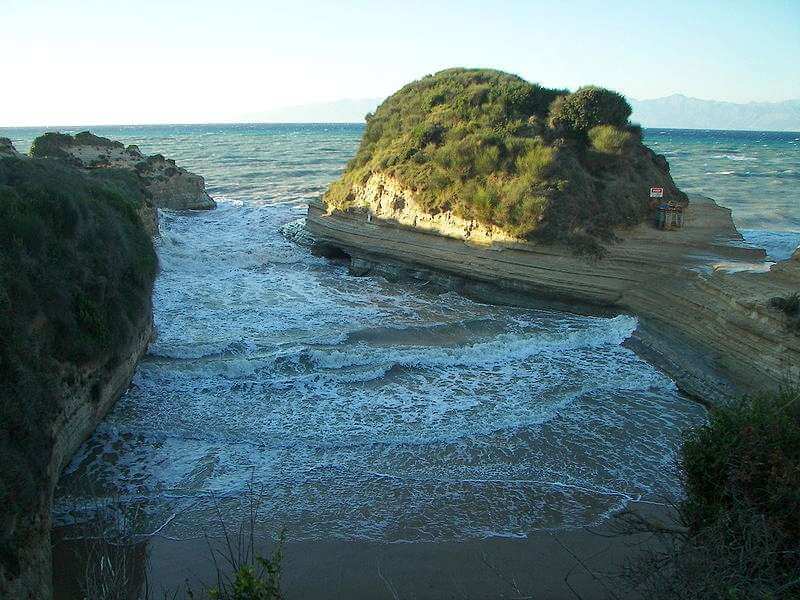 Canal D'Amour
Photo by Tasoskessaris CC-By-SA
This beach resort is famous for its "Channel of Love" or "Canal d'Amour," a tunnel through rock formations that you can swim through. As legend has it, you will meet the love of your life on the other side.
Where: 36 km north west of Corfu Town
Golf - www.corfugolfclub.com
Corfu's Golf and Country Club course is ranked in the top 100 courses worldwide and is considered one of the best in Europe. Designed by Donald Harradine, it has 18 holes and a magnificent setting.
Water Sports
There are many ways to explore Corfu's waters. Visitors enjoy water skiing, jet skiing, canoeing, and surfing. Training and equipment is available at most beach resorts. Corfu is also a major destination for scuba divers thanks to its gulfs and reefs, as well as the warm waters.
Corfu Aqualand
Some call Corfu's Aqualand the best water park in Europe while others deem it overpriced and touristy. Regardless, it is full of exciting water rides and is a major attraction, located in the center of the island near the Agio Ioannis village. Follow the main road to Glyfada to get to the park or take a 20-minute bus ride from Corfu Town. Aqualand is open May through October.
Where: Near the Agio Ioannis village, 20-minute bus ride from Corfu Port