Docks and Tenders
for Cruise Travelers to Santorini Port
- Where Ships Anchor, Tender to Skala, Services, Amenities, Explore on Your Own, Cable Car and Donkeys.
The island of Santorini in Greece does not have a port where cruise ships can dock. Instead, cruise ships will anchor and, sometimes, with as many as five ships calling at Santorini, the transfer operation to the island can be a bit hectic.

As cruise ships anchor at the vast bay surrounding the volcano's crater, passengers will be transported to the to the small port of Skala on large and comfortable tender boats operated by locals. Skala is right below the town of Fira perched on the top of the volcano's wall.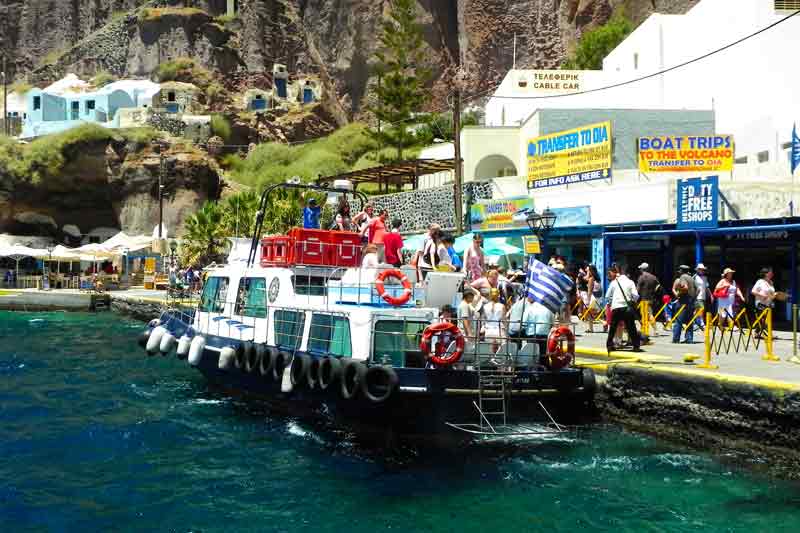 Tender Boat in Skala
Photo © IQCruising.com
Some cruise ships offering excursions to Akrotiri or full-day sightseeing tours of the island may have an earlier stop close to the port of Athinios just to transfer those on these excursions booked onboard. However, unless booked on of these shore excursions, all other cruise travelers will be tendered to the Port of Skala.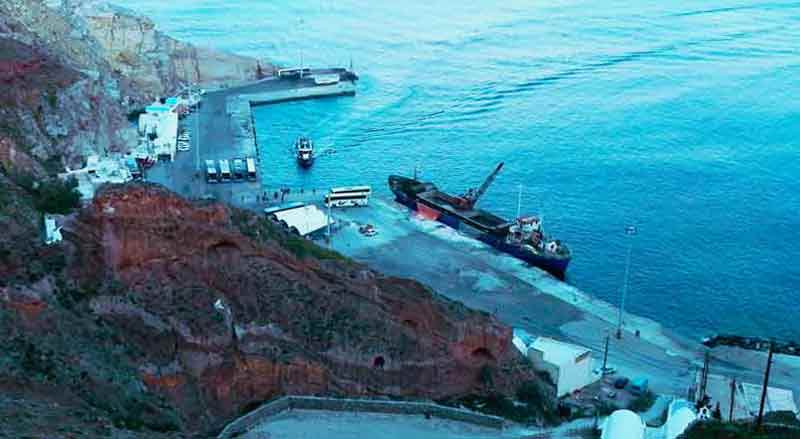 Port of Athinios in Santorini
Photo © IQCruising.com
Cruisers should be aware that the pier/dock in Skala can get very busy with travelers walking to and from tender boats, in particular when there are as many as 5 ships anchored. Besides the regular transit between the tender-boat piers and transportation to the attractions uphill, many also like to explore the many amenities in Skala.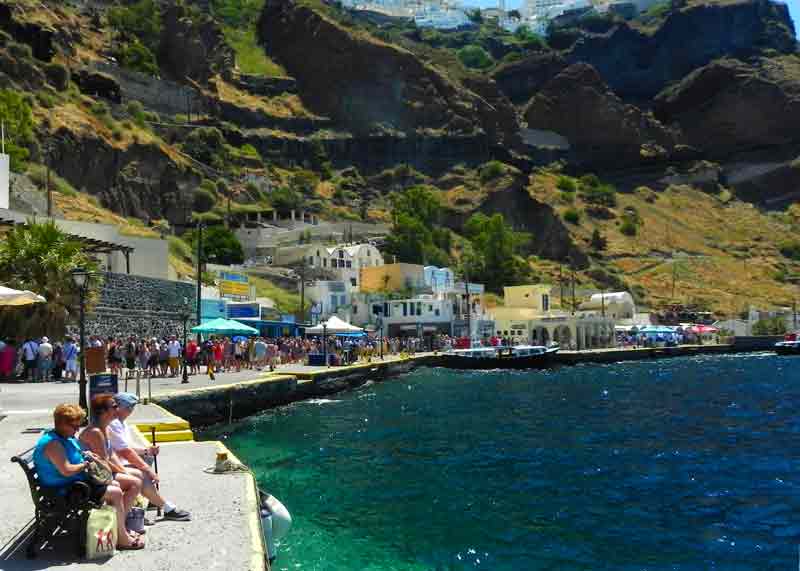 Skala Dock in Santorini
Photo © IQCruising.com
Amenities and Services in Skala (Santorini Port)
Here, you will find a good number of shops with souvenirs of the island, and also excellent and very well priced duty-free shops selling tobacco, liquors, spirits, chocolates and local delicacies with some of the best prices in the Eastern Mediterranean.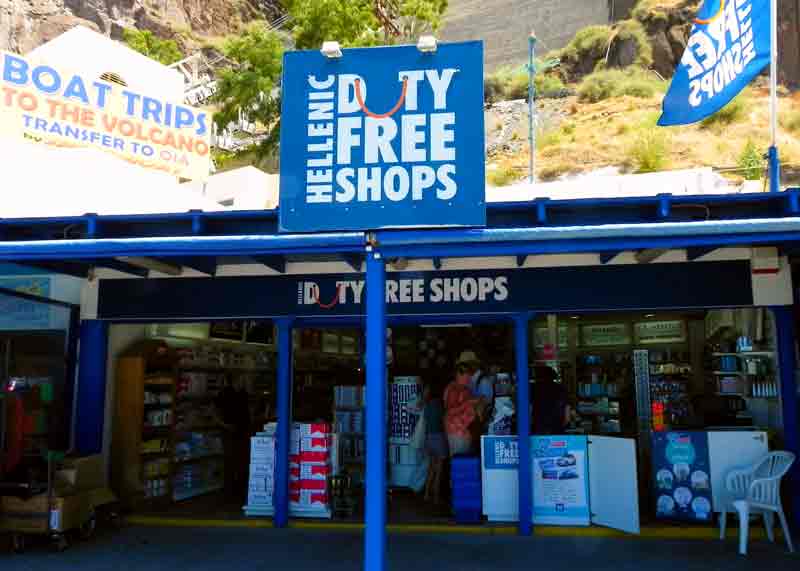 Duty-Free in Skala
Photo © IQCruising.com
The port/dock of Skala is also known for having a handful of restaurants, tavernas and cafes where prices are much more reasonable than up in the towns of Fira and Oia. In fact, Syrtaki is the Editor's favorite restaurants to taste excellent fresh fish and one of the best salads (Greek one, obviously) in Santorini.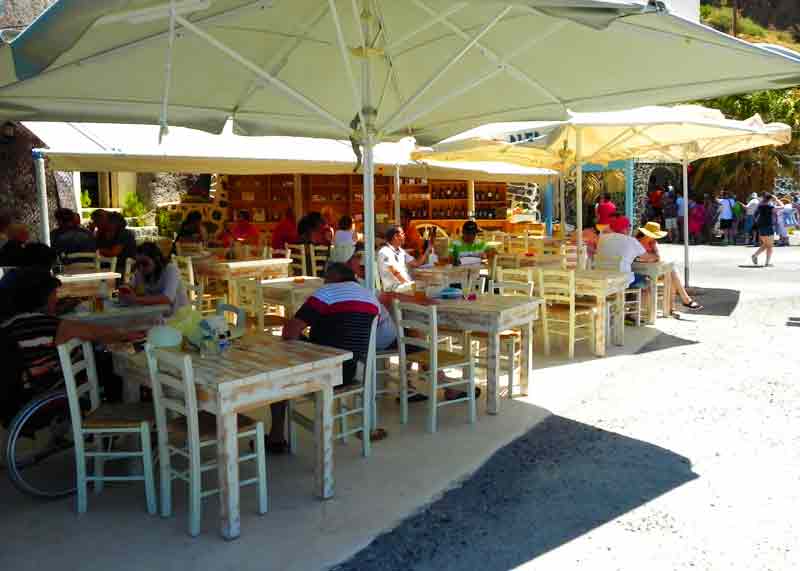 Restaurant in Skala
Photo © IQCruising.com
Besides souvenir shopping and a few good places to have a quick bite or lunch, Skala is also the place to find most service and amenities for cruise travelers to Santorini.
Exploring Santorini on Your Own
For those planning to explore Santorini on your own, cruise travelers will find and Exchange Office with some of the best rates in the Eastern Mediterranean, a Tourist Information office or Car and Scooter Rental - although you will have to go to Fira to pick up the vehicle the top of hill.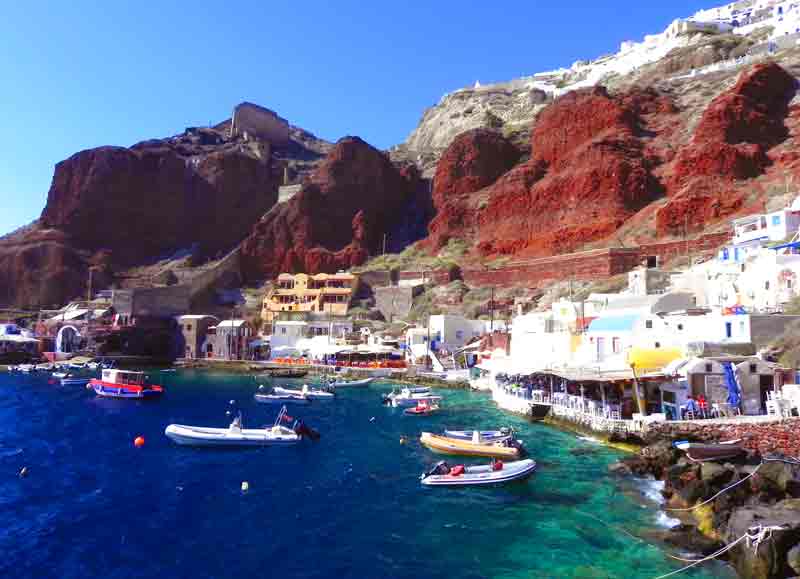 Amoudi Bay in Santorini
Photo © IQCruising.com
There are also a few local operators/guides offering tours of the island, and in Skala you can also get on the excellent transfer to the bay of Amoudi that deserves to be highlighted.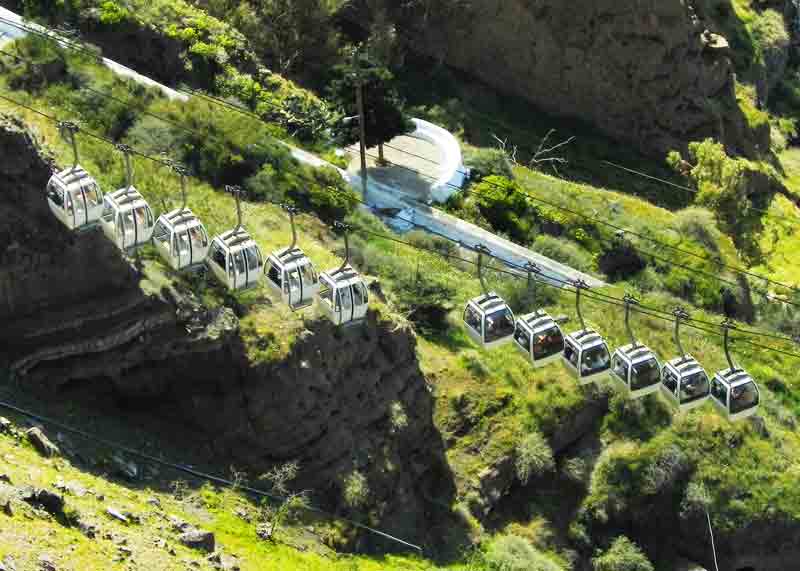 Cable Car in Santorini
Photo © IQCruising.com
Skala is also the location where you will get on the Cable Car to Fira or on a Donkey (Mule) unless you are prepared to go up 587 steps, which are shared with the smelly equines.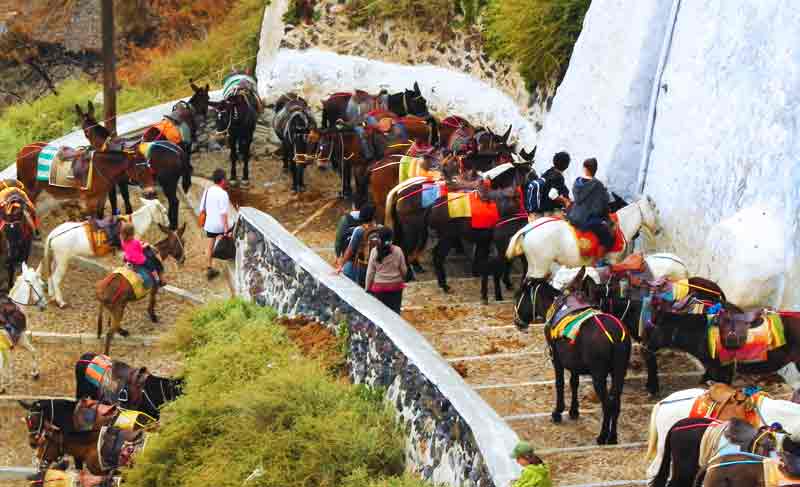 Donkey's Steps in Santorini
Photo © IQCruising.com
► Explore: Overview of Santorini
Top Highlights, Fira, Oia, How to Get Around...
Learn More ►