Everything you must know to travel by taxi in the port of Livorno on a cruise in 2022: taxi ranks, fares to the railway station, to Pisa, to Florence and the top attractions in Livorno's city center.
Cruise travelers who wish to explore Livorno's destinations independently may find convenient to use taxi services.
Contents
Overview
Taxis can be useful in two situations: go to the railway station and then travel by train to Florence, Pisa or Lucca; or to go in a group and explore Pisa or Lucca on your own.
To learn more about how to travel by rail to Livorno's top destinations click here.
Taxis can also be useful to tour destinations with more complicated public transportation such as Volterra, San Gimignano or Siena.
However, if you just want a ride to Livorno's city center, taxis are the most expensive way to get there and not worth the fare.
Where to get a taxi in Livorno cruise port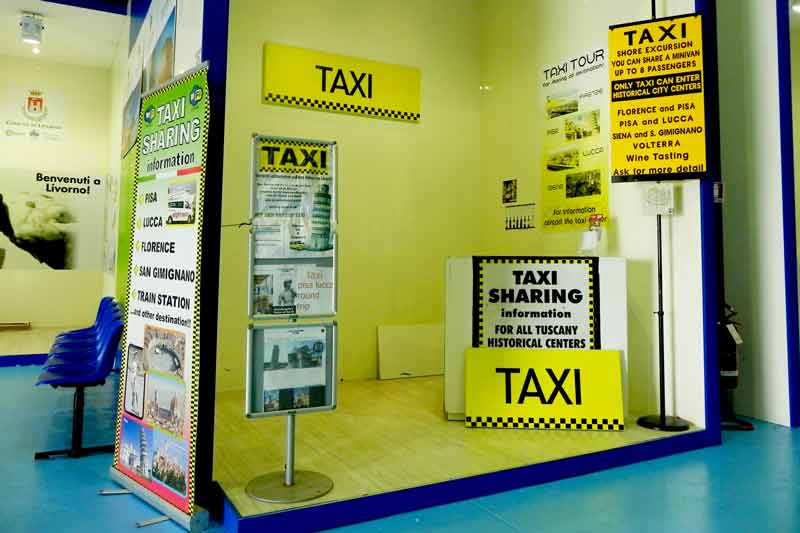 Taxi Booth at Livorno Cruise Terminal
Photo © IQCruising.com
As mentioned on the What's at the Pier page, you will find taxi services at the terminals or parked by the gangway. And also on a dedicated booth if your ship docks at the Industrial Port with a terminal building.
This is the best place to get a taxi if you wish to get to Pisa, Lucca, Volterra, San Gimignano or Siena.
Taxis parked outside Livorno cruise terminal
Photo © IQCruising.com
There is also a taxi rank on Piazza Municipio, with a reasonable number of cars in town, next to the cruise shuttle stop on Piazza Municipio. The last time the Editor was in Livorno, November 2021, the taxi rank on Piazza Grande had been removed.
Taxi fares overview
You should be aware that taxi drivers parked by the piers and cruise terminals in Livorno are waiting for cruise passengers that wish to go as far as Pisa, Lucca or even Florence, and may ask exorbitant fares for a ride to the Livorno city center.
If this is where you want to go, it's better to get on the shuttle bus to Piazza Municipio to explore the city on foot. Even so, some taxis will be willing to accept a ride to the Railway Station for €25.00 (Euros).
However, if you find this expensive, get on the shuttle to Piazza Municipio and then get a taxi to the railway station.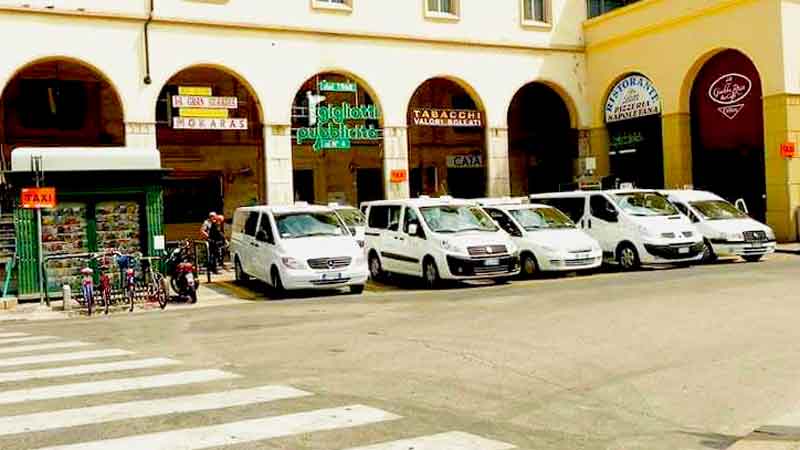 Taxis at Piazza Grande
Photo © IQCruising.com
The taxi drivers in the city center comply with the basic meter fares and a ride to the Railway Station shouldn't cost more than €8.00 (Euros). It is advisable to ask the driver about fares before entering the taxi but, most probably, he/she will tell you that it will cost whatever shows on the meter.
Naturally, there is also a Taxi Stand at the Train Station where you can get a taxi back to any of the piers, or to Piazza Municipio, when returning from Florence, Pisa or Lucca.
However, do not take it for granted that it will be a "metered" fare - just in case be prepared to pay at least €25.00 (Euros) from the railway station to either the Porto Industriale or the Porto Mediceo.
Taxi at the Railway Station
Photo © IQCruising.com
Taxis to attractions in Livorno's
Besides the railway station, you may also consider taking a taxi to any of the attractions in Livorno such as the Fattori Museum or the Aquarium.
Although you can walk to any of these attractions (slightly under one mile from Piazza Municipio), or get on a public bus, a taxi ride will not cost more than €8.00 (Euros) from Piazza Municipio (cruise shuttle stop) and can be worth it.
If you wish to go as far as Ardenza, Antignano or Tirrenia you will be better off by considering a taxi at the pier and negotiate a price for a return fare with waiting time.
Taxis fares to Pisa and Florence
Taxi fares to Tuscany's destinations (Florence, Pisa, Lucca and so on) vary but all taxi drivers are all very much on the same page. Therefore do not expect huge variations in prices. However, fares depend on the number of passengers and waiting time.
For example, a taxi ride to Pisa (one way) for up to 3 passengers will cost around $160.00 but on a van (up to 8 passengers) will be around $180.00.
A 8 hour tour/transfer to Florence, with stopping time in Pisa and return to Livorno, on a van (up to 6 passengers) will cost around $540.00.
There are quite a few good services with excellent websites that allow cruise travelers to book taxi transfers and tours online. Check the Useful Links section on this page.
Although IQCruising does not endorse or is affiliated with any business, our favorite website to get instant quotes is City Airport Transfers.