Overview
Livorno Centrale is the name of the Railway Station. It is located one mile East of the city centre, and is well connected to major rail lines including direct services to Rome, Genoa,Florence andPisa. Obviously the last two are of major interest when cruising the Mediterranean and calling at the Port of Livorno. Because of Livorno's good train connections,Lucca, Siena, San Gimignano andVolterra can also be reached by train although a change/connection will be required.
Trenitaliais the Italian railway company, which operates efficiently, punctually (most of the time) and is very user friendly. All signs are in both Italian and English making it very, very easy to navigate. In fact, the website Trenitalia -www.trenitalia.com - has an English version that is ideal for accurately checking timetables and prices, and even allows you to buy your tickets online.Check Trenitalia Website.
The level of comfort of the trains depends on the different services offered - the regional trains only have Second Class which is very comfortable but the fast Intercity (Frecciabianca) trains have both first and second class, including bar service, and taking comfort to a higher level; naturally, these are more expensive (almost double the price).
ESSENTIAL TO KNOW: after purchasing a train ticket - on an automated machine or at the ticket office - it is mandatory to"Validate"the ticket in smallOrange Boxes placed close to the train platforms. Sometimes these are not easy to spot BUT make sure you find one and validate your ticket - the fine for travelling without a validated ticket is €50.00 and the ticket inspectors are famous for being cynically strict.
Train to Florence
The train connections between Livorno Centrale and Florence couldn't be better, with travel times between 1 hour 10 minutes and 1 hour 35 minutes. However, be aware that there are two different routes: A the direct regional train (second class only) andB the "Frecciabianca" service with stop and train change in Pisa. There is also a regional train requiring a train change in Pisa. However, all these are very frequent - on any given day (including weekends) there are 7 trains between 8:00 am and 11:00 am - so just don't jump on the first one as it may take less time to wait 10 minutes for a direct train.
Have also in mind that the regional train costs €9.20 whilst the "Frecciabianca" starts at €17.00, which the editor's doesn't think is worth it unless you only travel in First Class and absolutely require a Bar Service. The arriving station in Florence isFirenze S. M. Novella, named for the closeness to Santa Maria Novella (one of the Attractions in the city) and is at walking distance to all major highlights. In order to return to Livorno in time for your cruise ship sail way, its is advisable to double-check the departure times from Florence at the Railway Station, although (as a guideline) there are at least 5 trains to Livorno between 3:00 pm and 5:30 pm (arriving at the port city between 4:15 pm and 6:45 pm). Once again a word of caution:Check Trenitalia Website in English.
Train to Pisa
If you have read the lines about the trains to Florence you may have already realized that all trains to Florence stop at Pisa. Besides these ones, there is also a handful more - in fact, there are 5 trains to Pisa every hour (on weekdays) and 6 (between 8:00 am and 10:00 am on Sundays). The journey takes between 15 and 20 minutes and costs €2.50. Just have in mind that the "Frecciabianca" is way more expensive - considering the journey duration and that it will cost €10.00 for a second-class ticket not worth it at all.
You will be arriving at Pisa Centrale and once there you have two choices, either go on a relaxed 20 to 30 minute walk through the city all the way to thePiazza dei Miracoli(where the Leaning Tower is) or get on another train toPisa S. Rossore - a secondary train station that is only a 5-minute walk away from thePiazza dei Miracoli. The journey time between Pisa Centrale and Pisa S. Rossore is 5 minutes BUT, in some cases, you may have to wait for 30 to 40 minutes for the connecting train.
Train to Lucca
Lucca is probably one of the most underrated Tuscan towns amongst cruise ship excursions and passengers. Although there isn't a direct train connection from Livorno Centrale - you will need to change train in Pisa (or in Viareggio) - Lucca is one hour away and the train ticket costs €5.30 (€12.40 on the Frecciabianca service). Be aware that there are only a couple of trains early in the morning and a handful to return. The train station in Lucca is just outside the medieval walls and no more than a pleasant 10-minute walk away from the main attractions. If Lucca is on your exploration plans make sure you double-check train times.
Train to San Gimignano
The train to San Gimignano takes between 1 hour and 30 minutes and 2 hours and costs € 9.20 one way. It requires a change in Empoli arriving at the Poggibonsi-S. Gimignano Railway Station, which is 3 miles (5km) from the town. Right outside the train station in Poggibonsi, bus #130 will take you straight to Porta S. Giovanni the main entrance to the medieval fortified town in less than 20 minutes. Buses depart at: 10:20 am; 11:00 am; 11:25 am and 12:30 pm. For the return, buses depart at 2:00pm; 2:40pm; 3:00pm and 3:40 pm. Basically, you will have between 3 and 4 hours to explore and enjoy San Gimignano, which is more than on a typical Ship Tour.
HOWEVER, it is advisable to double-check train times if you dock in Livorno on a weekend, as trains and buses will be less frequent.
Train to Siena
The train to Siena takes around 2 hours and costs €11.00 (€19.20 if on the "Frecciabianca" service). You will have to change train in Empoli (on the line to Florence) or in Pisa and Empoli - however, the fact that 2 changes may be required doesn't mean it takes longer - see the Timetable on this page. Trains are frequent both ways, even on weekends.
Once at the Siena Railway Station you will need either to get on a taxi or on a short bus ride (5 to 10 minutes) to get to the Historical Centre. You will easily find taxis and a number of bus stops just outside the railway station.Bus #10 is the best as it has a stop at Piazza San Domenico (next to one of the Highlights in Siena) in the Historical Centre and no more than 300 metres from the absolute must seePiazza del Campo. For more and updated information on the Bus Service in SienaCheck Here
Train to Volterra
Although there is a train service between Livorno and Volterra (station Volterra-Saline-Pomarance with a train change in Ceccina, taking around 1 hour and 30 minutes) there are only two trains in the morning and the required bus connections from the train station to the city are complicated. Therefore theEditor doesn't advise this route.
A more feasible connection is via "Pontedera-Casciana Terme" on the train line to Florence - with or without a train change in Pisa. The journey between Livorno Centrale and Pontedera takes between 30 and 40 minutes and there are numerous trains in the morning. In Pontedera, you will need to get onBus #500(bus stop is next to the railway station in Pontedera), which takes around 1h 20 minutes and has a stop right at the heart of Volterra's historical centre. For the return journey, there are more Bus #500 departure times from Volterra and a good number of trains between Pontedera and Livorno.
In one word: depending on the arrival and sailing time of your cruise ship it is feasible and can be enjoyable to explore Volterra on a train/bus connection. However, the editor strongly advises the rental of a car if you wish to explore this hidden jewel. It will be very unlikely that your cruise ship will offer tours to Volterra and you will have to do it on your own.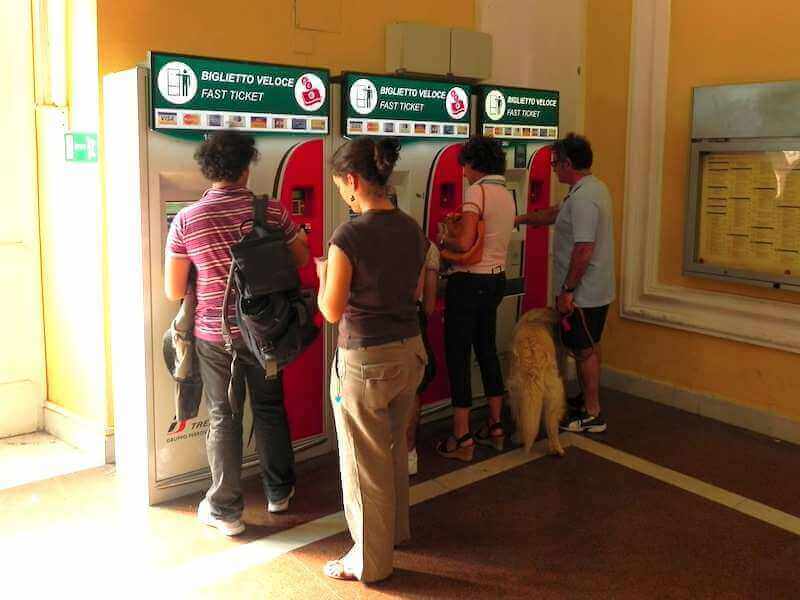 Ticket Machine at Livono Railway Station
Photo by R. Rosado © Independent Quest LLC
Livorno's Railway Station
Photo by R. Rosado © Independent Quest LLC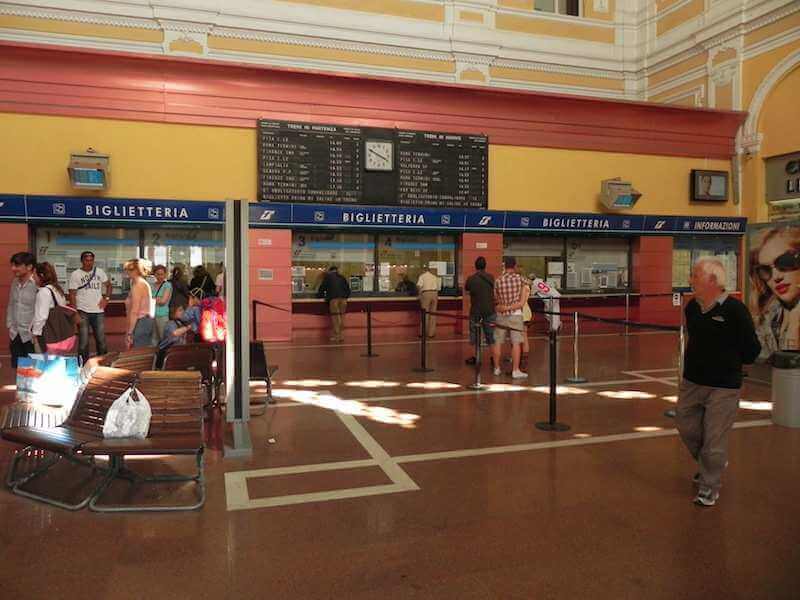 Livorno's Railway Station Ticket Offices
Photo by R. Rosado © Independent Quest LLC
To Florence by Train
Direct or Via Pisa
Weekdays
LIVORNO
CENTRALE
Arrival
Florence
DEPART
FLORENCE
Arrival
Livorno
0:0 AM *
0:0 AM *
0:0 AM *
0:0 AM *
0:0 AM *
0:0 AM *
0:0 AM *
0:0 AM *
0:0 AM *
0:0 AM *
0:0 AM *
0:0 pm *
0:0 pm *
0:0 pm *
0:0 pm *
0:0 pm *
0:0 pm
0:0 pm
0:0 pm
0:0 pm
0:0 pm
* Change train in Pisa
*** Frecciabianca €0.0
These times are indicative and may change.
To double check and for weekend times strongly advisable to visitTrenitalia Website
To Pisa by Train
Direct - Weekdays
LIVORNO
CENTRALE
Arrival
Pisa
DEPART
PISA
Arrival
Livorno
0:0 AM
0:0 AM
0:0 AM
0:0 AM
0:0 AM
0:0 AM
0:0 AM
0:0 AM
0:0 AM
0:0 AM
0:0 AM
0:0 pm
0:0 pm
0:0 pm
0:0 pm
0:0 pm
0:0 pm
0:0 pm
0:0 pm
0:0 pm
0:0 pm
*** Frecciabianca €0.0
These times are indicative and may change.
To double check and for weekend times strongly advisable to visitTrenitalia Website
To Lucca by Train
Via Pisa or Viareggio
Weekdays
LIVORNO
CENTRALE
Arrival
Lucca
DEPART
LUCCA
Arrival
Livorno
08:12 AM *
08:52 AM *
9:30 AM ***
11:24 AM **
12:12 PM *
9:20 am
9:38 am
9:49 am
10:17 am
12:27 pm
1:17 pm
0:0 pm *
0:0 pm *
0:0 pm *
0:0 pm *
0:0 pm *
0:0 pm
0:0 pm
0:0 pm
0:0 pm
0:0 pm
* Change train in Pisa
** Change train in Viareggio
*** Frecciabianca €12.40
These times are indicative and may change.
To double check and for weekend times strongly advisable to visitTrenitalia Website
To San Gimignano by Train
Via Empoli (and Pisa)
Weekdays
LIVORNO
CENTRALE
Arrival
S. Gimignano
DEPART
S. GIMIGNANO
Arrival
Livorno
08:12 AM *
09:12 AM *
09:30 AM **
10:12 AM *
09:48 am
11:14 am
11:14 am
12:14 pm
2:12 pm *
2:46 pm **
3:12 pm *
4:12 pm *
4:46 pm **
3:58 pm
4:23 pm
4:48 pm
5:48 pm
6:38 pm
* Change train in Empoli
** Change train in Pisa and Empoli (Freccebianca service)
These times are indicative and may change.
To double check and for train times on weekends visitTrenitalia Website
To Siena by Train
Via Empoli (and Pisa)
Weekdays
LIVORNO
CENTRALE
Arrival
Siena
DEPART
SIENA
Arrival
Livorno
08:12 AM *
09:12 AM *
09:30 AM **
10:12 AM *
10:14 am
11:38 am
11:38 am
12:38 am
2:18 pm **
2:41 pm *
3:41 pm *
4:18 pm **
4:41 pm *
4:23 pm
4:48 pm
5:48 pm
6:38 pm
6:46 pm
* Change train in Empoli
** Change train in Empoli and Pisa
These times are indicative and may change. Double checkTrenitalia Website
To Volterra by Train and Bus
Via Pontedera
Weekdays
LIVORNO
CENTRALE
(Train)
Arrival
Pontedera
Depart
Pontedera
#500 Bus
Arrival
Volterra
08:12 AM
09:12 AM
09:30 AM
10:12 AM
08:46 am
09:46 am
10:09 am
10:46 am
09:24 am
11:24 am
10:40 am
12:40 pm

Return
VOLTERRA
Bus #500
Arrival
Pontedera
Depart
Pontedera
Train

Arrival
Livorno
1:05pm
2:02pm
4:02pm
2:23 pm
3:25 pm
5:23 pm
2:55 pm
3:14 pm
3:49 pm*
4:14 pm
5:14 pm
5:55 pm
3:34 pm
3:48 pm
4:23 pm
4:48 pm
5:48 pm
6:38 pm
* Change train in Pisa
These times are indicative and may change. Double checkTrenitalia Website
---
Newsletter
Get All Updates