Ultimate guide to the port of Livorno for cruises in 2022: where ships dock, top things to do, on shore excursions and on your own, how to get around, shopping, and restaurants
Florence and Pisa are two top destinations close to Livorno and the main reason why ships call at Livorno port when on a cruise in the Mediterranean.
In fact, many cruise lines list the port as Florence/Pisa (Livorno) and the overwhelming majority of cruise passengers will explore these jewels of Tuscany when docking for the day.
Besides these world-renowned cities, you may also explore other treasures of Tuscany such as Lucca, Siena, San Gimignano, Volterra, or Cinque Terre. All these cities are 30 to 90 minutes away by bus, car, or train.
Contents
Overview
Because Florence (the main highlight and attraction close by) is 56 miles (90 km) from the Livorno port, taking slightly over 1 hour to get there on a shore excursion, cruise ships usually stay in port as long as 12 hours. This allows cruise passengers to explore most of the highlights nearby at leisure and even some attractions on your own.
For those that prefer to stay in port, there is plenty of time to explore almost all the attractions in the city of Livorno. Although some savvy cruisers that have been in Livorno endless times may prefer to stay onboard when calling at the Livorno port, a walk around the old city can be a delight not to be missed.
Where is Livorno and the cruise port
Livorno is the third-largest port in Italy and the cruise gateway to Tuscany. The port city is on the northwest coast of Italy, in the Tyrrhenian Sea, which is part of the Mediterranean. Livorno port is, together with Venice and Civitavecchia (Rome), one of the most visited ports on cruises in Italy.
Livorno is a port of call, meaning that ships visit the port for the day. Very seldom cruise ships stay overnight in port. On average, 700.000 cruise passengers visit Livorno port every year.
How far is Livorno port from top destinations
Pisa and Lucca are the closest highlights and very easy to explore on your own. Florence is the most famous destination highlight for cruise passengers and is easy to get to by train.
Siena and San Gimignano are a bit farther away but not to be missed and better to explore with shore excursions. Volterra is not far but not easy to explore on your own unless you rent a car. Explore All Livorno's Destinations.
Travel time from Livorno to Tuscany's destinations
BY
TO
Car
Train
Bus
Tour
Distance
Florence
1 hr 20 min
1 h 20 min
1 h 50 min
1h 30 min
56 miles
(90 km)
Pisa
30 min
20 min
1 hour
via Tirrenia
45 min
16 miles
25 km
Lucca
45 min
1 hour
NA
1 hour
30 miles
47 km
Siena
2 hours
2 h 15 min
2 h 10 min
2 hours
80 miles
130 km
San Gimignano
1 h 20 min
2 h 20 min
(bus and train)
2 h 20 min
(bus and train)
1 h 30 min
52 miles
83 km
Volterra
1 h 15 min
2 h 40 min
(bus and train)
2 h 40 min
(bus and train)
1 h 30 min
45 miles
73 km
Where cruise ships dock and cruise terminals
Livorno port is vast, with 2 different docking areas, and numerous quays that can accommodate up to 11 ships. The Porto Industriale is the largest area (A on the map below) with 3 piers and cruise terminals. Cruise passengers are not allowed to walk in port but there is a shuttle bus at the pier and alos taxis. All cruise terminals in the Porto Industriale have the following services and amenities:
Tourist Information

Taxi

Car Rental

Tour Services

Sightseeing

Restrooms

Free Wi-Fi
The Porto Mediceo is mainly used by small and luxury cruise lines. It has two distinct docking spots. One is within walking distance of the city center (B on the map below). If your ship is docked in the farthest berths (C on the map below) there will be a shuttle bus as well. You will only find a few services and amenities at Porto Mediceo.
Shuttle bus
Unless you are cruising on a small luxury cruise ship, which may dock within walking distance of the city center, the port authorities will provide a shuttle bus. On most cruise lines this is a complimentary service but you may be charged €5 by some cruise lines.
For over a decade the shuttle bus drop-off is on Piazza del Municipio where you will find close by most services and amenities, including a taxi stand, Tourist Info, sightseeing, public buses, ATM, currency exchange.
► Explore: At The Pier and Terminal
Find out all you need to know about the piers and terminals in Livorno cruise port. How to get to town, which services and amenities are available, and where to find them. Learn More ►
Map of Livorno port and city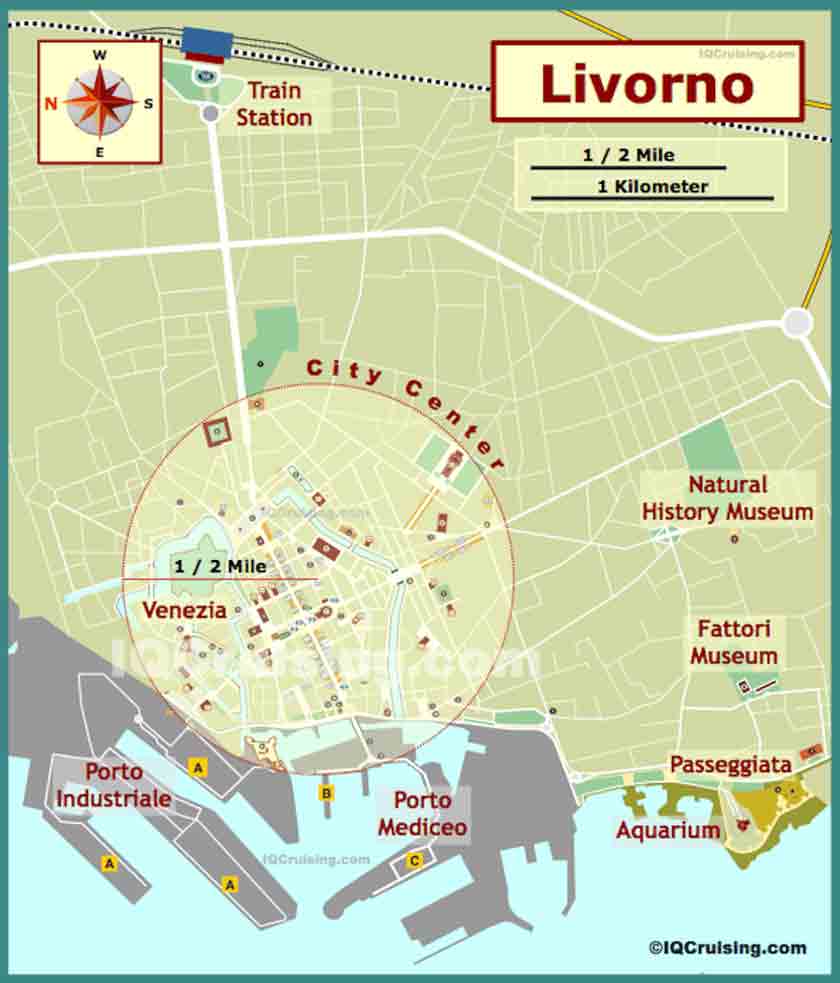 Download the map above, with all info on this article. Take this port guide with you, when on a cruise in the Mediterranean. The port guide is formated for different devices. Click to choose: SmartPhone | Tablet | Desktop.
Things to see and do on a cruise to Livorno port
Livorno is a cruise port with so many attractions nearby that you will have to decide which to visit and those you will have to skip. With 7 UNESCO World Heritage Sites in Tuscany, it is impossible to visit more than a couple in one day.
Cruise passengers interested in museums will find in Florence the best renaissance art in the Uffizi Gallery, the Bargello, or the Galleria dell'Accademia. But there are also must-see museums in Pisa and Siena.
Those interested in religious sites and Jewish heritage have an extraordinary number of churches, cathedrals, baptisteries, and the synagogues in Florence, Livorno, and Pisa to choose from.
The quaint ambiance of Lucca, San Gimignano and Volterra is ideal for those that enjoy strolling small historic towns.
Wherever you decide to go, do not miss the opportunity to savor the culinary delights of Tuscany. And if shopping is on your mind, you will find amazing shops in Florence but also in Lucca and Siena.
Top highlights, sights, and attractions in Livorno and Tuscany
For reviews of specific highlights and attractions of each destination do click on read more.
How to explore Livorno and Tuscany on a cruise
Due to the Coronavirus pandemic, cruise passengers may only be allowed to explore the top destinations of Livorno if booked on a shore excursion. Regardless of public health concerns, shore excursions are advisable to discover some highlights.
In fact, shore excursions are particularly suitable when a good guide is required or to properly explore sites that can be time-consuming to discover on your own or with public transportation. Shore excursions are advisable if you want to visit both Pisa and Florence, or Siena and San Gimignano.
Even so, cruisers should consider traveling to Pisa, Lucca, or Florence independently. There are a few possible and good ways to discover Livorno and the jewels of Tuscany:
Book a shore excursion

Sightseeing services to Pisa and Florence

On your own with public transport (train and/or bus)

By taxi

Car rental

On foot to the attractions of Livorno port city

Sightseeing services in Livorno city
Regardless of where or how you decide to explore Livorno and its attractions, you should have euros (€), the only currency accepted in Italy. Learn more about all money matters, including where to find ATMs, banks, or currency exchange offices.
Shore excursions, tours and transfers
All cruise lines offer many and diverse shore excursions in Livorno to all top destinations and highlights. Celebrity Cruises and Royal Caribbean offer as many as 24 shore excursions. Carnival lists 12 shore excursions. Norwegian Cruise Line has available 25 shore excursions. Oceania Cruises organizes 67 shore excursions, and Princess has 46 excursions available.
There are also excursions offered by the following reputable private online services and local tour operators:
Low-cost transfers to Florence, Pisa, and Lucca
TuscanyBus is a local company offering safe, easy, and affordable transfers between Livorno and 3 gems of Tuscany: Florence, Pisa and Lucca. Buses depart from Piazza Municipio, right by the shuttle bus stop from the cruise port. TuscanyBus guarantees the return to the cruise port on time.
Be aware that this service is not a guided tour but just a straightforward transfer although you will be able to download a map-guide. Prices vary between €17 (Pisa transfer), €30 (Lucca), and €37 (Florence). It is advisable to book on-line, directly with TuscanyBus.
How to travel from Livorno to Tuscany's destinations on your own
If you like to explore highlights on your own, it is very easy to travel by rail from Livorno to Pisa, Lucca and Florence. You can also get to Pisa by bus. By contrast, it is not as easy to travel to Siena by rail requiring train transfers. To get to San Gimignano or Volterra from Livorno you will need to travel by rail and bus.
Travel by rail and bus in Livorno
Renting a car in Livorno port
Florence, Pisa and Lucca are so easy to get to by rail or bus that renting a car is a bit of a waste of time. By contrast, renting a car is the best way to explore Volterra, San Gimignano, and Volterra. Click here to read more about renting a car in Livorno cruise port »
Taxis and public buses
Cruise passengers that wish to travel on your own should look into using public buses and or taxis. Traveling by public bus is relatively straight forward. Learn more about how to use public buses in Livorno. There are always taxis available at all the piers of Livorno port. However, it can be much cheaper to get a taxi in the city center next to the shuttle bus drop-off. Click here to read more about traveling by taxi in Livorno cruise port »
What to do in Livorno when calling at the port for one day
Livorno is an industrial port with a population of 165.00 and, at first sight, may not seem to be the most adorable town in Tuscany. Yet, the City Centre has a few interesting charming attractions. Surely, even the savvier cruiser that has visited major highlights like Florence, Pisa, Lucca or Siena will discover delightful places in Livorno to enjoy.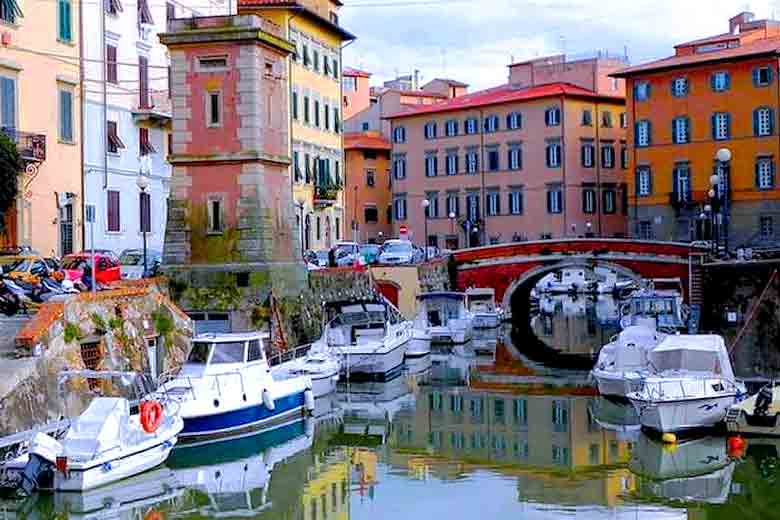 Quartieri Venezia
Photo © IQCruising.com
Amongst the most interesting sites, the cruise visitor should not miss the Duomo (Cathedral), the Via Madonna, the Mercato Centrale (Central Market), the Teatro Mascagni, the Fosso Reale, the Old and the New Forts, a couple of squares (namely the Piazza Repubblica - claimed to be the widest bridge in Europe) and, last but not least, the Synagogue.
Just around the corner from the city center, the district known as Quartieri Venezia is in itself an interesting area of renaissance past to explore.
Between one and two miles south of the City Centre, the cruise visitor will find tourist attractions such as the Museo Civico Giovanni Fattori, the Acquario Comunale Giacinto Cestoni, the Passeggiata Mascagni or the Museum of Natural History.
Explore Livorno's top highlights »
Main attractions in Livorno city
Here is a list of the 12 top main attractions for cruise passengers in the city of Livorno:
Besides these top attractions in Livorno, the city is known for its many and stunning churches, magnificent squares, broad streets. When meandering Livorno, don't miss historical landmarks like the Fortezza Vecchia and Fortezza Nuova, the Palazzo Comunale or the Cisternino.
The Fattori's Museum is a highlight of Livorno, but there are a few other museums the cruise visitor may also enjoy such as the Modigliani House or the Sacred Art Museum.
Sightseeing in Livorno
Exploring the city center on your own is easy and, being absolutely flat, physically undemanding. Since 2009, City Sightseeing buses operate in Livorno and tour the city with multilingual audio guides.
Cruising the canals of Livorno on a Batello (small barge) has become another attractive way of exploring the city. Wherever, and whatever, you decide to explore always keep in mind that Livorno was heavily bombed during WWII and some areas clearly show the 'scares' of devastation. Explore Sightseeing »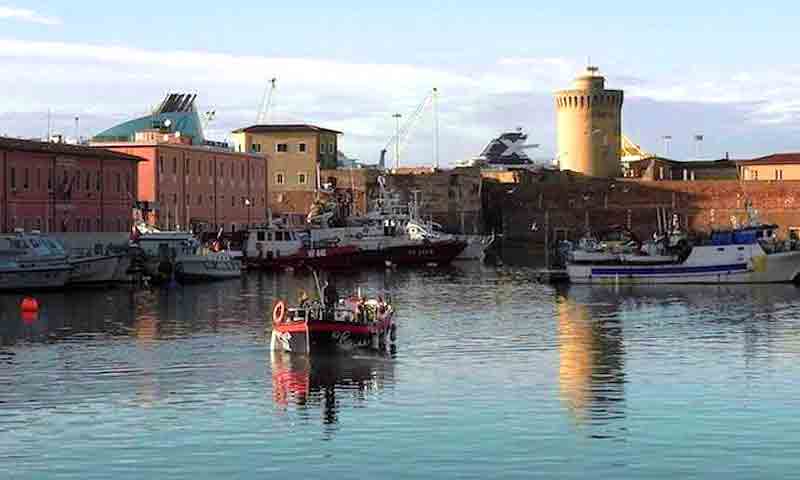 Cruising Livorno's canals on a sightseeing boat.
Photo © IQCruising.com
Keeping in touch
Besides exploring the sites and attractions of Livorno, cruise passengers may use the time in port to get in touch with family and friends. The post office is in the city center, there are quite a few free wi-fi spots, public phones are available but you really need to find out how to use them, and there are a few places that handle DHL and UPS. Read more about how to keep in touch »
Livorno Shops and Shopping Streets
Livorno doesn't have extravagant designer shops, but you will find typically affordable brands ranging from Zara to United Colors of Benetton. And also, small boutiques that display labels like Trussardi or Stefanell. Be aware that many shops close between 1:00 pm and 4:00 pm, most are closed on Sundays and that some shops are also closed on Monday mornings.
There are two main shopping streets in Livorno: Via Grande and Via Cairoli (the latter on the more upscale end). If looking for basic or emergency stuff (like pharmacies, toiletries or baby-children needs) it is on Via Grande that you will find most of what you may need.
On this main street, the cruise passenger will also find a few coffee shops and the best ice cream (gelato) in town. Close to the Porto Mediceo at the West end of Via Grande, an Enoteca (Wine Bar) is the place to go if looking for a quick bite or a light lunch.
For a selection of the best shops: click here to explore Livorno shopping.
Livorno's flavors and restaurants
Only a few cruise passengers choose to stay onboard when visiting Livorno port and most eat lunch in one of the many venues cruise ships offer. But if you enjoy tasting local flavors, Livorno is an exceptional port to savor genuine Italian cuisine.
The "Cacciucco" (a soup made of various sea creatures, wine, tomato, hot peppers, and garlic) is undoubtedly the most famous local recipe served at the Editor's favorite restaurants. But there are many other culinary delighst to excite your taste buds.
Livorno has a good number of unpretentious restaurants with very nice home-cooked food, where locals have lunch. If you prefer a more upscale decor and service there are excellent traditional restaurants.
For those preferring a light meal or a quick bite, there are many coffee shops and a few commendable Enotecas (wine bars serving light snacks and wines by the glass. Cruise passengers exploring off the beaten track attractions should look into lesser-known, or off the beaten track but excellent restaurants.
To see and do beyond Livorno's city center
Cruise passengers not wishing to spend a full day exploring the highlights of Livorno port will find a few alternatives in the southern outskirts of Livorno.
The small towns of Antignano and Ardenza (and the Sanctuary of Montenero close by) are just between 3 and 5 miles away. Farther south (30 miles), the "Etruscan Coast" offers interesting Eco-adventures alternatives to the more traditional, cultural and historical aspect of Tuscany.
Livorno's activities and beaches
For those cruising with children or not in the mood for historical excursions, there are great beaches and watersports, including scuba and windsurfing, close by. South of the city center, not that far from the port shuttle stop at Piazza Municipio, there are a few nice "Bagni" (Bathing Establishments) or serviced beach clubs not to be ignored.
Just 3 miles north of the city's center, Tirrenia is a 20-mile long strip of sandy beaches ending in Marina the Pisa. This is the place to go if sunbathing and sea splashing are in your plans for a day in Livorno. On this strip, there are dozens of beach clubs to choose from.
Livorno's outdoors
Besides a few nice gardens surrounding a couple of churches, you will have to walk quite a while to enjoy the few parks that Livorno has to offer. Undoubtedly, the most famous outdoor setting in Livorno is Terrazza Mascagni or Mascagni's Promenade, which was named after the famous opera composer born in the city.
Off the Beaten Track
The Mercatino Americano is often highlighted in many a travel guide but it is now a shadow of its former appeal since it changed to an off the beaten track location. What used to be a 'street market' on Piazza XX Septembre become a series of stands in storehouses next to the entrance of the Porto Industriale.
Seldom mentioned onboard cruise ships - and never offered on tours - destinations such as Montecatini, Pistoia, Prato and Vinci (the birth town of Leonardo da Vinci) are close enough to be explored whilst calling at Livorno for a day. These and many other small jewels in Tuscany are alternative destinations for those that have visited Livorno and its most famous highlights.
When and how to cruise to Livorno
The Editor has visited Livorno in all seasons for over 20 years and has found that there are always charming aspects to enjoy in the city and in Tuscany almost all year round. However, different cruise lines call at Livorno port in different seasons, and the weather varies a lot.
Click here to discover more about the weather, itineraries and the best time to cruise to Livorno port.
Livorno video
Watch the video below to have an idea of what Livorno port looks like.