Where Ships Dock and What's at the Piers
and Terminals in Barcelona for Cruise Travelers
- Home Port and Port of Call, Where cruise ships dock, World Trade Center Port & Terminal, the Moll Adossat.
Barcelona is a major port in the west Mediterranean cruise itineraries both as a Home Port and a Port of Call.
This means that as a Home Port cruise ships will start and/or end a cruise in Barcelona, where Embarkation and Disembarkation can take place, but also that the port may be visited only as a any other port within a regular itinerary. Depending on the size of the cruise ship, there are two distinct docking spots in Barcelona: the WTC Port and the Moll Adossat.
Home Port and Port of Call
However, there are very few cruises that dock in Barcelona as a port of call as it really is an European major embarkation port. Travelers on a cruise that call at Barcelona for a day will have the opportunity to explore this charming city either on tours booked onboard or on your own. Barcelona is one of the easiest European cruise ports to get around - both cruise ports are minutes away from all major attractions - and there are quite a few affordable ways of sightseeing the city.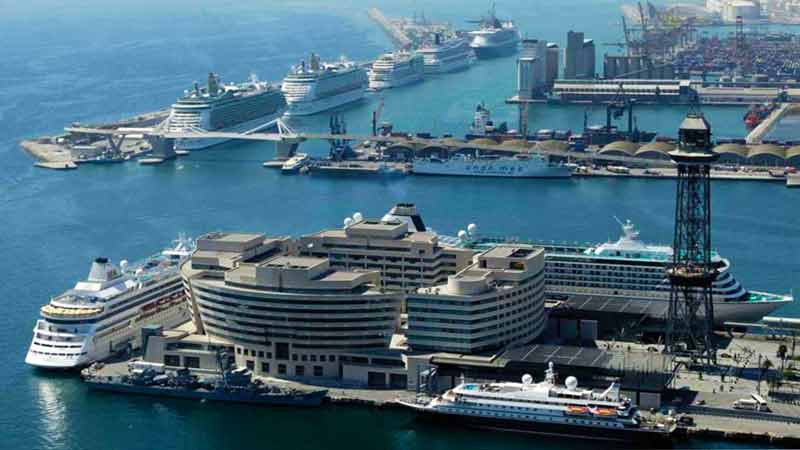 Port of Barcelona
Photo © IQCruising.com
Although Barcelona is a major embarkation-disembarkation port in Europe, most cruise travelers are not well advised when booking a cruise. Travelers flying from the USA or Canada, in particular, do not realize that a long red-eye flight (over 8 hours) coupled with jet lag (5 to 8 hours earlier) is the worst possible way to start a cruise.
Hence, the Editor's strong recommendation: any traveler embarking in Barcelona should fly at least one day ahead of the start of the cruise. If possible, fly two or more days ahead of the cruise, so that you can adapt to a new time zone (if flying from North America) and enjoy one of Europe's most interesting cruise ports. Naturally, if your cruise ends in Barcelona, you should plan to stay in Barcelona at least a couple of days.
Docking in Barcelona
Barcelona's two cruise ports (WTC Port and Moll Adossat) are ideally located to explore the city. The WTC Port has 3 piers around the World Trade Center building, it is located just under 1/2 a mile (700 meters) from the Plaça Colon and the start of La Rambla, but only small cruise ships can dock here.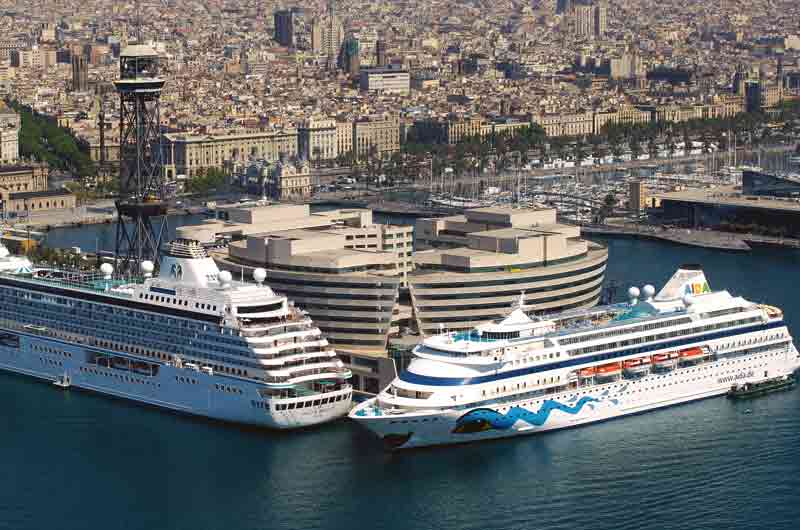 WTC Port in Barcelona
Photo © IQCruising.com
World Trade Center Port & Terminal
This port has obviously the best location as it is within walking distance to La Rambla and it is a delight for travelers on cruise lines like Seabourn, Silversea, Regent, Azamara or the small ships of Oceania and Holland America. Because no more than 3 ships can dock at the WTC Port do not have it for granted that these high-end cruise ships will always dock at walking distance to a good number of Barcelona's attraction. It happens quite frequently that small cruise ships will have to dock at the Moll Adossat.
Docking at the Moll Adossat
The major port of Barcelona is, in fact, the Moll Adossat and where the overwhelming majority of cruise ships dock. Although this port is only 2 miles (3km) from Plaça Colon, walking with (or without) luggage is quite a stretch, particularly in the heat of the summer as pedestrians will have to go over a bridge.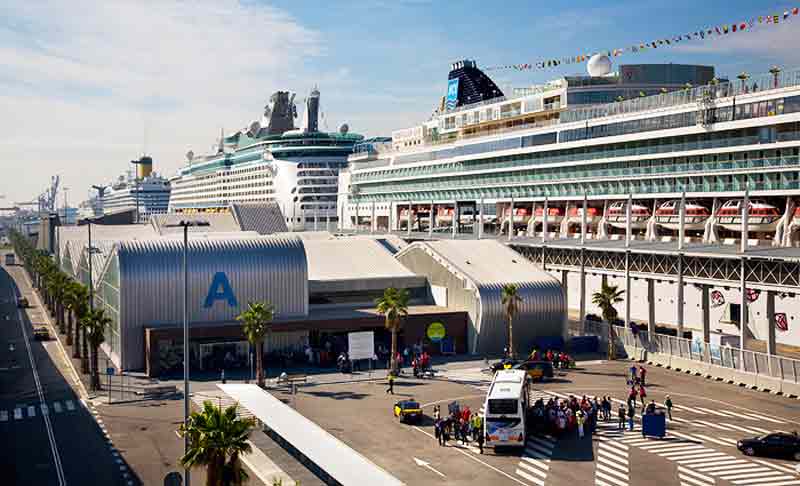 Moll Adossat, Barcelona
Photo © IQCruising.com
Considering that the already mentioned T3 Port Bus provides such a good service it doesn't make any sense to walk to or from the Moll Adossat. The port has four Terminals (A, B, C and D) all very large, modern, well kept and efficient for both embarkation and disembarkation.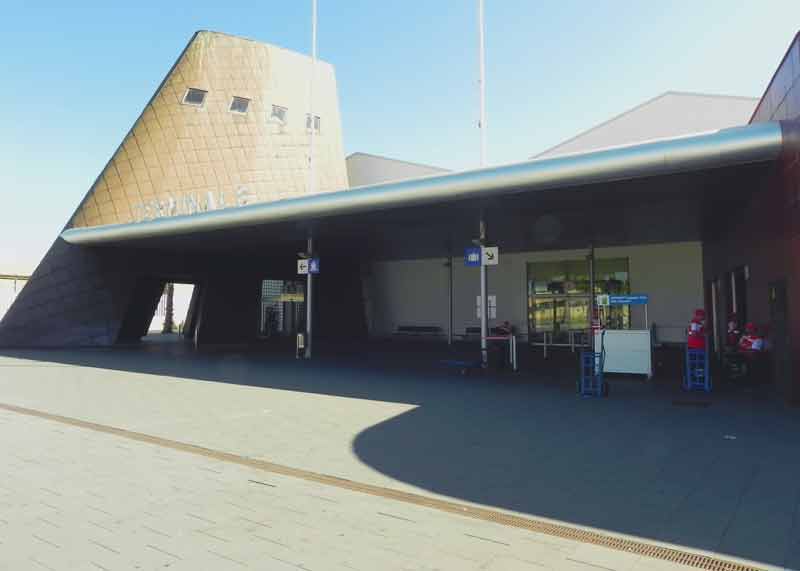 Terminal B, Moll Adossat
Photo © IQCruising.com
Amenities and Services
All sorts of amenities will be found at the Terminals including large sitting areas with AC, shopping, cafeterias, money exchange, and, of course, plenty of taxis available if disembarking. Because Barcelona is not used frequently as a port of call, you will not find Tourist Information Kiosks at the Terminals although you may find a desk with maps and touristic brochures.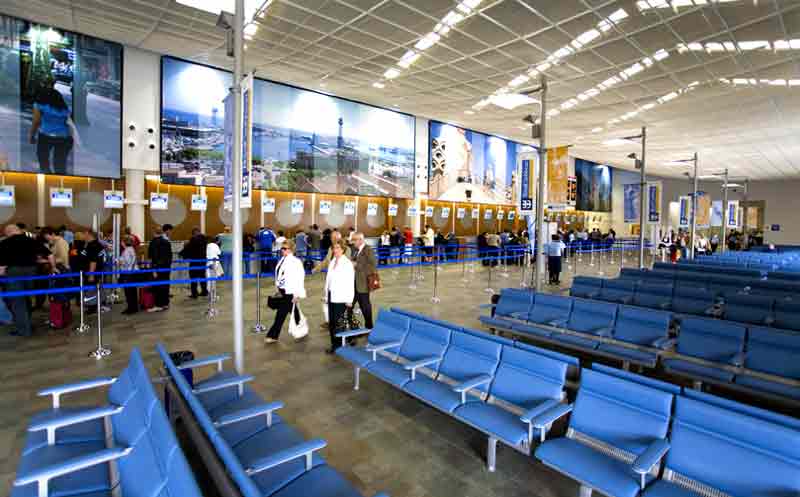 Terminal B, Interior, Moll Adossat
Photo © IQCruising.com
The good news is that there is one of many Tourist Information points in Barcelona at Plaça Colon (aka Plaça Portal de la Pau), inside the Columbus Monument and a also along the Rambla.Click here to find all Tourist information points in Barcelona.
Good to know when getting around
Unless you area docking at the World Trade Center as a port of call, it is useful to know that the Port has excellent transportation services both public and private to move around to the city or to the airport.
Taxis and Luggage Services between Port and Airport
If you have already booked your cruise and flights, there are a few insider tips to keep in mind. To start with, the cruise traveler should know that the distance between Barcelona two cruise ports and the Airport is around 23 km (15 miles) away.
Taxi in Barcelona
Photo © IQCruising.com
Regardless of whether you are embarking or disembarking, a taxi is one of the best ways to travel from or to the Airport. A taxi between the Airport and the Port (Moll Adossat) will cost approximately €40.00 and little bit less if the WTC Port is the final destination - Check the Official Taxi Fares in Barcelona.
There are also a number of private services that offer transfers to and from the port to either the Airport or/and Hotels that can be very convenient. One of the best services to look into is Bags & Go - this company handles your luggage (transfer and lockers) whilst you can enjoy a few hours exploring Barcelona.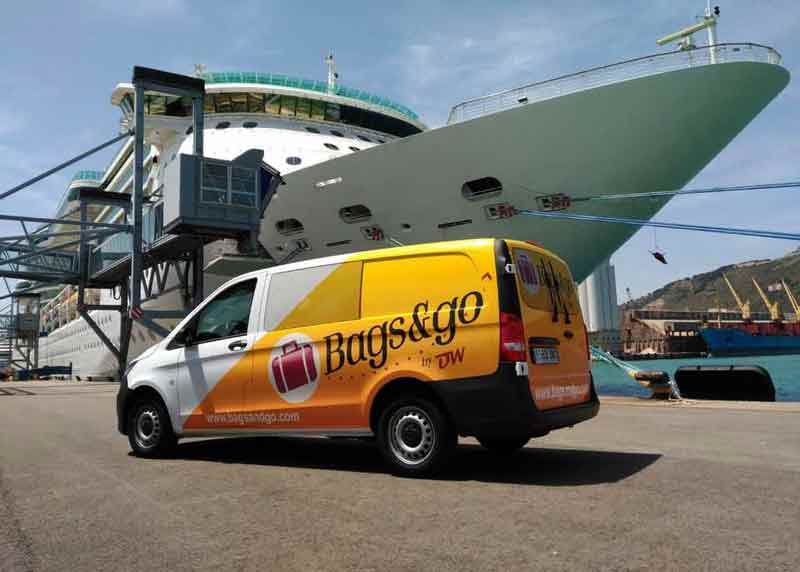 Bags & Go Van in Barcelona
Photo © IQCruising.com
Fares are both reasonably affordable (around $12.00 per person/piece of luggage) and you can book it online or right at the terminals as you pick up your luggage. Learn More About Bags & Go.
Terminal B, Moll Adossat, in Barcelona
Photo © IQCruising.com
If staying in Barcelona, it is very easy to calculate a taxi fare to or from a hotel and compare with the transfers offered by all major cruise lines. The official Barcelona Taxi website has a great Route Calculator in English - Calculate Taxi Fares.
Port of Call - Taxis and Shuttle
However, if Barcelona is a Port of Call on your cruise, travelers should avoid taxis if docked at the Moll Adossat and having La Rambla as a final destination. There is an official extra charge (€3.10) for taxis to enter-exit the port and an unscrupulous taxi driver may take you for a long ride when, in fact, La Rambla is just around the corner.
T3 portbus in Barcelona
Photo © IQCruising.com
Instead of a taxi, it is advisable to use the circular route bus (T3 port-bus) between all Port Terminals and Plaça Colon right by the famous Ramblas - buses are suitable for wheelchair users, the fare is €3.00 one-way ticket and €4.00 return ticket, paid onboard in cash either in coins or bills under €10.00. Be aware: because the T3 portbus has become so popular thanks to its good service, most cruise lines do not offer shuttle buses to Plaça Colon anymore and the ones that do charge ridiculous amounts.
Barcelona Cruise Port - News
Carnival Terminal in Barcelona
Photo by Carnival Corporation
For those planning to cruise the Mediterranean on any of the Carnival Corporation Cruise Lines, there is good news. A new Cruise Terminal on the Moll Adossat was built specifically to handle the fleets of Carnival Corporation.
► Explore: Overview & Highlights
Top Things To Do and See, Beyond the Highlights, Sightseeing and Tours...
Learn More ►