Overview and Top Things To See and Do
in Málaga Port for Cruise Travelers
- Where Cruise Ships Dock, Top Things To See in Málaga and Close by.
Málaga is a lovely port city on the Costa del Sol in Spain which boasts spectacular Moorish castles, beautiful sandy beaches, top-notch cuisine, an impressive number of museums and monuments, not to mention a gorgeous Renaissance cathedral bathed in Mediterranean light.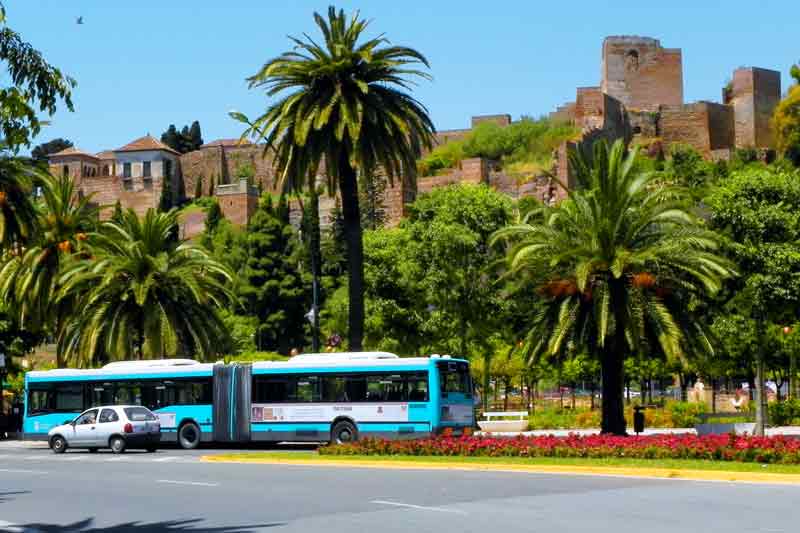 La Alcazaba
Photo © IQCruising.com
Scented with orange trees and bougainvillea, spectacular views of the Mediterranean over Málaga's rooftops are a must-see from the gardens at the hilltop of La Alcazaba fortress.
Besides other highlights like the Picasso Museum or La Malagueta beach, the cruise traveler should explore the many legendary tapas bars, taverns, and bistros in the Old Town. After all, truly authentic tapas are part of the charm and allure that first inspired Picasso and many other artists, and continues to draw thousands of visitors.
Tapas in the Old Town
Photo © IQCruising.com
Nearby cities, towns and villages allow the cruise visitor to discover top highlights of Andalusia in historical places like Granada, Ronda, Cordoba or Marbella when ships dock in Málaga.
Where Cruise Ships Dock in Málaga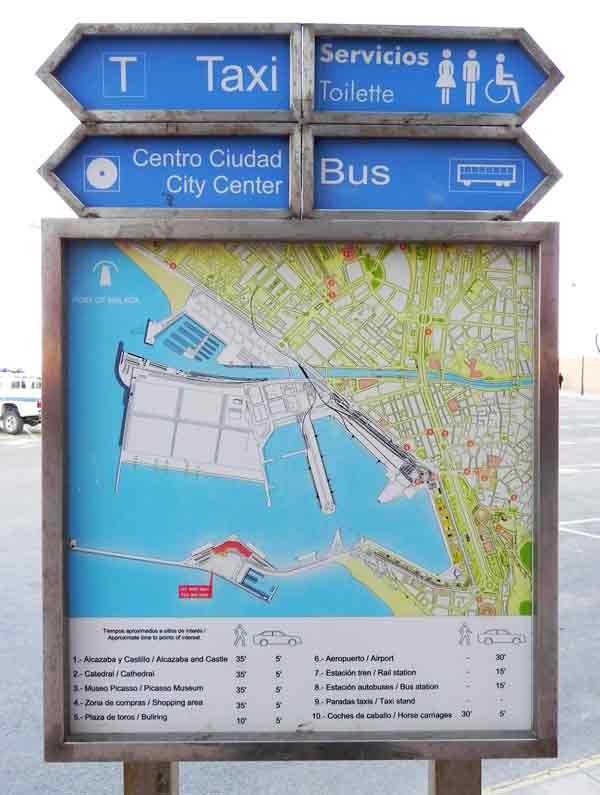 Map Outside Cruise Terminal
Photo © IQCruising.com
The cruise port in Málaga is located very close to the historical center in a long pier at an angle to the coast. Many of the city's highlights are close by and within walking distance. The Terminal is very modern and has most amenities the cruise traveler may require and a number of good services, including duty-free shopping and souvenirs. The Port Authority offers a shuttle bus to Plaza de la Marina right on the historical center. There is also a touristic solar-powered train that for €3.00 fare offers a transfer to Plaza de la Marina. Right outside the piers and Terminal, the cruise traveler will find a good number of taxis available. Be aware that, as it frequently happens in cruise ports, taxis drivers are waiting for travelers looking into long rides and may ask 'exorbitant' and dissuasive fares to close by attractions. There is an hop-on-hop-off sightseeing bus in Málaga and the nearest stop is outside the exit gates of the port.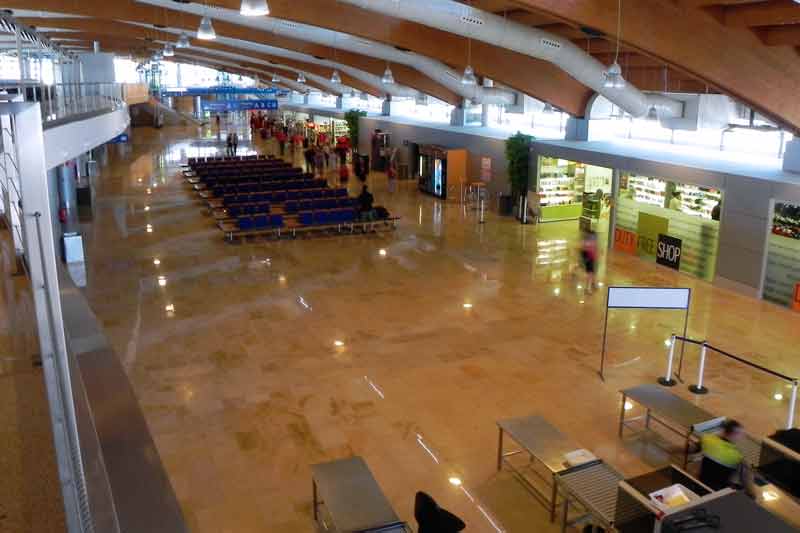 Top Things To See and Do
The cruise traveler calling at the port of Málaga for the day has quite a few highlights to choose from.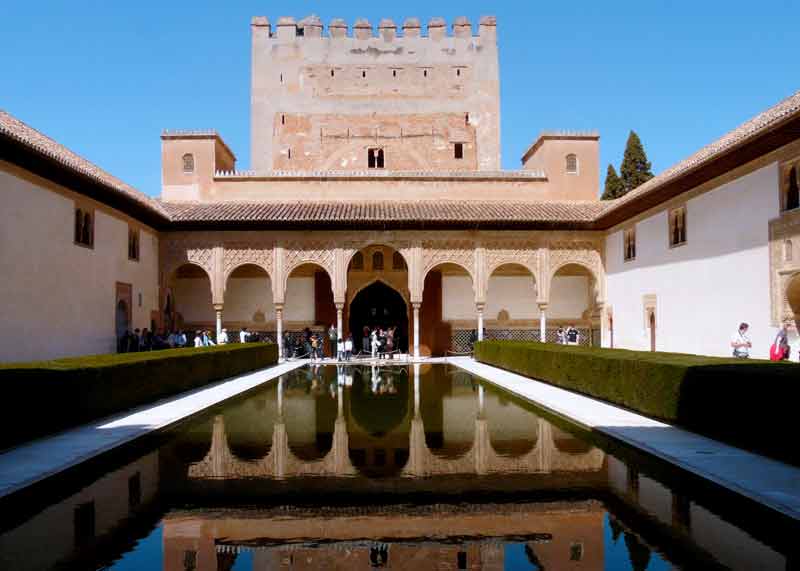 Although some highlights are not that far away these will require a full day tour. That's the case of Granada, Córdoba or Marbella (and Puerto Banús). However, just around the corner from the cruise port, there are highlights which are easy to explore on your own, either on a hop-on-hop-off bus or leisurely walking around the historic center of Málaga.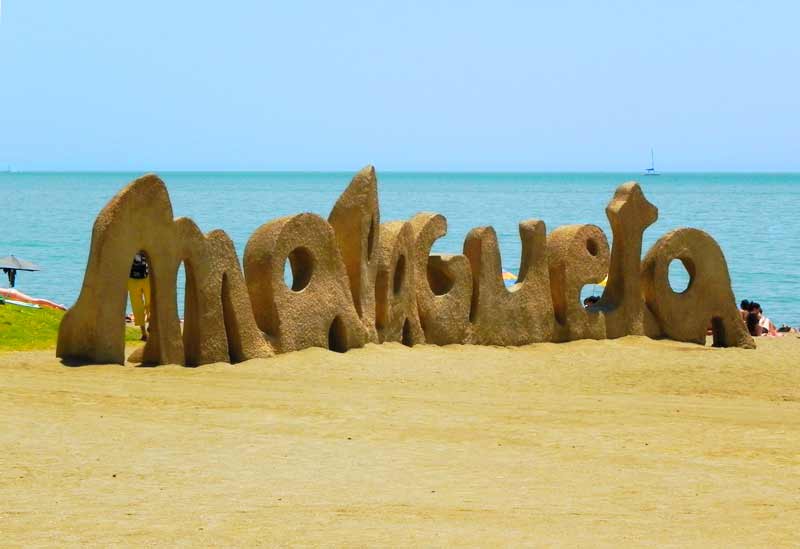 Malagueta Beach
Photo © IQCruising.com
La Malagueta Beach
La Malagueta is one of the closest beaches to any port in the Mediterranean, one of the nicest on any European itinerary and is just a few minutes walk east of the pier where cruise ship dock. Over 1,200 meters long (close to one-mile) and 45 meters wide, La Malagueta is a well-serviced beach including showers, restrooms, palapas, children and sports areas, and quite a few nice bars and restaurants.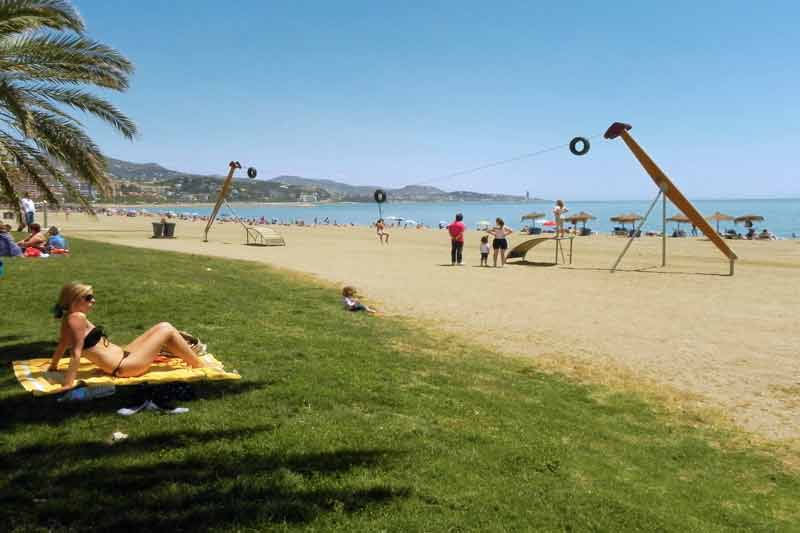 La Alcazaba
La Alcazaba is also very close to port. The access is behind the Malaga Museum, trough a series of gentle steps and the vistas from the many towers a sight to behold. The Castillo de Gibralfaro, a fortress dating back to the 10th century, is another major medieval highlight of Málaga, not far from the cruise port but not within walking distance.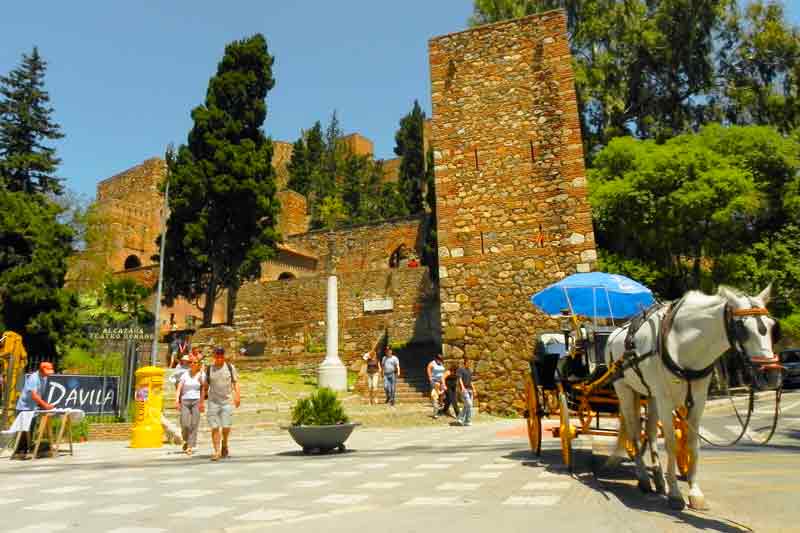 Picasso Museum and Home
Both the Picasso Museum and the Museo Casa Natal de Picasso (the House-Museum where the modernist artist was born and not to be confused with the homonyms museum) are within walking distance from the cruise port.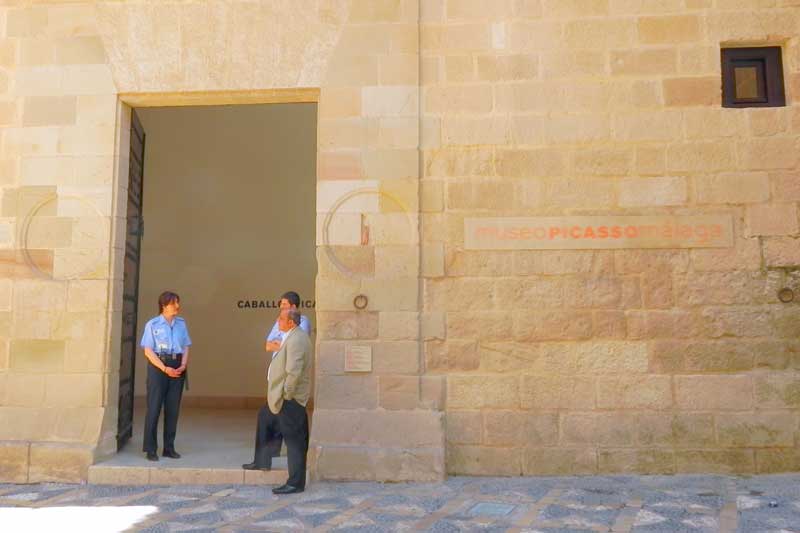 The Cathedral
La Catedral de la Encarnación de Málaga (Málaga Cathedral) and its museum (Museo Catedralicio) are no more than 30 minutes walk away from the cruise terminal on the beautiful Plaza del Obispo.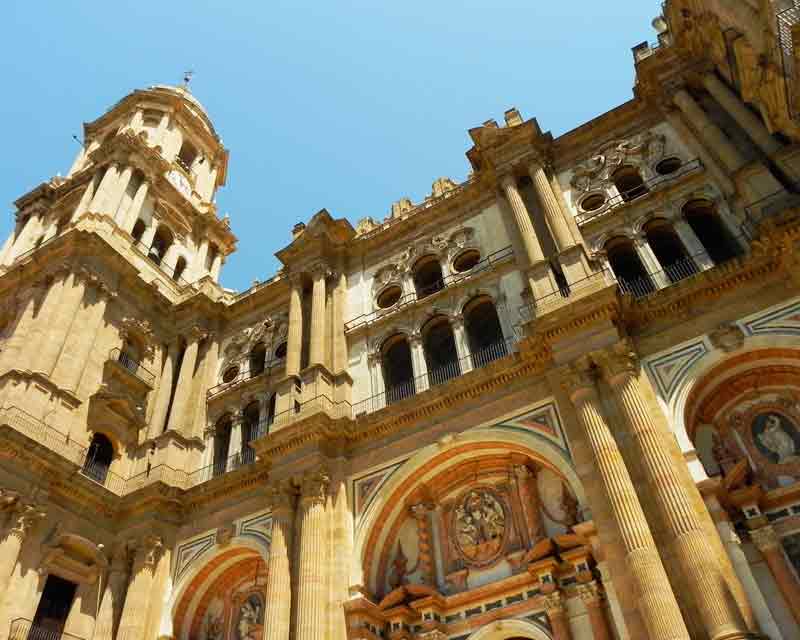 The Plaza del Obispo
The Plaza del Obispo is itself a top attraction of Málaga. This main square of the city is ideal to contemplate the monumental church, enjoy refreshing drink or savor regional tapas whilst people watching.
Finally, although one of the first landmarks the cruise traveler will come across, the Paseo del Parque is a lovely botanical garden in the center of Málaga. Right outside of the cruise port it ends in the Plaza de la Marina.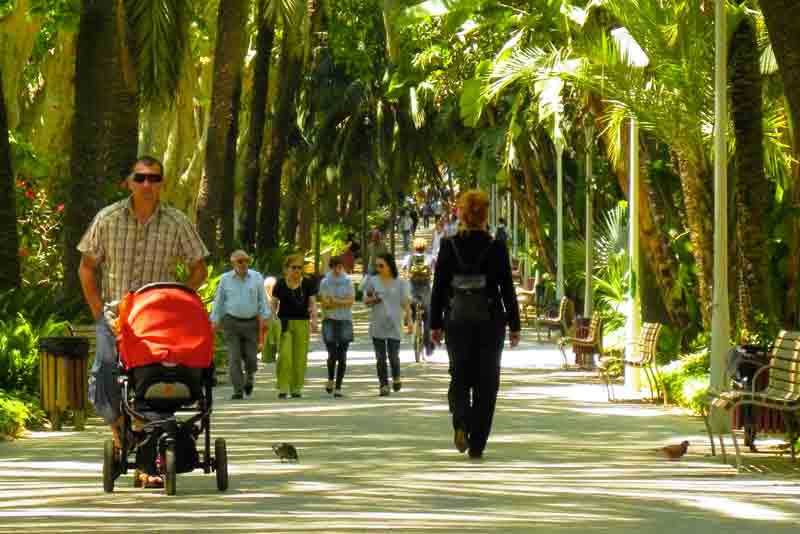 Paseo del Parque
Photo © IQCruising.com
Top Destinations Close By
As mentioned above, there are a few destinations close to Málaga Cruise Port that worth a visit but require a full day shore excursion. Naturally, because Málaga is such an attractive city with so many highlights, you may wonder why spend time on a bus to visit such destinations.
Ronda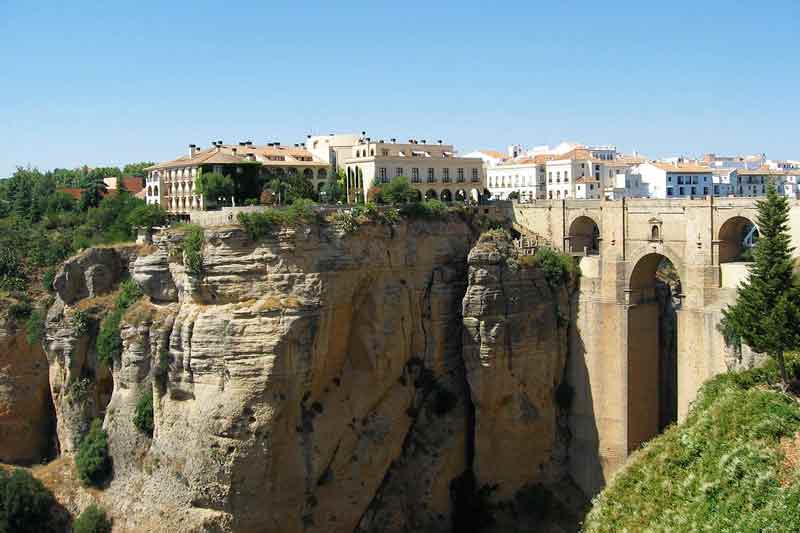 El Tajo Gorge in Ronda
Photo by TheBoxagon CC-by-SA
This striking town retains much of its historic charm, particularly the Old Town. It is famous for its dramatic escarpments and views, and for the deep El Tajo gorge that carries the river Guadalevín through its center. The 18th century Puente Nuevo 'new' bridge straddles a 100m chasm below with incomparable views out over the Serranía de Ronda mountains. Ronda is also famous as the birthplace of modern bullfighting, today seen once a year at the magnificent Feria Goyesca. Across the bridge, where a stylish cloistered 16th-century convent is now an art museum, old Ronda, La Ciudad, meanders off into cobbled streets bordered by attractive town mansions, some of which are still occupied by Ronda's noble families.
Marbella and Puerto Banus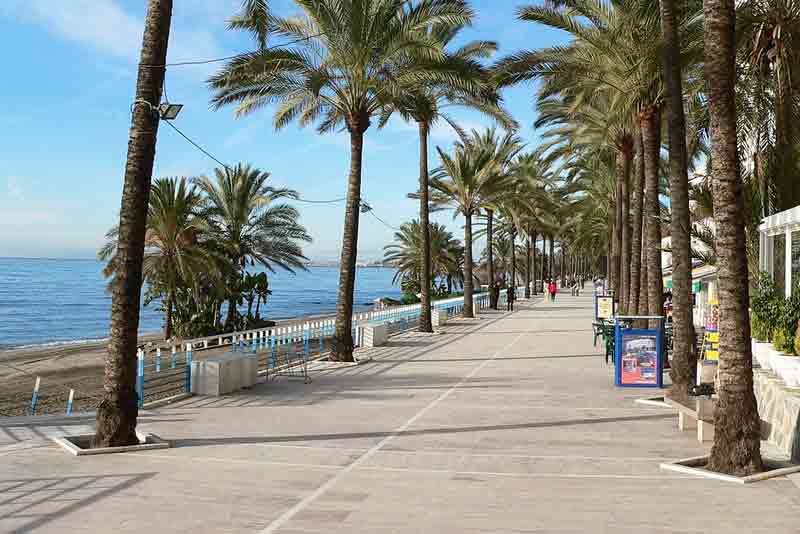 Malecón in Marbella
Photo by Manuel González Olaechea Franco CC-by-SA
In the heart of the Costa del Sol lies one of the region's most popular coastal resorts, Marbella. Marbella's beautiful beaches line the coastline, and the city boardwalk (Paseo Maritimo) offers stunning coastal views. The public square Plaza de Los Naranjos is surrounded by many magnificent buildings including the town hall. The city's main tourist attractions include the Plaza de Toros - the Marbella bullring; José Banús Port - a busy marina with many waterfront restaurants and shops; Basilica Vega del Mar - ancient ruins of a 4th-century church, where many important excavations have taken place; and Murallas del Castillo - the castle walls, located in the city's old quarter.
Torremolinos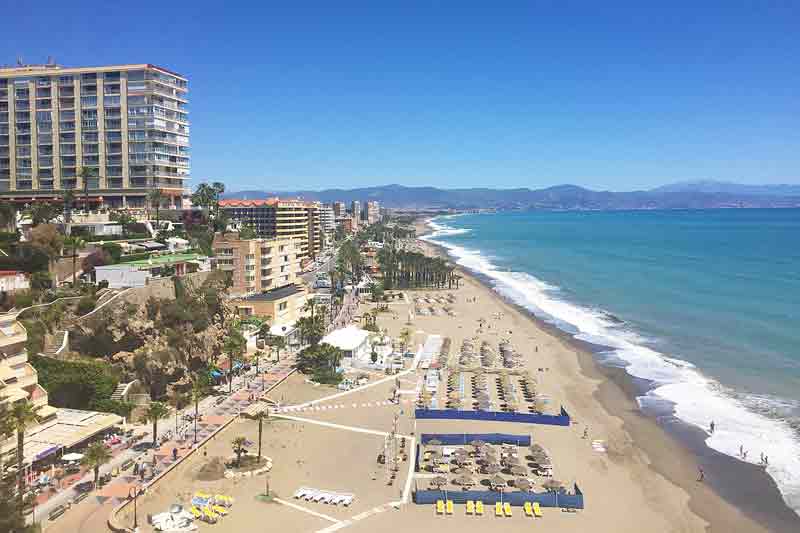 Torremolinos
Photo by Ian Pudsey CC-by-SA
This lively seaside resort is located just a few kilometers south of Málaga, making it a perfect day trip. It was once a small fishing village but has now grown into a tourist destination with a pedestrianized boulevard for lovely shopping and walking. The area also offers large sandy beaches, large marinas, water parks, as well as a large variety of bars, cafes, and restaurants. The main commercial areas of the town are Playamar which has a large number of the towns tourist hotels, El bajondillo which is the beach area closest to the center, and La carihuela which is just west of the center and popular amongst Spanish visitors because of its more traditional feel and its fine traditional Andalusian dishes.
Benalmádena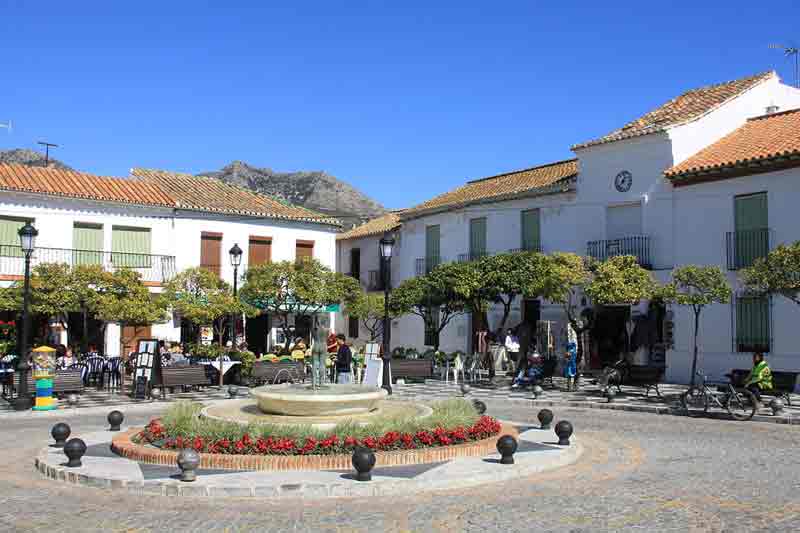 Plaza de Espana in Benalmádena
Photo by Bjørn CC-by-SA
Located just a short drive west of Málaga, Benalmádena has become a popular tourist destination in recent years, especially among the British. The area offers a comfortable climate right on the Mediterranean Sea, a laid-back lifestyle and plenty of beaches and hotels. Benalmádena is renowned for its nightlife with a large variety of bars, clubs, and restaurants. Despite building developments in recent years, the Old town has retained its charm. Benalmádena has the unique distinction of having one of the largest Buddhist stupas in Europe, known as the Enlightenment Stupa, located along the oceanfront, standing at 108 feet tall.