Basic guide to Key West cruise port: where ships dock, things to do, what's within walking distance, sightseeing, historical landmarks, Duval Street and the Old Town, beaches, and shore excursions.
Key West's laidback ambiance, pleasant weather, vernacular architecture, and delicious cuisine have more of a Caribbean character than what you expect of an American city.
Contents
Overview
Uniquely, Key West blends the best of the Caribbean with the benefits of refined conveniences: it is safe, easy to explore on your own, has a good number (and variety) of attractions, lots of possible sightseeing options, exceptional transportation, affordable tours, excursions, and an almost endless offer of restaurants and bars to enjoy a taste of tropical flavors.
Duval Street in Key West
Photo © IQCruising.com
After all, it's almost impossible to find cruise passengers that have been in Key West who will have anything but words of praise for this port of call.
Where cruise ships dock in Key West
Cruise Ships dock in one of three possible piers / harbors:
Pier B
Mallory Square
Navy's Outer Mole
The most regularly used is known as Pier B, which is part of the private marina of the Weston Resort.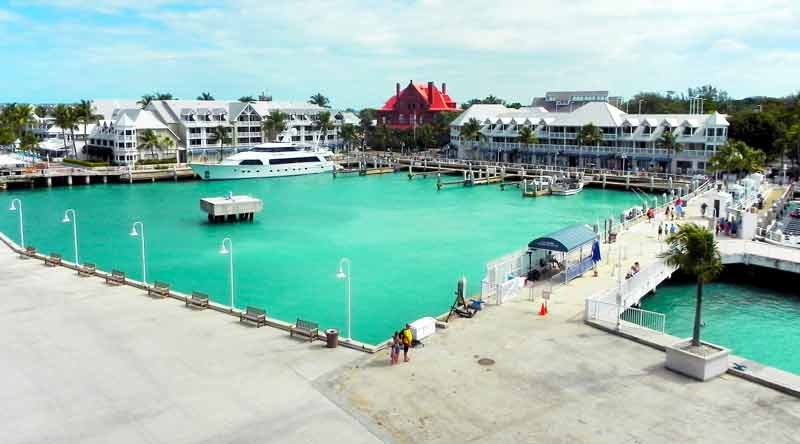 Pier B in Key West
Photo © IQCruising.com
Pier B and Mallory Square
If your cruise ship is the only one in port - which happens quite frequently - this will be most probably where she will dock. This is a perfect location just, literally, a couple of minutes walk away from the Old Town - one of the top attractions of Key West where many highlights are located.
There is also the possibility that your cruise ship will dock at another pier close by, also right at the heart of the Old Town, in Mallory Square - this is a famous spot where crowds gather to watch the sunset and it can get very busy when returning onboard at the end of the day.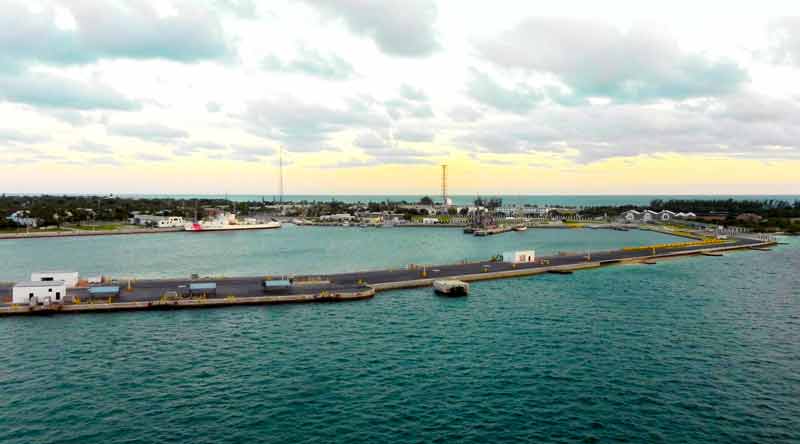 Outer Mole Pier in Key West
Photo © IQCruising.com
Navy's Outer Mole pier and shuttle bus
Finally, when there are more than two ships in port, the Navy's Outer Mole Pier is where the other will dock. Those that have been in Key West before and docked downtown complain when docking at the Outer Mole because it is not right by the Old Town. However, its location is just a 5-minute shuttle ride way from Old Town, and all cruise lines provide a shuttle.
Things to do and see in Key West
One of the nicest and inviting aspects of Key West is that whatever the cruise traveler would like to do or see it is always very easy to get to anywhere on your own. However, there are many things to do which you can only enjoy with a shore excursion, a sightseeing service or a local tour guide. Here are the top things to do in Key West:
Sail on a catamaran and snorkel

Go on Kayak Nature Tour

Explore Key West on a Bike Tour

Experience watersports like parasail, paddleboarding, jet ski or snuba

Hop-On and Hop-Off the Old Town Trolley

Enjoy the ocean life on a glass bottom boat

Discover Key West on the Conch Train

Explore the highlights of Key West on a tour or on your own

Visit Hemingway's home and Sloppy Joe's

Take a Pub Crawl Tour

Watch a dolphin show

Visit the Aquarium and the Butterfly Gardens

See Key West on an helicopter tour

Tour President Truman's Little White House

Take a Rum and Cigar tour

Spend some time on a beach

Go on a harbour cruise around Key West

Savor a genuine Key lime pie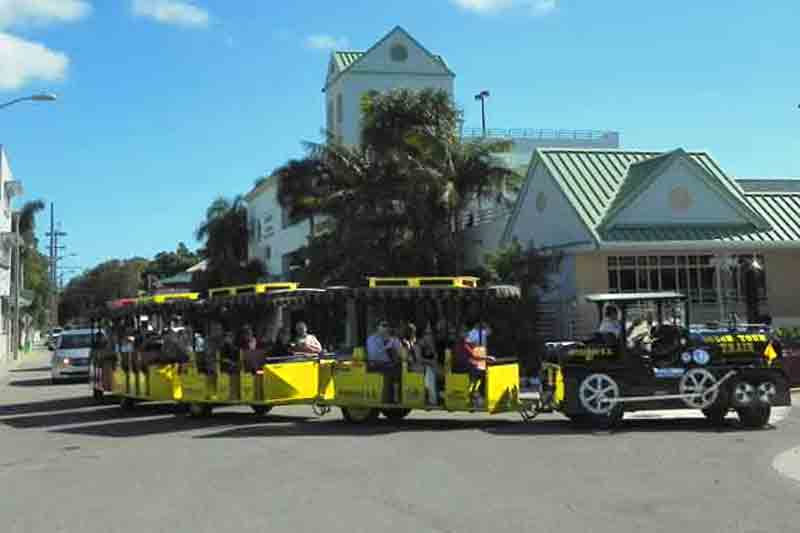 Conch Tour Train in Key West
Photo © IQCruising.com
What's to do within walking distance and sightseeing
Amongst many inviting aspects of Key West, cruise passengers like to know that many top attractions are close by and easy to reach on your own. The Old Town is a grid of quaint architecture which you can leisurely explore on foot. And most attractions and landmarks are within walking distance. The Old Town Trolley Tours, the Conch Tour Train and the City View Trolleys offer great sightseeing.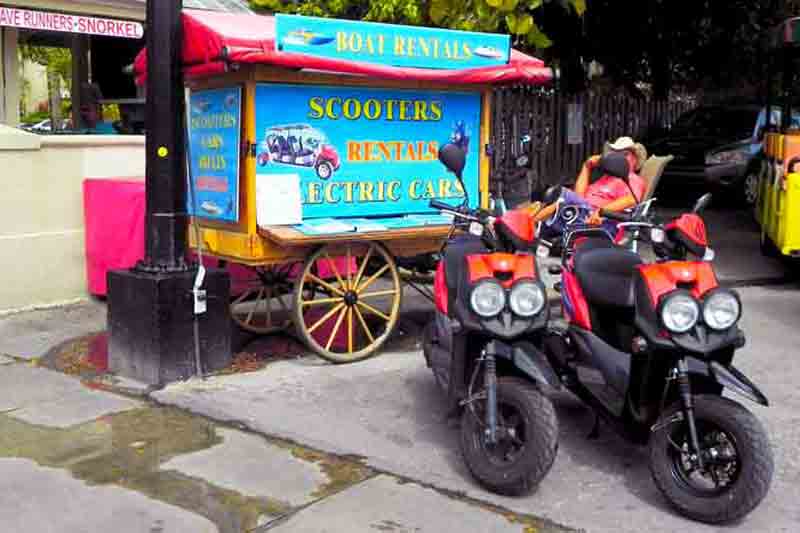 Scooter Rentals in Key West
Photo © IQCruising.com
To get around Key West, you can rent a bike, a scooter, or an electrical car. Public buses have stops close to all main attractions. Car rental is not advisable unless you wish to travel to other Keys nearby; parking in Key West is expensive and very limited.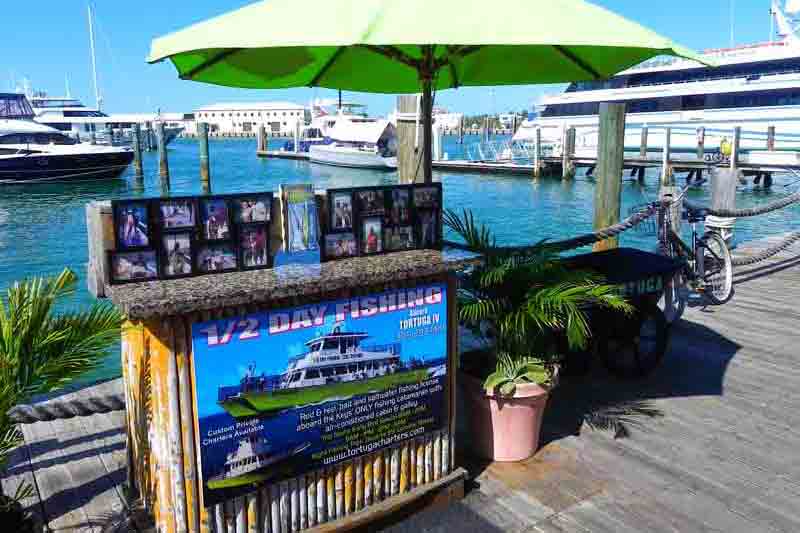 Fishing Tours in Key West
Photo © IQCruising.com
Watersports and activities
For those that are interested in the cultural aspects of Key West there is plenty to choose but, after all, Key West was made famous by one of its most ilustrious residents - Ernest Hemingway - and his passion for Ocean activities. Naturally, sailing, deep sea fishing and all type of water sports are a main atraction of Key West and there are lots on offer including a few nice beaches - more about these below.
Hemingway's Home and other museums
The Hemingway Home and Museum is a must see along with landmarks and museums such as the Truman Little White House, the Mel Fisher Maritime Museum and the Tennessee Williams Key West Exhibit.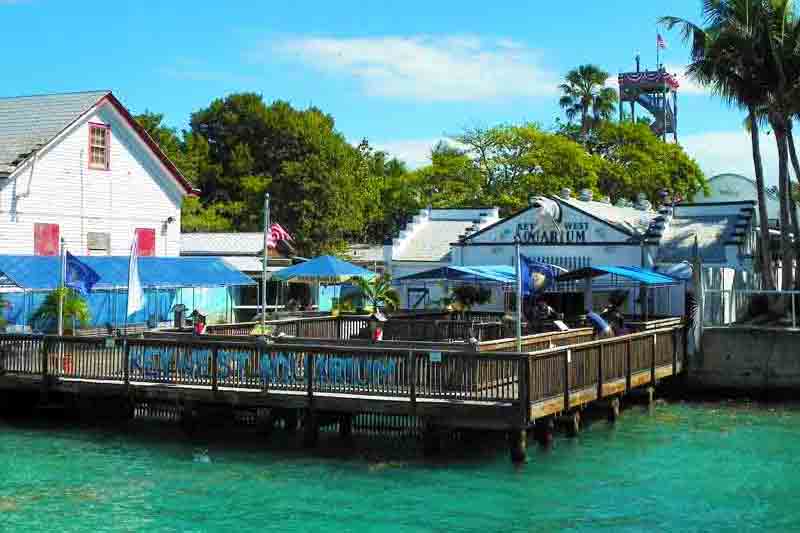 Aquarium in Key West
Photo © IQCruising.com
For the cruise traveler with children there are many interesting attractions, such as the Key West Aquarium, the Shipwreck Treasure Museum, the Butterfly &Nature Conservatory, the Tropical Forest &Botanical Garden, the Nancy Forrester Garden, the Audubon House and Tropical Gardens, or the Ripley's Believe It or Not!
Historical landmarks, museums and religious sites
The Southernmost Point of the Continental US, an anchored concrete buoy, is one the most famous landmarks in Key West. But there are several others less photographed equally charming. Historical landmarks like the Customs House Museum, the Lighthouse and Keepers Quarters, the Fort East Martello Museum, the Fort Zachary Taylor State Park, and the Curry Mansion Inn have a unique charm.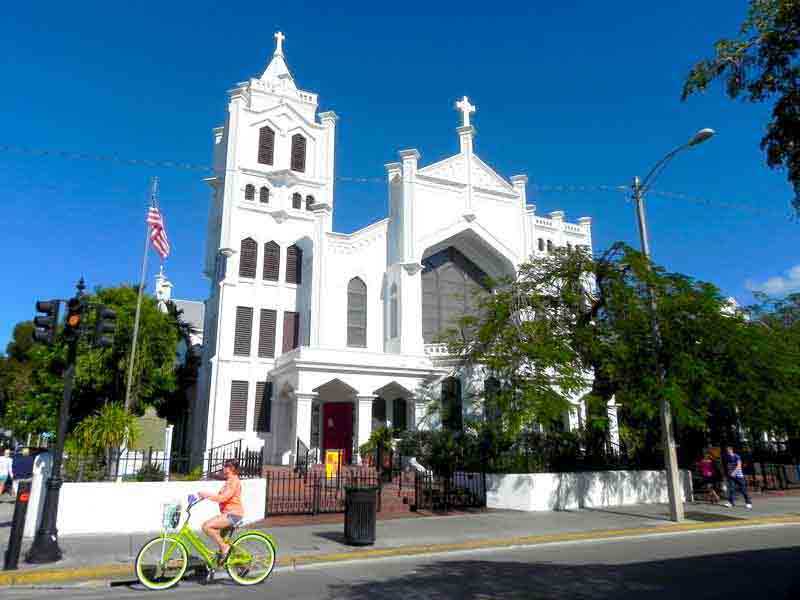 Saint Paul's Episcopal Church
Photo © IQCruising.com
And a handul of small museums display unique exhibits worth a visit: Turtle Museum, Oldest House Museum, Flagler Station Museum, Richard Kemp House, Hellings House Museum and USCGC Ingham Maritime Museum. Two religious sites must also be mentioned - the Saint Paul's Episcopal Church (on Duval Street) and the catholic Basilica of Saint Mary Star of the Sea.
The beaches in Key West
Unless you are planning to book a full-day excursion to the Bahia Honda State Park or the Dry Tortugas National Park, the cruise traveler that is an avid beachgoer may be a bit disappointed to discover that Key West doesn't have the spectacular type of beaches found in Caribbean Islands like Grand Cayman or Antigua. There are a few very nice beaches but none that compares to Magens Bay (in St. Thomas) or Orient Beach (in St. Martin).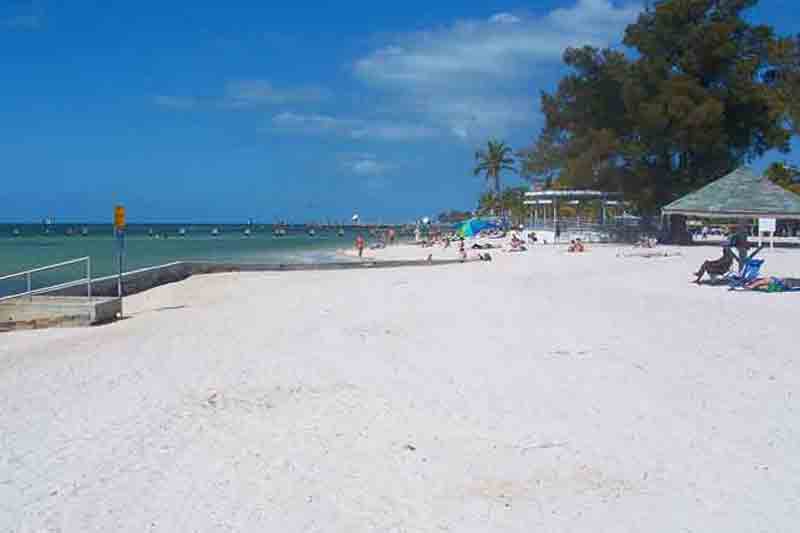 Beach in Key West
Photo © IQCruising.com
There are a few small sand strips with shallow waters and nice beach-bars like South Beach (by the Atlantic end of Duval Street) or Lagerheads Beach Bar in the Old Town at the end of Simonton Street, but the best are slightly off track. The good news is that on the larger beaches you will find all sorts of watersports, renting of chairs, umbrellas, kayaks, paddle-boards. All have public restrooms, nice seaside bars, and restaurants. But you should expect shallow waters and, depending on the season, sometimes rocky and with seaweeds.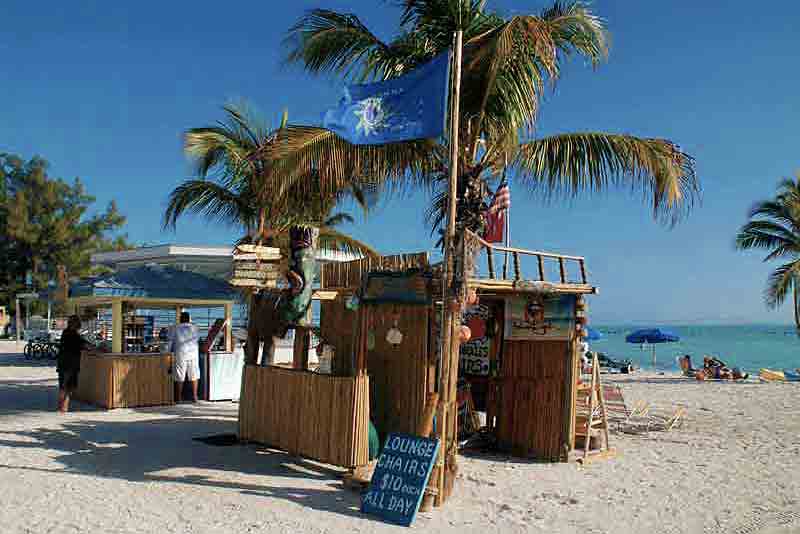 Higgs Beach in Key West
Photo © IQCruising.com
In the Fort Zachary Taylor Park, besides the Historical Fort, you will find one of the nicest beaches in Key West and the closest to the Cruise Port - slightly over 1-mile (half hour walking). It is great for snorkeling. Entrance to the park is $2.50 per person if walking or biking (a nice way to get there). Higgs Beach is on the Atlantic side, east of Duval Street or 2-miles from the Cruise Port. Great for cruise travelers with kids, Higgs Beach has a distinctive wooden pier and lots of watersports are available.
The half-mile, hand-made, Smathers Beach is the largest in Key West and also the farthest from the Cruise Port - 3-miles from the Cruise Port. Besides the usual beach facilities (restrooms, chairs, umbrellas), the cruise traveler will also find the best Watersports available in Key West such as sailboats, windsurfing, paddle boards, kayaks, jet skis or parasailing. Be aware that public restrooms closed at 4:00 p.m.
What's to do and see in the Old Town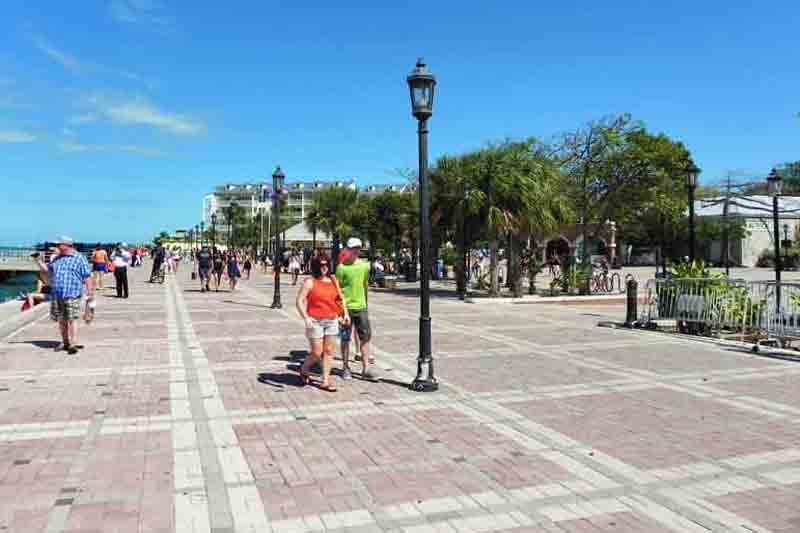 Mallory Square in Key West
Photo © IQCruising.com
Regardless of where you dock, the Old Town is a top highlight impossible to miss. The Old Town is the western tip of Key West and where famous streets (and attractions) are found.
Mallory Square
Mallory Square is a good point of reference for your orientation. Right behind the square, Wall Street is where the Aquarium and the Shipwreck Museum are found, along with the stops of the Old Town Trolley (great sightseeing), an Information Center and the famous restaurant El Meson de Pepe.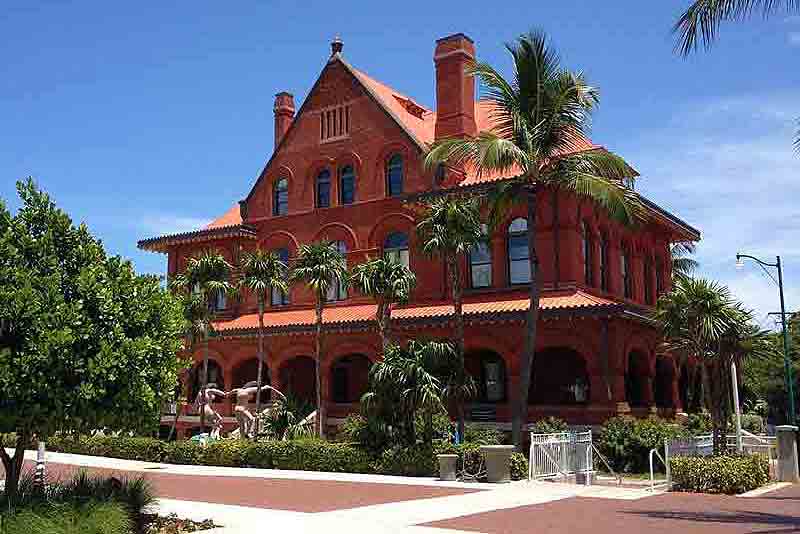 Custom House in Key West
Photo © IQCruising.com
Duval Street and other major streets in the Old Town
Parallel to Wall Street, Front Street is a good reference thoroughfare as it connects to all other major streets in the Old Town - Duval Street, Whitehead Street, Greene Street or Caroline Street. If docked at Pier B, the cruise traveler will be exiting right into Front Street by the Customs House Museum and next to the Mel Fisher Maritime Museum.
The southern section of Front Street is a dead-end, although the Truman Little White House is close by, but at the northern end the cruise travel will find the 'off-the-beaten-track' A&B Marina - a quaint harbor with very nice restaurants (Lobster House, Alonzo Oyster Bar, The Commodore) and a boardwalk (aka Harbor Walk) that will take you to the Historical Seaport.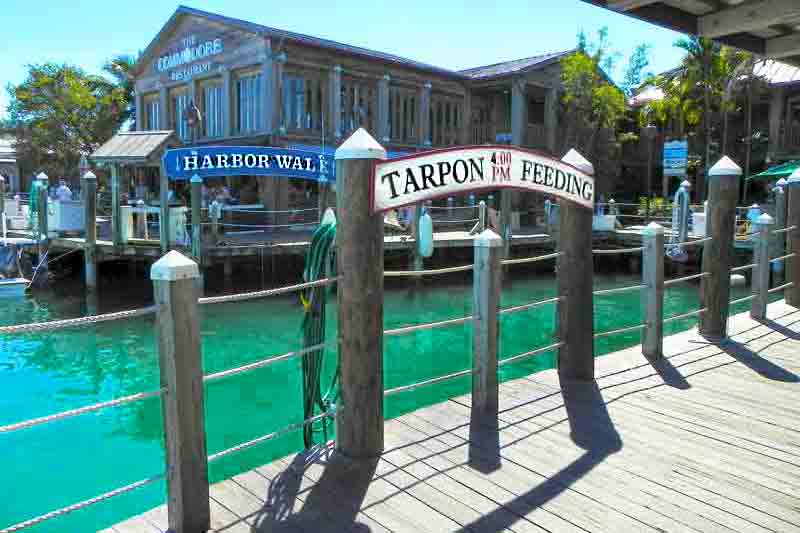 Harbor Wak in Key West
Photo © IQCruising.com
The Turtle Museum and a handful of well-known restaurants/bars (Conch Republic, Turtle Kraals, Half Shell Raw Bar, Dante's Key West) are found at the Historical Seaport. At the northern end of the port, you will find the Flagler Station Museum.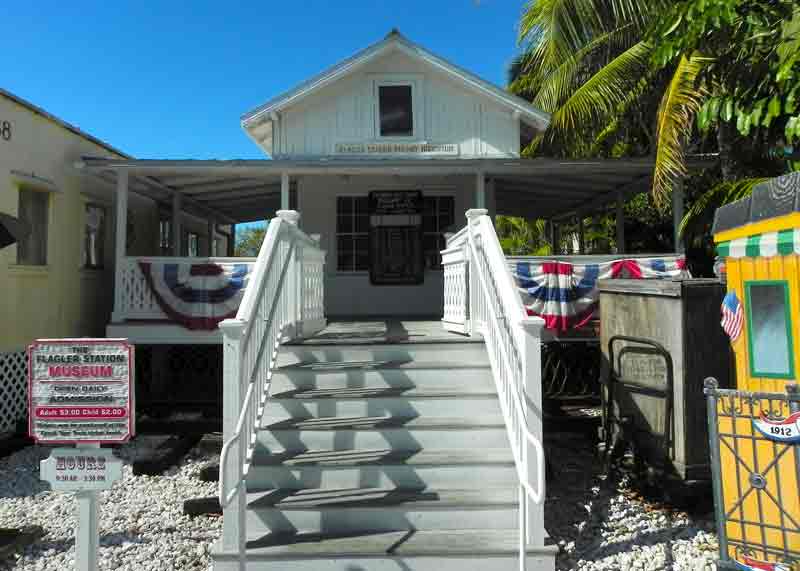 Flagler Station Museum in Key West
Photo © IQCruising.com
Both Greene Street and Caroline Street also end by the Historical Seaport but the later doesn't have much to see along the way besides the Richard Kemp House.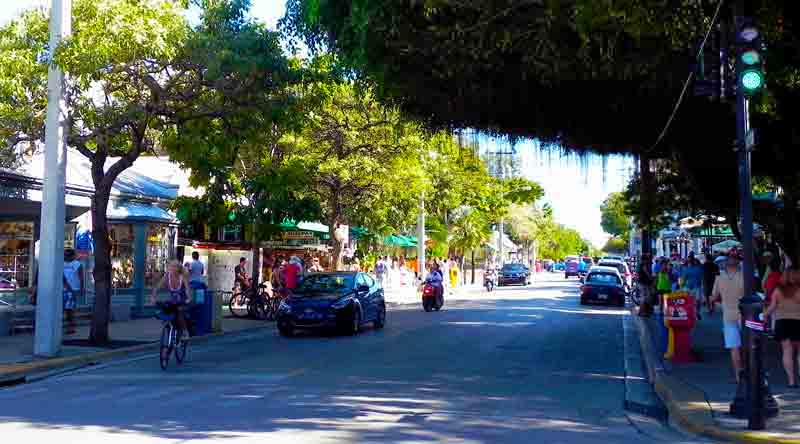 Duval Street in Key West
Photo © IQCruising.com
Duval Street is certainly the most famous of all streets in Key West, known for its lively nightlife and profusion of stores with well-known brands, one of a kind shops, boutiques, art galleries, and souvenirs.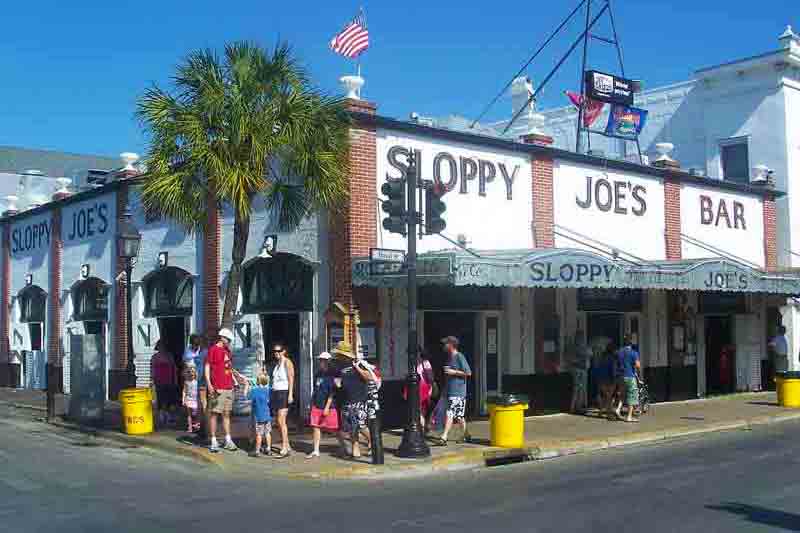 Sloppy Joe's in Key West
Photo © IQCruising.com
Whistle Bar in Key West
Photo © IQCruising.com
Duval Street bars and attractions
Inevitably, because cruise ships sail before Duval Street starts pulsing with revelers, you will miss this aspect of Key West. But, even so, many bars are still fun to enjoy during the day - Sloppy Joe's (Hemingway was a regular patron) and Whistle Bar are two to look for. Other big names have bars here such as Hard Rock Cafe, Margaritaville Cafe or Fat Tuesday.
The cruise traveler will also find on Duval Street other attractions like the Hellings House Museum, the Wrecker's Museum at the Oldest House, Ripley's Believe It or Not, the historical Saint Paul's Episcopal Church and, close to the Atlantic end, the Butterfly and Nature Conservatory.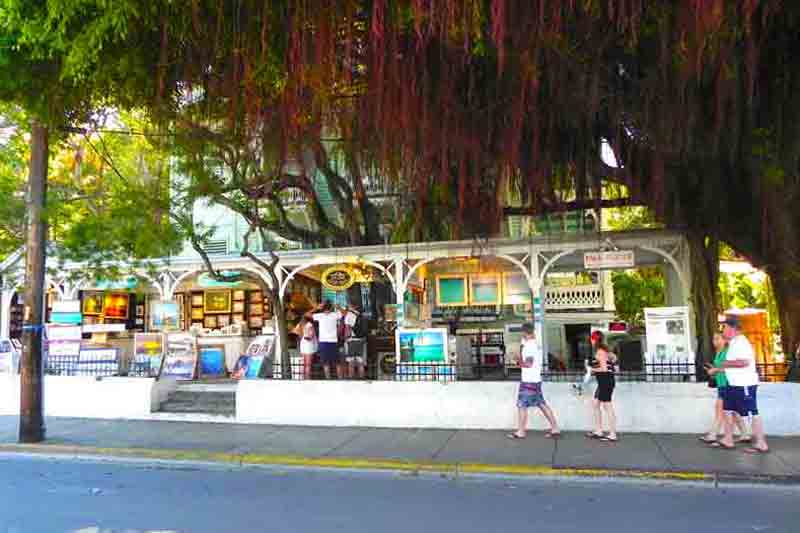 Art Gallery in Key West
Photo © IQCruising.com
Above all, walking Duval Street is a delight. No visit to Key West is complete without a stroll on Duval Street, in particular, along the charming six blocks between Greene Street and Petronia Sreet. Be aware that Duval Street crosses the Old Town - north to south - and it is 2 miles long ending at South Beach, which is a small strip of sand dominated by the homonymous cafe.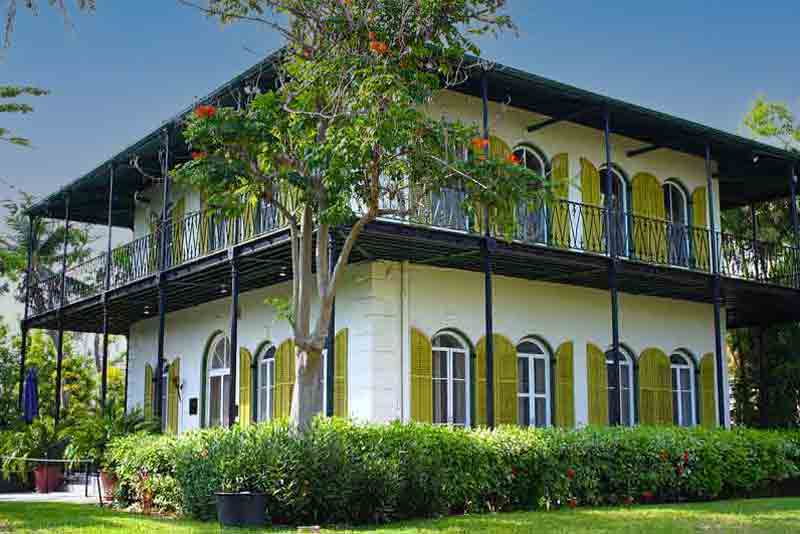 Hemingway's House in Key West
Photo © IQCruising.com
Whitehead Street is parallel to Duval Street and although it is a reference thoroughfare is mainly famous for three historical landmarks: the Hemingway's House and Museum (five blocks south of the Mallory Square), the Lighthouse and Keepers Quarters close by and the marker of the Southernmost the tip of the continental U.S. - known simply as Southernmost Point - at the end of the street on the Atlantic Oceanside.
Cruise shore excursions and tours
Obviously, all cruise lines callling at Key West offer many and diverse shore excursions in Key West. Royal Caribbean offers 13 shore excursions, Norwegian Cruise Line has available 11 shore tours, and Carnival lists 15 cruise excursions.
Celebrity Cruises offer as many 25 shore excursions, Holland America lists 21 tours and Oceania Cruises organizes 7 shore excursions in Key West cruise port.
Although most luxury cruise lines include shore excursions with the cruise fare, Regent, Seabourn and Silversea offer unique and diverse explorations ashore in Key West. Regent lists 11 port excursions, and Silversea offers 3 excursions.
There are also excursions offered by the following reputable private online services and local tour operators: