Kralendijk port overview for cruisers to Bonaire: where ships dock, piers and terminal, things to do, how to get around and all you must-know.
Bonaire is the B on the island trio known as ABC - Aruba, Bonaire and Curaçao. These island have a lot in common but cruise passengers shouldn't infer that if you "have seen one you have seen them all".
The three islands are located off the coast of Venezuela and are all part of the Kingdom or Netherlands (or Holland, as many call this small European country) but all have very distinct aspects and completely different ambiance.
Bonaire is the smallest of the ABC trio and until recently the forgotten Island in the South Caribbean itineraries. Scarcely populated (around 19,000 inhabitants in an area 6 times the size of Manhattan) with a small capital with only 3,000 inhabitants, Bonaire's natural wonders and laid-back ambiance are main tractions to enjoy and discover on a cruise in the Caribbean.
Scuba Diving and Snorkeling, beach activities, and a couple of usual cultural attractions and landmarks are the top highlights of Bonaire. More about Top Things To do and See Below.
Divi Flamingo Beach within Walking Distance.
Photo © IQCruising.com
For decades, Bonaire was not regularly visited by mega-ships of major cruise lines like Royal Caribbean, Carnival or NCL. But in recent years Bonaire has been 'discovered' and now there are many cruises calling at the port of Kralendijk both on south and western Caribbean itineraries.
Where do cruise ships dock
Cruise ships dock in one of two piers on a wide bay on the Southern part of the West coast of the island of Bonaire, right by Kralendijk the main city and capital of the island. The two piers (designated Southern Pier and Northern Pier) are suited to moor up to three cruise ships, although only very seldom this happens. If there are two cruise ships docking, the larger one will always moor on the Southern Pier and the smaller on the Northern Pier.
Northern pier
The northern pier is perpendicular to the coast, just over 200 feet long, with the exit gates opening directly into a pedestrian street right in front of the Wilhelmina Park, next to the Old Fort and very close to the Sea Promenade (a long and beautiful street along the coast) and Kaya Grandi one block behind, which is the main shopping street of Kralendijk.
Southern pier and terminal
The Southern Pier aka New Pier is parallel to the coast and to get to the main street the cruise traveler will have to walk through a well maintained, small, open-air shopping complex known as Harborside Mall. Naturally, it is always a delight to walk down the gangway right into the city center but even when docked at the Southern Pier the cruise passengeris at less than 300 feet (100 meters) from the start of the Plaza Wilhelmina and the Sea Promenade officially known as Kaya J. N. E. Craane.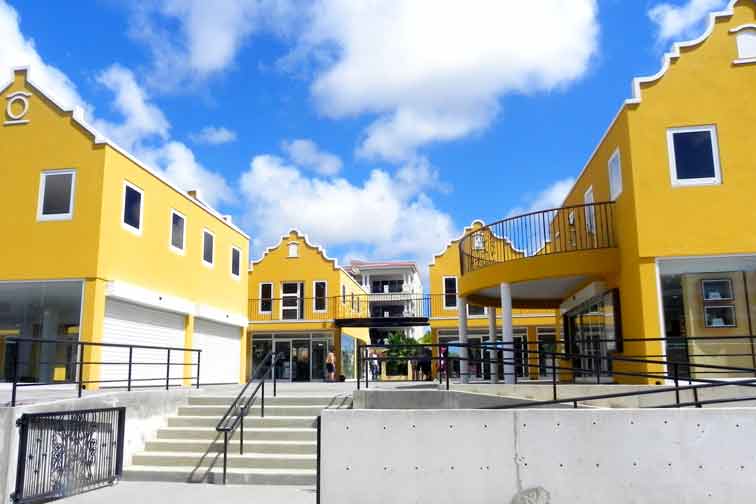 Southern Pier Terminal
Photo © IQCruising.com
Regardless of where cruise ship docks, the cruise traveler will always be within walking distance of all main attractions in Kralendijk and with all major services to explore on your own just a stone's throw away. Local tours operators, the official tourist office, diving operators, shops, restaurants, and cafés can be found very close to both piers.
Cruise travelers may have read elsewhere that there is third docking spot in Kralendijk known as Ro-Ro Pier - this is, in fact, an inshore ramp not used by cruise ships.
Getting around
Due to the proximity of the cruise piers to Kralendijk, walking is undoubtedly the best way to explore this beautiful, small and quaint Caribbean capital. It is easy and affordable to travel farther in the Island, be it to spend the day on one of the many, small and secluded beaches, or to discover the island's attractions. Most of the population working directly with tourists speak good English, are very helpful but not pushy.
Taxis by the Pier
Photo © IQCruising.com
Taxis
Taxis are affordable, in good shape, with AC and available next to the exit gates of both the Northern and Southern Piers.
Shuttle and Public Buses
Considering that cruise ship dock next to Kralendijk, there is no need for a shuttle. Bonaire does not have Public Buses although there are private services that cruise travelers will find complicated to navigate.
Car, scooter and bicycle rental
The cruise traveler contemplating the idea of exploring the island at leisure may look into renting a car, a scooter or a bicycle. Any of these can be fun and allow great independence. Car rentals, scooters, and bicycles are available within walking distance of both piers. Keep in mind that driving is on the right and that the island does NOT have stoplights. Maximum speed in towns is 25 mph (40 km/h) and 35 mph (60 km/h) outside the urban areas.
Water taxi to Klein Bonaire
For the cruise passengerplaning to explore Klein Bonaire (a major highlight for scuba diving and snorkeling) there are water taxis within walking distance of the piers. There are two different operators in two different spots. One less than 300 feet (100 meters) south of the Southern Pier and a second one at no more than 500 feet (150 meters) north of the Northern Pier
Things to do and see in Bonaire
Considering that the Island is small - 38 km long and between 5 and 8 km wide), the cruise passengercan easily explore all the major attractions in Bonaire on a day docked at Kralendijk. Known as one of the Top Scuba diving sites in the World, and promoted as such to exhaustion, many cruisers not interested in diving or snorkeling frequently wonder what else to do or see. The good news is that there is a good number of interesting attractions to explore and discover besides the ones found underwater.
Scuba and snorkeling
For those interested in oceanic wonders, Bonaire is paradise underwater. All the waters surrounding the island, including the coral reef, sea-grass and mangroves are in fact a protected National Park. Scuba diving and snorkeling with local operators is, obviously a perfect way to do it. But there are other ways to explore this pristine beauty of Bonaire's crystal clear waters - on a water taxi to Klein Bonaire to snorkel, on a semi-submarine or on a glass bottom boat.
Beaches and active pursuits
If you prefer above water sports, Windsurfing at Jibe City, Kayaking, Kite-surfing, Sailing or Fishing are top activities to enjoy in Bonaire. With over 20 beaches in Bonaire, there is a handful of famous spots like the 1000 Steps Beach, No Name Beach in Kein Bonaire, Playa Palu di Mangel, Sorobon Beach or Te Amo Beach. Within walking distance, the Divi Flamingo Resort (400 meters south of the Southern Pier ) is a nice spot to enjoy a day on the beach. Not far from the Northern Pier (1.3 miles - 2 km) the Spice Beach Club of the Eden Resort is another good option.
Check these websites to find out more about Windsurfing in Jibe City | Kite Boarding, Kite School | Day-Pass to Spice Beach Club | Divi Flamingo Resort | Bon-Sea Semi-submarine | Glass Bottom Tour and last but least the best way to explore Klein Bonaire with the Water Taxi.
Water-Taxi to Klein Bonaire
Photo © IQCruising.com
Salt lakes
Besides the water-related activities, the cruise passengerhas other options. Have in mind that most attractions are in a way scenic and/or ecologically oriented. The island is known for its salt production and a visit to the flat salt pans, ponds, and shop (La Placita) is included in many tours of Bonaire. The sites where the salt is produced have become such an attraction that the Bonaire Salt Park is expected to open sometime in 2018.
Flamingo spotting
Flamingo spotting is another major attraction. The Pekelmeer Flamingo Sanctuary is by the Salt Ponds and you may be able to spot them at a distance. But Flamingo spotting is one of the main reason to visit the Washington Slagbaai National Park. On this wonderful sanctuary, the cruise visitor will also have the opportunity to learn about the endemic species of Bonaire like parakeets, iguanas, sea turtles and many other species of birds and reptiles.
Natural wonders
For those interested in mother nature's travails, the Echo's Conservation Centre is an attraction to check and so is the Mangrove Center. You may have read ravishing reviews about the Butterfly Garden but be aware that this has been closed for some time. However, the even more famous Donkey Sanctuary is very much open and can be fun especially for those traveling with young ones.
Cultural attractions
On the cultural side, a visit to Ricon (the oldest settlement of Bonaire) is a must do. This small village has a few landmarks not to be missed like the Gruta Lourdes (a pilgrimage site), the Catholic Church (opened in 1837) and the Protestant Church (opened in 1934), the Bonaire Heritage Foundation and the Cadushy Distillery, where the cruise passengercan taste the world's only liqueur made from cactus. Close by, there are small, secluded and scenic beaches but not all are suitable for swimming.
Kralendijk landmarks
Kralendijk is such a small town that all top attractions can be easily explored on foot and is a delight to walk. Landmarks like the Fort Orange and lighthouse, the Queen Wilhelmina Plaza or the Government Office Building are impossible to miss.
Shops and shopping in Kralendijk
On Kaya Grandi - Kralendjik's main shopping street - the cruise visitorwill find some shops but don't expect to find the typical and ubiquitous ones found all over the Caribbean. Certainly, Bonaire is not a shoppers paradise like the sister islands of Aruba and Curacao.
Terramar Museum
Although located in the center of Kralendijk, the one attraction that is not self-evident is the Terramar Museum. If you don't spot it straight away do ask for directions - this small museum is really worth a visit as it will take you on a journey through 7,000 years of Caribbean history.
Local flavors, restaurants and bars
Kralendijk is also a delight for those, like the Editor, that enjoy local, fresh food with a gourmet touch. There are many excellent restaurants in town and a few bars with stunning settings to enjoy a cocktail, the local Polar Beer or a smoothie. Regardless of being criticized as over expensive, Karels Beach Bar has unquestionably the best location in Kralendijk. Not far, the restaurant It Rains Fishes is a gourmet delight with impeccable service.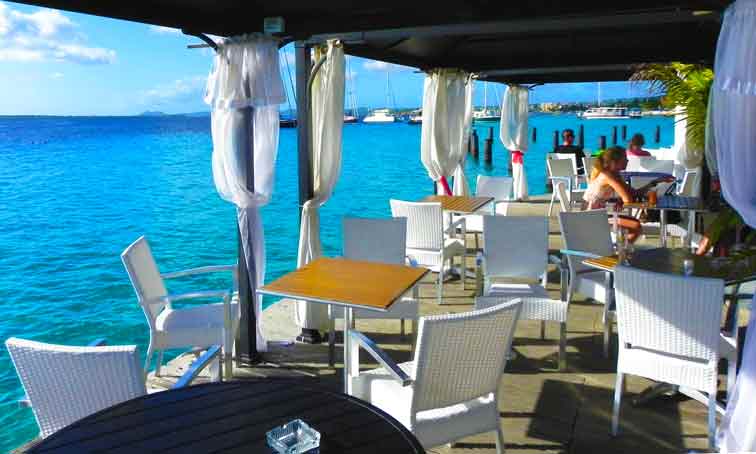 Karels Beach Bar
Photo © IQCruising.com
Must-know
Whatever you choose to see and do in Bonaire, it is easy and affordable to explore the Island on your own. With just a couple of streets to meander, Kralendijk is a jewel not to be missed, which is very for comfortable for disabled travelers. For those that wish to explore different sights and tractions, it is advisable to book a tour or an excursion.
Tourist Information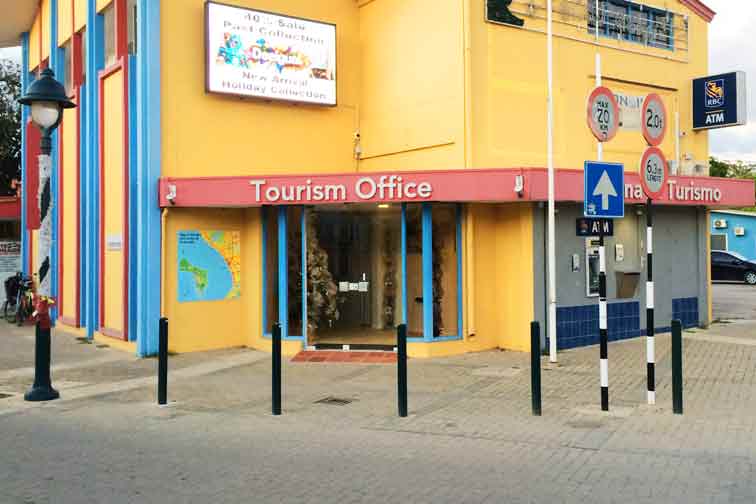 Water-Taxi to Klein Bonaire
Photo © IQCruising.com
You will find Tourist Information Kiosks near the exit gates of the Cruise Piers but these tend to close early (after most passengers exit the ship). If you find the kiosks too busy or closed, the main (and larger) Tourism Office is located behind the Protestant Church on Wilhelmina Square, right at the start of Kaya Grandi.
Bonaire Tourist Office Map
Language
English is widely spoken in all tourist areas and tractions. However, the official languages of Bonaire are Dutch and Papiamento. The latter is a traditional language derived from African and Portuguese dialects also influenced by Spanish, Dutch and English. Papiamento is very different from the Creole and Patois spoken in other Caribbean Islands.
Money matters: currency
The official legal tender in Bonaire is the US Dollar. The USD has been adopted since January 1, 2011. All major credit cards are widely accepted, with exception of American Express that is not as ubiquitous. The cruise passengerwill find useful to have cash for small purchases like souvenirs, taxis and tipping. You can cash money easily in Bonaire.
Banks and ATM:
There are many Banks, most with ATM's, in Kralendijk. All within walking distance from the Cruise Piers like the RBC, Girobank Bonaire or Banco di Caribe (on Kaya Grandi - the main shopping street). The easiest ATM to find is next to the main entrance of the Tourism Office, at the start of Kaya Grandi. Banks are open between 8AM and 4PM
Kralendijk (Bonaire) - Port of call
Although Bonaire cannot be considered a completely off-the-beaten-track cruise port, not all cruise lines include it in their itineraries. Cunard, Viking or MSC, for example, do not have any call scheduled for the next couple of years. Cruise lines like Azamara, Crystal, Disney, Fred Olson, Regent, Seabourn, Silversea only call at the port in Kralendijk sporadically, on re-positioning cruises or on an exceptional itinerary.
By contrast, major cruise lines - Carnival, Celebrity, Holland & America, P&O, Princess, and RCI - have many itineraries visiting Bonaire between the months of October and as late as May. NCL (with the Norwegian Breakaway, Norwegian Dawn, and Norwegian Jade) also calls a few times and so does Oceania (Insignia and Riviera).
But if you would like to cruise on a ship calling at Bonaire, these are the cruise lines and ships which regularly call at the port of Kralendijk: Carnival (Sunshine and Victory), Celebrity (Eclipse, Equinox, Reflection and Silhouette), Costa Magica, Holland & America (ms Eurodam, ms Koningsdam, ms Nieuw Amsterdam, and ms Zuiderdam), P&O (Britannia), Princess (Crown, Regal and Royal) and Royal Caribbean (Adventure Of The Seas, Freedom Of The Seas, Navigator Of The Seas and Serenade Of The Seas).
Finally, it should be noted that the German cruise lines Aida and Mein Schiff also call frequently at Bonaire, the British Marella has a few itineraries including Bonaire and the Spanish Pullmantur Monarch visits Kralendijk almost every week.