All you must know about the Yucatán cruise port in Progreso (Mexico): where is the terminal and ships dock; top things to do on shore excursions, and on your own.
The cruise port of Progreso (in Mexico) boasts a superior number of cultural attractions such as the Mayan ruins of Chichén Itzá, Dzibilchaltun, and Uxmal; and the colonial city of Mérida located around 26.84 miles (43.2 km) south of the port.
There are also a few other pleasant things nearby for cruise visitors to do such as enjoying a day on a beach, horseback riding, kayaking, snorkeling, or sightseeing.
Contents
Overview
Progreso is a regularly visited cruise port of call in the West Caribbean itineraries during the Fall and Winter seasons, with as many as 472,000 passengers and over 146 cruise ship visits in 2019.
The cruise port in Progreso has a pleasant ambiance, the area is neat and well kept. For the most part, Progreso is safe but advisable to use caution in crowded areas. The local population tends to be good-natured, polite, helpful and speak English reasonably well. For those cruising with families, there are a quite few fun things to do. Cruise passengers with disabilities or with walking difficulties will not find it too challenging to wander around in Progreso on your own.
Where is Progreso and the cruise port
Progreso, a small port city with a population of around 54,000, is strategically located in the Yucatán state, on the lovely North coast of Mexico, on the shore of the Gulf of Mexico, 534.3 miles (859.8 km) South of Louisiana (USA).
Where cruise ships dock
Cruise ships dock on a 1,000 foot (330 meters) long pier with berths for up to 2 vessels to moor. At the end of this pier there is a modern terminal building with most basic services and amenities. The pier where cruise ships dock is perpendicular to the world's longest pier, known as Terminal Remota, which is around 4 miles (6.44 km) long.
Shuttle bus in Progreso
The cruise port in Progreso has a shuttle bus generously provided by the port authority. The shuttle bus will be parked just outside the cruise terminal, and the drop-off is at the Auto Progreso main bus station right in the town center. The shuttle bus is free, typically takes around 15 minutes, and runs every 20 minutes.
Things to do in Progreso cruise port
The port of Progreso is a singular port for cruise travelers interested in archeologic and historic sites. After all, this is the best port to explore the Mayan ruins of Chichén Itzá - one of the most famous UNESCO heritage sites - or the colonial city of Mérida.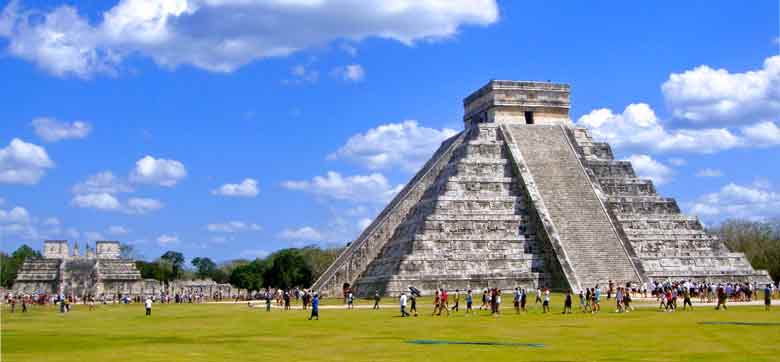 Chichén Itzá
Photo by Mariordo CC BY-SA 3.0
For those looking forward to relaxing day on a pristine beach, there are a few attractive options. And there are great outdoor activities to enjoy.
Cruise passengers who typically prefer to explore on your own will find it easy to meander on foot around Progreso. Cruise visitors will only find a few shops in Progreso, but there a few convenient places to buy local souvenirs and regional crafts.
Top highlights, sights and attractions in Progreso cruise port and Yucatán
Chichén Itzá archeological site
UNESCO Heritage site. Highlights: Kukulkan Pyramid, Warriors' Temple, circular observatory known as El Caracol. Distance from cruise port: 102 miles (164 km).
Uxmal Mayan ruins UNESCO Heritage site. Highlight: Pyramid of the Magician. Distance from cruise port: 75.4 miles (121 km).
Dzibilchaltún Mayan ruins
Highlights: Temple of the Seven Dolls, National Ecological Park, and Cenotes. Distance from cruise port: 19.9 miles (32.1 km/meters).
Mayapán ruins
Highlights: temples of Kukulcan and Redondo. Distance from cruise port: 57.8 miles (93.1 km).
Cenotes


Unique sights and experience. There are hundreds of cenotes (natural sinkholes) close to Progreso that can be visited on cruise excursions.

Mérida - the capital of Yucatan
Highlights: Cathedral, the Paseo Montejo, museums housed in palaces like the Quinta Montes Molina or the Palacio Cantón. Distance from cruise port: 31.1 miles (50 km).
Izamal Town and Archeological Site
Smaller but older town than Mérida, Izamal (known as the Yellow City) has a wonderful quaint character and a couple of archeological ruins to visit. Distance from cruise port: 69.9 miles (113 km).
Flamingos and Xcambó
Near the archeological site of Xcambó visitors will watch hundreds of wide-winged flamingos. Distance from cruise port: 27.2 miles (43.8 km).
Progreso Beach, Malecón and Craft Market
Cruisers will not find any landmarks or cultural sites in Progreso City. However, the beach is a delight and has nice restaurants along the Malecón. The Craft Market is worth a visit on the way to the beach. Distance from shuttle bus drop-off: 0.4 mile (600 meters).
Beach Day-Pass
All cruise line and shore excursion online services offer day-passes to private beaches and resorts in Progreso such as Technotel, Silcer Beach Club, Vista Mar, or Costa Club. Distance from cruise port: around 5.9 miles (9.4 km).
Outdoor activities


Close to the cruise port in Progreso, there are a few adrenaline pumping things to do such as jetski, horseback riding, kayaking, buggy tours, biking, caving, snorkel, or fishing.

Celestún Biosphere Reserve
To see and do: kayaking in mangroves, watch flocks of flamingos, herons and pelicans, and secluded, off-track beaches. Distance from cruise port:
76.4 miles (123 km).
El Jaguar Golf Course
18-hole golf course designed by Jack Nicklaus. Distance from cruise port: 20.1 miles (32.4 km).
What's within walking distance and nearby
If you read on less accurate port reviews that you can walk from the cruise terminal to the city of Progreso, be aware that it is a 4-mile long walk in the sweltering Mexican sun. However, the city of Progreso has attractions which can be enjoyed on foot. More below about what to do in Progreso downtown.
How to explore Progreso for cruise travelers
Cruisers planning to explore the top highlights of Progreso port will discover that many attractions can only be explored on a shore excursion.
The city of Mérida is an exception, which is around 26.8 miles (43.2 km) south of Progreso and can be reached by bus in approximately 1 hour. Local buses depart to Mérida every 10 to 15 minutes and cost around $21 Mexican pesos (less than US$1) each way.
Cruise visitors that typically prefer to stay close to the port, will find the city of Progreso very easy to leisurely explore on foot. The shuttle bus drop-off at the Auto Progreso main bus station is no more than a 5-minute walk from the Malecón, the boardwalk, and main street along the vast beach of Progreso.
In one word, unless cruise travelers do not wish to venture farther than the pier and the modern terminal, there are 3 possible ways to discover the principal attractions of Progreso and Yucatan:
Book a Shore Excursion

Travel On Your Own

On foot
Shore excursions (shorex)
All cruise lines offer over 30 shore excursions to all notable highlights of Progreso and Yucatán. There are also many delightful excursions offered by the following reputable private online services:
Explore on your own
To travel on your own, there are local taxis just outside the terminal building. The shuttle bus is the best way to travel to the small city of Progreso to enjoy the beach and restaurants by the Malecón and explore on foot. Cruise visitors that wish to travel to the key highlights on your own will find local buses in the drop-off bus station in Progreso.
Sightseeing and scooters
In the city of Progreso, on Calle 80, close to the Malecón and the beach you will find scooters for rent and a small sightseeing bus that tours the city. Auto Progresso also offers a city tour on a colorful open bus - El Guajolotero. This panoramic 45-minute sightseeing tour around the city of Progreso costs US$9.00 per person, visiting the town square, the boardwalk, the sheltered port, the marinas, and a couple of local neighborhoods.
How to get around and transportation
in Progreso, Yucatán, cruise port
As mentioned already, it is relatively easy to get around and explore Progreso on your own. Progreso and Yucatán have an acceptable transportation network although there are only a couple of few public services: taxis and buses.
Taxis and Uber
Cruise travelers will find a taxi dispatch righty outside the terminal close to the shuttle bus stop. Taxis do not offer specific excursions prices. Local drivers speak reasonable English. Taxis tend to be in excellent condition, are not metered, have AC, are reasonably affordable, and accept both US dollars and local currency.
Uber does operate in Progreso. If traveling to Mérida, Cabify is a good way to get around this large city. Expect to pay around US$50.00 for a taxi to Mérida, one-way, for 4 passengers. To correctly calculate a taxi or Uber fare to Mérida see Taxi Finder or Ride Guru.
Public Buses
Auto Progreso is the main bus operator in the State of Yucatán which is also the provider of the shuttle bus from the cruise pier to the city of Progreso. As mentioned before, the shuttle bus drop-off is at the main bus hub in the city, and from here there are regular buses to most notable highlights of Yucatán. Be aware that Auto Progreso also offers a number of organized tours to the top attractions and prices are radically different. For example, the regular bus fare between Progreso and Mérida costs around US$2.00 (return) while a guided tour will set you back between US$10 and US$26.
Auto Progreso Website
Dining, local cuisine, drinks, quick bites, and lunch in Progreso
Cruise passengers looking forward to savoring local food will only find a few convenient places to enjoy delicious lunch, a light meal, or refreshing drinks by the Malecón in Progreso.
You may like to try typical cuisine like marinated meat wrapped in banana leaves (Pibil), stuffed tortillas (Sopes), chiles rellenos, empanadas, ceviche, seafood, lobster, or guacamole.
And local drinks such as mezcal, tequila, and all famous Mexican beers. Broadly speaking, eating and drinking in Progreso is relatively affordable. A full and excellent lunch will cost around US$15.00 per person.
The following restaurants are well rated and ordered by distance from the start of the Malecón:
Barlovento

Eladio's

Los Henequenes

Le Saint Bonnet

Maya Ka

Crabster

Leña Y Mar

Milk Bar

Carabela
Gifts, souvenirs, best shops
and shopping in Progreso (Yucatán)
In Progreso cruise port there are quite a few shops selling souvenirs and local gifts. You will find most shops in 3 main areas: the cruise terminal, the central bus station, and in the city center on the Malecón and on Calle 80 (the main street which ends on the beach).
On this main street, the Mercado Popular is a large craft market painted in turquoise cruise visitors will not miss right in front of the 120-foot white lighthouse.
There is little more than a couple of local crafts and Mexican souvenirs for cruise travelers to take home besides hammocks, leather boots and hats, silver jewelry, vanilla, coffee, and hot sauces.
In the duty-free area of the cruise terminal, you will also find fragrances, tobacco, and alcohol with excellent prices, and typical stores like Pirana Joe or Rogers Boots.
Must-know: tourist info, language,and money
Tourist Info
There is a tourist info kiosk at the start of the Malecón, close to the Juan Miguel Castro monument by the beach.
Language
Spanish is the official language. However, as in any major tourist cruise port, English is widely spoken.
Currency and ATMs
The Mexican peso is the official currency. Don't take for granted that the US dollars are accepted as in other Mexican cruise ports like Cozumel or Costa Maya. Like in the US$, the peso uses the $ sign and it can be sometimes confusing when seeing prices in Mexican pesos. When in doubt, makes sure you look for MX, Mex$, or MXN. The peso is divided into 100 centavos (cents). There are 5 different coins: 50 centavos, $1, $2, $5 and $10 pesos; and 6 larger bills: $20, $50, $100, $200, $500 and $1000 pesos.
Cruise travelers will not find an ATM at the terminal. But there is an ATM in the bus station where the shuttle stops in the city center. Close by, on Calle 80 #145, there is an HSBC bank with an ATM.
Credit and debit cards
Credit and debit cards are only accepted in some restaurants in Progreso and in Mérida.
Tipping and Haggling
Tipping: when at a restaurant a tip is appropriate as in the US (15-20%). You can tip taxi drivers but it is not expected.
Haggling: it is normal and expected to haggle in any shop except on the duty-free shops with fixed prices in the cruise terminal.
Keep in touch: phones, wi-fi and Post Office
Wi-fi and internet
There are a couple of bars in the cruise port terminal that offer free wi-fi for customers only. The bus station in Progreso where the shuttle bus drops-off provides free wi-fi.
Phones
Mexico Code: 52. To call the US or Canada dial 001 prior to the number. To call other countries dial 00 + country code + area code + local number. T-Mobile offers calls at 25 cents/min. and text at no cost. Other US phone providers may work but is advisable to check with your provider to avoid roaming charges.
Post Office
Cruisers will find the Mexpost (Mexican postal service) in the heart of the city of Progreso on Calle 31 #147, around 900 feet (300 meters) south of the main shuttle bus drop-off.
Safety, US travel advisory and basics
Pharmacies
The pharmacies of Mexico are famous for selling over the counter medication that in other countries require prescriptions. In the city of Progresso, on Calle 80, two pharmacies are impossible to miss: Farmacias del Ahorro and Emérita Farmacias.
Hospital
The Centro Médico Americano is the best and main hospital of the city of Progreso, delivering of health services of medium complexity to locals and visitors. The hospital is located on Calle 30 #320. cmaprogreso.com.mx
U.S. Consulate
There is a U.S. Consulate General in Mérida, open from 7:30 AM to 4:30 PM Monday through Friday except for U.S. and Mexican federal holidays. Phone from Mexico 999 316 7168, from the U.S. (1) 844 528 6611. U.S. Consulate
For comprehensive and updated information about traveling to Mexico see the U.S. Department of State website page evolving advisory.
Covid-19 advise for cruises to Progreso (Mexico)
For updated coronavirus (Covid-19) information and travel advice to Mexico and Costa Maya visit the website of the U.S. Embassy in Mexico. For more Traveler's Health advice to Mexico see the CDC Website.
Progreso, Yucatán, basics at a Glance
| | |
| --- | --- |
| Entry Requirements: | Passport is NOT required for U.S. citizens with a valid photo ID such as a driver's license. Non-U. S. visitors are required to have a valid passport. |
| Emergencies Phone: | General and medical emergencies: 911 |
| Driving: | Driving is on the right, easy, and safe. |
| Electricity: | Standard American 120 V current with 60 Hz frequency. Most places have 3 prong outlets but in older venues you may find 2 pin ones. |
| Drinking: | The legal drinking age is 18 years. |
| Smoking: | Smoking is prohibited in restaurants and public buildings. Restaurants and bars may allow smoking outdoors. |