Essential guide to the Havensight Dock Terminal for cruises to St Thomas, Charlotte Amalie: the dock and piers, what's in the cruise terminal, tourist info, shops, dining, taxi fares, car rental and attractions nearby.
The Havensight Dock is the closest docking spot to Charlotte Amalie and within walking distance to the main town of St Thomas. The dock has all services and amenities cruisers may need, and a large area with duty-free shops.
Close to the long pier of the Havensight Dock, cruise passengers will find two exciting highlights of St Thomas: the Butterfly Farm (temporarily closed) and the famous Skyride to Paradise Point with stunning views of St Thomas.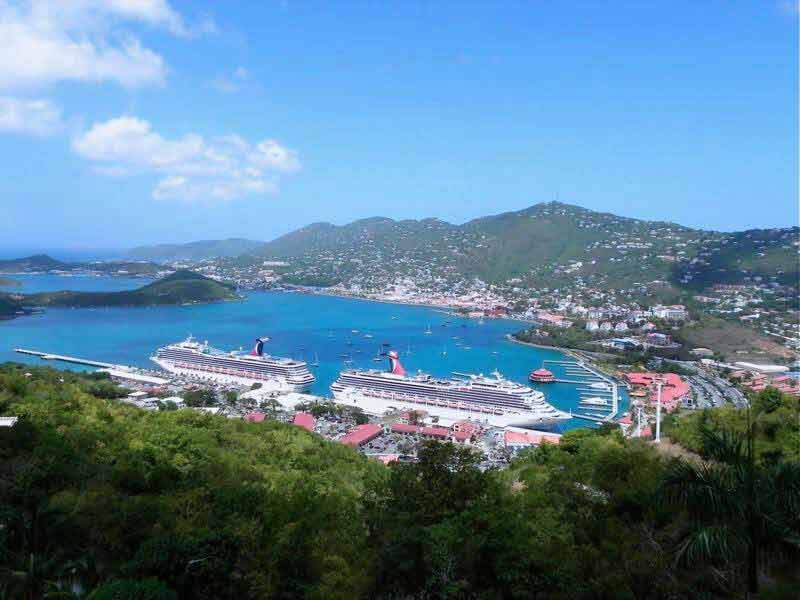 Panoramic View of the Havensight Harbor
Photo © IQCruising.com
Docking, Piers and Shopping Mall
There are three docking spots in the Havensight Cruise Ship Dock on its 3/4 of a mile (1 km) long pier. Next to each docking spot, there is an exit gate to a large area - the Havensight Mall - where cruise ship passengers will find almost all amenities. Be Aware: cruisers must have both the ship card and one photo ID to re-enter the pier.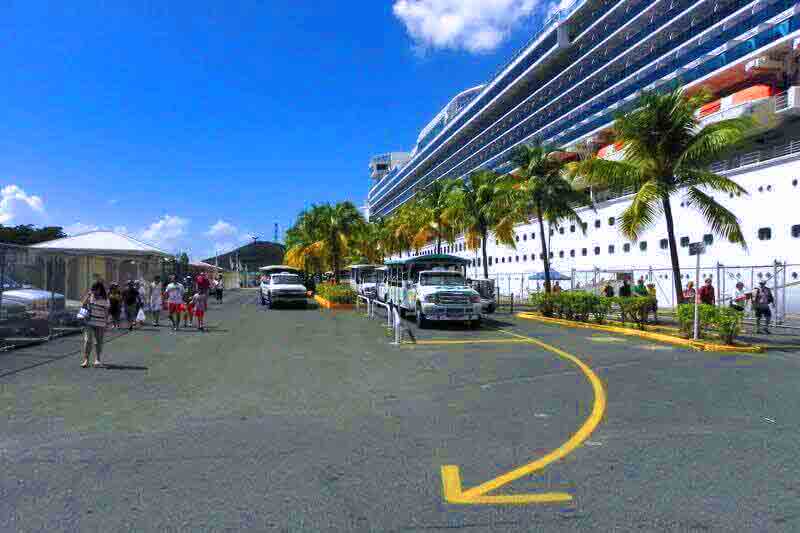 Havensight Pier - St. Thomas
Photo © IQCruising.com
For those on shore excursions booked onboard, there will be ship staff guiding the cruise traveler to the tour buses. If you booked on-line with independent tour operators, the local guides will be waiting outside the exit gates.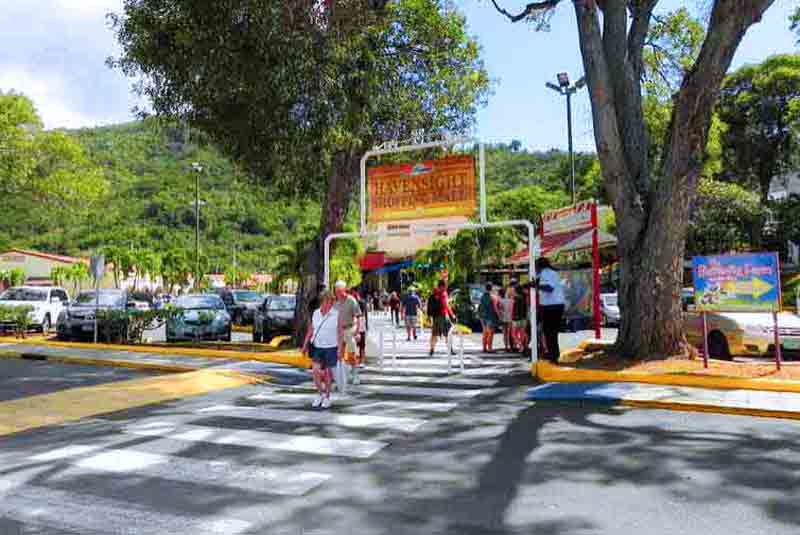 Havensight Mall Entrance
Photo © IQCruising.com
As you walk out of any of the four exit gates there will be taxis offering transportation to all main attractions, beaches, a simple ride to Charlotte Amalie or even a sightseeing tour of the Island. Taxis are the best way to travel around in St Thomas. More about taxis below.
Tourist Information
Close to both Gate 1 and Gate 2 there is a large and excellent Tourist Information office where you can pick up maps, brochures, printed guides to St Thomas and the US Virgin Islands. This is the ideal place to go if you wish to explore the Island on your own or discover hidden gems of St Thomas.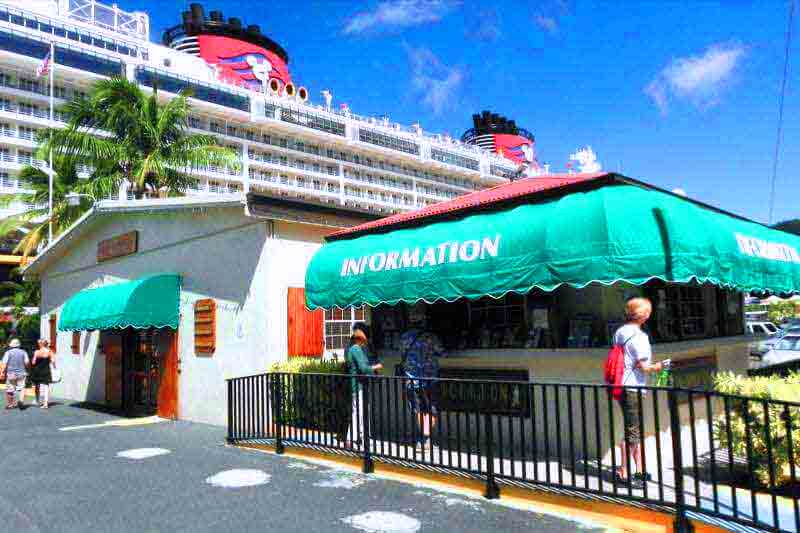 Tourist Information in Havensight
Photo © IQCruising.com
Shopping in Havensight
In the Havensight Mall, the cruise passenger will find a number of one-story buildings with some of the major shops in St Thomas like Diamonds International, Colombian Emeralds, Boolchand's, H. Stern amongst other well-known shops in the Caribbean. St Thomas is famous for being a shopper's paradise. Most cruise travelers interested in duty-free jewelry, watches, and electronics do travel to Charlotte Amalie where the top shops are located. But the shops in Havensight shouldn't be missed. Click Here to Discover all the Shops and Best Buys in the Havensight Mall.
Close by, the Yacht Haven Marina also has great shops. Here you will find mainly high end stores and labels like Bulgari, Coach, Gucci or Salvatore Ferragamo. Click Here to Explore the Yacht Haven.
Convenience Stores in Havensight
If all you are looking for is liquor, spirits, fragrances, tobacco, gifts or souvenirs the cruise ship passenger doesn't really need to go all the way to Charlotte Amalie for a shopping spree. There are many shops carrying this type of merchandise in the Havensight Mall. In reality, it is easier to find these type of convenience stores in the Havensight Mall than in Charlotte Amalie.
Amenities, Services and Restaurants
As mentioned before, the Havensight Dock is very well serviced. Keep in mind that St Thomas legal tender is the US Dollar and that if you need cash there are Banks with ATM's.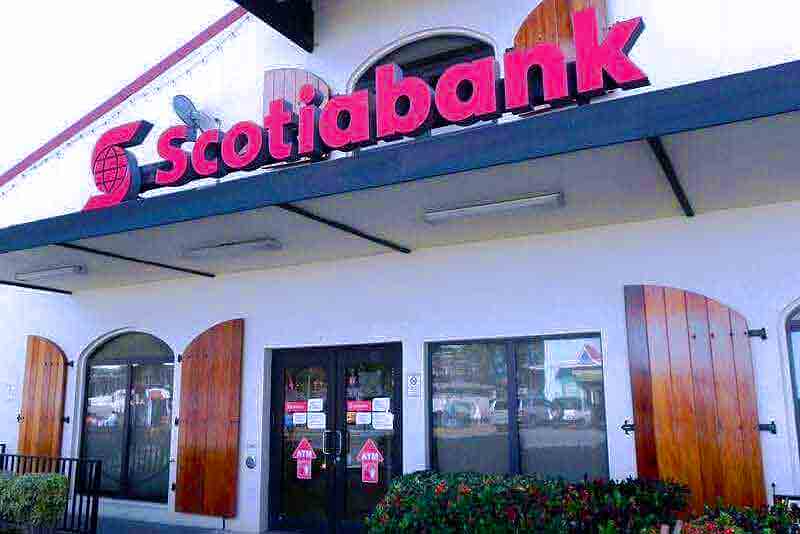 Bank with ATM in Havensight
Photo © IQCruising.com
The Post Office (USPS) is very close to the piers and there are a few quite nice restaurants. Senor Frogs and the Delly Deck are within the Mall, and just outside you will find Mojos, Hooters, the Barefoot Buddha and the Shipwreck Tavern.
Car Rental
Renting a car may be a good way to enjoy and exploration of St Thomas on your own. Right in front of the pier the cruise traveler will see the Budget Car Rental sign and as you walk out of the Havensight Mall, is impossible to miss Avis.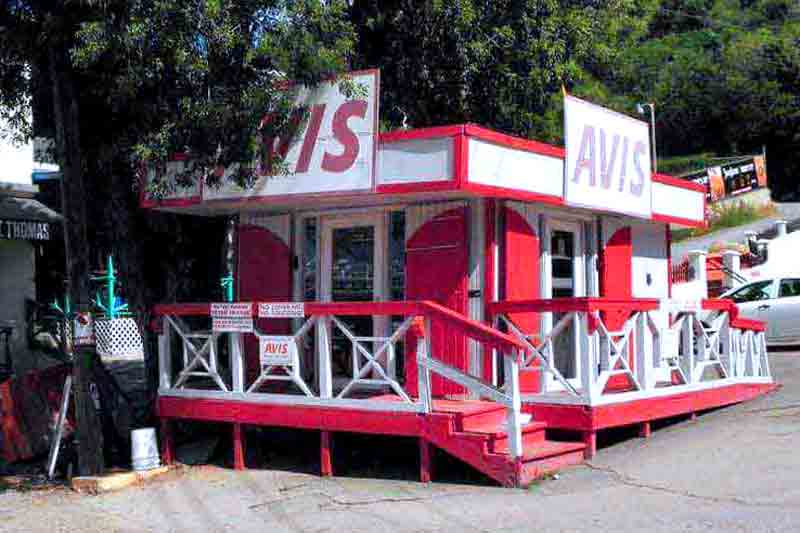 Avis in Havensight
Photo © IQCruising.com
Getting to Charlotte Amalie - Taxi or on Foot
Charlotte Amalie is only 1 mile away from the Havensight Dock and can be an easy walk. The most pleasant way to walk downtown is through the Yacht Haven Marina. This is an upscale shopping area where you will find the high-end brands and also a couple of nice places to have a quick bite or just a rest (Fat Turtle is one of the Editor's favorites).
Click Here to Explore the Yacht Haven Marina.
Taxi Fares from Havensight Dock
Taxi fares are clearly displayed and are official so you don't really need to worry about getting a good deal and it isn't worth to haggle.
Editor's Tip: as the taxi lines close to the gates can get very full, if you walk to the exit of the mall you may find better service in that Taxi Dispatching area. Taxis in St Thomas are shared and you will need to wait for other cruise companions but it usually doesn't take longer than a few minutes.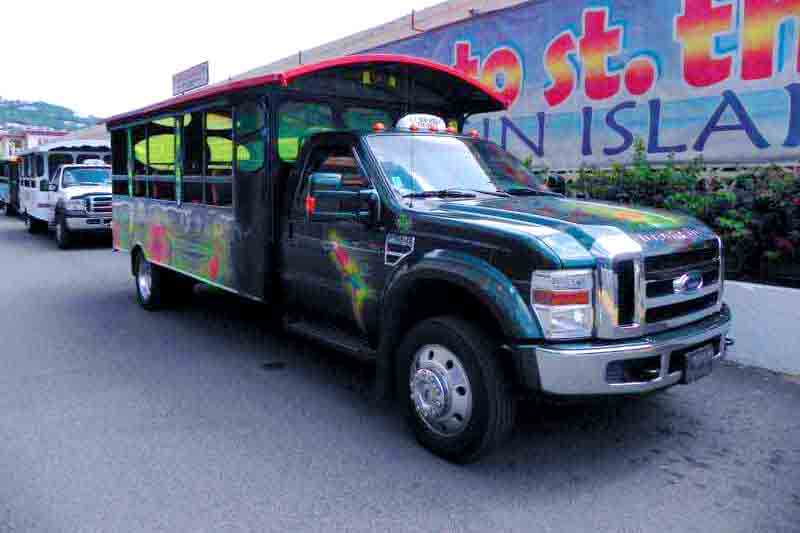 Taxi Dispatch in Havensight
Photo © IQCruising.com
Taxi Fares from Havensight Dock *
| Charlotte Amalie | Magens Bay | Coki Beach | Red Hook Ferry | Coral World |
| --- | --- | --- | --- | --- |
| US$5 | US$10 | US$12 | US$15 | US$15 |
* Fares are person sharing a Taxi. Taxi fares may have been updated since last reviewed. Prices from Crown Bay and Charlotte Amalie are very similar.
Attractions close to the Havensight dock
Within walking distance of the Havensight Dock, there are two top attractions of St Thomas - the Butterfly Farm, which under restoration works and the Skyride to Paradise Point. Both can easily be enjoyed after or before a half day tour of the Island.
Paradise Point
The Skyride to Paradise Point is outside the Havensight Mall. Turn left, once outside the exit in the direction of Charlotte Amalie, and after no more than a couple of minutes walk the colorful Skyride will be on your right. The views from the Paradise Point are spectacular and a photo-op not to be missed.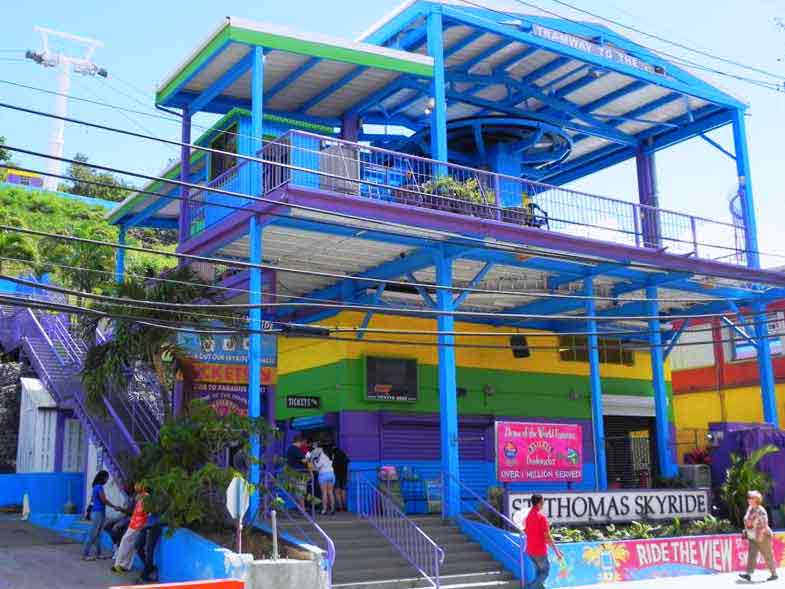 Paradise Point
Photo © IQCruising.com
Closed Attractions within Walking Distance
The Butterfly Farm is on the grounds of the Havensight Mall, on the right end of the pier, behind Senor Frogs and both have been devastated during the 2017 Hurricane season.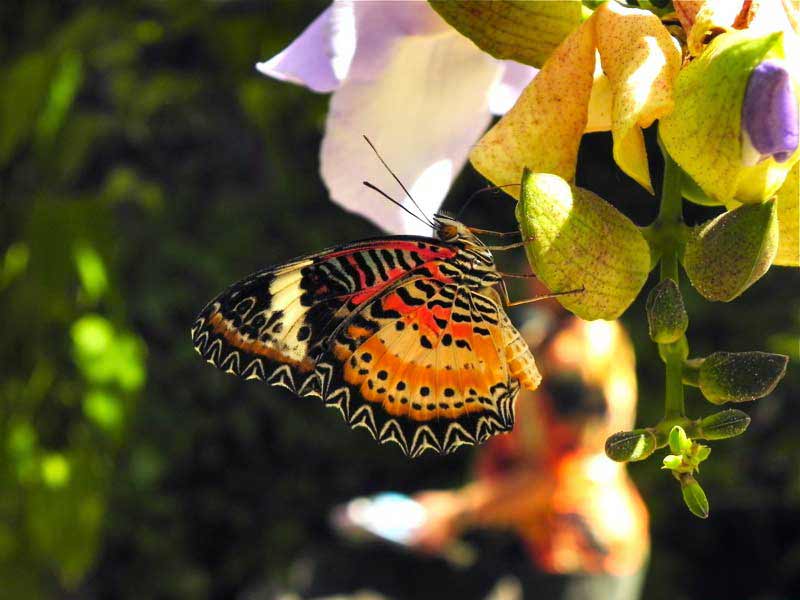 Butterfly Farm in Havensight
Photo © IQCruising.com
The Butterfly Farm used to be a great place for those traveling with children and it is advisable to check if and when it reopens. Senor Frogs wasn't open in March 2020 when IQCruising last visited the Havensight Dock. And it doesn't look like it will be opening any time soon.
Havensight Basics
WHAT
WHERE
Havensight
Tourist Information Center
Yes
Post Office
Yes
Pharmacy
Yes
Shuttle
NO
Taxis
Yes
Rent-a-Car
Avis and Budget
Banks and ATM Machines
Yes
Phones
Yes
Restrooms
Yes
Restaurants
Yes
Duty Free Shopping
10's of retail shops in the Mall