Crown Bay cruise terminal in St Thomas must-know: the dock and the terminal, tourist info, Wi-Fi, ATMs, duty-free shops, and taxi fares
With 2 docking spots on the long and only pier of Crown Bay Cruise Ship Dock, the exiting gates are right in front of your cruise ship and at no more than 150 meters from the gangway. Be Aware: the cruise ship passenger in St. Thomas is required to have both the ship card and a valid photo ID to re-enter the pier.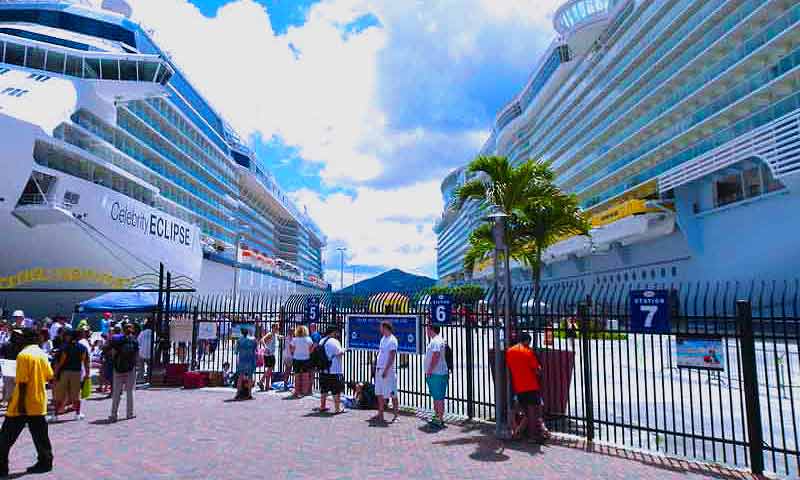 Cruise Ships - Crown Bay Dock
Photo © IQCruising.com
The Cruise Terminal in Crown Crown Bay
If booked on a shore excursions, the cruise ship passenger will be guided by the Shorex staff to the tour buses parked just outside the gate of the Terminal.
But if you are planning to explore St Thomas on your own, which is both easy and safe, the cruise ship passenger will enter a large mall (the Crown Bay Center) just outside the pier gates.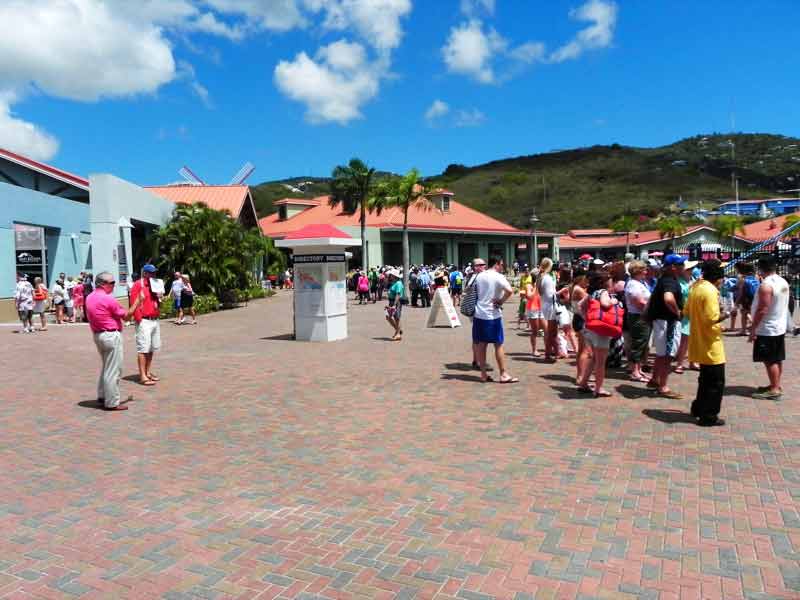 Crown Bay Center
Photo © IQCruising.com
Amenities and Services
For those booked with pre-arranged private on-line services you will find the tour guides as you enter this open air mall - as you can see on the photo above.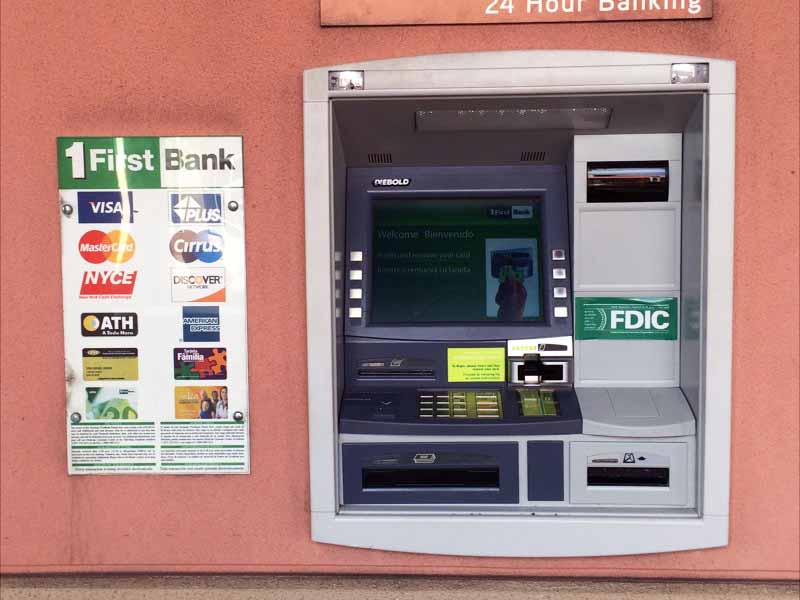 The Crown Bay Center (or Terminal) is very well equipped with all sorts of amenities and services: Tourist Information, ATM, Free Wi-Fi, Restaurants, Convenience Stores, Coffee Shops, Restaurants, Taxis, Souvenir Shops, and the ubiquitous shops found in the Caribbean.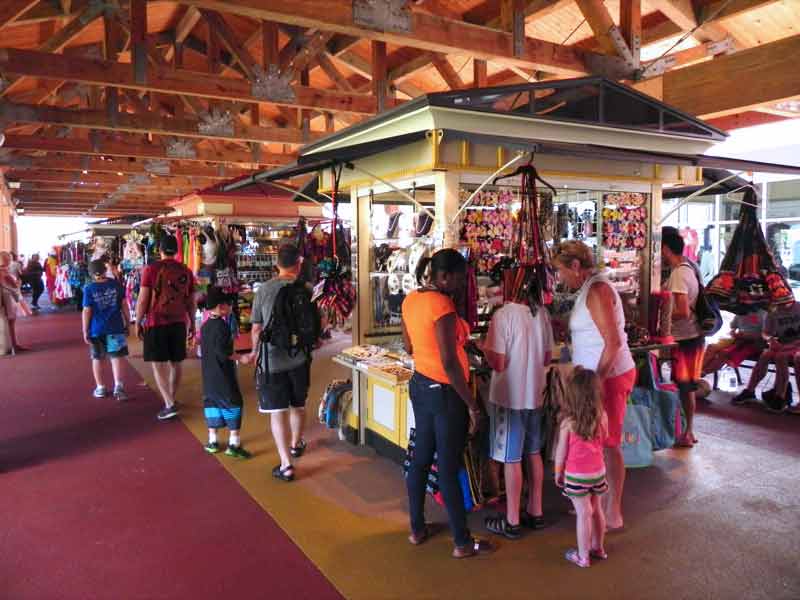 Souvenir Kiosks - Crown Bay
Photo © IQCruising.com
Shopping in Crown Bay
In fact, the first buildings the cruise passenger will come across are embellished with the shop windows of major labels and stores like Cardow, Diamonds International, Del Sol, Cariloha, Effy, Little Switzerland or Milano. After all, St Thomas is known as a shopper's paradise and it starts right as you step out of your cruise ship. There are so many shops in Crown Bay that IQCruising has an article reviewing most of them.
Click Here to Discover All Shops in Crown Bay.
Cruise travelers looking for great shopping deals should explore the Main Street, Alleys and Passages in Charlotte Amalie where the top brands and most famous shops in St Thomas are located. Learn More about the Best Shops in Charlotte Amalie.
Shops - Crown Bay
Photo © IQCruising.com
If shopping is not in your plans and the cruise traveler just wants to go out to explore the attractions of St Thomas, or spend a day on the beach the taxi dispatch is by the exit of the mall. All taxi fares are per person, fixed and official. More about Getting Around by Taxi below.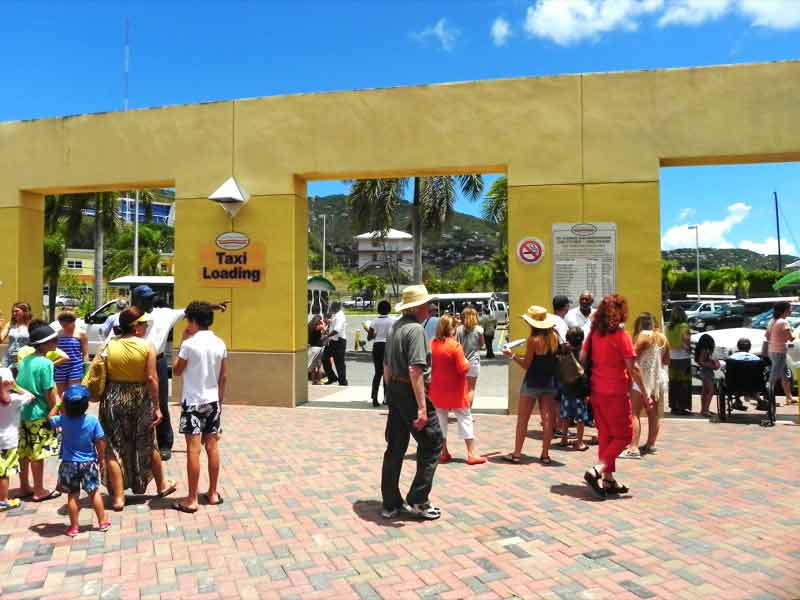 Taxi Dispatch in Crown Bay
Photo © IQCruising.com
However, if you want to buy liquor, fragrances, tobacco, gifts or souvenirs there is a good shop - Duty Free St Thomas -, a couple of convenience stores and an area with Kiosks selling all kinds of souvenirs.
Convenience Store in Crown Bay
Photo © IQCruising.com
Tourist Information and Wi-Fi
The Information Center is located close to the exit of the Mall - on the north side - and is impossible to miss considering that the building replicates a windmill. Here you will find maps and all information you may need to explore St. Thomas on your own.
Tourist Information in Crown Bay
Photo © IQCruising.com
Close by you will find a bank - with ATM. Not far, to the left, there is an area well-know by cruise crew, staff, officers and savvy cruisers where FREE Wi-Fi is available and that can be useful if you need to check your emails.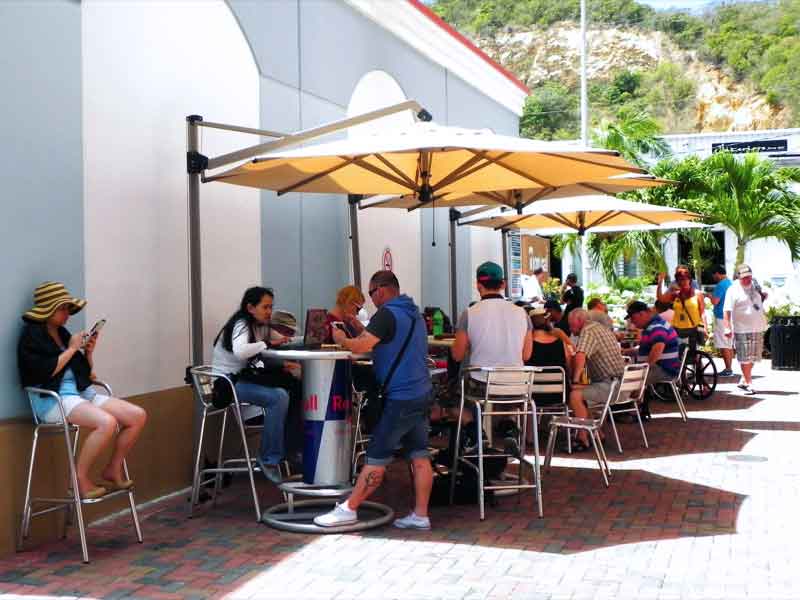 Free Wi-Fi in Crown Bay
Photo © IQCruising.com
Getting to Charlotte Amalie and Around by Taxi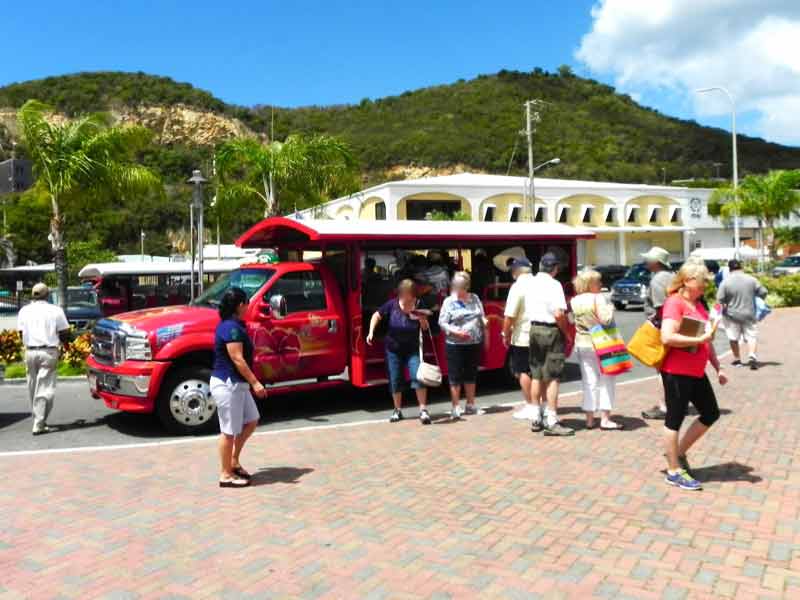 Typical Shared Taxi in Crown Bay
Photo © IQCruising.com
If your cruise ship docks at the Crown Bay, walking to Charlotte Amalie is quite a stretch (over 2 miles) and not particularly pleasant until you get close to town. The best way to get anywhere - including downtown - is by taxi. Next to exit of the mall there is a taxi dispatch, which displays taxi fares to the main attractions in St. Thomas, including all major beaches.
These fares are official so haggling will not take you far - in fact, you will never get a bad deal as they are affordable. Just keep in mind that taxis in St. Thomas are shared an you will need to with wait for other cruise travelers to until the taxi is full but, usually, it doesn't take long.
Taxi Fares from Crown Bay Dock *
| Charlotte Amalie | Magens Bay | Coki Beach | Red Hook Ferry | Coral World |
| --- | --- | --- | --- | --- |
| US$5 | US$10 | US$12 | US$15 | US$15 |
* Fares are person sharing a Taxi. Taxi fares may have been updated since last reviewed. Prices from Havensight and Charlotte Amalie are very similar.
Within Walking Distance of Crown Bay
Close to the Crown Bay Dock you will not find any major attraction within walking distance but there are some very nice beaches that you can go to on a taxi - like the Brewer's Beach, the Lindberg Beach and Hull Bay, the latter on the north coast. However, St. Thomas is a small island and the distance to all major attractions is never that far.
Money and Currency
Keep in mind that St Thomas is an unincorporated territory of the United States of America and that the $USD. is the legal tender in the Island. If you need cash for your taxi rides and pocket money, there is an ATM close to the Information Center.
Crown Bay Basics
WHAT
WHERE
Crown Bay
Tourist Information
Yes
Post Office
NO
Pharmacy
NO
Shuttle
NO
Taxis
Yes
Rent-a-Car
NO
Banks and ATM Machines
Yes
Phones
Yes
Wi-Fi
Yes
Restrooms
Yes
Restaurants
Just for a quick bite
Duty Free Shopping
Around 20 retail shops