Everything you need to know about the top attractions, sites, sights, and best things to do on a cruise to the port of Saint Thomas, Charlotte Amalie (USVI).
Although five years have passed since the devastation of Hurricanes Irma and Maria in 2017, a few of the attractions and highlights of St Thomas are still under recovery. The pandemic has also closed many businesses. But St Thomas is still one of the most alluring cruise ports in the Eastern Caribbean cruise itineraries.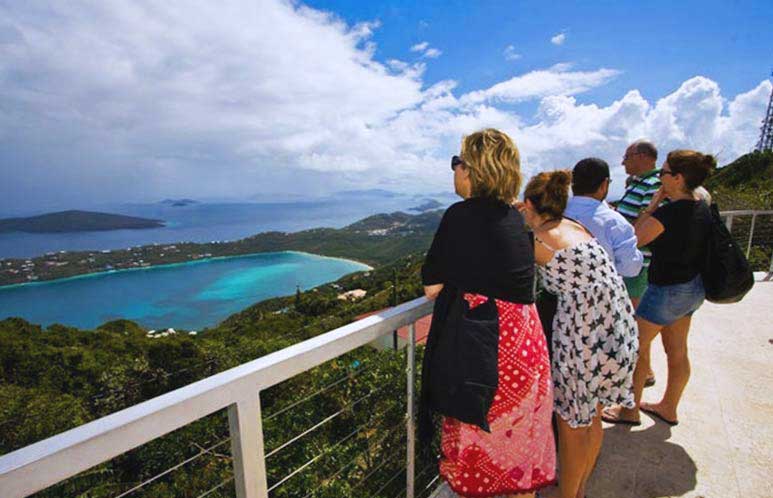 Main Street in Charlotte Amalie
Photo © IQCruising.com
Contents
Highlights Overview
On this page, you will find the Editor's favorite attractions - the ones that are still under restoration are listed last. Please be aware that after sustaining two Category 5 hurricanes, some sites have not recovered to their pre-hurricane state.
A day in port in St Thomas allows the cruise traveler enough time to explore more than one of its main attractions.
Cruisers that enjoy exploring ports on their own or independently from the shore excursions organized by cruise lines will find it easy (and affordable) to get by taxi to almost all the highlights and top attractions of this stunning island.
Charlotte Amalie, the capital of St Thomas, is a stone's throw away from both cruise terminals. In Charlotte Amalie, the cruise traveler will find a few interesting must-see historical landmarks: the Fort Christian, the Evangelical Church, and the Synagogue are top attractions.
Charlotte Amalie has fabulous restaurants, grills, and cafes to enjoy a genuine Caribbean lunch, a light fare, or a refreshing drink. And Charlotte Amalie's Main Street is a must for those looking to shop for jewelry, watches, and electronics.
Cruise travelers who enjoy astonishing scenic views and landscapes will have their breath taken away by the sights in the Mountain Top and Paradise Point.
If you prefer to spend a relaxing at the beach or to experience water activities, the Coral World Ocean Park and Magens Bay are two of the main attractions in St Thomas not to miss. In the following paragraphs, you can learn more about the top attractions and best things to do in St Thomas when calling for a day at one the cruise terminals close to Charlotte Amalie.
1. The Main Street in Charlotte Amalie
Charlotte Amalie's Main Street - aka Dronningens Gade - runs parallel to the waterfront between Market Square and the Emancipation Park. This street is where you will find the most famous and emblematic shops of St. Thomas. Some top brands have closed shop in Charlotte Amalie, but the Main Street is still the place to go if looking for the best shopping deals in St Thomas.
Connecting the Main Street and the Waterfront, there are several streets (named Gade, or Street in Danish), alleys, and passages also lined with shops. Some of these alleys and passages become shopping malls.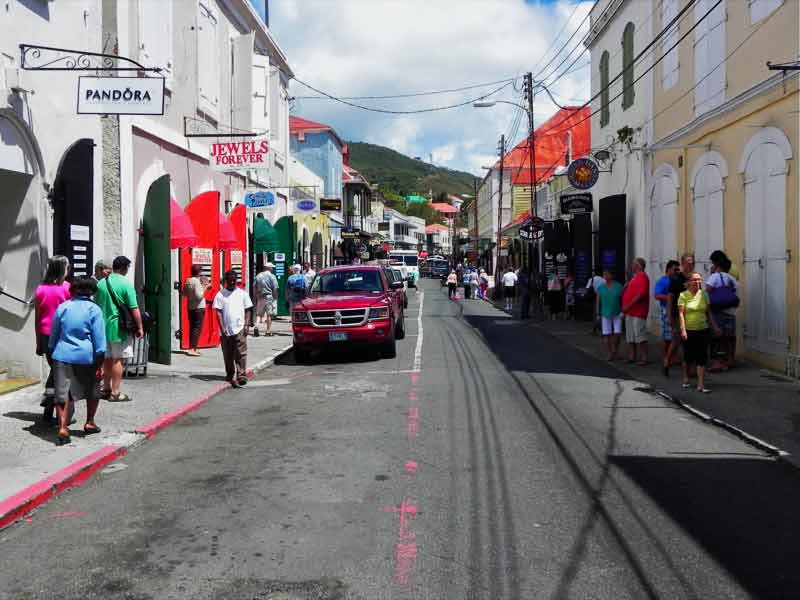 Main Street in Charlotte Amalie
Photo © IQCruising.com
Cruise Tip: It's a 20-minute walk from the Havensight Cruise Port. It's quite a stretch from the Crown Bay Port.
What:

Main shopping street in St Thomas

Where:

Charlotte Amalie

Get There:

US$ 5.00 taxi from any of the cruise terminals; within walking distance from the tender pier if anchoring.
2. Magens Bay Beach
The soft, white sands of the most popular bay in St. Thomas, just 3 miles north of the capital, is popular with both residents and cruise ship passengers. Although it is 1 mile long it can get very crowded. The beach is part of a public park and there is an entrance fee - US$5 per person - to maintain safety and amenities. The calm waters are not the best for snorkeling but swimming is a delight. Changing facilities, lounge and beach chairs, paddle-boats, floats and kayaks are available at the water sports booth.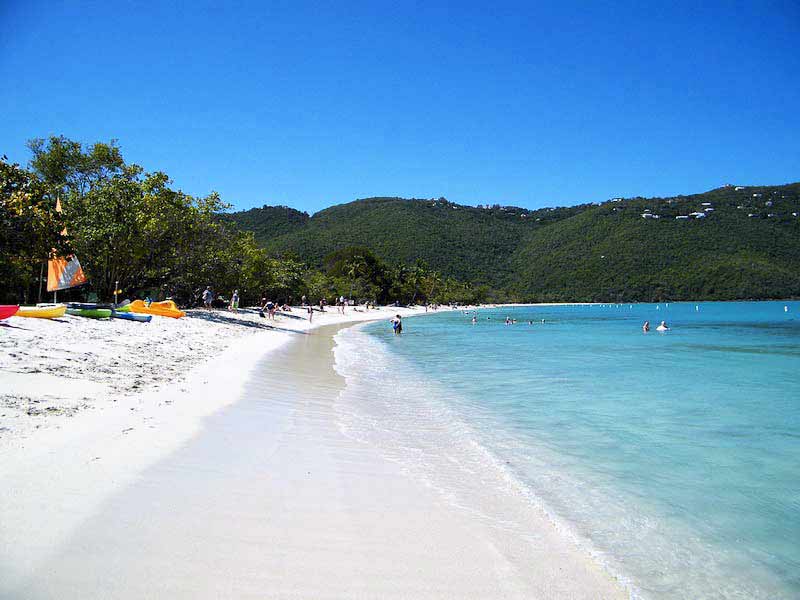 Magens Beach
Photo by Coolcaesar Creative Commons
There is also a bar and restaurant with light meals, quick bites, snacks and drinks; a gift shop and a hair braiding stand. If you renting a car be prepared to pay a fee for parking and don't leave anything of value inside.
Cruise Tip: Many shore excursions include a stop in Magens Bay in the morning - savvy cruisers prefer the beach in the afternoon.
Where:

North Coast

Hours:

6AM to 6PM

Get There:

Taxi costs around US$ 12.00 per person from any of the cruise terminals.

Price:

Day pass costs US$ $5.00 per adult (age 12 and older); under 12 admission is free

Amenities:

Parking, restaurants, beach bars, water-sports, hiking trail, and restrooms.

Website:
3. Coral World Ocean Park
Set on a five acre park Coral World features exotic aquariums, outdoor pools and nature trails. Cruise ship passengers can enjoy seeing life on a coral reef from the unique Underwater Observation Tower, pet a shark, hand feed a stingray, wild iguanas and tropical birds and much more.
Coral World
photo by management
Other programs include Snuba Diving, Sea Trek Helmet Dive, Nautilus Semi-Submarine, Sea Lion swimming and Stingray Lagoon.
Cruise Tip: admission doesn't include Sea Lion Swim, Sea Trek, Snuba, Submarine, Shark and Turtle Encounter. You can book directly and travel to the park on your own or book a cruise excursion.
Where:

East Coast - close to Coki Beach

Hours:

Open five days a week, 9 AM to 4 PM (closed on Friday and Saturday)

Get There:

Taxi costs around US$15 per person from either cruise terminal.

Price:

Admission to the park costs US$23.50 (adults) and $13 (children)

Amenities:

Gift shops, cafés, restaurants, showers, and locker facilities.

Phone:

(340) 775-1555 ext. 233

Website:
4. St. Thomas Synagogue in Charlotte Amalie
The Synagogue, built in 1833, is one of oldest in America and the fourth built on the site to house a congregation founded in 1796 by Sephardi Jews. Declared a National Historic Landmark in 1997 it has very interesting features. The benches, the ark and the bimah all made of mahogany; the 11th century menorah; and, above all, the very unusual sand floor are features not to be missed when visiting this historical synagogue.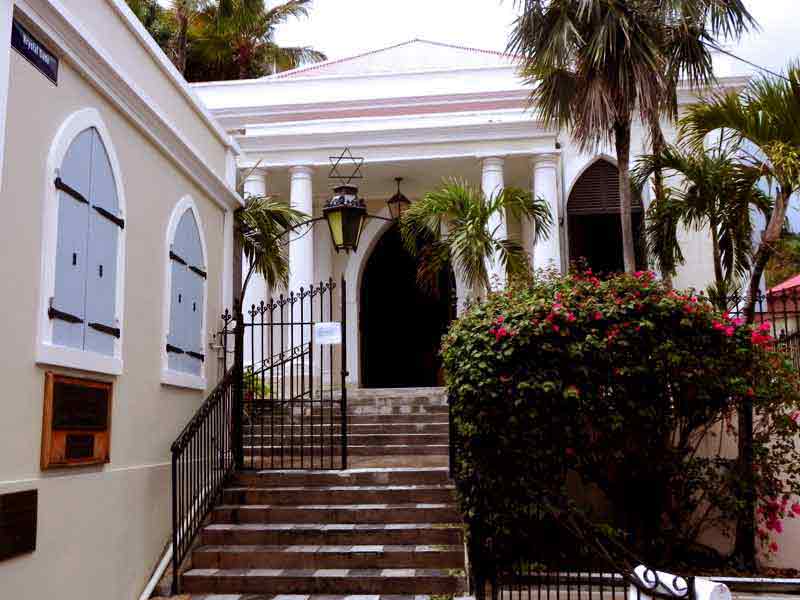 Synagogue Exterior
Photo © IQCruising.com
It is the second oldest synagogue in the western hemisphere. The synagogue's official name is Congregation Beracha Veshalom Vegmiluth Hasadim.
Cruise Tip: The Hebrew Congregation of St. Thomas organizes tours of the historic synagogue by advanced appointment only. Both visits and tours are free but donations are encouraged.
Where:

Charlotte Amalie

Address:

2116 Crystal Grade

Hours:

Open 9:30AM to 4PM | Closed on Saturday and Sunday

Get There:

Two blocks north of the main street in Charlotte Amalie, 5-minute walk.

Phone:

+1 340-774-4312

Website:
5. Tree Limin Extreme Zipline
Ziplinning in St. Thomas is one of the most amazing adventures in the Caribbean that the cruise ship passenger should experience.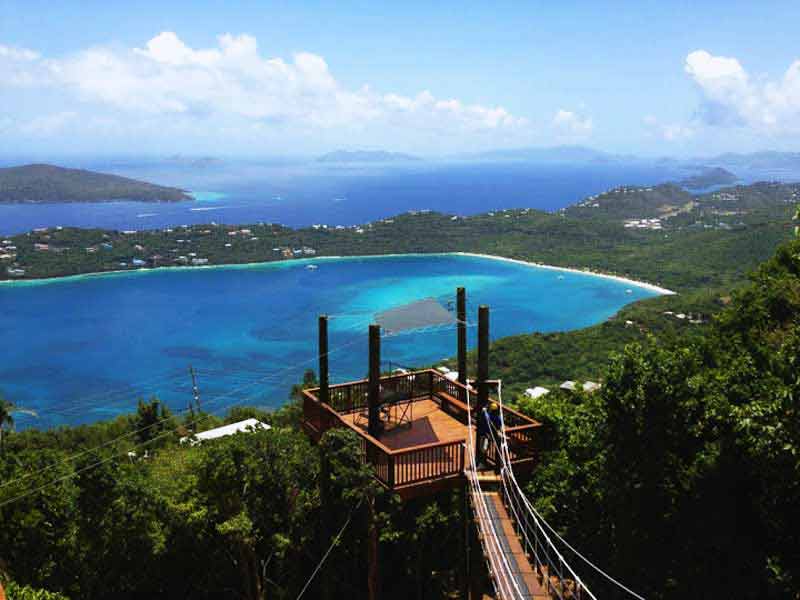 Zip-line Scenery
Photo by management
The 2.5-hour canopy tour features eight platforms, two sky-walks and 6 exhilarating zip-lines (including the Yo-Yo) careening down the mountain with fantastic views.
Where:

North Coast, overlooking Magens Bay

Hours:

Tuesday through Saturday 9 AM to 5 PM, closed Sunday and Monday

Get There:

Taxi costs around US$15 per person from either cruise terminal.

Price:

Adult: $109 | Youth (ages 12 and under): $99.00

Phone:

+1 340-777-9477

Website:
6. Mountain Top
On the highest point in St. Thomas (1,547 feet), overlooking the famous Magens Bay, the cruise ship traveler can enjoy from the observation deck one of the most fabulous views of islands and of 20 other islands and cays.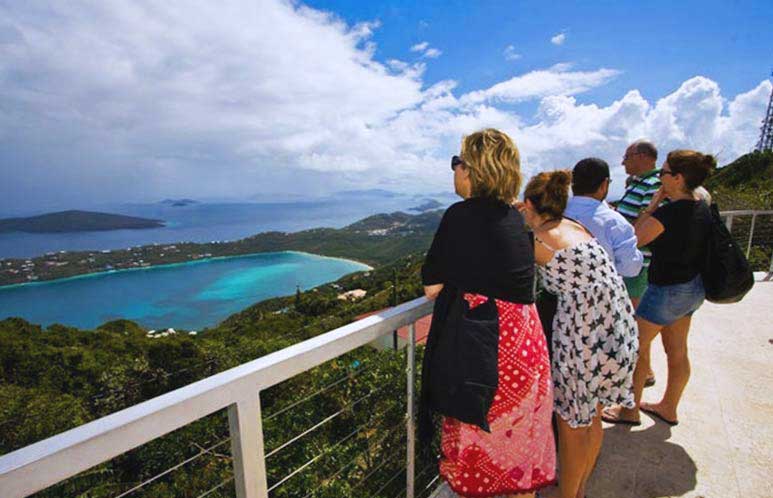 Mountain Top Vistas
Photo by management
The place where Banana Daiquiri was invented is next to the St. Peter Great House and Botanical Garden with a wonderful Nature Trail.
Cruise Tip: Most sightseeing tours include a stop at the Mountain Top.
Where:

North Coast, close to Magens Bay

Address:

St. Peter Mountain Road

Get There:

Taxi costs around US$15 per person from either cruise terminal.

Hours:

Everyday from 9 AM to 5 PM

Price:

Free

Phone:

+1 340-774-2400

Website:
7. Paradise Point
From the paradise point, the cruise traveler will have one of the best views of St. Thomas and Charlotte Amalie Bay. To get to Paradise Point there is a Skyride aerial tramway, which carries 24 passengers in 6 cabins to 700 ft. above sea level. The Skyride to Paradise Point runs every seven minutes. The ground entrance of the Skyride is within walking distance of the Havensight Dock (a 5-minute walk).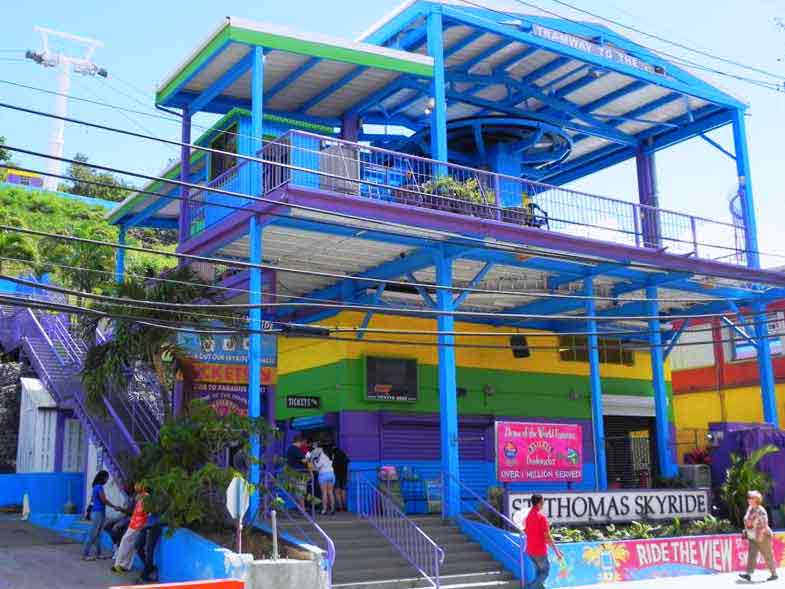 Skyline to Paradise Point
Photo © IQCruising.com
Alternatively, you can get a taxi ride for $10.00 per person if you only wish to see the views from the top.
Where:

Close to Havensight Dock

Hours:

Everyday from 9 AM to 8 PM

Price:

Adult: $24.95 | Children (under ages 12): $16.95 | Under 5 years old ride free.

Amenities:

Restaurant & Bar, gift shop, viewing decks, free Wi-Fi.

Phone:

+1 340-774-9809

Website:
8. Fort Christian
The oldest standing structure in the U.S. Virgin Islands (dates back to 1672), this fort was under renovation for a few years, reopening just before the pandemic hit. It is now one of the most interesting historical museums and landmarks to visit in St Thomas. The fort is named after the Danish King Christian V, who was the King at the time of its construction.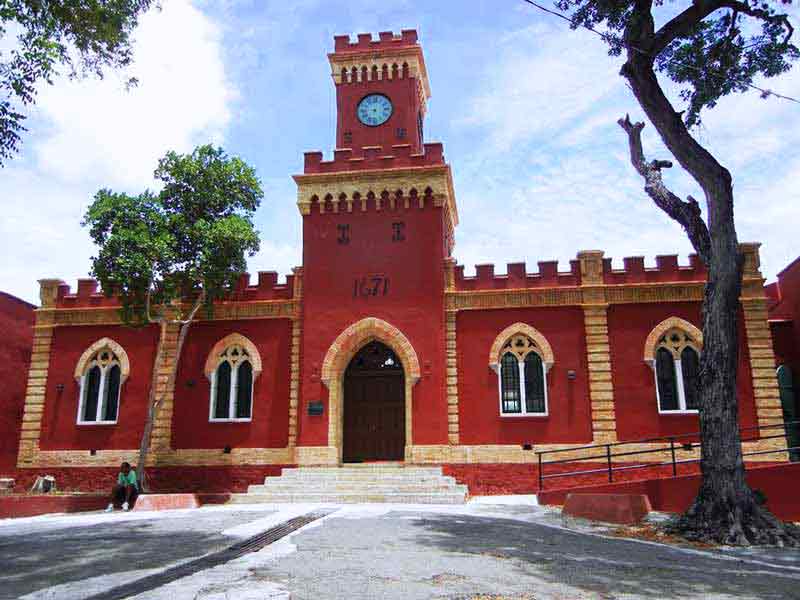 Fort Christian - Charlotte Amalie
Photo Courtesy of Jason Walden
Fort Christian has been a town center, a government building, a jail (until 1983), and more recently became a museum. This Danish-built fortress is a stunning example of Dutch-Caribbean architecture and was designated a U.S. National Historic Landmark in 1977. When docked in the Havensight Dock, the cruise traveler will pass by the fort on the way to Charlotte Amalie.
Where:

Close to the Emancipation Park in Charlotte Amalie

Hours:

Monday to Friday from 9 AM to 3 PM | Closed Saturday and Sunday

Price:

Adult: US$10, self-guide tour

Phone:

+1 340-714-3678

Website:
9. Frederick Evangelical Church
This Lutheran Church is the oldest in St. Thomas (established in 1666) and a must-see when exploring Charlotte Amalie's historical landmarks. Look out for the staircase and the mahogany altar inside.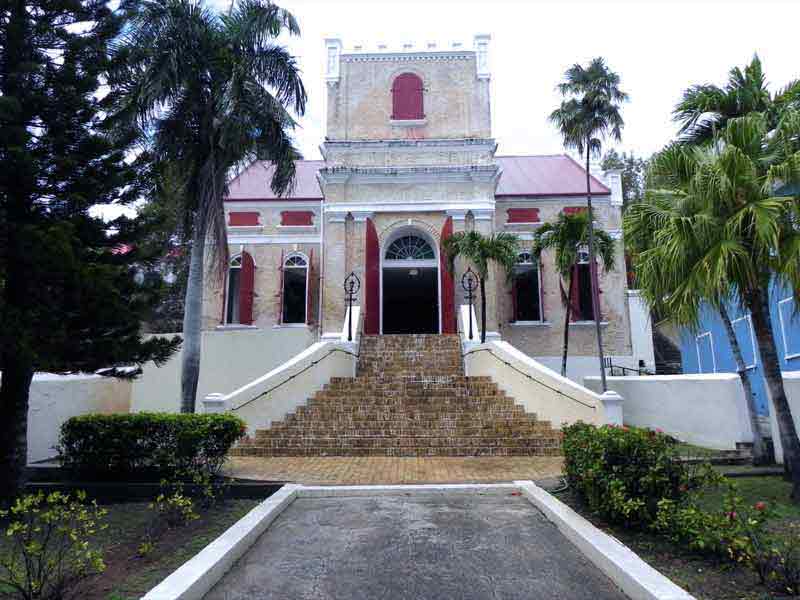 Frederick Evangelical Church
Photo © IQCruising.com
The Frederick Evangelical Church is one the landmarks in Charlotte Amalie that has been fully restored after Hurricane Irma (2017).
Where:

Charlotte Amalie, next to the Emancipation Garden

Hours:

Everyday from 8:30 AM to 5 PM

Address:

7 Norre Gade

Get There:

US$ 5 taxi ride to Charlotte Amalie from any of the cruise terminals

Price:

Free

Phone:

+1 340-776-1315

Website:
Cruise travelers interested in exploring historical landmarks should be aware that sites like the Blackbeard's Castle, the Haagensen House, the Villa Notman and the Hotel 1829 are still closed since 2017.
Closed Attractions Under Recovery
The following attractions in St Thomas are not yet open. A Google search will tell you that these sites are "permanently closed". The last time we visited these sites reconstruction works were underway, but there isn't a foreseeable date for re-opening.
Butterfly Farm
The Butterfly Farm has been closed since 2017. Ideally located next to the Havensight cruise port, it was a site to discover the life cycle of butterflies in a lush tropical garden.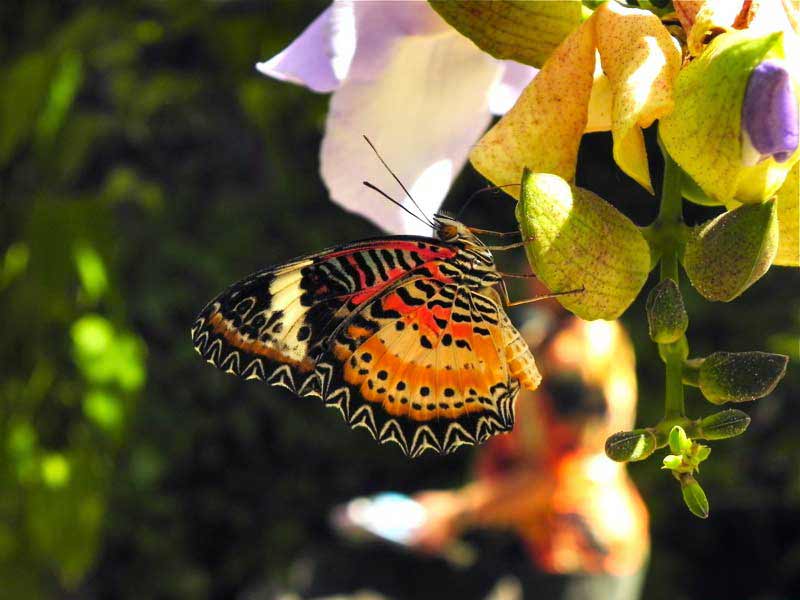 Butterfly Farm
Photo © IQCruising.com
The Butterfly Farm may never be restored. But, if it opens, do not miss it. The good news is that we saw reconstruction works on the site the last time we visited St Thomas in May 2022.
Mahogany Run Golf Course
The Mahogany Run Golf Course and The Grille closed due to the devastation of Hurricane Irma in 2017.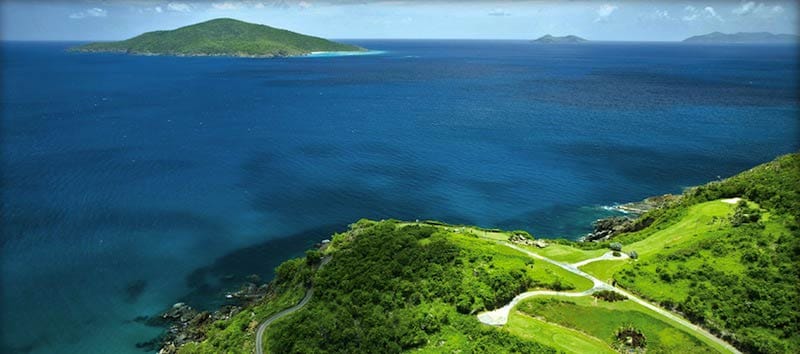 Mahogany Run Golf
Photo by Management
Designed by George and Tom Fazio with 18 holes on a 6,022-yard, par-70 course, it used to be the only place to play golf in St. Thomas. There have been rumors of a potential sale and re-opening, but nothing is set in stone.