Overview for cruise passengers to St Thomas (Charlotte Amalie): discover where ships dock, top things to do, beaches, attractions, shopping, landmarks and basic info.
St Thomas is one of the most visited islands in the Caribbean and the most popular of the U.S. Virgin Islands Cruise Ports. Located in the Northeastern area of the Caribbean Sea, St. Thomas is part of the Leeward Islands enjoying both a wonderful and reliable weather in the winter months.
St Thomas and the 2017 Hurricane Season
But as all cruise travelers are aware, St Thomas can also be hit by devastating hurricanes. It should be noted that due to the devastation of both Hurricanes Irma and Maria in 2017, a few top attractions have not been fully restored but most are open. Other attractions are not back to their former glory but in good enough state to be fully enjoyed
Although most written reviews have been updated the photographs below and in all other pages where taken before the 2017 Hurricane Season. Sites that are sill under recovery and not open are clearly marked as TEMPORARY CLOSED.

Photo by Matt Wade CC-by SA
Where and What
St Thomas is a small island with 32 square miles (about the same size as Manhattan - 33.77 square miles). One of the nicest aspects of calling on a cruise to this island is that St. Thomas is both safe and very easy to explore.
Cruise ships offer excellent tours to most of St. Thomas attractions and highlights but if you wish to explore the island on your own the taxi services are very good alternatives. Taxis are fairly priced and can literally take the cruise ship traveler to all highlights, beaches, main sites and attractions of St Thomas.
► Explore: Top Highlights in St. Thomas
Reviews of Charlotte Amalie, Magens Bay Beach, Coral World, St. Thomas Synagogue, Mountain Top, Zip-line, Paradise Point, Butterfly Farm and more ...
Learn More ►
Where Cruise Ships Dock
Being one of the most popular ports in the Caribbean with more than 1.5 million visitors per year, St. Thomas has two cruise ship harbors. The Havensight Cruise Ship Dock with 3 docking spots is located East of Charlotte Amalie and within walking distance (around 20 minutes or $5.00 USD per person by Taxi) - Learn more about the Havensight Dock and Terminal.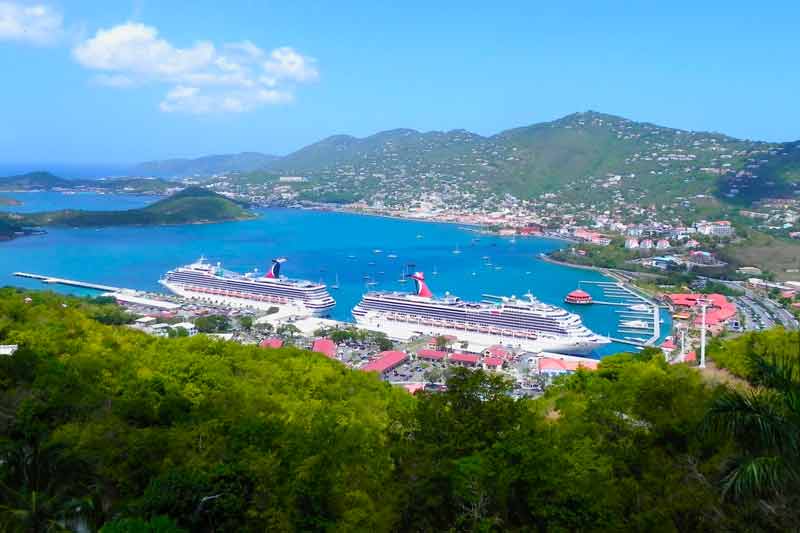 Cruise Ships in the Havensight Dock - St Thomas
Photo © IQCruising.com
The Crown Bay Cruise Ship Dock with 2 docking spots is located 2 miles West of Charlotte Amalie and the walk is not particularly pleasant (taxi fare to downtown is around $5.00 USD per person) - Learn more about Crown Bay Dock and Terminal
.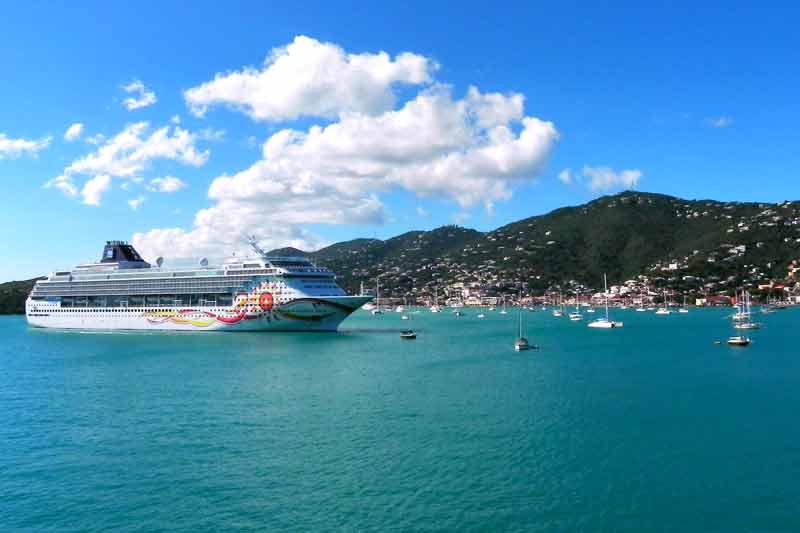 Anchoring - Charlotte Amalie Bay
Photo © IQCruising.com
It doesn't happen often but sometimes cruise ships have to anchor in the bay right in front of Charlotte Amalie and cruise travelers will be transfered to town on a tender boat - Discover where the tender boat moors in Charlotte Amalie. Wherever your cruise ship docks in St Thomas it will always be very easy to travel around by taxi.
Best Beaches in St Thomas
St. Thomas is known for its sugar-white sand beaches - Magens Bay is rated amongst the top 10 in the World - although sometimes these can get a bit crowded when there are 5 to 6 ships in port. However, there are so many beaches to explore that you will surely find a nice spot to enjoy the spectacular Caribbean Sea with its crystal clear turquoise waters.
► Explore: Top 12 Beaches in St. Thomas
Discover beaches like Bluebeard's Beach, Bolongo Bay, Brewer's Beach, Coki Beach, Lindberg Beach, Morningstar Beach and more ...
Learn More ►
Duty-Free Shopping in St Thomas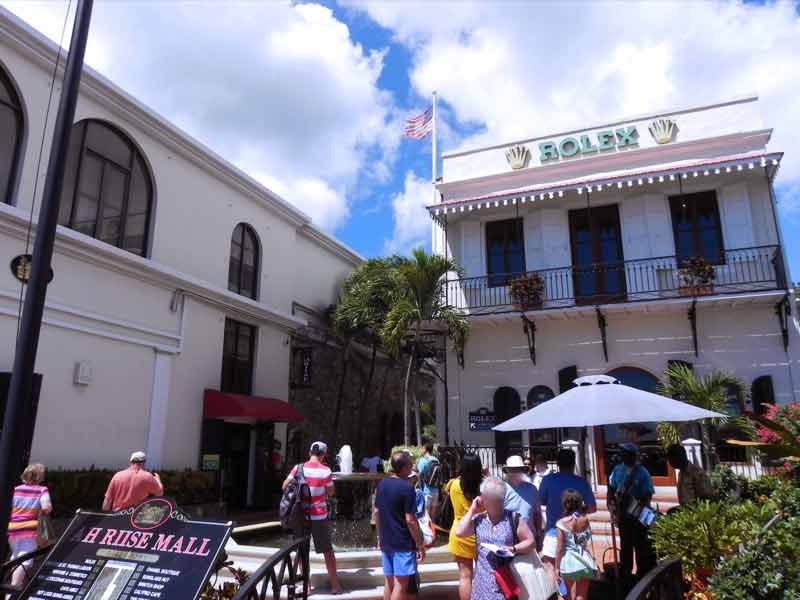 Shops - Charlotte Amalie
Photo © IQCruising.com
St. Thomas is also praised amongst savvy cruisers as a Shopper's Paradise and it is guaranteed that before arriving in port you will have on-board your cruise ship 'shopping guides' marketing selected stores - the likes of Diamonds International, Effy, Tanzanite and so on. The on-board guide will be offering all sorts of bargains, coupons, deals, and promotions. However, besides the stores promoted by the on-board shopping guide, there are many other shops that the cruise traveler should look into.
► Explore: Best Shops and Shopping
A.H.Riise Mall, Hibiscus Alley, Breitling, Cartier, H.Stern, Tiffany & Co., Coach, Louis Vuitton and more ...
Learn More ►
Lunch or a Quick Bite in St Thomas
If the cruise ship traveler chooses to explore Charlotte Amalie, the capital of St. Thomas, where most shops are located and where you will find some very interesting landmarks, you should contemplate having lunch or a quick bite downtown, where there are quite a few nice places to eat.
► Explore: Lunch, Restaurants and Quick Bites
Reviews of Amalia Café, Café Amici, Gladys' Cafe, Green House, Barefoot Buddha, Senor Frogs, Fat Turtle and more ...
Learn More ►
Historical Landmarks in Charlotte Amalie
Most the historical landmarks in St. Thomas are located in Charlotte Amalie and there is an interesting itinerary that will take you to all of these, including the famous Blackbeard's Castle, the 99 steps and Fort Christian amongst 20 other landmarks. But if you do not have the time, the energy or the interest to see all of these, you should at least visit the Synagogue with its unusual sand floor.
The famous 99 steps in Charlotte Amalie
Photo © IQCruising.com
► Explore: Top Landmarks in St. Thomas
Reviews of Fort Christian, Blackbeard's Castle, Haagensen House, Villa Notman, Hotel 1829, Historical Museum, Pissaro's Building and more ...
Learn More ►
Active Pursuits
For those interested in more active pleasures Ziplinning in St. Thomas is a must. Although the Zip Line is currently closed it is advisable to check the Zip-line Facebook Page for updates as it is scheduled to open at any time soon. The Coral World Ocean Park is open and offers exotic aquatic adventures.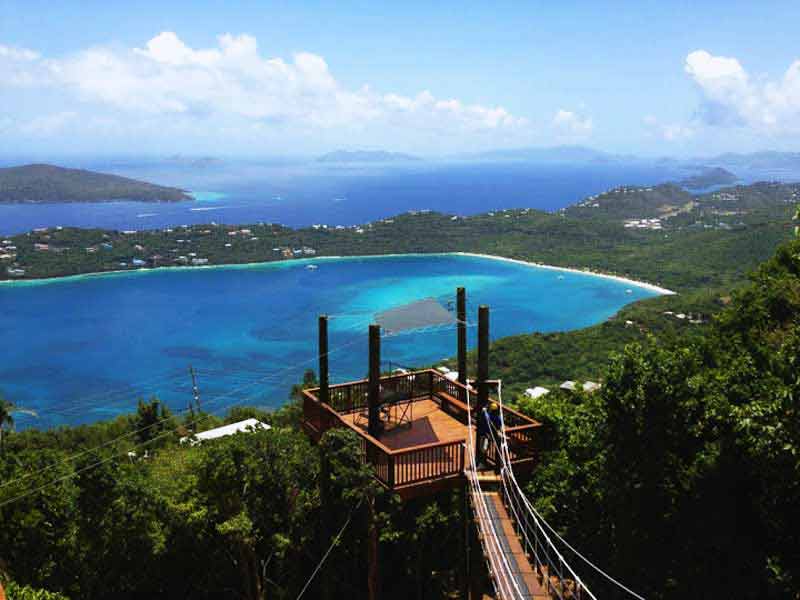 The Zip Line is due to open soon
Photo Courtesy of Zip Line St Thomas
A sightseeing tour of the island will take you to the Mountain Top, Drakes Seat or the Paradise Point where you will enjoy astonishing sceneries. The latter is easy to explore on your own if docked at Havensight Cruise Ship Dock. For those that prefer to explore off-the-beaten-track sites or that have been in St. Thomas before, an excursion to the pristine beauty and quaint charm of St. John should be in your plans.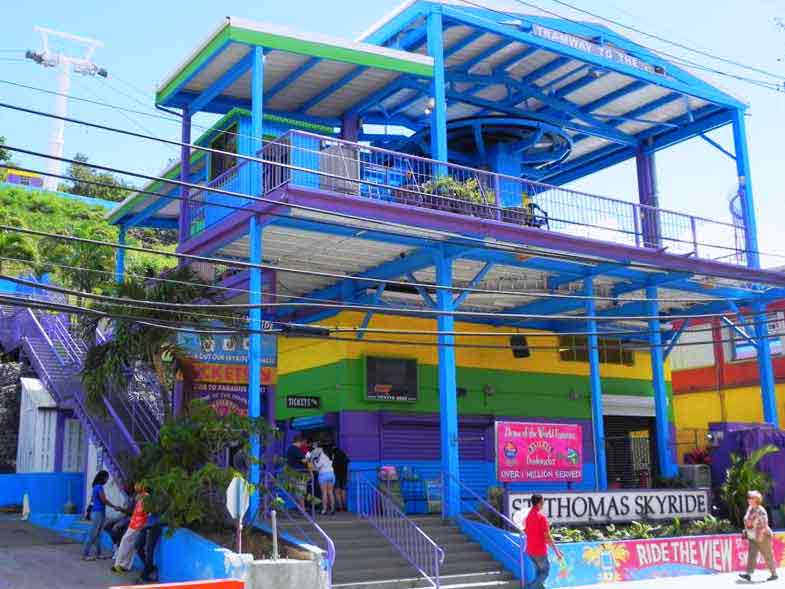 The Skyline to Paradise Point
Photo © IQCruising.com
► Explore: Top 10 Excursions and Tours in St. Thomas
Reviews of the best excursions in St. Thomas with different Cruise Line Price Comparison.
Learn More ►
St Thomas Basics
| | |
| --- | --- |
| Language: | English is the official language. |
| Currency: | The US$ dollar is the official currency and legal tender. |
| Phones: | Area Code: 340. Most US phones may work but is advisable to check with your provider to avoid roaming charges. |
| Entry Requirements: | Passport NOT is required for U.S. citizens with valid photo ID such as a driver's license. Non-U. S. visitors are required a valid passport. |
| Electricity: | Standard American 120 V current. |
| Rent-a-Car: | Avis and Budget by the Havensight Mall. Thrifty and Dollar at the Airport. |
| Driving: | Driving is on the left. |
| Emergencies: | Dial 911 |
| Drinking: | Legal drinking age is 18 years. |
| Smoking: | Smoking is prohibited in restaurants and public buildings. Bars may allow smoking outdoors. |
| ATM's: | On the main street in Charlotte Amalie and at both cruise terminals. |