Most interesting facts, geographic data, and history of St Thomas for cruise visitors: timeline, personalities, trivial curiosities, demographics, ethnicity and religion.
St Thomas is an island with an unusual rich history. Of course that this could be said about many, if not most, Caribbean Islands. However, in St Thomas the cultural and historical diversity is still very vivid in well preserved landmarks.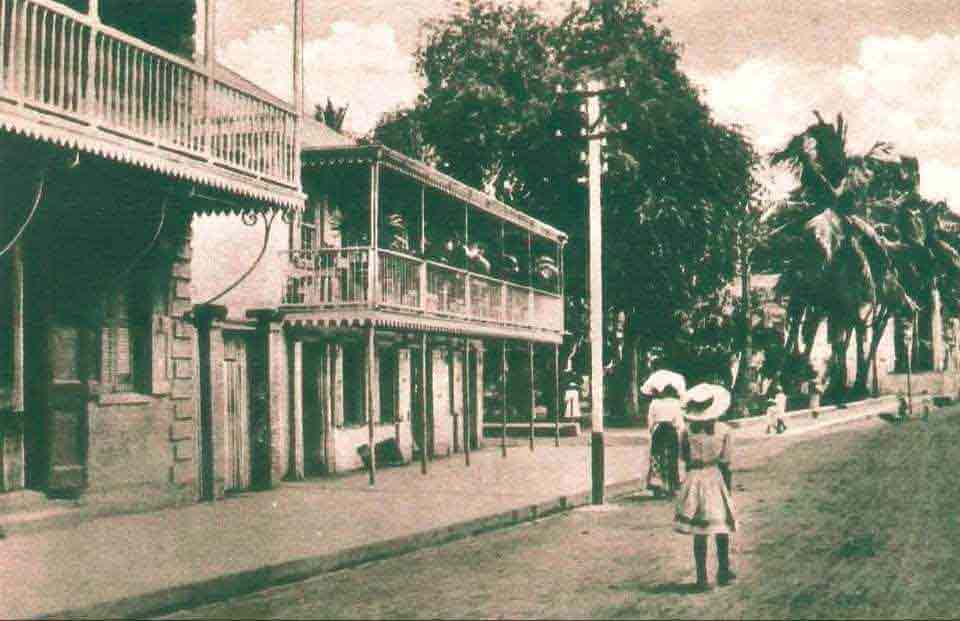 Street in Charlotte Amalie
Public Domain
St Thomas - Time Line
Circa 1500 BC - Ciboney settle in the island.
100 AD - Arawaks established sites in St. Thomas.
1200 AD - Taíno and Caribs arrive in St. Thomas.
1493 - Christopher Columbus sighted the island on his second voyage.
1657 - Danish West India Company established a post in Saint Thomas.
1666 - Danish conquered the island.
1672 - Beginning of the construction of Fort Christian.
1675 - Establishment of four pubs (Taphus in Danish) near the water's edge.
1679 - Building of Blackbeard's Castle.
1680 - Population: 156 whites and 175 blacks.
1680's - Large importation of slaves from Africa.
1685 - Brandenburgisch-Africanische Compagnie controls slave trade.
1691 - Taphus was renamed Charlotte Amalie.
1754 - Capital was moved to Christiansted in Saint Croix.
1732 - Charlotte Amalie was declared a free port.
1796 - Small Jewish community developed in Charlotte Amalie.
1801 - First British invasion and occupation.
1802 - British returned the islands to Denmark.
1807 - Second British invasion of the Danish West Indies.
1815 - Britain returned the islands to Denmark.
1848 - Slavery is abolished.
1860s - United States considered buying the island for $7.5 million.
1917 - St. Thomas is purchased by the United States for $25 million (around $540 million in 2015 dollars).
1927 - U.S. citizenship was granted to the residents.
1931 - U.S. Department of the Interior took over administrative duties.
1936 - Universal voting suffrage.
1954 - Organic Act officially granted territorial status to the three islands.
1970 - The U.S. Virgin Islands elected its first governor, a local senate and a delegate to congress.
1989 - Hurricane Hugo struck the islands.
1993 - Referendum to be a State or remain a Territory of the US only had 31.4% turnout (results were considered void).
1995 - Hurricane Marilyn hit the islands; killing eight people and causing over $2 billion in damage.

Personalities - Trivial Curiosities
Camille Pissaro - Born on 10 July 1830, in a building on the Main Street of Charlotte Amalie, to Frederick (French national of Portuguese Jewish descent) and Rachel Manzano de Pissaro (native Creole). He became a leading figure in Impressionism and Post-Impressionism painting.
'Two Woman Chatting by the Sea' by Camille Pissaro
Public Domain
Blackbeard - Edward Teach (c.1680 — 22 November 1718), better known as Blackbeard, was one of the most famous English pirates. He could NOT have been the 'builder' of the castle that has his name as he only arrived in the West Indies 20 years later.
Bluebeard - Unlike Blackbeard, the equally famous Bluebeard never actually existed at all.
Charlotte Amalie - the main city and capital of the US Virgin Islands was named, in 1691, after Charlotte Amalie of Hesse-Kassel (1650–1714), queen consort to King Christian V of Denmark. The original name was Amalienborg (in English Charlotte Amalie).
Taphus - before it was renamed Charlotte Amalie, the capital of St. Thomas was known as Taphus (direct translation from Danish) or "beer houses", due to the many establishments selling this drink.
Virgin Islands - on his second voyage Columbus spotted a chain of islands calling them 'Las Once Mil Virgenes (11,000 virgins) in honor of Ursula, martyred by the Huns for refusing to marry a pagan prince.
Street Names - Many names of streets in Charlotte Amalie steel reflect the Danish past like Dronningens Gade, which translates to 'the queen's street'; or Lille Tarne Gade — Danish for Little Tower Street; Kongens Gade - Kings Street.