All you need to know about docking, anchoring, and tendering on a cruise to St Thomas, Charlotte Amalie, USVI: the docks and piers, tourist info, taxi fares, shopping, amenities, and basic services.
Many cruise travelers to St Thomas do not realize that there are two harbors in St Thomas both relatively close to Charlotte Amalie and that there is also a pier where tender-boats moor next to the main city of the Island.
Harbors, Docks and Piers
With 3 docking spots in the Havensight Cruise Ship Dock and another 2 docking spots in the Crown Bay Cruise Ship Dock, it happens quite frequently that cruise ships calling at St Thomas will have to anchor in the bay and tender passengers to a pier right by the waterfront in Charlotte Amalie (the main city and capital of St Thomas).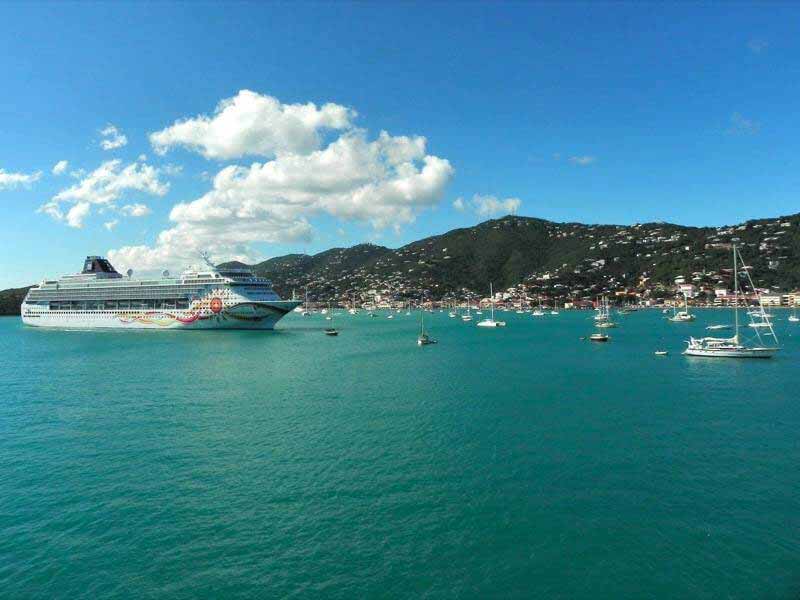 Anchoring in St Thomas
Photo © IQCruising.com
As much as the Editor would like to provide a list of what ships dock and where, and the ships that have to tender, the reality is that cruise lines cannot guarantee a specific docking spot, with the exception of Mega-Ships like the Royal Caribbean Oasis class, which dock at Crown Bay. Learn More about the Crown Bay Dock.
All other ships will only be assigned a docking harbor on the morning of arrival. There is a tendency to believe that Royal Caribbean and Celebrity cruise lines dock exclusively at Crown Bay but the Editor has been on ships of these cruise lines docked in Havensight. Learn More about the Havensight Dock
Tender to Charlotte Amalie
Although some cruise ship travelers find tendering a bit of an inconvenience, a tender boat can be a pleasant and easy way to get to town if you are planning to explore Charlotte Amalie. After all, you will not need to spend time and money to get to the city.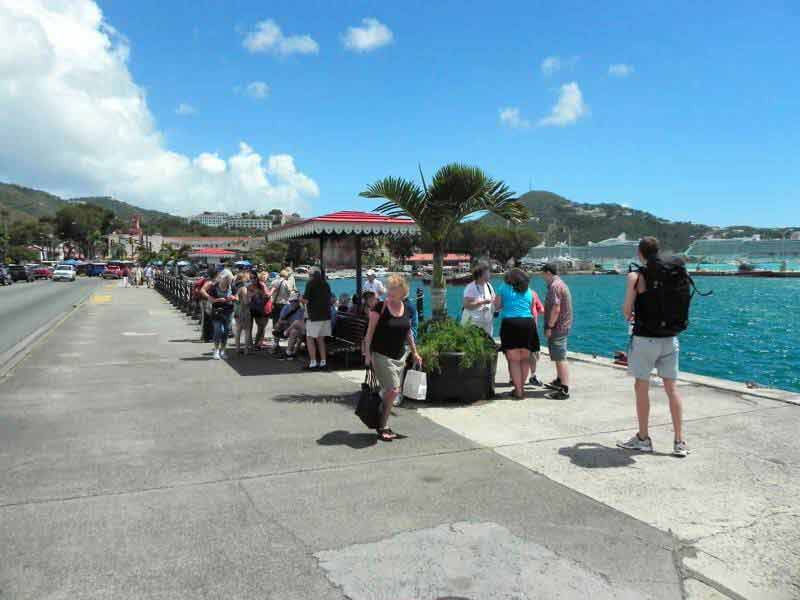 Tendering - Charlotte Amalie
Photo © IQCruising.com
The tender pier is located right on the Waterfront - officially named Veterans Drive - and right across the street is the heart of Charlotte Amalie. If the cruise ship passenger is booked on a ship excursion there will be staff guiding you to tour buses parked close by.
Waterfront in Charlotte Amalie
Photo © IQCruising.com
Tourist Information
If you need information or maps walk no more than 100 yards (more or less 100 meters) to the east side of the waterfront (to your right) where there is a tourist information kiosk by the entrance of the A.H. Riise Mall.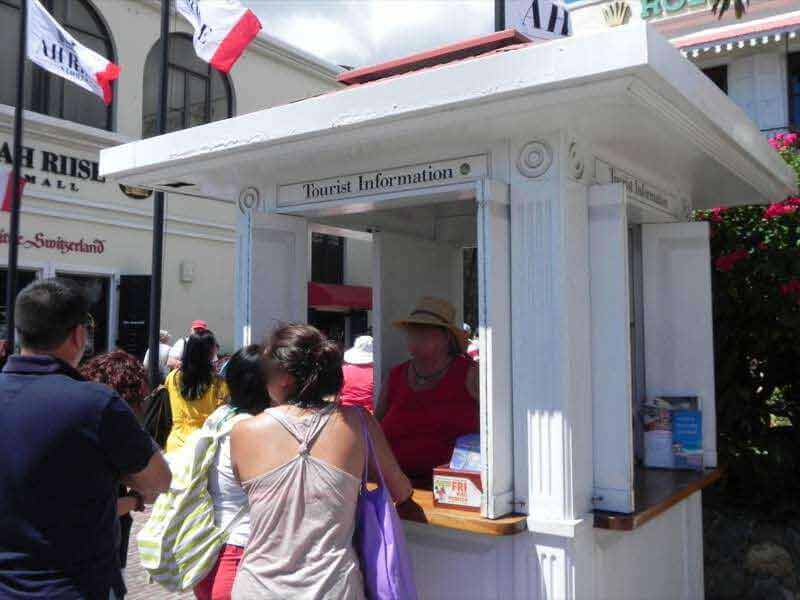 Tourist Information Kiosk in Charlotte Amalie
Photo © IQCruising.com
Taxi Fares from Charlotte Amalie
To get a taxi to any of the major attractions of St Thomas or to spend the day on a beach, just across the street (Waterfront) and you will have taxis announcing departures to all major sites and offering all sorts of 'day-sightseeing-tours'.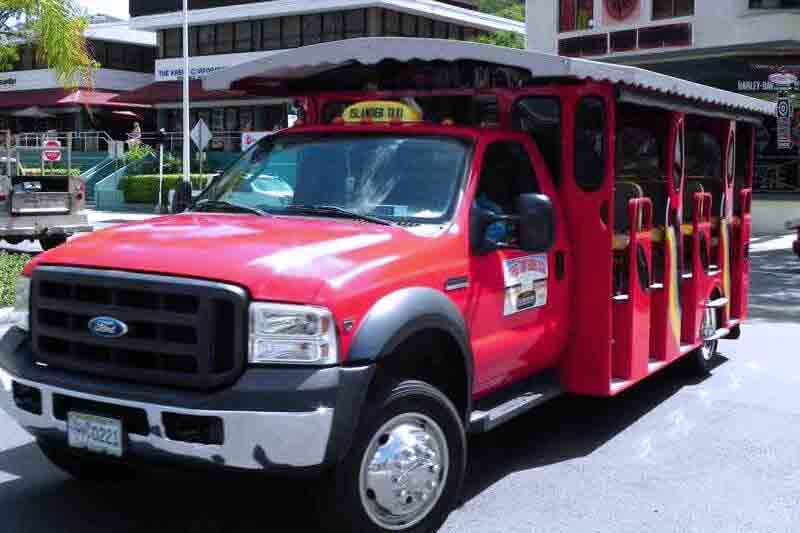 Taxi in St Thomas
Photo © IQCruising.com
Taxi fares are clearly established and you shouldn't worry about being ripped off. Taxis are shared and the cruise ship passenger may have to wait a while to get these 'big' tropical taxis full with travel companions but that is part of the laid-back charm of the Caribbean.
Taxi Fares from Charlotte Amalie *
| Blackbeard's Castle | Magens Bay | Coki Beach | Cable Beach | Red Hook Ferry |
| --- | --- | --- | --- | --- |
| US$5 | US$10 | US$12 | US$15 | US$15 |
* Prices from Crown Bay and Havensight are very similar. Fares are person sharing a Taxi. Taxi fares may have been updated since last reviewed.
Shopping in Charlotte Amalie
Considering that Charlotte Amalie is a top 'shopping-paradise' in the Caribbean, many a cruise ship passenger want to see what this is all about. The overwhelming majority of the shops are on the Main Street (parallel to the Waterfront) and the Alleys in between these two thoroughfares.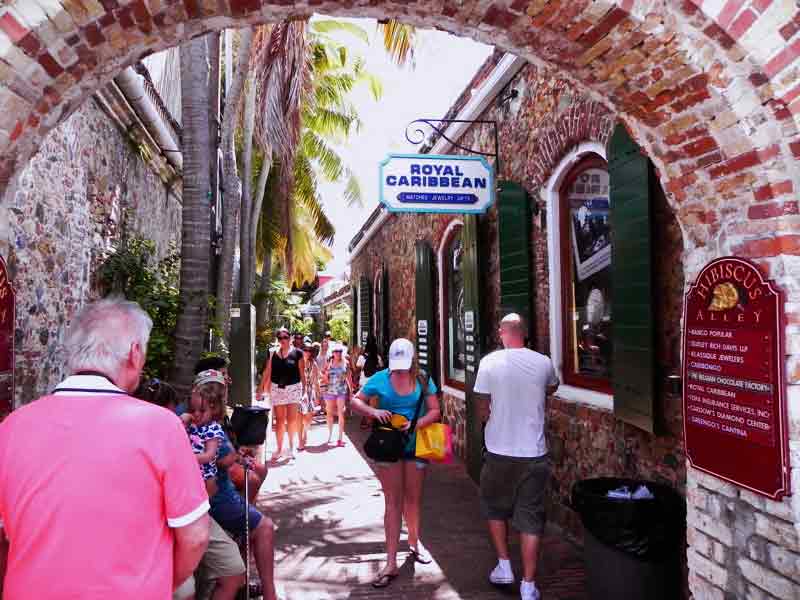 Hibiscus Alley in Charlotte Amalie
Photo © IQCruising.com
The cruise traveler may find it easier to explore the shopping area by starting at either the West or the East ends. If you need to check the Tourist Information Kiosk head to the right and enter the shopping area on the A.H. Riise Mall. Otherwise, walk West (left) and enter the Palm Passage to cross to the Main Street.
► Explore: Best Shops and Shopping in Charlotte Amalie
A.H.Riise Mall, Hibiscus Alley, Breitling, Cartier, H.Stern, Tiffany & Co., Coach, Louis Vuitton and more ...
Learn More ►
Amenities, Services and Basics
Because the tendering Pier is on the waterfront in Charlotte Amalie, most services and amenities are within walking distance in the city itself.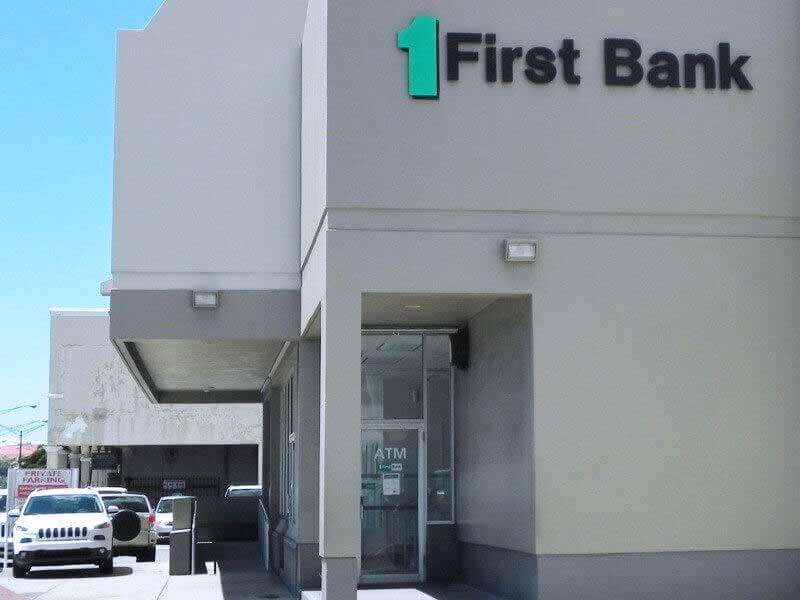 Bank with ATM in Charlotte Amalie
Photo © IQCruising.com
Banks with ATM's are just across the street - have in mind that US Dollar is the legal tender in the US Virgin Islands and that you will need cash for Taxis. There are public restrooms very close by the entrance of the A.H. Riise Mall, behind the Tourist Information kiosk.
Charlotte Amalie Basics
WHAT
WHERE
Charlotte Amalie
Tourist Information Booth
Yes
Post Office
Yes
Pharmacy
Yes
Shuttle
NO
Taxis
Yes
Rent-a-Car
NO
Banks and ATM Machines
Yes
Phones
No
Restrooms
Yes
Restaurants
Yes
Duty Free Shopping
The best Duty-Free shops in St Thomas