Essential travel guide for a cruise to Aruba (Oranjestad): find out where cruise ships dock, how to get around and explore on foot, the best in Oranjestad, shore excursions, and basics.
Aruba is one of the most popular destinations in the south Caribbean itineraries. And there are very good reasons why this island is love at first sight for most cruisers.
Oranjestad (the capital and cruise port of Aruba) is a very neat city, clean, very well kept and organized, which from the moment you step out of the cruise ship embraces you with a sense of relaxed safety.
The beaches of Aruba are famous, spectacular, and very easy to enjoy on your own. The Bus Terminal is right in front of the port exit, public buses are affordable, have stops next to the most popular beaches, and taxis are not the rip-off found in many other Caribbean ports.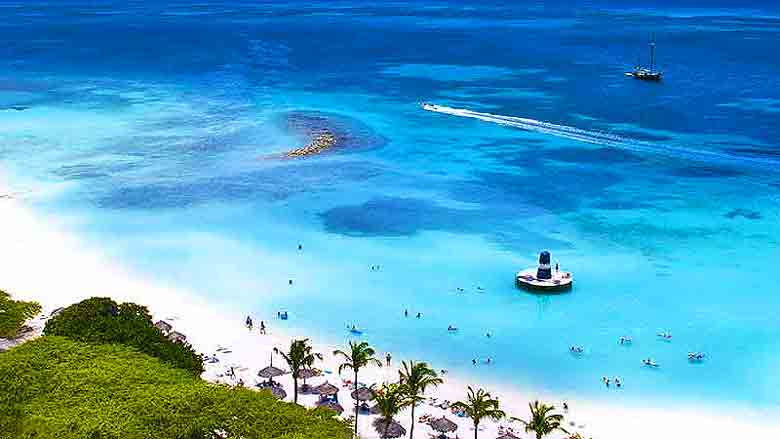 Palm Beach, Aruba
Photo: Public Domain
Where cruise ships dock in Aruba
The cruise ships dock in Aruba in piers that are next to the north end of Oranjestad downtown, the main city and capital of the Island (population around 35,000). There are four docking spots two of which with Terminal Buildings. Depending on how many ships are in port and where these are docked, the walk to the main street – Lloyd G. Smith Boulevard – may take anything between 5 and 10 minutes.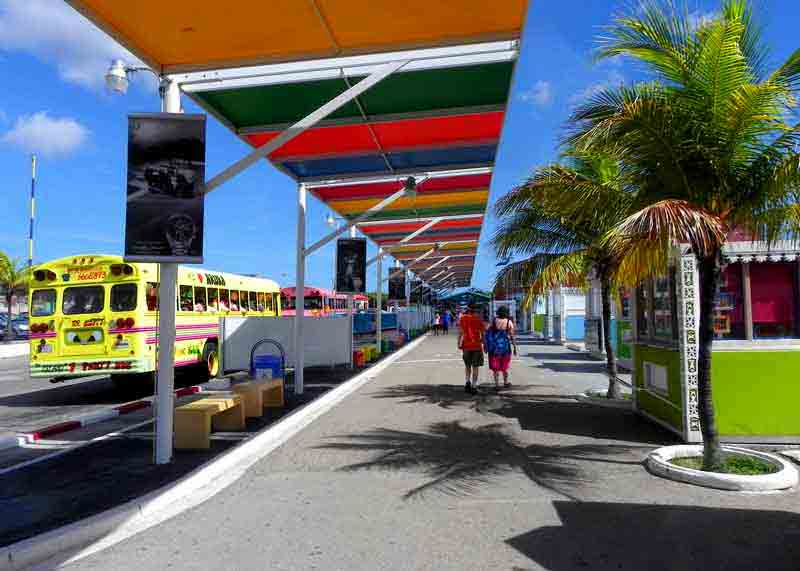 At The Pier, Aruba
Photo © IQCruising.com
How to get around
Right outside the cruise terminals or close to the gangways if your ship docks at one of the piers without a terminal building, you will find taxis with official rates. Taxis prices are quite reasonable.
Traveling around by Public Bus
As the cruise traveler reaches the exit gates of the port, the Bus Terminal is right in front – not only very conveniently located but with clear maps of the routes and bus fares to all major destinations (in particular the beaches).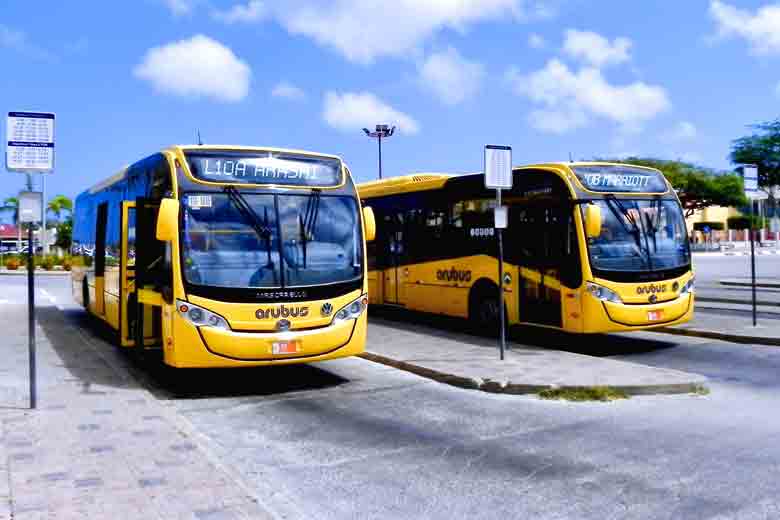 Bus Terminal, Aruba
Photo © IQCruising.com
What's within walking distance
If you are not into spending a day at the beach or attracted by water activities, Oranjestad is a lovely city (really a small town) to explore on your own. Just turn right once you exit the port gates and you are in the city. Many cruise passengers walk along the L.G. Smith Boulevard to the Renaissance Marketplace and then back thinking that there isn't more to see in Oranjestad.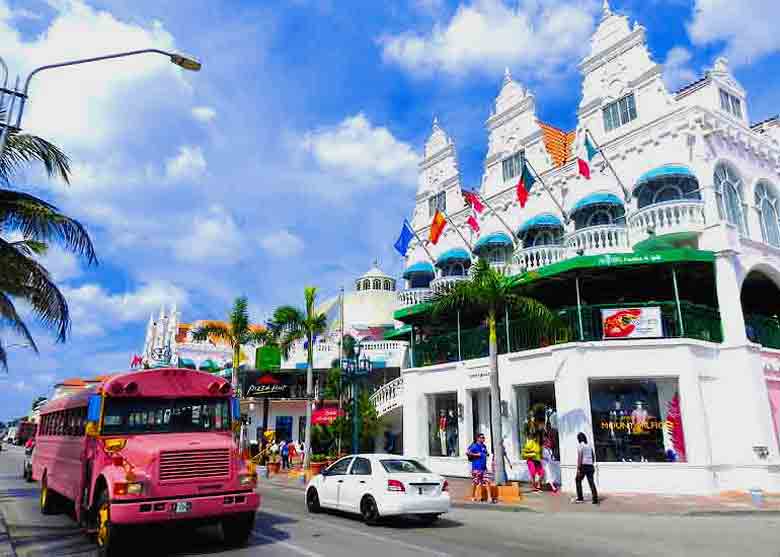 Royal Plaza, Aruba
Photo © IQCruising.com
The best of Oranjestad
Nice as this walk is with great high-end shopping and wonderful views of the bay and marina, you would be missing the best of the city. Havenstraat and Schelpstraat (followed by Main Street) are the main streets to explore. These run parallel to the L.G. Smith Boulevard and you just need to turn inland to find them.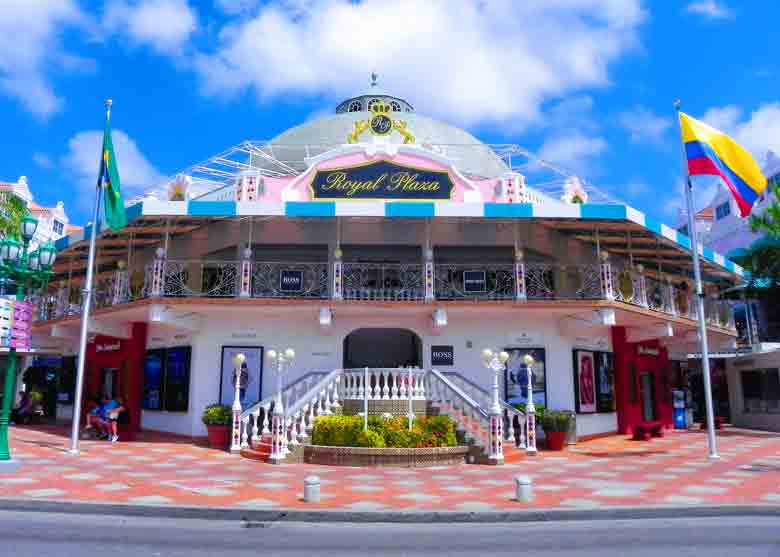 Royal Plaza, Aruba
Photo © IQCruising.com
Surely you will not miss any of these streets if you look out for the tram tracks or the tram itself which offers both transportation and sightseeing to Plaza Nicky and back.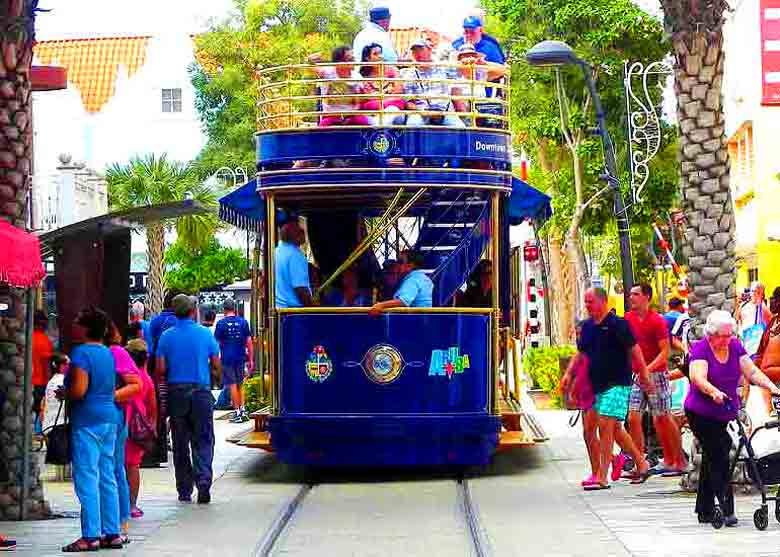 Street Car, Aruba
Photo © IQCruising.com
In between these major streets, or very close by, the cruise traveler will find most of the landmarks and highlights of Oranjestad: the Archaeological Museum of Aruba, the Protestant Church, the Fort Zoutman Historical Museum, the City Hall, the Renaissance Mall & Marketplace, shopping and more shopping (reputed to be one of the best in the Caribbean as far as tax and duty-free goes); and very nice restaurants to taste local delicacies.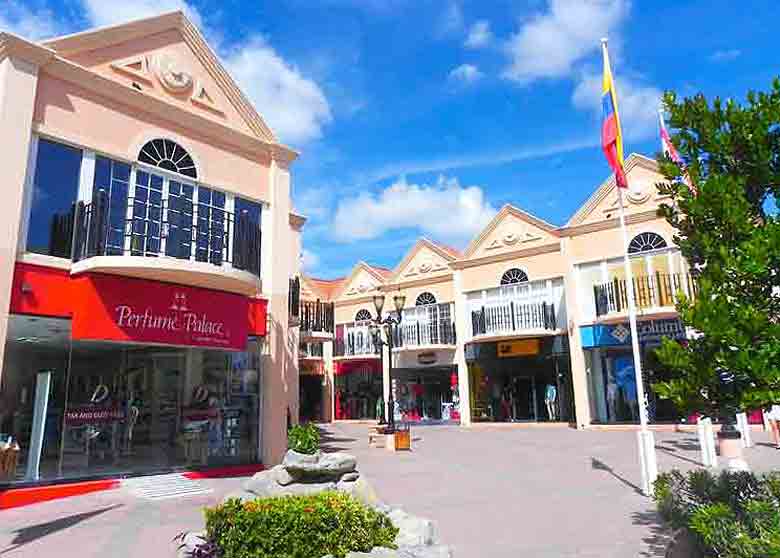 Square, Aruba
Photo © IQCruising.com
Insider's Tip: The Editor has always preferred to start the walk around town on the inland streets of Oranjestad, return to the port along the Lloyd G. Smith Boulevard and stop midway for a quick bite with a fabulous view of the marina – The Paddock has been a favorite for many years.
If you wonder why most savvy cruisers talk about Aruba as a top beach destination and why many get off the ship to go straight to the beach and bask in the sun, you should plan to spend (at least) a couple of hours at Eagle Beach.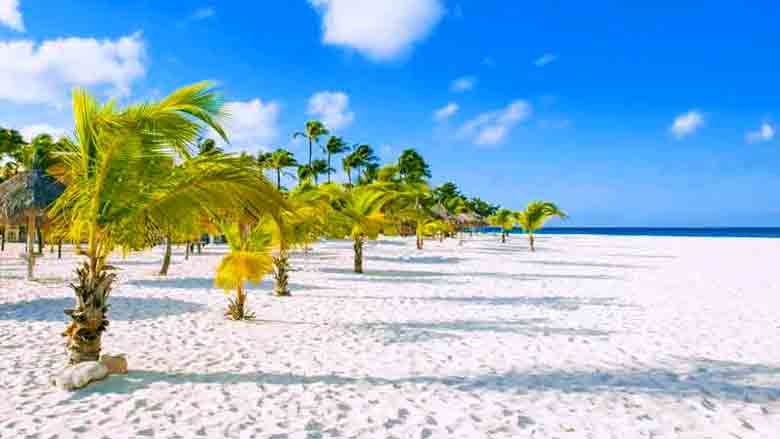 Eagle Beach, Aruba
Photo: Public Domain
Aruba shore excursions and tours
As much as it is very easy (and affordable) to explore Aruba on your, on foot around Oranjestadt, by public bus or taxi farther away attractions. Some sites are beter explored on a shore excursion. In partcular if you wish to discover scenic and cultural sites. Naturally, all cruise lines offer many and diverse shore excursions in Aruba. Celebrity Cruises offers as many 43 shore excursions and Royal Caribbean has 43 cruise excursions. Carnival lists 28 shore excursions. Norwegian Cruise Line (NCL) has available 24 shore excursions. Oceania Cruises organizes 13 shore excursions, Holland America offers 19 cruise excursions, and Princess has 26 excursions available.
Besides the cruise excursions organized by cruise lines, there are also shore excursions and tours offered by the following reputable private online services:
Good to Know: Tourist Info, Language and Currency
There is a Tourist Information Desk conveniently located at the Cruise Terminal, usually maned all day, where you can get maps and brochures.
Language
Although Dutch and Papiamento (a local dialect) are the official languages, English is widely spoken in Aruba.
Currency
Aruba's legal tender is the Florin (AWG). However, US$ dollars are widely accepted. Although you may read reviews stating that "change may come in local currency", in over 20 years visiting Aruba on cruise ships this never happened to any of IQCruising editors.
Safety, US travel advisory and basics
For comprehensive and updated information about traveling to Aruba see the U.S. Department of State website page evolving advisory.
Covid-19 advise for cruises to Aruba (Oranjestad)
For updated coronavirus (Covid-19) information and travel advice to Aruba and Oranjestad visit the website of the U.S. Consulate General in Curacao. For more Traveler's Health advice to Aruba see the CDC Website.
Aruba Cruise Port Basics
| | |
| --- | --- |
| Internet: | You will find free Wi-Fi available in the Renaissance Mall, and also in many cafes and bars around Oranjestad. T-Mobile offers unlimited data at up to 2G speeds at no extra cost. |
| Phone Code: | Country Code: 297. T-Mobile offers calls at 25 cents/min. and text at no cost. Other US phone providers may work but it is advisable to check with your provider to avoid roaming charges. |
| Electricity: | Standard American current, between 110 and 127 V. |
| Phone Emergencies: | Ambulance - 911. |
| Pharmacies: | There are several pharmacies located in Oranjestad open from Mondays through Saturdays from 7 am to 7 pm. |
| Hospital: | Dr. Horacio Oduber Hospital. Dr. Horacio E. Oduber Boulevard 1. Oranjestad. +297 527 4000. |