Basic guide to the highlights and landmarks of Nassau shore excursion (Shorex) for cruise passengers: overview, good to know, highlights, cruise line price comparison, how to book.
Nassau and Paradise Island have a good number of Historical and Interesting Landmarks that are worth visiting on a sightseeing tour of the Highlights of the port. One of the most popular tours offered by cruise lines and third-party excursions is titled 'Charm and Beauty'.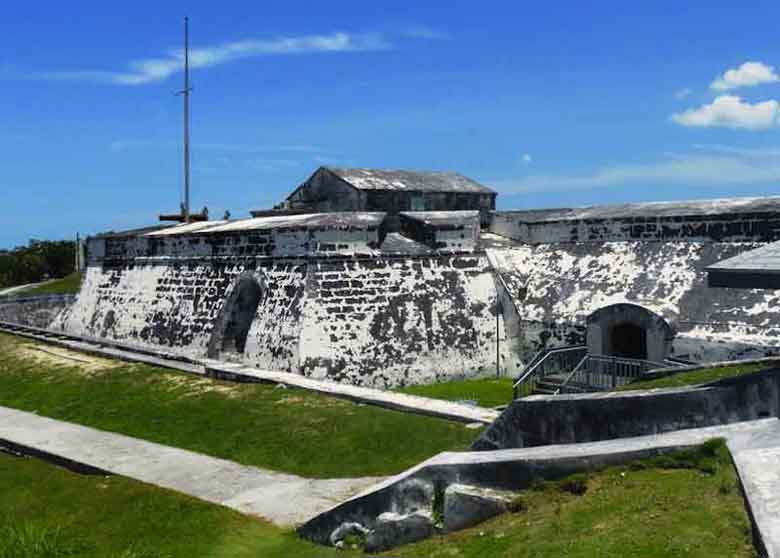 Photo Courtesy of Fort Charlotte Management
There are quite a few different possible itineraries visiting the Highlights of Nassau but all have stops to snap a photo or taste a local delicacy like rum or conch.
Major Highlights and Landmarks
All Cruise Lines offer sightseeing tours visiting Historical Landmarks and famed areas of Nassau, although these may have different names and slightly different characteristics. The excursion is mainly a sightseeing tour traveling around in the comfort of an air-conditioned bus. Carnival, Celebrity, Princess and Royal Caribbean entitle this tour 'Charm & Beauty of Nassau & Paradise Island'. Disney calls it 'Nassau Forts and Junkanoo Discovery', which doesn't include touring Paradise Island, and Norwegian (NCL) offers it as 'Paradise Island & Sightseeing'.
Regardless of the excursion name, all pass (and some will stop) by major sites such as the Forts Charlotte and Fincastle, the Queens staircase, the Parliament Square, the Governor's Mansion and Gregory's Arch, the Graycliff Hotel, the National Art Gallery, the John Watling's Rum Distillery or the Fish Fry at Arawak Cay.
Some excursions may include self-guided tours of specific sites like the Fort Charlotte or the Atlantis Resort. Some tours will include a tasting of local flavors like rum, rum cake, pina colada, conch salad or Bahama Mama. Inevitably, all tours stop by places where the cruise traveler may shop for souvenirs and gifts. It should be noted that entrances to forts and museums may not be included.
.
Depending on the cruise lines, the excursion may return to the Cruise Terminal or end by a centrally located site like the Pirates of Nassau Museum or the Straw Market, which can be explored on your own. Click here to Read the Reviews of the Top Landmarks of Nassau some of which are included in this shore excursion.
Basics and Good To Know
Activity Level: Seated Tour | Minimal Activity
Must Take: Casual Attire; Hat and sunglasses; Walking shoes; Sun protection; Camera (don't miss great shots); Cash and credit cards for incidentals.
Be aware: Some cruise lines do not include entrance fees to Ft Charlotte and Pirates Museum.
Duration: Between 3 and 4 hours depending on cruise line.
Restrictions: No Minimum Age
Wheelchairs: Most cruise lines offer this tour with assistance to wheelchair users - advisable to check with Shorex Desk Onboard.
Cruise Line Price Comparison
| | |
| --- | --- |
| Carnival: | Half-Day ( 3 hours) - Adult: $54.99 | Child: $45.99 | Prices may vary by sailing |
| Celebrity: | Half-Day ( 2.5 to 3 hours) - Adult: $49.00 | Child: $39.00 |
| Disney: | Half-Day ( 3 hours) - Adult: $48.00 | Child: $36.00 | Free (ages 0 to 2) |
| Norwegian: | Half-Day (3 hours) - Adult: $59.00 | Child: $39.00 |
| Princess: | Half-Day (3 hours) - Adult: $54.95 |
| Royal Caribbean: | Half-Day ( 3 hours) - Adult: $49.00 | Child: $39.00 |
Considering that the prices above may vary by sailing, it is advisable to check updates and specific cruises. Click on the following cruise lines links to check for updates: Carnival | Celebrity | Disney | Norwegian Cruise Line | Princess | Royal Caribbean .
Shorex, Online Bookings or On Your Own
Unless the cruise traveler is very interested in a particular site that may not be included on the specific shore excursion offered onboard, there is no reason to book any other way.
Online Shorex Services
Like most shore excursions, a sightseeing tour of the top highlights and landmarks of Nassau is offered by the many services that offer tours online. Prices vary and it is advisable to check what is offered on each shore excursion.
The following online services are well-established companies that guarantee the returning of cruise travelers in good time prior to the departure of the ship. IQCruising does not endorse or get paid to mention any of these services. IQCruising is just providing the information and you should be aware that you are solely responsible for booking excursions online with these third-party services. Viator | Shore Trips | Shore Excursions Group | Cruising Excursions | Shore Excursioneer.