The Seaworld Explorer shore excursion (Shorex) for cruise passengers to Nassau. Overview, good to know, highlights, cruise line price comparison, how to book
The Seaworld Explorer offers a very nice way of exploring the wonderful underwater world of The Bahamas when cruising to Nassau. This is a shore excursion particularly suited for those that do not want to get wet.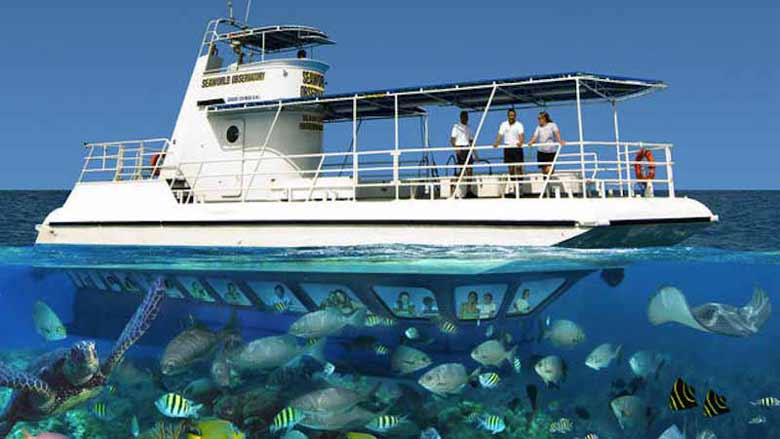 Photo Courtesy of Seaworld Explorer
All cruise lines offer a shore excursion on this semi-submarine that explores the marine park at Athol Island, many times referred to as 'Sea Gardens', populated with a plethora of colorful tropical fish.
Seaworld Explorer Excursion Highlights
The Seaworld Explorer explorer is a unique semi-submarine with a 5 feet under-water hull that is, in fact, an air-conditioned observatory with personal viewing windows. The basic tour offered by Carnival, Disney and Norwegian will take the cruise passenger on a narrated tour aboard a catamaran to the Athol Island where you will board the Seaworld Explorer. The full excursion including the tour of Nassau's harbor takes around 2 hours. Interestingly, this excursion can be combined with a sightseeing tour of the major historical landmarks of Nassau taking up to 4 hours.
Good To Know
Activity Level: Very Easy Activity
Must Take: Swimsuit, sunscreen, sunglasses, a hat, a towel and a camera (waterproof preferably) - cash for incidentals.
Duration: Between 2 and 4 hours depending on the tour option.
Restrictions: No Minimum Age
Wheelchairs: CONTENT
Cruise Line *Price Comparison
Carnival:
SeaWorld Explorer (2 hours) - Adult: $49.99 | Child: $37.99 - With Nassau Sightseeing (3 hours) - $69.99 (Adult)
Celebrity:
With Nassau Sightseeing ONLY ( around 3 hours) - Adult: $69.00
Disney:
SeaWorld Explorer (2 hours) - Adult: $49.00 | Child: $29.00 - With Nassau Sightseeing (4 hours) - $59.00 (adult).
Norwegian (NCL):
SeaWorld Explorer (1.5 hours) - Adult: $62.00 | Child: $41.00 - With Nassau Sightseeing (2.5 hours) - $72.00 (adult)
Princess:
With Nassau Sightseeing ONLY (around 3 hours) - Adult: $59.95
Royal Caribbean:
With Nassau Sightseeing ONLY ( around 3 hours) - Adult: $69.00
* Read paragraph below and check links.
Considering that the prices above may vary by sailing, it is advisable to check updates and specific cruises. Click on the following cruise lines links to check for updates: Carnival | Celebrity | Disney | Norwegian Cruise Line | Princess | Royal Caribbean .
Shorex, Online or On Your Own
All shore excursions with the Seaworld Explorer have to be booked with the cruise line or with third-party online services.
Online Shorex Services
Like most shore excursions, the Seaworld Explorer shore excursion in Nassau is offered by the many services that sell tours online. Prices vary and it is advisable to check what is offered on each shore excursion.
The following online services are well-established companies that guarantee the returning of cruise travelers in good time prior to the departure of the ship.
IQCruising does not endorse or get paid to mention any of these services. IQCruising is just providing the information and you should be aware that you are solely responsible for booking excursions online with these third-party services. Viator | Shore Trips | Shore Excursions Group | Cruising Excursions | Shore Excursioneer
Direct Booking
The Seaworld Explorer does not have a website allowing to do direct bookings and cruise travelers will not be able to just walk in. To learn more about the Seaworld Explorer
Check the Facebook Page of the Seaworld Explorer
Athol Island- Map