Everything you need to know about Scuba Diving shore excursions (Shorex) on a cruise to Nassau port: overview, good to know, highlights, cruise line price comparison, and how to book.
The translucent waters of The Bahamas are an invitation for certified divers to explore the spectacular underwater world of coral reefs in a number of good sites close to Nassau's Cruise Port.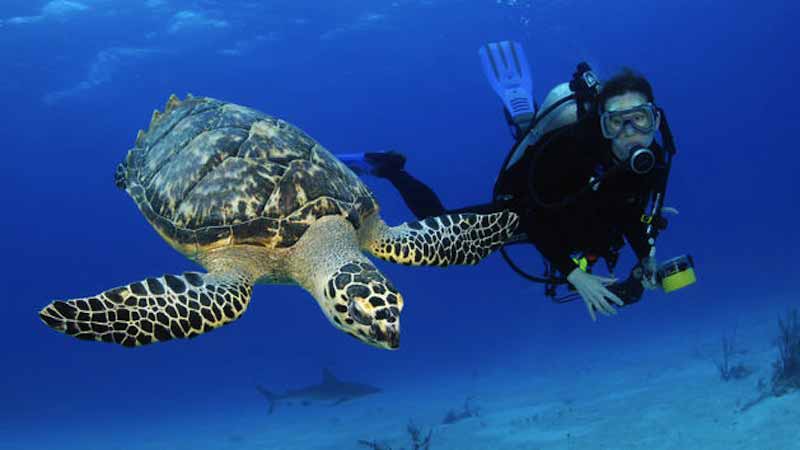 Photo Courtesy of Scuba Diving Management
All cruise lines, with exception of Princess, offer scuba diving shore excursions with different packages - with or without gear. Almost all cruise lines use the services of Stuart Cove's and you may book directly. However, transportation to and from Stuart Cove's is your own expense - more about direct bookings below.
The Highlights of Scuba Diving in Nassau
This shore excursion will take you to two sites with two tanks and is suitable for both new and advanced divers as you will be lead to 40-feet and 80-feet dives. You will explore walls, reefs, and wrecks like a 100-foot freighter, the famous James Bond wreck in 40-feet of water or the Cessna used in the filming of 'Jaws'. The experience includes all equipment (BCD, Regulator, Mask/Snorkel/Fins, Tanks, Weights, Weight-belts) - a wet-suit rental is optional. Participants must provide photo ID, valid certification and that have completed at least one dive in the past 24 months.
Scuba Diving Video
Watch the under 2-minute video below to have a preview of what Scuba Diving at Stuart Cove's looks like.
Good To Know
Activity Level: Strenuous Activity - Cruise traveler must be a certified diver.
Must Take: Valid "C" card. Swimsuit under cover-up or light clothing, shoes with no-slip soles or water shoes, hat, sunglasses, sunscreen, towel, camera (waterproof preferably) - cash for incidentals.
Optional: If you have your own gear, tour is offered with a small discount.
Duration: Around 5 hours depending on cruise line and excursion
Restrictions: Minimum age is 10 years old. Pregnant women and guests with back or neck problems should not participate. Maximum Weight: 300 pounds.
Wheelchairs: Not accessible.
Shore Excursion Prices* - Cruise Line Comparison
Carnival:
Full day (5 hours) - Adult: $145.99 - Wet Suit Optional $14.00 | *Prices may vary by sailing
Celebrity:
Full day (5 hours) - Adult: $179.00
Disney:
Full day (5 hours) - Adult: $165.00 | Minimum age: 12 years
Norwegian:
Full day (5 hours) - Adult: $149.00
Royal Caribbean:
Full day (5 hours) - Adult: 179.00
* Read paragraph below and check links.
Considering that the prices above may vary by sailing, it is advisable to check updates and specific cruises. Click on the following cruise lines links to check for updates: Carnival | Celebrity | Disney | Norwegian Cruise Line | Princess | Royal Caribbean.
Shorex, Online or On Your Own
Although you may process direct bookings on the Stuart Cove's website, this is not possible for cruise travelers on Carnival and you will have to do it onboard your cruise ship with the Shore Excursions Desk or online with the Cruise Line.
Online Shorex Services
Like most shore excursions, Scuba Diving is also offered by the many services that offer tours online. Prices vary and it is advisable to check what is offered on each shore excursion.
The following online services are well-established companies that guarantee the returning of cruise travelers in good time prior to the departure of the ship.
IQCruising does not endorse or get paid to mention any of these services. IQCruising is just providing the information and you should be aware that you are solely responsible for booking excursions online with these third-party services. Viator | Shore Trips | Shore Excursions Group | Cruising Excursions | Shore Excursioneer
Direct Booking
Before deciding which is the best scuba dive for you, whether it is better to book onboard or with an online service, it is strongly advisable to Check the Official Website of Stuart Cove's
Scuba Diving On Your Own - Getting There
If you decide to book directly, be aware that Stuart Cove's is located on the south coast of Providence Island, around 17 miles (27.4 km) from the cruise terminal - see map below. A taxi fare to get there and back will most probably not pay for the hassle.
Stuart Cove's - Map