The best beach Day-Passes for cruise passengers to enjoy a beach break in the port of Nassau: top Hotels and All-Inclusive Resorts.
Junkanoo and Cabbage beaches are the two main public beaches close to the Nassau cruise port. But for a more secluded beach experience, one dozen hotels and resorts offer a beach day-pass to cruise passengers.
Contents - A to Z
Passengers on a cruise to Nassau have always had the opportunity to book a day pass to several hotels, resorts, and waterparks in the most populous and touristic island of the Bahamas.
The Atlantis Resort is one of the most famous. But in the last years Margaritaville and Baha Mar - two Caribbean icons - have opened resorts close to Nassau and offer day passes to passengers visiting the cruise port for the day.
While two resorts opened in Nassau, the British Colonial Hilton has closed its door. However, the beach of the British Colonial is still available to be booked as day pass, and at $25.30 per adult is the most affordable you can get on a cruise to Nassau.
So, if you prefer a more exclusive beach break, instead of heading to Junkanoo Beach or Cabbage Beach, cruise passengers can book online a Nassau day pass.
On this page, you can read the reviews of the top 12 Day-Passes listed alphabetically with details such as location, inclusions, opening hours, cost of getting there by taxi, and day-pass price.
1.

Atlantis Resort (Beach Only Day Pass)
Photo Courtesy of Atlantis Resort Beach
Atlantis offers many different packages that cover all of the resort's attractions. Most of these packages are really considered tours or excursions but there is also the possibility of booking a Beach Day Pass exclusively for the beach in Paradise Island. It should be noted that this pass does NOT give you access to Atlantis swimming pools, water slides, pool deck, or pool lounge chairs. However, you may take a self-guided tour through the 'ancient ruins of Atlantis' in The Dig.
2.

Baha Bay Waterpark at Baha Mar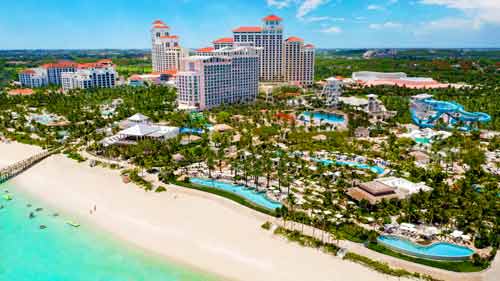 Photo Courtesy of Baha Bay Waterpark
The Baha Bay water park is set on 15 luxuriant beachfront acres next to the Baha Mar Resort. The water park is inspired by the natural beauty of The Bahamas, merging relaxing island coolness with thrilling fun for families and couples.
3.

Bob Marley Resort (Off Track)

Boutique Hotel that once was the private retreat home of Bob Marley. If you're a fan of Bob Marley or just looking for a peaceful haven, you should check out the Marley Resort and Spa in the Bahamas. The former mansion of the governor has been transformed into a beautiful resort, complete with a house, gardens, and a private gallery filled with Marley memorabilia.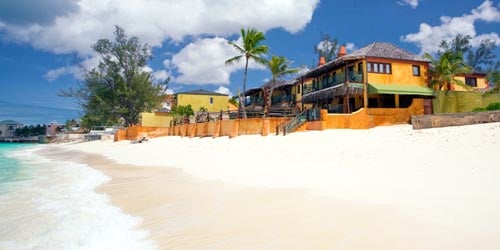 Photo Courtesy of Bob Marley Resort
You can spend your day lounging by the pools or on the beach, listening to island-style Reggae music. The resort offers private, small-group transportation in an air-conditioned vehicle, ensuring a comfortable and relaxing trip. And for lunch, you can choose from a menu with options cooked just as Bob liked it.
4.

Breezes Resort and Spa (All Inclusive)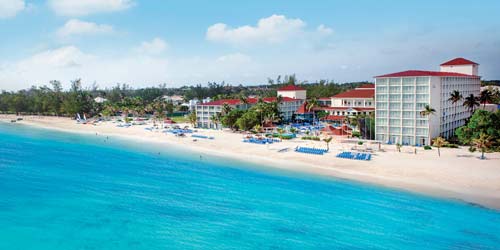 Photo Courtesy of Breezes Resort
Set in the powder-white sands of Cable Beach, the resort boasts three freshwater pools, including a swim-up bar pool, a refreshing misting pool, and a luxurious poolside Jacuzzi. Breezes Resort and Spa is ideal for those that enjoy water sports and land activities. For thrill-seekers, there is even rock climbing and flying trapeze! And for those who prefer something a little more low-key, there are options like tennis, beach volleyball, pool tables, ping pong tables, and a fitness center. It can be the perfect destination for cruise travelers looking for fun and adventure.
5.

British Colonial Hilton (Around The Corner from the Port)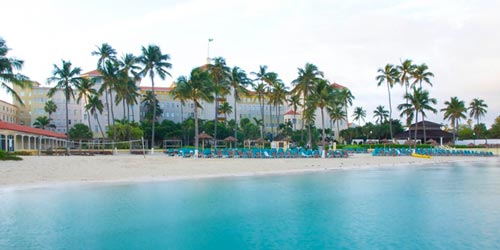 Photo Courtesy of British Colonial Hilton
Just around the corner from the cruise terminal, the most famous hotel in Nassau has closed its doors, but booking a beach day pass is still possible. However, you will only have access to the famous Serenity Beach at British Colonial, lounge chairs & towels, and an umbrella (based on availability).
6.

Clifton Heritage National Park (Off Track Wonder)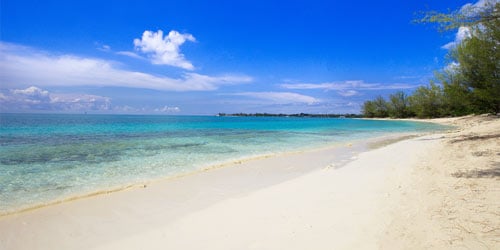 Photo Courtesy of Clifton Heritage National Park
Very much an off-the-beaten-track site and seldom visited by cruise passengers, Clifton Heritage National Park has stunning and secluded beaches to enjoy a relaxing day in the sun. Two beaches are named after famous movies filmed here - Jaws The Revenge (1992) and Flipper (1996). You may also visit underwater breathtaking coral reefs, the world's largest underwater sculpture (Ocean Atlas) or the wrecks of Props from James Bond movies - Thunderball 1965, Never Say Never Again 1983.
7.

Graycliff Hotel (in the heart of Nassau)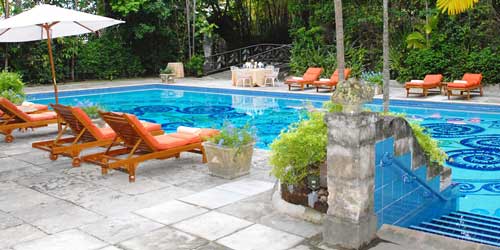 Photo Courtesy of Graycliff Hotel
One of the most famous and luxurious hotels in Nassau, the Graycliff Hotel offers a memorable experience. The food is terrific, and the wine cellar has an impressive selection. It is also conveniently located just around the corner from the cruise port. Upon arrival, you will be welcomed with a refreshing drink and given a brief tour of the hotel property and amenities. The day pass provides access to the pool, a great way to relax and soak up the sun. The staff provided pool towels, changing rooms, and showers. To top it all off, you can enjoy a delicious three-course lunch. The pass is valid for six hours, which is the perfect amount of time to enjoy everything the hotel offers.
8.

Margaritaville Beach Resort
Photo Courtesy of Melia Hotel
Margaritaville Beach Resort is the latest attraction in Nassau and it's within walking distance of the cruise terminal in Nassau port. Wrapped by palm trees, turquoise waters, and sugar-powdered beaches, Margaritaville is the closest resort to the cruise port in Nassau. It features a private beach, an oceanfront swimming pool, a water park with water slides, a lazy river, and fabulous food and drinks, including a pool bar.
9.

Melia (Families Welcome)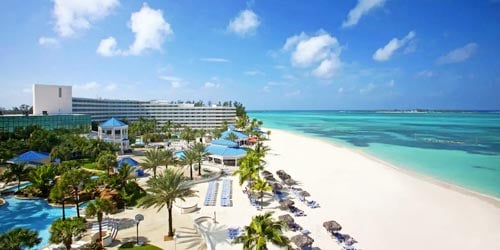 Photo Courtesy of Melia Hotel
If you're looking for a family-friendly beach day pass in Nassau, consider the Melia Hotel in Cable Beach. It's a favorite among many cruise passengers and for good reason. There's so much to do and see here; the beautiful beaches are a major draw. When you visit the Melia Hotel, you'll have access to some of Nassau's best beaches, with pools, chairs, umbrellas, towels, and snorkel equipment. And if you need to stay connected, don't worry - free Wi-Fi is also available. It's the perfect spot to relax and unwind after a long day of fun in the sun. However, food and drinks are NOT included, but quick bites, tropical beverages, and local beer are available at the O'Grille Beach Cafe.
10.

Riu Palace (All Inclusive)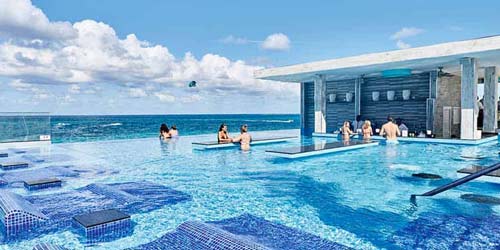 Photo Courtesy of RIU Palace
Are you looking for a luxurious and relaxing getaway? Look no further than Riu Palace, the all-inclusive resort exclusively for adults aged 18 and up. With access to a pristine white sandy beach, beachside swimming pool, infinity pool with swim-up bar, and Jacuzzi, you'll have everything you need to unwind and soak up the sun. And with a lunch buffet featuring local and international cuisines, all-day long light snacks, an open bar serving unlimited domestic and top global brands, and tropical cocktails, you can indulge in delicious food and drinks while you relax. Plus, with sun loungers, beach chairs, towels, parasols, and free Wi-Fi, you can stay comfortable and connected throughout your stay. And if you're looking for fun activities, you can enjoy beach volleyball, Caribbean dance lessons, and darts.
11.

Sandals Royal Bahamian (All Inclusive)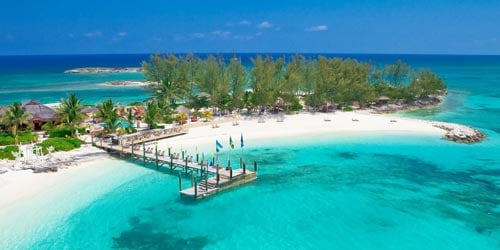 Photo Courtesy of Sandals Royal Bahamian
For adult couples only. What's Included: Full access to a pristine beach, swimming pools (7 Pools, 6 Whirlpools, 2 Swim-up Pool Bars), land and water activities, and private offshore island with two beaches — one for snorkeling and sunbathing, the other for high-energy water sports. Unlimited premium brand drinks and full lunch from 10 specialty and gourmet restaurants. (pass does not include dining at Gordon's on the Pier.) Activities: Canoes/Kayaks, Windsurfing, Water Trikes, Snorkeling, Hobie® Cats, Sailboats, Paddle Boarding, Scuba Diving, Basketball, Croquet, Beach Volleyball, Fitness Center, Pool Tables, Darts, Board Games, Tennis, Lawn Chess, Shuffleboard and Table Tennis. Where: Located on Cabble Beach, 5.7 miles (9.3 km) from the Nassau cruise terminal - 20-minute taxi ride. Getting There: Taxi from Nassau cruise terminal: around $15 (USD) for 1-2 guests - $3 each additional guest. Open: 10 AM to 6 PM.
Day Pass price: $110 (USD)
Website:
www.sandals.com
12.

Warwick Hotel (All Inclusive)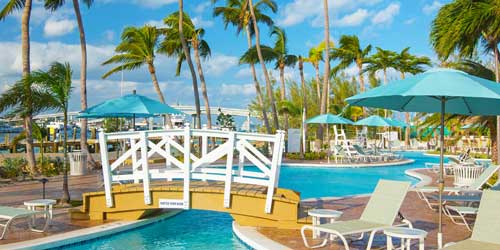 Photo Courtesy of Warwick Hotel
For adults (16+) cruisers only. What's Included: Access to private beach lagoon, swimming pool, and whirlpool overlooking Nassau Harbor. Breakfast, Lunch, and snacks served in Verandah and at Chickcharnie's Pizzeria and Grill. Unlimited beverages, all day from the Hog Bar including beer, wine, liquor and tropical drinks. Beach towel service, umbrellas and chaise lounge chairs, by the poolside or on the beach. Use of snorkeling equipment. Free Wi-Fi. Activities: Beach volleyball, tennis, basketball, snorkeling, bicycles and fitness center. Where: Located on Paradise Island, 1.9 miles (3 km) from the Nassau cruise terminal - 10-minute taxi ride. Getting There: Taxi from Nassau cruise terminal: around $15 (USD) for 1-2 guests - $3 each additional guest. Open: 10 AM to 6 PM.
Day Pass price: $95 (USD)
Website:
warwickhotels.com
Explore Nassau
► Explore: Top Reviews - Caribbean Ports
Discover the Most Popular Caribbean Port Reviews - Grand Turk, Barbados, Miami, St. Kitts, St. Lucia, Ocho Rios, Montego Bay, Falmouth, Curaçao, Aruba, Key West, St Thomas and more ...
Learn More ►