The best beach Day-Passes for cruise passengers to enjoy a beach break in the port of Nassau: top Hotels and All-Inclusive Resorts.
Junkanoo and Cabbage beaches are the two main public beaches in Nassau cruise port. But for a more secluded beach experience, there are also many hotels, resorts, and parks that offer a day-pass to cruise passengers.
Contents - A to Z
Both Junkanoo and Cabbage Beaches are very popular amongst cruise passengers. But if you prefer a more exclusive beach break in Nassau, you will find on this page reviews of the top 10 Day-Passes listed alphabetically with details such as location, inclusions, cost of getting there by taxi, and day-pass price.
Atlantis Resort
(Beach Only Day Pass)
Photo Courtesy of Atlantis Resort Beach
Atlantis offers many different packages that cover all of the resort's attractions. Most of these packages are really considered tours or excursions but there is also the possibility of booking a Beach Day Pass exclusively for the beach in Paradise Island. It should be noted that this pass does NOT give you access to Atlantis swimming pools, water slides, pool deck, or pool lounge chairs. However, you may take a self-guided tour through the 'ancient ruins of Atlantis' in The Dig. What's Included: Beach Only. Where: Located on Paradise Island, 1.9 miles (3 km) from the Cruise Port - 10-minute taxi ride. Getting There: Taxi from Cruise Terminal: around $15 (USD) for 1-2 guests - $3 each additional guest. Open: 9 AM to 6 PM. Day Pass price: Starts at $69 (USD) for adults; $40 (USD) for kids 12 and under. (Prices may fluctuate based on occupancy/season. Entrance restrictions may apply.)
Website: www.atlantisbahamas.com
Bob Marley Resort
(Off Track)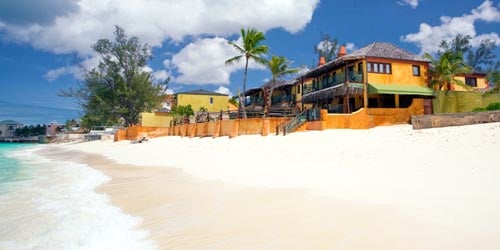 Photo Courtesy of Bob Marley Resort
Boutique Hotel that once was the private retreat home of Bob Marley. What's Included: Access to beach and pool lounge chairs, lunch and a soft drink, and Free Wi-Fi. Where: Located on Cable Beach, 6.3 miles (10 km), 25-minute ride, from the Cruise Port. Getting There: Some packages offer round trip transportation from the cruise pier. Taxi from Cruise Terminal: around $20 (USD) for 1-2 guests - $3 each additional guest. Open: 8 AM to 6 PM. Activities: Beach and swimming pools Only.
Day Pass price: Between $89 and $99 (USD)
Website: www.marleyresort.com

Breezes Resort and Spa
(All Inclusive)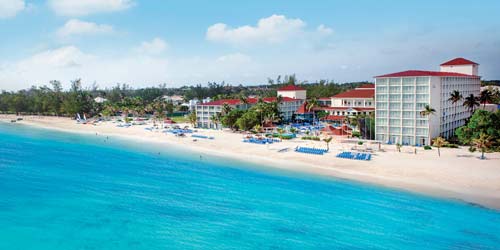 Photo Courtesy of Breezes Resort
Set in the powder-white sands of Cable Beach, the resort has 3 freshwater pools, which include a swim-up bar pool and a misting pool, plus a poolside Jacuzzi. Ideal for those that enjoy water sports and land activities. What's Included: Unlimited dining for lunch and snacks, unlimited drinks (alcohol and non-alcohol) including premium brand cocktails and wine, access to the beach, pools, whirlpools, lounges, umbrellas, towels, bathrooms, changing rooms, and Free Wi-Fi. Activities: Windsurfing, sailing, paddle-boats & kayaking, rock climbing, tennis, flying trapeze, beach volleyball, pool tables, ping pong tables, and fitness center. Motorized water sports are available but not included in the Day-Pass. Where: Located on Cable Beach, 4.3 miles (7 km), 15-minute taxi ride from the Cruise Port. Getting There: Taxi from Cruise Terminal: around $15 (USD) for 1-2 guests - $3 each additional guest. Open: 10 AM to 6 PM.
Day Pass price: Between $80 and $94 (USD)
Website: www.breezes.com
British Colonial Hilton
(Around The Corner from the Port)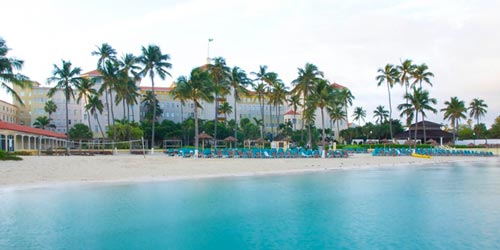 Photo Courtesy of British Colonial Hilton
Arguably the most famous hotel in Nassau, a favorite among cruisers traveling with family, and just around the corner from the cruise port. What's Included: $40 food and beverage credit per paid adult, $20 food and beverage credit per paid child, access to white sand beach, beach-front swimming pool, lounge chairs, umbrellas, towels, kayaks and snorkeling gear. Wireless Internet access available for $10.99 for the day. Activities: Motorized Water sports (not included). Where: Located on the East end of Nassau, 1/2 mile (850 meters) from Cruise Port. Getting There: Within walking distance (10-minute walk) from the Cruise Terminal. Taxi from Cruise Terminal: around $9 (USD) for 1-2 guests - $3 each additional guest. Open: 9 AM to 5 PM.
Day Pass price: Starting at $79 (USD). Children between the ages of 6 and 12 - $39 (USD). Free for children under 6.
Website: hilton.com
Clifton Heritage National Park
(Off Track Wonder)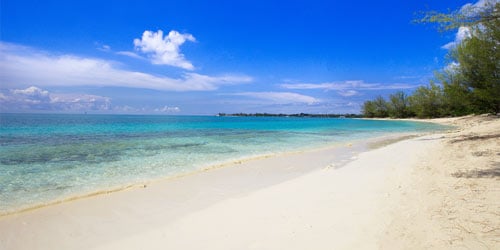 Photo Courtesy of Clifton Heritage National Park
Very much an off-the-beaten-track site and seldom visited by cruise passengers, Clifton Heritage National Park has stunning and secluded beaches to enjoy a relaxing day in the sun. Two beaches are named after famous movies filmed here - Jaws The Revenge (1992) and Flipper (1996). You may also visit underwater breathtaking coral reefs, the world's largest underwater sculpture (Ocean Atlas) or the wrecks of Props from James Bond movies - Thunderball 1965, Never Say Never Again 1983. What's Included: Park Entrance, Access to Beaches, Lounge Chairs, Umbrella (don't forget your own towel and sunscreen). Activities: Beach and Snorkeling; Extra-cost: ATV, Scooter, Bicycles, Nature and Heritage Tours Where: Located on the Western Tip of Providence Island, 16.6 miles (26.6 km) from the Cruise Port. Getting There: Taxi from the Cruise Terminal: around $25 (USD) for 1-4 guests (35-minute taxi ride). Transportation may be included depending on the package - contact the Park Directly on the website below. Open: 9 AM to 5 PM. Day Pass price: Beach Only $60 (USD). Lover's retreat $120 (price per couple including lunch with 1 bottle of wine). Family Packages $250 (up to 5 guests, lunch included).
Website: www.tourclifton.com
Graycliff Hotel
(in the heart of Nassau)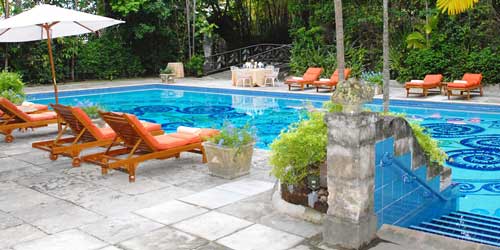 Photo Courtesy of Graycliff Hotel
One of the most famous and luxurious hotels in Nassau, know for its fine cuisine, astonishing wine cellar, and just around the corner from the cruise port. What's Included: Welcome drink, a brief tour of the hotel property and amenities, access to the pool, and a three-course lunch. Pool towels, changing rooms and showers. The pass is valid for six hours. Where: Located in the heart of Nassau, 1/2 mile (850 meters) from the Cruise Port. Getting There: Within walking distance (10-minute walk). Taxi from cruise terminal: around $9 (USD) for 1-2 guests - $3 each additional guest. Open: Monday to Friday from 10 AM. Day Pass price: $100 (USD) for adults; $75 (USD) for children.
Website: www.graycliff.com

Melia
(Families Welcome)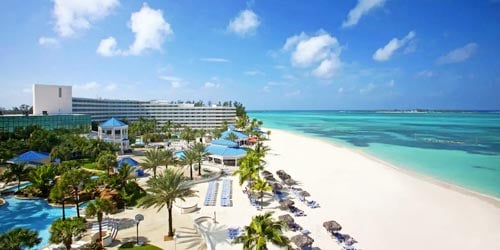 Photo Courtesy of Melia Hotel
A favorite among cruise passengers traveling with family. What's Included: Access to beaches, pools, chairs, umbrellas, towels and snorkel equipment and Free Wi-Fi. Food and drinks are NOT included. At the O'Grille Beach Cafe guests can pay for quick bites, tropical drinks and local beer. Activities: Extra charge for: table tennis, a basketball court, air hockey, kayaks, paddle boards, and jet skis. Where: Located on Cable Beach, 5.2 miles (8.3 km) from the Cruise Port - 18-minute taxi ride. Getting There: Taxi from Cruise Terminal: around $15 (USD) for 1-2 guests - $3 each additional guest. Open: 9 AM to 5 PM.
Day Pass price: Between $25 (USD) for Children and $45 (USD) for Adults.
Website: www.melia.com
Riu Palace
(All Inclusive)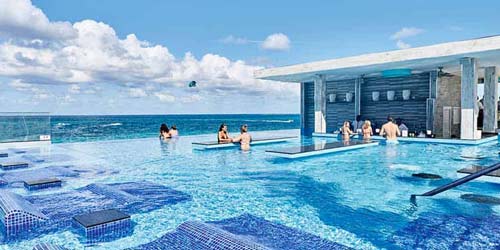 Photo Courtesy of RIU Palace
Loved by grown up cruise passengers - exclusively for Adults (18 year old and up). What's Included: Access to the pristine white sandy beach, beach side swimming pool, infinity pool with swim-up bar and Jacuzzi. Lunch buffet with local and international cuisines, and all day long light snacks. Open bar with unlimited domestic, top international brands and tropical cocktails. Sun loungers, beach chairs, towels, parasols, and Free Wi-Fi. Activities: Beach volleyball, Caribbean Dance lessons and Darts. Where: Located on Cabbage Beach on Paradise Island, 2.3 miles (3.7 km) from the Cruise Port - 10-minute taxi ride. Getting There: Taxi from Cruise Terminal: around $15 (USD) for 1-2 guests - $3 each additional guest. Open: 9 AM to 5 PM.
Day Pass price: $120 (USD)
Website: www.riu.com
Sandals Royal Bahamian
(All Inclusive)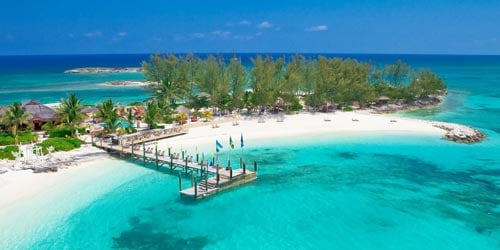 Photo Courtesy of Sandals Royal Bahamian
For adult couples only. What's Included: Full access to a pristine beach, swimming pools (7 Pools, 6 Whirlpools, 2 Swim-up Pool Bars), land and water activities, and private offshore island with two beaches — one for snorkeling and sunbathing, the other for high-energy water sports. Unlimited premium brand drinks and full lunch from 10 specialty and gourmet restaurants. (pass does not include dining at Gordon's on the Pier.) Activities: Canoes/Kayaks, Windsurfing, Water Trikes, Snorkeling, Hobie® Cats, Sailboats, Paddle Boarding, Scuba Diving, Basketball, Croquet, Beach Volleyball, Fitness Center, Pool Tables, Darts, Board Games, Tennis, Lawn Chess, Shuffleboard and Table Tennis. Where: Located on Cabble Beach, 5.7 miles (9.3 km) from the Cruise Port - 20-minute taxi ride. Getting There: Taxi from Cruise Terminal: around $15 (USD) for 1-2 guests - $3 each additional guest. Open: 10 AM to 6 PM.
Day Pass price: $110 (USD)
Website: www.sandals.com
Warwick Hotel
(All Inclusive)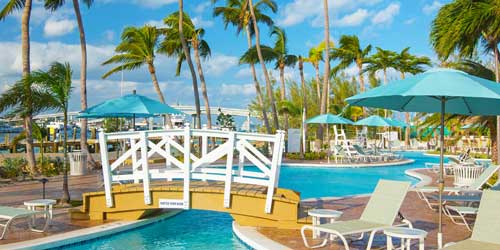 Photo Courtesy of Warwick Hotel
For adults (16+) cruisers only. What's Included: Access to private beach lagoon, swimming pool, and whirlpool overlooking Nassau Harbor. Breakfast, Lunch, and snacks served in Verandah and at Chickcharnie's Pizzeria and Grill. Unlimited beverages, all day from the Hog Bar including beer, wine, liquor and tropical drinks. Beach towel service, umbrellas and chaise lounge chairs, by the poolside or on the beach. Use of snorkeling equipment. Free Wi-Fi. Activities: Beach volleyball, tennis, basketball, snorkeling, bicycles and fitness center. Where: Located on Paradise Island, 1.9 miles (3 km) from the Cruise Port - 10-minute taxi ride. Getting There: Taxi from Cruise Terminal: around $15 (USD) for 1-2 guests - $3 each additional guest. Open: 10 AM to 6 PM.
Day Pass price: $95 (USD)
Website: warwickhotels.com
Explore Nassau
► Explore: Top Reviews - Caribbean Ports
Discover the Most Popular Caribbean Port Reviews - Grand Turk, Barbados, Miami, St. Kitts, St. Lucia, Ocho Rios, Montego Bay, Falmouth, Curaçao, Aruba, Key West, St Thomas and more ...
Learn More ►