Interesting facts about Nassau and The Bahamas for cruise passengers to Nassau port: timeline, personalities, trivial curiosities, geography, and demographics
Nassau - Timeline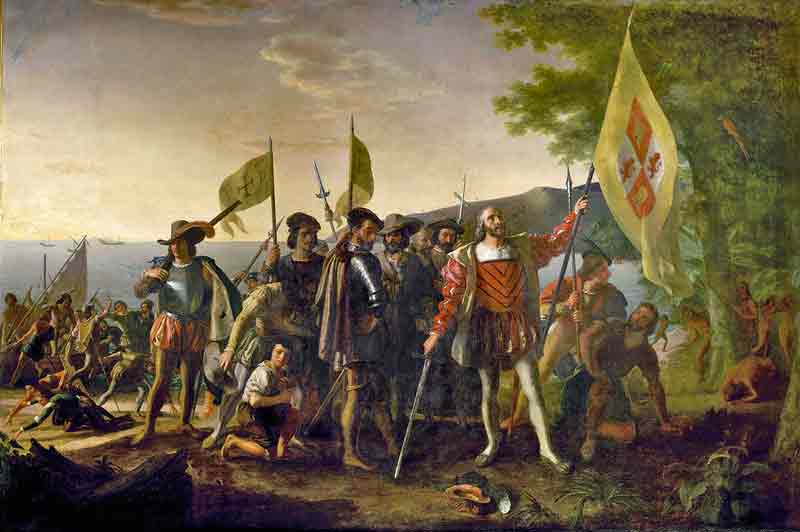 Painting of Columbus Landing in The Bahamas
Public Domain
Circa 500 to 800 AD - Lucayans (Arawakan-speaking Taino people) arrived in the Bahamas.
1492 - Bahamas are discovered by Columbus on his first voyage.
1492 - As many as 40,000 Lucayans lived in the Islands.
1500's - Spanish capture and send Lucayans to work in Hispaniola.
1520 - Spain evacuated the last 11 Lucayans. The Bahamas becomes uninhabited for 130 years.
1648 - William Sayle led a group of Puritans from Bermuda establishing settlements on Eleuthera; these early colonists moved on to Sayle's island, latter renamed New Providence
1670 - Charles II of England issued an ownership deed of the Bahamas to the "Proprietors of Carolina".
1671 - New Providence had 913 residents: 257 men, 243 women and 413 slaves.
1672 - Charles Town fort is built.
1684 - Spanish attacked and burned Charles Town; most British settlers fled to Jamaica; pirates take over.
1686 - Exiled settlers in Jamaica return to New Providence.
1694 - Ordinance of Proprietors established Nassau where Charles Town stood.
1703 - Spanish and French forces attack Nassau; most population fled.
1700's - Piracy thrives in Nassau
1706 - Spanish and French fleets once again attack and sacked Nassau.
1709 - British crown assigned Letters of Marque to captains, legally allowing them to attack ships of enemy nations (Spain and France).
1710's - Nassau is declared a "Privateers Republic".
1710's - Nassau becomes the base for pirates like Edward Teach (aka Blackbeard), Benjamin Hornigold, Mary Read, Anne Bonney,Jack Rackham and Charles Vane
1716 - Over 1,000 pirates in New Providence - Nassau became a 'pirates republic'.
1718 - King George I declares the Bahamas a crown colony.
1718 - Woodes Rogers, a former privateer, is appointed the first Royal Governor with orders to expel all pirates from Nassau.
1720's - Nassau becomes the base for anti-piracy operations
1776 - Ezekiel Hopkins headed an American invasion of British New Providence; Nassau surrendered without military resistance.
1776 - British reconquer New Providence.
1781 - Governor Maxwell agreed to surrender again to American forces without resistance.
1782 - Spanish occupy the island.
1783 - The island is recaptured by British Loyalists without bloodshed.
1780's - Population of New Providence rose to over 5,500.
1807 - Slave trading is illegalized in the British Empire
1834 - Slavery is abolished.
1860's - Nassau prospers with smuggling during American Civil War.
1920's - Nassau prospers during U.S. Prohibition Era, with liquor smuggling.
1939 - Swedish industrialist Wenner-Gren, the owner of Electrolux, purchased Hog Island.
1940-60 - Wenner-Gren builds a house in Hog Island with grandiose gardens replicating those of Versailles.
1939-45 - Bahamas is an ally base for flight training and antisubmarine operations.
1950's - First tourism ventures in Cable Beach.
1957 - Wartime airfield became Nassau's international airport.
1960's - After Cuban revolution, tourism starts to flourish.
1961 - Huntington Hartford II, heir of the A&P Supermarkets, buys the 684-acre Hog Island for $9.5 million and renames it Paradise Island. 1962 - Ocean Club, Cafe Martinique, Hurricane Hole and the Golf Course are built on Paradise Island; Gary Player is the Golf Pro.
1964 - Hartford sold a percentage of the island to an investment group that turned the Paradise Island Resort into a major hotel and casino.
1964 - Bahamas becomes self-governed.
1973 - Full independence - Commonwealth of Nations.
1994 - Gambling magnate Sol Kerzner purchased the 1,150-room Paradise Island Resort out of bankruptcy for $125 million.
1996 - After major re-development, expansion and rechristened, Atlantis Resort Paradise Island opened its doors.

Personalities and Trivial Curiosities
Lucayans - the first inhabitants of the Bahamas arrived on the islands from Hispaniola (presently Haiti - Dominican Republic) sailing in dugout canoes.
Nassau - Nassau (named after the newly crowned king, William III, who hailed from the Dutch House of Orange-Nassau) is rebuilt on the location of the destroyed fort Charles Town.
Eleuthera - The first group of republican English Puritans that sailed from Bermuda to the Bahamas were called 'The Company of Adventurers for the Plantation of the Islands of Eleuthera'. The largest of their 2 ships was wrecked on a reef just off an island that was renamed Eleuthera.
Proprietors of Carolina - a group of English aristocrats including the Earl of Clarendon, the Duke of Albemarle, Lord Craven, Lord Berkeley, Lord Ashley, Sir George Carteret, Sir William Berkeley and Sir John Colleton.
Explore Nassau