Basic guide to La Romana cruise port (in the Dominican Republic): discover where cruise ships dock and what's at the cruise terminal, how to explore La Romana, the best things to do, shore excursions, and all you must know.
The port of La Romana (in the Dominican Republic) has many highlights, such as the stunning islands of Saona and Catalina; the top attractions in Altos de Chavón, Punta Cana, and Santo Domingo; and the numerous beach resorts in Bayahibe and Dominicus.
Contents
Overview
La Romana is a regularly visited cruise port of call in the Caribbean itineraries during the Fall-Winter season, with as many as 395,000 passengers and close to 140 cruise ship visits in the 2018-2019 season.
The cruise port of La Romana has a very appealing character: the area is neat and immaculately kept. On the whole, La Romana is safe. Locals tend to be very friendly but not pushy and speak English reasonably well.
For those cruising with families, there is a lot to do. Cruise passengers with walking difficulties will find it easy to wander around on their own in the La Romana cruise terminal.
Where is La Romana and the cruise terminal
La Romana (a small port city with a population of around 130,400) is in the eponymous southern province of the Dominican Republic. The port city is on the southeast coast of the island, bathed by the Caribbean Sea. The cruise port in La Romana is around 200 miles (340 km) west of San Juan and 421 miles (678 km) north of Aruba.
Thanks to its location, La Romana is a regular port of call in itineraries sailing east and west Caribbean cruises. Cruises to La Romana usually call at popular ports such as Amber Cove, Curaçao, Bonaire, and Grand Turk. Cruise lines like Regent and NCL also call at top ports in the Eastern Caribbean like Antigua, Barbados, St. Lucia, and St. Maarten. Royal Caribbean cruise ships usually include a call at Labadee in their itineraries.
Homeport, embarking and disembarking in La Romana
La Romana is also a turnaround port (or homeport) for many years. The cruise terminal in La Romana is reasonably close to two international airports (La Romana International Airport and Punta Cana Airport), both with excellent worldwide connections. La Romana airport is 5 miles northeast of the cruise terminal and has daily direct flights to and from Miami.
German cruise lines AIDA and TUI use the port to embark and disembark passengers for a few years, and so does Marella (British). Although Carnival Cruise ships regularly visit La Romana, they never used the port as a homeport.
Where cruise ships dock
Cruise ships dock on the mouth of Rio Dulce (known in English as La Romana River). Two large cruise ships can berth simultaneously on two quays (one on each riverbank). The eastern quay has a pier for cruise ships up to 1148 ft (350 m) long, while cruise ships up to 820 ft (250 m) long can dock the western quay.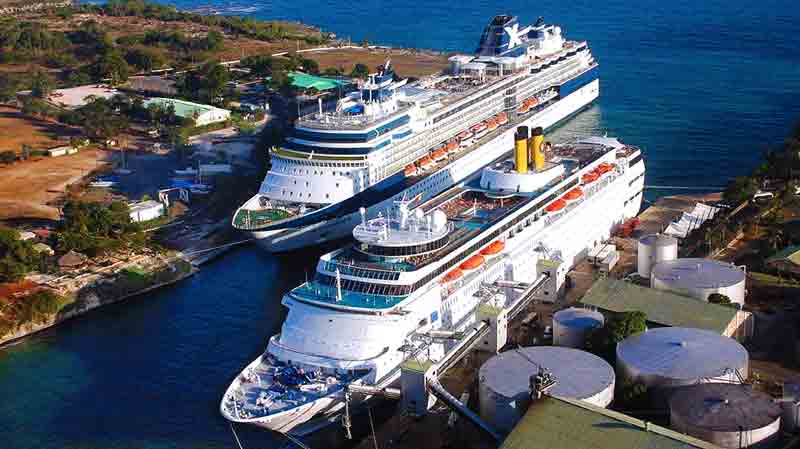 Cruise ships docked at La Romana cruise port
Photo: Public Domain
The western quay is a mixed industrial and cruise pier with very basic services and amenities. By contrast, the eastern dock is for the exclusive use of cruise ships and has an excellent open-air cruise terminal.
What's at La Romana Cruise Terminal
The cruise terminal in La Romana is also known as Sugar Breeze Cruise Terminal. The open-air terminal has a few buildings with services and amenities just yards away from your cruise ship gangway, not more than a 5-minute walk.
Here are the services and amenities you will find at the Sugar Breeze Cruise Terminal:
Restrooms

Information desk

Shopping area

Bar and Coffe Shop

Local handicraft stalls

Pharmacy

Taxi rank

Independent shorex meeting point

Chu-Chu train to downtown

Suttle bus to Altos de Chavón
The exit of the cruise terminal is on the eastern end. By the exit gates, there is an excellent Information Desk. We advise cruise passengers wishing to explore La Romana on their own to check this desk for updated information such as taxi fares and to pick up a map of the area. Bear in mind that you will have to show your shipboard card when re-entering the cruise terminal.
How to explore La Romana on a cruise
Cruise passengers wondering what to do on a cruise to La Romana will find that some attractions are better to enjoy with cruise excursions. That's the case if you wish to explore the highlights of Santo Domingo, enjoy a beach break in Catalina Island, or kayak in the Chavón River. But there are experiences that cruise visitors can easily enjoy independently or on their own.
You can easily visit the village of Altos de Chavón, take a beach break in the resorts of Bayahibe and Dominicus, or a walk around downtown La Romana at your leisure. Here are the four possible ways to discover La Romana:
Book a Shore Excursion

Shuttle bus and Chu-Chu train

Taxi and Uber

On foot
Things to do in La Romana cruise port
Besides famous top sites like the village of Altos de Chavón (Casa del Campo), cruise passengers will have the opportunity to enjoy many activities and explore unusual attractions on a cruise to La Romana. Here are the top 15 things to do in La Romana cruise port:
Swim with Dolphins


Enjoy a show, have face-to-face encounters, or swim with dolphins in one of the two top-rated dolphin parks in the Caribbean.

Visit the village of Altos de Chavón


Altos the Chavón is a replica of a sixteenth-century Mediterranean village, surrounded by lush vegetation, and unique views over the river Chavón.

Tour the city of Santo Domingo


The capital of the Dominican Republic (965,000 population) is one of the most vibrant cities in the Caribbean with a UNESCO World Heritage Site.

Enjoy a Zipline Adventure


Cruise lines offer zipline adventures in two different places relatively close to La Romana port: the Cumayasa Sky Adventure and the Scape Park.

Sail on a catamaran and snorkel in Punta Cana


Sailing the coastline of Punta Cana and snorkeling at the Underwater Museum is a rare experience.

Discover the Dominican countryside


Cruise passengers interested in sightseeing and cultural experiences will find shore excursions touring the Dominican countryside.

Drive a four-wheel buggy


Ride in a two-person all-terrain vehicle through rural landscapes and the dramatic scenery of the Cumayasa River.

Relax on a Beach resort


Cruise passengers that like to spend the day in port on a all-inclusive beach resort will find excelent day-pass and shore excursions.

Go to a public beach on your own


Cruise passengers that like to spend a day on the beach without paying for a shore excursion or a resort day-pass can get a taxi to public beaches close to the port in La Romana.

Saona Island Escape


Saona island is known for its paradisiacal beaches, excellent snorkeling, and scuba diving. Columbus named the heavenly island after the Italian city of Savona.

Discover Taino Caves and tour San Pedro


The Cueva de las Maravillas (Cave of Wonders) has excellently preserved pictographs and petroglyphs by the Taino.

Go horseback riding


The equestrian center at the Casa de Campo Resort is one of the best in the Caribbean to enjoy horseback riding.

Enjoy a beach break in Catalina Island


Despite its small size, Isla Catalina is a popular destination to visit on a cruise to La Romana port.

Chavón River kayaking and sightseeing


The River Chavón was the setting of blockbuster movies such as Apocalypse Now, Rambo, and Jurassic Park.

Scuba for certified divers


Scuba diving in popular sites right off Catalina island is spectacular.
Cruise shore excursions and tours
All cruise lines calling at La Romana offer many and diverse shore excursions in La Romana. These include many different combos, and you may enjoy distinct experiences and attractions on the same cruise excursion. It is advisable to look into the excursions cruise lines offer before deciding what to do on a cruise to La Romana.
Royal Caribbean offers 10 shore excursions, and Carnival lists 26 cruise excursions. Although most luxury cruise lines include shore excursions with the cruise fare, Regent lists 10 excursions.
There are also excursions offered by the following reputable private online services and local tour operators:
Must-know
Language:
Spanish is the official language of the Dominican Republic. English is reasonably well-spoken in all major touristic areas and sites.
Currency:
The Domican Peso is the legal tender in the Dominican Republic but the US$ and the Euro (€) are widely accepted in most tourist areas.
Nearest US Consulate to La Romana
Consular Agency Bavaro/Punta Cana
The consulate angency is 55.8 miles east of La Romana, around 1-hour drive.
Address: Palma Real Shopping Village, Business Center, Second Floor, Suite 1, Bávaro.
Open: Monday through Friday, from 8:30am to 12:30pm, and from 2:00pm to 5:00pm
Website: do.usembassy.gov
Travel advise
For comprehensive and updated information about traveling to the Dominican Republic see the U.S. Department of State website page evolving advisory.
Coronavirus advice for La Romana cruises
For updated coronavirus (Covid-19) information and travel advice to the Dominican Republic and La Romana visit the U.S. Embassy on the Dominican Republic website. For a more comprehensive Traveler's Health advice to the Dominican Republic see the CDC Website.
La Romana Basic Info at a Glance
| | |
| --- | --- |
| Emergencies Phone: | Medical Emergency, Police and Fire Rescue - 911 |
| US Emergencies: | US citizens may call the US Dept of State (+1-202-501-4444) for emergencies abroad. |
| Driving: | Driving is on the right. |
| Electricity: | The standard voltage is 120 V and the frequency is 60 Hz. American type flat prongs are used. |
| Phones: | Area Code: 809 |
| Cell phones: | T-Mobile US plans offer unlimited data at up to 2G and text at no cost. Calls to the US cost 20 cents/min. Calls to other countries may be costly. It is advisable to check for International plans before departing the US. |
| Drinking: | The legal drinking age is 18 years. |
| Smoking: | Smoking is prohibited in restaurants and public buildings. Restaurants and bars may allow smoking outdoors. |