,

Basic guide to Barbados cruise port in Bridgetown: where cruise ships dock, shuttle bus, what's at the cruise terminal and within walking distance, taxi fares, highlights of bridgetown, things to do, and shore excursions (shorex).

Barbados and its cruise port close by Bridgetown - the capital of the Island state - is one of the most interesting and memorable destinations in the Eastern Caribbean itineraries.

Contents
Overview
Because Barbados is a relatively small island - 21 miles (34 km) long and no more than 14 miles (23 km) wide - all attractions are close to the port, allowing the cruise traveler to enjoy a leisurely day at a laid back pace.
Cruise travelers will find lots of things to do in Barbados: be it perusing impeccably preserved landmarks (like the Parliament Building and Museum, a couple of churches, or the Synagogue and its Museum).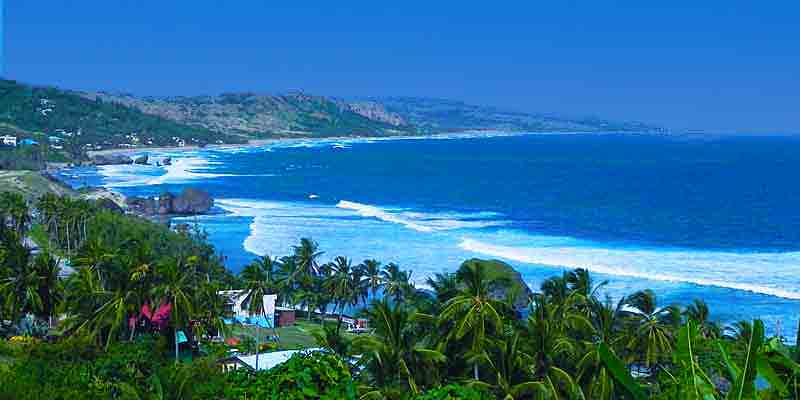 Bathsheba - Barbados
Photo © IQCruising.com
If you like contemplating unique sceneries don't miss the Bathsheba Bay or the Gun Hill Signal Station. For those that enjoy active pursuits, or just basking in the sun there are many and delightful beaches in Barbados, relatively close to the cruise port.
After all, Barbados rich history and cultural past are preserved in an exotic but harmonious mix of quaint tropical ambiance, lush landscapes, beautiful landmarks, and stunning beaches. It should be underlined that Historic Bridgetown and its Garrison is a UNESCO World Heritage Site since 2011.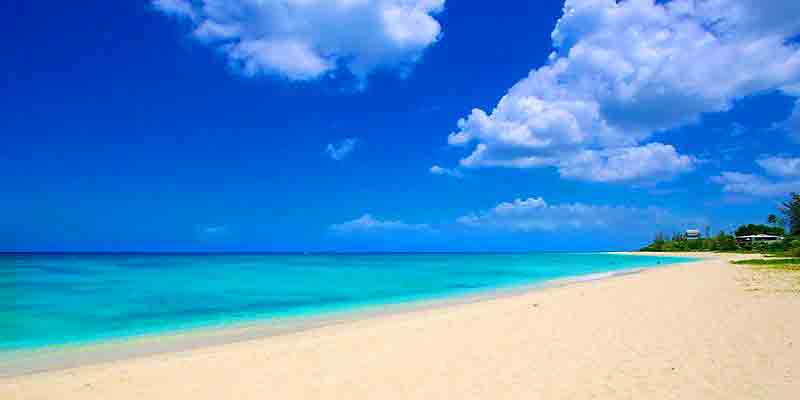 Blueberry Beach, Barbados
Photo © IQCruising.com
Where is the port and cruise ships dock
The Cruise Port aka Deep Water Harbor is located on the South-Western side of the Island and, although not exactly right by the center of Bridgetown, it is within walking distance - 1 mile (or 1.700 meters) - to the main streets of the city.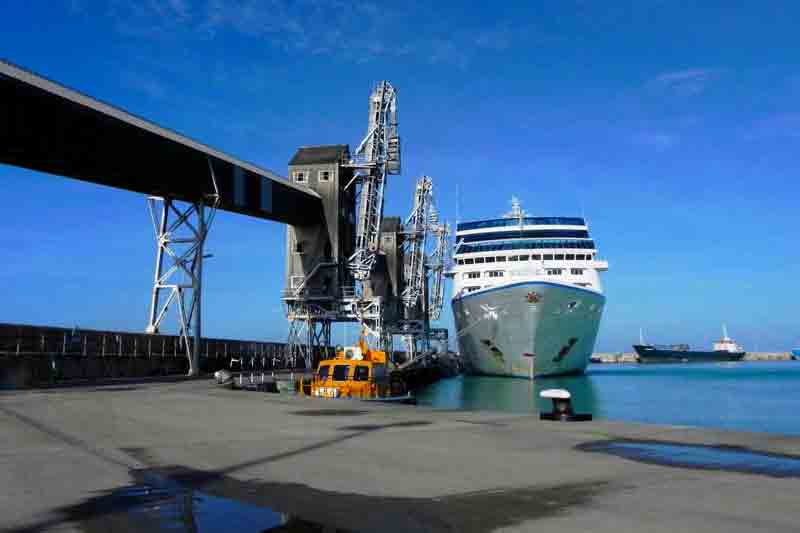 At The Pier in Bridgetown, Barbados
Photo © IQCruising.com
Shuttle bus
Most luxury cruise lines (like Regent or Crystal) offer complimentary shuttle buses. If your cruise line doesn't offer a shuttle bus, there is also a paid bus - US $2.00 per person, each way - right outside the terminal. Taxis are also available but it doesn't make much sense to pay extra unless you really need to.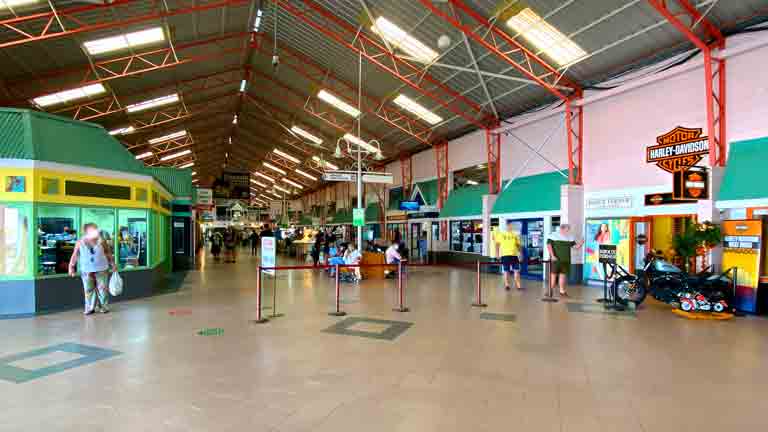 What's at the cruise terminal
The cruise terminal is one of the best in the Caribbean with all services and amenities the cruise traveler may require. On a large building, you will find an excellent Visitor Information Center, an area with Free mobile-friendly Wi-Fi, restrooms, souvenir and duty-free shops (both jewelry and liquor) and, last but not least, a post office where you can buy Barbadian Postal Stamps known for their exquisite designs.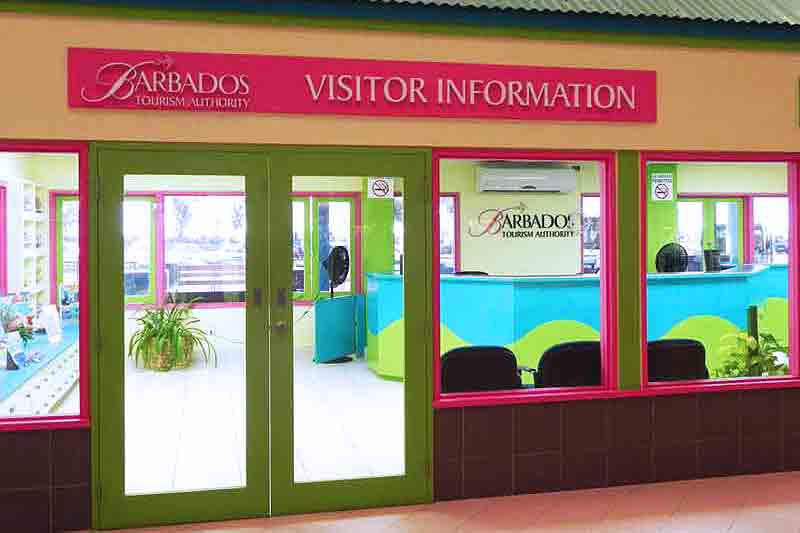 Visitor Information Center
Photo © IQCruising.com
Outside the Terminal, there is a dedicated shaded area for tour buses (on the left side), a few more souvenir and clothing shops (t-shirts, beach attire), and local transportation services such as Car Rental, Scooters, and ATV - be aware that driving in Barbados is on the left as expected on a former British Colony.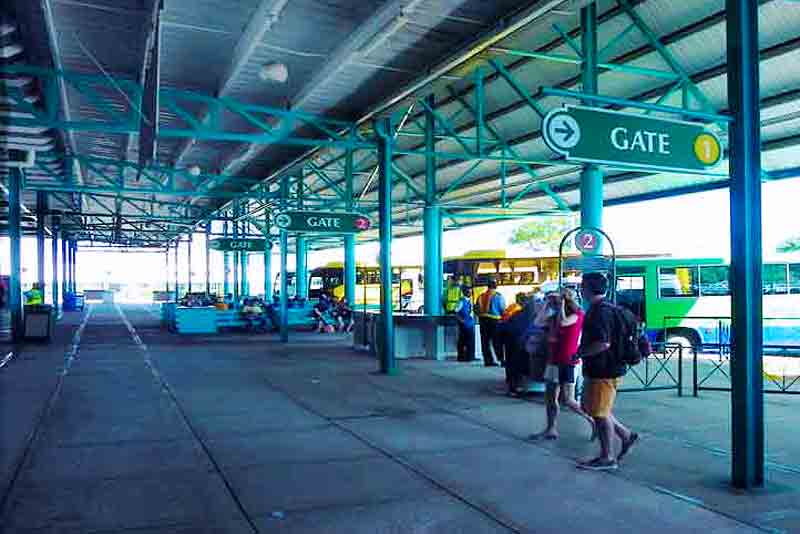 Outside The Terminal - Tour Buses
Photo © IQCruising.com
There are also a couple of open-air bars where you can savor typical Bajan cuisine or the famously refreshing Banks (the local beer). Here are the services and amenities cruise travlers will find at the cruise terminal in 2023
Tourist Information
ATM (US dollars only)
Restrooms
Convenience Stores
Free Wi-Fi
Taxi Dispatch
Souvenir Shops
Local Crafts Stalls
Duty-Free Shops
Post Office (temporarly closed)
Car, Scooter, ATV rentals
Taxis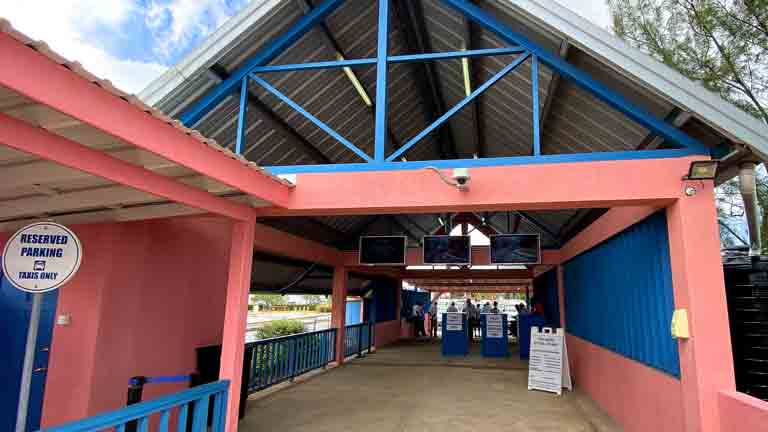 Taxi services are available at the covered dispatch center and although official fares are displayed, make sure to always confirm rates and currency - US dollars are widely accepted. A taxi to Bridgetown costs US$2.00 per person. Here are the 2023 official taxi fares to the top destinations in Barbados.
Taxi Fares from Bridgetown Cruise Port (2023) *
| ACCRA BEACH | BOAT YARD BEACH | CARLISLE BAY BEACH | MIAMI BEACH / OISTINS | MULLINS BEACH | PAYNES BAY BEACH | BRIDGETOWN |
| --- | --- | --- | --- | --- | --- | --- |
| US$7.50 | US$5 | US$5 | US$10 | US$10 | US$7.50 | US$2 |
* Fares are per person, one way, sharing a Taxi.
Within walking distance
For those that enjoy walking, the path from the exit of the Cruise Terminal along the ocean up to the historical downtown and the Careenage (an interesting area of Bridgetown) is both safe and pleasurable. Have in mind that it will be hot and you should wear cool clothing, walking shoes, a hat, and sunscreen is never frivolous.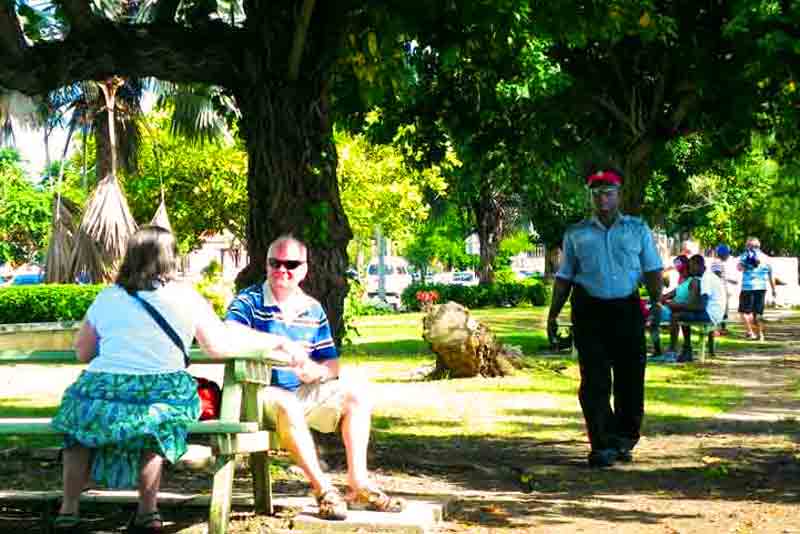 Walking Path to Bridgetown
Photo © IQCruising.com
The wide avenue outside the exit gates of the cruise port is the Princess Alice Highway. On the right side, by the ocean, the path is lined with trees and along the way, there are a few places with benches and tables to have a rest. On the left side there are a few places worth a look: the Rolli's Bar and Grill, the Caribbean Cigar Company selling the Royal Barbados brand and the Pelican Village Craft Center.
The Highlights of Bridgetown
Once you pass the Bridgetown Fish Market (on the right) you would have walked already 1/2 mile (800 meters). Around 300 feet (100 meters) more and you will have the alternative to keep walking straight into Hincks Street or turn left into Cumberland Street. The latter will take you to Jubilee Gardens and St. Mary's Church (a major Anglican church in Bridgetown) which is a stone's throw away from the shopping area of downtown (Broad Street and around).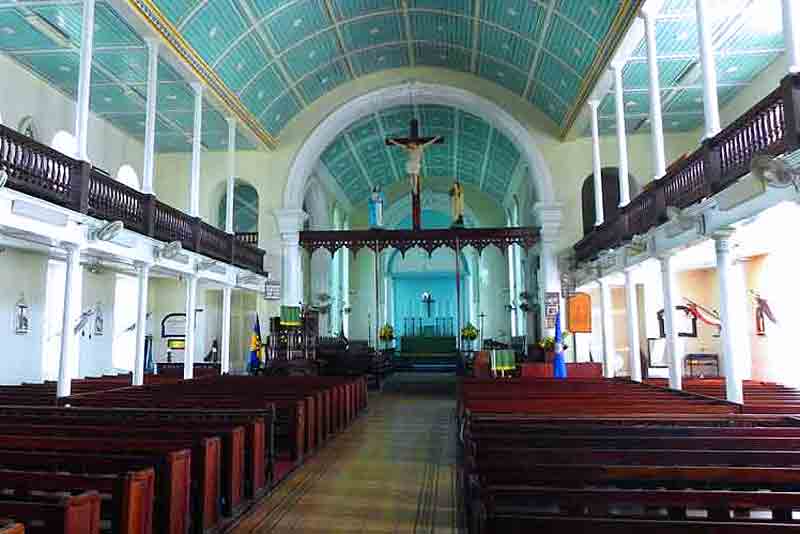 Interior St. Mary's Church in Bridgetown
Photo © IQCruising.com
The walk into Hinks Street leads to Wharf Road, a Boardwalk and the Careenage. Along the way, at the Cloister Building, on the left, the Agapey Chocolate Factory is a place to visit if you have a sweet tooth and even consider a tour (1 hour for US$20).
After a right followed by a left turn, you will find yourself on Wharf Road with its boardwalk and it becomes clear that you are in historical surroundings. This is the place where, once upon a time, ships were careened onto a side to be repaired, scrubbed and painted, hence the Careenage eponymous. Now, on the narrow mouth of the Constitution River, sleek yachts, touristic and fishing expeditions boats dock on both banks. Farther along, the Wharf Road borders the National Heroes Square with a statue of Lord Nelson and the imposing Parliament Building which are impossible to miss.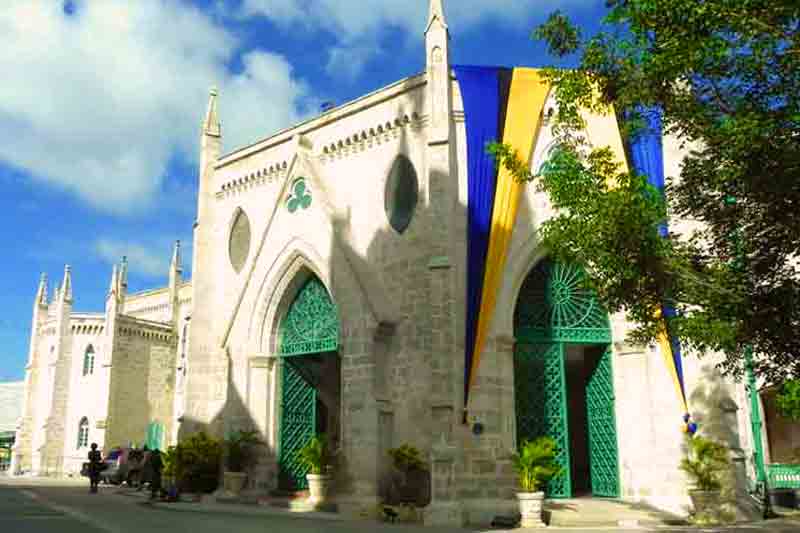 Parliament Building in Bridgetown
Photo © IQCruising.com
The pedestrian Chamberlain Bridge crosses the river to the south bank. At the end of the bridge, the Independence Arch is a famous landmark and a great photo op. Immediately after, on the left, is the seafront greenery of Interior St. Mary's Church and on the right is where you could have a refreshing drink or a light lunch before the Covid pandemic. Unfortunately, popular places like the Marina Bar and the Waterfront Café have closed down.
Chamberlain Bridge
Photo by Pgbk1987 CC by SA.
For those interested in all things historical, you should return to the National Heroes Square to visit the Parliament Building, St. Michaels Cathedral (built in 1784) and the Nidhe Israel Museum and Synagogue (an absolute must-see regardless of your faith or absence of).
If shopping is on your plans, turn left on Heroes Square into Board Street as this is where the best duty-free shops and departments stores are found.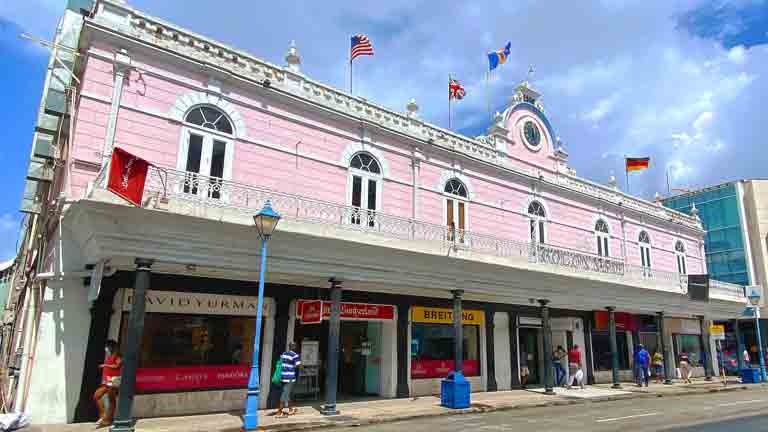 Among the typical stores found all over the caribbean, here are some othe best shops you will find in Barbados Cruise port:
Colombian Emeralds

Diamonds International

Litlle Switzerland

The Royal Shop

Breitling

David Yurman

Pandora
It took a few calls at Bridgetown Cruise Port for the Editor to realized that the Careenage is very close to the famous Boatyard Beach Bar and Club - less than 1/4 of a mile (400 meters) south of the Independence Arch. In fact, the Carlisle Bay's northern tip is the mouth of the Constitutional River, and on the bay, the Boatyard is just one of the many clubs and bars that line the sugar white sands and turquoise waters of Barbados spectacular beaches of this Bay and where the best snorkeling sites in Barbados are located. However, be aware that Carlisle Bay is close to two miles long.
Editors' Tip: if the Boatyard or any of the beach clubs on Carlisle Bay are on your to do list, it is advisable to get there (or back) by taxi as the walk from the cruise port is over 2 miles (3 km).
Top things to do on a cruise to Barbados
Besides the mentioned attractions in Bridgetown within walking distance or close by on a taxi (easy and affordable), there are many other attractions to explore in Barbados.
All attractions farther from the cruise port require a tour, an excursion aka Shorex either booked onboard your cruise ship or with independent operators. You will have to book most of these tours online. But some can be arranged with local guides, or on your own with a taxi at the pier.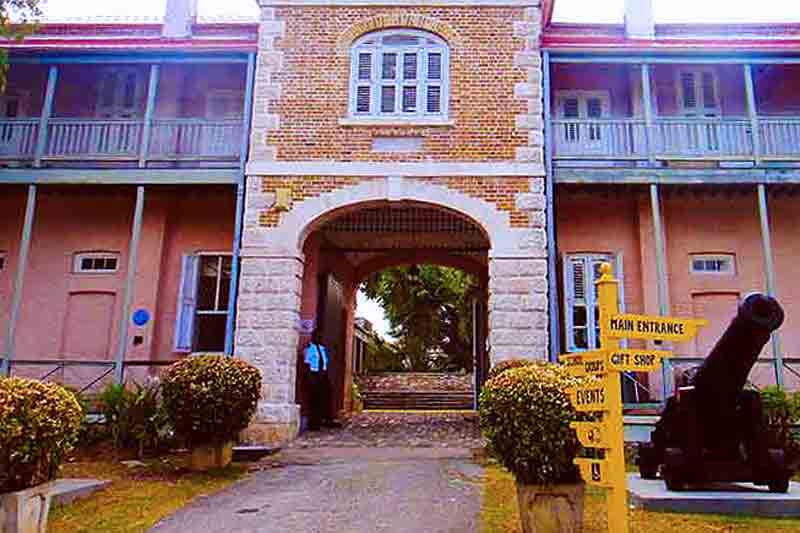 Barbados Museum
Photo © IQCruising.com
Before deciding to book a tour, stay close to the port and explore Bridgetown or any other attraction nearby, the cruise traveler should consider a visit to top highlights and attractions in Barbados such as the following:
Andromeda Botanic Gardens

Barbados Museum and Historical Society

Barbados Wildlife Reserve

Bathsheba Beach

Gun Hill Signal

Harrison's Cave

Mount Gay Rum Refinery

Sunbury Plantation

St. Nicholas Abbey

Turtle Encounter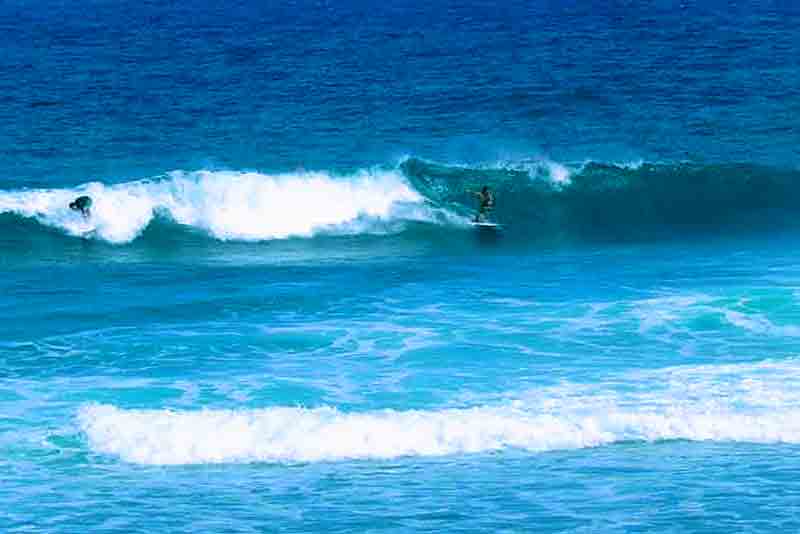 Surfing in Bathsheba Beach
Photo © IQCruising.com
Besides historical landmarks and exotic nature, Barbados is one of the few islands in the Caribbean where surfing is a unique experience, in particular on the spectacular scenery of Bathsheba Beach.
Shore Excursions in Barbados cruise port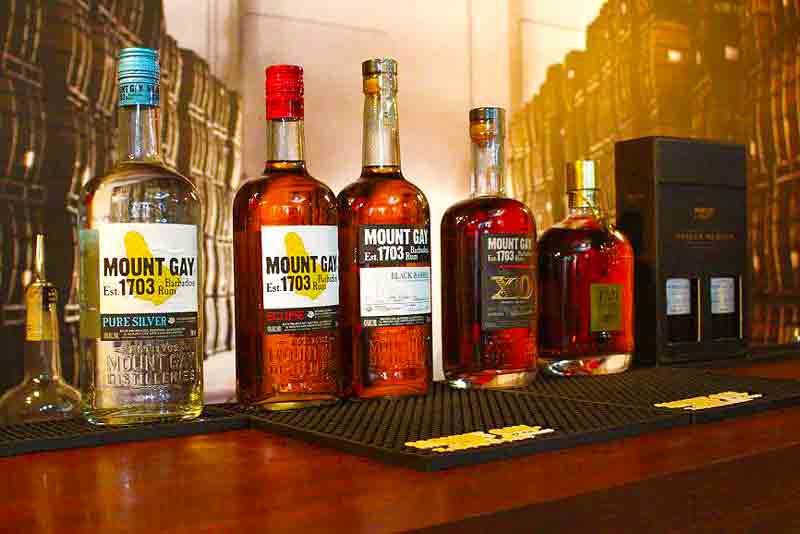 As much as there are lots of nice and easy things to do on your own when calling at the port of Bridgetown in Barbados, all cruise lines and independent local tour operators offer excellent cruise excursions, which cruise passengers should consider.
Obviously, all cruise lines offer many and diverse shore excursions in Barbados. Celebrity Cruises offers as many 34 shore excursions and Royal Caribbean has 37 cruise excursions. Carnival lists 16 shore excursions. Norwegian Cruise Line (NCL) has available 10 shore excursions. Oceania Cruises organizes 17 shore excursions, Holland America offers 16 cruise excursions, and Princess has 20 excursions available.
Besides the cruise excursions organized by cruise liens, there are also shore excursions and tours offered by the following reputable private online services: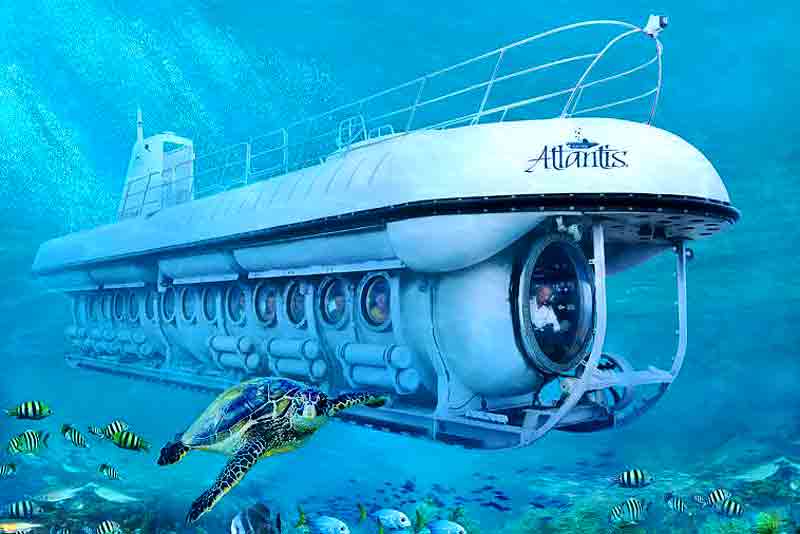 Good to Know: Tourist Info, Language and Currency
There is a Tourist Information Desk conveniently located at the Cruise Terminal, usually maned all day, where you can get maps and brochures.
Language
English is the official language of Barbados. But you may hear an English based dialect known as Bajan or Barbadian Creole.
Currency
The Barbadian Dollar is the legal tender in Barbados but US Dollars are widely accepted and the cruise traveler doesn't really need to exchange money.
Safety, US travel advisory and basics
For comprehensive and updated information about traveling to Barbados see the U.S. Department of State website page evolving advisory.
Covid-19 advise for cruises to Barbados (Bridgetown) cruise port
For updated coronavirus (Covid-19) information and travel advice to Barbados visit the website of the U.S. Embassy in Barbados. For more Traveler's Health advice to Barbados see the CDC Website.
► Explore: Top Reviews - Caribbean Ports
Discover all Caribbean Port Reviews - Antigua, St. Martin, St. Thomas, St. Kitts, Nassau, Grand Cayman, Cozumel, Grand Turk, Ocho Rios ...
Learn More ►