All you need to know about the most popular shore excursions and tours for cruise passengers to St Thomas (Charlotte Amalie) port in 2022.
All cruise lines offer an array of shore excursions that cover all possible activities, attractions, and highlights in the cruise port of St. Thomas.
Even if you only want to relax on a beach or explore St. John ( a sister island) on your own, cruise lines have these types of shore excursions available. Cruise passengers should be aware that some of these excursions can only be experienced if you book onboard.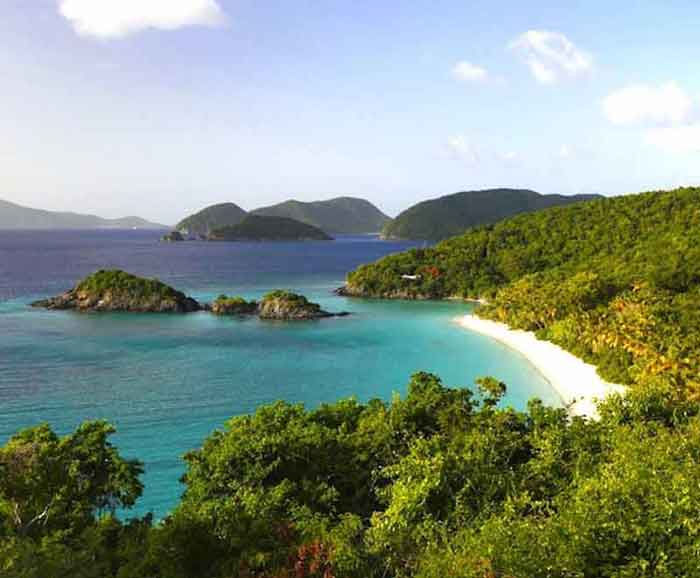 St John National Park
Photo Courtesy of Management
But there are also many attractions that can be explore on your own - or independently as savvy cruisers like to say - and it doesn't make sense to spend money onboard. For example, if the cruise ship passenger wants to go to Charlotte Amalie for a shopping spree, it doesn't make sense to pay for a tour.
The same is true if you want to explore the historical landmarks Charlotte Amalie. In fact many landmarks are not included in the excursion program. However, it is always good to look at what the cruise line offers - below, is the Editor's Choice of excursions organized by Cruise Lines and available onboard your cruise ship.
1. Best of St. Thomas and Shopping
(and Magens Bay)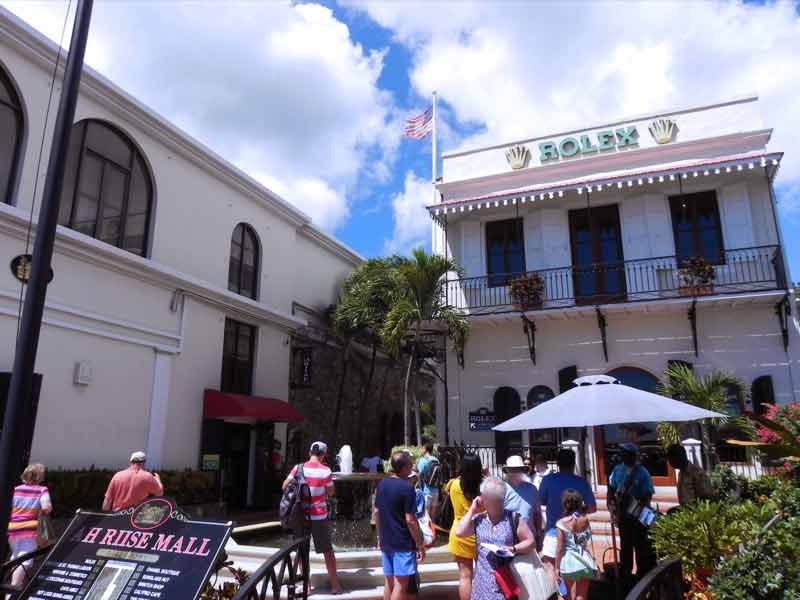 This is one of the most popular tours in St. Thomas combining sightseeing of the island and leisure time to shop in Charlotte Amalie. Some cruise lines (like Carnival and Princess) also offer a couple of hours of beach time at Magens Bay.
2. Kayak, Hike and Snorkel
(Mangrove)
Photo Courtesy of Management
This tour takes the cruise ship passenger to the Mangrove Lagoon Wildlife Sanctuary and Marine Preserve - a 16 acre deserted island. Here the cruise ship passenger will paddle a 2-person sea kayak through mangroves and pristine waters. Snorkel the pristine waters of Cas Cay. Hike through the forest. Look forward to wildlife sightings like a visit to a hermit crab village, a coral beach, jellyfish, eagle rays, conch, sea cucumbers, starfish, turtles, octopus and so much more.
3. Tree Limin' Extreme Zip Line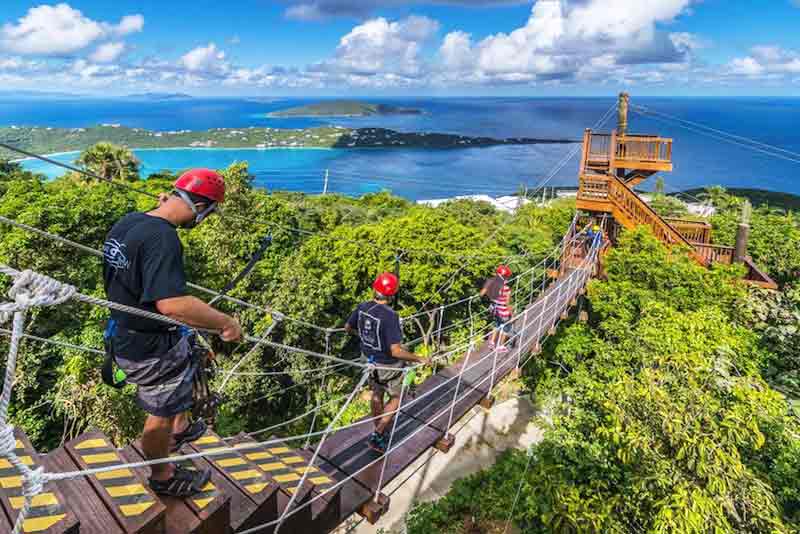 Photo Courtesy of Management
After a ride up St. Peter Mountain in a Swiss military vehicle to the summit, the cruise ship passenger will enjoy breathtaking views whilst crossing sky bridges to start the ultimate adventure in the Caribbean with 6 zip-lines. These include the exhilarating Yo-Yo zip, which allows you to travel backwards and forwards on the same line.
4. BOSS Underwater Adventure
(Underwater Scooter)
Photo Courtesy of Management
BOSS, the Breathing Observation Submersible Scooter, is an amazing way of exploring the underwater world with no diving experience as it is designed to allow you to breathe normally while you drive undersea. On this excursion, a 60-foot custom dive yacht will take the cruise ship passenger to a site with crystal clear waters, where you will enjoy a stunning guided tour of wonderful tropical reefs with colorful fish.
5. Turtle Cove Sail &Snorkel
(Buck Island)
Photo Courtesy of Management
Experience the thrill of sailing onboard a catamaran (or a pirate schooner) around the famous Buck Island and snorkeling in a beautiful cove. These are easy waters to snorkel with an abundance of tropical fish and brilliant corals. Optionally, you can just swim or soak up the sun on the open deck. Good to Know: full-day tours offer a Caribbean buffet and complimentary beverages, including rum drinks, besides snacks and sodas onboard. In the event of rough conditions at Turtle Cove, the boat will anchor at an alternate site
6. Sea Lion Encounter
(Coral World Park)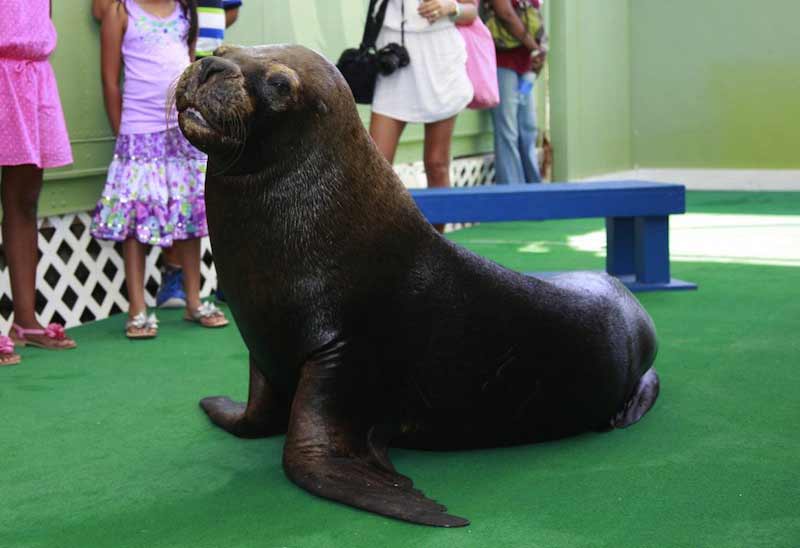 Photo Courtesy of Management
Touch, pet and play games with agile sea lions on land and in water in the Undersea Observatory Tower. The excursion includes the admittance to the Coral World Ocean Park allowing free time for a self-guided tour. Here you can explore a stunning mangrove lagoon, a sea turtle pool, an open-air shark tank and 21 aquariums. Optionally, you can enjoy free time at Coki Beach just yards away from the park.
7. Screamin Eagle Jet Boat
(Water Adventure)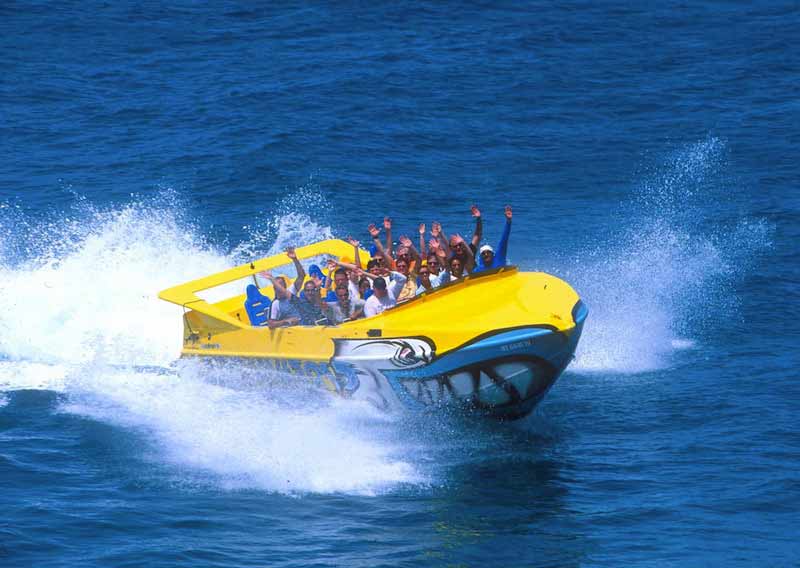 Photo Courtesy of Management
Get ready to get wet on a wild ride in the St. Thomas waters with 180-degree spins, wild fishtails and power brake stops aboard a 650 HP turbo-charged jet boat at exhilaratingly high speeds. Please note that you will be sprayed by seawater. There will be stops for narration.
8. Exploring St. John
(On your Own)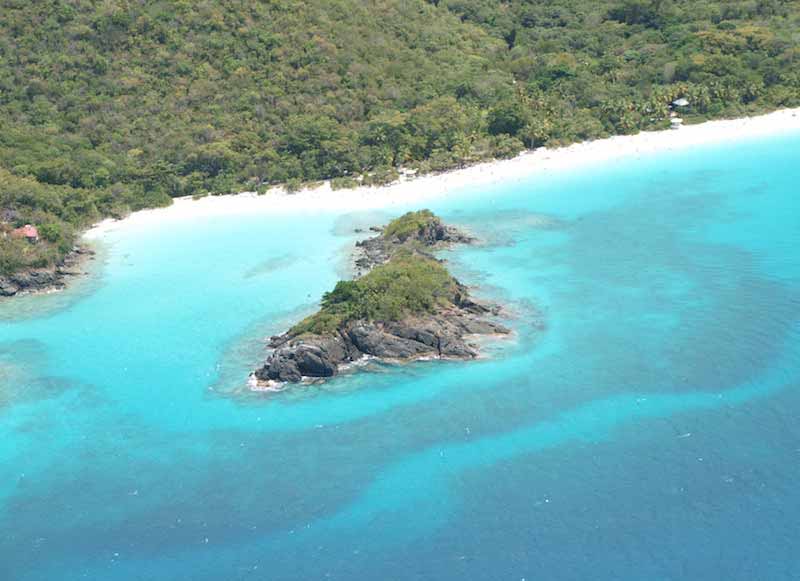 Photo Courtesy of Management
If the cruise ship passenger has already been in St. Thomas and explored this unique Caribbean island, the smaller St. John's island is close by and must see that will be both surprising in its pristine beauty and quaint charm. It is easy to visit on your own - literally - as all you need to do is get on a taxi to Red Hook and from here get on a ferry to Cruz Bay in St. John. Alternatively, you can have the transportation organized by your cruise line for an extra cost if it makes you feel more confident.