Docking and embarking in San Juan cruise port: home port and/or port of call, where do ships dock, and things to do nearby in Old San Juan.
The Port of San Juan in the island of Puerto Rico has a good number of highlights appealing to cruise passengers with the most diverse interests.
Plaza de Armas in San Juan (Puerto Rico)
Photo © IQCruising.com
Historical landmarks, great sightseeing outdoors, beautiful beaches, interesting museums, unforgettable land activities and water sports, excellent duty-free shopping, delicious local flavors, and the stunning Old Town of San Juan are top highlights of this Caribbean Island.
With around 500 ships visiting San Juan every year, averaging 2 million cruise passengers passing by, the cruise port is one the most popular destinations in the Caribbean. Interestingly, San Juan Cruise Port is included in itineraries sailing the Eastern and South Caribbean but also some cruising the Western Caribbean.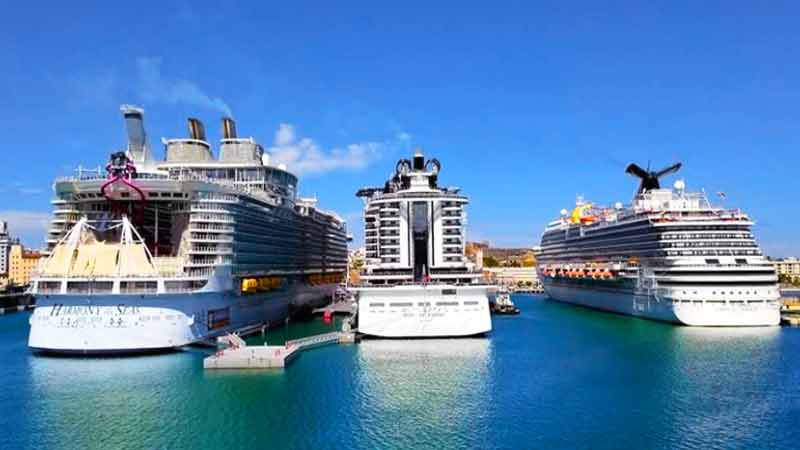 Ships Docked in San Juan in San Juan (Puerto Rico)
Photo: Public Domain
San Juan port of call
San Juan is both a "Port Call" and a "Homeport", which means that some cruise ships will start and end the cruise in San Juan and consequently, Embarkation and Disembarkation of the ship will be in San Juan. However, the majority of cruise ships call at the port for as many as 8 hours, which is enough time to explore quite a few highlights of Puerto Rico. Some cruises, in particular, those sailing from Floridian ports, may arrive in San Juan around noon and sailing late in the evening.
San Juan home port: cruise embarkation and disembarkation
San Juan is a homeport for a few of cruise ships. Because some cruise passengers get confused with the term "homeport", it should be noted that this means that cruise ships Embark and Disembark passengers in San Juan and, therefore, cruises start and end in this port.
In this the case, two main peirs are used: the Pan American Pier and the Pier 4 - more about all the piers and terminals below. Cruise tip: when embarking or disembarking in San Juan, it is advisable for cruisers to fly into Puerto Rico on the day prior to the start of the cruise or to fly in the morning as early as possible. Not only to have the opportunity to explore at least a bit of this wonderful island, but also to guarantee that you don't miss your cruise.
Sailing in or away
Sailing into the natural port of San Juan is a delight. If you are an early bird, the morning arrival is a sight not to be missed. If you are not out and about when arriving in port, make sure to be out on deck when sailing away. Have in mind that cruise ships arriving around noon will sail after sunset and, therefore, sailing into the port is a must.
Panoramic Pier 4 and Terminal in San Juan (Puerto Rico)
Photo © IQCruising.com
Definitely, San Juan is a port that cruise passengers should explore, be it on your own or on a shore excursion. Most attractions of the Old Town of San Juan are within walking distance from the pier and cruisers will certainly find more interesting things to do close by, on land, than staying onboard.
Where Cruise Ships Dock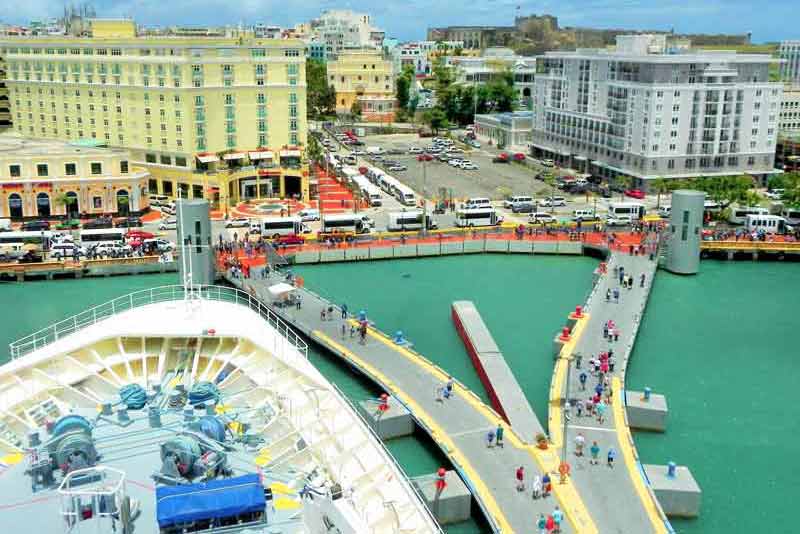 View of San Juan from Pier 3 in San Juan (Puerto Rico)
Photo © IQCruising.com
Cruise ships calling at the port of San Juan will dock in one of the three piers right by the historical city of Old San Juan. This is ideal for cruise passengers that enjoy exploring attractions within walking distance or close by.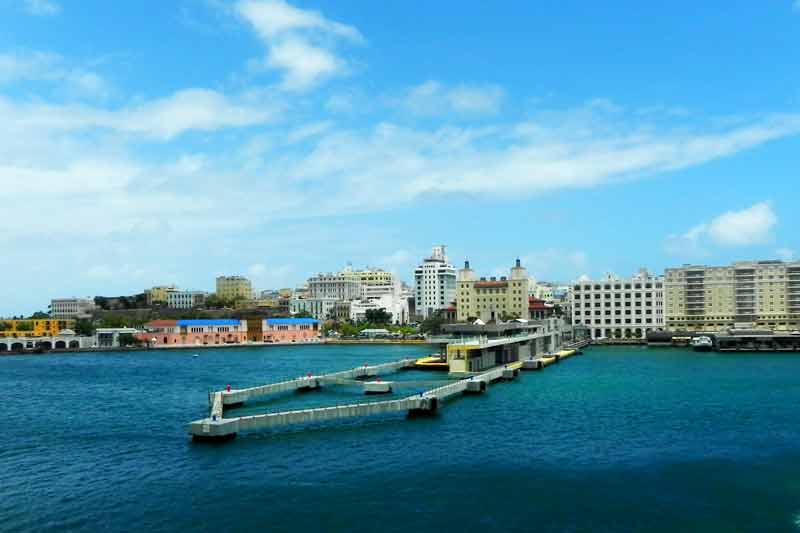 Pier 1 in San Juan (Puerto Rico)
Photo © IQCruising.com
There are also two other terminals, 1 mile south of the Old Town, in what is known as Pan American Pier with a capacity for two cruise ships to moor. This is where most cruise ships embarking and disembarking passengers will dock.
The Piers in Old San Juan
The 3 piers right by Old San Juan are perpendicular to the shore and two of them have terminal buildings. A total of 6 cruise ships can dock at these pier/terminals. The exit gates of the piers and terminals are less than 500 feet (150 meters) from the gangway.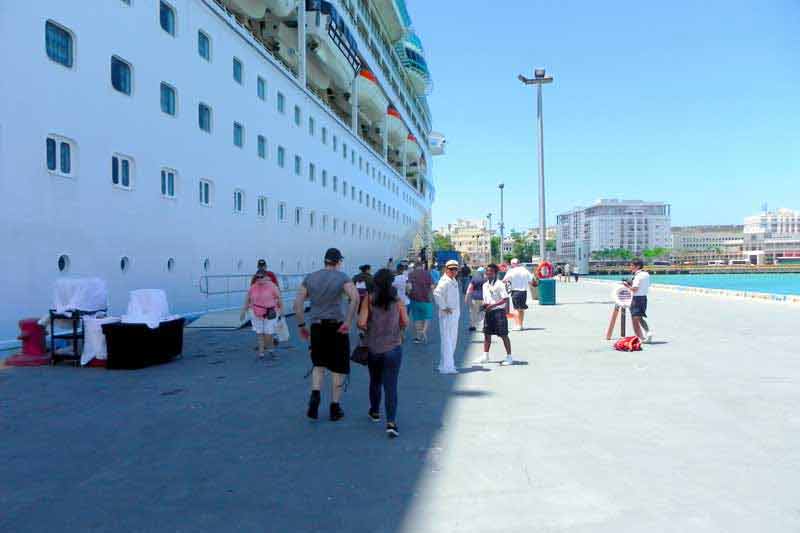 At The Pier 3 in San Juan (Puerto Rico)
Photo © IQCruising.com
Once outside the gates, the cruise traveler will be on a 4 lane avenue (Paseo Concepcion de Gracia) along the southern shore of San Juan. The Old Town is right across this avenue.
When you return to the ship, your cruise card and a valid Photo ID will be checked at these gates - make sure you have a photo ID with you.
Pier 1, with capacity for 2 ships to moor, has a passenger terminal and is used by cruise lines other than the ones belonging to Carnival Corporation and Royal Caribbean. If you are cruising with Norwegian (NCL), Costa, MSC, Disney, among others, this is where your ship will dock.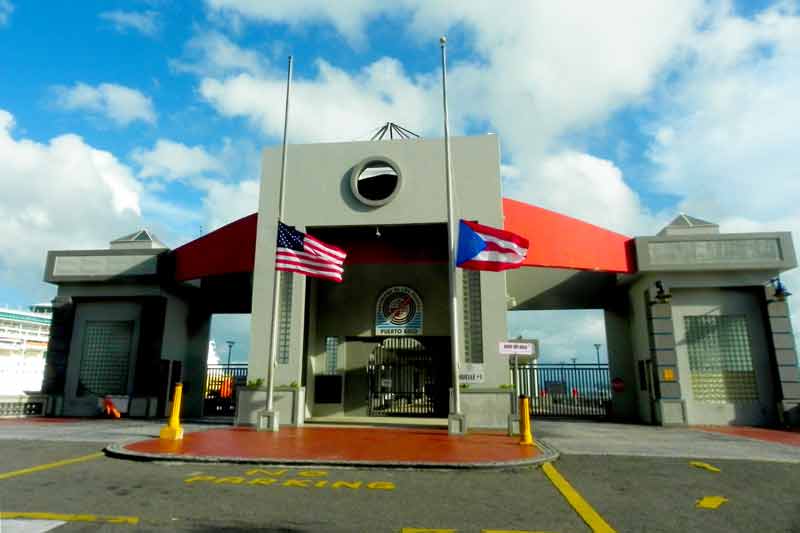 Pier 1 and Terminal in San Juan (Puerto Rico)
Photo © IQCruising.com
Pier 3 was recently updated and is used exclusively by Royal Caribbean ships. This pier is used only by ships that are calling at San Juan for the day and has a capacity for 2 ships. Cruise ships embarking (or disembarking) passengers in San Juan on Royal Caribbean will dock at Pan American Pier.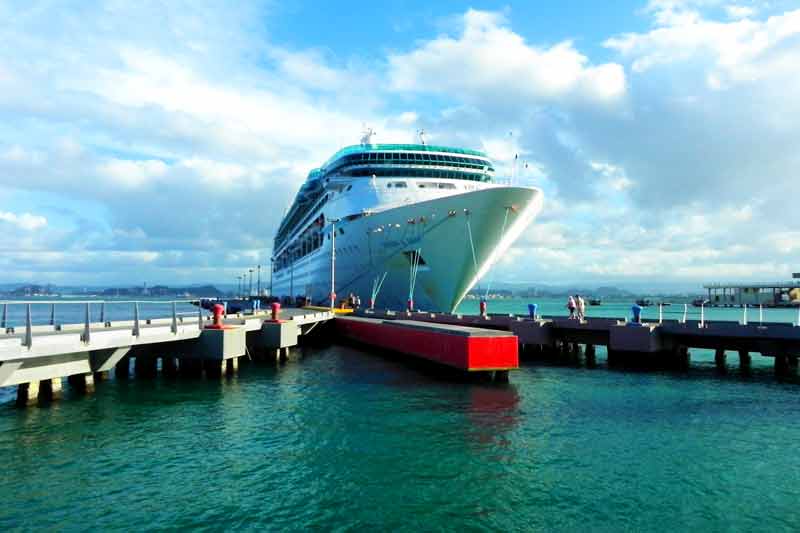 Ship Docked at Pier 3 in San Juan (Puerto Rico)
Photo © IQCruising.com
Pier 4 also has two berths for as many cruise ships and has a modern terminal. This pier is used exclusively by Carnival.
Pier 4 and Terminal in San Juan (Puerto Rico)
Photo © IQCruising.com
What's Close By
Cruise passengers on ships docking at the piers in Old San Juan, will find that the major historical landmarks of the town are just around the corner. The best shopping streets are in the Old Town and, likewise, some of the best restaurants.
Cruise passengers on ships docked at the Pan American Pier will most probably be Embarking and/or Disembarking in San Juan Cruise Port. If embarking/disembarking in San Juan, you will not have much time to see highlights and attractions, unless staying overnight before or after the cruise.
If your cruise ship docks at the Pan American Pier for the day, a taxi ride to Old San Juan takes no more than 10 minutes and will cost around $10. However, most cruise lines offer a shuttle to Old San Juan when calling at the Pan American Pier.
Within Walking Distance
There isn't much to see within walking distance of the Pan American Pier but there are two hotels that can be convenient for an overnight stay - the Sheraton Puerto Rico Hotel & Casino, and the Hyatt House Hotel. However, do not be fooled by the proximity of the Isla Grande Airport. This small airport only has connections with other small Caribbean islands. This is NOT the international airport with connections with US and International airports.
Old San Juan Attractions
By contrast, when docked at any of the piers by the Old Town, the cruise traveler will have a lot to see and do. Although you will not find a beach or active pursuits within walking distance, all historical landmarks, duty-free shopping, wonderful coffee shops, bars, and restaurants are a stone throw away from the gangway of your cruise ship.
Old San Juan is a UNESCO World Heritage Site with famous historical landmarks such as the Fuerte San Felipe del Morro (aka El Morro), the Castillo de San Cristóbal or the Fortaleza. Both "El Morro" and San Cristóbal are part of the San Juan National Historic Site and can be visited with the same entrance ticket ($7.00). Visit the Official National Park Website: www.nps.gov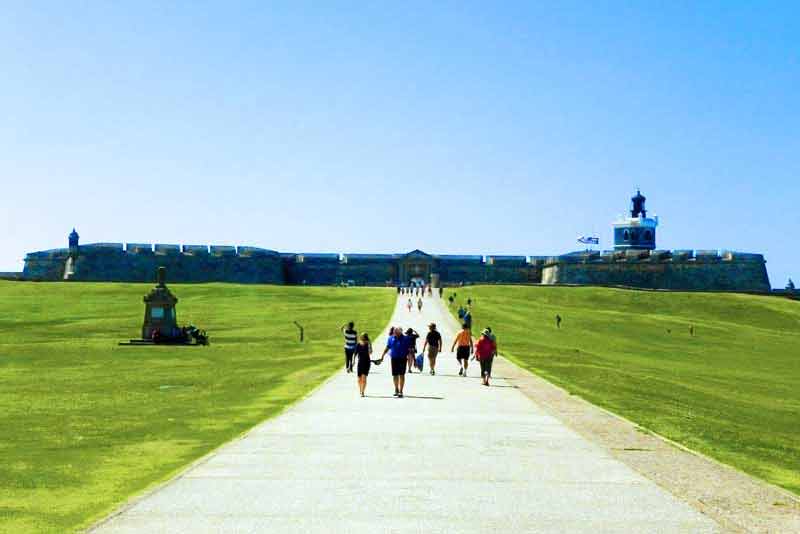 El Morro in San Juan (Puerto Rico)
Photo © IQCruising.com
The San Juan Cathedral (Catedral de San Juan) is undoubtedly the most famous religious site to visit. The San Jose Church (Iglesia de San José) is temporary closed for renovation but a must see - keep an eye on our updates. Visit the Official San Jose Church Website: www.iglesiasanjosepr.org
Cruise passengers interested in museums will find that, unfortunately, the Museum of San Juan is currently closed. The Museo de las Américas, Americas' Museum, located on the restored Ballajá Infantry Barracks Building displays an ethnographic panorama of the history and culture of the Americas. Visit the Official Museum Website www.museolasamericas.org
Ballajá Barracks in San Juan (Puerto Rico)
Photo © IQCruising.com
Meandering the streets of Old San Juan, the cruise traveler will have the opportunity to contemplate historical buildings of unique beauty, especially in Calle Fortaleza (Street) and Calle San Francisco (Street). Among many landmarks, the City Hall stands out on Plaza de Armas, whilst on Plaza Colón there are a few interesting buildings like the Old Casino, the Teatro Tapia and Castillo de San Cristóbal close by.
Shopping and Eating
Cruise passengers looking for the famous duty-free shops of San Juan, will find that Calle Fortaleza and Calle San Francisco are the two main Shopping Streets of Old San Juan. You will also find a few famous brands like Coach, Tommy Hilfiger, Crocks or Guess on Calle del Cristo.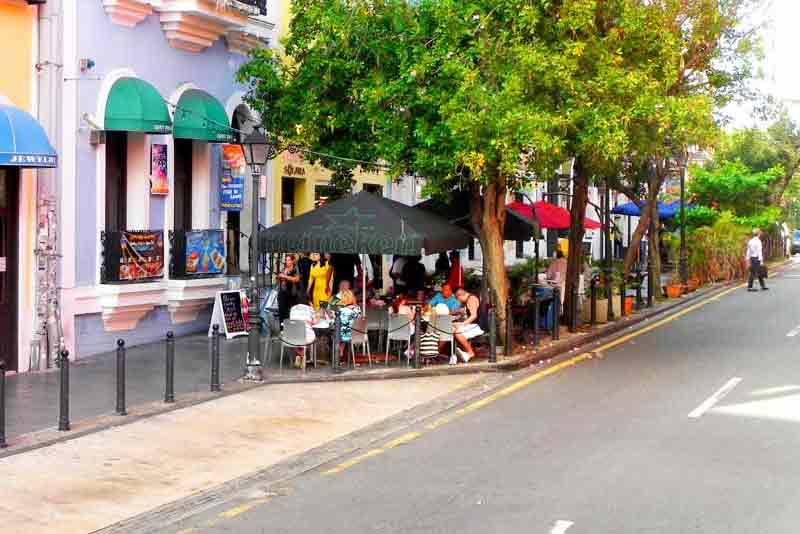 Calle del Recinto Sur in San Juan (Puerto Rico)
Photo © IQCruising.com
As much as you will come across very nice places to have a quick bite or lunch all over Old San Juan, on Calle Recinto Sur you will find a series of pleasant places to eat (or just drink) al fresco.
San Juan Basics at a Glance
| | |
| --- | --- |
| Entry Requirements: | Passport is NOT required for U.S. citizens with valid photo ID such as a driver's license. Non-U. S. visitors are required a valid passport. |
| Language | English and Spanish |
| Currency: | US$ |
| ATM's: | There are ATM's all over the Old Town and close to the piers. |
| Internet Wi-Fi: | You will find Free Wi-Fi Internet in many coffee shops in Old San Juan, namely at Starbucks, which is located around 800 feet (250 meters) from the piers. |
| Phones: | Most US phones should work in Puerto Rico but is advisable to check with your provider to avoid roaming charges. |
| Post Office: | Close to piers on Calle Paseo de Colón. |
| Electricity: | Standard American 120 V current. |
| Car Rental: | Avis, Hertz, Budget, Thrifty, Dollar. |
| Driving: | Driving is on Right. |
| Useful: | Among others the following countries have consulates in San Juan, Puerto Rico: Austria, Canada, Denmark, France, Germany, Israel, Italy, Netherlands, Portugal, Russia, Spain, Sweden, Switzerland |
| Emergencies: | Dial 911 |
| Health Matters: | Pharmacies - Hospital |
| Drinking: | Legal drinking age is 18 years. |
| Smoking: | Smoking is prohibited in restaurants and public buildings. Bars may allow smoking outdoors. |
► Explore: Top Reviews - Caribbean Ports
Discover all Caribbean Port Reviews - St Thomas, St Martin, St Kitts, Antigua, Barbados, Aruba, Bonaire, Grenada, Curaçao, Grand Turk, Nassau ...
Learn More ►