Everything You Need to Know About Amber Cove cruise port (Dominican Republic): where ships dock, what to do on shore excursions and how to explore on your own, what's in the cruise terminal, how to get around, dining, shopping, and all you must-know.
The port of Amber Cove (in the Dominican Republic) boasts many attractions for cruise travelers. The Cruise Center is a must for those that like to stay within walking distance of the pier.
There are lots of things to do and see nearby. And a handful of interesting attractions in the historical city of Puerto Plata, which is located 7.9 miles (12.8 km) east of the port - around 20-minute drive.
Contents
Overview
Amber Cove is a regularly visited cruise port of call in the East Caribbean itineraries during the Fall-Winter season, with as many as 650.000 passengers and over 150 cruise ship visits in 2017. This new cruise port was exclusively developed by Carnival Corporation in 2015. The cruise port of Amber Cove has a very appealing character, the area is very clean and immaculately kept.
Generally speaking, Amber Cove is very safe. The local population is very friendly but not pushy and speak English reasonably well. For those cruising with families, there is a lot do. Cruise passengers with disabilities or with walking difficulties will find it very smooth to wander around in Amber Cove on your own.
With a few exceptions, the cruise port in Amber Cove is mainly visited by ships belonging to Carnival Corporation like Carnival Cruises, Princess, Holland America, Costa, P&O or Cunard. However, other cruise lines like Royal Caribbean, NCL, Regent or MSC also call at Amber Cove.
Where is Amber Cove, the port
and where cruise ships dock
Amber Cove is on the Bay of Maimon, near Puerto Plata, a historical city officially known as San Felipe de Puerto Plata with a population of around 290,000. The Amber Cove port is located in the Puerto Plata province, on the North Coast of the Dominican Republic, on the shore of the Atlantic Ocean, 100 miles (160 km) south of Grand Turk.
Docking and the pier in Amber Cove
Your cruise ship will dock on a 1280 feet (ca. 390 meters) L-shaped pier, parallel to the coast, with quays for 2 ships to berth.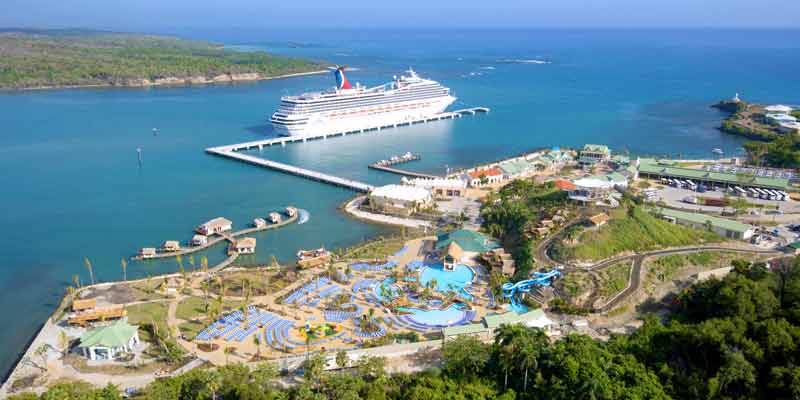 Amber Cove Port, Pier and Cruise Center
Photo courtesy of Carnival Cruises
It is a 5-minute walk to the activities complex, known as Amber Cove Cruise Center.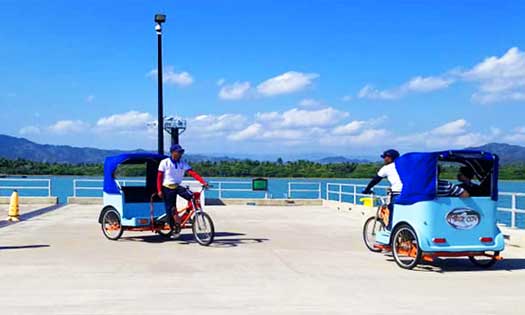 Bicycle Rickshaws
Photo Public Domain
For those with walking difficulties, there are bicycle rickshaws ready to take cruise passengers all around. There isn't a terminal building in Amber Cove port but cruise travelers will find all basic services and amenities in the vast 25 acres Cruise Center complex where most attractions and activities are located.
Things to do in Amber Cove cruise port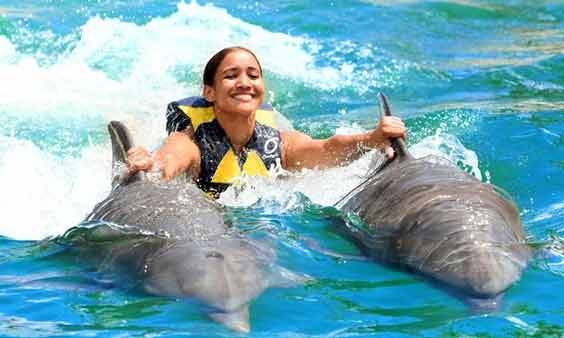 Swim with Dolphins
Photo courtesy of Carnival Cruises
Amber Cove is a port with a considerable diversity of attractions. There is a lot to do for cruise passengers planning to relax by a swimming pool or on a beach, that enjoy the excitement of water parks, sailing tours, and water sports like snorkel or deep-sea fishing. And also for those looking for thrilling pursuits like zip lining, swimming with dolphins or outdoor activities such as horseback riding, ATV or buggy tours.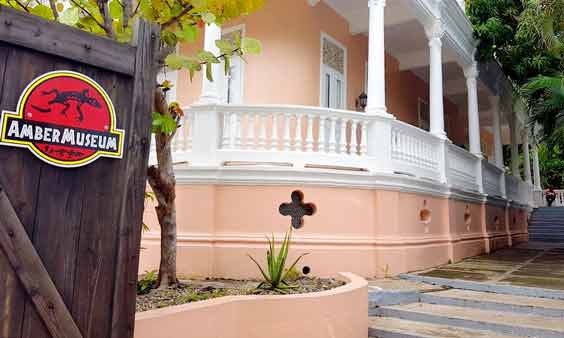 Amber Museum in Puerto Plata
Photo by Amber Museum
Amber Cove is also a great cruise port for travelers who appreciate historic sites, and landmarks, visit unique museums, watch cultural shows or taste local flavors. And it is straightforward to explore on your own. Close to the port, there are breathtaking scenic sights and magnificent natural wonders to marvel. In the Amber Cove Cruise Center, you will find stores to shop for souvenirs, regional crafts, unique local products, and a few typical Caribbean stores.
How to explore Amber Cove and Puerta Plata for cruise travelers
Cruisers planning to stay in the Amber Cove Cruise Center will find all attractions within walking distance although you must have in mind that it stretches over 25 acres. To explore other attractions and activities nearby or the highlights of Puerto Plata there are two good options:
Book a Shore Excursion

Travel On Your Own to Puerto Plata and Beyond
Shore excursions - shorex
All cruise lines, and Carnival in particular offer over 40 shore excursions to the Highlights and Attractions of Puerto Plata beyond the Amber Cove Cruise Center. Visit Carnival Shore Excursions Website Page. There are also many excursions offered by the following reputable private online services:
Explore on your own
To travel on your own, there are taxis and car rentals in the Amber Cove Cruise Center. Traveling to the Historical City of Puerto Plata takes around 20 minutes, and the Ocean World Adventure Park is 10 minutes away. More about transportation in a few paragraphs.
The Amber Cove Cruise Center: activities, services, and amenities
At the end of the L-shaped pier, cruise passengers will find to the left a Service Area, Restaurants, and the best Shopping in the Cruise Center. The area on the right side is known as the Aqua Zone, and that's where you will find the most relaxing spaces and fun activities. Wi-Fi is available at the Amber Cove Cruise Center for $8.00 for the full day.
In the service area of the Amber Cove Cruise Center, passengers will find a couple of restaurants, over a dozen shops including names like Diamonds International or Effy, and the following services and amenities:
Tourist Information office
Taxis
Car rentals
ATM
Pharmacy
Restrooms
In the Aqua Zone, there is a vast Pool with Loungers, the Coco Cana Poolside Bar, a Children's Splash Area, the Duel Waterslides, a Zipline, Watersport Rentals, Exclusive Areas with Cabanas and the Sky Bar.
► Explore: The Amber Cove Cruise Center
Discover all activities, services, and amenities: free and paid activities, all watersports, cabanas, day-passes and more ...
Learn More ►
Highlights of Puerto Plata region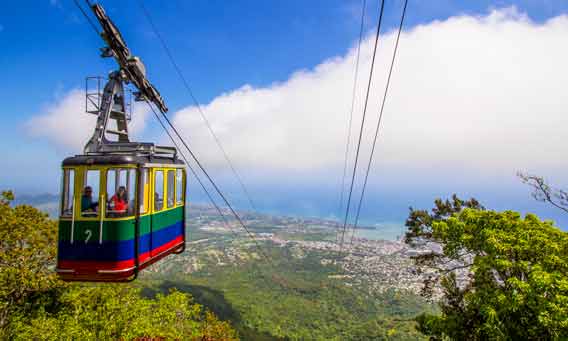 Cable Car in Puerto Plata
Courtesy of the Dominican Republic Ministery of Tourism
Besides all the distinctive features and activities in the Amber Cove Cruise Center, there are many attractions and highlights in the Puerto Plata area, within less than a 1-hour drive. Some of these can only be explored with shore excursions.
Other attractions can definitely be discovered on your own, for less money and/or with more flexibility. Some sacred sites like the Synagogue in Sosua, beaches like Maimón (within walking distance), or activities like golfing at the Playa Dorada Golf Course are not offered on Shore Excursions.
Amber Museum and the city of Puerto Plata. A must-see museum, notable landmarks, a couple of Rum Distilleries, nice places to enjoy a quick bite or lunch, around 7.3 miles (11.75 km) from the port. Very straightforward to explore on your own or on a shore excursion. Discover all things to do in the Historical City of Puerto Plata.
The Waterfalls of Damajuagua.

A memorable experience for those that enjoy physical challenges, 13.4 miles (21.56 km) south of the port, to explore both on a shore excursion or on your own.

Puerto Plata Cable Car (Teleferico).

Incredible ride with stunning views, 5.9 miles (9.49 km) east of cruise port. To explore on a shore excursion or on your own.

Ocean World Adventure Park.

Swimming with dolphins, sea-lion, shark and bird shows, 4.2 miles (6.76 km) east of the port, only on a shore excursion.

Dominican Outback Safari.

Tour through laid-back villages and the rainforest, only available with a shore excursion.

Adventure, Thrilling and Fun Activities.

Outback Buggy drive, Extreme Ziplines, Deep Sea Fishing, Power Snorkel, Beach Horseback Riding, Catamaran Sailing and visit Monkeyland. Only available on a shore excursion.

Beaches and Day-Passes.

There are 8 beaches close to the Amber Cove Cruise Center a few day-passes to private resorts. Coconut Cove is the only beach exclusively offered by a Carnival shore excursion.

Off the Beaten Track.

Visit a Chocolate Factory (shore excursion or on your own). The Jewish Museum and Sosua Synagogue (only on your own). Playa Golf at the Playa Dorada par 72 championship course (on your own only)..
► Explore: The Highlights and Top Things To See and Do in Puerto Plata region
Discover what to see and do, distance from cruise port, how to explore, visiting time, ticket prices ...
Learn More ►
How to get around: transportation in Amber Cove cruise port
Cruise passengers that prefer to explore ports on your own will find it straightforward to travel to most attractions close by Amber Cove. There are public buses, which can be complicated to navigate unless you are a fluent Spanish speaker but there are Taxis and Car Rental available.
Taxis and Uber
Cruise travelers will find taxis at the transportation hub in the Amber Cove Cruise Center. Taxis do not offer specific excursions prices. Drivers speak reasonable English. Taxis tend to be relatively new, are not metered, and most have airconditioning. Taxis have reasonable fares and accept cash both in US dollars and local currency. Uber does not operate in Amber Cove.
Taxis Fares in Amber Cove
Taxi fares below are for one way per cab (up to 5 passengers) sharing a Taxi. The extra coast for an additional person varies between $4.00 (ride to the Teleferico) and $10 (to Cabarete). Taxi fares may have been updated since last reviewed.
| Teleferico | Damajagua | Puerto Plata | Playa Dorada | Sosua | Cabarete |
| --- | --- | --- | --- | --- | --- |
| USD $30.00 | USD $50.00 | USD $35.00 | USD $40.00 | USD $60.00 | USD $75.00 |
Car Rental
National and Alamo are the only two car rentals available at Amber Cove and charge similar prices: around USD $25 for a compact car per day and $60 for a full-size SUV. All cars are comparatively new, have air conditioning, and are automatic.
It is advisable to book prior to cruising to Amber Cove. Driving in the Dominican Republic is on the right side. See the following websites for updated prices and bookings:
Local cuisine and drinks, dining in Amber Cove
If planning to spend the day at the Amber Cove Cruise Center, there are only two options to have lunch or a quick bite. Either going back to the ship or go to the two places where food is served in the service area: Cafe El Cibao and the Coco Cana Restaurant.
For those exploring the attractions of the Puerto Plata province, there many other places to have lunch. On the beaches close by there are great places to have lunch and in the Historical City of Puerto Plata, you will find several charming restaurants. Her is a list of our favorites:
El Bergantin (Caribbean flavors)
Casa Azul
Heladería Mariposa (best ice cream in Puerto Plata)
El Rincon Del Café (great coffe house)
Gifts, souvenirs, best shops and shopping in Amber Cove
There is more than enough choice in the Amber Cove Cruise Center for passengers looking for souvenirs, local gifts, or even jewelry and fine watches.
What's genuine and local?
Larimar (a mineral only found in the Dominican Republic) and Amber are the two most famous local gemstones but you may also consider other renowned local products like Chocolate, Cacao, Coffee, Honey, Rum, and Cigars.
Major brands and luxury
Diamonds International and Effy are the two major names in Amber Cove, both with shops in the Cruise Center.
Must-Know: tourist info, language and money matters
Tourism Information Office
Cruise travelers will find a Tourist Information Office right at the Amber Cove Cruise Center.
Entry Requirements and Visas
U.S., Canadian, UK or Australian passport holders do not need a tourist visa to the Dominican Republic.
Language
Spanish is the official language of the Dominican Republic. English is reasonably well-spoken in all major touristic areas and sites.
Currency
The Dominican Peso (RD$) is the official currency, but US dollars are widely accepted. However, it is always advisable to carry some local cash.
ATMs
There is an ATM in the Amber Cove Cruise Terminal.
Credit and Debit Cards
Generally speaking, credit and Debit cards are accepted in most tourist areas and in Puerto Plata city
Tipping and Haggling Customs
Tipping in restaurants is expected (between 10% and 15%). Because some Europeans are not used to tipping, make sure that the bill does not have a 10% service charge already added.
Haggling is very much expected in the Dominican Republic except in supermarkets, coffee shops, or restaurants. But everywhere else haggling is encouraged.
Keep in touch: Wi-Fi and phones
Wi-Fi and Internet
Wi-Fi is available in the Amber Cove Cruise Center at a cost of $8.00 for the entire day. In the historical center of Puerto Plata, many cafes and sites offer free Wi-Fi. T-Mobile offers unlimited data at up to 2G speeds at no extra cost.
Phones
T-Mobile offers calls at 25 cents/minute and text at no cost. The other US phone providers may work, but it is advisable to consult your provider to prevent roaming charges.
Health matters and emergencies
Pharmacies
There is a pharmacy in the Amber Cove Cruise Center and over a dozen in the city center of Puerto Plata. Farmacia Popular, open every day from 7:00 AM to 10:00 PM, is the most central and better rated. Farmacia Popular is on Calle Beller # 27, around the corner from Independence Square.
Hospital
The closest hospital to Amber Cove Port is the University Hospital Ricardo Limardo in Puerto Plata City.
USA Consulate
There is a Consulate of the United States in Puerto Plata, on Calle Villanueva 8, phone +1 809-586-8017. Open 8:30 AM to 12:00 PM and 2:00 PM to 4:00 PM, Monday to Friday. Closed on Saturday and Sunday.
Safety, US travel advisory and basics
For comprehensive and updated information about traveling to the Dominican Republic see the U.S. Department of State website page evolving advisory.
Coronavirus advice for Amber Cove cruises
For updated coronavirus (Covid-19) information and travel advice to the Dominican Republic and Amber Cove visit the U.S. Embassy on the Dominican Republic website. For a more comprehensive Traveler's Health advice to the Dominican Republic see the CDC Website.
Amber Cove port basic info
| | |
| --- | --- |
| Emergencies Phone: | 911. |
| Driving: | Driving is on the right. |
| Electricity: | The standard voltage is 120 V and the frequency is 60 Hz. American type flat prongs are used. |
| Phones: | Area Code: 809 |
| Drinking: | The legal drinking age is 18 years. |
| Smoking: | Smoking is prohibited in restaurants and public buildings. Restaurants and bars may allow smoking outdoors. |
All Amber Cove
cruise port guides and reviews