Overview and Basics
for Cruise Travelers to Grand Turk
- Where Cruise Ships Dock, To See and Do, Explore On Your Own sand Shore Excursions
Unlike most ports in the Caribbean where ships dock close to a major town, in Grand Turk the cruise piers are next to a stunning beach. This is an invitation to spend the day basking in the sun, swimming, snorkeling and enjoying water activities.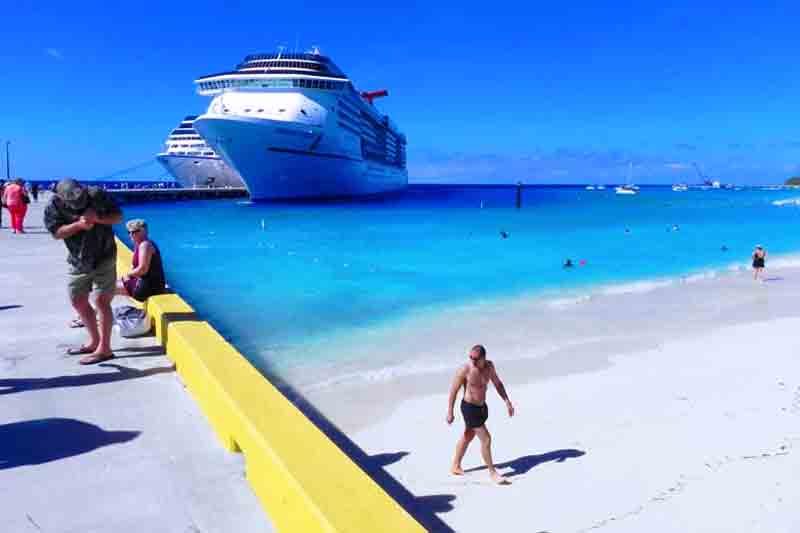 Pier by the Beach, Grand Turk
Photo © IQCruising.com
There are a few excursions to explore farther into the island - which is small (7 miles long and 1.5 miles wide) - and to enjoy activities like a 4x4 Safari, a Dune Buggy Safari, a Horseback Ride N' Swim, a Catamaran Sailing or a tour of Historic Homes, the Old Town and Museum.
Grand Turk and the 2017 Hurricane Season
Although Grand Turk was hit by both hurricanes Irma and Maria in 2017, the cruise pier wasn't affected and the terminal area has been revamped.
Fact: Carnival's Ecstasy was the first cruise ship returning to Grand Turk on November 1, 2018.
Where Cruise Ships Dock - Cruise Center
As the cruise traveler exits the pier, the entrance to the terminal - known as Grand Turk Cruise Center - is the only possible path. This is large open air area dotted with excursions booths offering most of the possible tours and activities in Grand Turk - many can be booked online or onboard your cruise ship.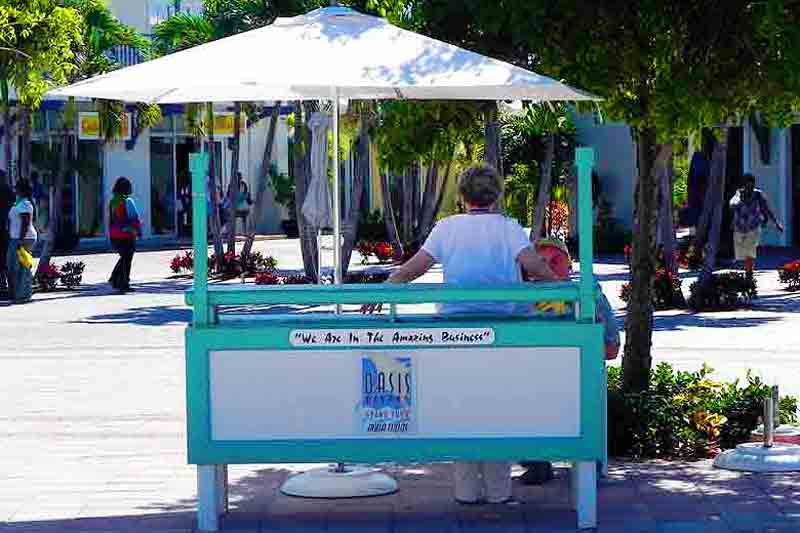 Tour Booth, Grand Turk
Photo © IQCruising.com
On the left side (north) of the Cruise Center, the traveler will find a very large Margaritaville bar, restaurant, with a huge pool and its signature retail shop - the Trading Post. Next to Margaritaville, you will find the Flow Rider surfing attraction that is exclusively offered as a shore excursion through the cruise lines. It is also on the North side that the most popular beach in Grand Turk is located - palm tree lined, with beach chairs on the white sugar powdered sand by the crystal clear turquoise water.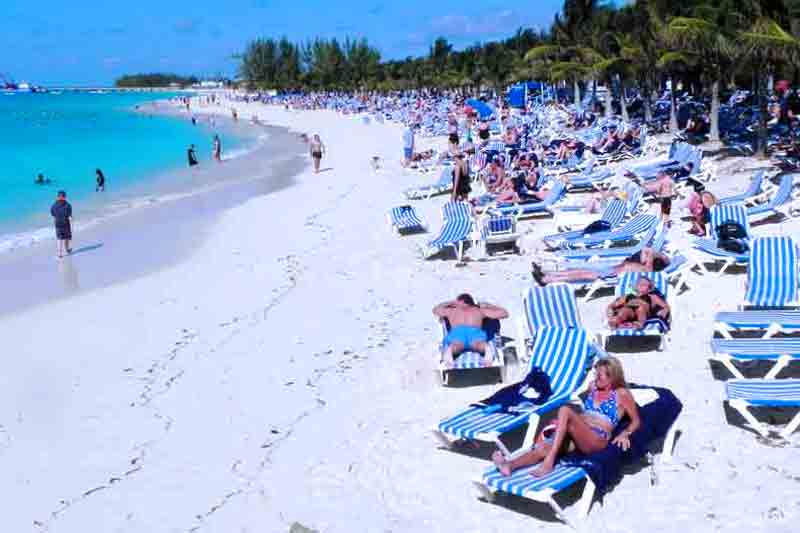 Cruise Center Beach, Grand Turk
Photo © IQCruising.com
This is where the overwhelming majority of cruise travelers go to and it can get a bit crowded when there are two mega-ships in port (never more than two ships can dock at Grand Turk). The beach is free and so are the beach chairs, but if you would prefer a Clam shell shade, floats, or snorkeling gear you can rent these at the Beach Rental Hut located on the beach. Naturally, at this beach, you can also get all the pampering expected in a Caribbean beach - massages, drinks, food, and all sort of vendors roam the beach.
If you prefer a more quite spot to enjoy the stunning sea in Grand Turk, there is a nice stretch of sand to the right side (south) of the Pier - known as South Beach - with less vendor hassle but also with free chairs. Close by, there is a Massage Cabana and at the southern tip, there is a Beach Volleyball Area. And, last but not least, the Editor's favorite spot in Grand Turk to enjoy a quick bite - the Beached Whale Bar & Grill.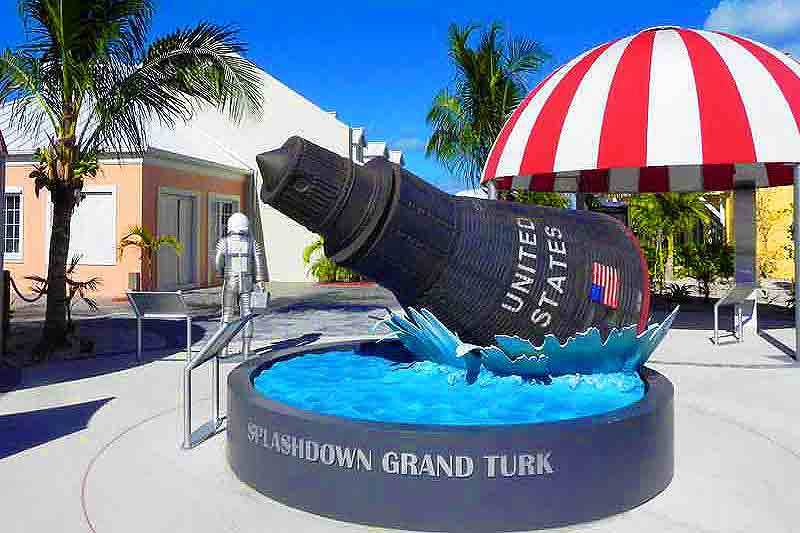 NASA Splashdown, Grand Turk
Photo © IQCruising.com
Also on the south side of the Cruise Center, you will find a rarely mentioned historical exhibit commemorating the NASA Mercury space program and the historic 1962 Splashdown of the Friendship 7 capsule off the coast of Grand Turk. Besides interesting storyboards, the exhibit features replicas of an Atlas rocket, the Friendship 7 capsule and a three-dimensional replica of astronaut John Glenn in spacesuit.
Shopping in Grand Turk
The open area of the Terminal is surrounded by the inevitably ubiquitous shops to be found in all Caribbean: Dufry, Colombian Emeralds, Effy Jewelers, Diamonds International, Piranha Joe, Silver Emporium, Del Sol or Tanzanite International. But also by a few local souvenir shops and craft market.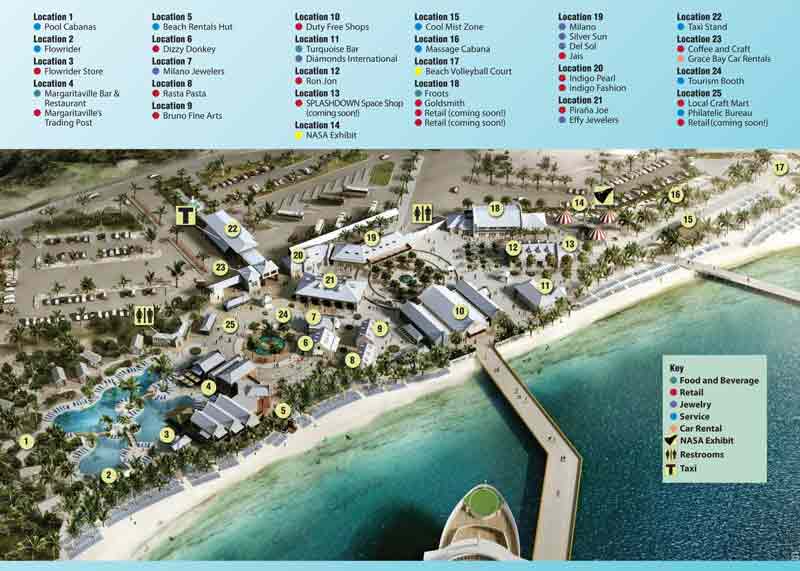 Cruise Center Map
Photo Courtesy of Grand Turk Cruise Center
Grand Turk's Top Attractions
With so many facilities with such easy access, most cruisers do not venture much farther than the Cruise Center. However, either because you have been in Grand Turk before or just because you have an explorer's soul, this small island has a couple of sites to explore. The oldest town in the island - Cockburn Town - and the Salt Museum close by are offered on tours and the Lighthouse is a famous landmark. The pristine beaches are a must if you wish to experience how an idyllic deserted island feel like.
Even if you just enjoy the beach - and the ones by the Cruise Center are stunning enough - there a few other beaches that any cruise traveler should explore. One of the most popular is Governor's Beach, just 1 mile (1.6 kilometers) north of the Cruise Center, and considered by many as the best on the island. It is located close by the historical Governor's mansion, Waterloo, hence the name.
This pristine beach with shallow water is lined by a thick Casuarina tree grove, ideal for shade and families but not for snorkeling. Although close to the pier, there isn't a walking path along the beach and the road is not well signed.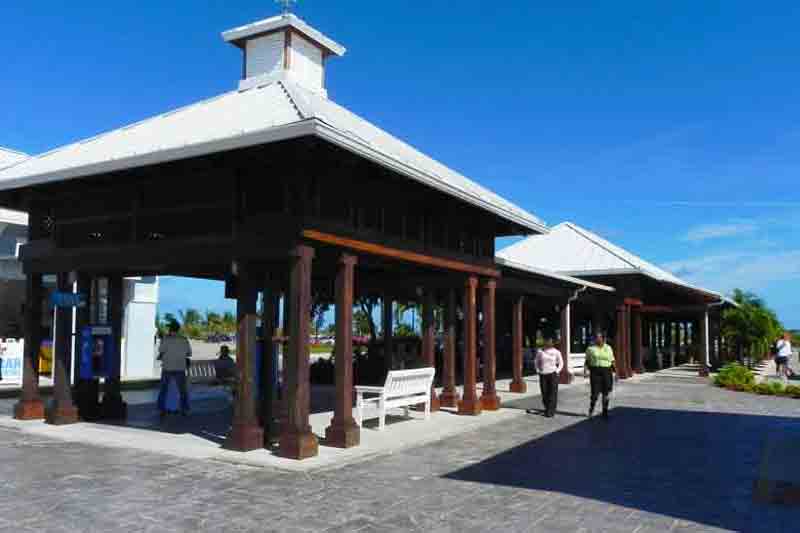 Taxi Dispatch, Grand Turk
Photo © IQCruising.com
IQCruising recommends a taxi to get there - $5.00 per person each way. At the Cruise Center, you will be offered a snorkel and swim package including transportation to and from the Governor's Beach for $29.99 per person - this also includes snorkel gear (not of great use at this beach).
Shore Excursions or On Your Own
Unless you want to do something special that can only be done on an excursion - like Deep Sea Fishing, a Stingray Encounter on Gibbs Cay, Whale Watching Tours (seasonal) or a Glass-bottom Kayak tour - there are attractions that are perfectly feasible on your own. In fact, if you wish to explore Cockburn Town - the quaint capital of Turks and Caicos - and its attractions (the National Museum, Her Majesty's Prison or the St Mary's Anglican Church) a taxi ride costs around $5.00 per person each way. Even a trip by taxi to the Grand Turk Lighthouse, on the northern tip of the island, is affordable - $10 per person each way. The cruise traveler will find a taxi stand with metered fares by the east exit of the Cruise Center.
► Explore: Top Reviews - Caribbean Ports
Discover all Caribbean Port Reviews - Cozumel, St. Martin, Grand Cayman, Aruba, Antigua, Nassau and St. Thomas in Depth
Learn More ►