All you need to know about the Graycliff Hotel shore excursions (Shorex) with chocolatte, cigars or lunch for cruise passengers to Nassau: overview, good to know, highlights, cruise line price comparison, how to book.
The Graycliff is rated among the best Hotels in The Bahamas and is renowned for its wine cellar with over 250,000 bottles from over 400 vintners in 15 countries.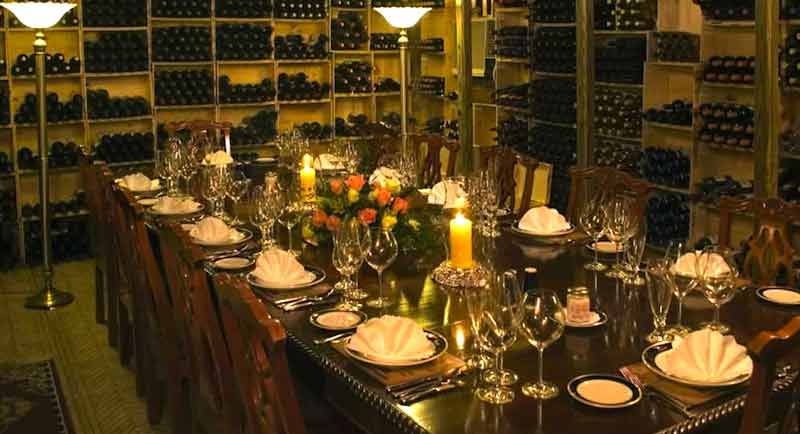 Photo Courtesy of Graycliff Hotel Management
But the Graycliff is equaly praised for its Cigar and Chocolat factories which are a delight to tour. Not all cruise lines offer this shore excursion and you will need to book a tour either directly with the hotel or with third-party online services offering tours of the Graycliff Hotel - more about these below.
Check the Official Website of the Graycliff Hotel
Graycliff Hotel - Highlights
Disney and Royal Caribbean offer visits to the Graycliff where in an interactive chocolate excursion you can learn techniques like dipping, glazing and using molds to create your own truffles, bonbons and bars.
At the Graycliff Cigar Company the cruise passenger will learn all about tobacco, its history and how to sort, clean, store, and roll your own cigar. Disney Cruises also offers a Wine Luncheon and day at the hotel (with two pools) including a 3-course meal..
Last but not least, cruise travelers may book a day-pass to the Graycliff to enjoy the facilities of this famous hotel located in the heart of Nassau, 1/2 mile (850 meters) from the Cruise Port. Day-Passes cost around $ 100 (USD) for adults and $75 (USD) for children. Read IQCruising Review of the Best Day Passes in Nassau.
Graycliff Hotel Video
Watch the under 1-minute video below to have a taste of what a Graycliff Experience looks and may feel like.
Good To Know
Activity Level: Easy Activity
Must Take: Light clothing, walking shoes, sunscreen, sunglasses, hat and cash for incidentals.
Duration: Between 1.5 and 5.5 hours depending on tour and cruise line.
Restrictions: Minimum Age requiered depending on tour.

Cruise Line Price* Comparission
Disney:
Graycliff Chocolatier (1.5 to 2 hours) - $68.00 (ages 10 and up) - $60.00 (ages 5 to 9) | Pool with lunch (5 to 5.5 Hours) - $145.00 (ages 10 and up) - $103.00 (ages 3 to 9) | Wine Luncheon (2.5 to 3 Hours) - $215.00 (ages 21 and up).
Royal Caribbean:
Chocolate Tour (1 to 1.5 hours) - $74.00 per person (Minimum Age: 4 years) | Cigar Rolling (1 to 1.5 hours) - Adults (over 18 years): $99.00 | The Best of Graycliff (1 hour) -$59.00 USD (Adult) - $54.00 USD (Child)
* Read paragraph below and check links.
Considering that the prices above may vary by sailing, it is advisable to check updates and specific cruises. Click on the following cruise lines links to check for updates: Disney | Royal Caribbean .
Shorex, Online Bookings or On Your Own
If cruising with Disney or Royal Caribbean, you may book the excursion to Graycliff with the shore excursions desk onboard the cruise ship or online on the respective websites.
Online Shorex Services
Cruise travelers can also book online with the many services that offer shore excursions to the Graycliff Hotel. Prices vary and it is advisable to check what is offered on each tour.
The following online services are well-established companies that guarantee the returning of cruise travelers in good time prior to the departure of the ship.
IQCruising does not endorse or get paid to mention any of these services. IQCruising is just providing the information and you should be aware that you are solely responsible for booking excursions online with these third-party services. Viator | Shore Trips | Shore Excursions Group | Cruising Excursions | Shore Excursioneer
Direct Booking
You may also book any of the 'Experiences' offered by Graycliff directly on the hotel's website. Among the 'experiences-tours' available to book directly, the following are particularly attractive. Escape Nassau Day-Pass - cost $100 USD, duration (5 hours). Wine & Cheese Tastings - cost $187 USD, duration (2 hours). Wine Maker for a day at Bahama Barrels - cost $49.95 USD, duration (1 hour). Cigar Rolling Demonstration with Rum Tasting - cost $150 USD, duration (1.5 hours). Check all the available tour on Graycliff Hotel Website
Graycliff Hotel On Your Own
If on a whim you decide to explore the Graycliff on your own, you may just walk to the hotel and try to get a last minute booking (as the Editor has done in the past) but it is advisable to always book in advance.
Getting There - Walking or Taxi
The Graycliff hotel is located within walking distance from the cruise port (around 1/2 mile or 800 meters) on West Hill Street. Either at the east end of the Woodes Roger Walk (along the seafront) or the Bay Street (the main shopping street in Nassau) turn left and look for the Dunkin Donuts signs in the corner of Cumberland Street and Marlborough Street. Walking less than 3 minutes up Cumberland Street will take you straight to the Graycliff Hotel. See the Walking Map Below.
If you don't want to walk, a taxi ride from cruise terminal to the Graycliff Hotel will cost around $9 (USD) for 1-2 guests - $3 each additional guest.
Graycliff Hotel Map