All you need to knwo about the SUB Underwater Adventure shore excursion (Shorex) on a cruise to Nassau: overview, good to know, highlights, cruise line price comparison, and how to book.
Arguably one of the most talked about experiences when cruising the Caribbean, the Sub-Underwater Adventure is a memorable must-do in Nassau.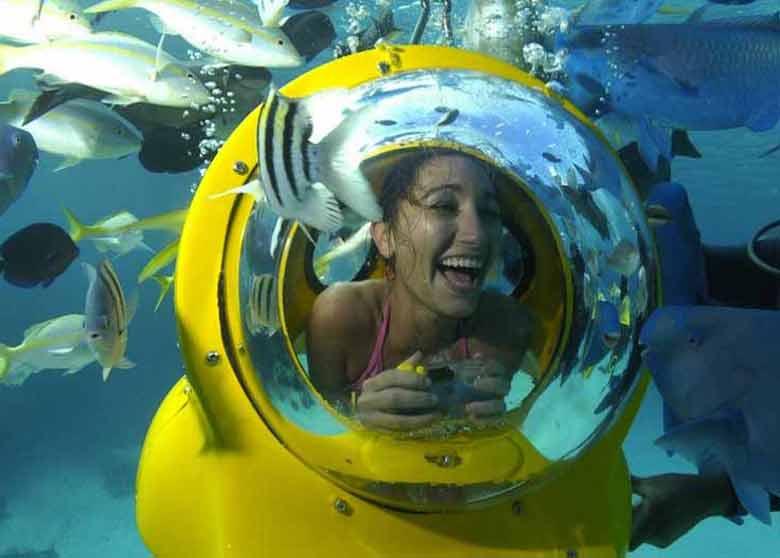 Photo Courtesy of Sub Underwater Adventure
Only Carnival and Norwegian (NCL) offer this excursion which is provided by Stuart Cove's. Although cruise travelers on Carnival are not allowed to book directly Stuart Cove's website there are no restrictions for passengers on other cruise lines. Be aware that transportation to and from Stuart Cove's is your own expense - more about direct bookings below
Sub Underwater Adventure - Highlights
This once-in-a-lifetime shore excursion doesn't require previous Scuba experience as you will enjoy a ride on an underwater motorbike. The head will be covered with a big bubble filled with a constant flow of air whilst you will be guided through a beautiful shallow reef in shits of 30 to 45 minutes. In between shifts, you will be able to also enjoy snorkeling. Important Note: Participants must NOT be flying on the same day. Participants must complete and pass a medical questionnaire/waiver.
SUB Underwater Adventure Video
Watch the under 4-minute video below to have a preview of what the SUB Underwater Adventure looks like.
Good To Know
Activity Level: Moderate Activity
Must Take: Light clothing, swimsuit, sunscreen, sunglasses, hat, towel and camera (waterproof preferably) - cash for incidentals.
Duration: Around 5 hours
Restrictions: Minimum Age - 12 Years. Pregnant women should not participate.
Wheelchairs: Not Available
Cruise Line *Price Comparison
Carnival:
Half-Day (5 hours) - Adult: $139.99 | Child (over 12): $134.99/
Norwegian (NCL):
Half-Day (5 hours) - Adult: $169.00 | Child: $129.00
VIATOR:
Half-Day (5 hours) - Adult: $159.10
* Read paragraph below and check links.
Considering that the prices above may vary by sailing, it is advisable to check updates and specific cruises. Click on the following cruise lines links to check for updates: Carnival | Norwegian Cruise Line.
Shorex, Online or On Your Own
Although you may process direct bookings for the SUB-Underwater Adventure on the Stuart Cove's website, this is not possible for cruise travelers on Carnival Cruises and you will have to do it onboard your cruise ship with the Shore Excursions Desk or online with the Cruise Line.
Online Shorex Services
Like most shore excursions, Scuba Diving is also offered by the many services that sell tours online. Prices vary and it is advisable to check what is offered on each shore excursion and, in particular, if transportation from the cruise terminal is provided.
The following online services are well-established companies that guarantee the returning of cruise travelers in good time prior to the departure of the ship.
IQCruising does not endorse or get paid to mention any of these services. IQCruising is just providing the information and you should be aware that you are solely responsible for booking excursions online with these third-party services. Viator | Shore Trips | Shore Excursions Group | Cruising Excursions | Shore Excursioneer | Go Be
Direct Booking
Before deciding which to book a SUB Underwater Adventure, whether it is better to book onboard (if cruising with Carnival) or with an online service, it is strongly advisable to Check the Official Website of Stuart Cove's
Scuba Diving On Your Own - Getting There
If you decide to book directly, be aware that Stuart Cove's is located on the south coast of Providence Island, around 17 miles (27.4 km) from the cruise terminal - see map below. A taxi fare to get there and back will, probably, not be saving any money if cruising on Carnival.
Stuart Cove's - Map
SUB Underwater Adventure - Map