All you must know about all the Blue Lagoon shore excursions (Shorex) on a cruise to Nassau port: overview, good to know, highlights, cruise line price comparison, how-to book, and map
The Blue Lagoon Island excursion is on of the main attractions in The Bahamas, and just a 40-minute - 3 miles (5 km) - scenic boat ride away from the cruise port in Nassau.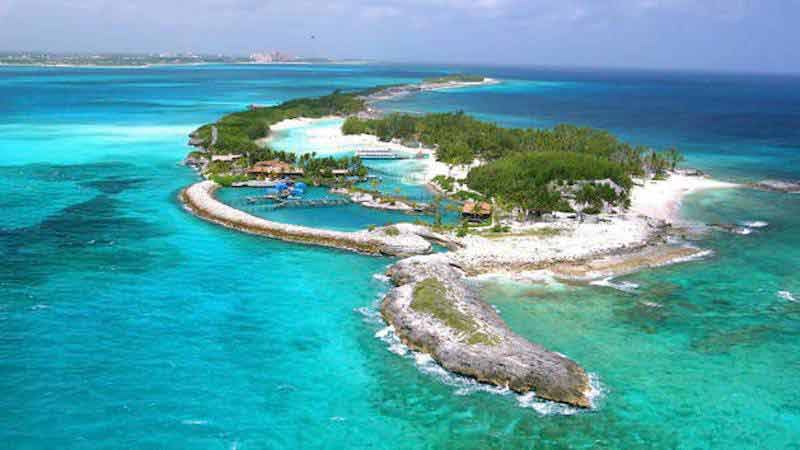 Photo Courtesy of Blue Lagoon Management
The Blue Lagoon Island is, in fact, named Salt Cay but since it became a tourist attraction has become known by its main feature. is Many times, both cruise travelers and cruise lines refer to this excursion by the most sought after activity in the Blue Lagoon Island - Dolphin Interaction or Swim and Sea Lion Encounter.
Check the Official Website of the Blue Lagoon Island
Blue Lagoon Island Tour - Highlights
The boat that takes the cruise traveler to the Blue Lagoon Island docks next to the Terminal in Nassau, a short 5 minuet walk-away. Most cruise lines offer a basic tour in which travelers can enjoy swimming in a pristine beach with crystal clear waters, relax on a double hammock, participate in activities like volleyball, beach soccer, aqua bikes, paddle boats, kayaks or guided snorkeling. Don't miss the Island Bar to enjoy umbrella drinks. A grilled picnic lunch may be included with this tour - always double check with your cruise line.
Dolphins and Sea Lions
The basic tour can be combined with other activities like the Dolphin Interaction or Swim, and the Sea Lion Encounter. Naturally, these combos have price increases but do not require additional time.
Blue Lagoon Video
Watch the under 2-minute video below to have a preview of what the Dolphin Encounters experience in Blue Lagoon looks like.
Good To Know
Activity Level: Minimal Activity | Light Walking
Must Take: Swimsuit, sunscreen, sunglasses, hat, towel and a camera (waterproof preferably) - cash for incidentals. Change of clothes is advisable.
Optional: Cruise travelers can combine a beach day with dolphin and sea lion interactions.
Duration: Between 4 and 5 hours depending on cruise line.
Restrictions: No Minimum Age
Wheelchairs: Dolphin Encounters has waterproof wheelchairs for visitors with walking difficulties to interact with dolphins.
Cruise Line Price* Comparison
Carnival:
VIP Beach Experience - Half-Day (5 hours) - Starting at $99.99 per Adult | Prices may vary by sailing*
Disney:
Half-Day (3.5 to 4 Hours) - Adult: $50.00 | Child: $39.00 (age 3 to 9) - $22.00 (ages 0 to 2) - with Dolphin Encounter: $155; with Dolphin Swim: $247.00.
Norwegian (NCL):
Half-Day (5 hours) - Adult: $65.00 | Child: $45.00 - with Dolphin Swim: $249.00
Royal Caribbean:
Deluxe Beach Break - Half-Day (5 hours) - Adult: $84.00 | Child: $59.00. With Dolphin Encounter: $99.00; with Dolphin Swim: $149.00
* Read paragraph below and check links.
Considering that the prices of shore excursions to the Blue Lagoon may vary by sailing, it is advisable to check updates and specific cruises. Click on the following cruise lines links to check for updates: Carnival | Disney | Norwegian Cruise Line | Princess | Royal Caribbean .
Other Tours and Combos
Although the Dolphin and the Sea Lion Encounters are the most popular combos, the cruise travelers should look into other programs offered at the Blue Lagoon, like the Stingray Encounter, the Segway Safari Tour or the VIP Beach Experience.
Stingray Encounter
In this program, cruise travelers will safely interact with rays on a shallow platform, feel their silky smooth fins and have the opportunity to feed them. Minimum Age: 4 years old.
Segway Safari Tour
On this tour the cruise travelers will explore the Island on Segway, visiting unique sites, sandy beaches and seeing some of the animals that make this cay in the Bahamas a major highlight. Must Know:Children 12 yrs - 17 yrs must be accompanied by an adult with a paid Segway ticket. Minimum Weight: 100 pounds. Maximum Weight: 250 pounds. Pregnant women are not allowed to participate in this program. .
VIP Beach Experience
Watch the under 1-minute video below to have a taste of what a VIP Beach Experience looks and may feel like.
Getting There
The Blue Lagoon Island is a private property and only way to access is by their own boats. Naturally, only those booked on an excursions are allowed to travel to the island.
Blue Lagoon (Salt Cay) - Map
Shorex, Online or On Your Own
Although you may process direct bookings on the Blue Lagoon Island website, this is not possible for cruise travelers on Disney Cruise Line, Norwegian Cruise Line, Royal Caribbean Cruise Line and Carnival Cruise Line. Those cruising on these lines will have to book onboard with the Shore Excursions Desk or online with the Cruise Line.
Online Shorex Services
There are a number of online services that also offer different excursion packages to the Blue Lagoon Island. Prices vary and it is advisable to check what is offered on each tour.
IQCruising does not endorse or get paid to mention any of these services. IQCruising is just providing the information and you should be aware that you are solely responsible for booking excursions online with these third-party services. Viator | Shore Trips | Shore Excursions Group | Cruising Excursions | Shore Excursioneer | Tours By Locals
Direct Booking
Before deciding which is the best excursion for your and your cruising companions, whether it is better to book onboard or an online service, it is strongly advisable to check first if you can book directly with Blue Lagoon Island. Check the Official Website of the Blue Lagoon Island
Interesting Facts
The 1996 movie 'Flipper' by Universal Studios used three dolphins owned by Dolphin Encounter. Some of Blue Lagoon's dolphins also stared in the film 'Holiday in the Sun'. The H&M promo video 'Standing on the Sun' with Beyoncé was filmed in the Blue Lagoon.