The most popular beaches for cruise travelers to Mykonos port: closest by, south coast, north coast and off track.
The beaches of Mykonos are one the main highlights of this beautiful Greek Island to where the rich and famous have been flocking in the summer for many decades.
Overview
Naturally, the cruise traveler will not want to miss what the buzz is all about and as most cruise lines offer beach transfers it is very likely that you will consider one of these excursions, usually to the most popular and family friendly beaches.
But if the cruise traveler prefers to explore other options, or even to better understand where cruise ship excursion are planning to take you, here you will find the best, most popular and also the most secluded beaches in Mykonos.
During the summer months beaches get pretty crowded during the day, so it is suggested that you get there early to secure a good spot. With turquoise waters, and golden sandy shores, these beaches get quite a draw, especially from the younger crowds.
Most of the beaches offer taverns along the sand with decks for lounging and enjoying a lunch and or a cooling cocktail or glass of wine. On these serviced decks the cruise traveler can rent an umbrella and beach chair. One word of caution, there are vendors walking the beaches selling watches, bags and jewelry that are most often very fake.
Beaches Closest to Port
Cruise travelers docking at the New Port will find a couple of beaches within walking distance and also a few close to Chora, the old city and main town in Mykonos. If anchoring, the beaches close to Chora are the most convenient.
Aghios Stephanos Beach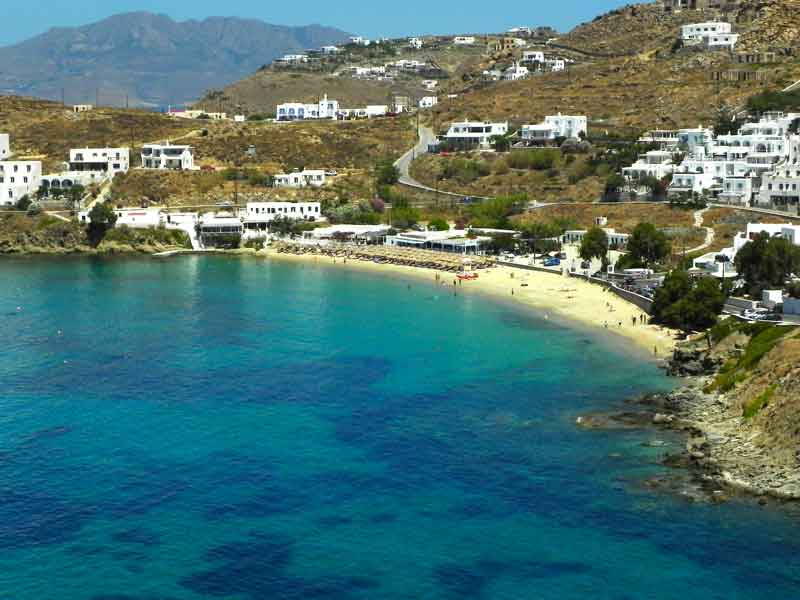 Aghios Stephanos Beach, Mykonos
Photo © IQCruising.com
Very close to the New Port - you can see it from the ship if docked here - this used to be a very peaceful beach with crystal clear waters and golden sand but in the last few years has a number of new beach bars. Water sports are available and rentals of umbrellas and chairs also. Lined with hotels and taverns, there is no lack of food and beverages here. Although very close to the New Port, the walk is close to 1-mile long.
Mykonos Town Beach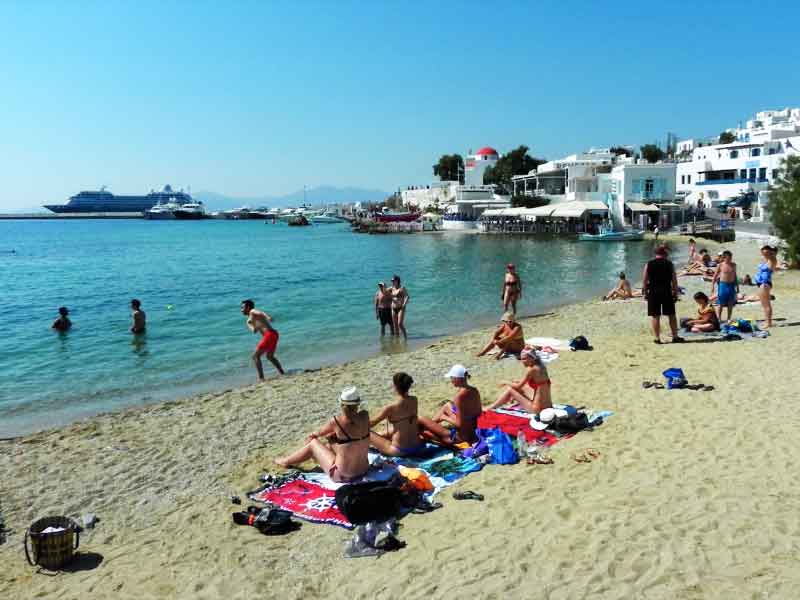 Mykonos Town Beach
Photo © IQCruising.com
Located down by the old port the cruise traveler will find the Mykonos beach, which really is rather small usually not crowded. It's a great place to walk about or go for a refreshing dip after exploring the Old Town but not a beach for relaxed enjoyment.
Megali Ammos Beach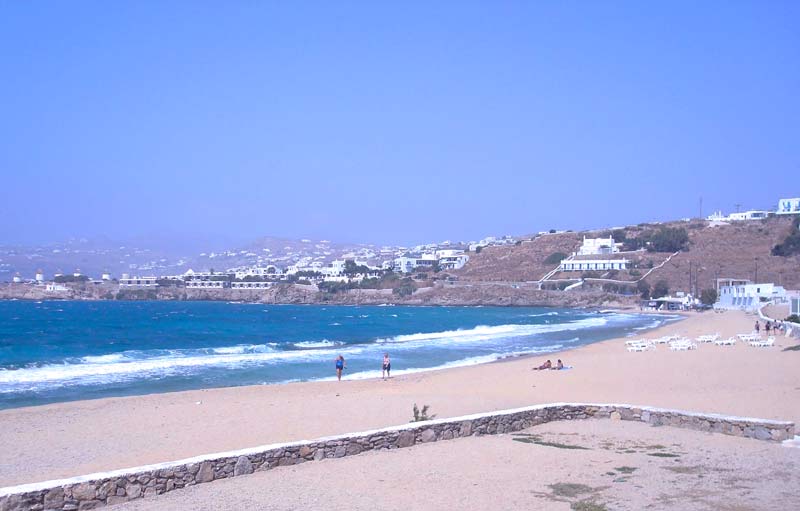 Megali Ammos, Mykonos
Photo Credit: Public Domain
This is a beach that the cruise traveler may want to walk to as it is about 20-minutes walk from town, just south of the famous windmills. You will find this mostly populated by town children playing, and not much for sunbathers. There are not that many facilities on Megali Ammos.
Tourios
(No More)
Tourios still shows up in many travel guides but it isn't used much since the construction of the marina and the New Port. It is now a small sandy beach at walking distance from the New Port if you just want to go for a dip in the Mediterranean.
South Coast Beaches - A to Z
Platis Gialos Beach (aka Platis Yialos)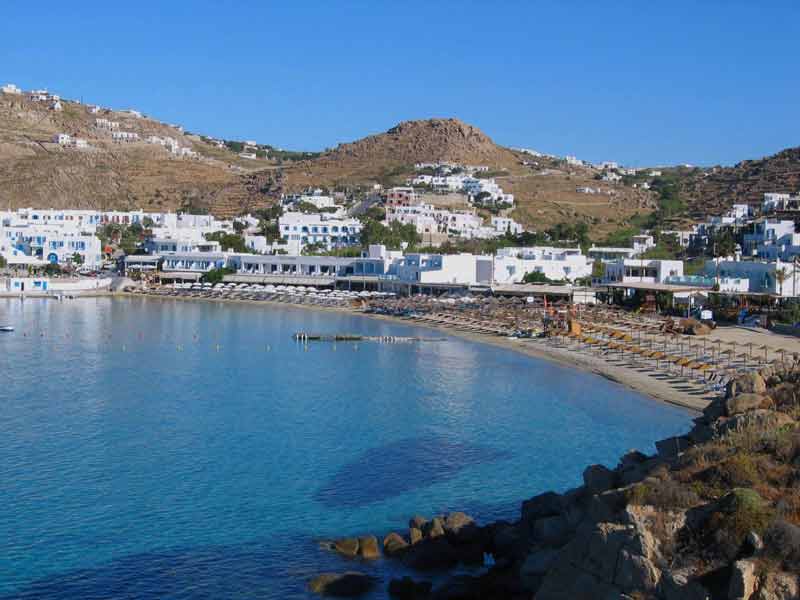 Platis Gialos Beach, Mykonos
Photo Credit: Public Domain
The cruise traveler can reach the beautiful beach of Platis Yialos by local bus or taxi-bus from town. This beach is a nice lengthy beach, where umbrellas and chairs and sun beds are available to you. With restaurants and bars for relaxation, and jet ski's for entertainment. Platys Gialos you will find as a busy family and tourist beach with same amenities.
Psarou Beach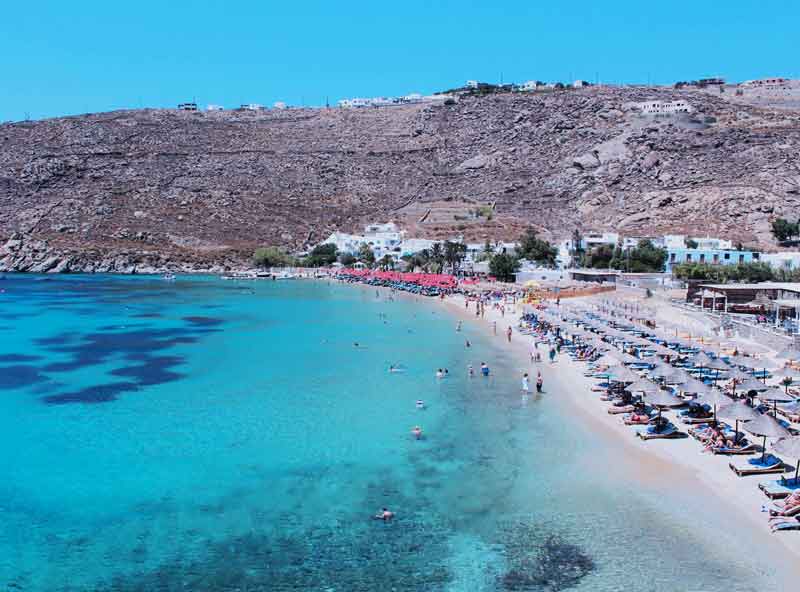 Psarou Beach, Mykonos
Photo Credit: Public Domain
This beach is well populated in summer by celebrities from all over the world, to its clear waters and sandy beaches. Activities range from windsurfing, paddle-boats to scuba diving or other water sports. As popular as this beach is, the cruise traveler should be advised that reservations are often required for chaise lounges. For an excellent restaurant choice, try the Nammos, and for an exciting party bar there is the bar in the Mykonos Blu.
Paradise Beach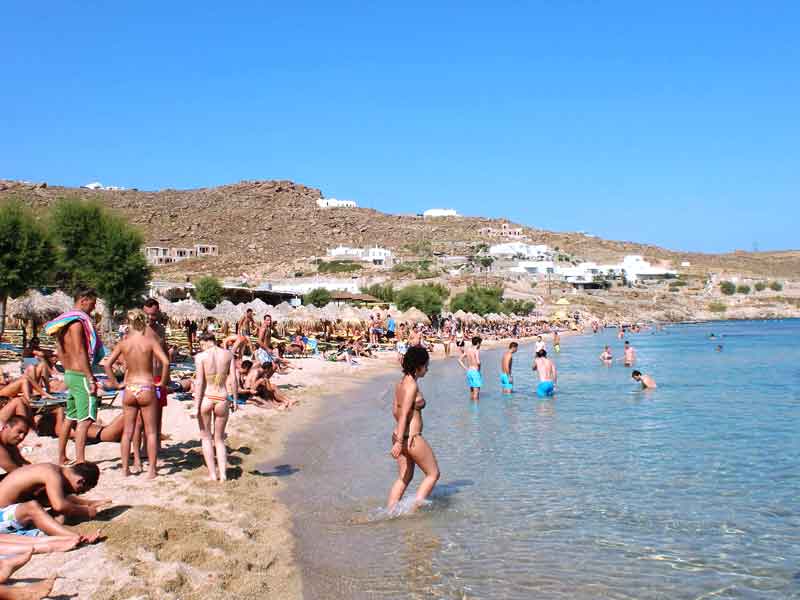 Paradise Beach, Mykonos
Photo Credit: Public Domain
Paradise Beach is the most famous beach and very popular both day and night. The cruise traveler will find the beach flat, and populated by bars and restaurants, with almost constant sounds of music filling the air from the beach bars. This is where you find the famous Tropicana Beach Bar and Sunrise Bar, with non-stop parties during the day, and well into the night.
Super Paradise Beach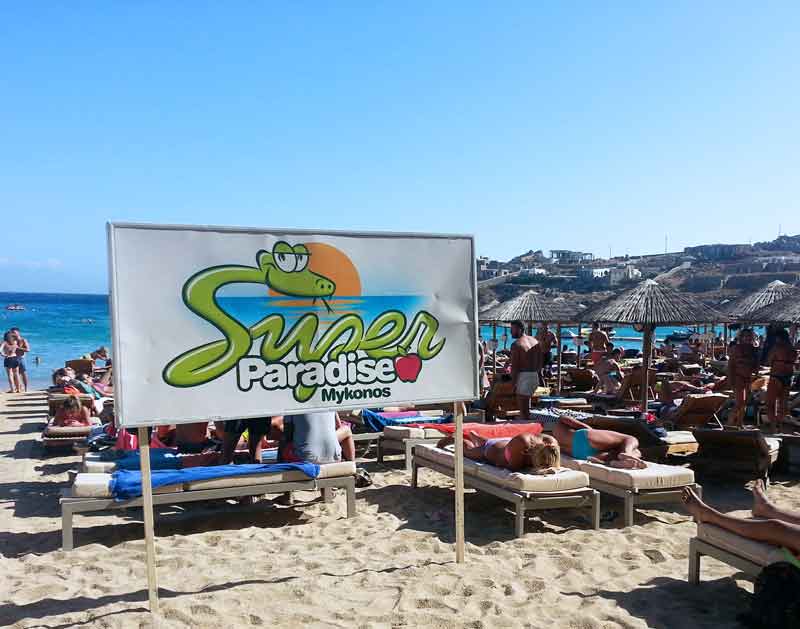 Super Paradise Beach, Mykonos
Photo Credit: Public Domain
Located next to Paradise beach is Super Paradise Beach, located in a rocky cove and less organized than its neighbor. The left side of this beach can be loud with parties, music and dancing. Nudists and a gay crowd usually populate the right side, as this beach is the most famous gay beach of Greece. The waters off this beach are very deep and not suggested for families and children.
Ornos Beach
Ornos Beach, Mykonos
Photo Credit: Public Domain
Located a little over a mile south of town, Ornos Beach is a very busy tourist and family beach. Lined with hotels and taverns, this is a great beach to learn to wind surf or attend the on site scuba school. Nice sandy beaches, umbrella and sun-bed rentals are available.
Agrari and Elia Beach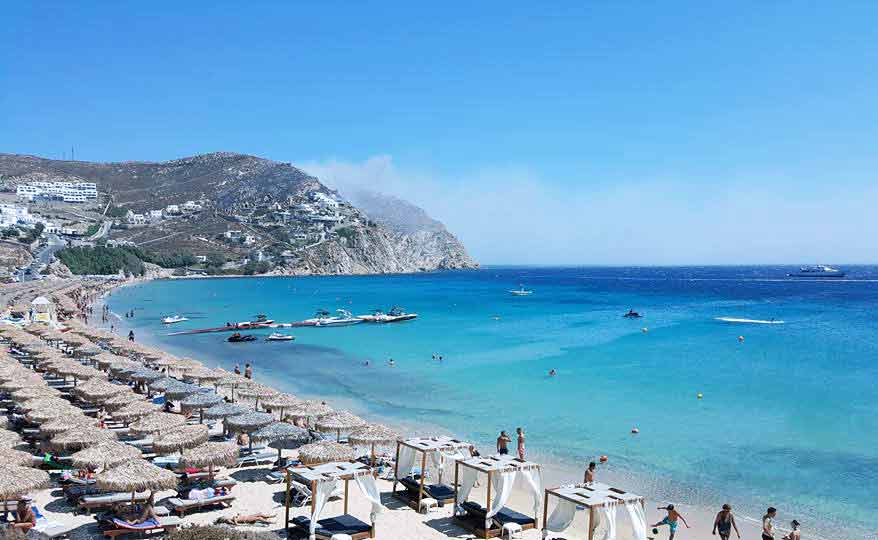 Elia Beach, Mykonos
Photo Credit: Public Domain
These two beaches are located right next to each other, with Elia being the largest offering many choices of taverns and bars. This is one of the most popular nudist beaches of them all, and you will find it to be much more quiet and peaceful than Paradise and Super paradise beaches. Agrari Beach is less populated but does offer sun-beds, umbrellas and waters-ports.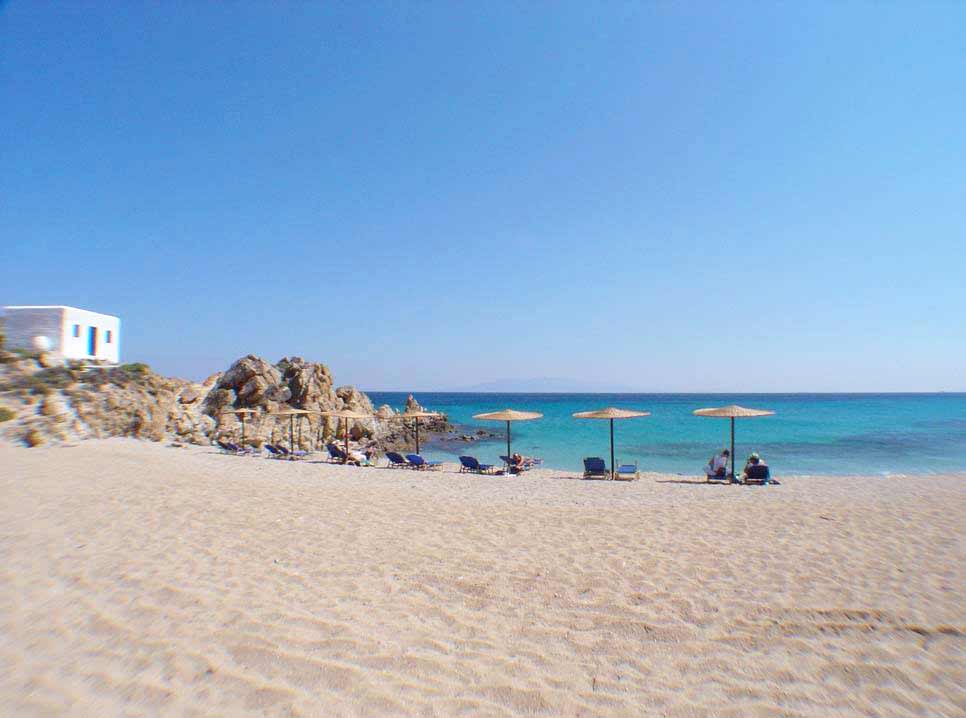 Agrari Beach, Mykonos
Photo Credit: Public Domain
Paranga Beach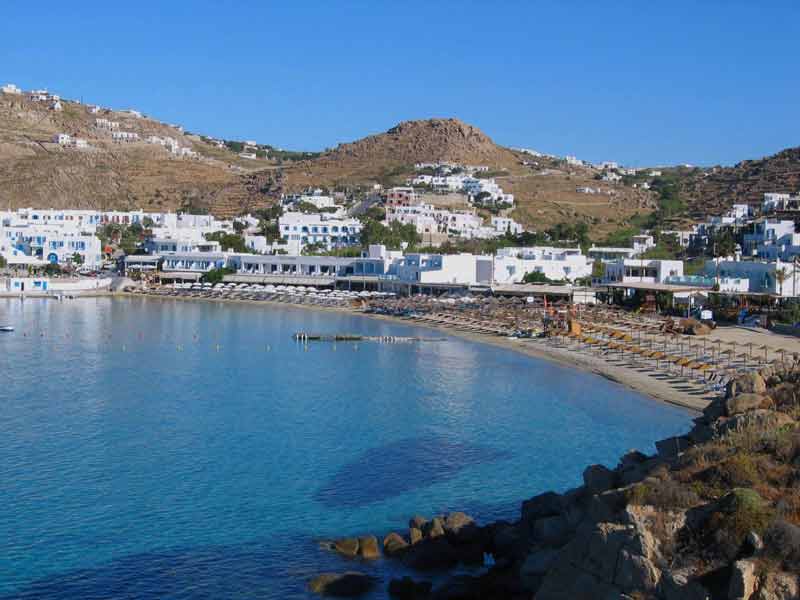 Paranga Beach, Mykonos
Photo Credit: Public Domain
This beach features some crystal clear waters with access from sand or over rocks, so be careful. It is also famous for parties especially at the Kalua bar where tall refreshing cocktails are a must have. Beware that the beach gets crowded, noisy and loud after five o'clock. Populated by the gay crowds with nudity on the beaches, so not really a family adventure for visitors.
North Coast Beaches - A to Z
Fokos Beach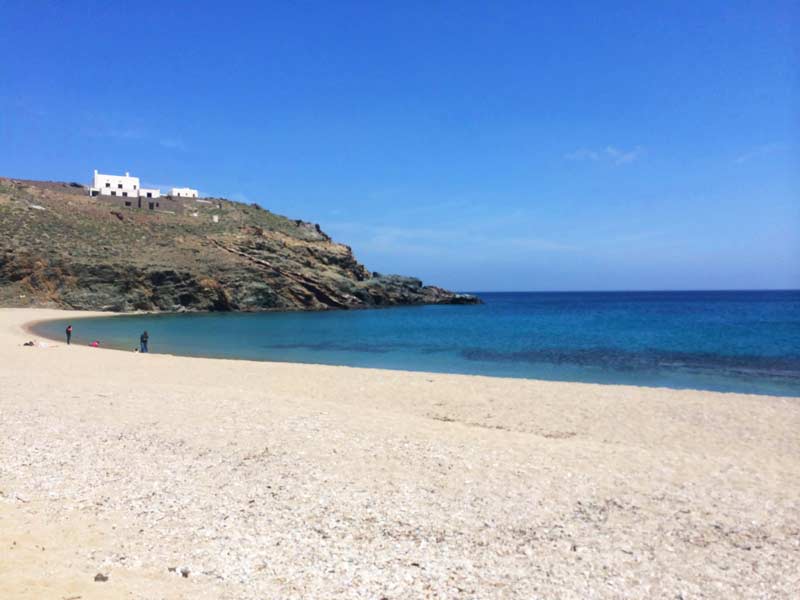 Fokos Beach, Mykonos
Photo Credit: Public Domain
If the cruise traveler is looking for some quiet privacy, Fokos is for you, although hard to find. Access by private vehicle or taxi, down dirt roads, follow signs to Ano Mera. Fokos Beach beach is undeveloped, and you can find it raw and natural. Frequented by surfers you will find a small tavern there for food and beverages.
Panormos, Agios Sostis and Ftelia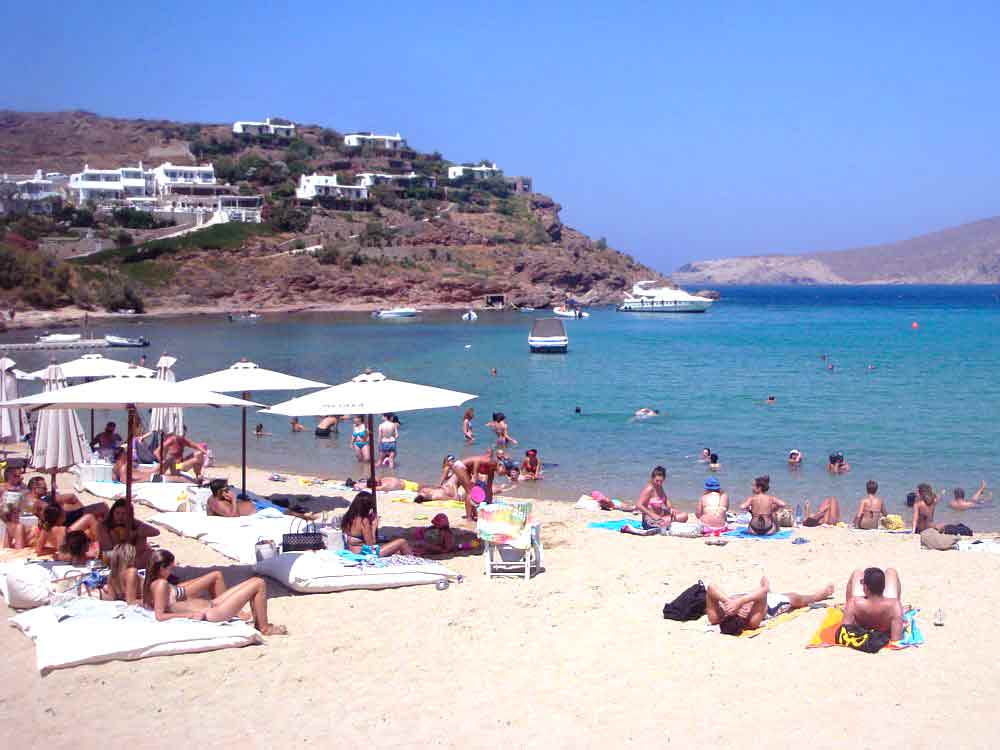 Panormos Beach, Mykonos
Photo Credit: Public Domain
Located on the north side of town are Panormos Bay and two other beaches. These beaches are not where you will find the party crowds, with load music and water sports; rather well sheltered beaches, with shaded areas, and a quiet café to relax in. However, Panormos is a calm beach but does have a larger beach bar that gets crowded in peak season.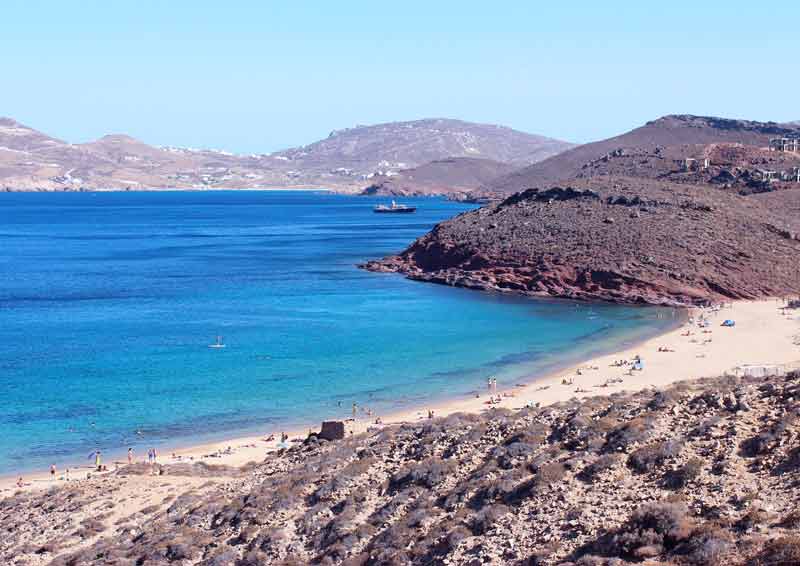 Agios Sostis Beach, Mykonos
Photo Credit: Public Domain
Ftelia Beach , Mykonos
Photo Credit: Public Domain