Introduction and Overview
to Santorini Port for Cruise Travelers
- Where Ships Anchor, Tender to Skala, Top Highlights, Fira, Oia and How to Get Around
Few cruise ports in the World are genuinely unique, but Santorini is undoubtedly one of a kind. No other port provides such a spectacular setting as cruise ships anchor in an immense bay formed by a collapsed volcano, between the still-active crater and multi-hued cliffs.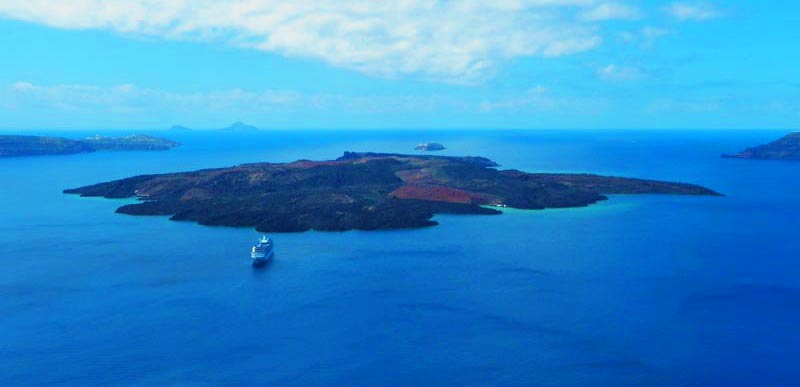 Volcano crater in Santorini
Photo © IQCruising.com
On top of the volcano walls, a white lining of houses hints to breathtaking views and quaint beauty, which in fact is the stunning Town of Fira. Only those that have been on top of the caldera's rim, walked the towns of Fira, Oia and Imerovigli know that there is no other place in the World like Santorini.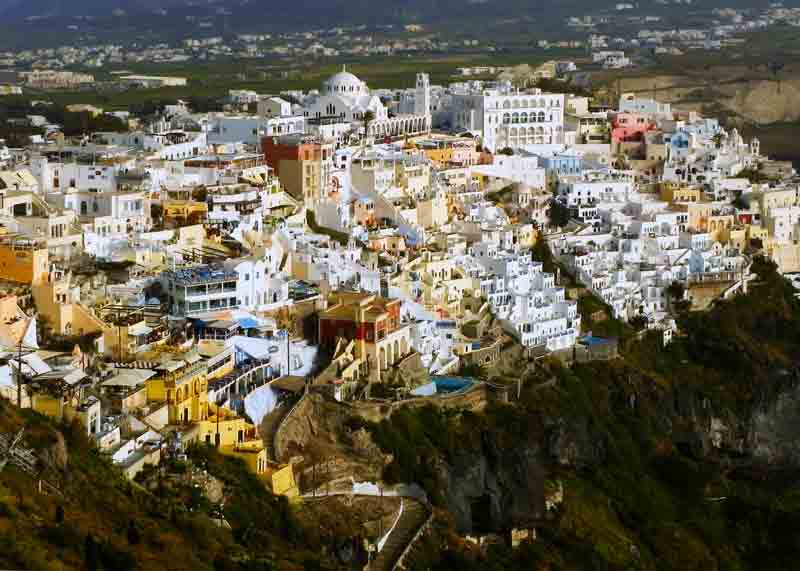 Fira Town in Santorini
Photo © IQCruising.com
Obviously, exploring these towns is an absolute must as is a visit to the extraordinary archaeological site of Akrotiri, which dates back to 900 BC. A number of religious sites, a handful of museums, a taste of Santo wine should not be missed. If you like to collect beach memories, the black, red and multicolored sand beaches of Santorini are truly unforgettable.
Where is Santorini Island
Located between Athens and Crete, Santorini is part of a group of over 200 islands known as the Cyclades, which circularly surround the sacred island of Delos - the legendary birthplace of Apollo and Artemis. Together with Mykonos (which is located very close to Delos) Santorini is one of the most visited cruise ports in the Cyclades for its stunning landscape, archaeological sites and unusual beaches.
Where Cruise Ships Anchor in Santorini:
Tender Boats, and the Piers in Skala and Athinios
As cruise ships anchor at the vast bay surrounding the volcano's crater, passengers will be transported to the to the small port of Skala on large and comfortable tender boats operated by locals. Skala is right below the town of Fira.
► Explore: Anchoring and Tender to Skala
Where cruise ships anchor and transfers passengers to the pier in Skala, amenities and services...
Learn More ►
How to Explore Santorini
All cruise lines visiting Santorini, offer excellent tours and excursions of the island to all highlights and top attractions. These excursions (aka Shorex) offered onboard the cruise ships can be very advantageous, in particular for those that like to be toured by guides with excellent knowledge of sites like Akrotiri or Oia.
Discover and Enjoy Santorini on Your Own
However, if you would like to explore Santorini on your own, you will find almost all you need just as you exit the tender at the Port of Skala.
Money Exchange, Tourist Information, Scooters and Car Rental
If you need to change money, a Exchange Office in Skala has the best rates in the Eastern Mediterranean - take advantage as you will not get better anywhere else. Next, to the Exchange Office, there is a Tourist Information office with good maps. For those that would like to get on a scooter or a car to drive around the island - be it to the beaches or to secluded hidden gems that shore excursions do not cover - there are excellent offers.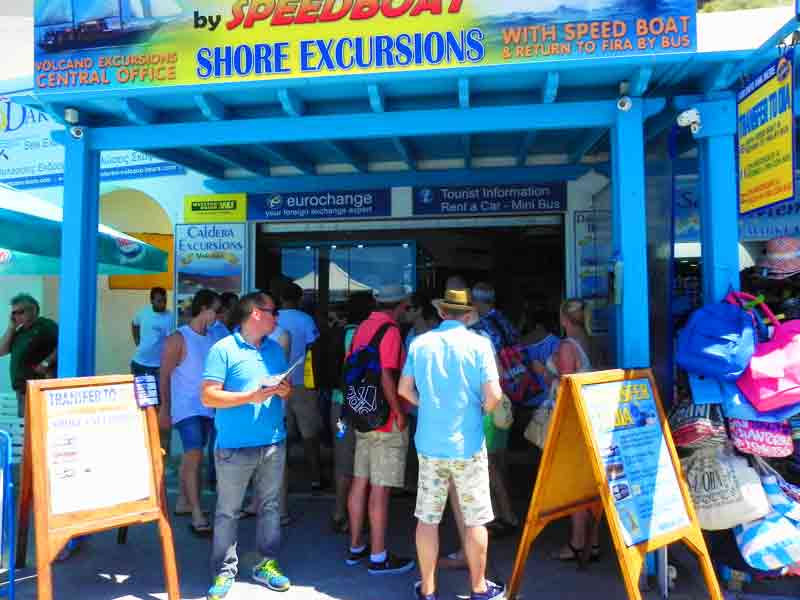 Basics in Skala
Photo © IQCruising.com
Be aware that cars and scooters need to be picked up in Fira (the town on top of the Port of Skala) but do not think that you will get a better price anywhere else but by the tender pier of Skala. If you have pre-booked a car online, make sure that you know exactly where to pick up - it most probably will be in Fira where Thrifty, Sixt, Hertz and all other top international Car Rentals are located.
Local Tours and Excursions
If you haven't booked an excursion onboard, you can still get on a tour with local and independent tour operators right at the Port of Skala.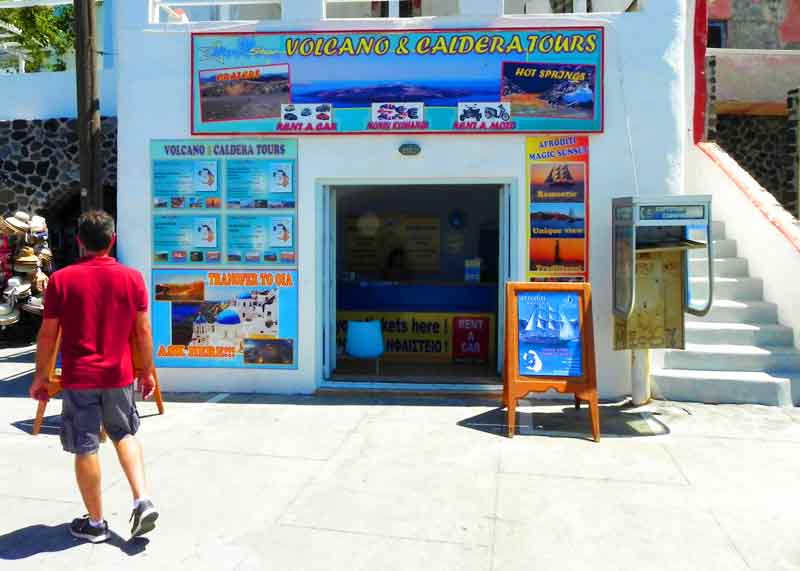 Tour Operators in Skala
Photo © IQCruising.com
Most of these tours are pretty much identical to the ones offered by the cruise lines and although prices can be a little lower do not expect to get a huge discount. However, the local operators/guides tend to have fewer excursionists in their groups, which in itself can be much nicer. At the Port of Skala, there is also an excellent transfer to the bay of Amoudi that deserves to be highlighted - more about this below.
Cafes and Restaurants in Skala
Along the pier there are a few restaurants and coffee shops to enjoy a leisurely waiting time - either for the remaining of the afternoon before getting back on the tender and to the cruise ship, or before going up to explore the island. To the left of where the tender boats dock, there a couple of nice taverns and to the right, a couple of cafes are good places to wait.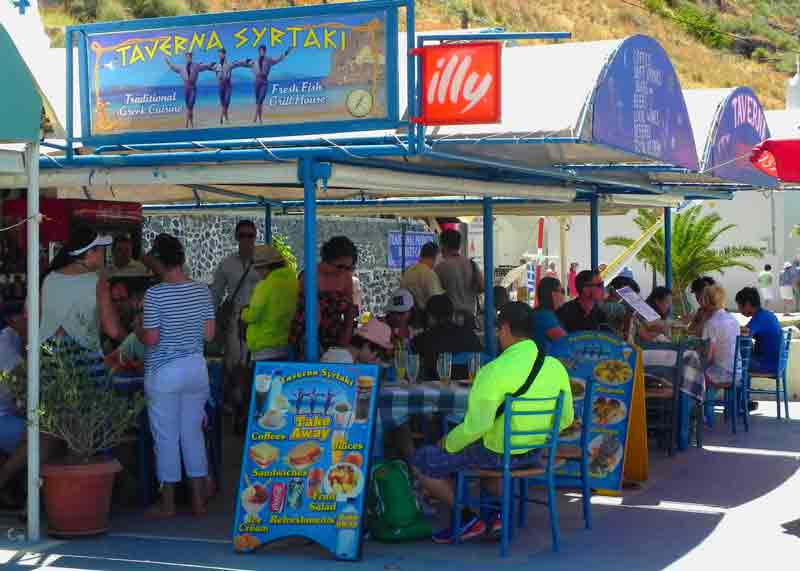 Syrtaki Restaurant in Santorini
Photo © IQCruising.com
If looking for a real Greek lunch the Editor's favorite is Syrtaki: excellent fresh fish and one of the best salads (Greek one, obviously) in Santorini.
How to Get to Fira, Oia and Around
Besides the fact that the Port of Skala is the place where the cruise traveler will find the best services to explore Santorini, it is also here that you will find the only two ways of getting to the top of the cliffs and to the town of Fira - the Cable Car or the zig-zag steps (587 to be precise) shared by pedestrians and donkeys.
Donkeys - Mules
The most traditional way to go up to Fira is the old Greek way - by donkey (mule) - although many do not realize that it is also pretty smelly until getting closer to the spot where you will mount the equines. Many a cruise traveler do point out the cruelty of such a tradition. The fact this tradition is mentioned in this review does not in anyway imply that the Editor approves of the use of mules to climb to Fira.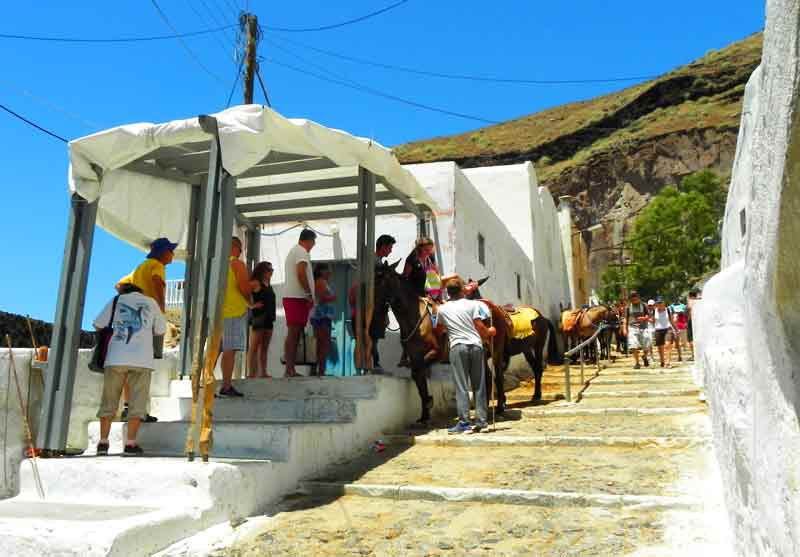 Donkey Station in Santorini
Photo © IQCruising.com
Many a cruise traveler cannot resist the temptation of this adventure and the thrill has become a typical attraction when visiting Santorini. The cobblestone path for the donkeys is also accessible for all that prefer to walk up but, if you choose to do so, be aware that the paved steps will at times need to be negotiated with riders. It is also good to know that donkeys do NOT use public toilets and that pedestrians may have to engage in a negotiation of a completely different nature.
Cable Car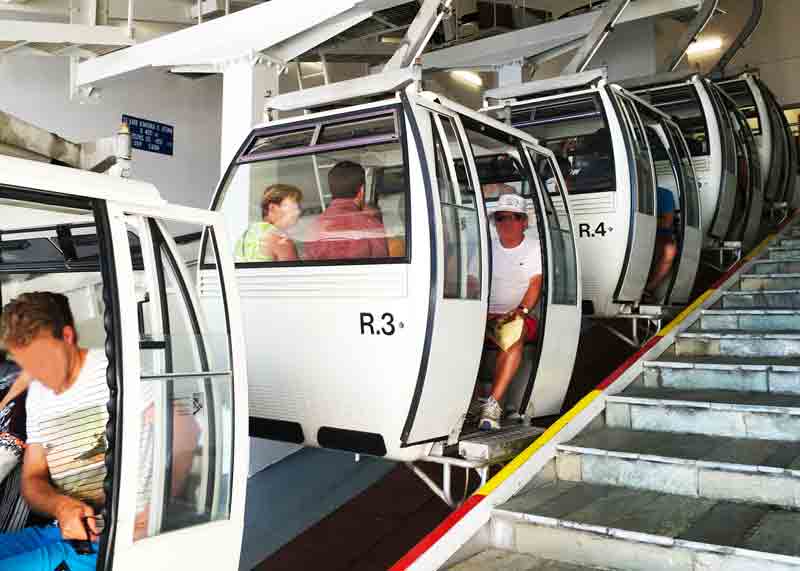 Cable Car in Santorini
Photo © IQCruising.com
For a few decades now (since 1979) there is a cable car connecting the Port of Skala and Fira. The Cable Car doesn't have the same "attraction" status as the donkeys but offers equally spectacular views of the island and is thrilling for some. The journey takes less than 3 minutes, is smooth and comfortable and costs €7.00 each way. Six pods with a capacity for 4 travelers run almost continuously and transport 600 people per hour in each direction. You don't have to be a math genius to figure out that, inevitably, there can be a bit of waiting in line when there are more than a couple of big cruise ships in port.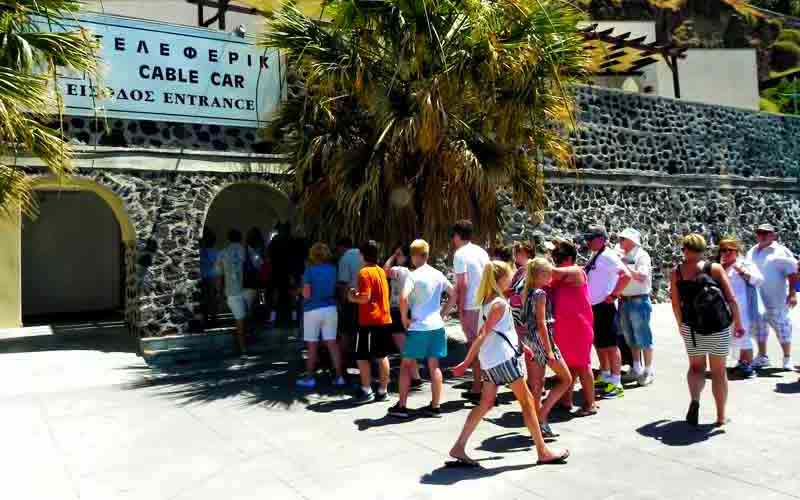 Cable Car Entrance in Skala
Photo © IQCruising.com
Going up is not much of an issue and if you don't want to wait in line just enjoy a few minutes on any of the cafes close by. But you should be aware that on the way down, particularly as it gets closer to sailing time, the lines can get as long as frustrating. Obviously, if the cruise traveler encounters too long a line there is always the alternative of walking down the 'donkeys' zig-zag path. The Editors' advice is to get in line at least 1 hour prior to the last tender and enjoy the amenities around the dock/pier, be it for a relaxed refreshment or last-minute souvenir shopping.
The Transfer from Skala to Amoudi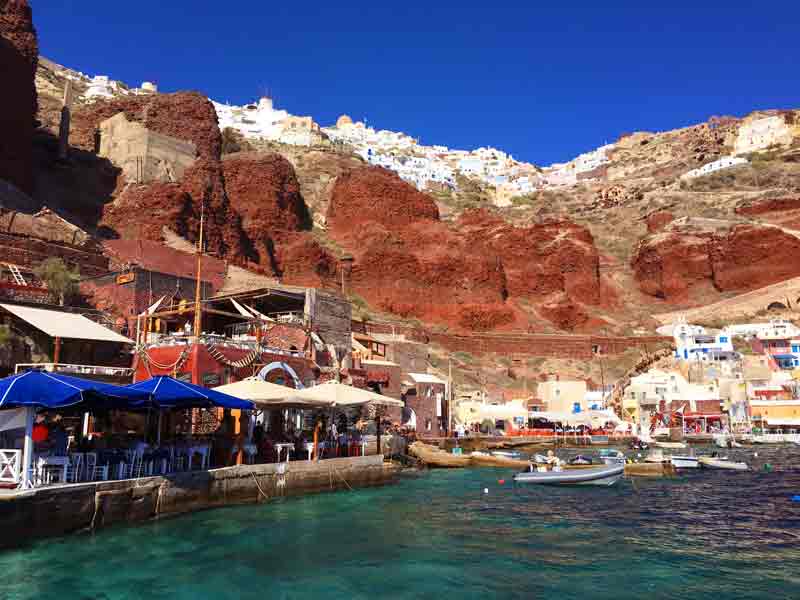 Amoudi Bay in Santorini
Photo © IQCruising.com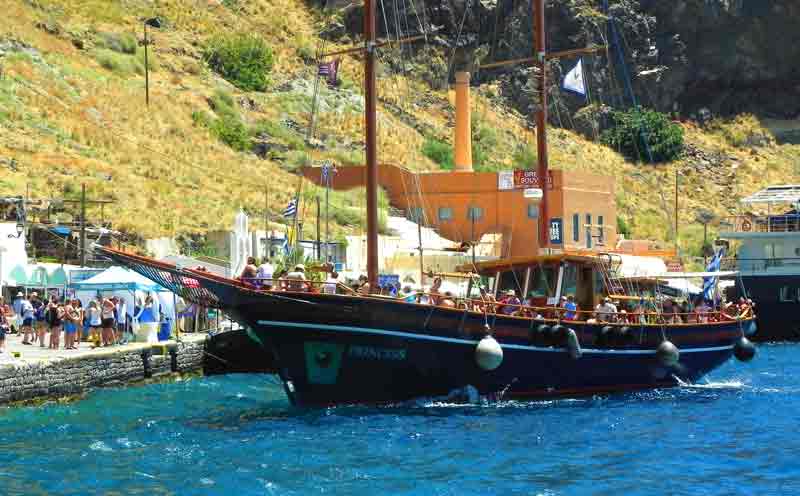 Amoudi Bay Transfer in Skala
Photo © IQCruising.com
Less known, divulged and rarely mentioned onboard most cruise ships, there is also the Editor's Favorite way of exploring Santorini. For around €20.00 per person, you can get from the Port of Skala to the off-track Port of Amoudi - in itself a wonderful attraction - just below the village of Oia, which is one of the Top Highlights of Santorini. From the dock on the bay of Amoudi, you can take a regular bus, a donkey or walk up 214 steps to Oia and then from Oia get a bus to Fira. When deciding to choose this path, just look out, as you exit the tender boat in Skala, for a couple of tour operators offering this service - you may choose between a speedboat or a motorized sailing boat. It is advisable to confirm if the service is offered on a hop-on-hop-off basis.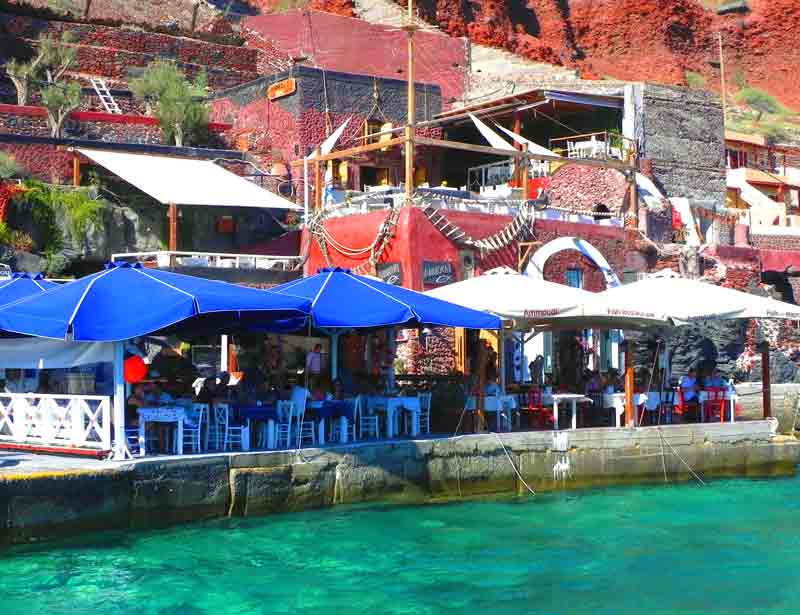 Amoudi Bay Restaurants in Santorini
Photo © IQCruising.com
The only downside of this transfer is that you will arrive in Amoudi too early for lunch, where a couple of restaurants serve absolutely delicious fresh fish in a spectacular setting. However, close by there is a wonderful, secluded, small rocky beach and you may want to make some time basking in the sun. The dock in Amoudi is also the departing pier for the boat to the island of Thirasia - an off the beaten track non-touristic quaint stunner. Cruise lines do not offer tours to Thirasia and if you want to explore it on your own, make time to enjoy late lunch in Amoudi on the way back.
Things to do and see in Santorini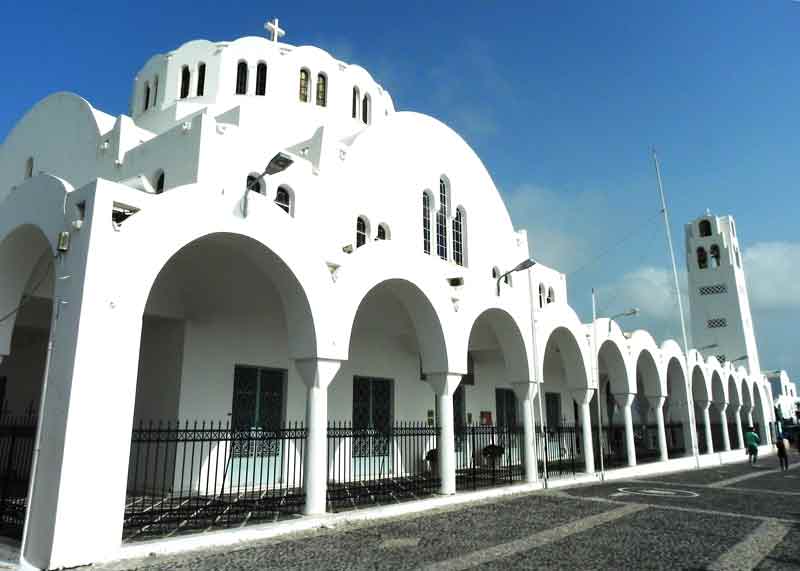 Orthodox Cathedral in Santorini
Photo © IQCruising.com
Fira is a mandatory town to visit and the cruise traveler should always keep at least a couple of hours to meander the cobblestone streets lined with restaurants and cafes with breathtaking views, unique shops and a handful of major sites to visit.
Fira Highlights
There are three major museums not to be missed in Fira: the Archaeological Museum, the Megaron Gyzi Museum and the Museum of Prehistoric Thira. The Orthodox Metropolitan Cathedral, the Fira Catholic Cathedral, and the Dominican Convent are top religious sites to visit. The walk to Firostefani or even farther to Imerovigli is a memorable delight for photo aficionados and light trekkers alike.
The charm of Oia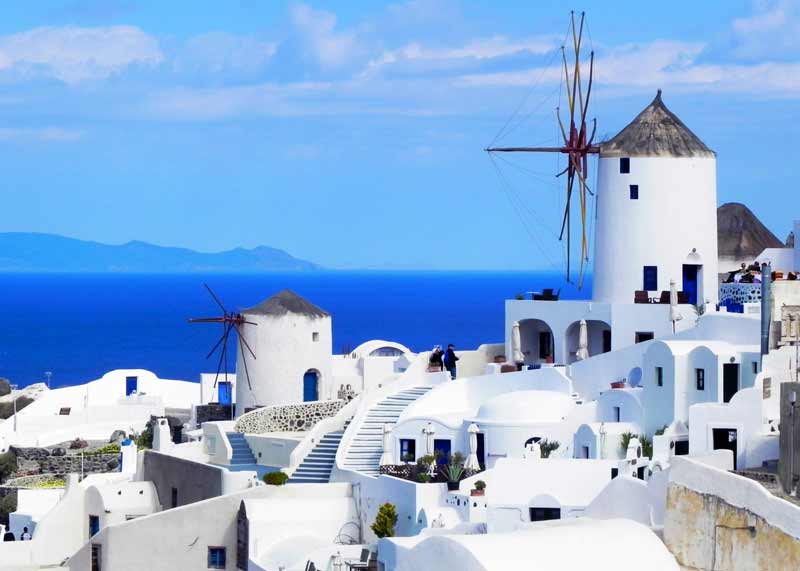 Oia's Windmills in Santorini
Photo © IQCruising.com
The town of Oia is a must-visit with its marble-paved streets, restaurants, bars, shops a couple of museums, windmills and the old Venetian Fort. This charming village was devastated by an earthquake in 1956 and has been completely rebuilt. Buildings and tree trunks are painted white every year and stand out against the background of rust color layers of rock, earth and volcanic ash.
Akrotiri Archaeological Site
The ancient city of Akrotiri lies at the southwestern tip of Santorini and is a fascinating and important archaeological site. First settled during the 9th century BC by the Greeks known as Dorians, Ancient Thira comprises a diverse mixture of ruins, with architectural elements from Hellenistic, Roman and also Byzantine eras. After being covered by lava from a volcano eruption in the 15th century, it has now been partially excavated.
Wine-making and Wine Tasting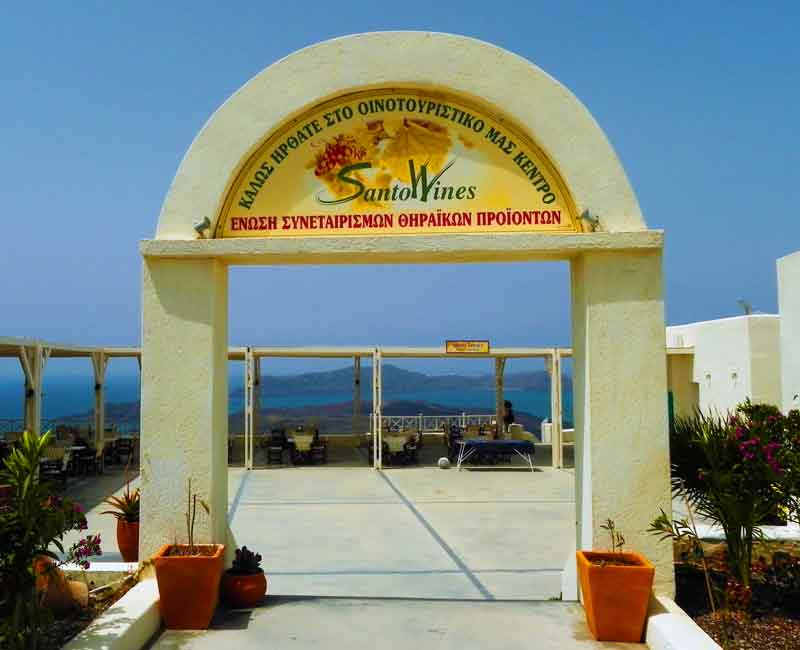 Santo Wines in Santorini
Photo © IQCruising.com
The local wine-making industry on the island of Santorini has long been thriving, with a number of large vineyards located around the villages inland - Boutari Winery, Canava Roussos and Santo Wines are the most famous ones and all cruise lines offer wine tasting tours. There is no shortage of beautiful landscapes, lovely beaches and delicious restaurants with stunning views overlooking the caldera, making Santorini a must on anyone's itinerary.
Beaches and Water-sport
Along the eastern coast of the island are the many famous beaches – each with their own unique characteristics. Santorini volcanic beaches have produced unusual black and red sand that make for dramatic, truly unique landscapes. One thing to note is that this sand absorbs the sun's rays and gets much hotter than golden sand.
The volcanic eruptions created some impressive underwater scenery making for plenty of wonderful diving opportunities. Diving tours offer trips to shipwrecks, volcanic caverns, and coastal reefs. Snorkeling locations also abound for those wanting to look below the waves with a bit less equipment. At the dives sites around the edge of the caldera and below the cliffs, there are many colorful sponges, lobsters, groupers, snappers, barracuda, schools of fish and even octopus.
Scenic Views
Santorini is well known for its breathtaking sunsets from its towering cliffs, particularly when viewed from the village of Oia on the island's far northern end, although very few cruise ships stay in port long enough (or sail too early) for cruise travelers to enjoy such a spectacle. When choosing a cruise calling at Santorini it is advisable to pay attention to the sail away times.
► Explore: Anchoring and Tender to Skala
Where cruise ships anchor and transfers passengers to the pier in Skala, amenities and services...
Learn More ►