Barcelona for Cruise Travelers
- Embarkation, Docking, La Rambla, Top Things To Do and See, Sightseeing and Tours.
Unless you have been in Barcelona before and have thourougly explored Spain's second largest city, the cruise traveler will regret if flying directly to embark on a cruise without spending some good time in the capital of Catalonia. After all, there are very good reasons why Barcelona is the 4th most visited destination in Europe (after London, Paris, and Rome), the 12th-most-visited city in the World and a UNESCO Awarded City.
La Pedrera in Barcelona
Photo © IQCruising.com
Home Port and Port of Call
There are very few cruises that dock in Barcelona as a port of call as it really is an European major embarkation port for Western Mediterranean cruises. Travelers on a cruise that call at Barcelona for a day will have the opportunity to explore this charming city either on tours booked onboard or on your own. Barcelona is one of the easiest European cruise ports to get around - both cruise ports are minutes away from all major attractions - and there are quite a few affordable ways of sightseeing the city.
Casa Batlló in Barcelona
Photo © IQCruising.com
Altough Barcelona is a major embarkation-disembarkation port in Europe, most cruise travelers are not well advised when booking a cruise. Travelers flying from the USA or Canada, in particular, do not realize that a long red-eye flight (over 8 hours) coupled with jet lag (5 to 8 hours earlier) is the worst possible way to start a cruise.
Hence, the Editor's strong recommendation: any traveler embarking in Barcelona should fly at least one day ahead of the start of the cruise. If possible, fly two or more days ahead of the cruise, so that you can adapt to a new time zone (if flying from North America) and enjoy one of Europe's most interesting cruise ports. Naturally, if your cruise ends in Barcelona, you should plan to stay in Barcelona at least a couple of days.
---
Top Things To Do and See - Highlights
For those that only have a few hours to explore Barcelona - before Embarkation or after Disembarkation - at least one of the Top Highlights must be visited.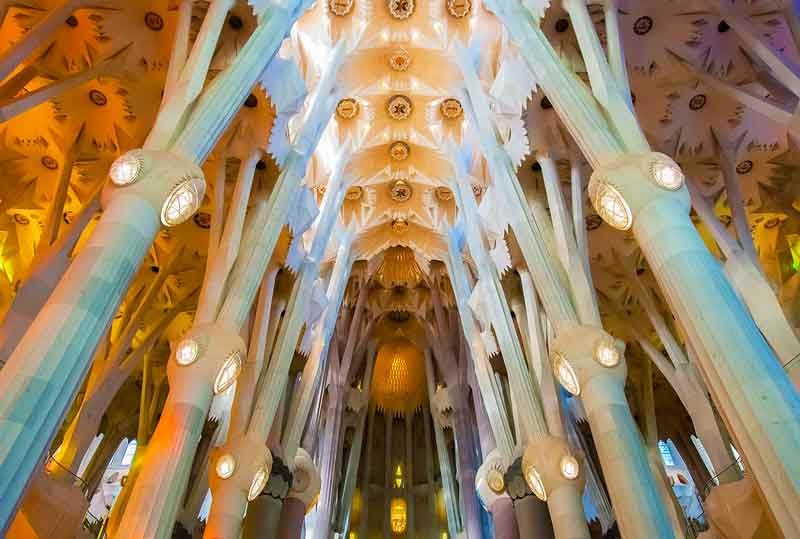 Sagrada Familia, Interior - Barcelona
Photo by Gary Ullah CC by SA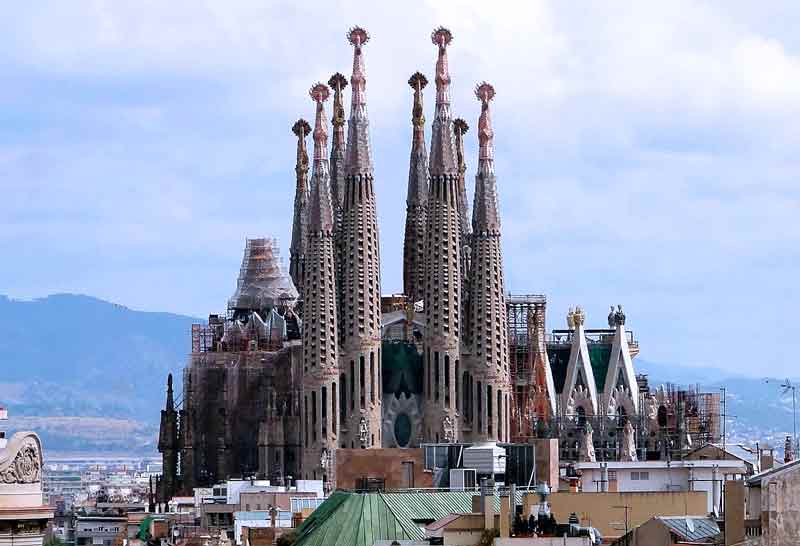 Sagrada Familia - Barcelona
Photo by Bernard Gagnon CC by SA
The Basilica of the Sagrada Familia (one of the most famous modern churches in the World and a masterpiece by Gaudi) is inevitably on top of any must-see list. The Basilica is under construction since 1882 (completion is planned for 2026), is located around 5 miles (7 km) from the port and it will take around 30 minutes to get there by taxi. Allow at least a couple of hours to visit the church.
Insider's tip: it is highlight advisable to buy tickets online to get a fast entry.
The Passeig de Gràcia is one Barcelona's most wonderful tree-lined avenues, where all major luxury boutiques have their stores, a delight to walk and also where Gaudi architectural exuberance is displayed in Art Noveau residential buildings.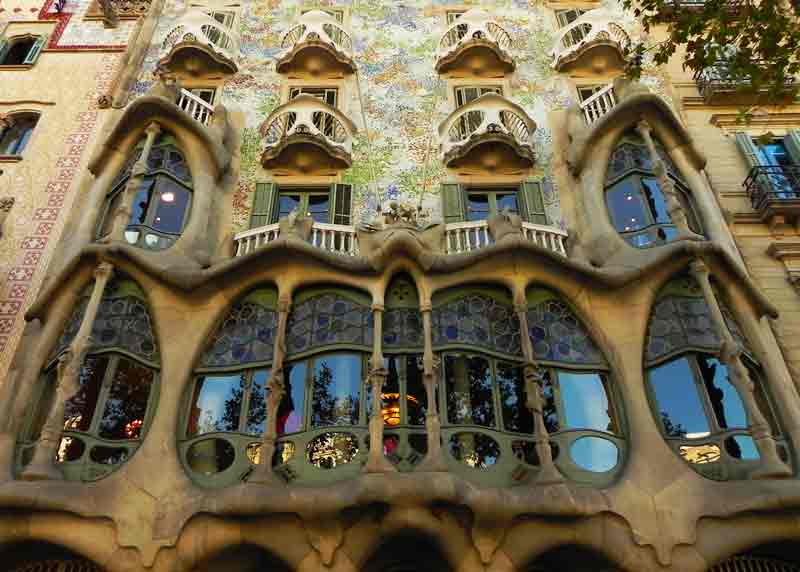 Casa Batlló in Barcelona
Photo © IQCruising.com
Casa Milà or La Pedrera is a major highlight of Barcelona and just a couple of blocks down you will find another two architectural gems - the Casa Batlló (also by Gaudi) and Casa Amatller (by Josep Puig i Cadafalch). To get there, the Editor suggests either to get a taxi straight to La Pedrera or on the Metro (underground or subway) green line (L3) from Darsannes Station (close to Plaça Colon) directly to Diagonal Station. Again, online reservations are advisable to visit any of these buildings.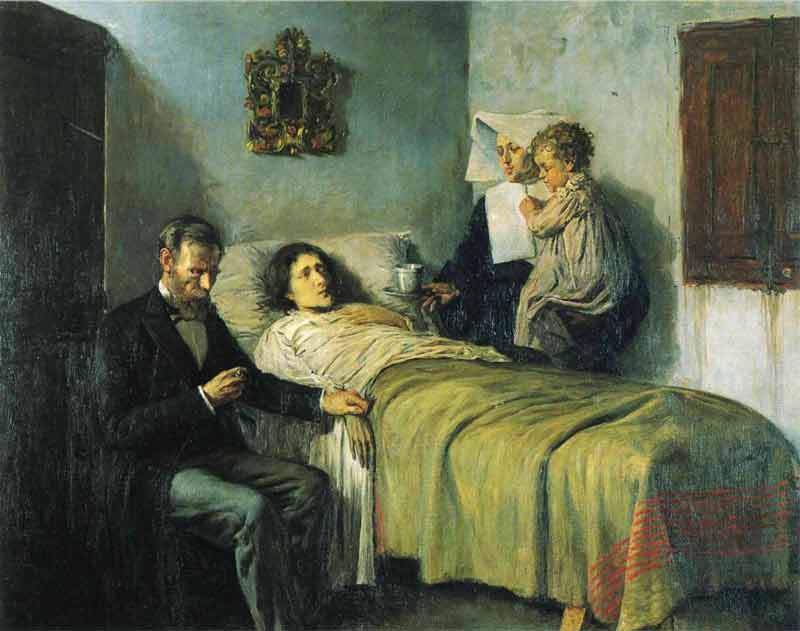 Science and Charity by Picasso
Photo Public Domain
Barcelona has quite a few renowned museums but two should be highlighted. The Joan Miró Foundation has on display one of the best collections in the World of the works by this abstract modernist artist, whilst the Picasso Museum exhibits focus on the earlier works (and many times ignored adolescent art) of this Spanish modernist master. "Science and Charity" painted when Picasso was 16 years old is a must see. Although the Picasso Museum is relatively close to the cruise port and is easy to get there - by taxi or even walking -, the Miró Foundation is a bit off the beaten track on Parc de Montjuïc.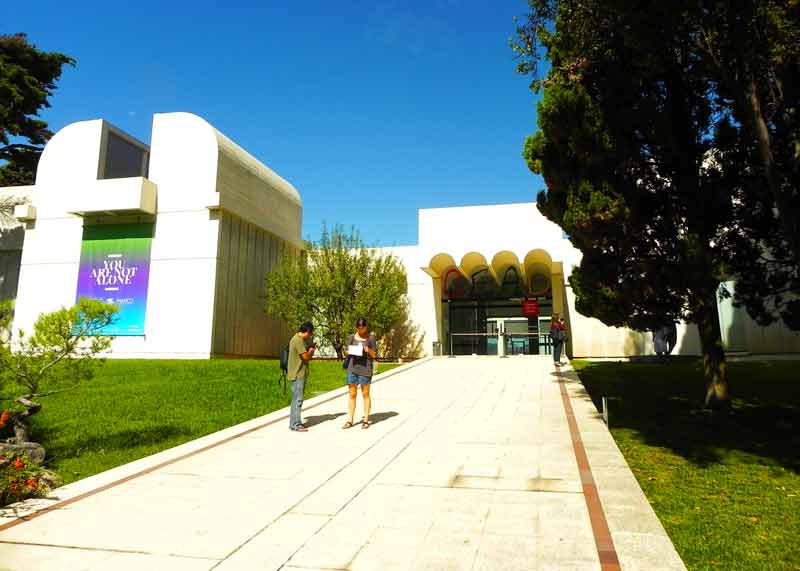 Miró Foundation in Barcelona
Photo © IQCruising.com
If planning to visit the Miró Foundation be aware that it may difficult to find taxis close by for the return and that the Funicular de Montjuïc that connects the park to Avenue del Parallel is the fastest and easiest way to get there and back.
La Rambla in Barcelona
Photo © IQCruising.com
---
La Rambla
La Rambla is arguably the most famous of all Barcelona's streets connecting Plaça Colon (aka Plaça Portal de la Pau), very close to the Cruise Port, and another major square in the city: Plaça de Catalunya, where Passeig de Gràcia starts.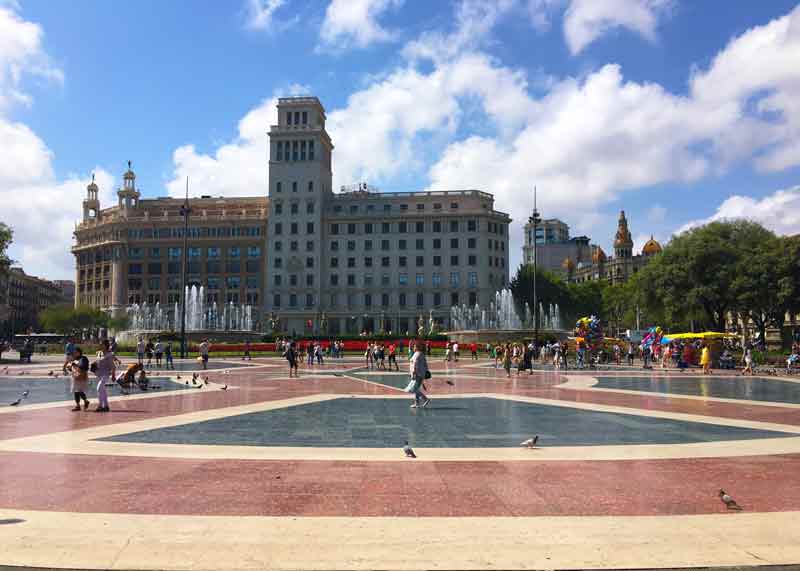 Plaça de Catalunya in Barcelona
Photo © IQCruising.com
Palau Güell in Barcelona
Photo © IQCruising.com
La Boqueria in Barcelona
Photo © IQCruising.com
This three-quarter of a mile (1 km) pedestrian, tree-lined, and wide avenue is a popular place for locals and tourists alike. For the last 10 years, it has become embellished by street performers, flower stands, restaurants and all sort of touristic glitz. On a side street, close to Plaça Colon, the Palau Güell is a must see for those interested in Gaudi's architecture. On the left side, midway, the Gran Teatre del Liceu is the most prestigious theater in Barcelona. At the opposite end, the La Boqueria or Mercat Sant Antoni is one of the city's leading tourist landmarks and the oldest market hall in the area dating back to 1840.
To the right (east) side of La Rambla, the cruise traveler will find the narrow and winding streets of the oldest district in Barcelona known as Barri Gòtic where many landmarks are to be found: the Plaça Reial (Royal Plaza), the Basílica de Santa Maria del Pi, the Plaça Sant Jaume, the old Jewish Quarter (Call Jueu), the Pont del Bisbe, the Museum of the History of Barcelona (MUHBA).
Plaça Reial in Barcelona
Photo © IQCruising.com
Cathedral of St. Eulalia in Barcelona
Photo © IQCruising.com
Last but certainly not least, another major highlight of Barcelona - the Cathedral of St. Eulalia or La Seu (as the local call the majestic church), built between 1298 and 1460. All the area around the Barri Gòtic has a unique ambiance inviting the traveler to an historic journey to the time when the first populations settled here during the reign of the Roman emperor, Augustus, 2,000 years ago.
---
Must Know
Taxi in Barcelona
Photo © IQCruising.com
Insider's Tips - Taxis and Buses
If you have already booked your cruise and flights, there are a few insider tips to keep in mind. To start with, the cruise traveler should know that Barcelona has two cruise ports (Moll Adossat and the WTC Port, relatively close to each other) and that the Airport is around 23 km (15 miles) away. Regardless of whether you are embarking or disembarking, a taxi is one of the best ways to travel from or to the Airport. A taxi between the Airport and the Port (Moll Adossat) will cost approximately €40.00 and little bit less if the WTC Port is the final destination - Check the 2017 Official Taxi Fares.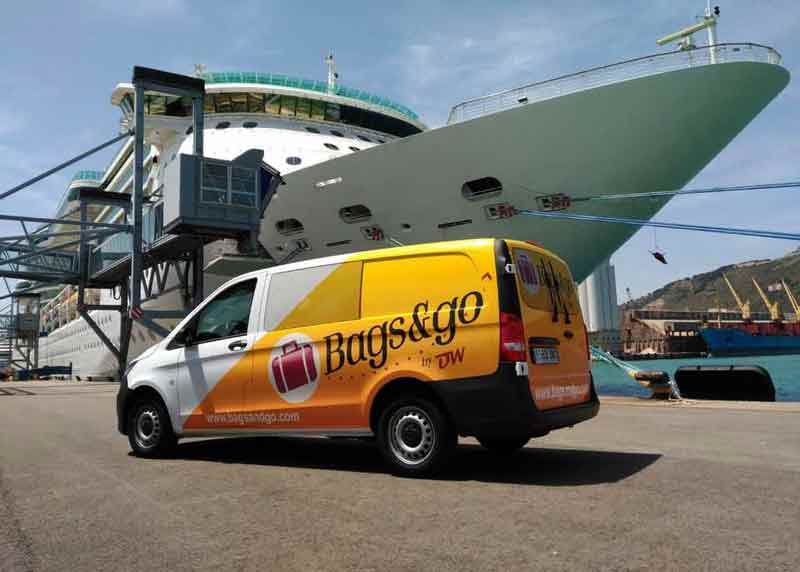 Bags & Go Van in Barcelona
Photo © IQCruising.com
There are also a number of private services that offer transfers to and from the port to either the Airport or/and Hotels that can be very convenient. One of the best services to look into is Bags & Go - this company handles your luggage (transfer and lockers) whilst you can enjoy a few hours exploring Barcelona. Fares are both reasonably affordable (around $12.00 per person/piece of luggage) and you can book it online - Learn More About Bags & Go.
Terminal B, Moll Adossat, in Barcelona
Photo © IQCruising.com
If staying in Barcelona, it is very easy to calculate a taxi fare to or from a hotel and compare with the transfers offered by all major cuise lines. The offical Barcelona Taxi website has a great Route Calculator in English - Calculate Taxi Fares.
Port of Call - Taxis and Shuttle
However, if Barcelona is a Port of Call on your cruise, travelers should avoid taxis if docked at the Moll Adossat and having La Rambla as a final destination. There is an official extra charge (€3.10) for taxis to enter-exit the port and an unscrupulous taxi driver may take you for a long ride when, in fact, La Rambla is just around the corner.
T3 portbus in Barcelona
Photo © IQCruising.com
Instead of a taxi, it is advisable to use the circular route bus (T3 portbus) between all Port Terminals and Plaça Colon right by the famous Ramblas - buses are suitable for wheelchair users, the fare is €3.00 one-way ticket and €4.00 return ticket, paid onboard in cash either in coins or bills under €10.00. Be aware: because the T3 portbus has become so popular thanks to its good service, most cruise lines do not offer shuttle buses to Plaça Colon anymore and the ones that do charge ridiculous amounts.
---
Docking in Barcelona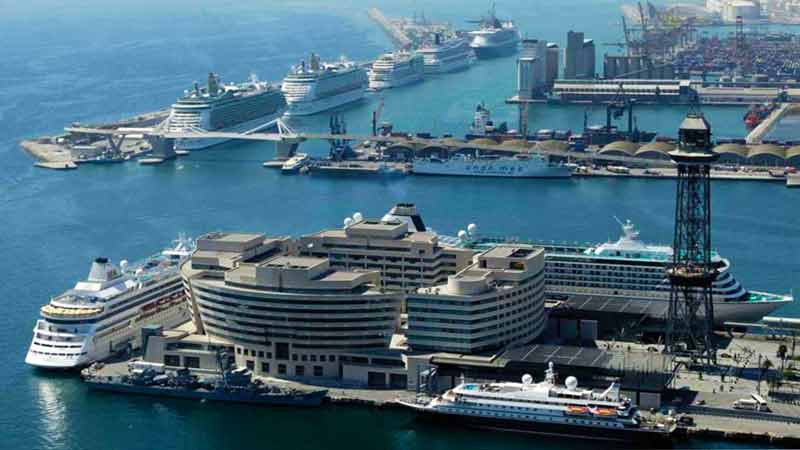 Port of Barcelona
Photo © IQCruising.com
Barcelona's two cruise ports (WTC Port and Moll Adossat) are ideally located to explore the city. The WTC Port has 3 piers around the World Trade Center building, it is located just under 1/2 a mile (700 meters) from the Plaça Colon and the start of La Rambla, but only small cruise ships can dock here.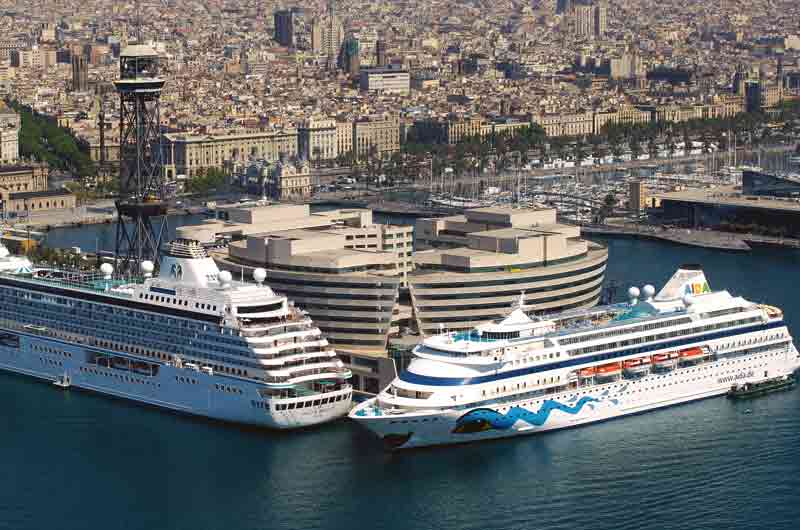 WTC Port in Barcelona
Photo © IQCruising.com
World Trade Center Port - Terminal
This port has obviously the best location as it is within walking distance to La Rambla and it is a delight for travelers on cruise lines like Seabourn, Silversea, Regent, Azamara or the small ships of Oceania and Holland America. Because no more than 3 ships can dock at the WTC Port do not have it for granted that these high-end cruise ships will always dock at walking distance to a good number of Barcelona's attraction. It happens quite frequently that small cruise ships will have to dock at the Moll Adossat.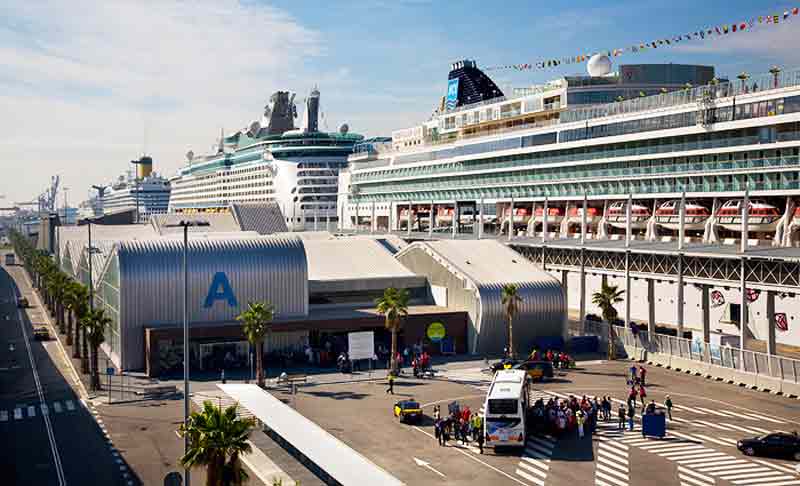 Moll Adossat, Barcelona
Photo © IQCruising.com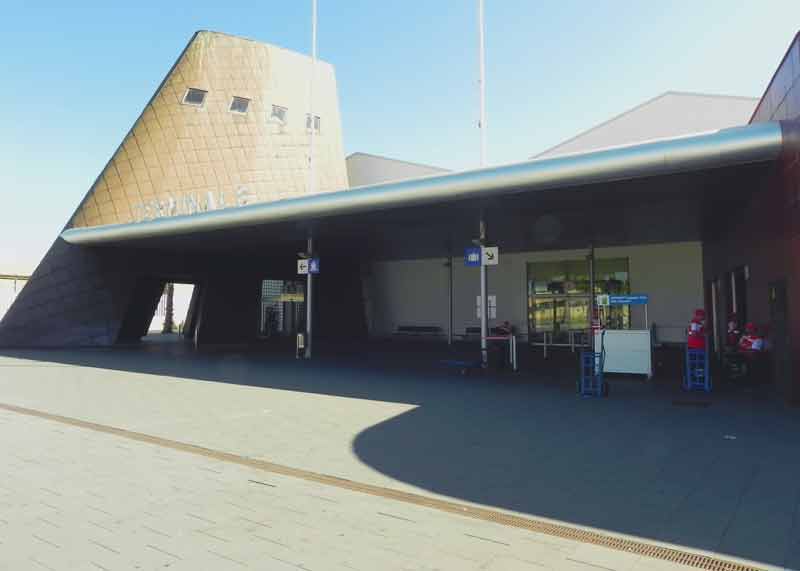 Terminal B, Moll Adossat
Photo © IQCruising.com
Docking at the Moll Adossat
The major port of Barcelona is, in fact, the Moll Adossat and where the overwhelming majority of cruise ships dock. Although this port is only 2 miles (3km) from Plaça Colon, walking with (or without) luggage is quite a stretch, particularly in the heat of the summer as pedestrians will have to go over a bridge. Considering that the already mentioned T3 Port Bus provides such a good service it doesn't make any sense to walk to or from the Moll Adossat. The port has four Terminals (A, B, C and D) all very large, modern, well kept and efficient for both embarkation and disembarkation.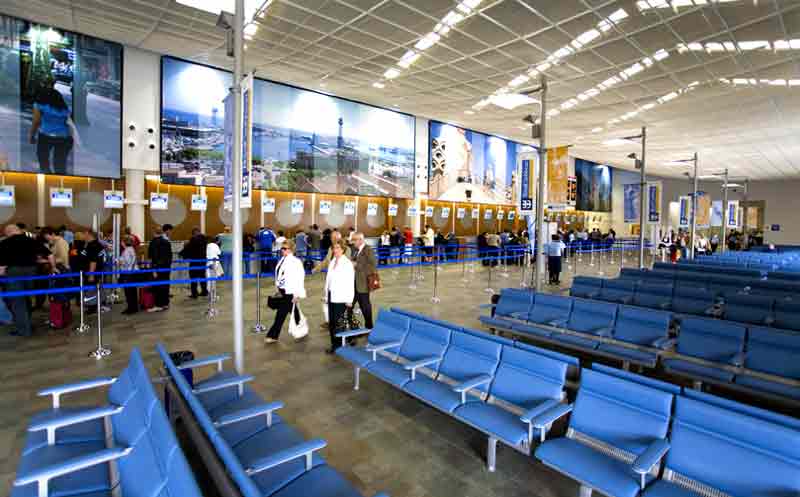 Terminal B, Interior, Moll Adossat
Photo © IQCruising.com
Amenities and Services
All sorts of amenities will be found at the Terminals including large sitting areas with AC, shopping, cafeterias, money exchange, and, of course, plenty of taxis available if disembarking. Because Barcelona is not used frequently as a port of call, you will not find Tourist Information Kiosks at the Terminal although you may find a desk with maps and touristic brochures. The good news is that there is one of many Tourist Information points in Barcelona at Plaça Colon (aka Plaça Portal de la Pau), inside the Columbus Monument - Click here to find all Tourist information points in Barcelona.
---
Beyond The Top Highlights
For those that have been in the major touristic areas and visited the top highlights of Barcelona, there are many other places that are very seldom offered on cruise ship excursions. The neighborhood known as El Born has become a great place to visit on a leisurely walk.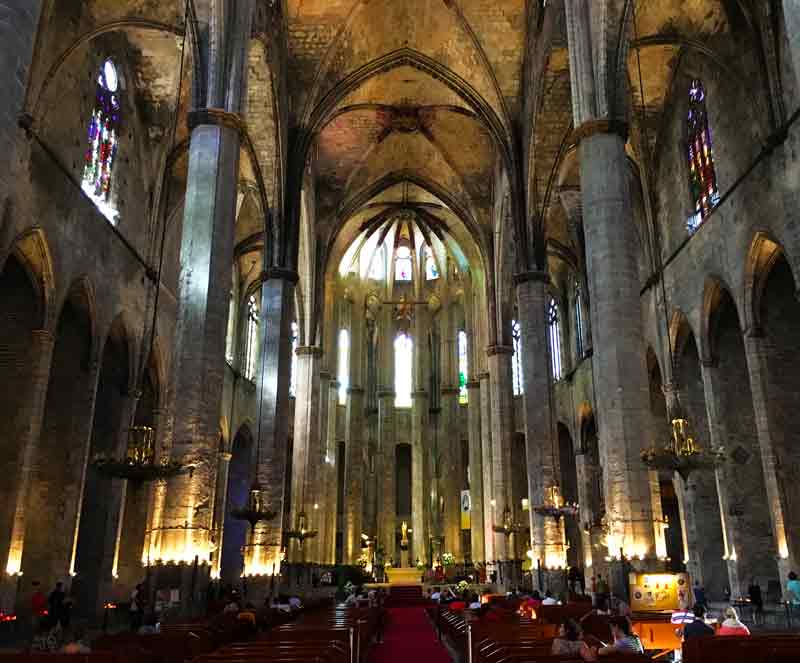 Santa Maria del Mar in Barcelona
Photo © IQCruising.com
El Born and La Ribera
Farther east of the Barri Gòtic - in fact, just across Via Laietana, - what once was the main trading center and one of the richest neighborhoods of the city during the 13th and 14th centuries, El Born and the adjacent La Ribera neighborhood are both worth a visit. This is the area where the Picasso Museum is located (on Carrer Montcada) but, at end of this narrow street, the Passeig del Born, the Basílica de Santa Maria del Mar, and the El Born Cultural Center are off-the-beaten-track landmarks to be discovered. For those with a sweet tooth, the Chocolate Museum (Museu de la Xocolata) is also close by.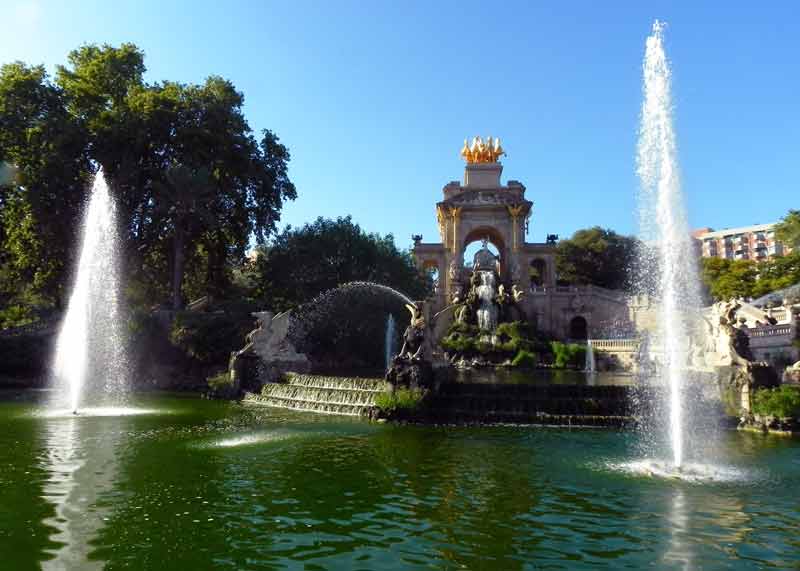 Cascada Monumental, Parc de la Ciutadella
Photo © IQCruising.com
Ciutadella
Farther east, is the Ciutadella Park (Parc de la Ciutadella) with a number of historical landmarks - the Catalan Parliament, the Castell dels Tres Dragons, the Cascada Monumental among others - and the Barcelona Zoo. The latter is not particularly impressive, but the Park itself, with its ponds, fountains, and lawns, is a nice green area for those that enjoy outdoors.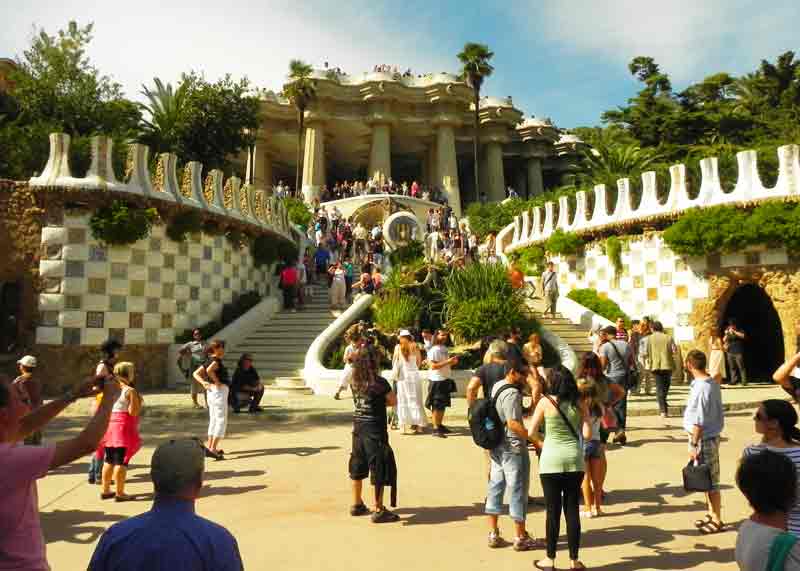 Park Güell in Barcelona
Photo © IQCruising.com
Montjuïc and Güell Parks
Two other parks are top attractions in Barcelona: the Montjuïc Park and the Park Güell, the latter is a bit farther away from the cruise port although a must see for fans of Gaudi's architectural design. Located on a hill around 5 miles (8km) from the sea, it offers wonderful views of Barcelona. Besides the extraordinary landscape and design, the Gaudí House Museum where the famous architect lived for 20 years should not be missed. All hop-on-hop-off sightseeing buses have stops close by; the Metro station of Lesseps on L3 (Green Line) is 1 mile (1.6km) away.
Museu Nacional d'Art de Catalunya in Barcelona
Photo © IQCruising.com
The Montjuïc Castle dominates the homonymous park and is relatively close to the Cruise Port - easy to get to with a funicular, which starts at the Parallel metro station on Avenida Parallel. At the Montjuïc Park the traveler will find many attractions such as the already mention Fundació Joan Miró and the wonderful Museu Nacional d'Art de Catalunya (MNAC), the Poble Espanyol, the Botanical Garden and Science Museum, the Olympic Park built for the 1992 Summer Olympics, the Palace Albéniz and a couple of two other interesting museums - the Catalonia's Archeological Museum and the Ethnological Museum. From the Museu Nacional d'Art de Catalunya a long and wide park/avenue ends at the Plaça de Espanya where the old Bullring has been revamped into a popular shopping mall, along the way the Font Màgica, the CaixaForum Barcelona (contemporary art exhibition center) and the Mies van der Rohe Pavilion are landmarks not to be missed.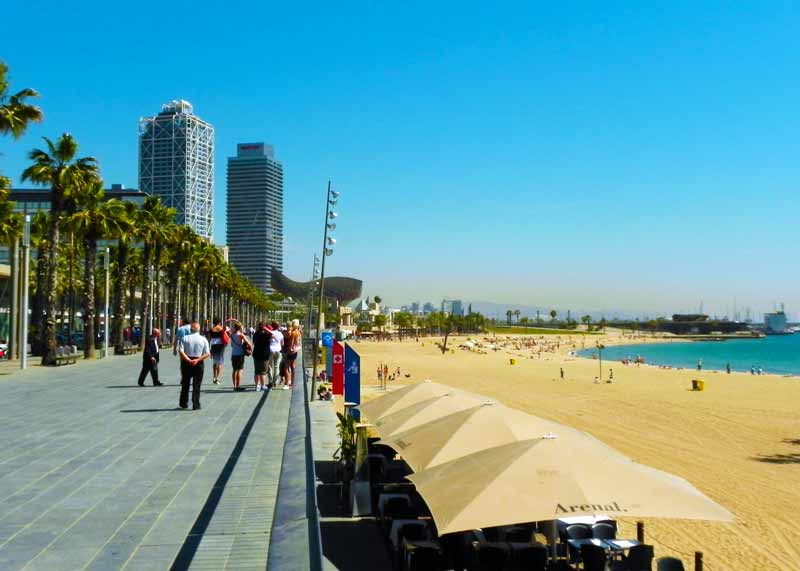 Barceloneta Beach in Barcelona
Photo © IQCruising.com
Port Vell and Barceloneta
Also close to the Port, a stone's trow from the Portbus T3 stop, the Port Vell is where one of the best Aquarium in Europe is located and a delight for those cruising with children. The entire area was redeveloped for the 1992 Olympic Games hosting a marina, the "Maremagnum" shopping center, a park and seaside cafés. Farther along the coast, the Museu d'Història de Catalunya, housed in a waterside warehouse, is an invitation to travel trough the history of Catalanoia and the start of the old fishermen's neighborhood known as Barceloneta. This is one of the best places to savor fresh fish in Barcelona with many good restaurants to choose from. Beyond the residential grid of narrow lanes, the beaches of Barceloneta are one of the best-kept secrets of the city (enjoyed almost exclusively by locals) and are perfect for pure relaxing time.
---
Sightseeing and Tours
The charming character of Barcelona, the infinite mix of ancient and modern architecture, the excellence of museums and galleries are a sensorial feast that can easily be discovered on your own. Exploring Barcelona on foot is a joy - be it on a walk trough the nooks and crannies of the old city lined with modern shops, a stroll along wide boulevards with fashionable boutiques and renowned brands, contemplating the unique details of astonishing UNESCO listed buildings with mind-boggling facades or just people watching on a stylish café.
Tour Kiosk in Barcelona
Photo © IQCruising.com
With so much to see and enjoy, Barcelona has an amazing array of independent tours available. Be it on a sightseeing hop-on-hop-off bus, a bicycle, scooter, van, limousine, rickshaw, electric car or convertible the variety of tours is almost endless. Activities like Catamaran Sailing, Jet Ski, Parasailing, Paragliding, Land Sailing or Balloon Flying are on offer and easy to access. The delicious local cuisine and famous gourmet chefs of the city's restaurants are destinations for a good number of tours. And for those that wish to explore beyond the city, the coastal town of Sitges and the rocky peaks of Montserrat with its monastery are must-visit destinations.
Tourist Cards
When calling at the Port of Barcelona or if staying in Barcelona for more than a day, there are a number of Tourist Cards that can be very advantageous, saving both time and money. With the Barcelona City Card (42.75 online) you'll be able to travel free on the metro, buses, trams (including the airport train and metro) and free admission to, or discounts at, Barcelona's most important museums and many places of interest. The Barcelona Card Express (19.00, online) offers 48 hours free travel on public transport and discounts in museums and city sights.
---
Barcelona Cruise Port - News
Carnival Terminal in Barcelona
Photo by Carnival Corporation
For those planning to cruise the Mediterranean on any of the Carnival Corporation Cruise Lines, and specifically on the Carnival Horizon, there is good news. A new Cruise Terminal on the Moll Adossat is being built and due to open for the 2018 Spring/Summer Season.