Medieval Wonder
The historical center of Siena is a UNESCO heritage site and considered one of Italy's most beautiful medieval towns. Naturally, Siena is one of the main destinations for cruise ships docking at the port of Livorno.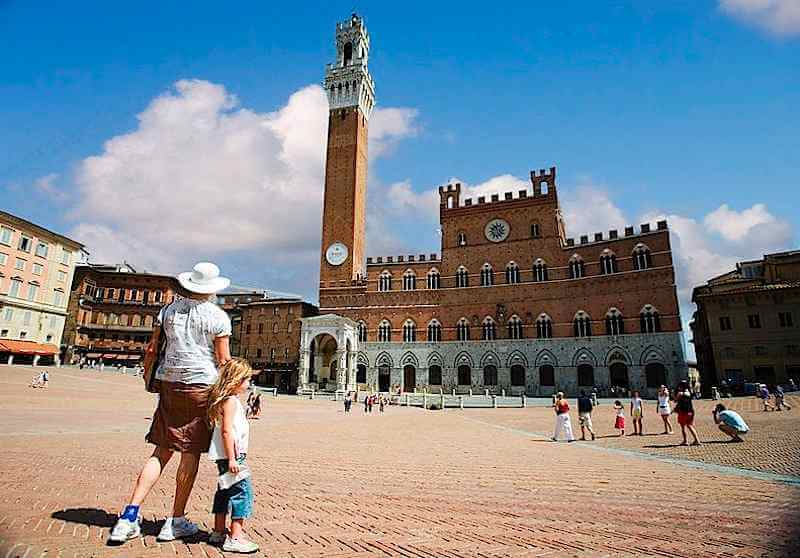 Siena - Piazza Del Campo
Photo by Jorge Royan CC-by-SA
All cruise lines offer excursions to Siena, which will take a full day - around 10 hours. All these excursions also include a stop in San Gimignano on the way back. The most luxurious cruise lines will offer optional lunch, usually, at a very good restaurant. But most cruise excursions will, in fact, just allow you free time for a quick snack and a bit of wandering around on your own. Typical cruise ship excursions tour the city in 2 to 3 hours with stops in the Church of San Domenico and the Piazza del Campo but just passing by the Cathedral and a few other major landmarks.
Walking through the historic streets of Siena is like stepping back in time and the cruise traveler will have the opportunity to experience the marvelous medieval ambiance of the city. However, you will not have enough time to explore all its beauty, take in its history and the magnificent artworks displayed in Siena's churches, palaces, and museums. This said Siena is just a couple of hours from Livorno and easy to explore on your own.
---
See and Do
Strolling along Siena's historic streets, visitors will be welcomed by gorgeous, well-preserved piazzas, churches, and palazzos. The city's main attraction is the impressive Duomo.
Duomo
Photo: Chenspec CC-by-SA
Not only is its massive structure a wonder to behold, but the splendid works of art within its walls are truly a magnificent sight that should not be missed. It should be noted that Siena was once considered an artistic rival of Florence. Works by the resident artists like Lorenzetti, Beccafumi, and Martini can be found all over the city, as well as many of major names like Michelangelo, Donatello, Perugino or Bernini. If planning ahead, the cruise traveler will have the unique opportunity to experience more than the beauty Siena has to offer. The city is also the perfect place to get the adrenaline pumping.
Twice a year the city works itself up into a frenzy over the famous Palio horse race. Locals and tourists alike pack themselves into Il Campo, a square that is considered the heart of the city, to watch as horses race around the piazza at a breakneck speed to win the title. The Palio takes place every year on the same exact dates: always between the June 29 and July 2 (first Palio) and between August 13 and August 16 (second Palio).
Siena - Piazza Del Campo View From Torre
Photo by Mark Sehnert CC-by-SA